Kangaroos. Koalas. Venomous snakes. These are some of the animals that come to mind when thinking of Australia. The country has long been infamous for it's plethora of unique and original animals, and any visitor wishing to see these should pay a visit to Taronga Zoo, Sydney's ultimate "zoo with a view".
Taronga Zoo Wheelchair Access
Getting there
Riding a ferry is the cheapest, easiest and most fun way to get over to the zoo. Every ferry in Sydney also happens to be fully wheelchair accessible. One of the staff members will lay out a ramp so that wheelchairs can just roll right in. It's only about a ten minute ride from Circular Quay (the area where the Opera House is) to Taronga. The views of the Opera House, Harbour Bridge and the Sydney skyline along the way are spectacular, which allowed for some great photo opportunities. The Fodor's Australia guide is my top pick for seeing this part of the world.
Once the ferry docked at the zoo, we were escorted to a bus that took us to the entrance, which sits at the top of a pretty steep hill.
Taronga Zoo is wheelchair accessible and easy to navigate, but you might want to make sure that your chair is fully charged before going.
My power was draining quite fast from constantly going up and down the hill for about 3-4 hours. But if you just start at the top and work your way down then it will use much less power and staying charged up shouldn't be a problem at all. Unfortunately, I am not the most organized person so I wasn't smart enough to think of that concept at the time. Whoops!
Top Things to See
I was excited to see all of the animals at the zoo, but the two that I was absolutely ecstatic about were the kangaroos and koalas. When I think of Australia these two immediately come to mind and seeing them in Australia was kind of surreal.
Taronga Zoo offers three different animal encounters that can be purchased: a koala encounter, reptile encounter, and a giraffe encounter.
All of the encounters are wheelchair accessible. Luckily, the kangaroo walkabout is free! We purchased the koala encounter ($20) and the reptile encounter ($25). The reptile encounter was solely my mom's choice. Snakes are my biggest fear in the world so I definitely wasn't getting anywhere near a python, even though there was a 98% chance that it wouldn't bite me according to the trainer. With my luck, I would be included in the 2% chance and be bitten. NO THANK YOU! Not even risking it.
The Kangaroo Walkabout
Upon entering the zoo, the first area that we made a mad dash to was the kangaroo walkabout. We were literally walking among the kangaroos and wallabies as they just went about their day. Most of them were being pretty lazy and lounging around, but we got to get extremely close to them. We also got a bit of an unexpected surprise when we witnessed two kangaroos mating. The kangaroo walkabout was so much fun and I ended up going back to it later in the day because I just couldn't get enough of their cute faces!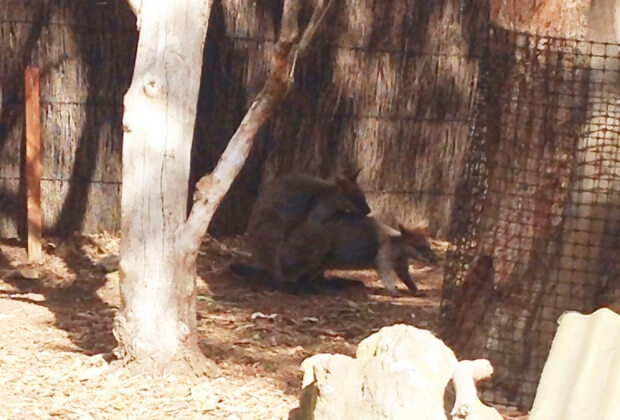 The Koala Encounter
The koala encounter is located right beside the kangaroo walkabout so we chose to do it next. It was still early and we were the second group of people to do the encounter for the day. This must have been prime time for koalas because they were being active, which is supposedly very unusual for them.
The koala that we met was absolutely precious and the trainer told us a lot of interesting facts about koalas as we did the encounter. For example, I learned that koalas are marsupials, eat eucalyptus leaves, and sleep about 18 hours per day. The reason that they sleep so much is because the eucalyptus leaves are extremely hard to digest and they provide very little nutrition, so they have no energy to stay awake a long time.
Our koala must have just woken from her 18 hour slumber though because she was climbing the tree nonstop and eating more eucalyptus leaves. Unfortunately, we were not allowed to hold her or touch her because it is against the law in New South Wales, Australia, but we did get some great pictures taken of us beside her. This encounter was one of my favorite parts to all of my time in Australia and shouldn't be missed by any visitor to Sydney. For a list of the best places to see koalas in Australia, check out this article.
Aside from the Aussie legends, there were many more animals at wheelchair accessible Taronga Zoo. The giraffes were particularly beautiful with the Sydney skyline behind them. What a great view they get to have every day! I also really enjoyed seeing the chimpanzees. They were being pretty lazy too (must have eaten some eucalyptus leaves), but they are still adorable even when they're sleeping.
Wheelchair Access to the Sky Safari
After we had spent about 3 or 4 hours viewing/meeting all of the animals we were ready to make our way back to Circular Quay. Somehow we ended our zoo adventure at the very top of the hill at the entrance instead of at the bottom where the ferries are. This actually worked to our favor though because we got to ride the Sky Safari cable car to the bottom, which we hadn't done previously.
The door to get in the cable car was narrow, but my wheelchair fit through perfectly without an inch to spare. Once we were in the cable car, we were downward bound with some superb views. Of course we saw the city stretched out in the distance, but the highlight of the Sky Safari was that we got to go over the zoo so we saw animals as well. We were actually pretty close to the elephants at one point, and somehow we missed seeing them while walking around earlier.
The Sky Safari was also wheelchair accessible, and was the perfect ending to a perfect day at Taronga Zoo, one of the best zoos in Australia. There's really no place more fun than a zoo in my opinion and Taronga has set the bar extremely high for all other zoos out there. Whether you're in Sydney for a day or a week, plan at least a few hours to meet the animals at the "zoo with a view".
See this free Taronga zoo guide and map for more info.
See my other posts for wheelchair accessible travel in Australia!
5 Unusual Things To Do in Sydney, Australia
5 Wheelchair Friendly Things To Do in Melbourne, Australia
The Best Accessible Cruise Options from Australia
5 Unique Australian Vacation Experiences
*All opinions are authentic and my own. This post includes affiliate links. When you click on a link, I may receive a small compensation, which will help this blog grow into a better resource for disabled travelers.