Few places on Earth are as friendly as Thailand. Showing anger in public is just something they don't do. In fact, they frown upon it and will often say you need to "slow down your heart". As such, navigating the city of Bangkok is mostly a delight. Following are my highlights for accessibility the next time you find yourself rolling through Thailand.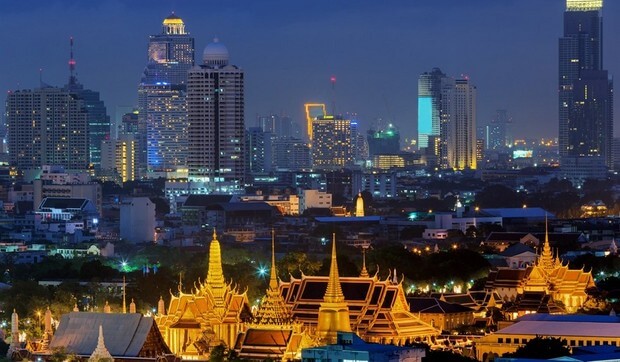 Streets
Right off the top, you need to know that the streets and sidewalks are almost nearly un-accessible. Make sure you have some money set aside for transportation. Taxis are a good way to navigate the city if you want to stick to your personal itinerary. The buses can be a bit overcrowded and you may feel like somewhat of a spectacle. Often times, they will take seats out of minibuses to accommodate wheelchair travelers. If you want to ride the train, then forget it. It is almost impossible to get on and off the train without having the doors close or dealing with some other sort of obstacle like stairs, turnstiles, and the like.
However, the good news (finally!) is that once you find your way to your destination most of the attractions are accessible. As I mentioned earlier, I would consider using a cab for most of the visit. The bus would be my second option, and I would avoid the train at all costs in Bangkok.
Bangkok Attractions
The Grand Palace
Such a beautiful place with a lot of incredible history. Wide open spaces that are perfect for maneuvering. You won't feel like you are in the way here at all. Also, they have a huge temple area that you must visit in order to understand its grandeur.
Chinatown
Chinatown is very accessible and easy to navigate. However, it can be quite crowded at times so plan accordingly. You might also want to plan for extra storage if you intend on buying a few souvenirs while you are in the district.
Chatuchak Market
This is the largest market in Thailand and quite possibly the largest in the world. Somewhere between 9000 and 15,000 vendors set up every weekend offering just about anything you could want for sale. Be sure to take some extra money and plan how you are going to store all of the items you purchase, because if you're like me, you will purchase way too much. Aside from Chatuchak Market, you might also like to check out one of the floating markets in Bangkok for a unique experience.
Chao Phraya River Boats
These are famous tourist boats you will see throughout the rivers in the city. It is possible for you to take one, you just need to plan ahead as only a few of them can accommodate a wheelchair.
Sam Roi Yot
This is Thailand's largest National Park and it is absolutely beautiful. It's a feast for your eyes. You will witness gorgeous scenery and exotic plants covering the landscape. There are some exquisite beaches located within the park that are perfect for relaxing in the cool of the late afternoon. Also, be sure to visit one of the many shrimp farms that are run by locals. They don't mind you watching and might even encourage you to get your hands dirty with them.
Lodging
Hotels in Bangkok are quite accessible. A city of its size, that is also a major tourist destination, is guaranteed to have plenty of accessible hotels. Make sure you call ahead if you are booking a one or two star location though to make sure that they have rooms suited for you. Other than that, the higher end hotels will have ramps, elevators, and plenty of accessible rooms on hand.
Restaurants and Such
Most restaurants will have no problem accommodating you and your wheelchair, particularly those in upscale hotels. Be sure to ask for a quick exit location if that is something you need. When it comes to other restaurants, it's kind of a pot luck. Some of the tiny dives are extremely tight but they would do their best to fit you in as they certainly don't mind you eating and spending your money with them. The more mainstream restaurant scene in Bangkok is certainly more accommodating, with restrooms that are wheelchair friendly as well.
By the time you are finished touring Bangkok, you will be completely exhausted. However, you should also feel more alive than you probably have in a long while. There's just something about Bangkok that relaxes and rejuvenates. It is certainly a location you want to visit more than once. Have fun and enjoy your time in the city!
*I have not visited Bangkok. All of this information was found online from various sources.
*A Note from Curb Free with Cory Lee: This post includes affiliate links. When you click on a link, I may receive a small compensation, which will help this blog grow into a better resource for disabled travelers.