As one of the leading beach destinations in the Southeastern, U.S., there is no shortage of things to do in Orange Beach and Gulf Shores. The only problem you'll have is narrowing down your list and actually choosing which Gulf Shores attractions you'd like to visit. I recently went to Gulf Shores and Orange Beach for the first time (I know, I know… WHY did I wait so long?!) and have compiled this list of some of my favorite Orange Beach and Gulf Shores attractions. Hopefully it can help you better plan your trip to Alabama's beach paradise. I should also mention that all of these attractions/activities are wheelchair accessible and tons of fun. Gulf Shores and Orange Beach have gone to great lengths to ensure that all visitors, regardless of abilities, can immensely enjoy everything they have to offer. Here are my top 4 wheelchair accessible attractions in Gulf Shores and Orange Beach, Alabama:
.
Gulf Shores Attractions
Hugh S. Branyon Backcountry Trail
Located in both Gulf Shores and Orange Beach, the Hugh S. Branyon Backcountry Trail stretches about fifteen miles and is part of Gulf State Park. You can see some of the area's most unique wildlife along this trail, while enjoying a leisurely walk or roll. The Backcountry Trail is completely paved and is perfect for both wheelchairs or bikes. If you'd like to rent a bike, there's a rental shop at the very beginning of the trail right beside the Dippin Dots (yum!). My friends all rented bikes, which made it fun for me because I got to go extra fast in my wheelchair along the trail.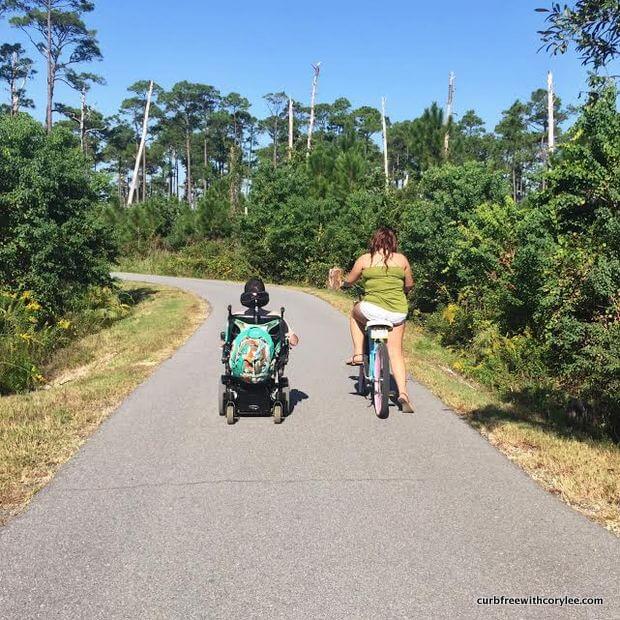 As you're on the trail, be sure to watch out for snakes. Venomous snakes can frequently be seen on the trail, and a black snake actually crossed right in front of us at one point. It made me a bit nervous and I became much more conscious of my surroundings after seeing that, but it was all part of the experience. We also saw a large gator and some baby gators in the swamp area. There, luckily, was a fence that separated us from the gators, but being able to see all of these animals from a very short distance in their natural environment was pretty remarkable.
Either before or after you stroll along the Backcountry Trail, head over to Gulf State Park's Nature Center. There are all kinds of native animals on display. You'll see plenty of snakes and the staff that works there will be happy to answer any questions about the animals, the park, or recommend things to do in Orange Beach and Gulf Shores. I liked going to the Nature Center before doing the Backcountry Trail because it gave me a chance to learn more about the trail and everything that it offers.
A Coastal Eco Cruise
When I started planning things to do in Orange Beach and Gulf Shores, I saw online that there were dolphin cruises available. I really really wanted to do this, but since these cruises often take place on smaller boats, I wasn't sure if it would be wheelchair accessible. After some investigating, I discovered that WildNative Tours offered accessible tours. I was thrilled that I could actually remain in my powered wheelchair for the cruise.
WildNative has different types of tours, but I did the Coastal Eco Tour and it was easily one of my favorite Gulf Shores attractions. This tour lasts about two hours and explores the waterways of coastal Alabama. We boarded a rather large pontoon boat at Tacky Jack's dock in Gulf Shores. Tacky Jack's is a restaurant and bar, but they have a boat dock as well. It was pretty easy to board the boat with my wheelchair and the WildNative staff were extremely nice and helpful.
Once on the boat, we were off to see if we could spot any wildlife. I was hoping that we'd get lucky and see some dolphins, but I tried not to get my hopes up too high just in case. After a short while, we saw some osprey, gulls, and pelicans. Our tour guide talked a lot about the area and the wildlife, which was great. I always love learning new things when traveling and the guide's enthusiasm made me excited to be there.
Soon, we spotted some dolphins in the distance! I have swam with dolphins in the past, but never seen them in the wild. The dolphins started playing and got extremely close to our boat. We even saw them jump a few times. It was an unbelievable sight to see that many dolphins up close, but it was difficult to photograph them because they were very fast. Luckily, I did get one decent video!
This coastal eco cruise with WildNative was honestly one of the coolest experiences that I've had in a long time. Not only was it insanely fun, but it made me appreciate the beauty of wildlife along the Gulf Coast.
The Beach
For many people, going to the beach is an easy and obvious choice. If you're a wheelchair user however, then you know that visiting the beach can be a bit tricky. It usually involves someone struggling to push you around as you sit in a big and bulky manual beach wheelchair (that isn't very comfortable). In Gulf Shores and Orange Beach, I'm happy to tell you that visiting the beach can actually be enjoyable.
Beach Power Rentals offers motorized beach wheelchairs that you can rent for as low as $50 per day. This is a fantastic price compared to rentals that I've gotten in other cities. The chair can be controlled with a joystick, which worked great for me and it basically felt like I was in my regular wheelchair. Having the freedom to move around as I want on the beach, without depending on someone to push me, was awesome. With the large tires, it was a smooth ride up and down the beach.
After soaking up the sun all day in your beach wheelchair, it's worth heading over to the Gulf State Park Pier and taking in the views. This pier is more than 1,500 feet long and has the best views in the area. You can see the beaches and you'll also see plenty of people fishing on this pier. Just be sure to watch out for the hooks! You don't want visiting the hospital to be one of your things to do in Orange Beach and Gulf Shores…
Fort Morgan
If you are a history buff like me (or maybe you just like taking awesome pictures for Instagram of cool places?), plan a few hours to explore this Civil War-era historic site. It's located about 30 minutes from the many things to do in Orange Beach, but trust me – it's worth the short drive!
Built in the early 1800s, Fort Morgan played a significant role in the Battle of Mobile Bay in 1864. This masonry fort was also used intermittently through the Spanish American War, World War I, and World War II. As you can probably tell, Fort Morgan is not only one of the coolest Gulf Shores attractions, it's also a history lesson waiting to be explored.
On the day that I went to Fort Morgan, it was Fall Garrison Day. There are many events throughout the year at the fort and you can check the schedule on their website. The morning's events started with a color ceremony and a cannon was even fired. All of this was performed by re-enactors that wore traditional 1865 clothing. It was great to see and gave me a sense of what life might have been like during that time. There were other demonstrations of infantry and artillery drill throughout the day as well, and one of my favorite moments happened after a gun firing demonstration. The re-enactor, an older man, asked the audience if anyone had a question. Someone in the audience asked "Are you a confederate soldier or a Yankee soldier?" and the re-enactor responded by saying "Right now, I am an American". It was a wonderful moment that made me think, and made me smile.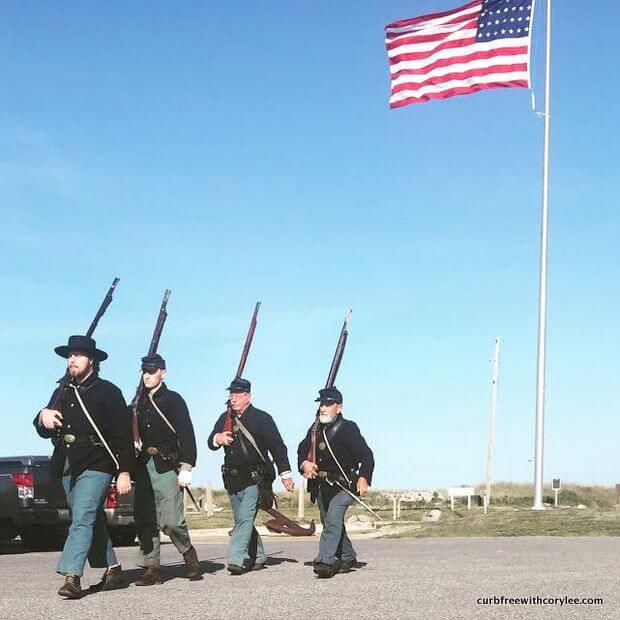 The majority of Fort Morgan is wheelchair friendly. I was able to explore many of the nooks and crannies and my friends and I may have played a bit of hide and seek even. There is also a museum at the fort that is fully accessible. In the museum, there are many artifacts portraying the artillery, uniforms, and history of the area.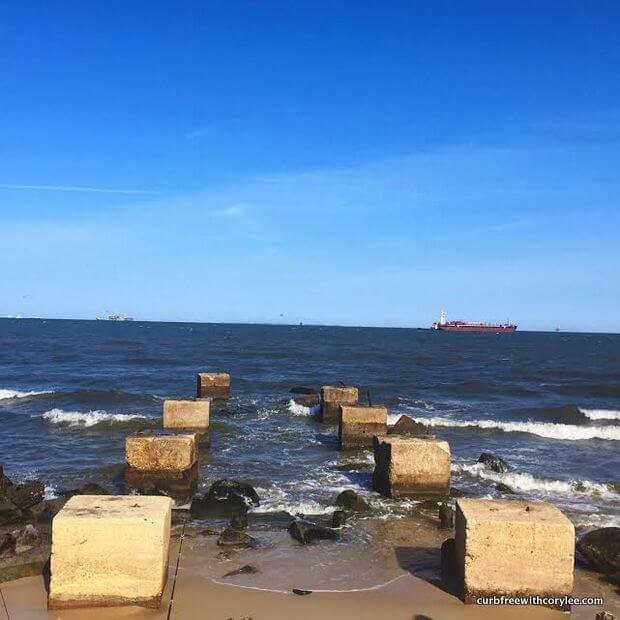 Things to Do in Orange Beach
There are many other fantastic Orange Beach and Gulf Shores attractions that are wheelchair accessible as well, but these were just some of my favorites that really stood out to me. If you're looking for an accessible vacation destination that has everything from beautiful beaches to entertaining history lessons, look no further. I know that you'll love these things to do in Orange Beach and Gulf Shores attractions just as much as I did.