Located just outside the Twin Cities (AKA Minneapolis and St. Paul) in Bloomington, Minnesota, the Mall of America is arguably the world's most famous shopping center. The largest mall in the USA and the 12th largest in the world, the Mall of America attractions bring in over 40 million visitors each year — more than any other mall! It's vast, sprawling, and even contains a top-notch amusement park inside of its walls. Needless to say, a number of these eager tourists are wheelchair users, so the Mall has a lot of features making it easy to have a good time on wheels. During my recent visit to Minnesota for TBEX, the world's largest travel blogging conference, I had a couple days to explore the mall and see what makes it a fantastic destination for wheelchair users.
Best Mall of America Attractions
Yes, this mall is so large that it has an entire 1.3 million gallon aquarium inside of it, one of the biggest Mall of America attractions. To find SEA LIFE, head to the east side of Level 1. If you'd like for this to be your first stop of the day, the closest parking is located between LL Bean and Sears on the east side of Level 1. The whole aquarium is wheelchair accessible, and you can get to their ticket counter by the elevator located on the first floor, near SEA LIFE's main entrance. In the aquarium, you will see jellyfish, seahorses, and sharks as you roll through a tunnel with water all around you, including over your head (pictured above). It's pretty awesome, and a little terrifying, to see sharks swimming right above you. You can save money on tickets if you buy them in advance online, since the box office price for one adult is $24.25 plus tax and online tickets sell for $17.99 plus tax. Regardless, children under 2 years old enter for free!
A fun and trippy attraction, this 2,500 square foot mirror maze is one of the largest in the world and a hit among the Mall of America attractions. Good luck finding your way through the winding hallways and infinite reflections. Admission is very reasonably priced at $8.95 per person plus tax, and the exciting challenge is well worth this price. The hallways aren't super wide, but the maze is still wide enough and completely wheelchair accessible. Just be prepared for the twists, turns and mirror-induced tricks as well as a lot of arm exercise if you're propelling yourself along in a manual wheelchair. I managed to escape the maze in about 20 minutes without hitting any mirrors with my chair, after getting turned around several times.
This truly unique hit among the Mall of America attractions will give you a bird's eye view of America's most stunning landscapes. Part video and part physical experience, the attraction has guests sitting in suspended seats with their feet dangling. The seats move in sync with the video and you experience 4D-style effects like wind, mist, and even scents. You'll spend about 10 minutes "flying" from coast to coast, up mountains and through valleys. You can reserve tickets for a specific time; adult tickets cost $16.95 and for children it's $12.95.
All areas of FlyOver are wheelchair accessible, but you may or may not be able to experience the sensory aspects of the ride. If you can transfer by yourself or with the help of your companions to one of the ride's chairlift-like chairs, you're good to go. However, if you cannot transfer into the chairs, you can still watch the video from the Flight Deck where staff will accompany you. However, for safety reasons your companions can't stay in the Flight Deck area with you — they must either stay in a waiting area or go on the ride.
Nickelodeon Universe is one of the most popular Mall of America attractions: that crazy amusement park inside the Mall of America. The rides generally aren't accessible unless you can transfer from your wheelchair into the seats, but it's fun to just roll around the theme park and watch all the buzz. The Nickelodeon Universe shops and Guest Services areas are accessible. For more information about the exact accessibility of each ride, you can consult this Rider Safety Guide — or if you have specific questions about accessibility, call (952) 883-8800.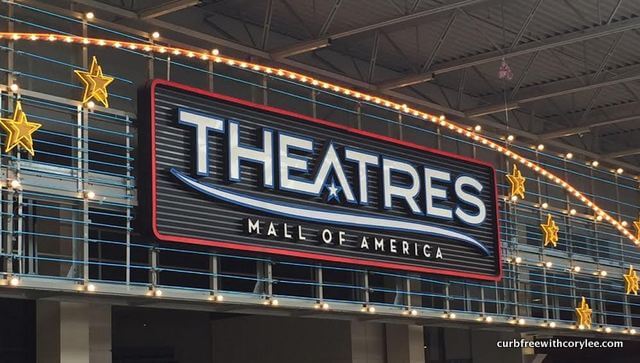 After a long day wheeling around between stores and Mall of America attractions, relaxing and watching a movie sounded great to me, so it might to you, too! The Mall of America's movie theater is fully wheelchair accessible, and you can check show times here. You can watch movies in 3D if you'd like, and if you have any questions about the theater's accessibility or guest services, visit one of the four Guest Services desks located on Level 1 at the east, west, north, and south entrances.
After a long day of shopping at the Mall of America, there's nothing better than an evening of dinner, drinks and laughs in a wheelchair accessible comedy club. Stars of Late Night TV indicate the caliber of comedians that put on shows here, so it's a must-see attraction. To get to the House of Comedy, head to the east side of the mall's Level 4, and you can park your car in the Parking Level 5 East lot. Ticket prices vary based on the event and comedian performing that night, but it's run on a first come, first serve basis — so if you don't buy your tickets online, be sure to get there early enough. House of Comedy asks wheelchair users to contact the box office before the show so that they can make appropriate accommodations.
For more things to do, see my additional post: 10 Wheelchair Accessible Things To Do at Mall of America
Mall of America Stores

As America's largest mall, it's no secret that one of the biggest Mall of America attractions is that the mall itself is a veritable shopping mecca. There are so many stores that it's good to know all your options, so you can make a plan to hit the ones you really want. View the mall's stores, restaurants, and the hours they're open in this directory. The directory is also useful because it will tell you the best places to park near each store.The mall is easy to get around in a wheelchair, stores are accessible and there are plenty of elevators to go from one level to another. And since there is no tax on clothing or shoes in Minnesota, shopping really is a great deal! I managed to snag some shirts, a new jacket, and new shoes for men.
Best Mall of America Restaurants
You won't find a better choice among the Mall of America attractions if you're craving classic Italian cuisine. Wheelchair accessible Tucci Benucch accommodates groups small and large for lunch and dinner. They serve a fresh, seasonal menu and are also excellent at accommodating any dietary restrictions. I recommend getting pasta (the lasagna was exceptional) and trying one of their excellent hand-crafted sauces, or if you're in the mood for caffeine, their dark roast direct trade coffee is a great choice. To get to Tucci Benucch head to the West Market where it's located near Macy's.
While eating here, it's easy to forget that you're in a gigantic mall for a moment and picture yourself deep in the jungle! The Rainforest Cafe is such a unique dining option among the Mall of America attractions, and it's also a shop as well. Its menu has a variety of options and if you have kids, they'll love the kid's menu. And yes, despite all the rainforest props and decor, the Rainforest Cafe is a completely accessible culinary adventure.
For fans of music, rock memorabilia and delicious food, the Hard Rock Cafe is a must-try restaurant in the Mall of America. I always visit Hard Rock Cafe's in every city that I'm in because I collect their t-shirts, but the food is great also. If you're lucky, you might even catch a live event on the stage. Featuring a wheelchair accessible area and delectable American cuisine, it's hard not to love it here! If you're interested in trying it yourself, the Hard Rock Cafe is easy to find, located next to the big LEGO store in Nickelodeon Universe.
If you're into sushi, Masu is the place to be. They also feature robata, a unique Japanese dish involving meat and vegetables grilled over very hot flames on skewers. What sets Masu apart from the rest is their focus on fresh, sustainable seafood — and your stomach will be sure to thank you! Its features include wheelchair accessibility and one of the largest sake collections in the Twin Cities, so get ready for a great dining experience. To get here, enter the Mall of America on South Avenue opposite the Radisson Blu, then turn left.
If you're seeking some grilled up comfort food, look no further than the Twin City Grill. Their mac and cheese is divine and Twin City Grill offers a laid-back and relaxing atmosphere. With decor inspired by dining establishments of the 1940s yet wheelchair accessibility of the modern day, it's the ideal combination for something different.
Where to Stay – Mall of America hotels
There's no doubt about it — the Radisson Blu Mall of America is the best place to stay for wheelchair users visiting the USA's largest mall. If you're looking for the best Mall of America hotels, this is it. It's a contemporary hotel actually set inside of the mall's boundaries, so you're close to everything. In fact, it's connected by a skyway to the Mall of America and it's only 6 minutes walking or rolling to the SEA LIFE Aquarium and 11 minutes to Nickelodeon Universe. Spacious wheelchair accessible rooms with roll-in showers, 24 hour room service, indoor spa/pool and free parking are among the many amenities included at this convenient place to stay. Here's my full accessibility review of the Radisson.
Since the Mall of America is served by the metro rail train, the Radisson also offers easy access to other areas, like downtown Minneapolis and St. Paul. Additionally, the hotel has a free shuttle service from the Minneapolis-St. Paul International Airport, which is actually only five miles from the hotel, but unfortunately the hotel's free airport shuttle service is not accessible for wheelchair users. I ended up using SuperShuttle to get from the airport to the hotel, which was $56 round trip and wheelchair friendly.
Additional Tips
How to Get There
You can access the Mall of America attractions by car, taxi, SuperShuttle, or the accessible Light-rail Metro. If you have a car, parking is free and is located in many places throughout the mall. Renting a car at the airport is also a hassle-free experience, since rental agencies there have cars with hand controls at no additional cost.
If you're going from the airport, taxis or a SuperShuttle are also an excellent bet. There are taxis available at the airport, or you can call a specialty company and set something up in advance. Airport Taxi MN has wheelchair accessible van taxis available, and you can call 612-721-0000 when you're in the baggage claim area to reserve one since taxis are staged nearby. Then, head over to the Special Call Taxis area and look out for the number that you were given on the phone. Be sure to specify that you need a wheelchair accessible van. Alternatively, you can call Care Cabs at 800-535-7190 to explain your transportation needs and reserve a taxi or 800-258-3826 to reserve a SuperShuttle.
Additionally, light rail metro service is another convenient way to get from the airport to the Mall of America. Trains run every 10 minutes during busy hours, and you can reach the Mall of America from the airport in just 12 short minutes! If you plan on using the Metro Transit light rail or buses during your vacation, it's good to know that wheelchair users get a reduced fare. Buses have ramps and lifts, and light rail trains offer step-free boarding and accessible rail stations.
Accessibility and Additional Info
The Mall of America attractions are quite friendly to wheelchair users, but here's some useful accessibility info. The mall has wheelchairs available for rent for $5 per day plus a $5 deposit and electronic carts available for $30 per day, with no deposit required. I also saw many visitors riding indoor mobility scooters that were rented from a local store nearby. All bathrooms are wheelchair accessible, but a special companion care restroom is located near the north side entrance on the first floor.
If you have any equipment with you that needs storing, there are lockers available throughout the mall on the east and west sides of Levels 1, 2, and 3 as well as the north and south sides of Level 1. Prices vary based on locker size (ranging from regular to jumbo, $6 to $13). If you need to store larger items like luggage you'll need the jumbo lockers which can be found underneath the Ferris Wheel on the south end of Level 1.
All in all, the Mall of America makes for an amazing and well-rounded trip. The Mall of America attractions include an underwater world, "fly" over America from above, and even get lost in a mirror maze! Of course, the highlight of it all is the comprehensive shopping and dining experience. You can easily spend several days here because there's so much to do and it's a fun, hassle-free experience for wheelchair users.
Have you been to the Mall of America before? I'd love to hear about your favorite attractions!