About six months ago, I went hot air ballooning for the first time ever in Las Vegas. If you have been following along with my travels for a while now, then you've probably heard me rave about how much I enjoyed it. Since that ballooning ride in Vegas, I have been itching to get back to the skies, but I haven't been sure what other destinations offered accessible ballooning. Imagine my surprise when I found out that it was possible in Israel and that I'd be doing it during my trip to the Holy Land!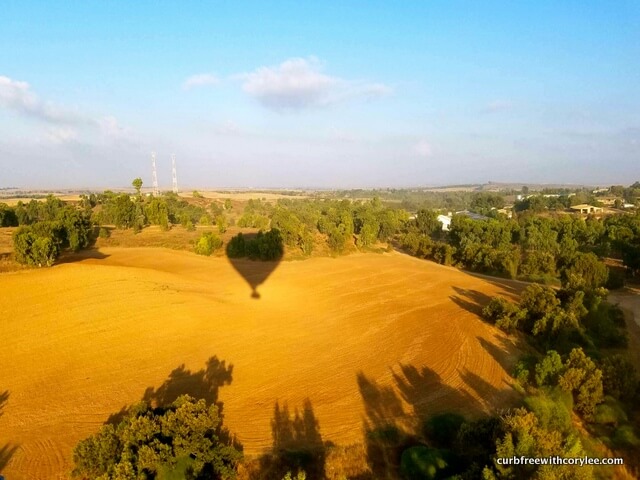 Fast forward a few weeks and I was in Tel Aviv. The adventure started at 2:30 AM when I woke up to get ready for the sunrise balloon ride. It was incredibly early, but I was excited to see what the day had in store. At about 4:00 AM, we departed our hotel in central Tel Aviv and drove toward the Negev desert with Israel4All, a tour company that focuses on accessibility. The ballooning meet-up location was about an hour and a half from Tel Aviv and we arrived right before sunrise. The team from Over Israel was already setting up the balloon and it was fascinating to watch the process. The staff were very friendly and offered us coffee upon arrival also. Their enthusiastic spirits made me immediately forget about how early it was. I could tell that they truly love their job, which made me feel like we were in good hands.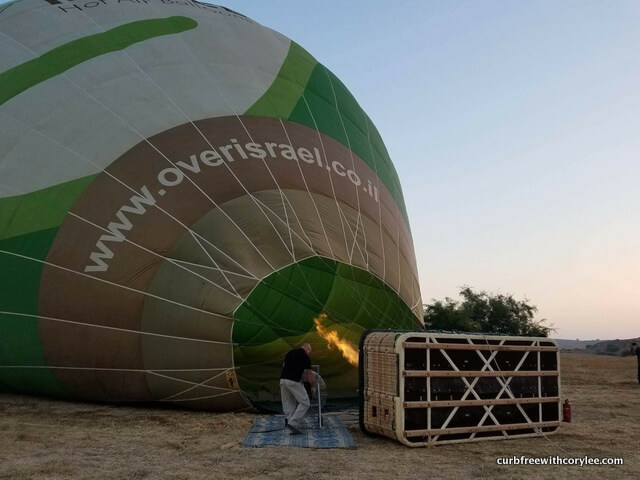 Once the balloon had enough air in it, the basket was flipped upright and it was time for us to get in. The basket can actually hold up to 18 people, but it is divided into separate sections with partitions, so only 3-4 people are in each section of the basket. There is one section for wheelchair users and it has a door that opens. This way, you do not have to climb up over the basket to get inside. You can simply open the door and there is a special seat inside. This seat is sort of like an adult-sized car seat. It had some side support, neck support, and straps to keep me in place. The seat was rather comfortable actually, but it did take a little bit of work to get in it. I had to be physically lifted out of my wheelchair and carried into the basket. It was a bit of a tight squeeze, but we made it inside and to the seat with some help from our pilot. He carried me from one side while my mom got the other side of me. The staff and myself were determined to get me in the balloon, and it was totally possible. After that quick transfer, I was in the seat and ready to soar over Israel.
What made this seat extra cool was the fact that it could raise up with a remote control. It raised high enough for me to have a perfect view over the basket walls. It also had a place for me to put my feet so they wouldn't be dangling. For extra comfort, you could try putting your wheelchair cushion in the seat, but I thought that the seat worked beautifully and it was much more comfortable than I thought it would be.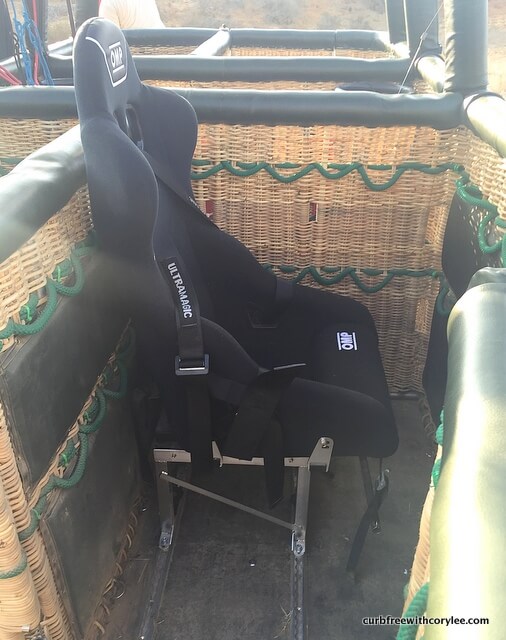 After getting situated, it was time for liftoff. Up we went and it soon felt like we were on a cloud. I could not feel the balloon moving at all and it was even smoother than an airplane ride. The peace that I felt up there, and the fact that I was over the Negev Desert IN ISRAEL, was surreal. I still can't fully wrap my mind around the fact that I went hot air ballooning over the Holy Land. I never in a million years would have dreamed of this, but sometimes life is better than anything that you can imagine.
The flight lasted about one hour and we had some of the most spectacular views that I've ever seen. Not only did we see the desert down below, but we also saw animals, residential neighborhoods (there was even a kid yelling "hello" and chasing us at one point), and we could see the Gaza Strip way off in the distance for part of the ride. Needless to say, there were plenty of photo ops!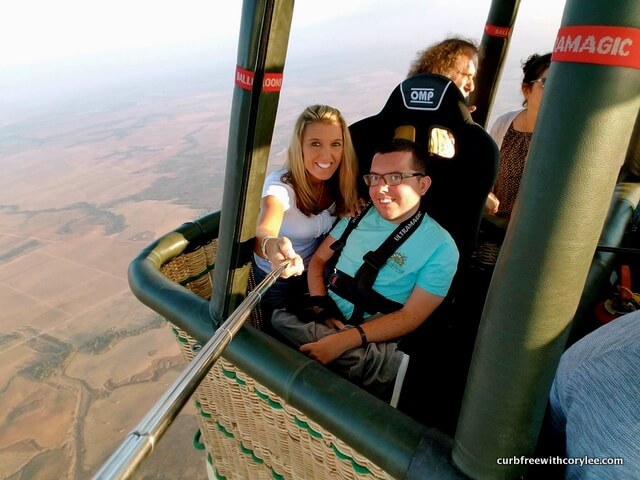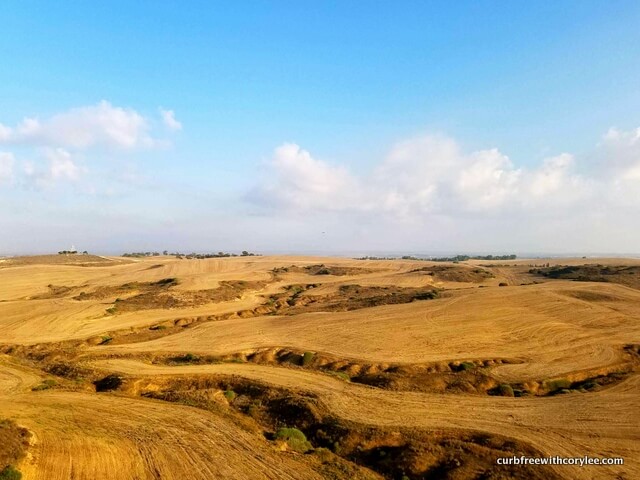 We were in the air for quite a while (about an hour), but it seemed like mere minutes because I was enjoying it so much. I didn't want it to end, but apparently we couldn't stay in the sky forever, so we had to go back down. The landing was perfectly smooth. Soon, our driver from Israel4All met us out in a field with my powered wheelchair and I got out of the balloon with the help of my mom and our pilot again. We all celebrated the successful balloon ride with a champagne toast, as is tradition in ballooning, and I was even given a flight completion certificate. What a great souvenir, huh?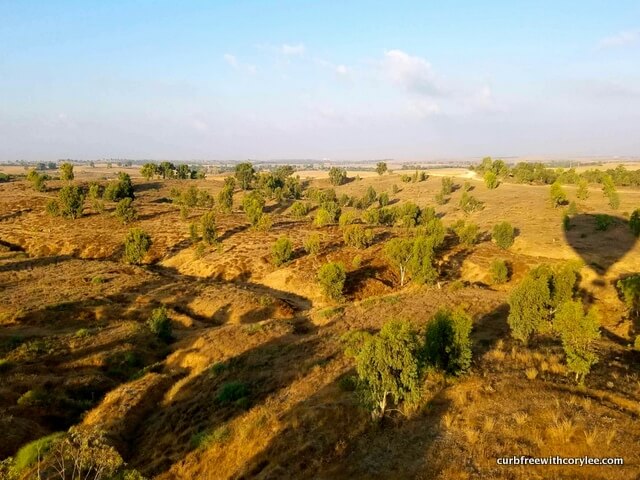 With Israel being an older country full of history, I honestly never even considered hot air ballooning as an option. When thinking of Israel I thought of the Old City in Jerusalem, Masada, and the beaches of Tel Aviv, but certainly not ballooning… and wheelchair friendly ballooning at that! This was a fantastic surprise that ended up being a highlight of my trip. If you are looking for a unique once-in-a-lifetime accessible activity in Israel, look no further than Over Israel.
To book your own hot air ballooning adventure, visit Over Israel's website. You can also find them on Facebook by clicking here.
*Thanks to Israel Tourism, Over Israel and Israel4All for making this trip possible. While this experience was complimentary, all opinions are my own.