When I think of Israel, one thing immediately comes to mind: the Old City of Jerusalem. Visiting this city has been a bucket list item of mine for years, but I always assumed that it wouldn't be very wheelchair accessible. After all, when you imagine the thousands of years of history that Jerusalem has endured, I'm sure that accessibility was the least of their worries back in the first century. While I was a bit unsure if I'd be able to roll around the Old City with no barriers, I was immensely excited to give it a try and it was certainly the area that I was most looking forward to visiting during my trip to Israel. I'm happy to say that it didn't disappoint.
Jerusalem is the capital city of Israel and the largest, with more than 800,000 residents. However, the Old City is a smaller walled area within the modern city of Jerusalem. It's made up of four different quarters – the Muslim Quarter, Christian Quarter, Jewish Quarter, and the Armenian Quarter. Outside of the Old City walls is a bustling city, much like Tel Aviv, with fine dining, museums, shopping centers, and more, but inside the walls of the Old City it is like stepping (or rolling) back in time. There is a lot more to Jerusalem than just the Old City of course, and I'll have an article about everything else in Jerusalem in the near future, but for now we're going to focus on accessibility within the walls of the Old City.
My time in the Old City started at the Western Wall, Judaism's most sacred site. Luckily, I traveled around the country with Israel4All, a tour company that focuses on accessibility, and our guide knew just where to park our van. He actually arranged our parking in advance, so we were able to pull all the way up to the entrance of the Western Wall and park at it. We had the closest possible parking spot, which was nice because that meant that I didn't have to roll very far in the August heat. Parking can be a nightmare in the Old City, so going with a guide is definitely a plus. Another thing that was great was the ground leading up to the Western Wall. It wasn't bumpy for my wheelchair and was relatively smooth.
Once we unloaded out of the van, I rolled a very short distance to the Western Wall. The Western Wall is also known as the Wailing Wall and it was originally erected as part of the expansion of the Second Jewish Temple by Herod the Great. This resulted in the encasement of the natural, steep hill known to Jews and Christians as the Temple Mount. The Western Wall is the holiest place where Jews are allowed to pray, and it's said that if you put a note with a prayer on it into the cracks of the wall, it has a higher chance of being answered.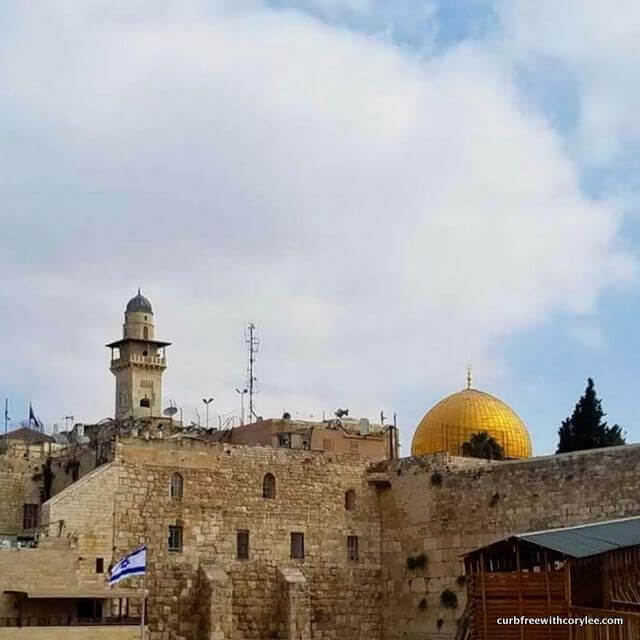 There are two separate entrances to get up close to the wall, one for men and one for women. My mom went in at the women's side and I went in at the men's side with our guide, Eli. Since this is a Jewish site, kippah's (the small round hats that partially cover Jewish men's heads) are available for everyone to put on before they enter. They are in a big basket so you can just grab one for free. What's great about these free kippah's is that on them it says "The Western Wall Heritage Foundation" so it makes for a fantastic souvenir as well.
After putting on the kippah, I went to the wall. Not really knowing what to expect, I was immediately blown away. It moved me to see everyone praying, crying, and cheering at the wall. Some people had dreamed of getting to this place their whole life, and they finally made it. A father and his adult son asked us to take a photo of them at the wall, and there were tears in their eyes the entire time. The son kissed his dad on the head and said "We made it". Seeing the joy that being in this magical place brought to them made me tear up a bit. How fortunate was I to be in this city that so many others have only dreamed of visiting. It was a beautiful moment that I will never forget.
Even though I am not Jewish, I said a quick prayer at the wall and observed everyone else for a while. Before visiting the Western Wall, I didn't really know much about it to be honest. Or to put it better, I didn't understand the significance of the wall. However, after observing how much it meant to so many people, I can see why it is a special place. It's a place of comfort, a place to pray, and a place for people to believe in something bigger than them. At the Western Wall, I realized that this trip to Israel might be my favorite trip yet.
With this realization, I was ecstatic to see what else Jerusalem's Old City had to offer. Our guide, Eli, said that there was an accessible route to the Church of the Holy Sepulchre from the Western Wall, if we wanted to just walk to it instead of trying to luck up on another perfect parking spot. I happily obliged and off we went to meander the alleyways of the Old City.
In the alleyways and streets along the way, there were plenty of shops (of course I had to buy some souvenirs) and some small restaurants as well. It was a hive of activity and just strolling along was a remarkable experience. I loved watching the locals and interacting with them in the shops. Despite the somewhat bumpy terrain due to cobblestoned streets, I would highly recommend taking this route instead of driving. It gave me a chance to really see the Old City and not just its popular attractions.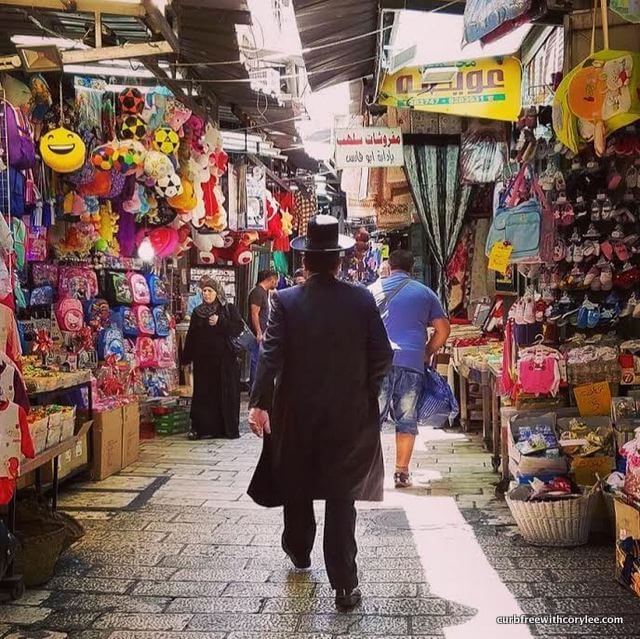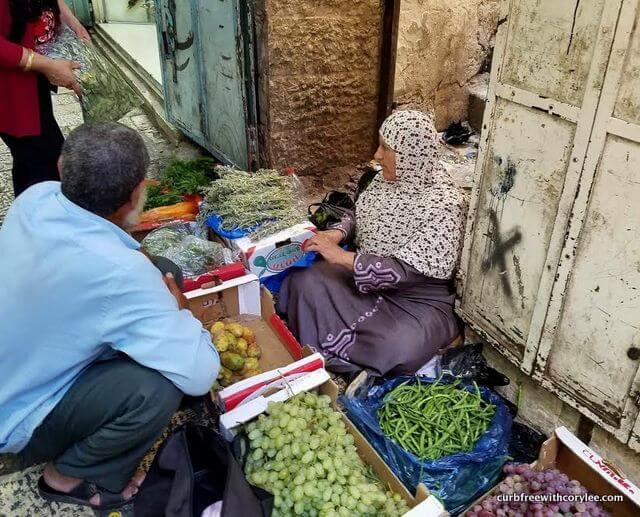 Speaking of cobblestone, I feared that all of the Old City would be cobblestoned before I actually went, but that luckily didn't turn out to be the case. Even though I use a powered wheelchair, cobblestone still shakes me around and isn't my idea of a good time. Much of the Old City was actually smooth and made for a pleasant journey. However, in about half of the Christian Quarter it was a little rough and in quite a bit of the Jewish Quarter it was rough, but still doable. The Muslim Quarter was probably the smoothest in my opinion. To make driving over the rough parts better, I took my time and went extra slow. I also discovered that if I drive going backwards (and have someone tell me when to turn left or right), it was a lot smoother. Overall though, the Old City was pretty wheelchair friendly.
After about an hour of walking (could have been a lot quicker, but we shopped a good bit), we reached the Church of the Holy Sepulchre. This church is located in the Christian Quarter of the Old City and is, in the Christian religion, where Jesus was crucified and buried. As someone that went to a Christian church growing up, I was tremendously looking forward to visiting this place and actually seeing everything in person.
For wheelchair users to get in the church, there are a couple of ramps that you will have to go down. The first ramp was pretty steep, but easy for my powered wheelchair to conquer. Then, to get inside the main door of the church, there is a small step. You can request that the portable ramp be laid down to help you get inside.
Once inside, the church was stunning. The first sight that I noticed was the Stone of the Annointing. This is where Jesus' body was laid and prepared for burial. It's said that you can soak up the holiness by rubbing or laying an object on the Stone of the Annointing. Therefore, I decided to lay down on it for a quick nap… Just kidding. We did rub my bracelet on it though.
We then wandered around the church and admired its beauty. Sadly, the tomb where Jesus was buried and rose from is not wheelchair accessible, but the rest of the Church of the Holy Sepulchre is. It is a rather large church and was consecrated in 335 A.D., so the flooring is old and bumpy for a wheelchair. It does give it a historic feeling though and it was definitely worth it, and surreal, to be in this holy place.
The church completed my tour of the Old City during the day, but at night I went to the Sound and Light Show at the Tower of David Citadel. This show is wheelchair accessible and a beautiful display on the history of Jerusalem. Pictures are projected onto the walls of the Tower of David in a show that lasts about 45 minutes. I don't want to spoil the show for you, so I won't say too much about what it is, but it's something that you should definitely plan on attending. I would also recommend getting your tickets in advance, as it frequently sells out.
There is more to the Old City of course, but these were some of the highlights of my time there. Whether you are Jewish, Muslim, Christian, or don't identify with any religion, Jerusalem's Old City is a place that will leave an impression on you for many years to come. And while parts of it may not be one hundred percent wheelchair accessible, I can promise that navigating the Old City is completely possible and a must-do. If you're like me, the jaw-dropping city of Jerusalem will manage to go above and beyond any expectations that you had.
*Thank you to the Israel Ministry of Tourism and Israel4All for making this trip possible. While some activities were complimentary, all opinions are authentic and my own.