Whenever I visit any city, I generally try to not focus too much on finding the perfect hotel. After all, it's just a place to sleep for a few hours after a long day of exploring, right? Wrong! During my recent visit to Jerusalem, I stayed at the Inbal Jerusalem Hotel and everything from the buffet breakfast to the wheelchair accessibility blew me away. The hotel was a great experience in itself, and was a perfect place to return to after wandering around the Old City of Jerusalem all day. This stay showed me that sometimes it's definitely worth splurging a little for a very nice hotel. Here is why I loved my stay at one of Jerusalem's most highly ranked hotels –
The Customer Service
As soon as I arrived to the hotel, I was immediately greeted with smiles from everyone. This persisted throughout my entire stay and it's easy to see why this is one of the top ranked hotels on TripAdvisor. Check-in was a breeze and it only took mere moments to be whisked off to my room.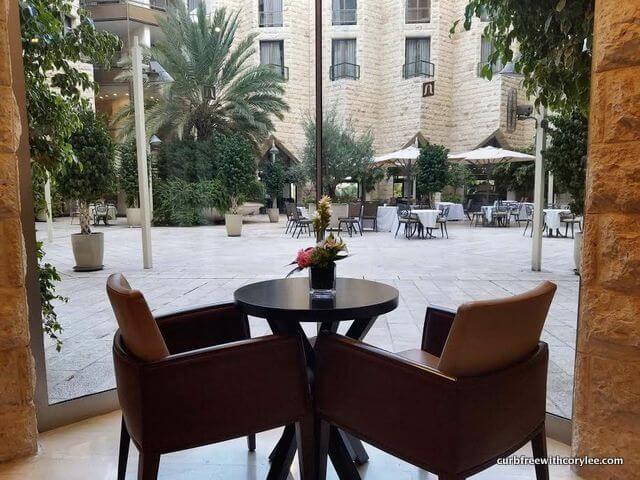 The Room
I stayed in a wheelchair accessible room overlooking the pool and it fit my needs perfectly. The doorway was about 32 inches wide, which was perfect, and there was plenty of space to easily maneuver around the room. The beds were a good height to transfer into as well. Other amenities included a desk in the room, along with a television and fast free WiFi. Any hotel that offers free WiFi is my kind of hotel! 😉
The Bathroom
This was my favorite bathroom of any of the hotels during my time in Israel. It had a roll-in shower, which had a glass door on it that you could close. I liked this feature because it seemed to not get the floor as wet. The entire bathroom was also quite spacious for my travel shower chair. In addition to the roll-in shower, there was a bathtub as well and grab bars around the toilet.
The On-Site Restaurant
Hotel restaurants, from my experience, are usually pretty bland. However, Sofia Restaurant at the Inbal Jerusalem Hotel ended up being one of my favorite meals in the entire country. There were a wide variety of choices on the menu, but I ordered the minestrone soup as an appetizer, the salmon fillet as my entree, and tiramisu for dessert. Everything was exceptional and packed full of flavor, and I ate every single bite. Seriously, if you can only dine at a couple restaurants while in Jerusalem, make sure Sofia is one of them.
The Breakfast
Breakfast is not complimentary to hotel guests, but it is certainly worth the extra cost in my opinion. When booking your room, you can actually do bed & breakfast packages, which makes it a bit cheaper. The breakfast buffet had so many choices that it was almost overwhelming and I didn't know where to start. The good thing is that you can always go back for seconds… or thirds. I loved the variety of baked goods (I mean, can it get any better than having cheesecake for breakfast?!) and fruits, but there was also fish, waffles, salads, and much more. You will easily find a plethora of options to gear you up for a day of sightseeing.
The Pool
I visited Israel in August, AKA the hottest month ever, so the pool was a nice refuge from the heat. There was a bar by the pool, which made it a nice place to just lounge around. But the best part of the pool was the fact that there was a pool lift. I'm always pleasantly surprised when I see a pool lift at a hotel because it shows that the hotel really cares about guests with limited mobility. Since the pool is quite large, you will be able to swim around without bumping into other people.
The Location
Sure, the hotel offers a lot, but you'll want to get out and see the many incredible sights of Jerusalem while in the city. The Inbal is the ideal place to start your journey from. It's located in the city center in an upscale neighborhood, and is just a short walk (or an even shorter roll) away from many attractions, restaurants, and shops. For example, the Western Wall and Jaffa Gate are only a 15-20 minute walk away. I used an accessible van to get around with, thanks to my awesome guide from Israel4All, and it seemed like everything was a 5 minute drive away. I can't imagine a better location.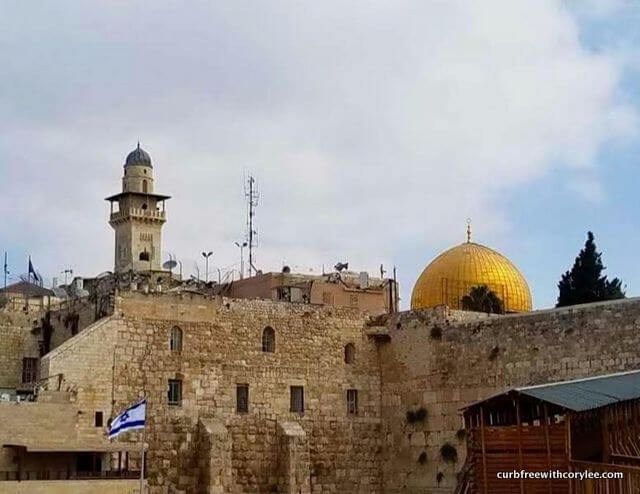 My two nights at the Inbal Jerusalem Hotel were fantastic and truly made my time in Jerusalem that much better. It was the perfect place to return to every night and offered some of the best accessibility of any hotel in the world. If I'm ever back in Jerusalem, I definitely know where I will be staying.


*Thank you to the Inbal Jerusalem Hotel and the Israel Ministry of Tourism for hosting me. While my stay was complimentary, all opinions are authentic and my own.
*A Note from Curb Free with Cory Lee: This post includes affiliate links. When you click on a link, I may receive a small compensation, which will help this blog grow into a better resource for disabled travelers.