For as long as I have dreamed of going on an African safari (which is my entire life), I've dreamed of visiting Kruger National Park. I'm not sure where or when I first heard of Kruger National Park, but it has always been a dream of mine to explore this vast landscape. At more than 7,500 square miles, it is the ultimate wheelchair accessible safari destination in South Africa. With more than 12,000 elephants, among many other animals, you'll be able to spot the Big 5 in Kruger (elephant, buffalo, lion, leopard, and rhino) and a whole lot more.
Aside from just driving around on safari and looking for animals, the park offers visitors much more, including rest camps, shops, and restaurants. But is Kruger National Park a wheelchair accessible safari experience? During my recent visit to this South African landmark, I uncovered the best of what Kruger has for wheelchair users as a disabled safari holiday.
WHERE TO STAY
Sure, you could simply visit Kruger and just do a day trip or stay outside the park, but it is extremely convenient to stay within the park. There are 12 rest camps, so you'll be covered no matter which area of the park you are in. I stayed in Kruger National Park for four nights total, which may not seem like a long time, but it was plenty for me to get a good grip on the park and see all of the animals that I could possibly imagine. For the first two nights, I stayed in Skukuza Rest Camp and for the last two nights, I moved to Satara Rest Camp. The accommodations at both camps were about the same, but I'll tell you about them one at a time just so you will get a full idea of what they were like.
You can also check out this guide to the rest camps.
Out of the many camps that Kruger Park has, Skukuza is the largest, which makes it the most popular. It's in a great area and is wheelchair friendly with smooth paths and accessible bungalows. There are quite a few wheelchair accessible safari bungalows at Skukuza, but I stayed in bungalow number 131. It had 2 beds, a spacious roll-in shower, and an outdoor kitchen with a refrigerator. I've actually never been camping, so this was a really cool experience for me. I mean, I was staying in a bungalow in the middle of Kruger National Park… can life get any better?!
Skukuza does have a large accessible gift shop, which I spent way too much money at, as well as a restaurant. However, our guide, Alfie from Epic Enabled (the tour company that I went on safari with), cooked dinner every night at the bungalow's outdoor kitchen. We enjoyed dishes such as spaghetti, chicken, and sausages just to name a few, and every meal was exceptional. I'm a pretty adventurous eater, but usually when my mom and I go to foreign countries, she ends up losing 5-10 pounds because she is a picky eater. However, she even loved all of the food that we had and maybe gained a pound or two. I was surprised by how similar the food was to American food. I was expecting some kind of bone soup (maybe that's in other parts of Africa?), but this was the best food I've ever eaten on a trip.
These dinners were always great because it gave us a chance to talk about the day and learn about each other. In my tour group, there were 3 wheelchair users including me and 5 able-bodied people. It was my mom and I, a family from Sweden, a lady from New York, and two friends from Germany. We were a global bunch from all over the world and at dinner, we would talk about our different cultures and laugh with each other. I always love meeting new people and I really feel like I made some great new friends from this trip.
Here is a Facebook Live video of my accessible bungalow at Skukuza –
After two nights at Skukuza, we moved to Satara Rest Camp. Satara is Kruger Park's third biggest camp and is known as the "cat camp" because it is the best place to spot the lion, leopard, and cheetah. Much like Skukuza, it has smooth paved paths and wheelchair accessible safari bungalows. There is also a gift shop, a pizzeria, and a Mugg & Bean coffee shop. At Satara, I stayed in bungalow number C-57, which was spacious and had two beds and a roll-in shower just like the last camp. Another amenity that both bungalows I stayed in offered were power outlets. I was easily able to charge my wheelchair, iPhone, and laptop (even though there was no WiFi).
While the accommodations were the same, one thing that made me love Satara was the fact that there were monkeys all over the place. They wandered around the camp and we even caught them stealing some food out of someone's outdoor refrigerator and cabinets. They were fun to watch and it was quite a sight to say the least! Be sure to lock your cabinets up if you keep any food in the outdoor kitchen of your bungalow.
GOING ON A WHEELCHAIR ACCESSIBLE SAFARI
Now let's get to the fun part – safari! I expected to see a lot of animals in Kruger National Park, but nothing could prepare me for everything that was in store. Within one hour of passing through the Kruger entrance gate, we spotted giraffes, elephants, a leopard devouring an impala up in a tree, and more. Needless to say, it was quite a welcoming, but that was nothing compared to what we would see over the next days.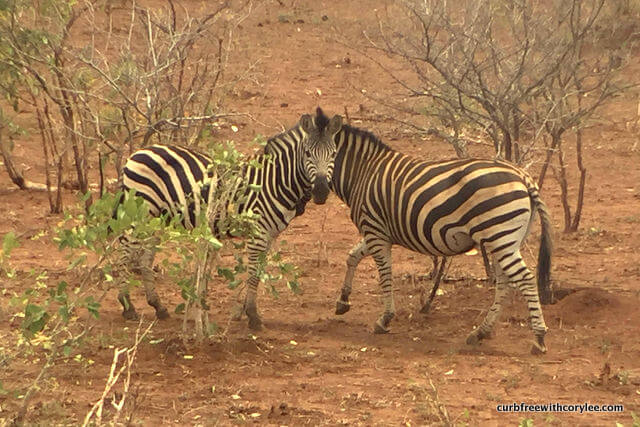 Most of the roads in Kruger Park are paved, so it was always a perfectly smooth ride. There are dirt roads, but we never went on them and I don't feel like I missed anything by staying on the paved roads. The animals were usually right by the road or even in the road. We frequently had to wait on elephants or giraffes to cross, which was a pleasant sight.
To get around, Epic Enabled used a wheelchair accessible safari truck with large open-air windows. It had a lift on it and I was able to stay in my wheelchair for all of the rides in Kruger. Tie-downs are available if you want to secure your chair, but I opted not to use them while in Kruger because all of the roads were smooth. I was able to move around the large truck, and get from one side to the other if I wanted to see an animal better. Since I can't really turn my neck all the way to the side due to weak muscles, I was a little worried before going on safari that it would be difficult for me to see everything if my wheelchair was tied down in the truck. However, everything worked out beautifully and I was able to freely enjoy all of the sights that Kruger had to offer. I could not have asked for a better vehicle to go on safari with or a better driver.
Our guide, Alfie, was quick to spot any animals and would point them out to us and explain fun facts about them. I feel like I learned so much about animals on this safari and it definitely gave me a better understanding and appreciation for them.
Our game drives were usually between 3-4 hours long and we were lucky to always spot at least one or two new animals on each drive. The daily routine was to do a game drive early in the morning and then one in the afternoon. While I usually like to sleep in a bit on vacation, I was always anxious to get up and go on a drive, even if it was at 5:30 AM. I know, I know… that sounds incredibly early, right? Many of the animals are more active in the early morning when it is not as hot, so you will be more likely to see them and get great safari photos by getting out as early as possible. Another bonus of getting up early were the incredible sunrises. There's just nothing better than watching the sun rise over Kruger National Park with a giraffe in the distance.
Over the course of four days in Kruger Park, we spotted the Big Five and much more. Some of my most memorable safari moments were seeing lions for the first time, a herd of elephants around a watering hole, baboons running rampant, hippos and crocodiles lazing in the water, and observing giraffes. All of the animals were fascinating to watch, but the giraffes impressed me the most. They would just stare at us humans inside the vehicle and seemed to be more intrigued by what we were doing than we were by them.
Want to see my safari in action? Check out this video below –
OTHER TIPS
We've covered a lot in this article so far, but here are some additional tips to help make your disabled safari holiday even more magical –
– Get a Moment lens. Since some animals may be far away, you'll want a camera that can capture those perfect shots. Instead of hauling around a big camera, I decided to just use my iPhone 6. The Moment lens – Tele photo 60mm
attached to my iPhone and zoomed in two times closer with no distortion. It was truly a lifesaver and took some great photos!
– Use the bathroom before going on game drives. Since the drives can be several hours long and sometimes there may not be an accessible restroom available, you will want to use the restroom before going.
– Buy a Kruger Park map & guide book in the shop. These guide books by Andy & Lorrain Tinker are available in all of the shops within Kruger. Not only do they contain all kinds of interesting information, but they have pictures of all of the animals in the park in the back of the book, so you can check off the animals as you see them. It's a good souvenir! Also be sure to check out Kruger National Park – Questions & Answers: Everything You Ever Wanted to Know!
– Use mosquito spray. Kruger Park is in the malaria affected zone, so using mosquito spray and taking anti-malaria medication is a good idea. I visited in October, so I only saw one mosquito during my entire trip, but better safe than sorry.
– Take binoculars and a blanket on game drives. The binoculars will help you see animals that are far away and the blanket will keep you warm on the early morning drives. Since the windows of our wheelchair accessible safari truck were so large, the wind really blew in and was a bit chilly in the mornings. By the afternoon drive, it was warm though and the wind actually felt good. Bushnell binoculars
are top-notch and not too expensive.
– Bring a flashlight. The camps get dark at night and there aren't really any lights along the pathways, so if you're walking around the camps, you will definitely want a flashlight.
– Bring the right adapter and converter. South Africa uses 220 volts, so if you are American, you'll need a converter or a 220 volt wheelchair charger. You'll also need an adapter that will fit South African outlets. These are the ones I ordered and they worked perfectly.
As you can see, Kruger National Park is an ideal destination for wheelchair users that are looking for an adventure. It may take a bit of planning, but I can promise that it will be well worth it in the end. From accessible accommodations to a wheelchair friendly tour company, there is no reason why wheels should stop you from going on the ultimate wheelchair accessible safari in Kruger National Park.
*Thank you to Epic Enabled for working with me on this trip. Affiliate links are included, however, all opinions are authentic and my own.