2016 was a wild year for me. I traversed four continents, spent over 40 nights in hotels, and took 16 flights. This was my most exciting year ever for traveling and I feel like I have learned a lot. I'm a big believer that traveling is the best teacher, so I'm incredibly thankful to have had so many awesome experiences in 2016. Here are some of my favorite travel memories of 2016 (in order of when they happened) –
Rolling in the snow in Helsinki, Finland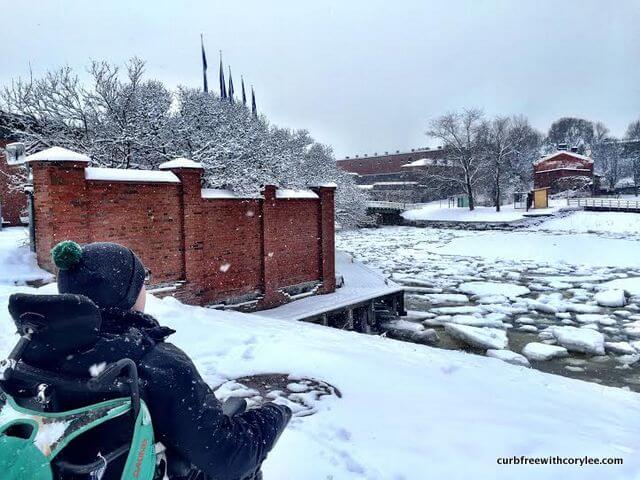 At the beginning of the year, I visited Finland and was a part of the #HelsinkiSecret Residence. I got to live like a Helsinki local for a week and it was a great experience, even with all of the snow. My favorite memory from that week was rolling in the snow while exploring Suomenlinna Sea Fortress. Such a beautiful place that I'll never forget.
Related Blog Post – Accessible Winter Fun at Suomenlinna Sea Fortress
Viewing the Old Town of Tallinn, Estonia
After wandering around Helsinki for a week, I boarded a ship to Tallinn, Estonia. I was only in Tallinn for one day, but it was one of my favorite days of the whole year. I never expected Tallinn to be so beautiful. It blew me away, especially the stunning Old Town, which is a UNESCO World Heritage Site.
Related Blog Post – My Wheelchair Accessible Day Trip to Medieval Tallinn, Estonia
Riding in my first hot air balloon
When I went to Las Vegas earlier this year, I wanted to get away from the bustling Strip and try something different. I soon learned that there was a hot air ballooning company that specializes in accessible flights in Vegas, and I was immediately intrigued. I had never gone ballooning before this, but now I'm a total ballooning addict. We had spectacular views of the Vegas Strip and the desert on our peaceful ride.
Related Blog Post – Soaring Over Las Vegas: My Wheelchair Accessible Ballooning Experience
Shopping at the Mall of America
This year, the world's largest travel blogging conference was held at the Mall of America. I was selected to speak about accessible travel at the conference, so I got to shop at the mall in my spare time. The Mall of America had been on my bucket list for a long time, but it offered soooo much more than just shopping. It has more than 50 restaurants and a plethora of attractions (including an entire theme park).
Related Blog Post – A Wheelchair Accessible Guide to the Mall of America
Fun in the sun in Pensacola, Florida
My family decided to visit Pensacola, Florida for the first time ever this year for our annual family vacation. It was a tremendously fun week and I was even able to roll up and down the beach in a powered beach wheelchair during our time in Pensacola.
Related Blog Post – Rolling in a Powered Beach Wheelchair in Pensacola, Florida
Hot air ballooning over the Negev Desert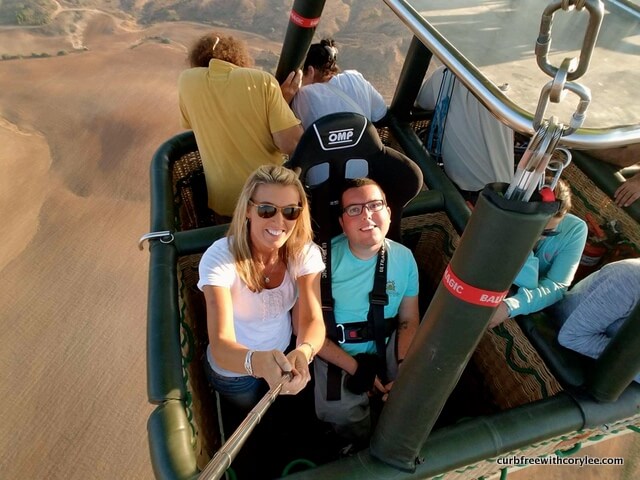 In August, I went to Israel and had the time of my life during a hot air balloon ride over the Negev Desert. I told you that I got addicted to ballooning in Vegas! The views were unbelievable and I never imagined that ballooning could be accessible in Israel, but the crew went above and beyond to ensure that I had a wonderful experience.
Related Blog Post – Going on a Wheelchair Accessible Hot Air Balloon Ride Over Israel
Navigating the Old City in Jerusalem, Israel
Navigating Jerusalem's Old City was probably my favorite experience of the entire year (and possibly my entire life). It moved me in a way that I've never experienced before. From the Western Wall to the alleyways to the Church of the Holy Sepulchre, Jerusalem was AMAZING and completely unlike anywhere else that I've ever been!
Related Blog Post – Navigating Jerusalem's Old City in a Wheelchair
Having an epic weekend in NYC
In September, my mom and I flew up to New York City for a fun-filled weekend of seeing Broadway shows, eating NY pizza, and filming a segment for CBS News. I've been to NYC several times in the past, but never in the summer. It was nice to be in the city for once without freezing, and it made me fall in love with the Big Apple.
c
Going on safari in South Africa
Going on a safari has been a lifelong dream of mine, and I finally did it in October. I went to South Africa and saw more animals than I can even remember, including elephants, lions, cheetahs, and giraffes just to name a few. It was remarkable to see all of these animals in their natural environment and surpassed my expectations in every possible way.
Related Blog Post – A Wheelchair Accessible Guide to Kruger National Park
These are just 9 of my favorite travel highlights from 2016, but there were many more unforgettable moments as well. I loved meeting many of you at different conferences that I spoke at and I can't wait to hopefully meet more of you in 2017.
What's ahead for 2017??
Speaking of 2017, I would love to share some of my plans for next year with you!
Ecuador – January 2017
This January, I will be visiting my 6th continent! I'll be in Quito, the Amazon, and the Andes on tour with Ecuador for All. I'll be sharing tons of content from Ecuador on my social media channels and here on the blog after my trip is complete.
Mall of America – February 2017
That's right, I'll be heading back to the Mall of America this February. I'll be there for the #MinNoCoata press trip, showing that it's possible to visit Minnesota in the middle of winter without a coat (because I'll be in the mall the whole time). I'm really excited to get back to the mall and see even more of it!
Scandinavia & Russia – August 2017
Toward the end of summer, I will be cruising around Scandinavia and Russia with my friend Sylvia, who is a fellow accessible travel blogger at Spin the Globe. Our cruise will start in Copenhagen and then dock in Helsinki, Stockholm, Tallinn, and St. Petersburg. I'm looking forward to visiting a few new places on this trip and revisiting a couple destinations for the second time.
I am planning more adventures than just these in 2017 of course, and I'll announce them when I know more. Thank you so much for following along with my travels and I hope that you have an incredible upcoming year as well.
What trips do you have planned for 2017??