At over 9,000 feet above sea level, Quito is a city whose beauty and altitude will take your breath away. South America had been on my bucket list forever, but I always thought that it'd be extremely difficult to navigate for access travel. However, after I discovered the wheelchair accessible tour company Ecuador for All, it was all uphill from there. On my recent Ecuador travel experience, I was pleasantly surprised by all of the places I could go in my powered wheelchair.
One of my favorite parts of the Ecuador travel experience was the time I spent in the capital city of Quito, Ecuador. If you haven't been, I highly recommend it! There's absolutely no reason to let a set of wheels keep you from enjoying Quito just like everyone else. Below is a wheelchair accessible guide to Quito, so that you can make the most of your time while there.
What To Do In Quito:
Tour the Old Town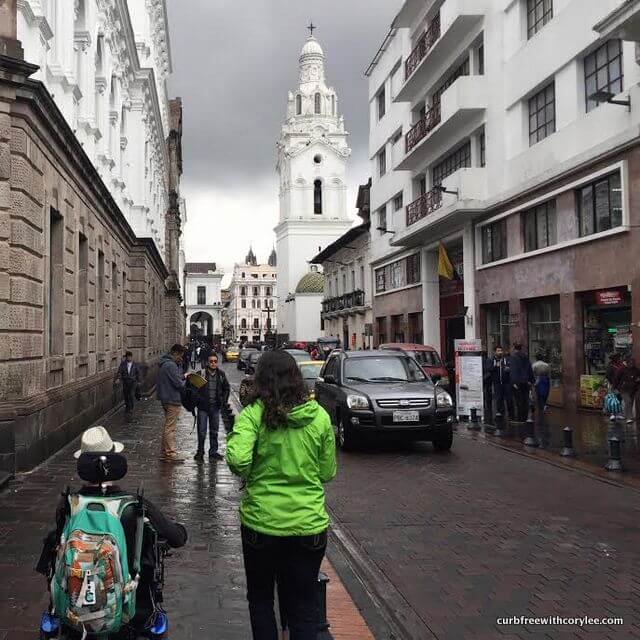 First off, you definitely can't miss visiting the Old Town! Or, as the locals call it, "El Centro Historico." The Old Town of Quito was one of the first ever UNESCO World Heritage Sites, and while it is very old, it is surprisingly accessible to roll around for access travel. It's not only free to walk around, but it is also a beautiful place with gorgeous architecture, museums, delicious places to eat, and street vendors selling little trinkets. And most notably of all, there are tons and tons of old churches to see!
Admire the Churches of Quito
As I said, there are quite a few churches in the Old Town. They are, of course, quite beautiful to look at from the outside and definitely worth it to visit just for that. However, if you would like a look inside a church, Compañia de Jesús Church is wheelchair accessible and breathtaking! The church is called the "golden church" because on the inside everything is covered in gold. I've been to access travel churches and cathedrals all over Europe, but I have never seen one so beautiful. There is a small entry fee of $5, but it's definitely worth the price and more. This is an Ecuador travel must!
Visit the Presidential Palace
Definitely don't visit Quito without touring its version of the White House, the Presidential Palace. The guided tour is free, but it is best to book in advance. Also be sure to bring your passport or some other form of documentation to be allowed into the building. The building is very beautiful, and it is equipped with elevators making the tour quite accessible. You can even pose with some of the guards for pictures!
View the City from Panecillo Hill
If you're a fan of good views, definitely check out Panecillo Hill! There is no charge to be on the hill. It provides an amazing 360 view of the beautiful landscape and city. While there, you'll also be able to see a statue of an angel overlooking the city. It's an absolutely magical Ecuador travel experience to see Quito in all of its glory.
Foch Square
If you enjoy nightlife, Foch Square is the place to go! This is a great spot to find tons of different restaurants (I enjoyed an American themed one), bars, and musicians. There's always some sort of party going on in this part of Quito. It's free to be there although, of course, you must pay for any food or drinks that you want.
Ride a Cable Car
Have you ever ridden a cable car? Now's your chance! Teleferico is a cable car in Quito that runs from the edge of the city center up to look out over Cruz Loma. It's one of the highest aerial lifts in the world and should be on your Ecuador travel bucketlist! Teleferico has a ramp that they can put in place for wheelchair users so it's no problem getting in and out of the cable car. The cost is $8.50 for foreigners.
Sit on the Equator
Another Ecuador travel highlight in Quito is something we've all heard about, but not many have seen it. It's the Equator! If you'd like to visit the line dividing the earth into northern and southern hemispheres, Quito is the place to do it! They have some interesting access travel attractions there, and it's cool to be able to sit on the middle of the earth. I had half of my wheelchair in the northern hemisphere and half in the south… so cool! It's free to be there, but not all the activities are free.
Taste the Flavors
I have to say, no matter where I go and no matter how beautiful the scenery or interesting the museums, one of my favorite parts of traveling is always the food. Quito is no exception! Definitely be sure to visit the markets and try out their many restaurants! One of my favorites is their empanadas. Empanadas are pastries that can be either savory or sweet. They're usually filled with fried cheese and either topped with a sprinkle of sugar or dipped into hot aji sauce. They're absolutely delicious; and, that's only one example of Ecuadorian food! I also had fried bananas and even guinea pig while in Quito. The guinea pig was not the tastiest thing I've ever eaten, but the experience was priceless. Definitely have fun tasting all the different things they have to eat!
Where To Stay In Quito:
Swissôtel Quito
Wondering where to stay in Quito? If you want to stay in a luxurious hotel, Swissôtel Quito is the place for you. This wheelchair accessible hotel offers six amazing restaurants, a spa, indoor and outdoor swimming pools, sauna, steam bath, fitness center, squash, and racquet and tennis courts. They are conveniently located with easy access to the Old Town, as well as the airport. Their rooms are around $210 per night, and it is possible to find deals to drop the price a bit.
The building is modern and clean and quite comfortable although it doesn't have a ton of extra frills. The rooms are a good size and the bathrooms are spacious as well. While there, I stayed in a wheelchair accessible room with a roll-in shower. It couldn't have been any better. There is also a supermarket about a block away so if you plan on purchasing any food or other items it wouldn't be a long walk at all. Lastly, the breakfast buffet was excellent and had a large variety of items.
Holiday Inn Express
This hotel is on Francisco de Orellana Avenue, one of the most important avenues in the city. It has wonderful places to shop, as well as cultural and tourist centers. It is 45 minutes away from the airport and has a bar, restaurant, fitness center, business center, and free breakfast. It is a comfortable and clean place to stay and enjoy Quito. And of course, it is wheelchair accessible so no worries about that! While there, I stayed in an access travel room with a roll-in shower. The room here was actually more spacious than Swissôtel, which I didn't expect since it was cheaper.
The Holiday Inn Express is also within walking distance to Plaza Foch. If you recall from what we talked about above, that area is great particularly if you are a fan of nightlife. If you prefer to be in at night however the plaza is also a wonderful place to eat and walk around. I recommend taking the elevator up to the gym on the 12th floor. There's a beautiful 360 view of the city! The price is about $120 per night, but as always, don't forget to check in case there happens to be a discount as there are often ways to drop prices.
Additional Tips:
Tour with Ecuador for All
Since Quito has a lack of wheelchair friendly transportation, the best way to get around the city is with an Ecuador travel tour company. Ecuador for All has an accessible van with a lift and tie-downs to secure your chair. Perfect for all access travel!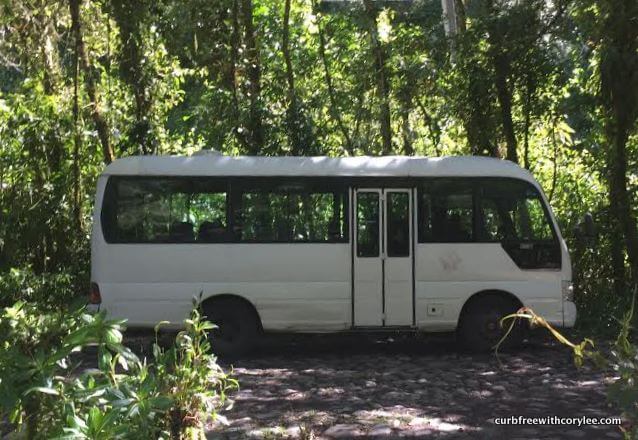 Same Voltage & Currency
Ecuador uses the same voltage as the United States, so you won't need a converter for your wheelchair charger if you live in the States. Also, feel free to bring your US dollars, as that's the local currency.
As you can see, being in a wheelchair doesn't have to mean you need to give up on the idea of visiting South America and enjoying some Ecuador travel. Quito is an absolutely beautiful place to visit with lovely people. I highly recommend visiting Quito with Ecuador for All for your next vacation. Be sure to keep this guide in mind as you plan your access travel so you don't forget any of the places you can go. There are so many different churches, museums, activities, scenic places, and of course, restaurants and bars with delicious food and drinks! Don't be shy trying out new activities and tasting new flavors. Wheelchair or not, you can definitely have a fun, relaxing, enjoyable, and quite an exciting time in Quito.
Also check out the Lonely Planet Quito guide.
*A Note from Curb Free with Cory Lee: This post includes affiliate links. When you click on a link, I may receive a small compensation, which will help this blog grow into a better resource for disabled travelers.