When you think of the Amazon Rainforest, the words "wheelchair accessible" probably don't immediately spring to mind, right? If you've been reading my blog over the past couple months, then it should seem totally possible now. As a wheelchair user, I was able to go hiking in the Amazon Rainforest in an off-road wheelchair, make chocolate from cacao seeds, and even visit an indigenous community. All of these incredible activities took up most of my time, but every day once I was done exploring, I went back to Huasquila Amazon Lodge. Despite being a lodge deep in the rainforest, it was one of the most wheelchair accessible places that I have ever stayed and I was quite surprised, as I wasn't really sure what to expect before I got there. I imagined that there would be mosquitoes and anacondas all over the lodge, but luckily that wasn't the case.
Huasquila Amazon Lodge is in Cotundo, which is about a four hour drive from the capital city of Quito. The drive to Huasquila wasn't bad, but the road got pretty rough once we were near the lodge. For the last five miles or so leading up to the lodge, there was a dirt road and if you don't have good neck or upper body control, you may want to use a neck brace like I did. It kept my neck from getting tossed around and once we reached the lodge, I was happy to be there. It was definitely worth the few miles of rough terrain.
Upon arrival, the staff greeted us and immediately took us to the lobby area. It's not your typical hotel lobby, but it did give me the rainforest vibe that I wanted. The "lobby" is open-air and has many dining tables set up, a lounge area, a bar, and a small pond with fish in it. Since Huasquila Amazon Lodge is all-inclusive, we sat down for a nice meal. Over the course of my few days at the lodge, all of the meals were fantastic. We usually got 3 courses every meal, even for breakfast. The Ecuadorian people really know how to eat, and they knew the way to my heart.
Right around the corner from the lobby area is a pool and jacuzzi. The pool was large and very clean. I visited in January, but it was hot in the Amazon, so a swim would be perfect. And I'm happy to say that I would be able to swim because there was an access lift. If you want to swim, just let the staff know and they will attach the sling to the lift. I was somewhat surprised, but thrilled, that there was a pool lift. Why is it that many places in the U.S. don't truly understand accessibility, but deep in the Amazon Rainforest they do? Bravo to Huasquila for this!!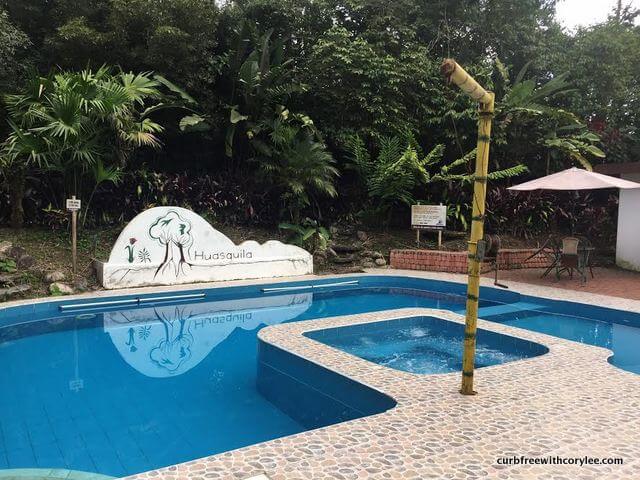 There are 20 bungalows at Huasquila Amazon Lodge and 7 of these are wheelchair accessible. I stayed in an accessible bungalow and it fit my needs perfectly. My favorite part of the bungalow was probably the terrace. It had a hammock and chairs, and was a nice place to relax after adventuring all day. I could hear the sounds of birds and all of the Amazon's creatures by sitting here.
There were 3 beds inside my room and all of them were at a good height for transferring. The bungalow was also very spacious, so I could easily roll around. Unfortunately, there was no WiFi in the bungalow, but the lodge does offer WiFi in the lobby area for free. It was just a short stroll on paved paths from my bungalow to the lobby area, but really I kind of liked not being able to use my phone and computer all the time. This allowed me to relax and truly enjoy the Amazon experience.
In the bathroom, there was a roll-in shower and a pull-under sink. Just like the bedroom, the bathroom was spacious so my Go Mobility travel shower chair could roll everywhere with ease. This bathroom, and the room, could not have been more accommodating.
In addition to the bungalows, pool, and exquisite food, Huasquila can also arrange day tours for you. You can visit a cacao plantation, go hiking, or even rafting if you're feeling extra adventurous… just to name a few of the activities.
This is honestly the place to stay if you want the ultimate wheelchair accessible Amazonian experience. It may seem a bit rustic from the outside, but I promise that you'll feel right at home in the rainforest after just a few hours.
Check out this video for a short tour of my bungalow –
*Thank you to Huasquila Amazon Lodge and Ecuador for All for making this stay possible. All opinions are authentic and my own. This post includes affiliate links. When you click on a link, I may receive a small compensation, which will help this blog grow into a better resource for disabled travelers.