It's no secret that hotels can make or break a vacation. If you find yourself staying at a phenomenal place, it can elevate your mood and energize you for the rest of your holiday.
However, a less-than-stellar hospitality experience can make a mess out of an otherwise great trip.
Wheelchair users especially know that finding an accommodating hotel is imperative, but it can sometimes be a bit overwhelming.
Don't fret – start with this list of the top 20 wheelchair accessible hotels with disabled facilities in the world.
Tip: If you intend on doing extensive traveling, you might want to invest in a travel power wheelchair.
#1: Eria Resort in Maleme, Crete, Greece
This hotel is specifically designed for those whose primary mode of transportation is a wheelchair.
Surrounded by olive groves and the Cretan Sea, Eria Resort in the historic village of Maleme is a welcome respite in a country known to be particularly difficult to get around in a wheelchair.
With prices around $100 per night, it's true beauty on a budget. The hotel will help you plan wheelchair-friendly excursions in an accessible minibus, which can come get you at the airport as well.
The gym has a special physiotherapy area and all rooms have grab bars. This is also one of the best hotels with handicap showers with a shower chair and raised toilets.
One outstanding feature of the resort is its collaboration with local pharmacists and physiotherapists, so doctors and pharmaceutical products are at your disposal if you've come to relaxing Greece to help out your health.
Additionally, the hotel has all kinds of different wheelchairs available for rent, and there is a ramp leading into the pool so you can head in with your chair!
Check prices at Eria Resort by clicking here.
#2: Cringletie House in Peebles, Scotland
Many charming countryside locations around the UK aren't well-equipped for wheelchair users, but Cringletie House provides a truly royal experience.
The affordable rooms, around $120 – $150, are a steal since the hotel itself is a regal castle!
The award-winning, ground floor Traquair Room was designed with wheelchair users in mind and features automatic doors and remote-controlled lights and bed lift.
It is also one of the fantastic hotels with roll-in showers, bathroom grab bars, in-room spa treatments, flat grounds for easy rolling, a wheelchair ramp at the hotel's entrance, and lifts to the first and second floors. Common areas and parking are accessible as well.
Surrounded by Scottish woodlands just 20 minutes outside of Edinburgh, it's a romantic escape you'll be sure to enjoy since it's one of the most disabled friendly hotels in all of Scotland.
Check prices at Cringletie House by clicking here.
#3: A-One The Royal Cruise Hotel in Pattaya, Thailand
With prices under $100 a night, this seaside Thai resort is a fantastic and economical beach getaway for wheelchair users headed to Asia.
Billed as the first wheelchair accessible hotel in the area, it has won awards for its unique design.
Built with wheelchair users in mind, its amenities include many ramps — in fact, all floors of the hotel are accessible via ramp, without having to use a lift!
The check-in process is seated while and rooms, bathrooms and balconies are incredibly spacious.
Close to both the beach and attractions in town, there's plenty to wheel around and see here at one of the best handicap accessible hotels in Southeast Asia!
Check prices at A-One The Royal Cruise Hotel by clicking here.
#4: Huasquila Amazon Lodge in Cotundo, Ecuador
It's not often that you find jungle lodges able to accommodate wheelchair users so well, but Huasquila certainly does.
At around $100 per night, anyone looking for a tranquil, ecological escape in the Amazon will love this affordable and accessible option!
A number of the bungalows were built to be accessible — featuring roll-in showers and wide doors — and there are concrete pathways which allow you to roll around the entire resort.
The pool and Jacuzzi are accessible to wheelchair users as well, so it's great to cool off after a long, hot day in the rainforest.
Perhaps the best part is the accessible tour options the lodge offers, complete with special off-road wheelchairs you can use to traverse the jungle paths.
Check prices at Huasquila Amazon Lodge by clicking here.
#5: Resort at Squaw Creek in Lake Tahoe, California
If you thought that skiing destinations were a no-go for wheelchair users, this place will make you think again.
Starting at $200 a day, it seems a small price to pay for a hotel with its very own Disability Access Ambassador, Mario Rey, who can tell you a thing or two about hand bikes and sit-skiing from his own experiences.
In fact, all staff are trained to accommodate anyone in a wheelchair, and they can give you some great ideas for activities in the area.
The front entrance, front desk, and fitness center are all wheelchair accessible.
Rooms feature wheelchair-level peepholes, climate controls and vanities.
In the bathroom, you'll find roll-in showers and portable bathtub benches. Lake Tahoe is beautiful year-round, so what are you waiting for?
Check prices at Resort at Squaw Creek by clicking here.
#6: Franklyn D. Resort & Spa in Runaway Bay, Jamaica
This is a must-visit hotel for any family traveling with children that use wheelchairs.
The hotel was designed first and foremost with the family vacation experience in mind, and they offer up to 50% off year-round rates for families traveling with children in wheelchairs, or children who have other special needs.
At over $600 a night, it's a bit pricey, but the discount helps and the price includes a personal, professionally trained 'vacation nanny' to help you and your family enjoy your stay at one of the best hotels for handicapped children in the Caribbean!
It's all-inclusive with lush pathways winding through the beachfront property where you can smell the sea air flow the trees.
Plus, all suites in this hotel are considered wheelchair accessible, so there are a lot more options available than in most hotels.
Check prices at Franklyn D. Resort & Spa by clicking here.
#7: Astral Village Hotel in Eliat, Israel
The Astral Hotel looks out across a beautiful promenade lined with palm trees, and staying in Eilat puts the famous Red Sea at your doorstep.
While many hotels have merely one or two accessible rooms, Astral Village Hotel stands out for a whopping 16 wheelchair-friendly rooms!
Starting at around $100 a night, it's an affordable option as well.
The entire property is on one level, so it's one of the best hotels for wheelchair users to get around, and there's no waiting for elevators. There is, however, a lift at the pool, so you can go swimming in the beautiful weather.
Check prices at Astral Village Hotel by clicking here.
#8: Runnymede Hotel in Surrey, England
Near Heathrow Airport and just a short train ride to London, Runnymede sits in Surrey, a bucolic town accessible to all that London has to offer, but a lot more relaxed.
Right on the Thames River, staying at this wheelchair friendly hotel will give you a quintessentially English experience starting around $220 per night.
The main entrance to Runnymede is accessible and the hotel staff will park your car for you if all of the spots designated for wheelchair users are taken.
Check-in is tailored to the guest's wishes; it can be done inside the hotel room, in the lobby or at the special, low-level check-in desk.
Hallways in the hotel are wide, the bathrooms are large and equipped with grab bars, and there's even an alarm system in the bathroom and bedroom of each room in case you need anything during your stay at one of the best wheelchair friendly hotels across the globe.
There are also accessible toilets in the common areas and all the facilities including restaurants, meeting rooms, and the fitness center are accessible.
It's easy to get around the hotel grounds and even take a tranquil roll down by the river with the ramps in place!
Check prices at Runnymede Hotel by clicking here.
#9: St. Regis Bal Harbor Resort in Miami, Florida
Miami is such a vivacious city, full of culture and serene seaside views. The St. Regis is the top-rated accessible hotel in the area with butler service, ocean-view balconies, and the best part: wheelchair-friendly pools with special access chairs.
Better yet, beach wheelchairs are available too so you can cruise along the idyllic shore if the pool isn't enough for you!
Of course, standard amenities like lowered toilets and door peepholes, roll-in showers, handrails in the bathroom and accessible parking are available as well.
There are accessible routes from the public entrance to pretty much anywhere in the hotel, including the accessible restaurant and business center, making it one of the best hotel chains for handicapped visitors.
The hotel's excellent quality and location mean that it's somewhat pricey, with rooms starting around $600 per night.
Check prices at St. Regis Bal Harbor Resort by clicking here.
#10 : Sandos Playacar Beach Resort in Playa del Carmen, Mexico
Cancun's calmer cousin, Playa del Carmen, is one of the hottest destinations in Mexico right now.
This all-Inclusive resort has the safety of being located inside a gated community, but it's also within wheeling distance to downtown Playa and just a day-trip away from a plethora of Mayan ruins.
Large roll-in showers with built-in bench seats and outdoor patios accessible even to electric wheelchairs make this a desirable option.
The beach is so close you can smell the salty ocean, and beach wheelchairs (as well as lifejackets for the most adventurous) are available for guests.
Prices usually start around $200-350 per night, but remember that this experience is all-inclusive and it's one of the best hotels for disabled travelers.
Check prices at Sandos Playacar Beach Resort by clicking here.
#11: Four Seasons Hotel in New York City, USA
Four Seasons is known for having hotels suitable for disabled visitors across the globe, but this one is particularly wonderful.
New York City is on every traveler's agenda at some point, and this Midtown gem won't disappoint.
With some of the largest hotel rooms available in the city as well as King Suites and City View Executive Rooms designed with wheelchair users in mind, the Four Seasons is an obvious choice.
Accessible rooms include standard benefits like wide doors, lowered safety boxes and peepholes, as well as a roll-in shower and foldable shower chair.
Common areas like the business center, five-star restaurant, meeting room, ballroom, and exercise facility are all accessible as well.
To top it off, the Four Seasons occupies a prime location within rolling distance of world-class Madison Ave and Fifth Avenue shops, as well as Central Park.
As its place on Billionaire's Row suggests, you'll pay a pretty penny for this luxury experience, with many rooms starting around $700.
Check prices at Four Seasons Hotel by clicking here.
#12: Crowne Plaza Hotel in Hong Kong
As one of Asia's top destinations, Hong Kong is a fairly wheelchair-friendly city with a number of great handicap accessible hotels.
The Crowne Plaza boasts accessible parking, ramp access to the property, bar, lounge, and restaurant, as well as elevators to all floors that are located especially near accessible rooms.
The rooms feature grab bars, tall toilets, accessible heating and lighting controls, roll-in showers with grab bars and handheld showerheads, and emergency cords/buttons. The hotel will even rearrange the furniture in accessible rooms at your request!
Rooms usually start around $150 per night.
Located in a clean, quiet residential area atop an MTR public transit station that will get you downtown in minutes, it's a great home base for your stay in Hong Kong.
Check prices at Crowne Plaza Hotel by clicking here.
#13: Hotel Indigo in Asheville, North Carolina
A trendy, mountainous town in the southern United States, Asheville is known for its nature, craft beer, and for being an excellent place to relax.
The hotel's unique accessibility features are evident as soon as you enter the lobby and see a lowered section of the front desk, made especially for wheelchair users.
Hotel Indigo's five accessible rooms feature hardwood floors, roll-in showers and roll-under vanities, and grab bars.
An on-site concierge is available to help with anything you need. Other areas in the hotel including the fitness center, meeting rooms, and dining area are all wheelchair accessible.
Located right in downtown Asheville, rooms here start around $120 per night.
Check prices at Hotel Indigo by clicking here.
#14: Beaches Resort in Provenciales, Turks and Caicos
If you're longing for an all-inclusive, pristine island adventure, this is the place and the hotel for you.
Wheelchair-friendly amenities include lowered beds, roll-in showers with extended shower heads, raised toilet seats and handrails in the bathrooms.
The wheelchair-ready rooms are spacious and the entire resort (minus one restaurant) is fully accessible so that you can wheel from one place to another — and even to the beach — with no problems.
One of the resort's restaurants, Barefoot, is actually located on the beach, and beach-ready wheelchairs are available for those who'd like to try it out.
Check prices at Beaches Resort by clicking here.
#15: All'Angelo Hotel in Venice, Italy
Venice is one of Europe's more difficult destinations for wheelchair users with its narrow, winding pathways and waterways. That's what makes Hotel All'Angelo so special; its rooms are pleasantly spacious.
It's just a two-minute wheel to Venice's top attractions, including St. Mark's Square and Doge's Palace — a short journey with many shops along the way — and a six-minute wheel to the famous Rialto Bridge.
Prices start around $300 a night for this well-decorated Venice hotel, featuring accessible rooms and bathrooms with roll-in showers, concierge services and a lift.
A doorman will meet you upon arrival to bring your luggage up to the room, which may have a lovely view overlooking the canal, and hotel staff will assist travelers in booking wheelchair accessible boat taxis when needed here at All'Angelo, one of the best hotels with disabled facilities.
Check prices at All'Angelo Hotel by clicking here.
#16: Kimpton Hotel Monaco in Washington, DC
Kimpton Hotel Monaco emphasizes 'accessible hotel rooms with class', and they've hit that right on the mark.
Wheelchair-accessible rooms are amply sized, anywhere from 525 to 610 square feet.
First off, the entryway and public spaces are all accessible, as is the restaurant, meeting space, and exercise facility.
There is a lift to get into the hotel (as well as a ramp on the corner of 8th and E Street) and guests have said that hallways are notably wide.
The hotel also features valet parking and roll-in showers. Plus, the Kimpton is right in the heart of Chinatown in downtown DC.
A mere two to fifteen-minute roll along the city's spacious sidewalks will get you to a variety of tourist attractions as well as a metro transportation station.
Rooms cost around $450 a night, but the hotel itself – much like the city surrounding it – is ornate, beautiful and historic.
Check prices at Kimpton Hotel Monaco by clicking here.
#17: Keio Plaza Hotel in Tokyo, Japan
With rooms starting around $200 – $300, you can stay at this famously accessible Tokyo hotel.
Keio Plaza's 15 'universal rooms' put it at the future of accessible accommodation.
Their rooms are completely wheelchair accessible, spacious with universal design principles and features like electric reclining beds, roll-under desks, low hanging bars in the closet, as well as grab bars and non-slip mats in the bathroom.
A special parking lot is available for those who need it, and the hotel building includes shops, a spa, a beauty studio and of course restaurants.
This is a fantastic option, but only for wheelchair users who don't need a roll-in shower, since that's the one accessibility feature that the 'universal room' design concept is lacking.
Check prices at Keio Plaza Hotel by clicking here.
#18: Valverde Country Hotel in Johannesburg, South Africa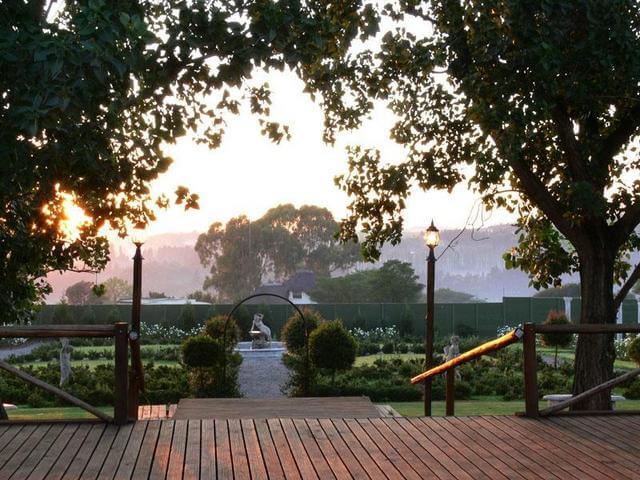 Perfectly-manicured gardens and peaceful countryside come to mind in this hotel just a few hours from Kruger National Park, where you can go on a safari.
If you're looking for a place to go on a honeymoon, stage a wedding or just have a romantic getaway, add Valverde to your shortlist.
The best part is that an accessible room in this spacious, ecological country estate can start at just over $50!
Rooms are spacious and wheelchair accessible accommodations are available.
While some paths around the gardens are not accessible, most of the outdoor area is.
Check prices at Valverde Country Hotel by clicking here.
#19: Ibis Adelaide in Adelaide, Australia
Anyone headed down under to Adelaide should be sure to stay in the Ibis Hotel.
With twelve fully accessible rooms and a prime location near lots of shopping spots and restaurants, you'll have an excellent experience at one of Australia's most disabled friendly hotels.
The Ibis is modern and sleek, with bathrooms featuring grab rails, slip-resistant floors, shower chairs, and extendable shower heads.
Doors are easy to navigate and there's enough space under the beds to use a hoist if need be.
All controls are at an easy height to reach, and furniture is easily movable if you need it rearranged.
There are lifts and communal areas of the hotel, including the conference room and restaurant, are accessible as well.
Prices start around $80, so you're getting a great deal for the amenities here!
Check prices at Ibis Adelaide by clicking here.
#20: Piliglish Farm and Guest House in Clarin, Philippines
Some of the best wheelchair accessible hotels are owned by wheelchair users themselves, and that's the case in this small inn on a farm in the Philippines.
Complete with some of its own free-range livestock, this quaint countryside location is a great and accessible way to see what life is like in the rural Philippines.
Rooms start around $50 a night, and most areas of the house are wheelchair accessible, as the owner needs them that way as well.
Bedrooms and bathrooms are wheelchair friendly, and breakfast (as well as free fishing in the adjacent river) are included!
Check prices at Piliglish Farm and Guest House by clicking here.
Whether you want to be easy on your wallet or you want to splurge on a lavish vacation, there are plenty of awesome hotels with accessible rooms and wheelchair friendly premises all around the world.
From picturesque beaches, mountains and jungles to central locations in some of the most exciting cities in the world, the possibilities are endless.
Whether you're looking for adventure or relaxation, there's something for everyone.
The only question that remains to be answered is this: where do you want to go?
*This post includes affiliate links. When you click on a link, I may receive a small compensation, which will help this blog grow into a better resource for disabled travelers.