48 Hours in Nashville
I grew up only three hours from Nashville and visited about once per year throughout my life. It was usually around Christmas time to see the lights at Gaylord Opryland Resort and shop at the Opry Mills mall. I had never really experienced Nashville's unique attractions and country music offerings until my most recent 48 hours in Nashville. If you're wondering what to see in Nashville, let me help you out.
While there are many weekend getaways in Tennessee (Pigeon Forge is a favorite of mine), I wanted to see a new side of the so-called Music City. I made the most of my 2 days in Nashville and gained a newfound love for the city. From listening to country music at the Opry to burning off my taste buds with Nashville's best hot chicken, it was a Tennessee weekend getaway I won't soon forget.
Here's how I made the most of my 48 hours in Nashville –
What to See in Nashville
Friday
2pm – Madame Tussauds
Upon arriving into Nashville, I immediately made my way over to the new Madame Tussauds. I've visited Madame Tussauds in different cities in the past (Sydney, Australia and Las Vegas just to name a couple) and always loved them, so as soon as I heard that there was one in Nashville, it went to the top of my list of what to see in Nashville in 2 days.
In case you're not familiar, Madame Tussauds is a wax attraction that makes your favorite celebrities seem like they're right there with you. The attention to detail in each wax figure is unbelievable, and it's so much fun to pose for photos with them.
Madame Tussauds in Nashville was definitely the best wax attraction I've ever been to. The visit started by seeing country music legends, such as Minnie Pearl and Patsy Cline, and ended in a room that looked like the Grand Ole Opry. There were current country music performers there, such as Reba, Keith Urban, and Carrie Underwood, and it was an absolute blast to pretend I was singing on the Opry stage beside them. If you are a country music fan at all, even just a tiny bit, you are sure to love Madame Tussauds just as much as I did. My visit was a perfect start to my Nashville weekend getaway.
*Madame Tussauds is located inside Opry Mills Mall and admission costs only $19 per adult if you book your tickets online.
3:30pm – Gaylord Opryland Resort
Now that I had a run-in with some of country music's biggest celebrities (in wax format), it was time to go check in at my hotel. During any Tennessee weekend getaways, having a great hotel in a prime location is of the utmost importance. In Nashville, I stayed at the exquisite Gaylord Opryland Resort.
I had visited the Gaylord Opryland in the past to see the Christmas lights display, but never actually stayed at the resort. I have wanted to stay here forever, and was ecstatic to make it my home during my 2 days in Nashville.
My room was perfectly accessible and I even had a balcony, overlooking the Cascades atrium. The cool thing about this resort is that you feel like you're outside wandering around beautiful gardens, but it's all completely inside. There are several atriums, all with their own restaurants and shops as well. Whether you're staying at the Gaylord Opryland Resort or not, it's certainly worth visiting at some point during your 48 hours in Nashville. You'll have an enjoyable experience discovering the nine acres of indoor gardens and waterfalls.
After exploring the resort a bit, we grabbed some dinner at Fuse Sports Bar, which was located inside the Magnolia section of the resort. Fuse had more than 100 high-def televisions on the walls and typical American bar food. The portions were large and the prices were reasonable. I highly recommend getting the nachos as an appetizer – delicious!!
*To check prices at the Gaylord Opryland Resort, just click here!
6pm – Grand Ole Opry
Now it was time to experience Nashville's legendary Grand Ole Opry. This was what I was looking forward to the most during my 48 hours in Nashville. While the show didn't start until 7pm, I got there an hour early to browse the gift shop and get settled in before the show. The closest parking lot is at Opry Mills mall, so it took about 10 minutes to walk/roll over to the Opry as well.
The history of the Grand Ole Opry is quite extensive and I got chills as soon as I entered the building. The show started promptly at 7pm and there were some fantastic performers. I saw Linda Davis, Darryl Worley, Craig Morgan, Sundance Head, Ashley McBryde, and more on the night I visited. The Opry always has different artists depending on which night you go, so it would never grow tiring.
The most awesome part of my Opry experience was when I got to go on the Grand Ole Opry backstage tour during intermission. Not only did I get to see the dressing rooms backstage, but I also got to sit on the stage during a performance, meet some of the artists, and even interview Craig Morgan in his dressing room. It was a whirlwind experience and if you'd like to read about my time at the Opry in full, I wrote an entire post all about it right here.
Saturday
9am – Country Music Hall of Fame & Museum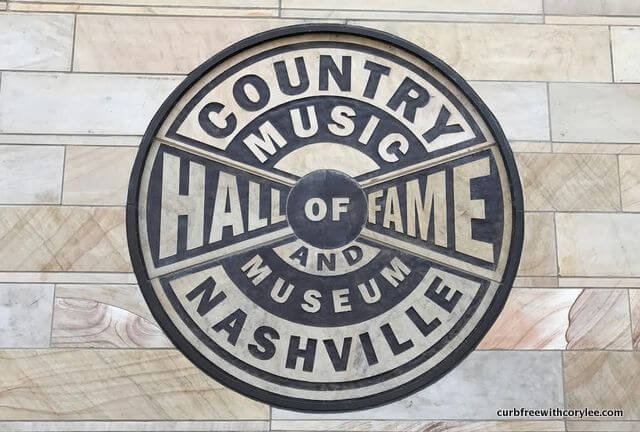 After a peaceful night's sleep at the Gaylord Opryland, I woke up early and went downtown to the Country Music Hall of Fame & Museum. While I'm not a huge country music fan, I do love immersing myself into the culture of wherever I travel to, so what better way to learn about Nashville than at a museum devoted to country music?!
The museum was very large and I'd recommend setting aside at least a couple hours to see it. You won't see every single thing, but you will get a good grasp on country music's history and where it is today. There were various displays, showing the clothing of famous country singers, old records, cars, and more. If you're a big country music fan, you could probably spend days in here.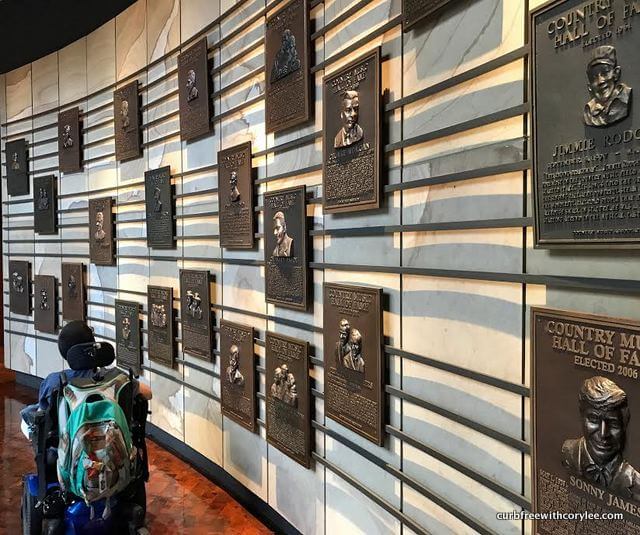 The Hall of Fame was remarkable to see as well, and I enjoyed learning about all of the country celebrities that it entailed. Plaques devoted to artists such as Dolly Parton, Reba, Garth Brooks, and many more lined the walls of the rotunda. On each plaque, you can read about that artist's contributions to the industry.
*Admission costs $24.95 per adult or you can use the Music City Total Access Pass to visit.
11am – Honky Tonk Central & Broadway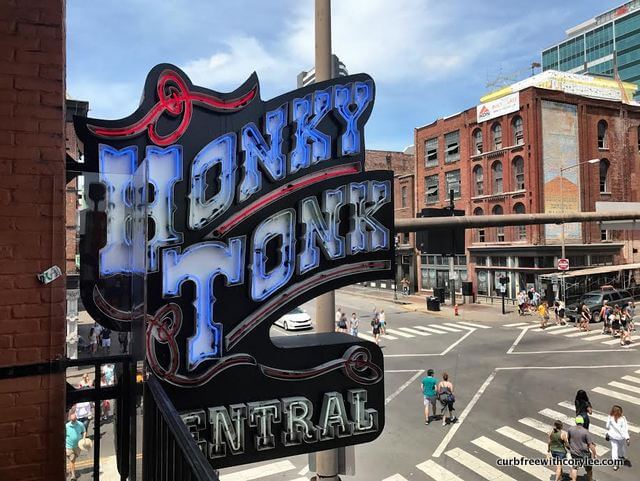 The next item on my 48 hours in Nashville bucket list was to visit a honky tonk, so over to Honky Tonk Central I went. This wasn't far from the Country Music Hall of Fame & Museum and you could walk over pretty easily (15 minutes maybe), but I opted to drive it. After trying to find cheaper parking on the street, I finally gave up and had to give $30 for a nearby parking lot. That's insane, but at least I was close.
Honky Tonk Central was three stories tall and on each level, there were performers. The first level was crowded, so I hopped in the elevator and went up to the second floor. A waiter soon came over and took my order, and the food and drink came out extremely quick. I just got chicken tenders and fries, but they were good. The live performers and view of Broadway from my table made my lunch experience perfect.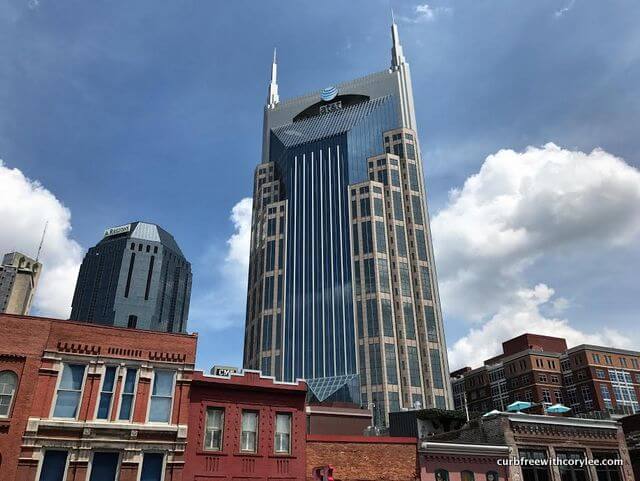 I still had a little bit of time before my Ryman tour after eating, so I rolled up and down Broadway. This isn't like Broadway in NYC, and you won't hear any Phantom of the Opera or Wicked songs playing. You will, however, hear many country music performers at the various honky tonks. At night, I can imagine that this would be the ideal place to experience Nashville's nightlife. It was already bustling at noon, so it would definitely be a unique and fun time once the sun went down.
1pm – Ryman Auditorium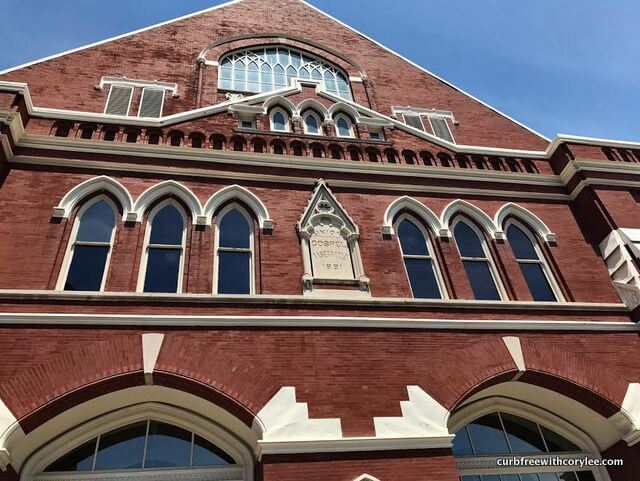 Located downtown and frequently referred to as the Mother Church of Country Music, the Ryman Auditorium has just as much soul and history as the Opry, if not more. In fact, the Ryman was the former home of the Grand Ole Opry, from 1943-1974. After a couple decades of nothingness, the Ryman was revived in the 1990s and hosts some of the world's best performers today.
You can go on one of the Ryman tours that are self-guided or you can do as I did, and go on a Ryman Auditorium backstage tour. My tour started by watching a video, which told the history of the Ryman. It was entertaining and since I didn't previously know much about the venue, it was extremely informative as well. After the video, the fully wheelchair accessible guided backstage tour began.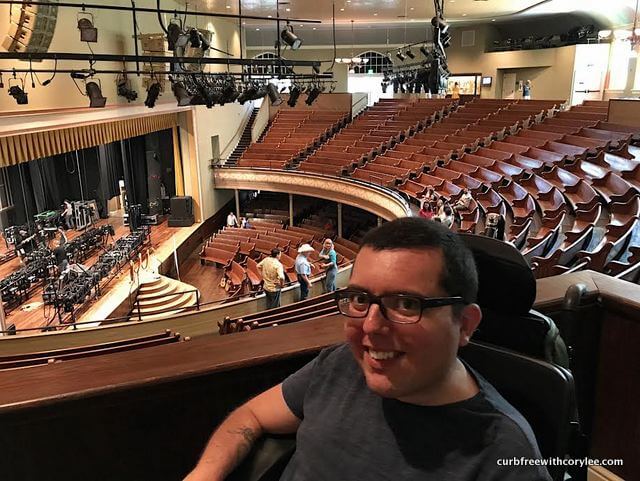 Our guide, Dominique, was lively and knew all of the interesting facts about the Ryman. For example, did you know that the Ryman is where Johnny Cash and June Carter met? My tour group went backstage and we got to see the dressing rooms, including the one devoted to Johnny Cash. It was stylish and my favorite part of the backstage tour. Whether you do the guided tour or not, the Ryman is worth visiting during your 48 hours in Nashville, Tennessee weekend getaway.
*You can see the Ryman on the guided backstage tour for $30 per adult or enjoy the self-guided tour for $20 per adult.
5pm – Bluebird Cafe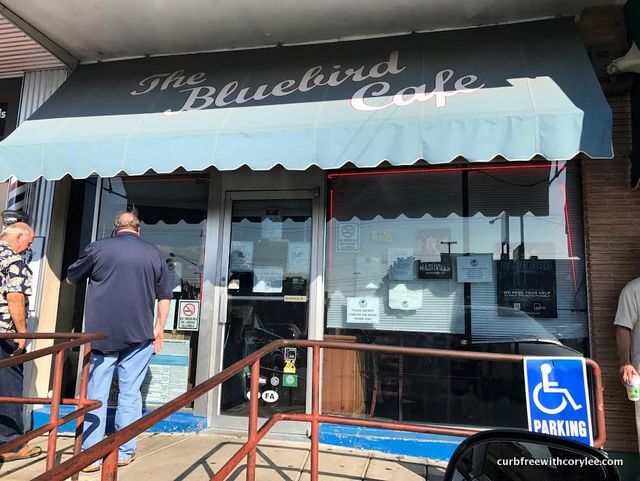 After going back to the resort to change clothes and freshen up a bit, I was off to The Bluebird Cafe. This is a small intimate venue that only has 20 tables (about 90 people can attend a show) and it's one of the most notable venues in the world for songwriters. Due to the cafe being smaller, it can be difficult to get tickets. To get wheelchair accessible Bluebird Cafe tickets, I called and made a reservation about 2 weeks in advance of the show. If you're wanting regular tickets however, reservations open online one week before the show. Tickets are only $3 per person, but there is a $10 food/drink minimum per person. The food menu wasn't huge, but it offered enough options to keep me happy.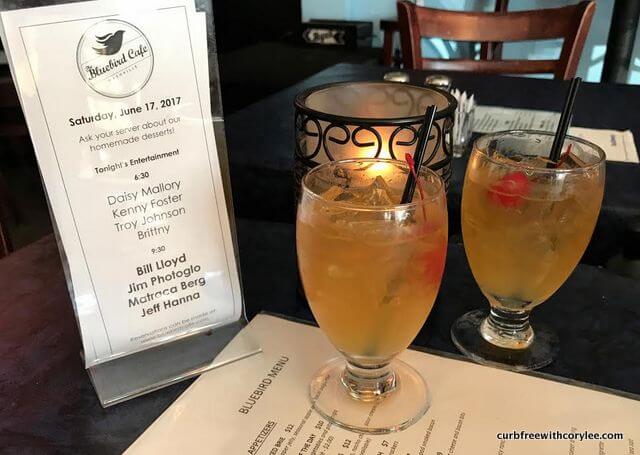 Daisy Mallory, Kenny Foster, Brittny, and Troy Johnson performed on the night I visited, and they were all exceptional. The four of them sat in a circle in the center of the room and took turns singing their original songs. It was truly an incredible experience to be in such an intimate setting listening to their work. At one point, during a beautiful song by Daisy Mallory, I even found myself moved to tears. The song was called "Growing Up Too" and was about her being an only child and her parents growing up with her in a way. As an only child myself, I identified with the lyrics.
The Bluebird Cafe Nashville TN has two shows every night of the week, so if you can't get tickets for one show, just try for the next one. Maybe you'll get to witness the next country music superstar perform! After all, this is where the likes of Garth Brooks and Taylor Swift got their start.
Sunday
9:30am – Opry Mills
While Madame Tussauds is located inside Opry Mills, I didn't have time to fully look around the mall until the morning of my departure. I arrived at Opry Mills and thought I'd only be there for 30 minutes to an hour maybe, but I was inside the mall for over two hours because it offers so much!
Opry Mills has over 200 stores, a movie theater, various restaurants, and attractions. Much like the Mall of America, its more than just a mall; it's an experience in its own right. Aside from shopping till you drop, you can have a fun meal at Rainforest Cafe (you'll truly feel like you're eating in the rainforest) or enjoy some delicious Tennessee barbecue at Mission BBQ. There's something for everyone at Opry Mills… and be sure to grab a gift or five for yourself!
12:30pm – Hattie B's Hot Chicken
The last stop on my Nashville weekend getaway was at Hattie B's. As you probably know, Nashville is famous for hot chicken and I was determined to try the best hot chicken in Nashville. Hattie B's has risen to fame as the place to eat hot chicken in Music City. There are now two locations in Nashville, but I went to the one in midtown.
When I arrived to Hattie B's there was a line around the building. It's common to wait an hour or more just to get in the door, but lucky for me, I use a wheelchair and there were steps where the line went. The only ramp is over to the side (in front of the adjoining Gigi's Cupcakes) so I went to it and straight to the door. The staff greeted me and we went straight in. Sometimes being a wheelchair user has its perks!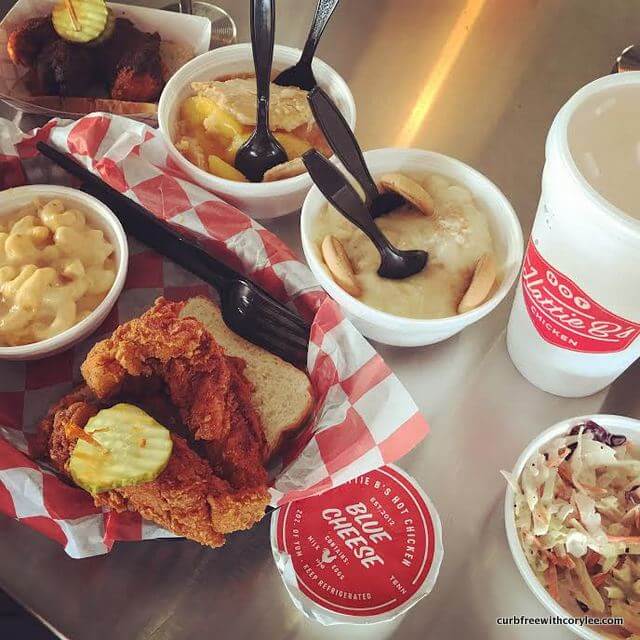 I ordered the chicken tenders plate with mac & cheese and potato salad, and banana pudding for dessert. There are five different levels of heat that you can get on your chicken, and I got two of the tenders "Hot" and one tender "Shut the cluck up". STCU is the hottest level and I was warned to not try it until the very end of my meal or it'd ruin it.
My "hot" chicken and sides were DELICIOUS! Seriously, it was sooo good. The "hot" was pretty hot, so if you can't handle heat then get "mild". At the end of my meal, I tried a tiny bite of the STCU chicken and holy cow. I'm pretty sure flames shot out of my mouth. I have never had anything so hot and it took me about 15 minutes to recuperate, but at least now I can say that I had Nashville's hottest chicken and I never have to burn off my taste buds again.
2 Days in Nashville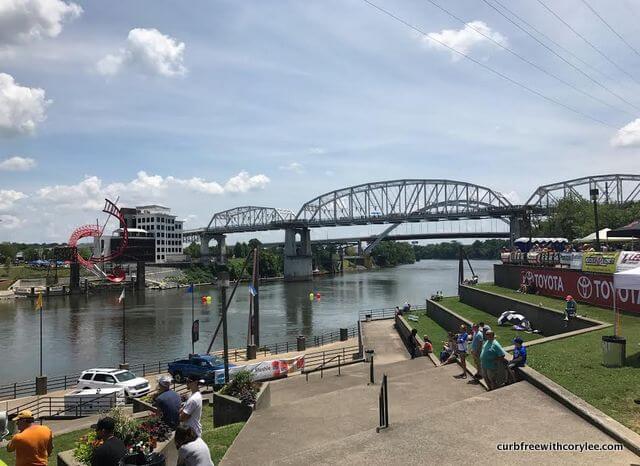 And just like that, my 48 hours in Nashville came to an end. It was an exciting and fun-filled weekend, and Nashville surprised me beyond belief. To live so close to it for most of my life, it's really a shame that I'm just now discovering what to see in Nashville and how awesome it all is. But that's okay because the next time I'm looking for incredible weekend getaways in Tennessee, I'll look no further than Music City.
*This trip was made possible with the help of Visit Music City, Grand Ole Opry, Gaylord Opryland Resort, and Madame Tussauds. While some experiences were complimentary, all opinions are authentic and my own. This post includes affiliate links. When you click on a link, I may receive a small compensation, which will help this blog grow into a better resource for disabled travelers.