About ten months ago, Sylvia (who is a fellow accessible travel blogger at Spin the Globe) and I started talking about taking a trip together sometime in 2017. We quickly decided that it would be a cruise because cruises tend to be the easiest and most accessible way to travel, but we didn't know where exactly we wanted to go. We looked at the ever popular Caribbean and Mediterranean cruises, but then stumbled upon a Scandinavia & Russia cruise. Both of us had been to Scandinavia in the past, and I had even already visited a couple ports on this itinerary (Helsinki, Finland and Tallinn, Estonia), but the port that really caught our eyes was Saint Petersburg, Russia.
Like any 90s kid, I've seen the animated movie Anastasia numerous times, so when I think of Russia I immediately think of grandeur and beauty. To see it in person would be an unbelievable experience, I thought. Of course, Russia isn't completely perfect and it certainly comes with a tumultuous past, but what better way to learn about it than to actually go there? Needless to say, Russia was pretty much the sole reason that Sylvia and I chose this accessible cruise itinerary. We let the excitement build until August 16th, 2017 when our ship, Royal Caribbean's Serenade of the Seas, finally docked in Saint Petersburg.
After getting off the ship, we made our way over to the passport control area. The line was extremely long and unlike in America, the perk of going to the front of the line just because you're in a wheelchair didn't apply in Russia. We waited for over an hour, but finally got through successfully. Immediately after passport control, we met up with our tour guide, Anna of I Travel SPB. Luckily and somewhat unexpectedly, there are several tour companies in Saint Petersburg that cater to wheelchair travelers, but we chose to tour with I Travel SPB because Anna was so professional over email in the months prior to our visit. She always responded very quickly and seemed to know a lot about accessibility within the city. I wasn't expecting Russia to be über wheelchair friendly, so she put my mind at ease and made me confident that we would have a great experience.
Anna led us to her van outside, which was a high top van with a lift and tie downs to secure the wheelchairs. The van was also spacious, so it easily fit both Sylvia's scooter and my wheelchair.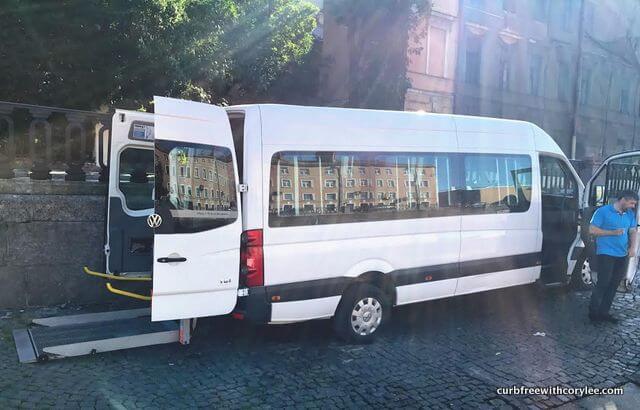 As we soon started driving, Anna told us about some of the sights we were passing. Near the cruise port, we could see the new soccer stadium that will be home to the 2018 FIFA World Cup. The stadium cost nearly a billion dollars, and Anna said that many citizens are upset that the government would spend so much money on it when a large amount of the citizens are struggling financially. She told us that doctors only make about $280 per month and teachers make about $240 a month!! I was shocked by this because here in America being a doctor is one of the highest paying professions.
As we continued driving into the city center, we passed several churches and cathedrals, all of which were beautiful. We also passed by some museums and government buildings, and Anna did a fantastic job of explaining each place along the way.
Cruising the Canals of Saint Petersburg
The first activity of our day was a boat ride around Saint Petersburg. Who knew that a boat ride in the city was even possible? I certainly didn't, but it turns out that Saint Petersburg has over 300 bridges and is often referred to as the "Venice of the north" because there are so many canals. Luckily, it was sunny and quite warm on the day we were there, so a ride on the water would be enjoyable.
Boats and wheelchairs often aren't the best combination, but I Travel SPB had thought of everything and made it possible. Anna's husband actually built their own boat to be wheelchair accessible because they want all visitors to be able to experience the best part of Saint Petersburg – the water! They laid a board/ramp down, which made me able to roll onto the boat pretty easily. The boat was big enough for both Sylvia's scooter and my wheelchair. We parked side-by-side and were ready to take in the spectacular views from a new vantage point.
Check out this video to see our boat ride in action –
Our ride lasted for about an hour, or maybe a bit more, and during that time we got to ride under bridges (including the widest bridge in all of Europe), learn about some of Saint Petersburg's history, and see some remarkable sights. A boat ride is really the best way to tour the city in my opinion because you can see a lot in a short amount of time. And since the city has so many canals, almost everything has a waterfront location. This was one of my favorite activities ever. It was pretty surreal to be riding in a boat in Russia. I kept having to ask myself "Is this real life?!".
Touring the Hermitage Museum
As if boating around the city wasn't enough, we also got to visit a few more of Saint Petersburg's top attractions, including the extremely popular Hermitage Museum. The Hermitage Museum is made up of multiple buildings and if you wanted to view every exhibition for just one minute, it would take over nine years to see everything. Needless to say, we didn't get to see it all, but we did spend a couple hours wandering around the Winter Palace.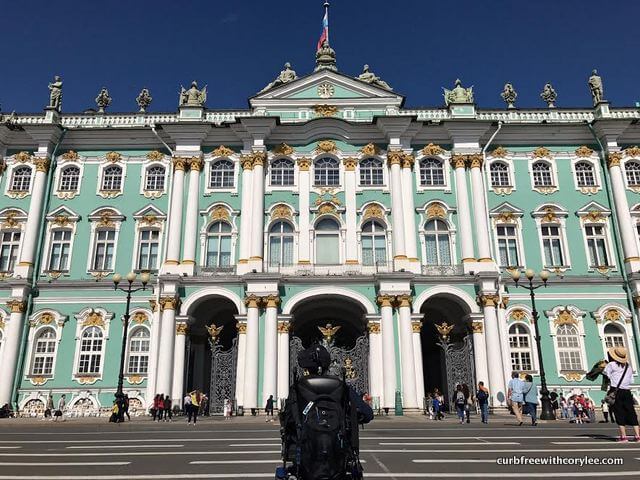 Upon our arrival, it was clear to see that The Winter Palace is the most popular building at the Hermitage. There was a long line just to purchase tickets and it was outside the building, probably a couple hours wait at least. We actually even saw someone that passed out and was getting carried away because they had waited so long. Luckily, since we were visiting with a tour guide, we were allowed to skip the line and go straight to the front. Hallelujah!!
The Winter Palace was completely wheelchair accessible. There were lifts and elevators available, and the staff helped us use them. The only issue in regards to accessibility was the overwhelming amount of people inside, but they were all mostly in the entrance area. I nearly ran over quite a few people, but fortunately for them that didn't happen.
If you're wondering why the Winter Palace is worthy of a visit, it is the former home of the Russian Tsars. It's exquisitely beautiful on the outside and even more so on the inside. If you've been to the Biltmore Estate in North Carolina, it's basically like that times 100.
The Winter Palace was the official residence of the Russian Tsars from 1732 to 1917 and during that time, they made it the ultimate place to live. The amount of gold on pretty much everything was mind-boggling.
Some of my favorite rooms inside the Winter Palace were the Portrait Gallery of the House of the Romanovs and the Library of Nicholas II. The portrait gallery is hung with portraits of members of the Romanov dynasty – from Peter the Great (1672-1725), the founder of the Russian Empire, to the last emperor, Nicholas II (1868-1918) and everyone in between. It was cool to see the pictures of all of the emperors and gave me a better understanding of what they were like. The Library of Nicholas II was impressive as well. It was hands-down one of the most striking libraries I've ever seen and I really wanted to check out all of the books, but it was roped off.
There were many more incredible rooms in the Winter Palace, and I think that it is definitely a must-visit in Saint Petersburg. To be honest, I didn't know much at all about the Russian Tsars before visiting, but now I feel like I've learned a lot.
Drinking Vodka in Russia
When in Russia, it's basically a necessity to drink vodka. This was my number one must-do while in Saint Petersburg and I got to try some vodka at the Russian Vodka Museum. Could there possibly be a better place to try it?! The answer is no.
According to the museum's website, the "Russian Vodka Museum is the first museum in Russia and in the world dedicated exclusively to vodka. Its exhibition tells about the drink, which has been an integral part and essential attribute of Russian life for centuries. The museum gives a fascinating insight into the Russian history, culture and drinking traditions. During the guided tour around the museum, guests will hear about the vodka's origin, Russian dining traditions, Russian vodka Kings, and get to understand the close link between the history of the Russian State and the history of this strong drink". Unfortunately, we didn't have time to tour the museum, but we did get to have lunch at the museum's signature restaurant, Russian VodkaRoom No. 1.
The restaurant was wheelchair friendly, had a nice decor, and a large menu with plenty of options. I opted for the "Solyanka", which was a thick and hearty Russian soup with fish in it. I'm not sure what I expected it to taste like, but it was surprisingly delicious.
With my soup, I had a shot of Beluga vodka. This brand was recommended to us as an authentic Russian vodka, so that's why I chose it. The shot was actually as big as a double shot, and after I said "Nostrovia" (a way of saying cheers in Russian), I took a swig of it. It was… interesting. It tasted like almost any other vodka I've ever had, but stronger maybe. As Sylvia said, vodka pretty much means "rubbing alcohol" in Russian. Haha!
Overall, Russian VodkaRoom No. 1 was a perfect place for lunch while in St. Petersburg. It offered everything I wanted and was accessible, unlike some of the other restaurants and shops in the city. And how often is it that you can dine inside a vodka museum?! So awesome.
Admiring the Fountains of Peterhof
After a hearty Russian lunch (and strong drink), we drove about 45 minutes outside of Saint Petersburg for our last activity of the day – Peterhof Palace! The palace is famous for its immaculate fountains and gardens, and it's often referred to as the "Russian Versailles". In fact, some even say that it's more impressive than Versailles. I haven't been to Versailles, so I can't compare, but I can say that Peterhof was unbelievably beautiful.
We started our visit by taking in the views of the fountains and gardens from the top and we then took a fairly smooth route down below to the bottom to admire it in all its glory.
I've never seen anything quite like Peterhof. It was inspiring to look at and just like the Hermitage, it gave me a sense of Russia's grandeur. Peterhof was the idea of none other than Peter the Great, of course, and it was built in the 1700s. Since then, it has grown to become one of the most popular attractions in all of Russia.
Even though Peterhof is a decent drive outside of central Saint Petersburg, it was completely worth it. Sylvia, my mom, and I all agreed that it was one of the most stunning sights we've ever laid our eyes upon.

As we drove back to the cruise port to depart Saint Petersburg, I reflected on my day in the city. Before visiting, my expectations for this Russian jewel were extremely high and with the help of an awesome tour company, I Travel SPB, all of my expectations were fulfilled. From boating through Saint Petersburg's canals to drinking Russian vodka and admiring the many sights, our action packed day was everything I longed for. Whether you are a wheelchair user or not, it's completely possible to have the time of your life in Saint Petersburg, Russia.
*Thank you to I Travel SPB for our fantastic tour! While it was complimentary, all opinions are authentic and my own.