I recently experienced the MANY things to do in Portland Oregon for the first time, but before going, I only knew one thing about the city: DOUGHNUTS ARE EVERYWHERE!! wheelchair accessible portland oregon things to do
A few years ago, I was watching a TV show and it was talking about the best doughnuts in America. It showed a magical place called Voodoo Doughnuts, which was located in Portland, Oregon. According to the TV show, Voodoo had very unique doughnuts; everything from a doughnut with Froot Loops on top to a maple bacon doughnut. I knew that I simply had to chow down on these sugary treats one day.
 .
When it was announced that the Society of American Travel Writers annual convention was going to be in Portland, I immediately thought "This is my chance. Those doughnuts are mine!" and I booked my trip to the City of Roses.
 .
It actually turns out that there are many things to do in Portland Oregon and the city offers a whole lot more than doughnuts (who knew?!). During my weeklong stay I was able to experience many of the city's attractions and points of interest. From drinking at the country's first nonprofit pub to taking in stellar views atop a mountain (and eating too many doughnuts of course), Portland exceeded my expectations in every possible way. Here are 9 wheelchair accessible things to do in Portland Oregon –
Things to Do in Portland Oregon
 .
Lan Su Chinese Garden
Before I boarded my flight to Portland, I posed a question on my Facebook page, asking everyone for recommendations of things to do in Portland Oregon. A couple people said that I should go to Lan Su Chinese Garden, so I checked it out online. It looked impressive, so I decided to give it a try on my first full day in Portland.
 .
 .
While in the city, I
stayed at The Nines
, which is located downtown in a great area. The Chinese Garden was only a ten minute walk/roll from the hotel in the city's Chinatown area. Admission into the garden was $10 per adult, and almost every area of the garden is wheelchair accessible.
 .
My friend Ian, who writes for the wonderful
New Mobility Magazine
and also uses a power chair, met my mom and I to tour the Chinese Garden. He's a Portland local, so he has been through the garden several times and he knew his way around. Luckily, the garden was very wheelchair friendly and we didn't have a problem navigating it with our powered wheelchairs.
 .
 .
Lan Su Chinese Garden encompasses a full city block downtown, but it is walled to make you forget that you're really in Portland. As I rolled around and admired the scenery, I truly felt like I had been transported to China. There were beautiful flowers around the garden, a large koi fish pond, and even a two-story teahouse.
 .
 .
The teahouse has an elevator, so we were able to go up to the second floor to enjoy some tea. I had a green tea called "Dragonwell" and it was quite good. It had an Earthy flavor and was strong, but I loved it. If you want something not as strong, and maybe sweeter, there are more than a dozen different teas to choose from. Food is also available in the teahouse if you're a bit hungry, but we opted out of food here because we were planning to hit up Voodoo Doughnuts (!!!) on the way back to the hotel.
 .
.
Eat All the Doughnuts
. 
My self-set mission in Portland was to try all of the doughnuts that the city had to offer. While I couldn't try all of them, I did eat them until I was sick. The doughnut voyage started at Portland's most popular doughnut shop, Voodoo Doughnuts.
 .
 .
Voodoo is so popular that there was a line outside the building when I visited. The line moved pretty fast though, and after about 15 minutes or so we were inside and ready to place our order. Voodoo has tons of different options and even some crazy doughnut names. Some of the wildest ones include the Cock-N-Balls doughnut, Old Dirty Bastard doughnut, and the Memphis Mafia doughnut. I didn't try any of those, but I did try the Chico Stick doughnut (this was my favorite), an Oreo doughnut, and a chocolate glazed doughnut. They were all delicious and Voodoo certainly lived up to the hype.
 .
 .
While Voodoo was excellent, I never knew that a donut could be so good until I visited Blue Star Donuts. Blue Star has several locations throughout Portland and their mission is to "make hand-made donuts that appeal to the foodie, not the kiddie". They use fresh herbs, spices, and even liqueur in some of the donuts. I had a blueberry cake donut and as soon as I bit into it, my mind was blown. Who knew that a simple blueberry cake donut could be so delicious?! It was super fresh and full of flavor, and I might even go as far as to say that it was life-changing. Seriously, it was that good.
 .
 .
If you're in Portland, go to Voodoo for the experience and Blue Star for the taste. And also, if you don't mind, feel free to ship me a few dozen while you're there.
Mount Tabor
.
 .
If you're looking for things to do in Portland Oregon with a good view and want to spend some time outdoors, head to Mount Tabor. I visited this volcanic cinder cone turned city park on a nice sunny day, and it was beautiful.
 .
 .
The area of Mount Tabor that I visited was paved and it was easy to roll around as a wheelchair user. There are accessible picnic areas and accessible restrooms available if you need it, but the real highlight is the view from the top. I was able to see downtown Portland in the distance and since it was October when I visited, seeing all of the Fall leaves was an added bonus.
 .
.
Oregon Museum of Science & Industry
.
 .
OMSI isn't your typical museum. It has all kinds of exhibitions, but it's also extremely interactive. I'm usually not a huge fan of museums, but this one was quite fun.
 .
There was a planetarium, science labs where you could try some experiments, an IMAX theater, and several exhibitions. I was at OMSI for about two hours and enjoyed watching an IMAX movie called "Forces of Nature" and looking at the exhibitions. The movie was about the power of tornadoes, earthquakes, and volcanoes, and since Oregon has some volcanoes, it was interesting.
 .
 .
My favorite exhibition was on the second level of OMSI and titled "Beginning the Journey". This exhibit examined the stages of human fetal development across nine months of pregnancy with one of the largest public displays of human fetuses.
 .
 .
The most popular attraction at OMSI is the USS Blueback Submarine, which is the US Navy's last non-nuclear, fast attack submarine. It's open for tours, but sadly it isn't wheelchair accessible. I was able to see it from the outside and watch a video about it though. And while this attraction isn't accessible, almost everything else at
OMSI
is. You could easily spend a few hours here and the museum actually lets a care attendant in for free with each person with a disability.
 .
Powell's Books
.
 .
This bookstore is almost as synonymous with Portland as doughnuts and with five locations in the Portland area, you're never too far from a Powell's Books. The main, and most visited, location is Powell's City of Books in downtown Portland. This location takes up an entire city block and has the distinct honor of being the largest used and new bookstore in the world with more than one million books. If you're a book lover, this will undoubtedly be your haven.
 .
 .
While I didn't get a chance to visit the larger Powell's City of Books downtown, I did visit Powell's Books on Hawthorne. It was still pretty large and had more than 200,000 books available for purchase. In addition to the many books, I enjoyed browsing the other quirky items, including games, toys, and clothing. Whether you plan to buy something or not, Powell's is a must-do when in Portland!
 .
.
Portland Mercado
.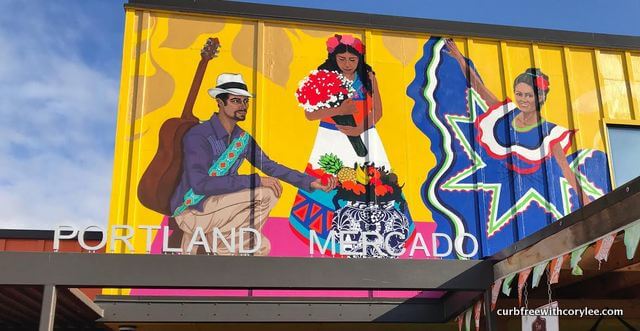 .
When you think of Portland, your mind may automatically picture hipsters, but there is actually quite a bit of diversity in the city. As I mentioned earlier, there is a Chinatown with Asian restaurants and shops, and for the Latino community, there is the Portland Mercado.
 .
I had the pleasure of visiting the Mercado one day for lunch and it was probably my favorite place that I ate during the entire week… and Portland is full of really really really great food. Inside the Mercado, there is a coffee shop, juice bar, and even a grocery store with authentic Latino foods. Just outside the Mercado, there were nearly a dozen food trucks selling dishes from Latin America. I had a burrito, chips and salsa, fried plantains, and more, and ate it at one of the indoor tables. Everything was delicious and 100 times better than any Mexican restaurant that I've been to in the past. I'm still dreaming of that burrito. Yum!
 .
 .
Aside from the food, the Mercado is just a remarkable place to visit in general. It was inspiring to see how passionate all of the food truck chefs were, and the passion certainly shows through in the food. If you're looking for a delicious meal in the city and one of the tastiest things to do in Portland Oregon, the Mercado is the perfect spot!
 .
.
Milagro Theatre
.
 .
After you've chowed down on some Latin American foods at the Mercado, why not head to the theatre and enjoy a show? The Milagro Theatre is only about five miles from the Mercado and in this theatre, they perform Hispanic plays and works of art.
 .
Many of the shows are bilingual with subtitles displayed on a screen and they perform around a dozen shows per year. The theatre has been in operation in its current location since 1995, and has grown exponentially since. Tickets for shows are reasonably priced and if you need wheelchair accessible seating, just let the box office know. Wheelchair accessible seats are on the front row, so you'll have a perfect view of the show.
 .
.
The Oregon Public House
.
 .
At the end of any day in Portland (or at the start of the day… it's 5 o'clock somewhere, right?), you might want to grab a drink. There's no better place to drink in the city, or even in the country, than The Oregon Public House. Why?? Because this is the nation's first nonprofit pub!
 .
 .
When you order a drink or food from The Oregon Public House, you can choose one of six organizations for your money to go toward. When I visited, some of the organizations were places like
Building Blocks to Success
, which empowers at risk youth through exposure to science, technology, engineering, and math (STEM), and the
Rock N Roll Camp for Girls
, which  serves girls, transgender, and gender nonconforming youth through a transformative week of music creation and performance. A nonprofit pub is such a unique and cool concept, and I never even felt guilty about ordering another drink because I knew that my money was going toward a great cause. This is one of the best things to do in Portland Oregon if you want to get your drink on, but not feel bad about doing so.
 .
.
Tom McCall Waterfront Park
.
 .
Since I
stayed at The Nines
in downtown Portland, the Tom McCall Waterfront Park was just a short stroll away. I visited it a couple times during my week in the city and it was one of the nicest things to do in Portland Oregon on a sunny day.
 .
This riverfront park has a 1.5 mile paved path along the Willamette River. It's an ideal place for bikers, skaters, and wheelchair users to roll along the river and the views are great. I could see some of Portland's bridges and the impressive skyline from the park.
 .
 .
Portland Oregon Things to Do
When I arrived to Portland, I didn't really know what to expect (other than delicious doughnuts), but after spending a week in the City of Roses, I fell in love with it. From a beautiful Chinese garden to delicious foods and diversity, Portland offers something for everyone and is a fantastic city for wheelchair users. If you're looking to visit an off-the-beaten-trail destination in the U.S., consider rolling to the Pacific Northwest and experience the many things to do in Portland Oregon.