I have visited Pigeon Forge and the Great Smoky Mountains at least two to three times per year my entire life. It's a fun destination with great shows, about a bajillion attractions, and delicious food, and the best part is that it's only a two and a half hour drive from where I live in northwest Georgia.
 .
It may only be a couple hours drive, but with every visit I get a hotel to stay in for at least one or two nights, simply because there's so much to do in the area. Over the years, I've stayed at pretty much every hotel in Pigeon Forge and Gatlinburg. From the
Margaritaville Island Resort
to the
Music Road Inn
and more, if it's a hotel in the Pigeon Forge area, I've probably stayed in it.
 .
The one thing I've sadly never done though is stay in a cabin. In this mountainous area, cabins are extremely popular, but usually not very accessible. A long time ago, I tried to find an accessible cabin and couldn't, but I recently decided to try it again and Googled "wheelchair accessible cabin Great Smoky Mountains". To my delight, a couple wheelchair accessible cabins popped up, but the one that caught my attention was the "Above the Clouds" cabin in Wears Valley, Tennessee. I called to see if it was available for my birthday weekend and luckily, it was! My family and I booked it immediately and the next day we were off for a weekend of fun in the Great Smoky Mountains.
 .
The
Above the Clouds cabin
is only about seven miles off of Pigeon Forge's parkway (the main road where all of the restaurants and attractions are located), but is a bit tricky to get to. It's at the top of a steep mountain with some rather sharp turns. I'd recommend trying to arrive to the cabin during the daylight the first time that you go because some of the roads aren't well marked or lit. We drove up to the cabin around
9pm
the first night, so it was dark and we got a little lost for about five minutes. We quickly figured out where we went wrong and made our way to the cabin, but it would definitely be easier to navigate in the daylight.
 .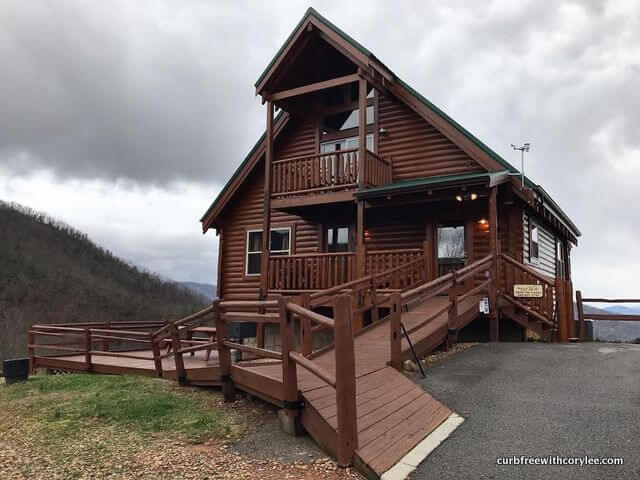 .
Once we arrived to Above the Clouds and I saw the exterior, I couldn't believe how large the cabin was. There are three levels to the cabin (two of which are wheelchair accessible), and I quickly went up the ramp to the main level.
 .
The Main Level
 .
Once I entered Above the Clouds' main level, I was in awe. Everything was impeccably clean. I started in the kitchen, where there were all of the essentials. There was a refrigerator, stove, and a microwave that was about waist high so wheelchair users can reach it. When I saw the lowered microwave, I knew that I was in for a great stay because that showed me that the owners had really thought about accessibility. Unique simple things like that are an easy way for any accommodation to get to my heart.
 .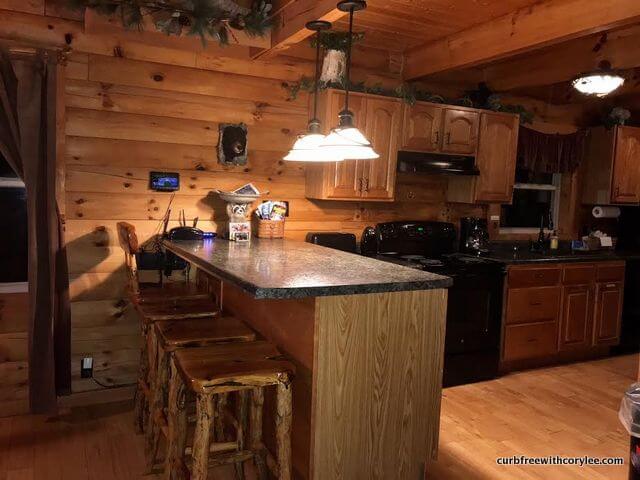 .
Right after the kitchen came the spacious  living room. There was a dining table large enough for six people, a high-top bar area so you could sit 3-4 more people, a television, fireplace, and a sofa that could be folded out into a bed.
 .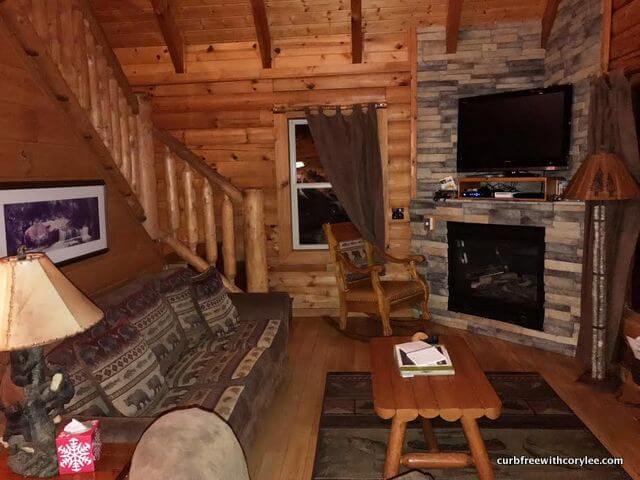 .
I also loved all of the wonderful amenities and special touches that were scattered throughout the cabin. Everything seemed to be made of wood, which gave it a true cabin feel, and there were even beautiful carvings of bears, raccoons, owls, and more animals on display. There were also plenty of board games to choose from (we enjoyed playing Taboo one night) and books, including several books about accessible travel written by my friend
Candy Harrington
.
 .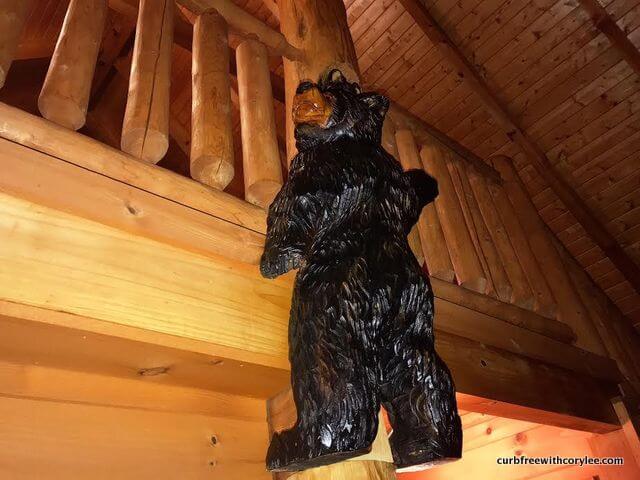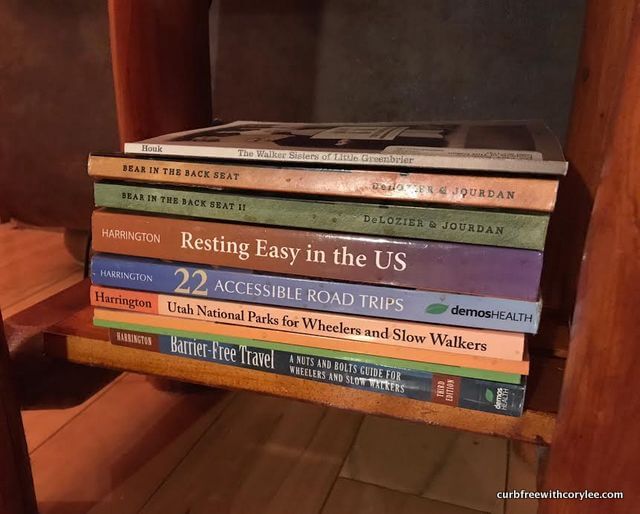 .
On the main level connected to the living room is one of the bedrooms. This was the room that I used for the weekend, as it had a comfortable king sized bed that a hoyer lift could easily roll under and a bathroom with a roll-in shower, pull-under sink, and grab bars. If you need to transfer yourself into bed, it was low enough that you should definitely be able to.
 .
 .
The Views
Also on the main level was a deck with some of the best mountain views you could possibly imagine. The deck was accessible and I could roll onto it smoothly. This was the perfect place to drink my hot tea every morning. On the deck, there was a hot tub as well and a swing.
.
.
The Upper Level
If you go up the stairs from the living room, you can get to the upper level. On this level there was a pool table, dart board, and a restroom. It's more of a recreational area and doesn't have a bedroom. Unfortunately, this level is not wheelchair accessible. While I would like for it to be accessible of course, I didn't necessarily mind that it wasn't because I could get to all of the other areas in the cabin and there was plenty for me to do. I got my mom to take some photos of the upper level so that I could see it, and here they are below.
.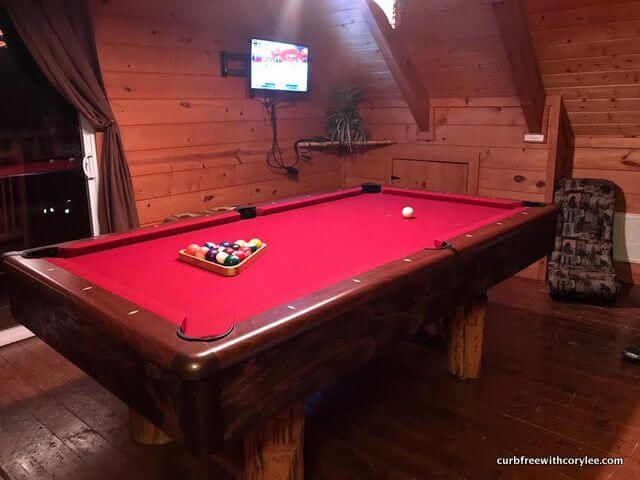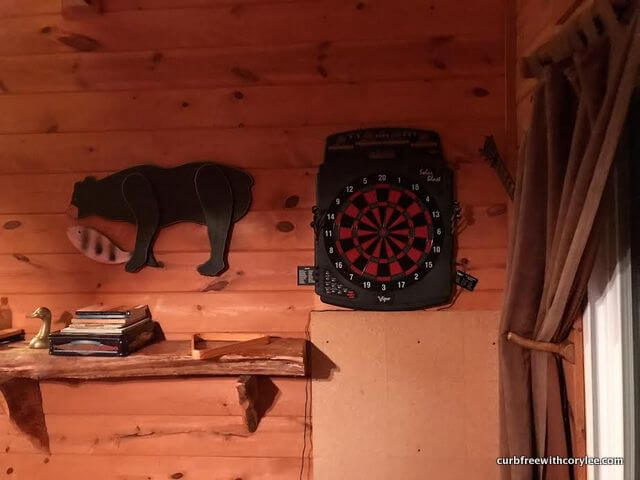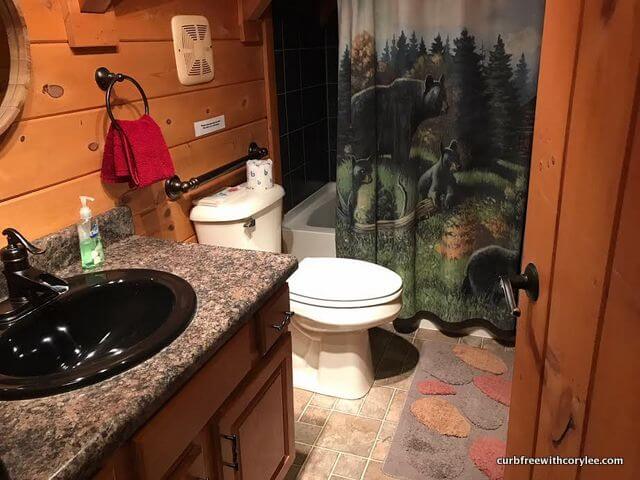 .
The Lower Level
If you go down a set of stairs from the living room, you can get to the lower level. However, if you use a wheelchair like me, I'm happy to say that there is an accessible route to the lower level. Just go out the main entrance door and down a couple long ramps. Once you reach the bottom, you can enter the lower level.
 .
On this level of the cabin, there was a set of bunk beds, an air hockey table, a bathroom with a tub, and a washer and dryer. The bunk beds were not your average children's bunk beds though. They were homemade wooden beds and 4 people could easily sleep in them (2 on top and 2 on bottom). And with the air hockey table in the room with the bunk beds, wheelchair users can enjoy playing the game.
.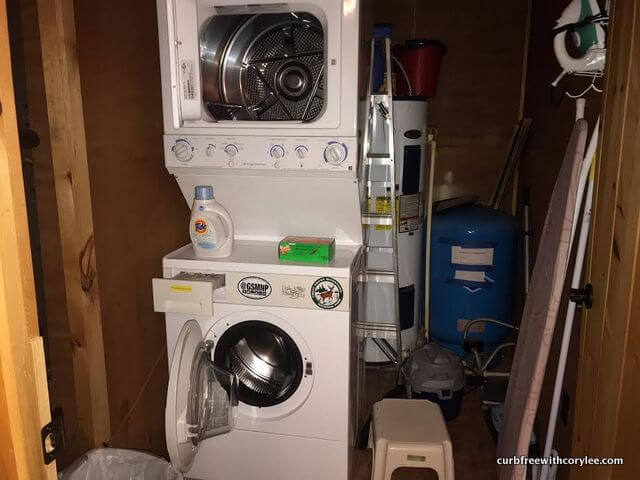 .
In addition to the bunk beds and bathroom with the tub on the lower level, there's also another accessible bedroom. Just like the bed on the main level, a hoyer lift could easily roll under the bed and a wheelchair user could transfer themselves if able. Connected to this accessible bedroom was a bathroom with a pull-under sink and roll-in shower.
.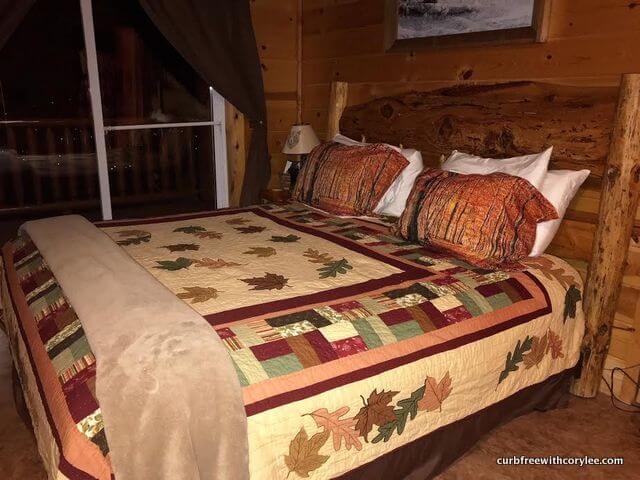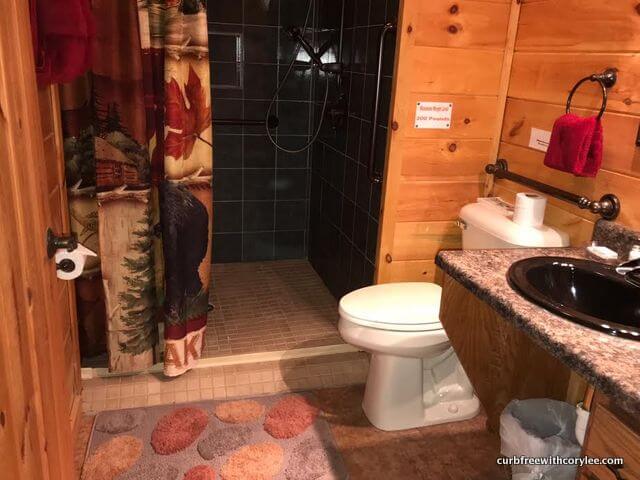 .
Want to do a full tour of the cabin?? Check out this video that we recorded –
.
.
Additional Tips for Your Stay
• Since Above the Clouds has a full kitchen, you could save money by eating in instead of going out to eat for every meal. You could bring your own groceries or even have groceries delivered to the cabin (they can be there before you arrive) from
Smoky Mountain Grocery
. It's never been more convenient!
 .
• Just outside the cabin, there is a play set. If you will be bringing any kids with you, they'll have fun on this. Near the play set on the patio, there's also a picnic table and grill, so in the summer it might be nice to grill or enjoy a picnic while the kids play.
 .
• While Above the Clouds can accommodate up to 11 people, if you are looking for a cabin a bit smaller then consider Eagle's View. The Eagle's View cabin is only 3 cabins down from Above the Clouds and you can get from one to the other via a connected boardwalk. Eagle's View is wheelchair accessible with a sofa bed in the living room and one bedroom with a king sized bed. It also has a roll-in shower. Learn more about it
by clicking here
.
 .
My weekend stay at Above the Clouds was incredible and so relaxing, and I'm thrilled that I finally know of a wheelchair accessible cabin in the Great Smoky Mountains near Pigeon Forge. It has certainly changed how I'll be staying in the mountains on future trips to this area. It would be difficult to go back to a tiny hotel room and enjoy it after having an entire cabin, so I'm positive that I'll be booking many more remarkable stays at Above the Clouds.
.
Want to book a stay of your own in this wheelchair accessible cabin? Click here to learn more.
.
..
*My stay at Above the Clouds was not comped and all opinions are authentic and my own.
.