Since I first visited Walt Disney World at the age of four, it has been one of my favorite places on planet Earth. Disney World disability access is fantastic and there's just something magical about rolling right down the middle of Main Street USA toward Cinderella's castle, while the aroma of Mickey ice cream bars and popcorn fills the air. I honestly never feel more at home than in that moment and I'm incredibly tempted to book the next flight to Orlando, Florida, just from typing that last sentence.
.
My love for Disney World is further fueled by the fact that the parks are so wheelchair friendly.
I also noticed that there are a ton of people using
mobility scooters
as well.
From the many accessible attractions to other accommodations that wheelchair or scooter users can enjoy such as companion care restrooms and special Disney disability pass options for the rides, Walt Disney World is a brilliant wheelchair accessible destination for anyone, regardless of the abilities that they may or may not have.
If you have ever thought about visiting, but haven't taken the plunge yet, let me count down the reasons why you should travel enjoy the Disney World disability access as soon as possible. Here are 17 reasons why I absolutely love Disney World (and why you will too), in no particular order.
Disney World disability access, and why I keep going back:
.
1. It brings back childhood memories
.
As I said in the intro paragraph, I first visited Walt Disney World when I was four years old. My whole family, including my mom, dad, and grandparents, went on that trip and I still vividly remember enjoying the character breakfasts and spinning in the teacups with all of them at Magic Kingdom. It was one of the only trips that all of us went on together, before my parents got divorced, so it holds a lot of memories for me.
.
Since then, I've visited Disney World dozens, if not hundreds, of times. My mom took me to Disney pretty much every summer my entire life and I also did my college internship there. Disney has been a part of my life for as long as I can remember and every time that I go back, I'm reminded of all of the fantastic memories from my childhood. It's the only place in the world where I feel like a rambunctious kid again, no matter how old I really am.
.
2. There are 4 different theme parks to choose from
.
Walt Disney World is not just one theme park… it actually has FOUR theme parks, all of which are amazing! The four parks are
Magic Kingdom
, Epcot, Hollywood Studios, and Animal Kingdom. I would highly suggest spending at least one full day at each park, especially if it's your first time visiting, but you can also go from park-to-park on the same day with Disney's Park Hopper passes.
.
Each park has different attractions/themes, so research them all before you go and discover what you'd like to do at each one to get the most out of the Disney World disability access. And if you only have time for a couple parks during your trip, my favorites are Magic Kingdom (it'll give you the quintessential Disney experience) and Epcot (there's more for adults to do here than at the other parks, but it's been one of my favorites since I was little. You'll find out why in a bit). While these two are my personal favorites, I also LOVE Hollywood Studios and Animal Kingdom! Really, they're all my favorites. And no matter which park you go to, make sure that your mobility equipment is fully charged for the day. Trust me, I know what it's like for your wheelchair to go dead in the back of the park.
.
3. The Walt Disney World Resort is Basically an Entire City
.
The Walt Disney World Resort is HUGE, and I'm not exaggerating at all when I say that. The entire resort is about 47 square miles, but if you're like me and have no idea how big that really is, it's the size of San Francisco. That's right… Disney World is basically its own city!
.
Aside from the four theme parks, there are many more parts of the Walt Disney World Resort that are worth visiting and all fit with the theme of Disney World disability access. There are two water parks, mini golf courses, Disney Springs, and the BoardWalk just to name a few. Both Disney Springs and Disney's BoardWalk are areas that have plenty of restaurants, shops, and nightlife, and you can visit both without paying the park admission. So even if you're not planning to go to the theme parks during your Orlando vacation, you can still have a blast at some parts of the resort for free.
.
4. Free transportation
.
To get around the 47 square miles of the Walt Disney World Resort, you can either drive your own vehicle or use the Disney World disability access transportation services. Disney makes it easy breezy to get from park to park or hotel to park or more! There are buses, ferries, a monorail, and even shuttle transportation to/from the Orlando airport. It's never been easier to get around Disney World, and if you're a wheelchair user, don't worry about a thing. All of the transportation is accessible, so just sit back, relax, and let the Disney drivers get you where you need to be.
.
.
5. The hotels and resorts make me want to permanently move in
.
Across the expansive Disney property, there are a couple dozen different hotels and resorts. There's everything from value resorts to more upscale deluxe resorts, depending on your budget. Over the years, I've stayed at several Disney resorts (both in the value category and the deluxe category) and they have all been fantastic.
.
.
So far, I've stayed at Disney's Pop Century Resort, Disney's Art of Animation Resort, and most recently, I stayed at Disney's Yacht Club Resort. Every stay has been awesome and nowhere knows how to do an accessible room better than Disney. The Disney World disability access is incredible. The accessible rooms are always spacious with a roll-in shower and if you're not 100% satisfied with the accessibility of your room when you get there, just let them know and they'll fix it immediately.
.
Staying at a Disney resort truly adds to the vacation experience because the resorts are Disney themed, have their own restaurants and shops, and they all have transportation to the parks. They also have some pretty incredible pools (with pool lifts for wheelchair users), so I'd suggest planning a laid back day at your resort during your trip. Soak up the Florida rays by the pool and enjoy some great food and drinks without leaving your resort!
.
6. Many of the rides are wheelchair accessible
.
At most theme parks around the world, wheelchair accessibility is something that's not thought of unfortunately. I've been to other parks, even here in the U.S., and not been able to enjoy a single ride. However, at Walt Disney World, many rides and attractions are possible whether you're able-bodied or use a wheelchair.
.
Some of my favorite Disney World disability access rides across Magic Kingdom, Epcot, Hollywood Studios, and Animal Kingdom are the Jungle Cruise, Toy Story Mania, Kilimanjaro Safari, The Seas with Nemo and Friends, and Buzz Lightyear's Space Ranger Spin. These are just some of the rides that I'm able to enjoy in my powered wheelchair, but there are many other rides and shows as well. You will certainly never be bored at Walt Disney World, and your family and friends will like the fact that you're able to ride so many things with them.
.
7. The Disney Access Service is tremendously helpful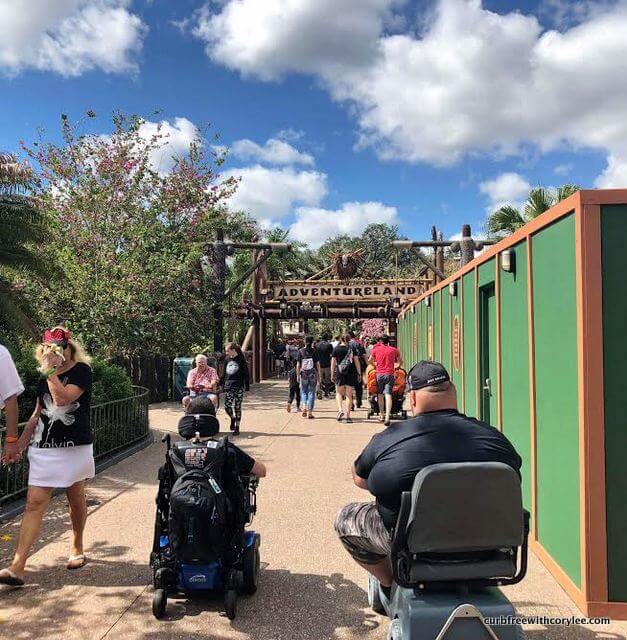 .
One thing that is synonymous with Disney World is long lines. If you're wanting to ride a popular attraction, it could be a 3+ hour wait sometimes. I've seen Toy Story Mania's wait get up to 4 hours. So that you don't have to wait out in the heat (or the rare cold if you're visiting in winter), you can request the Disney Access Service.
.
When you get to the park, immediately go to Guest Relations and tell them that you would like the Disney Access Service. They'll ask you some questions to make sure that you really need Disney World disability access, but then you'll have it and be ready to enjoy the parks. Basically, how this service works is this: you go to a ride and tell the worker that you have the Disney Access Service, they scan your MagicBand (which is like your ticket to the park), and they give you a time to return to the ride. If the ride has a 2 hour wait, you'll come back in 2 hours and get to bypass the line. I loved this aspect of wheelchair accessible Disney World because if I had to wait in the lines, I wouldn't be able to get to an accessible restroom if needed and my body doesn't do well in the heat (or cold) for long periods of time. Instead of waiting in line, I could go get a bite to eat or do something else within the park.
.
8. The food is deliciously mouth-watering
.
The wheelchair accessible Disney World Resort literally has hundreds of restaurants! There's something for everyone, from American food to French and Italian food to Moroccan food, you'll be able to feast on a wide variety of options during your trip. This is not your typical theme park food.
.
.
I've eaten at many of Disney World's restaurants over the years (and I may write an entire blog post about Disney food in the future), but some of my absolute favorites that I'd highly recommend are the Sci-Fi Dine-In Theater Restaurant (inside Hollywood Studios), 50's Prime Time Cafe (also in Hollywood Studios), Be Our Guest Restaurant (inside Magic Kingdom), Biergarten Restaurant (inside Epcot), and the Beaches & Cream Soda Shop (at Disney's Beach Club Resort. Be sure to order the Kitchen Sink). I've never had a bad experience at any of these and I keep going back to them time and time again because they are so good.
.
One Disney World disability access dining tip for you: Make your reservations before you go on your trip. Tables become available a few months in advance and popular restaurants fill up quickly!
.
9. Dole Whip. Need I say more?!
.
I can't talk about food at Disney World without mentioning the world-famous Dole Whip. It's iconic and worth every bit of praise.
.
The dole whip is a pineapple flavored soft serve that you can get at Magic Kingdom or at Disney's Polynesian Resort. These are the only two places that it's available at in Walt Disney World, so make it your mission to get one. You're going to love it, I promise!
.
10. The Cast Members are some of the friendliest people on planet Earth
.
As a former Walt Disney World Cast Member myself, I can tell you that Disney takes great pride in training its staff (better known as Cast Members) to be exceptionally nice and friendly to all guests, and anyone visiting will know that this is true.
.
There are so many circumstances where a Cast Member has gone out of their way to help me, whether I needed a different hotel room because the one I got wasn't quite as accessible as I needed it to be or a waitress has just been super nice and became a friend of sorts within our hour-long dining experience. All of the Cast Members that I've talked to in my many trips to the happiest place on Earth have made me feel right at home.
.
11. Companion care restrooms are readily available
.
As a wheelchair user that travels frequently, one of my biggest obstacles is finding an accessible companion care restroom. Since my mom or care attendant (who also happens to be a female) travel with me, they can't just go into the men's restroom with me and it's awkward for me to go into the women's to an accessible stall. A companion care restroom provides more privacy and many less awkward glances. I'm thrilled to say that all of the theme parks have Disney World disability access companion care restrooms available! They are spacious, have pull-under sinks, and grab bars. For a list of where all companion care restrooms are located in the parks,
click here
.
.
12. You can travel around the world (without your passport)
.
At wheelchair accessible
Disney World Epcot theme park
, you can travel to 11 different countries all
in one day
! Does this sound too good to be true? Well, I'm happy to say that it's not! Epcot is split into two areas, with Future World being at the front of the park and the World Showcase being the back half.
.
.
The World Showcase has 11 countries represented, with each one having restaurants, shops, and even rides and shows specific to that country. As a travel addict, I absolutely LOVE going here because it really feels like I'm rolling around in that country. It's also fun to try the different restaurants within each country, and I can vouch that they're all delicious. The 11 countries represented are Mexico, Norway, China, Germany, Italy, USA, Japan, Morocco, France, the United Kingdom, and Canada. And the best part is that you won't even have jet lag when you leave.
.
13. You can meet your childhood (or adulthood) idols
.
For anyone, whether you're a kid or an adult, it's always exciting to meet a celebrity. At the wheelchair accessible Disney World Resort, you can meet dozens every day! That's right, you can meet Disney icons such as Snow White, Merida, Ariel, Goofy, Minnie Mouse, and even the legendary Mickey Mouse himself!
.
To this day, even now that I'm in my late-twenties, it's so thrilling to meet the characters that I grew up with. If there's a particular character that you'd love to meet, you can see which park they are at
by clicking here
. Alternatively, you could partake in a character breakfast, where the most popular characters will come to your table while you're chowing down on some Mickey waffles. The character breakfasts are great because you don't have to wait in line to meet the characters, instead they just come to you.
.
14. It doesn't have to be a holiday for you to see a parade
.
Typically, parades are only seen around holidays and special events, but at Disney World, you can watch a spectacular parade every day of the year! At Magic Kingdom, the Festival of Fantasy Parade is every day at precisely 3pm.
.
.
This isn't your average parade with a few nice floats every now and then either. The Festival of Fantasy Parade is a full production that goes down Main Street and there are dancers, music, and all of your favorite Disney characters as well. It only lasts about 20 minutes, but that's enough time to make it the most entertaining parade in the world.
.
15. The nighttime shows are so good they'll make you cry (happy tears, of course)
.
For the perfect ending to any Disney World disability access day, enjoy one of the nighttime shows. Each park has one, so no matter where you spend the day, you can still have a fairytale ending.
.
Magic Kingdom has the "Happily Ever After" show every night with the most beautiful fireworks display you've ever seen. I'm not ashamed to admit that it's even brought me to tears a time or five. Another favorite show of mine is "Fantasmic!" at Hollywood Studios, but I also tremendously enjoy "IllumiNations: Reflections of Earth" at Epcot and "Rivers of Light" at Animal Kingdom. They are all worth seeing and are one of my favorite things about Disney World.
.
16. The parks are constantly expanding and growing
.
Every time that I visit Walt Disney World with the Disney World disability access pass, there are new attractions to experience. All of the theme parks are constantly growing and expanding, and I'm always looking forward to seeing what's new.
.
In the past few years, Magic Kingdom has added New Fantasyland with several new rides, including the wheelchair accessible Journey of the Little Mermaid, and restaurants and Animal Kingdom recently opened Pandora, a land inspired by the blockbuster movie Avatar. This summer, Hollywood Studios is opening Toy Story Land, and since I am a huge Toy Story fan, I can't wait to see it! All of the additions are exciting and they make Walt Disney World feel new, even if it's your hundredth visit.
.
.
17. Because why not?!
.
Walt Disney World is undoubtedly the happiest place on earth, it's wheelchair friendly, and there are plenty of things to do at Disney World for everyone. From mind-blowing nighttime spectaculars to adrenaline pumping rides, there are a million reasons why I absolutely love Disney World disability access, but hopefully these 17 reasons give you some insight into why I keep going back to the House of the Mouse year after year.
Liked this post? You might also enjoy:
.
.
This post contains affiliate links. However, all opinions expressed here are original. If you click through on a link, you won't pay a penny more, but we'll receive a slight commission which helps us keep this information available to you. Thanks!