Over the years, whenever I've thought of Morocco, I've immediately pictured the city of Marrakech in my mind. I'm not sure why because pretty much the only thing that I knew about Marrakech before I actually visited was the fact that there are snake charmers… and I'm absolutely terrified of snakes! There had to be more things to do in Marrakech Morocco than snakes though, right?!
 .
While I wasn't looking tremendously forward to seeing the snakes, I was anxious to make the most of my 48 hours in Marrakech and discover what all the city had to offer while on tour with
Morocco Accessible Travel Consultants
. From rolling around stunning botanical gardens to taking selfies with camels, if you're wondering about which things to do in Marrakech Morocco and where to stay in the city as a wheelchair user, here's your guide:
 .
7 Places to Visit in Marrakech
 .
Roll in a botanical garden
.
.
The first stop during my tour of Marrakech with Morocco Accessible Travel Consultants was Jardin Majorelle. This is a beautiful botanical garden in the city and it's about 2.5 acres in size. I enjoyed looking at the many palm trees, flowers, bamboo, and even birds throughout the accessible gardens for almost an hour. While Jardin Majorelle is in the heart of the city, it's one of the best
things to see in Marrakech
if you feel like getting away from the hustle and bustle for a while.
.
.
Jardin Majorelle is pretty to look at of course, but it also has an interesting history. It took Jacques Majorelle, a French painter, 40 years to complete the garden and after he died, the garden was almost sold to become a hotel complex. In 1980, to keep the garden from disappearing, Yves Saint Laurent (yes, the famous fashion designer) and Pierre Bergé bought Jardin Majorelle and turned it into one of the top things to do in Marrakech Morocco.
.
While at
Jardin Majorelle
, be sure to visit the Berber Museum as well. This museum is located within the gardens and will give you a better understanding of the Berber people, which are indigenous to Morocco. You will see Berber costumes, jewelry, learn about their history, and more. The museum is completely wheelchair accessible.
.
View the exquisite Saadian Tombs
.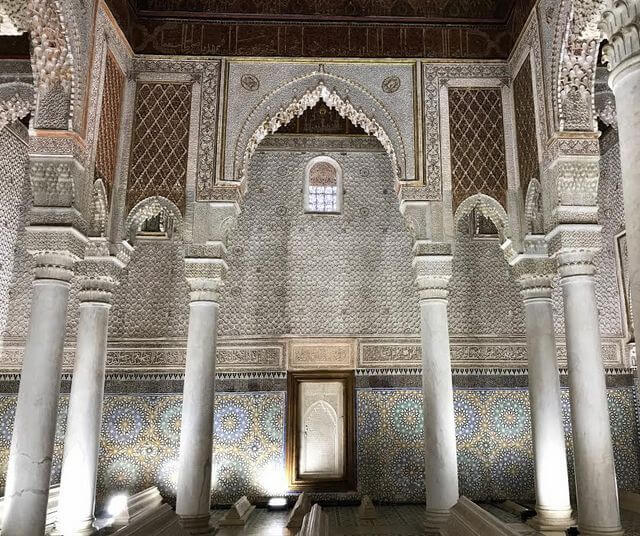 .
When you're wondering what to do in Marrakech, visiting the final resting place of a couple hundred people probably doesn't sound too appealing, right? Well, I promise you that it is 100% worth visiting! The Saadian Tombs are located in the city center and have some of the most impressive architecture and designs that you will ever see.
.
Ahmad al-Mansur, sultan of the Saadian dynasty, ordered these tombs to be built at the end of the 16th century and today, over 200 members of the Saadian dynasty are buried here. Inside one of the on-site mausoleums, known as the Chamber of the Twelve Pillars, Ahmad al-Mansur and his family are buried. And trust me, if you've got to be buried, you want it to be here.
.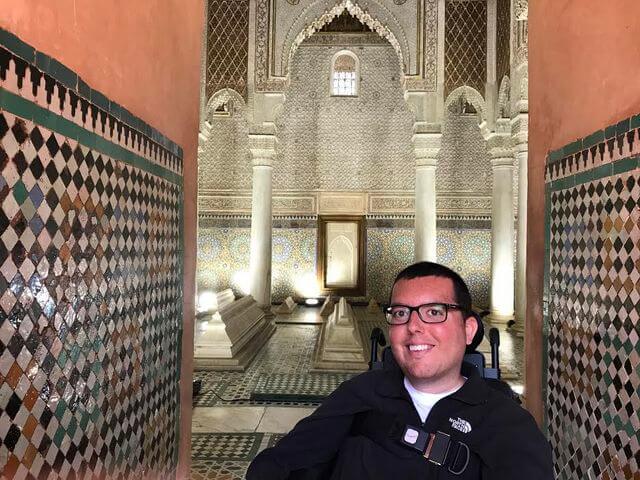 .
To get to the mausoleum's viewing area, there was a decently sized step, but luckily Morocco Accessible Travel Consultants always had a
portable ramp
on-hand. They laid it down and I was able to view the inside of the mausoleum. It was beautiful with Italian marble, carvings, and tiles. I'm not sure exactly how much money went into designing it, but I know it was a LOT. I only spent a few minutes admiring the mausoleum, but it's certainly one of the best things to do in Marrakech Morocco – simply beautiful!
.
Chow down on Moroccan cuisine
.
 .
As you plan your own trip to Marrakech, you'll probably want to know what the food is like. I'm happy to say that it's delicious and much better than I was expecting. Whenever I visit a foreign country, I'm kind of leery about trying new foods, so I wasn't sure how much I'd like the food in Marrakech. Don't get me wrong, I've tried some crazy things in my travels (guinea pig in Ecuador,
fermented shark in Iceland
, and kangaroo in Australia just to name a few), but I'm usually a bit nervous before that first bite. During my 48 hours in Marrakech though, I had no trouble finding plenty of mouth-watering offerings.
 .
If you're wandering around the city, you'll notice many street vendors selling everything from lamb to delectable juices. The vendors were packed with customers while I was there, but since you can't tell how clean the food is or if it was washed in tap water (only drink bottled water in Morocco!), I opted for the nicer sit-down restaurants. One that I would highly recommend is
Dar El Baroud
. It didn't look incredibly nice from the outside, but was exquisitely decorated on the inside. I enjoyed some soup and vegetable tagine from the à la carte menu, but there was also a set multiple course dinner menu if that's what you'd prefer. The prices at Dar El Baroud were quite steep, but it was delicious.
 .
 .
If you're thinking "What is tagine?!", let me answer. I ate it literally every day of my trip and it is hands-down Morocco's most popular dish. Tagine is a slow-cooked stew, typically with meat and vegetables, and the coolest thing about it is the dish that it's served in. It is served in a tall conical shaped dish, and watching it come toward your table is almost as great as actually eating it. Another must-have Moroccan food is couscous and be prepared to drink a ton of mint tea during your visit.
.
.
Be entertained by snake charmers (and much more!)
.
.
If you only have time to visit one place in Marrakech, make it Jemaa el Fna. This public square is one of the quintessential things to do in Marrakech Morocco because it is completely unlike anywhere else in the world. It's incredibly hectic, but magical in its own right.
.
As I rolled through Jemaa el Fna, there was something going on in every direction that I looked. There were kids selling souvenirs, henna tattoo artists, monkey handlers, and the elusive snake charmers of course. I did let a monkey get on my shoulder, but I tried to keep my distance from the snakes. While you're going through the square, also be aware of pickpockets. They're supposedly notorious in this area.
.
.
In Jemaa el Fna, almost anything goes, so don't be surprised if someone sneaks up behind you and puts a snake around your neck (and then asks for money). I was on guard, so they didn't get too close to me, but they definitely wanted to. This is the most unique public square in the world and such a thrill!
.
Get lost in the medina
.
.
In many ways, the medina in Marrakech reminded me of
Jerusalem's Old City
, which is one of my favorite places on the planet. However, what made Marrakech's medina nice (and possibly better as a wheelchair user) was the fact that it was a lot smoother to roll on and when I visited in April, it was less crowded.
.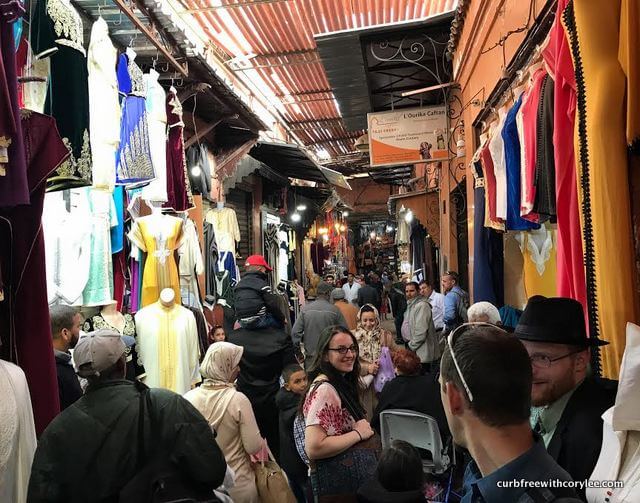 .
For a few hours, I rolled through the alleyways and down the streets of the medina. There were shops everywhere that I looked and of course, I bought way too many souvenirs for friends and family back home. Before you visit the medina, practice your bargaining skills. The sellers will always tell you a high price, but then you could start negotiating by offering half, or even a fourth, of the price. At one point, I wanted to buy a small wooden snake for my souvenir shelf at home. I asked how much it was and the guy said that it was 250 dirham ($26). I told him that there was no way I could pay that and I offered 60 dirham. At first, he said no and as I started rolling away, he said "How about 80 dirham? Just for you". So we went from about $26 to only about $8. I really enjoyed the whole bargaining process and found it pretty exciting whenever I got a good deal.
.
Stock up on herbs and essential oils
.
.
Speaking of shopping, one shop that you simply must visit is Koutoubia Herbal. It's located in the medina and our tour guide, Lahcen, took us here for a private lesson on the healing benefits of many of Morocco's herbs, spices, and oils. We also got to see a bit of how some of it is made.
.
.
Inside Koutoubia Herbal, you can purchase Argan oil, saffron, tea, and much more. For almost any ailment that you have, they'll have an all-natural remedy for it. It was really fascinating listening to the explanation of every herb and smelling it. At one point, I even tried some face cream that supposedly makes you look younger. I still look the same, so maybe it takes a few uses to work? Anyway, the prices at Koutoubia Herbal were very reasonable, so if you're wanting to stock up on anything while in Morocco, this is the place to do it.
.
Visit a palm oasis and meet some camels
.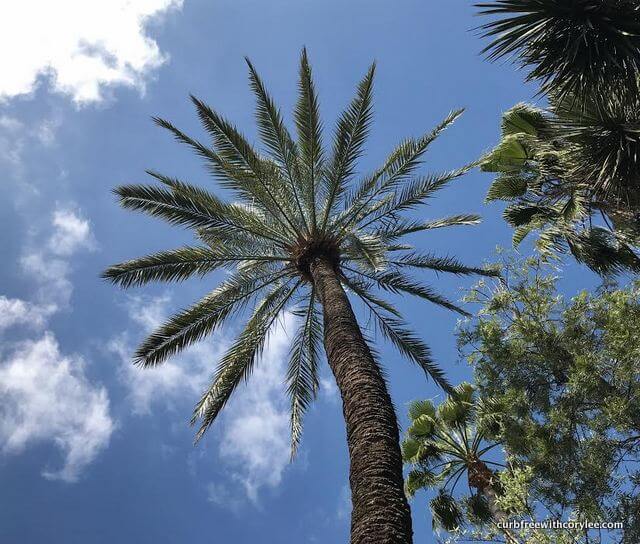 .
I know we've covered a good bit of things to do in Marrakech Morocco already, but if you're still wondering what to do in Marrakech there's only one thing left that I can think of… see some camels, of course! You just can't go all the way to Morocco and not get a selfie with a camel, right?!
.
.
The Palmeraie is in the city's northern section and has hundreds of thousands of palm trees and more camels than I've ever seen in my life. Seriously, they were everywhere. For a cheap price (use your bargaining skills again), you can get a selfie with a camel or even ride one if you're feeling up to it. The Palmeraie is undoubtedly the best place to see camels outside of the Sahara Desert, and it's convenient because it's in the city.
.
.
Where to Stay in Marrakech: Hotel Les Idrissides
.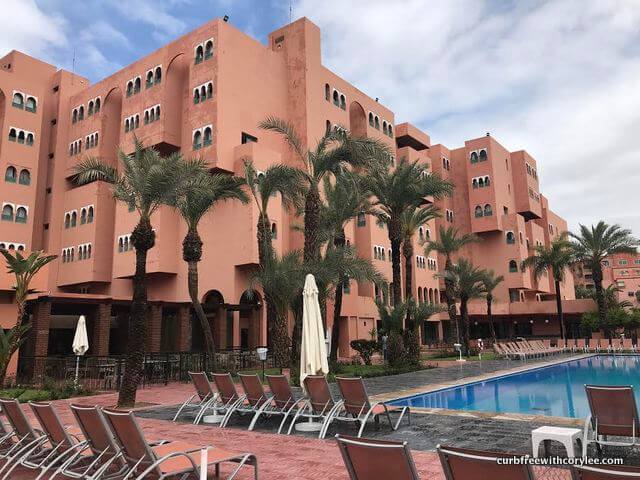 .
Located just a 10 minute drive from Marrakech's airport and a short drive from the bustling action of the city and the many things to do in Marrakech Morocco as well,
Hotel Les Idrissides
was a convenient place to stay during my 48 hours in Marrakech. My room was wheelchair accessible with a roll-in shower, pull-under sink, and the bed was low enough for a manual wheelchair user to transfer. A hoyer lift could also roll under the bed easily.
.
.
Hotel Les Idrissides has a central inner courtyard where you can relax, a bar with karaoke or other shows nightly, three restaurants on-site, and a pool. I ate at the buffet restaurant a couple times and was not too impressed with the quality of food, but there were plenty of options to keep me satisfied and the mint tea was always fantastic.
.
The only real drawbacks to this hotel were that I didn't see a lift at the pool for wheelchair users and WiFi was only available in the public areas. Other than that, Hotel Les Idrissides made for a great wheelchair accessible place to stay during my time in Marrakech and with an average price between $80-120 per night, I would recommend it. To check prices for your stay,
just click here
.
.
Things to Do in Marrakech Morocco
Before visiting this wonderful city, I really had no idea what to do in Marrakech or how accessible it was. However, after a couple fun-filled days, I learned that there are so many incredible (and highly underrated) wheelchair friendly things to do in Marrakech Morocco. Whether you've dreamed of visiting Morocco for years or are just now learning about it for the first time, I can promise that Marrakech is a destination that you should definitely add to your bucket list and get to ASAP.
 .
.
*Thank you to
Morocco Accessible Travel Consultants
for working with me and showing me the best things to do in Marrakech Morocco on this trip! This post contains affiliate links. However, all opinions expressed here are original. If you click through on a link, you won't pay a penny more, but we'll receive a slight commission which helps us keep this information available to you. Thanks!
.