I've traveled around Europe quite a bit and visited many of the most popular cities; London, Paris, Munich,
St. Petersburg
, and even cities like Reykjavik and Tallinn. As such, there are only a few cities remaining on my European bucket list. I'd still love to visit Rome, Venice, Amsterdam, and until recently, Madrid. Madrid is a city that I had longed to visit for as long as I can remember. I'm not sure why exactly, but there's a 99% chance that the delicious paella had something to do with my desire.
.
After a recent
trip to Morocco
, I wanted to spend a few days in a European city to break up the long flight back home. I got on Skyscanner and quickly stumbled upon a $35 flight from Marrakech to Madrid on Iberia Airlines. The deal was too good for me to pass up, so within minutes the flight was booked and I was planning my city break to
Madrid
. After a Google search, I found a wheelchair accessible tour company in Madrid, aptly named Accessible Madrid, and my trip was set. I was finally going to visit Spain, a destination that I had always dreamed of.
.
Fast forward a few months and I was in Madrid, ready to see what the city had to offer. From chowing down on some of the greatest food to ever touch my taste buds to admiring palaces, my tour of Madrid was everything that I could have imagined and more. Here's how I made the most of my short time in Madrid as a wheelchair user –
.
.
A Wheelchair Accessible Tour of Madrid
Arturo, who owns
Accessible Madrid
, met my mom and I at our hotel, Artiem Madrid (more info on this fantastic hotel is below), at 10am on a Thursday to begin our tour. There was a wheelchair accessible taxi outside the hotel lobby and it drove us to the city center, where our tour of Madrid began. Accessible Madrid does have its own accessible van, but they can also reserve wheelchair friendly taxis if you won't need a van for the entire day. Since this was predominantly a walking/rolling tour, Arturo got us the taxi and it was perfectly accessible with a fold-out ramp and tie-downs.
.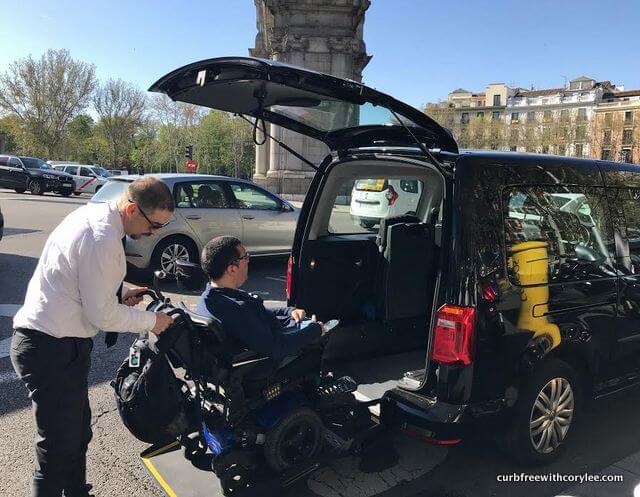 .
The taxi drove us 15-20 minutes to Puerta de Alcalá, where we exited the vehicle and started the walking and rolling part of our tour. Puerta de Alcalá is a city gate that has been around since the 1700s and it's a perfect place to start any tour, as it's near many of Madrid's most notable monuments. Madrid is an easily rollable city with smooth sidewalks and curb cuts everywhere. I was tremendously impressed with how easy it was to get around, and unlike other European cities, there wasn't a ton of cobblestone. Hallelujah!
.
.
Some things that I noticed around Puerta de Alcalá pretty quickly were unique looking statues. They looked like a woman wearing a dress, but without a face. Each one had a different design and throughout the day, I saw a lot of them. There are more than 80 of them around the city and they're known as Meninas. They are inspired by the famous 1656 painting "
Las Meninas
" by Diego Velázquez and are a wonderful addition to Madrid. One cool thing about the statues is that each one was designed by a different celebrity or public figure, so no two are alike. The designers were asked to paint the sculptures in response to the question "What is Madrid for you?" and it was cool to see each person's interpretation. I found myself looking forward to seeing what unique look the next one would have. Some of my favorites are below.
.
.
The one place that everyone told me I had to see before I visited Madrid was Plaza Mayor. As we rolled toward the plaza, Arturo told us about some of the sights that we passed by including the congress building, known as Congreso de los Diputados, and the Miguel de Cervantes statue. On every new block that we rolled on, it seemed as if there was an important monument. Madrid is full of both history and photo-ops.
.
.
We also made a quick stop for some churros, which are an absolute must-eat in the city. The churros were served with some warm chocolate sauce and it was delicious. I had actually never eaten churros before, so I wasn't sure what to expect, but I'm now a huge fan.
.
.
We eventually made it to Plaza Mayor and I was immediately overwhelmed with the hive of activity in the plaza. It was crowded, but a fun environment full of restaurants, bars, and some monumental buildings. The middle of the plaza did have some pretty bumpy cobblestone, but I rolled around the edges of the plaza on the sidewalk, which was smooth. It was nice because it allowed me to see everything without getting jarred around.
.
Plaza Mayor was built during the Habsburg period (early 1600s) and has been the place for bullfights, markets, and even public executions. While it, luckily, doesn't host executions anymore, it's still a thriving area of the city and if you're looking for Plaza Mayor's most popular dish, try the calamari sandwich. It's exactly what it sounds like and was available at many of the plaza's restaurants. I didn't try it because I was on a mission for paella, but if you have multiple days in Madrid, give it a try and let me know how it is.
.
.
Whenever I visit a new city, I always enjoy going to the market. I think markets are a wonderful place to try local foods and get a feel for what the local people do. In Madrid, one of the most popular markets is Mercado de San Miguel and it's within a short walking distance of Plaza Mayor, making it the next stop on our accessible tour of Madrid. Mercado de San Miguel is an indoor market with many food options, including lunch places, dessert counters, and fresh produce.
.
.
While at Mercado de San Miguel, I finally got to chow down on some of
the best paella
as well. If you haven't had paella before, it's a Spanish dish of rice with saffron, vegetables, and you can get seafood or a variety of meats in it. I opted for the vegetable paella and it was delicious! It was exactly as good as I was dreaming about and I washed it down with a pomegranate juice from a juicery inside the market. Mercado de San Miguel is a definite must-do in Madrid and you'll find no shortage of fantastic things to eat here.
.
.
Aside from local markets, another thing that I love to visit when I'm traveling, especially in Europe, is cathedrals. They're always stunning, but the Almudena Cathedral in Madrid might be the most beautiful one I've ever seen. I was able to get inside via a long ramp and we spent about 30 or 40 minutes inside wandering around. I was wide-eyed the entire time, taking in the beauty of the cathedral. Construction on Almudena Cathedral began in 1879, but was not fully completed until 1993, so you can imagine the exquisite detail inside this Neo-gothic cathedral.
.
.
Just a quick stroll away from Almudena Cathedral is the Royal Palace of Madrid, and while it wasn't possible to do a tour of the inside on the day that I visited, the exterior was quite impressive. The
Royal Palace
has over 3,000 rooms (!!!) and is the official residence of the Spanish royal family, but it's not where they actually live. The palace is really only used for state ceremonies today, but you can view a Changing of the Guard ceremony on Wednesday and Saturday each week. We took some photos of the palace through the gate surrounding it and made our way over to Plaza de Oriente, which is just across from the palace.
.
.
Plaza de Oriente is a 1.6 hectare garden, and allows you to experience a small bit of nature in a busy area of Madrid. I easily rolled around the plaza and loved the views of the palace behind the greenery. This would be a great place to relax with a good book in the warmer months.
.
.
Now that we had seen some of the top sights on our tour of Madrid, and it had been a couple hours since we last ate, we were ready for a sit-down lunch to try more of the city's phenomal food. Arturo suggested that we head to Gourmet Experience Gran Via for lunch, and wow, that was a brilliant recommendation! Gourmet Experience Gran Via is located on the ninth floor of the Corte Inglés building and there are spectacular views of the city from here. No matter what kind of food you're in the mood for, you'll certainly be able to find something at the Gourmet Experience. There are about ten different restaurants, including everything from authentic Spanish cuisine to Asian food and ice cream. I had some wood-fired pizza, which was amazing, and we were lucky enough to find a table with a view. It was such a remarkable experience to dine while gazing out at the beautiful city of Madrid.
.
.
Since we were obviously starving by this point (juuuust kidding), one of our next stops was Platea Madrid. Platea is a food hall inside a former cinema, and it covers 5,800 square meters. It felt more upscale than Mercado de San Miguel, and had a lot of different foods to offer. Whether you want tapas from several different stalls or a full meal at a restaurant, Platea is a food lover's dream. I was full from all of the food earlier, but I did see one thing I had to try. Olives are one of my favorite foods ever, so I got an olive stuffed with a sun dried tomato and cheese. It was drizzled in olive oil and seriously, it may have been the best thing I've ever eaten. My mouth is literally watering just thinking about it.
.
.
The final stop on our full day tour with Accessible Madrid was Buen Retiro Park, a gorgeous oasis in the center of the city. The park has over 15,000 trees and is spread out over 125 hectares. By the time that we got to the park, my motorized wheelchair was running severely low on battery power and blinking one red light, so I didn't get to see as much of Buen Retiro Park as I would've liked, but I did get to see enough to make me fall in love with it.
.
The Galapagos Fountain was beautifully designed and I loved listening to the water trickling down it. Near the fountain, there was also a lake and since it was such a nice sunny day, there were plenty of people rowing on it and enjoying the day. As I looked out at the lake, I realized that Madrid was everything that I had dreamed of and more.
.
.
Where I Stayed: Artiem Madrid
A few months before visiting Madrid, I booked a hotel in the center of the city. It was going to be about $950 US dollars for three nights, but as my trip got closer I wondered if I could find something a bit more budget friendly. I scoured the internet and found several possibilities. After emailing them all and asking about accessibility,
Artiem Madrid
wrote back extremely fast and even included photos of their accessible room for me to review. This was the first time that a hotel has ever sent photos without me asking, so I was highly impressed. It was also about half the price of my previously booked hotel, so I reserved the room immediately.
.
Artiem Madrid isn't in the city center, but it's only a 10-15 minute drive away. Luckily, there are wheelchair accessible taxis in Madrid and Accessible Madrid can also get you wherever you need to go, so it wasn't an issue.
.
My room was exactly as described with a roll-in shower, pull-under sink, grab bars, and it was spacious enough for me to easily roll around in. A hoyer lift could also roll under the bed if needed.
.
.
For an extra cost (€12 per day, I believe), you can enjoy the breakfast buffet and trust me when I say that it is totally worth it! Artiem Madrid had one of the best breakfast buffets that I've ever had, and it was complete with fruit, pastries, fresh juice, cheeses, meats, and there was a pancake and omelette station, where the chef will cook it as you order. And speaking of food and drinks, the hotel had complimentary soda, beer, wine, juice, and even sandwiches, soup, and desserts 24/7 in the lobby. I was astounded at the fact that I could get free wine and soda anytime. Can you say "best hotel EVER?!"
.
.
I was thoroughly impressed with Artiem Madrid and so glad that I booked it instead of the other hotel. From the friendly staff to the free drinks and fully accessible room, I know where I'll be returning to if I ever make it back to Madrid.
.
.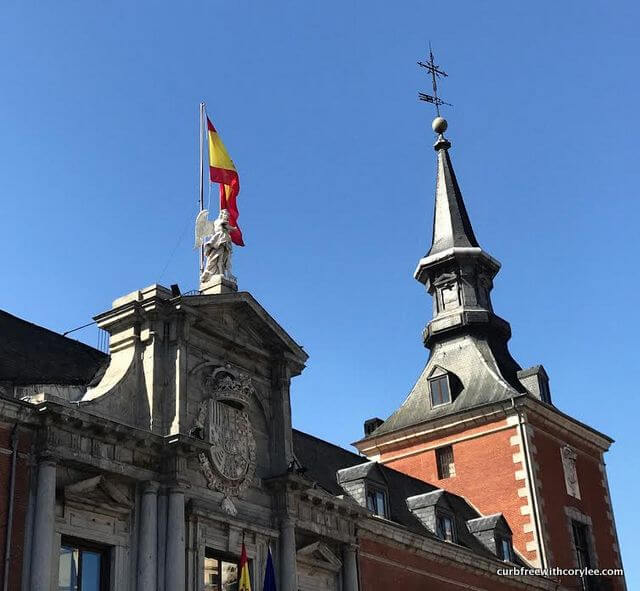 .
My tour of Madrid may have only been one full day, but it was plenty of time for me to fall in love with the city. Now that I've had a proper introduction to Madrid, I can't wait to return and see (and more importantly, eat) even more. From wheelchair accessible tour companies and transportation to beautiful sights and a rich history, Madrid is a perfect European destination for anyone.
.
.
*Thank you to Accessible Madrid for working with me during my time in Madrid. While my tour was complimentary, all opinions expressed are authentic and my own. This post contains affiliate links. However, all opinions expressed here are original. If you click through on a link, you won't pay a penny more, but we'll receive a slight commission which helps us keep this information available to you. Thanks!
.
.
.