Until a few months ago, I had never even heard of the city of Fes. It's a little embarrassing to admit that, but sadly it's true. Whenever I have imagined traveling to Morocco, I've thought of Marrakech and Casablanca, and unless Morocco has been a huge dream destination for you for a long time, it's probably the same for you also, right? Maybe so, but that shouldn't be the case. To be honest, Casablanca to me was a bit underwhelming and while
I absolutely loved Marrakech
, it's a pretty hectic city. Fes is sort of a mixture of both Casablanca and Marrakech in ways. It is more calm than Marrakech (and there are no snake charmers in Fes, yay!), but offers much more than Casablanca, while still being a bit laid back… in my opinion, anyway. And you know what they say about opinions – everybody has one, so take mine for what it is and make your own trek to discover all of the things to do in Fes Morocco for yourself.
 .
The city surprised me and became one of my favorite places in Morocco rather quickly. From rolling through the bustling medina to shopping for handmade pottery and more, there are a ton of wheelchair friendly things to do in Fes Morocco. Check out some of my top things to do in Fes Morocco below and also learn about the great hotel where I stayed.
 .
 .
Things to Do in Fes Morocco
 .
See the Royal Palace of Fes
 .
The first stop on my list of things to do in Fes Morocco was the
Royal Palace
, and it made for the perfect introduction to the city. While I could not go inside the palace (the nearly 200 acres of grounds are closed to the public), it was unbelievably beautiful from the outside. The large golden brass doors on the outside gate are probably the most notable feature, but there are wood carvings and Moroccan flags flying on the top as well.
 .
The palace was built in the 13th century, but the gate has been restored since then and now has a polished look. Staring at the exterior and not getting to go inside may not sound too appealing, and I understand that, but trust me… once you see it in person, you'll be glad that you did. Its beauty is astounding.
 .
 .
Enjoy the pottery of Fes (and buy some for yourself)
 .
Whenever I visit a new city, I like to buy at least one authentic souvenir that was made in that destination. In Fes, the perfect place to do this was Poterie de Fes. At Poterie de Fes, I was able to watch pottery being made and then purchase some of my own in the on-site shop.
 .
 .
Poterie de Fes was one of the best things to do in Fes Morocco because it allowed me the opportunity to interact with local artisans, while learning how pottery is made. I got to watch it go from being clay to going in the kiln and then being hand painted. The artisans at Poterie de Fes are immensely talented and I rolled away with my very own handmade teapot. The shop has tons of items to choose from and they aren't terribly priced, so stock up on some great souvenirs for loved ones back home while you're here.
 .
 .
Roll through the medina
 .
When I first heard that the medina in Fes was built in the 9th century, I immediately thought that it would be impossible to explore as a wheelchair user. However,
Morocco Accessible Travel Consultants
, the tour company that I ventured with, said that they scouted the most accessible routes and I would definitely be able to roll around the medina. This was one of the things to do in Fes Morocco that I was most looking forward to, as I'm always intrigued by walled cities full of both people and history.
 .
 .
The medina is a walled city within the larger city of Fes, and it's easy to get lost inside of it because it is huge. The maze-like streets have vendors, donkeys walking down them, chickens, and much more. It felt like I rolled back in time as I wandered down the streets of the medina and while it was narrow and a bit bumpy in some spots, that didn't stop me from enjoying it to the fullest extent.
 .
 .
I've rolled around the medina in Marrakech, the Old City of
Jerusalem
, and the walled old town of
Tallinn
, but Fes' medina was completely different than all of them. It felt more authentic and for a while, it made me forget about technology and everything else that comes along with living in the 21st century.
 .
 .
Feast on delicious food
 .
Whether you opt for a quick grab-and-go meal in the medina or a nice dinner in a beautiful restaurant, trying authentic Moroccan foods while in Fes will be easy to do. Before I visited Morocco, I was a bit nervous about whether the food would be any good, but I'm happy to say that it's delicious. From tagine (a stew served in a conical shaped pot) to fresh fruit and more, I loved almost everything that I tried in Fes.
 .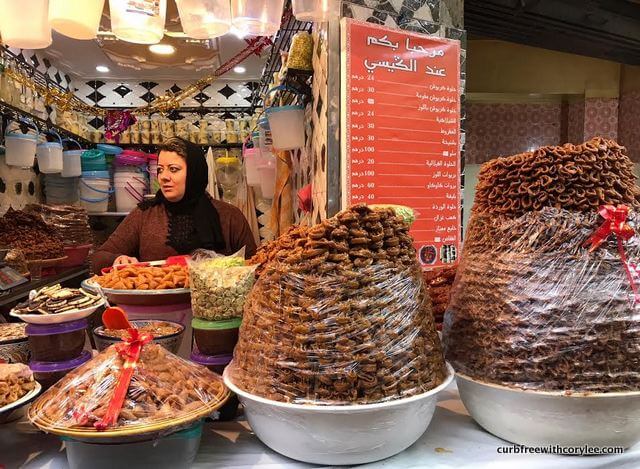 .
While in the city, you should try at least one really nice restaurant, and my favorite place to do this was
Palais La Medina
. The restaurant did have a step to get inside, but luckily Morocco Accessible Travel Consultants had a roll-a-ramp that we used. It worked like a charm and once inside, I was blown away by the beauty. The restaurant didn't look exceptional from the exterior, but was stunning on the inside with high ceilings, mosaic walls, and more. I ordered a vegetable cous cous as my entree, but our table got Moroccan salad, bread, fruit, and mint tea as well. It was about a 2.5 hour dining experience, but worth it. So. Much. Yum.
 .
 .
Go on a day trip from Fes
 .
If you're looking for things to do in Fes Morocco, but want to get outside of the city for a day trip, check out the ancient ruins of Volubilis. At only about 60+ kilometers from Fes, it makes for a perfect day trip destination, whether you are a wheelchair user or not.
 .
 .
Volubilis
is a partly excavated Berber and Roman city, and is considered the ancient capital of Mauritania. Not much of Volubilis remains today, but I still enjoyed viewing the UNESCO World Heritage Site… even in the drizzling rain. Wheelchairs can't get super close to the site, but I was able to see the ruins pretty well from a bit of a distance. Who knew that you could see Roman ruins in Morocco?! Not me!
 .
 .
.
Where to Stay in Fes
 .
While in the imperial city of Fes, I stayed at the
Hotel Barcelo
for three nights and in my opinion, it was the perfect place to stay. Since there are many amazing things to do in Fes Morocco, I wanted a hotel in a good location. Hotel Barcelo is in a great area with shops and restaurants nearby, but the hotel also has its own restaurant with great food, if you prefer to not go out. The medina is only a short drive away as well.
.
 .
My wheelchair accessible room was accommodating with a bed that a hoyer lift could roll under. It was also quite spacious.
.
 .
In the bathroom, I had a roll-in shower, a pull-under sink, and there were grab bars by the toilet. I couldn't have asked for a better accessible room. To check prices for your stay,
just click here
.
.
.
I was only in Fes for a couple days, but that was plenty of time for me to develop a new love for the city. Whether you want to feel like you have gone back in time or just feast on good food, you'll have no shortage of things to do in Fes Morocco, one of the world's surprisingly wheelchair accessible cities.
 .
.
*Thank you to Morocco Accessible Travel Consultants for working with me and showing me the best things to do in Fes Morocco on this trip. While some parts of it were complimentary, all opinions expressed are authentic and my own. This post contains affiliate links. If you click through on a link, you won't pay a penny more, but we'll receive a slight commission which helps us keep this information available to you. Thanks!
 .
 .
 .