When thinking of North Carolina in the past, I have never envisioned a beautiful beach destination. Instead, I usually think of Asheville and
the famous Biltmore Estate
or somewhere like Charlotte. However, North Carolina is also home to the paradise-like destination of Wilmington and its island beaches. After a recent visit, I fell in love with the city and it has become one of my favorite (if not THE favorite) places in the southeastern United States. Why? Well, not only is it extremely wheelchair friendly, but there are a ton of fun things to do in Wilmington NC and its island beaches, no matter what your abilities are.
 .
Before I tell you about the fun things to do in Wilmington NC, I'd like to explain a bit about the area to give you a better understanding of where everything is located. In the Wilmington vicinity, there is the actual city of Wilmington, with its active downtown and Riverwalk area, and three beaches, each with their own unique quirks and attractions. There is Carolina Beach, Kure Beach, and Wrightsville Beach. During my trip, I stayed in Carolina Beach at the
Hampton Inn & Suites
, but no matter where you stay, you won't be far away from any of these attractions. Here are 13 of the most fun things to do in Wilmington NC and its island beaches –
 .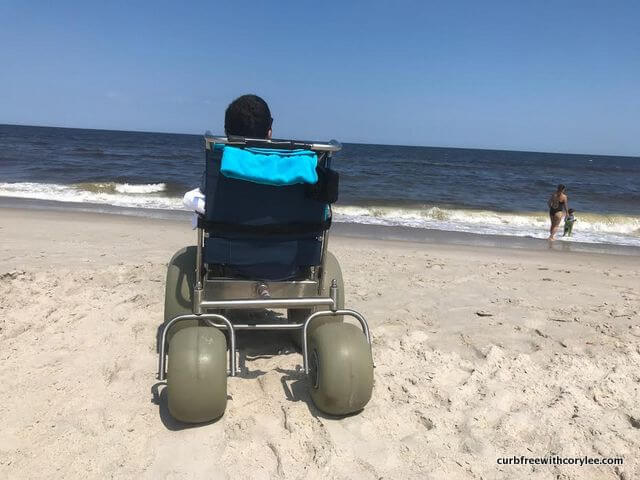 .
Fun Things to Do in Wilmington NC
.
Lounge on the beach
 .
You simply can't visit the Wilmington area without hitting up at least one of the beautiful beaches, but if you would like to, you can visit all three beaches because beach wheelchairs are widely available. In Wrightsville Beach and Carolina Beach, you can get a manual beach wheelchair from the local Parks and Recreation Department (learn more
here
or
here
). And in Kure Beach, you can get a beach wheelchair from the local Fire Department (learn more
here
). Beach wheelchairs can be rented for up to a week at a time, and you should reserve them as far in advance as you possibly can. There are a limited number of chairs at each location, so claim yours (completely FOR FREE, no less) and enjoy that nice ocean breeze while you bask in the sun.
 .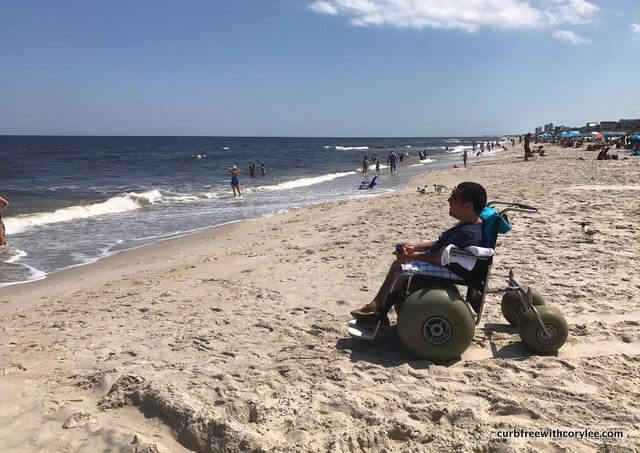 .
Additionally, Carolina Beach has recently installed an access mat near the Boardwalk, so even if you don't get a beach wheelchair, you can still roll on the beach. It was nice to be able to get on the beach in my own powered wheelchair thanks to the mat, and it was much smoother to roll on than I anticipated. The access mat is a brilliant addition to Carolina Beach and I wish that all beaches around the world would get these mats. I became a huge fan of the mat within seconds of rolling on it.
 .
Here's a short video of me rolling on the beach access mat at Carolina Beach –
 .
 .
 .
Have fun at the Carolina Beach Boardwalk
 .
As one of the top boardwalks in the USA, the Carolina Beach Boardwalk is full of fun things to do in Wilmington NC during the day or when the sun goes down. There are arcades, ice cream shops, and even an amusement park from roughly Memorial Day through Labor Day. None of the rides are accessible for a wheelchair as far as I'm aware, but you can play the park games if you'd like to. As a lover of games, I'd definitely consider this one of the most fun things to do in Wilmington NC.
 .
.
While the games and ice cream are nice, the one thing that you absolutely must do on the Boardwalk is eat a donut.
Britt's Donuts
has appeared in National Geographic and dozens of other publications, and you can find Britt's on almost any "best donuts" list. Unlike Krispy Kreme and other doughnut shops, Britt's doesn't have a plethora of flavors. In fact, they only have one type of donut – the homemade glazed donut – and that's all they need because it is extraordinary. Britt's accepts cash only, is open seasonally, and a donut is just $1, but you may want to get quite a few. Trust me, they're hard to quit eating once you take that first bite.
.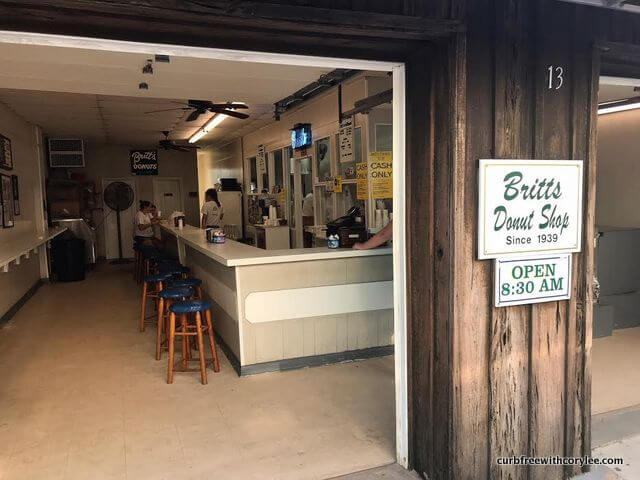 .
.
Enjoy the outdoors and see Venus fly traps
 .
Another one of the most fun things to do in Wilmington NC that's away from the sand, but not too far, is Carolina Beach State Park. I met up with a Park Ranger named Jeff for a guided hour-long tour of some of the accessible trails and during my tour, it was hard to believe that we were only minutes from the pristine beach. It seemed like we were far away in a swamp. If you're looking for something totally different to do during your beach vacation, this is it.
 .
.
The main reason why most people visit this state park is to see the Venus flytraps, one of the world's most carnivorous plants. Venus flytraps grows in the wild only within a 75 mile radius of Wilmington, so if you want to see one this is the place to do it. Jeff spotted the flytraps easily and showed us. It honestly looked nothing like what I thought it would. I guess I was expecting the gigantic flytrap from Rocky Horror Picture Show, but it was still cool to see one in person, even though it was only about three inches big.
.
 .
I also saw some other carnivorous plants while on the Flytrap trail and even a deer up close! It was a lot of fun exploring the park and learning all about North Carolina's carnivorous plants. Who knew that plants could be so lethal?!
.
 .
.
Eat all of the delicious food
 .
Let's be real for a minute… the best thing about traveling is trying new foods and restaurants, right? Right. Sometimes the food is divine and other times not so much, but either way it's always a good experience trying everything. In Wilmington though, all of the food that I had was mouth-wateringly superb!
.
 .
The food is Southern with fried green tomatoes and pimento cheese on almost every menu, but everything has a special Wilmington twist on it that makes it special. And if you're a seafood lover, you'll really be in heaven. As a coastal town, Wilmington prides itself on fresh seafood.
 .
I ate at quite a few of the supposed best restaurants while in Wilmington, and while I did enjoy all of them, I'd like to share my top three restaurant choices with you below.
 .
#3 – The Pilot House Restaurant! I had the fried green tomato sandwich and it was perfection. The tomatoes were cut perfectly thick and the house made chips were yummy too. It was an ideal place for lunch on the Riverwalk in Wilmington.
.
 .
#2 – Michael's Seafood Restaurant! I don't even eat seafood and I fell in love with this place. Service was fast and the Penne Rachelle that I had as my entree was one of the best pastas I've ever eaten. This place gets packed, especially on weekends, but who can blame everyone?! It's worth the wait.
 .
.
#1 – PinPoint Restaurant! I seriously loved all of the other restaurants that I ate at, but PinPoint is my very favorite restaurant and it was a super easy decision. Weeks later and I am still dreaming about my meal there. From the NC Butterbean Hummus to the impeccably cooked vegetable plate entree, everything was remarkable. I never knew that a vegetable plate could taste so good. It's easy to see why Southern Living Magazine named PinPoint one of the best new restaurants in the south. If you only eat one meal in Wilmington, make it this. I promise you'll be thanking me.
 .
.
.
Roll on the Riverwalk
 .
In downtown Wilmington, you can get away from the ocean, but still be near water on the Riverwalk. The Riverwalk is over a mile long and runs beside the Cape Fear River. It is a little bumpy since it's wooden, but not bad at all. The entire path is wheelchair accessible.
 .
.
Along the Riverwalk are many shops, eateries, and attractions such as boat tours. If you use a manual wheelchair,
Wilmington Water Tours
offers an accessible boat ride, explaining the history of sights along the river. Unfortunately, they can't take powered wheelchairs onboard yet, but they are working to make it a possibility.
.
 .
I would recommend getting a nice meal somewhere along the Riverwalk and watching all of the boats pass by. There are many great restaurants to choose from, but I would suggest starting your Riverwalk journey at The Pilot House Restaurant and then walking/rolling along the Riverwalk for a while.
.
 .
Do a self-guided walking (or rolling) tour downtown
 .
During my time in the city, I wanted to learn more about the history of Wilmington. Instead of going on a formal tour with a guide, I wanted to explore at my own pace so I downloaded the
Wilmington.tours app
on my iPhone. The app offers several tours to choose from, but I went with the Old Wilmington I tour and it was the perfect choice. At only $4.99 for the self-guided tour, it was one of the most fun things to do in Wilmington NC and a budget-friendly option as well.
 .
..
The Old Wilmington I tour had 16 stops and for every stop, there was a short video in the app describing the history of the location. As I rolled around downtown Wilmington, I got to see sights such as Battleship North Carolina, the oldest building in Wilmington, the Governor Dudley Mansion, and even the city market… just to name a few. This was a fun and interesting way to learn more about Wilmington, and I loved getting to explore at my own pace and stop at sights along the way. Plan at least 2 hours to do the full tour.
.
 .
.
View the bizarre
 .
While on the self-guided tour, I saw a sign that said there was a place nearby called the Museum of the Bizarre. I was immediately intrigued, so about halfway through the self-guided tour I had to make a pit stop and check it out.
.
 .
The Museum of the Bizarre is an oddities museum, sort of like Ripley's if you've ever been there, and it is only $3 per person to get inside. The museum is rather small and can be completed in about 30-45 minutes. Even though it's small, I enjoyed looking around. Some of the things that I saw included the Annabelle doll from The Conjuring, prison letters written by Charles Manson, shrunken heads, and more. If you're looking for something weird and different, this is definitely one of the most unique things to do in Wilmington NC.
.
.
 .
Get spooked on a ghost tour
 .
After the creepiness from the Museum of the Bizarre, I went on a guided tour of Wilmington's most haunted places with
Ghost Walk of Old Wilmington
. This was hands-down one of my favorite things that I did in Wilmington and I would highly recommend it.
.
 .
The ghost walk runs at 6:30pm and 8:30pm in the summer, and I opted for the 6:30 tour. I thought this would be a better time, since it would still be light outside and I could safely navigate the downtown sidewalks and alleyways. The tour was wheelchair accessible, but I did have to watch for potholes and uneven pavement in a couple spots. It wasn't a problem at all though and our ghost guide, Tamora, was accommodating to everyone's needs, making this one of the scariest and most fun things to do in Wilmington NC.
.
.
Our tour visited five of downtown Wilmington's most haunted places over the course of about 90 minutes. Some of the haunts that we visited were an old cemetery (where someone was buried alive) and a bar that used to be a brothel, and the female owner had a habit of cutting off the male customer's ears if they got too rowdy. Tamora also told us some interesting things about Wilmington in general. For example, did you know that hundreds of bodies are buried underneath the streets and sidewalks of downtown? Yikes! Wilmington is frequently referred to as one of the most haunted cities in America, and after my tour it was easy to see why.
.
.
 .
Appreciate the art at Cameron Art Museum
 .
I am usually not a big art enthusiast, but one day while in Wilmington, we wanted to escape the heat for a bit and decided to visit the Cameron Art Museum for a bit. I've been to a few art museums, and this was easily my favorite one yet and it gave me a new appreciation for art.
 .
.
The museum had a large focus on works by artists from North Carolina. There was also a big exhibit, where absolutely anyone can submit one piece of art on one specific day. That was my favorite area because each piece was unique and very different than the one before it. There were paintings, statues, and more, and I spent quite a while browsing. Plan at least one hour for your visit to the Cameron Museum of Art.
.
.
 .
See animals (including dinosaurs) at the aquarium
 .
Another great spot to get away from the heat was the NC Aquarium at Fort Fisher. I spent about an hour viewing the marine animals inside, such as sharks, jellyfish, and stingrays. There were also some poisonous snakes that were pretty scary to watch.
 .
.
While the aquatic animals were fun to see, there's also a lot outside the aquarium, such as dinosaurs (yes, you read that correctly) and butterflies. I think that the robotic dinosaur exhibit is meant mostly for kids, but I still loved looking at it. They were surprisingly life-like and some even shoot water out of their mouth, so look out if you don't want to get wet.
 .
The last spot that I visited was the butterfly house and it was a nice peaceful place to watch the many butterflies fly around. At one point, a large butterfly even landed on my shirt for a while. It was beautiful, as they all were.
 .
See my experience at the aquarium in action and see why it's one of the most fun things to do in Wilmington NC by watching the video below –
 .
 .
.
Get a history lesson at Fort Fisher
 .
Near the aquarium is the Fort Fisher State Historic Site, including the Civil War Museum. As a history nerd, I had a wonderful time here and if you want to truly discover Wilmington's past, this is where to do it.
.
.
Fort Fisher
was a Confederate fort during the Civil War and protected the trading routes of the port at Wilmington, from 1861 until its capture by the Union in 1865. I started my visit at the Civil War Museum, but I didn't spend a whole lot of time inside there because I wanted to get outside and see the cannons, mounds, and traverse the accessible trails. The trail was paved and made a large loop around the mounds. It was fun to get outside and admire some relics of the nineteenth century.
 .
.
.
Try your hand at gardening at the Arboretum
 .
If you like gardening or just want to look at pretty flowers and relax, the
New Hanover County Arboretum
in Wilmington is extremely wheelchair friendly and admission is completely free. Volunteers keep this botanical garden looking beautiful year-round and they plant vegetables and herbs for local citizens in need. It's truly a community effort to keep the Arboretum running and that's what I admired about it.
.
 .
At the Arboretum, any Wilmington area resident can try their hand at gardening, no matter what their abilities may or may not be. There is an Ability Garden with raised gardens, so that a wheelchair user can roll up to the plants and take care of them. They offer gardening classes in the Ability Garden and if it interests you, just reach out to the Arboretum to see if you can attend a class in the future.
.
.
Aside from practicing gardening, many people visit the Arboretum just to relax. There was a koi pond, beautiful flowers everywhere, a children's play area, and some picnic tables in case you want to go that route. The Arboretum isn't a tremendously popular attraction for tourists, but it certainly should be. With smooth paved paths, it's a welcoming place for anyone on a sunny day.
 .
.
Stroll through the majestic Airlie Gardens
 .
Out of all of the fun things to do in Wilmington NC, perhaps the most popular, aside from visiting the beaches, is Airlie Gardens. Before I made the trek to Wilmington, literally everyone that I talked to said "Go to Airlie Gardens", so of course I had to.
.
 .
Airlie is only about a 3-5 minute drive from the Arboretum, so these would be perfect to visit back-to-back, but it's much much much bigger. Airlie Gardens is spread out across 67 acres of land, but luckily there are accessible paved paths around a lot of the best areas. And if you can transfer easily or walk just a bit, Airlie does have trams that you can ride around the gardens. Unfortunately, a wheelchair cannot ride on the trams, but I actually quite enjoyed rolling on the paths instead. It allowed me to really see everything and take my time.
 .
.
While wandering around, I saw flowers, such as beautiful magnolias, a lake, mighty oak trees, and even some wildlife, including swans. There was also a butterfly house with what seemed like hundreds of butterflies inside.
Airlie Gardens
is huge and well worth spending at least a couple hours at. No wonder everyone told me that I had to visit this gorgeous place and that it's one of the most fun things to do in Wilmington NC!
 .
 ..
I recently had a chance to interview Connie Nelson, the Public Relations Director for Visit Wilmington, NC and Beaches, for my #CurbFreeFromHome Facebook Live series. We talked all about accessibility in Wilmington and what makes it a fantastic place to visit. Check out our chat by watching the video below –
.
Things to Do in Wilmington NC
.
There are certainly plenty of fun things to do in Wilmington NC, whether you are a wheelchair user or not.
Since most of the activities involved admiring the outdoors, I recommend traveling with a heavy duty or outdoor electric wheelchair that can handle off-road terrains. 
During my five days in the area, I fell completely in love with it. I would even go as far as to say that it's my new favorite destination in the southeastern United States. From
accessible beaches
to delicious food and unique attractions, there are tons of fun things to do in Wilmington NC for every visitor.
. 
.
*Thank you to the Wilmington and Beaches CVB for working with me on this trip and showing me the most fun things to do in Wilmington NC. While some parts of it were complimentary, all opinions expressed are authentic and my own. This post contains affiliate links. If you click through on a link, you won't pay a penny more, but we'll receive a slight commission which helps us keep this information available to you. Thanks!
.
.
.