When I hear the words "historic hotel," I immediately think of an old hotel that is far from accessible. Anything built prior to 1990, when the Americans with Disabilities Act was passed, makes me nervous and I usually only stay at newer, more modern hotels just to be safe. However, for a recent weekend getaway to Atlanta, I wanted to stay at a hotel that first opened in 1911. Yes, you read that correctly – over a hundred years ago! In the end, I discovered one of the best hotels in Atlanta.
.
The Georgian Terrace
is Atlanta's only historic hotel and while it may have been around for a long time, it's considered "Atlanta's modern classic" and is an Atlanta legend for many reasons, which I'll delve into in a bit. Surprisingly, I found the wheelchair accessibility at The Georgian Terrace to be superior to most newer hotels that I've stayed in.
.
 .
.
The Accessible Suite
 .
I stayed in room number 415, which was a one-bedroom wheelchair accessible suite. As soon as I entered the room, I was extremely impressed at the size of it. There was a living room, a separate full kitchen, and a dining table that I could easily pull up to.
 .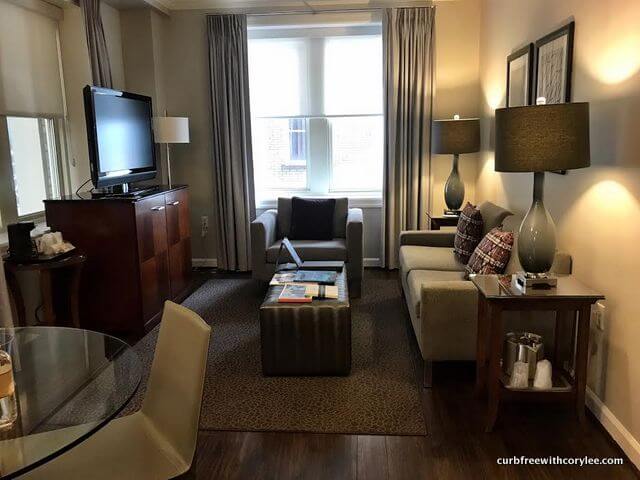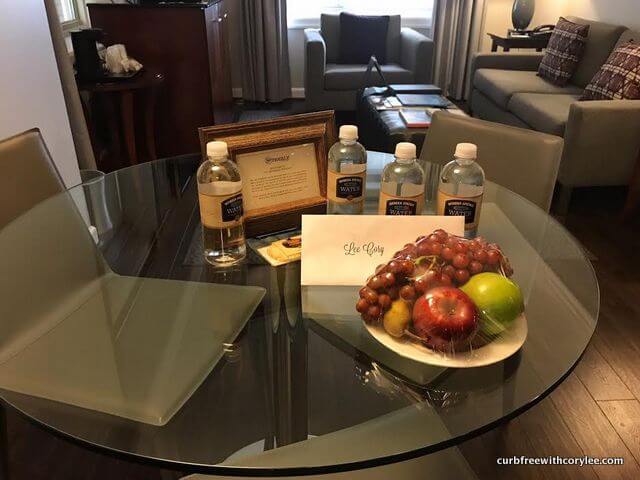 .
In the bedroom, there was one king sized bed, a television, and a bedside table. A hoyer lift could easily go under the bed if you need that also.
.
.
Between the bedroom and bathroom, there was a walk-in closet that I could roll my wheelchair into. That's a rarity in hotels and was quite nice to have.
.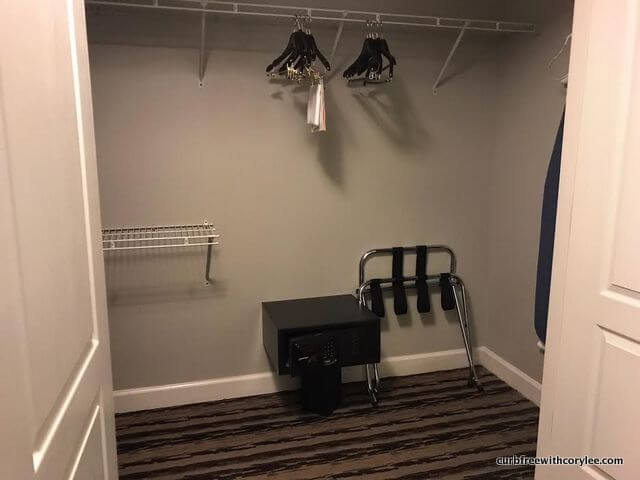 .
The bathroom was spacious with a pull-under sink, grab bars, and a roll-in shower. The entire room felt more like an apartment than a hotel room because it was so large. I couldn't believe that a room this spacious and accessible could be inside a historic hotel, and it far exceeded my expectations.
.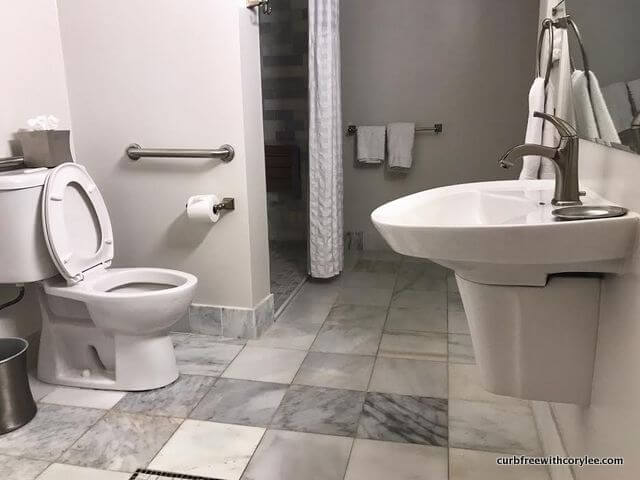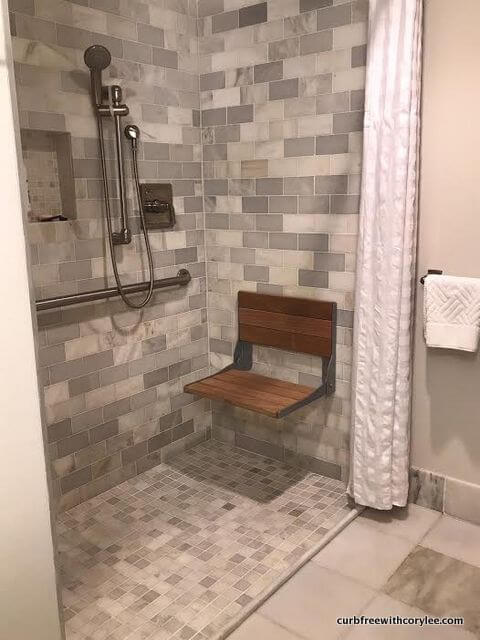 .
Check out this short video for a full tour of my accessible suite –
 .
.
The Food
. 
As one of the best hotels in Atlanta, The Georgian Terrace Hotel is home to three eateries, from fine dining to a coffee shop, so during your stay, you don't even have to go out to eat if you don't want to. Instead, enjoy some of the city's best food inside the hotel.
 .
The only restaurant that I tried during my two night stay was
Livingston Restaurant & Bar
and it was phenomenal. Livingston is the hotel's signature restaurant and would be a wonderful place to eat, whether you're staying at The Georgian Terrace or not.
.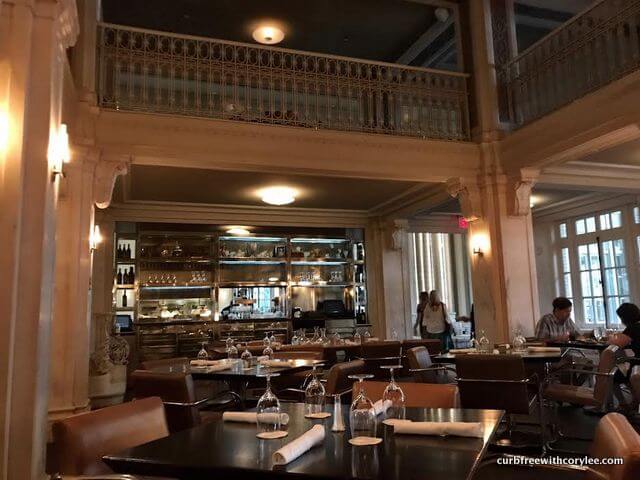 .
I enjoyed the asparagus frites & cauliflower popcorn as my starter, the vegetable plate as my entree, and a scrumptious mint chocolate and peppermint sundae for dessert. Everything was great, but the starter was my absolute favorite dish of the night. I would highly recommend trying out Livingston during your time in Atlanta. The prices are a little on the steep side (about $30 for an entree), but it's worth every penny in my opinion.
.
.
The other two dining options at The Georgian Terrace are Edgar's Proof & Provision, which has small plates and drinks, and Buffalo Bayou Cafe, a coffee shop with pastries to suit your sweet tooth. You'll have no shortage of delicious food during your stay, that's for sure. For more foodie inspiration in Atlanta, read my
"Eating the Best of ATL at Taste of Atlanta."
 .
.
The Pool
.
One of the top things accessibility-wise that I look for when visiting a hotel is whether or not it has a pool lift. Most of the time, I don't even get in the pool, but I like having the option there if I want to.
 .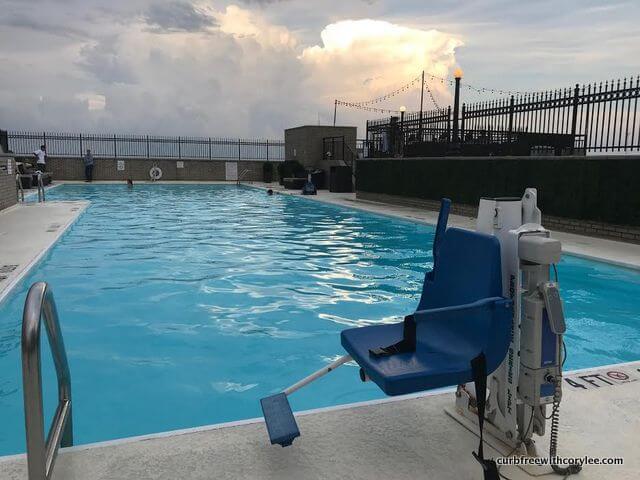 .
As one of the best hotels in Atlanta, not only did The Georgian Terrace have a pool lift, but the pool was on the rooftop and I got to it via an elevator. There were some fantastic views of Atlanta from the roof and I enjoyed just lounging by the pool and taking in the views one night.
.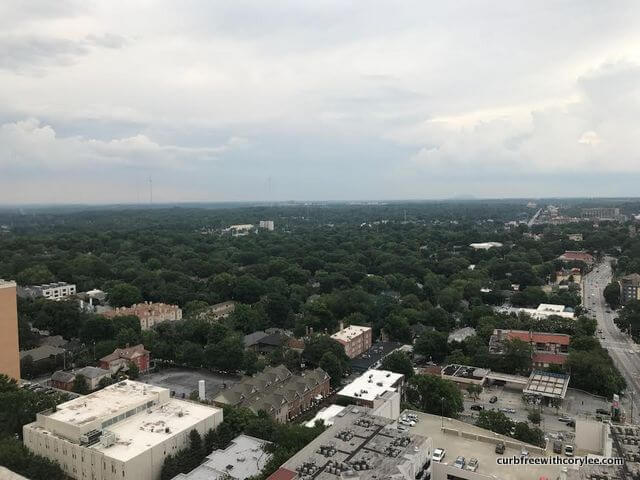 .
.
The Location
.
Perhaps the best thing about The Georgian Terrace, aside from the awesome accessibility, is its great location. It is in the Fox Theatre Historic District in midtown and literally right across the street from the Fox Theatre, so if you want to see a show while in town, this would definitely be the most convenient place to stay.
 .
Within walking distance of The Georgian Terrace are many restaurants and just a short drive away (5 minutes) are some of Atlanta's top attractions. I got a
CityPass
and visited the Georgia Aquarium, World of Coca-Cola, Center for Civil & Human Rights, the College Football Hall of Fame, and I did a CNN Studio Tour. All of these were within a five minute drive of the hotel, which allowed me to get the most out of my trip.
.
 .
.
Fun Facts About The Georgian Terrace
 .
The Georgian Terrace is clearly one of the best hotels in Atlanta – it's Atlanta's most legendary hotel and an icon of the city for several reasons, listed below:
 .
– The premiere party of Gone with the Wind was held at The Georgian Terrace and all cast members stayed at the hotel, except for Vivian Leigh, who played Scarlett O'Hara in the movie.
.
 .
– Some notable guests have stayed at The Georgian Terrace, including Walt Disney, F. Scott Fitzgerald, George Clooney, and even Betty White.
 .
– One of the most recent movies to film at the hotel was The Change-Up in 2010, starring Jason Bateman and Ryan Reynolds.
 .
 .
The Georgian Terrace made for the perfect place to stay during my weekend getaway to Atlanta and I was extremely impressed with the accessibility. From a spacious and comfortable suite to delicious foods and a prime location, there are many reasons why you should consider staying at The Georgian Terrace for your next visit to Atlanta.
 .
 .
 .
*Thank you to The Georgian Terrace for working with me on this trip. While my stay was complimentary, all opinions expressed are authentic and my own. This post contains affiliate links. If you click through on a link, you won't pay a penny more, but we'll receive a slight commission which helps us keep this information available to you. Thanks!
.
.
.