I recently had the chance to check off a huge bucket list item of mine: Cruise Alaska! I've heard for years that one of the best wheelchair accessible cruises in the world is through Alaska and on at least a weekly basis, I receive messages from others asking about accessibility in Alaska. Since I had never been, I couldn't answer them very well, but I'm happy to say that I finally visited America's 49th state this past August with
Holland America
.
 .
My cruise on Holland America's Nieuw Amsterdam ship was remarkable (
a post about accessibility on the Nieuw Amsterdam is here!
) and over the course of a week, we had multiple ports of call in Alaska. We cruised through the Inside Passage, docked in
Skagway
and
Ketchikan
, and even spent a whole day admiring the glaciers in Glacier Bay National Park. Our first port of call though, naturally, was the capital of Alaska – Juneau!
 .
I wasn't sure what exactly to expect in Juneau, but it ended up being one of my favorite ports of call for a variety of reasons. From taking shots in an old Alaskan bar to seeing whales up close and personal, Juneau is one of the greatest reasons why you should go on one of Holland America's wheelchair accessible cruises through Alaska. Here is how my day in the capital went and some of the best things to do in Juneau Alaska during your time there –
 .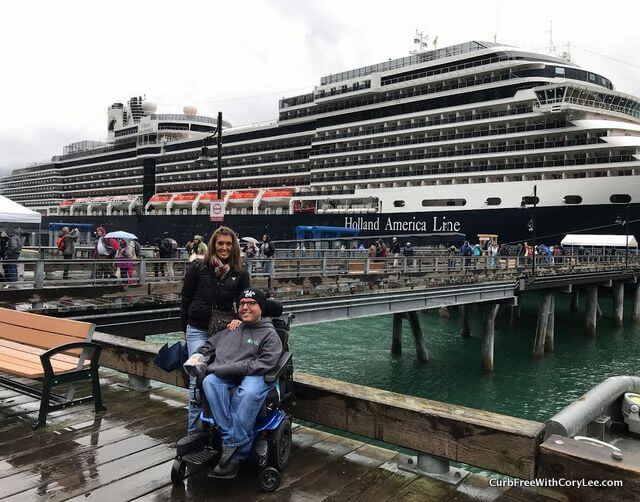 .
Best Things to Do in Juneau Alaska
. 
Shop till you drop
 .
Our cruise ship docked in a perfect location, within walking/rolling distance of all that makes downtown Juneau spectacular. Our ship was directly across from the Mount Roberts Tramway (more about this attraction below) and within a stone's throw of Tracy's King Crab Shack. Tracy's is an extremely popular restaurant in Juneau, especially since it's so close to where the cruise ships dock. As the name suggests, they have crab legs, crab cakes, and even crab soup if you want something hot on a chilly day. I didn't eat at Tracy's, but everyone that I talked to said that they loved it. I did watch one of the workers handling the giant crab legs in front of the restaurant though, and it was quite a sight.
.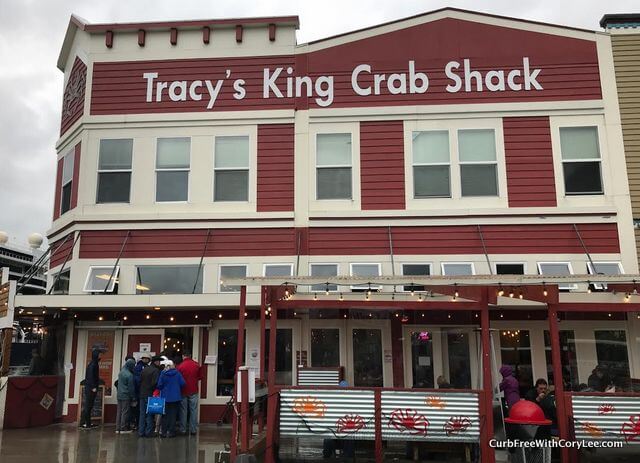 .
The great thing about Juneau is that it's small enough to walk/roll. There are tons of shops and restaurants on Franklin Street, which you'll easily be able to find. There's pretty much just one main touristy street in Juneau and this is it. I enjoyed browsing for the perfect souvenir and found a store selling all kinds of sweets, which I couldn't resist.
.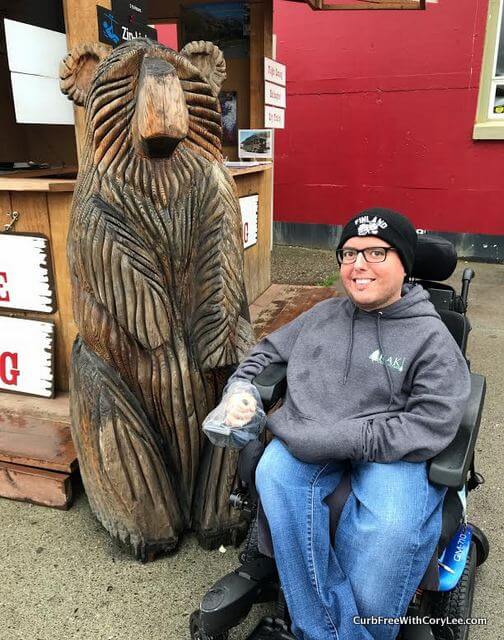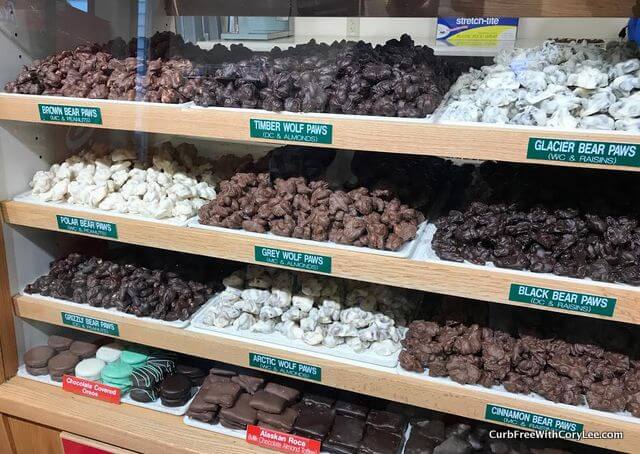 .
Downtown Juneau was predominantly wheelchair accessible with curb cuts and every store that I wanted to go in was accessible. The only slightly disappointing thing about my experience wandering the street(s) of Juneau was the fact that it was raining, but that just gave me more opportunities to pop into all of the stores and buy extra souvenirs, so you won't hear any complaints from me!
.
 .
.
Visit Juneau's Oldest Man-Made Tourist Attraction
.
After shopping for a while, I headed to the
Red Dog Saloon
for some lunch and a bit of fun. The saloon gave me old-school Alaska vibes as soon as I rolled through the swinging doors at the entrance. Sawdust covered the floor, all of the waitresses were dressed in costumes reminiscent of the early 1900s, and there was a man playing some music and singing on a stage. It was very much a tourist trap, but I love tourist traps and am not ashamed to admit it. The saloon was recognized for its longevity as the oldest man-made tourist attraction in Juneau after all, and that made it all the more worthwhile in my opinion.
.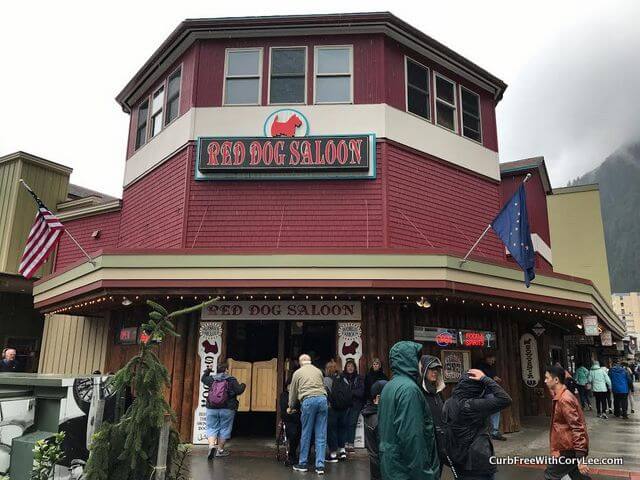 .
I ordered some potato skins to snack on and… wait for it… a Duck Fart! If you visit the Red Dog Saloon, you simply must try a Duck Fart… as long as you're older than 21, of course. I know what you're thinking, "Try a Duck Fart?! No thanks!!", but I promise that it's better than it sounds. This is Juneau's most infamous shot and what makes the Red Dog world-known. A Duck Fart is 1/3rd Bailey's, 1/3rd Kahlua, and 1/3rd Crown Royal. See? Doesn't sound so bad now, does it? I actually enjoyed it much more than I thought I would and if you'd like to see me trying the Duck Fart in action, check out the video below.
 .
 .
.
Ride the Mount Roberts Tramway
 .
After tossing back a Duck Fart or three, I made my way to the Mount Roberts Tramway, which was directly across from my cruise ship. It has been operating since 1996 and is the only aerial tramway in southeast Alaska. It's also one of the most vertical tramways in the entire world, but I was thrilled to discover that it's fully wheelchair accessible. In fact, it received the Governor's Award for facility accessibility design because it's so compliant. I've ridden cable cars and tramways in several destinations, everywhere from Gatlinburg, Tennessee to
Baños, Ecuador
, and this was probably my favorite one yet.
 .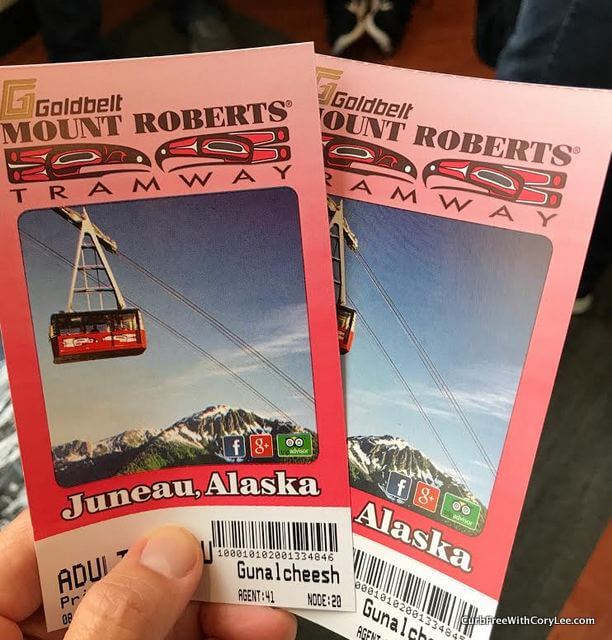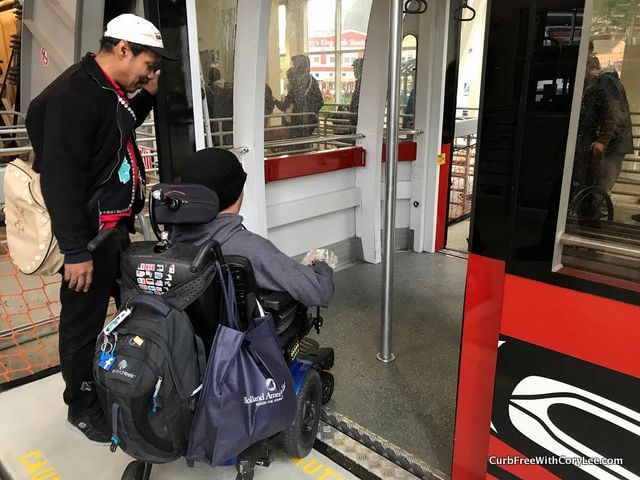 .
Mount Roberts Tramway
is open from May-September and costs $34 per adult. At first, I thought the price seemed a bit steep, but you can use your ticket all day as many times as you want and the views are worth it. It only takes about six minutes to get to the top of Mount Roberts, but the views along the way are insanely beautiful! Juneau has never looked better than from about 1,800 feet high.
.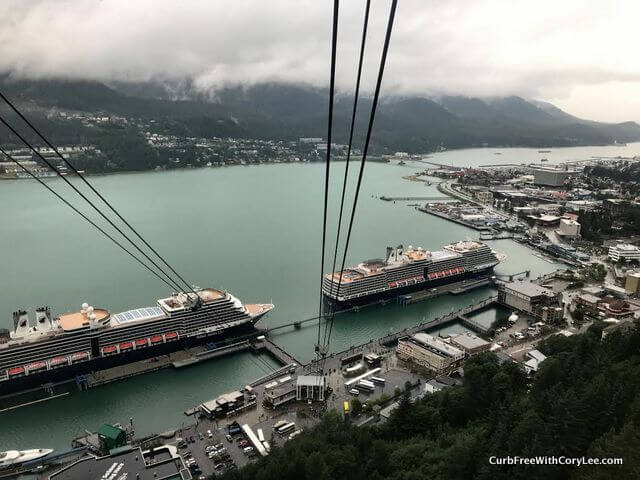 .
Once at the top, there are a variety of activities to enjoy. I bought even more souvenirs inside the gift shop and saw a bald eagle named Lady Baltimore at the nature center. The eagle was shot by a poacher in 2006. She is now blind in her left eye and one of her wings was damaged, so she can't take full flight. Because of this, she's cared for by the staff of Mount Roberts. In addition to seeing the eagle, there is also an accessible hiking trail and a theater where you can watch a short movie about the Alaskan culture. I had a fun time at Mount Roberts Tramway and whether you only have a spare hour or several hours, you should definitely check it out!
.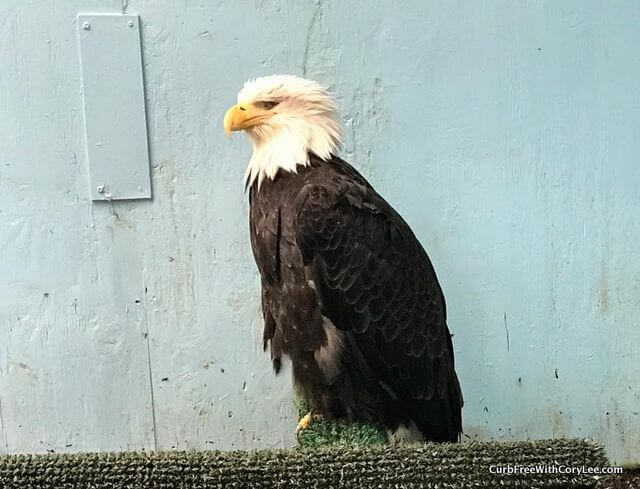 .
.
Go whale watching!
.
And now for the main reason why I fell head-over-heels in love with Juneau – I saw whales!!! It has been a lifelong dream of mine to see whales in their natural environment and a few years ago, I almost got to do it in
Reykjavik, Iceland
, but my whale watching tour there was cancelled at the last minute due to strong winds. That disappointment in Iceland though made this experience in Juneau even sweeter and I was ecstatic to try to see some whales.
.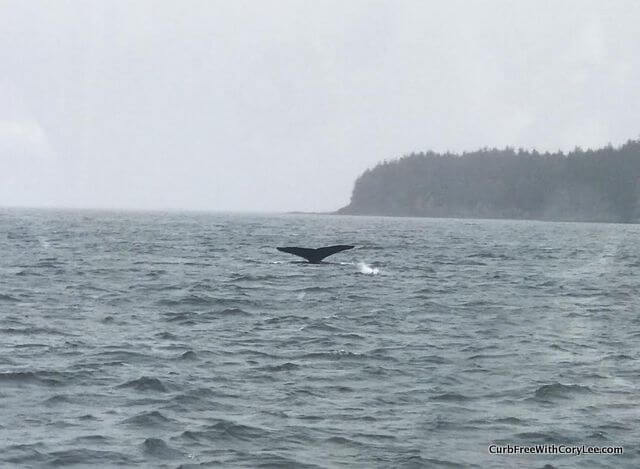 ..
This "Whale Watching & Wildlife Quest" tour was actually booked through Holland America's shore excursions department. Unlike other cruise lines that I've used before, Holland America offers quite a lot of accessible excursions (in Alaska, anyway), which is amazing! That made it super easy for me to choose what to do and whale watching was at the top of my list. Please note that the combined weight of the guest and mobility device cannot exceed 600 pounds. Mobility devices must have a maximum length of 48 inches, a maximum width of 32 inches, and minimum ground clearance of 3.5 inches.
 .
A wheelchair accessible bus picked us up where our cruise ship was docked and drove us about 30 minutes to the boat. The bus had a lift and tie-downs to secure my chair.
.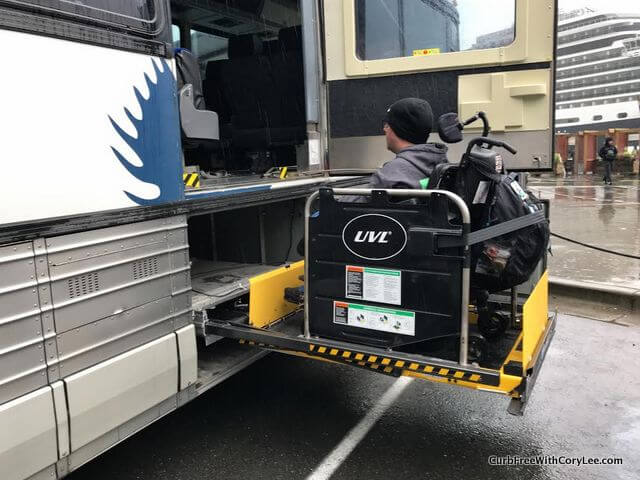 .
To get on the boat, there was a ramp and while it was a little steep, it worked perfectly for me. The inside of the boat was extremely spacious and it had large windows so that I could easily see any whales in the water. There was also a snack and drink bar, an accessible restroom, and seats for at least a few dozen people on the lower level. There was an observation deck upstairs, but it's not accessible. I was perfectly happy being inside where it was warm though and I quickly picked an ideal spot for whale watching.
.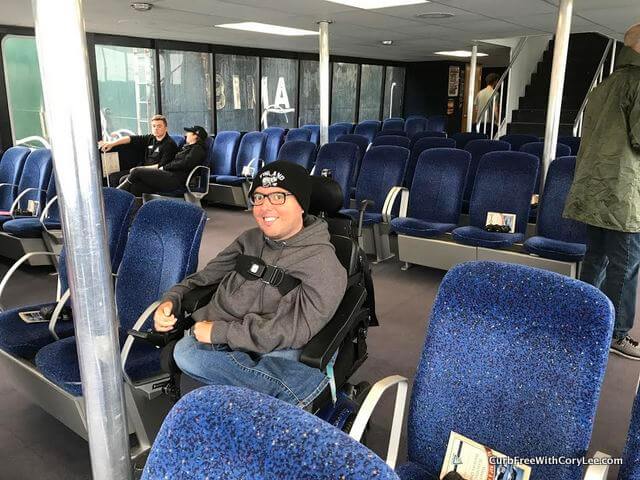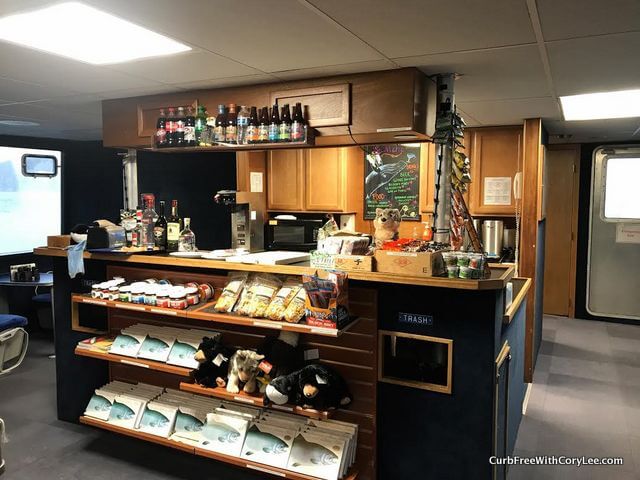 .
Our whale watching cruise was about three hours long total, but it didn't take anywhere near that long for us to spot some wildlife. Within 30 minutes, we saw seals and even bald eagles flying around. But then, all of a sudden, it happened… WE SAW WHALES! I was completely in awe and couldn't believe that I was looking at them. When we saw their tail splash into the water for the first time, I may or may not have gotten a little misty eyed. It was such a magical moment and exactly what I hoped to see in Alaska. Want to see the whales in action? Check out the short video below.
 .
Over the course of about 90 minutes or so, we saw three humpback whales and it was better than I could have ever dreamed of. It was fascinating to watch them come up to the surface and learn about how they behave.
Allen Marine Tours
, which was the company that operated this excursion, did an excellent job of explaining everything and teaching all of us a thing or two about whales.
.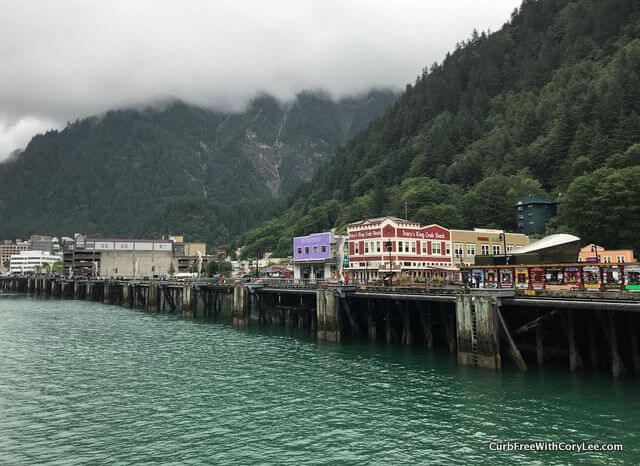 .
While I was only in Juneau for one day, it was plenty of time for me to fall in love with the city and I would highly recommend exploring it whether you are cruising Alaska like I did or thinking of flying in. From seeing whales in their natural environment to getting an aerial view of the state's capital and much more, there's something for people of all abilities in Juneau. Now, start planning your trip and get ready to discover the best things to do in Juneau Alaska for yourself!
 .
 .
*Thank you to Holland America Line for working with me on this trip! While most of my experiences were complimentary, all opinions are authentic and my own. 
.
.
.