Not too long ago, I returned from a trip to Philadelphia, Pennsylvania. Have you ever been there? Before going, I knew it was an important city historically, but I wasn't super familiar with all that the city has to offer tourists. I was pleasantly surprised with all of the accessible things to do in Philadelphia!
One of my biggest concerns before traveling to the city was whether or not it would be accessible for me. If you're a wheelchair user, you know that while some cities sound awesome to begin with, they can be quite difficult to navigate from a chair. Thankfully, Philadelphia turned out to be super accessible and easy to get around in.
From seeing the more historic landmarks such as the Liberty Bell to visiting a penitentiary and much more, Philly offers something to entertain any visitor. Here are my thoughts on the city in case you'd like to check it out for yourself and 13 of the best accessible things to do in Philadelphia –
Wheelchair Accessible Things to Do in Philadelphia
Liberty Bell Center
Can you really visit Philly and not see the Liberty Bell? I have to say, I don't think that's humanly possible. Thankfully, it's not something you have to miss out on! If you aren't familiar with the Liberty Bell, it is the bell that was rung to celebrate the first public reading of the Declaration of Independence.
The Liberty Bell Center is wheelchair accessible. There are no restrooms (accessible or otherwise) in the building, but there are some accessible ones you can use in the nearby Independence Visitor Center just across the street.
At the visitor center they also have wheelchairs you can borrow. I've never needed to use two at once, but feel free to try it if you are in the mood. Or, if you only need a wheelchair on occasion, for this occasion you could borrow theirs rather than bring your own. To use one of their wheelchairs, ask at the Ranger's Desk in the Visitor Center.
Independence Hall
Independence Hall is the famous building known for being the place where the United States Declaration of Independence and the United States Constitution were both debated and then later adopted. It's a great stop to make particularly if you enjoy history.
The first floor is nearly completely accessible. There are a few areas with steps, but you can ask them to set up temporary ramps to cover those. The second floor is not accessible, but the only thing up there are executive meeting rooms. Everything you would want to see is downstairs. There are no bathrooms available for anyone to use.
Reading Terminal Market
Reading Terminal Market is an enclosed market that was originally opened in 1893. It's changed a bit over the years, and now offers a wide selection of fresh produce, artisan cheese, meat, fish, ice cream, flowers, baked goods, books, clothing, and a lot more!
The market is wheelchair accessible. All of the entrances to the market are accessible except for the one found on 12th and Arch. That one has three steps. Those steps are the only ones to deal with since the entire market is on one level. There are several accessible restrooms throughout the market.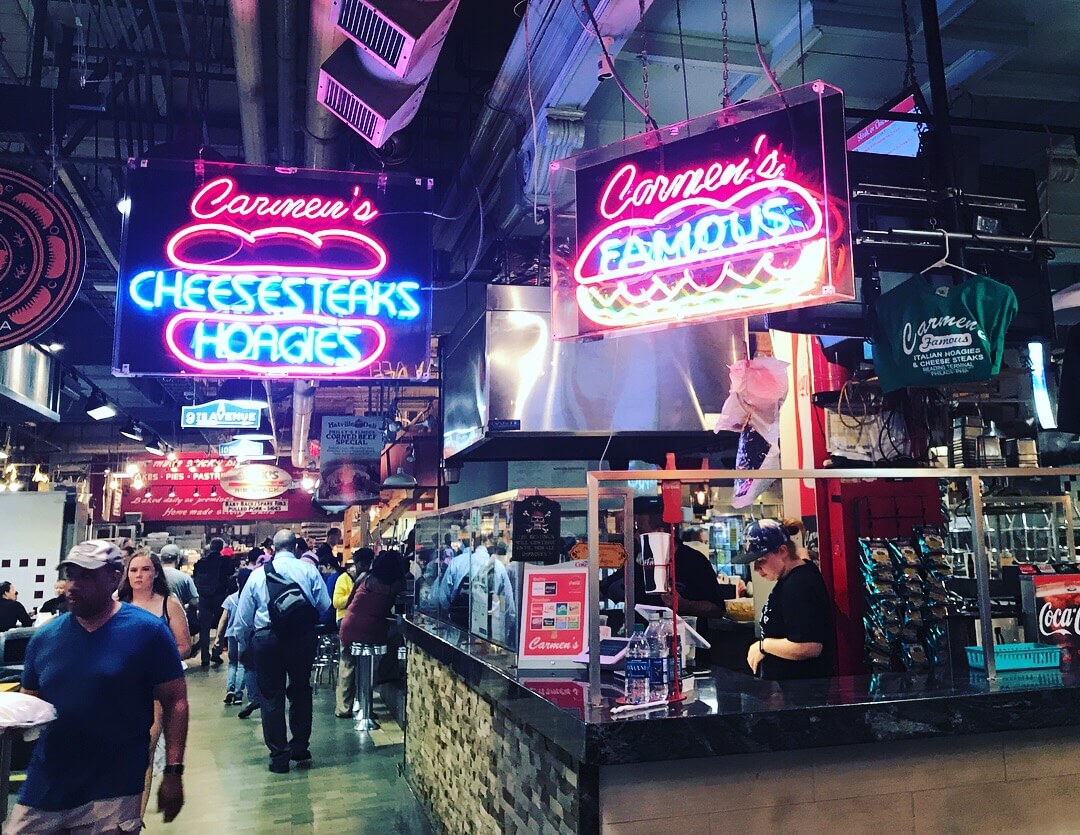 This was one of the best markets I've ever been to! There are so many options. You could spend a ton of time just rolling around and visiting all the different little shops. Since it's enclosed, it could be an awesome option for you if it's supposed to rain one of the days you'll be in Philadelphia. You could just spend the whole day eating and shopping in the market!
National Constitution Center
The National Constitution Center is the perfect place to go if you want to learn a bit more about the US Constitution! It is completely wheelchair accessible. You can find elevators throughout the building, and if you need an extra wheelchair they have some available for free at the Information Desk. If you do need a wheelchair, do know that they are available on a first-come, first-serve basis.
I enjoyed the whole museum, but particularly loved the theatre show. I'd definitely recommend you see that part if you only have a short time available to you in the building.
There are wheelchair accessible restrooms so be sure to take advantage of those if you need them while you're visiting.
United States Mint
This is a fascinating place to visit! You can go learn how coins are manufactured as well as the history of the Mint. The place is wheelchair accessible, however, there are some spots that are a little tricky. They have some walls that you're supposed to look over to see the money being made in the factory below, but the walls are a bit high for wheelchair users.
Luckily, my Quickie wheelchair can raise up to eye-level, so I was able to look over and see down below the wall. If your chair can't raise, though, it could be tricky. Either way, it's a really interesting place to see!
Betsy Ross House
Betsy Ross is the well-known and loved woman who sewed the first American flag. Her house is a fun place to visit! The actual house, unfortunately, isn't wheelchair accessible. I was able to get there right at the opening time of 10 AM though and I could see a flag raising ceremony in the courtyard. I also got to meet Betsy Ross herself! Or, I at least got to see someone dressed like her anyway.
The gift shop is accessible. The museum also offers a complimentary audio guide with a book of pictures showing what the inside of the house looks like. Even if you can't make it inside, it's a fun stop to see the old house and watch as a bit of history comes alive for you.
Christ Church Burial Ground
It might sound a bit odd to go to a cemetery on vacation at first, but this cemetery is extra special since it is one of America's most historic burial grounds. The main reason I went there is because Benjamin Franklin is buried there! There are also several other prominent leaders buried in the cemetery.
The area is wheelchair accessible. It's a peaceful place to roll around and see a bit of history. It's fascinating to think that, while you're there, you're seeing some of the same sights people were seeing back in 1790 when Benjamin Franklin was buried.
Eastern State Penitentiary
This former US prison was possibly my favorite attraction in Philly! It was really interesting to visit and learn about the history of the place. The Penitentiary is almost 200 years old and is a National Historic Landmark so it's not fully accessible.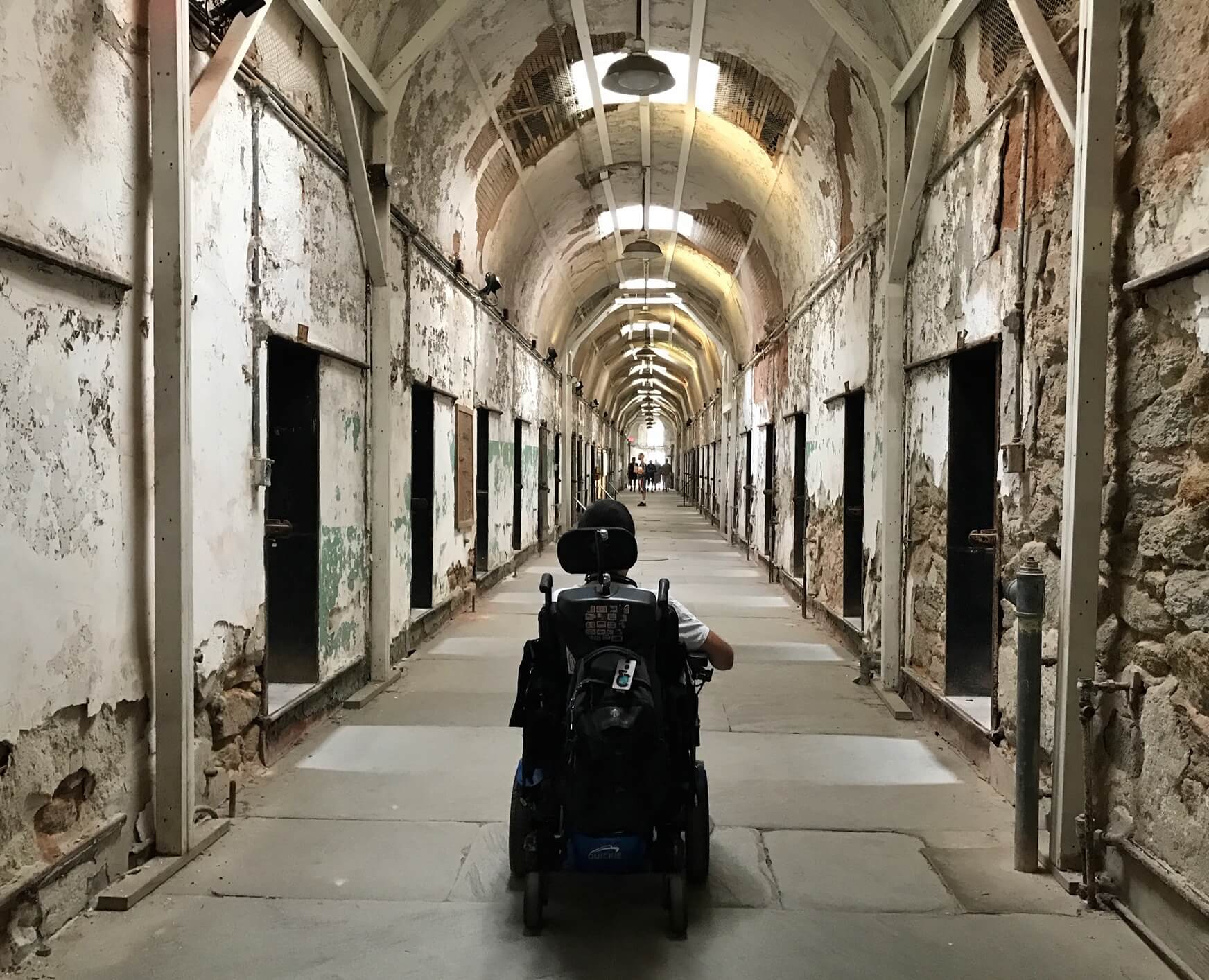 It was, though, a lot more accessible than I first expected! The only parts that are really inaccessible during the tour are one small exhibit and a gift shop. The rest of the tour has ADA compliant ramps and meets most of the ADA guidelines. Plan at least a few hours here, as it's full of interesting things to see.
The Franklin Institute
The Franklin Institute is a fun place to visit– especially for science lovers! It is wheelchair accessible and they even have an interactive map (which you can find here) so you can plan out your time in the building. The map shows you ramps and elevators you can use to avoid the stairs. Accessible entrances to the museum are on 20th street and via the parking garage in the Bartol Atrium. There are several wheelchair accessible bathrooms throughout the building.
The Franklin Institute has several different parts to it. One fun area is the Escape Rooms! If you aren't familiar with those, they are rooms that you are locked in for a specific amount of time. During that time, you're supposed to figure out clues to "escape" the area or to achieve a certain goal before the time runs out.
The Escape Rooms at the Institute are wheelchair accessible so everyone can join in on the fun together! You have to have at least six people to play. If your group isn't that big, they'll likely combine you with another group to play together so it could be a fun way to make some new friends while you're away from home.
The Mütter Museum
Fair warning, this place is really weird, but it's still awesome. It is a museum all about the mysteries and beauty of the human body. Its goal is to help you understand and appreciate the history of diagnosis and treatment of disease. You'll definitely come away grateful for the advances we've had in medicine!
The building is accessible. To get inside, there is an accessible entrance around the back of the building. You'll see a glass door back there marked "College of Physicians of Philadelphia." Next to the door is an intercom speaker and talk button. Press the button and once they answer your call let them know you're there to tour the museum. Someone will come and bring you in.
If you need one, they have manual wheelchairs available for use for free on a first-come, first-serve basis. There are accessible restrooms in the museum.
Rocky Statue
This one is a must-do while you're in Philly! I've never seen the movies, but I still had to get a photo with Rocky. The spot is wheelchair accessible so you can roll right up and get your selfie!
If you aren't familiar with the movies, Rocky is a sports film about an uneducated, but kind working-class boxer in Philadelphia. He was working as a debt collector and did some small-time club fighting on the side. He ends up getting a chance to compete in the world heavyweight championship.
The first film was the highest-grossing film of 1976! If you haven't seen it, it could be something fun to watch before you head out to Philadelphia and see the statue.
Philadelphia Museum of Art
This art museum is the cultural heart of Philadelphia. It's a great place to spend several hours! The building is accessible and they have free wheelchairs in three different sizes available for use on a first-come, first-serve basis. They also have adjustable height canes available for use as well as seating in more or less every third gallery. The building has an accessible restroom on each floor.
The museum has all sorts of different exhibitions! If you've been once and return at a later date, it will have changed a bit since some of their exhibitions rotate out. Whatever type of art you enjoy, they have all sorts to keep all their guests entertained and inspired.
Penn's Landing
Last but definitely not least, be sure to visit Penn's Landing. It's named to honor William Penn's landing in Philadelphia back in 1682! It's a great place to see different events, classes, and entertainment. It's also the home of several seasonal parks.
If you go there, be sure to arrive hungry! They have a ton of food options. I got a vegan Philly cheesesteak at HipCityVeg and it was incredible! The Landing is wheelchair accessible and a great place to roll around and enjoy the beautiful view of the water.
Where to Stay
While you're staying in Philadelphia, you'll need a comfortable place to call home. One excellent option is the historic Loews Philadelphia Hotel. The building is a wonderful mix of warm sophistication and living history. It's located in America's very first skyscraper! It's found in the center of the city, right by the historic attractions and the many fun things to do in Philadelphia.
Not only is Loews Philadelphia Hotel a convenient option due to its location, but it's also an excellent choice because of its wheelchair accessibility. It has 20 accessible guestrooms and 6 of those include roll-in showers. They don't have any restrictive steps and there are no steps at the entrance. They have an accessible lounge, an accessible restaurant, and an accessible pool.
The staff working there are very friendly and always eager to help make your stay more comfortable. The rooms are spacious, comfortable, and tastefully decorated. They have room service available 24 hours so you can easily order food any time you want it. It's a comfortable, beautiful place to stay!
Check prices at Loews Philadelphia Hotel by clicking here.
Are You Ready to Head off to Philly?
Thinking about all the fun I had there, I wish I could turn around and head right back! It's a city full of historic sites and beautiful scenery. It is surprisingly wheelchair accessible– especially since the city has so much history packed into its streets. If you haven't yet been to Philadelphia, or if you've been but it's been a while, I'd highly recommend you make the trip there. It's well worth a visit and an easy vacation to make with plenty of things to do in Philadelphia, even if you're rolling rather than walking around.
*Thank you to Visit Philly for making this trip possible! While these things to do in Philadelphia were complimentary, all opinions are authentic and my own. This post contains affiliate links. If you click through on a link, you won't pay a penny more, but we'll receive a slight commission which helps us keep this information available to you. Thanks!