Lost in the fun of planning excursions and adventures in new places, many travelers often forget to buy travel insurance. It's not as trendy as that beachfront cabana you're booking, and it's certainly not as exciting as that jungle trek you're planning. If anything, I find that travel insurance is usually considered briefly or haphazardly in the planning process, but its merits often go unrecognized. Talking with other world explorers, I've found that even those who consider buying travel insurance often don't end up buying it.
In this article, I'll give you seven reasons why I think that buying travel insurance is a good idea – and in fact, why I think it should be part of every traveler's pre-trip routine.
Canceling Your Trip Won't Be So Costly
When traveling, dealing with logistical hiccups and unforeseen obstacles can be painstaking, time-consuming, and expensive. At a minimum, you as a traveler deserve to be compensated when such a situation arises, and ideally you'll even have someone who will have your back and get you through the situation in the most efficient way possible. That's what travel insurance is for!
If you ever have to cancel your meticulously-planned trip at the last minute, travel insurance can compensate you financially for your troubles. Unfortunately, you never know when you or another family member can become direly ill and unable to travel. Or, on a more positive note, perhaps a close family member got pregnant after you booked this trip, and you need to cancel at the last minute so that you can be there to meet your new little family member!
Alternatively, you might be fine, but your destination might not be. What if you no longer feel comfortable going on your trip due to recent terrorist attacks in the area, or if you're no longer able to travel due to a devastating natural disaster in the area? Travel insurance can cover all these and even more obscure circumstances – including if you and your travel companion get divorced before the trip comes around, if you lose your job and can no longer afford to go, or even if the employees of the airline you're taking end up going on strike!
None of these events can be predicted, so the best way to prepare is to buy travel insurance that will allow a hassle-free cancellation of your trip. The insurance I bought for my recent trips through Allianz would even cover my remaining trip expenses if I had to return home partway through for some of these reasons. After all, the worst trip imaginable is one that you've completely paid for, but then don't experience!
Be Ready for the Unexpected
We're all familiar with the common yet unexpected travel nightmares. Your flight is delayed, your connection missed, your luggage lost or stolen or delayed with important cargo inside. Or if you're traveling for work, your company's precious cargo can be lost or damaged as well. Travel insurance provides reimbursement for all these unfortunate circumstances and it provides helpful, on-call personnel who will help you resolve these situations in real-time.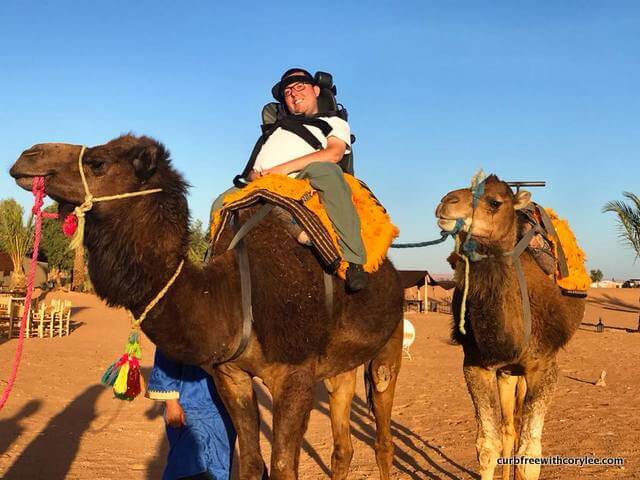 Feel Good About Taking Risks
Sometimes I get a little bit too adventurous when traveling; for example, I've ridden a camel in Morocco, gone hot air ballooning in Spain, Israel and Las Vegas, and even went rock climbing in Utah. Adventurers take risks, and we know our travel wouldn't be the same without it. However, taking risks without having insurance to cover you is perhaps one of the riskiest risks of all, and not one I would ever recommend.
For example, what would have happened if I had injured myself while rock climbing in Utah? I might have needed emergency medical benefits, or even emergency medical transportation to the nearest facility. This can get expensive fast when you're exploring remote destinations, which is why insurance is absolutely vital. Companies like Allianz Travel Insurance have generous coverage amounts, and purchasing an insurance policy with an emergency medical aspect (most travel insurance has this) means that you won't suffer insurmountable financial burdens just to get the emergency care you need.
Take Your Health Into Your Own Hands
No one ever plans to get attacked by a hippo while traveling through South Africa, but it's happened to me before! Car accidents are another incident that can put your health in danger in addition to putting a damper on your trip. Maybe you have a chronic condition with a chance of flaring up during your vacation, or sometimes, you might even just get sick from the change in cuisine and climate. Seeking medical care in a foreign country can be confusing and sometimes expensive if you're not prepared, even if you're seeking care for a preexisting condition, and this is another reason I always recommend insurance.
The plan I have through Allianz, the AllTrips Executive Plan, has coverage available for preexisting medical conditions. As a wheelchair user who travels frequently, this provision is immensely beneficial to me and is one of the reasons I chose this company.
Travel More and Better with Year-Round Coverage
Like I just said, I recently purchased the AllTrips Executive Plan from Allianz Travel Insurance, and I couldn't be happier about the extent of the coverage. Those with wanderlust as profound as mine – or with jobs that bring them to many new places on a regular basis – tend to take multiple trips in one year, and rather than buying separate insurance plans for each, this one will cover any trips you take for the entire year!
Though I would certainly go through the trouble of buying a new insurance policy for each trip if it were the only option, I'm so glad to have found Allianz, because this year-long coverage is much simpler and more efficient!
Enjoy the Benefits of Having Your Own Concierge
If you're like me, you're not the perfect trip planner. You try so hard, but you wish you had an extra set of hands, perhaps someone more knowledgeable about your destination than your internet searching has made you. And unless you're a fancy businessman with your own secretary, you probably have to buy your own tickets and make your own reservations for your trip – unless, that is, you have a plan like the one I just purchased through Allianz Travel Insurance!
My travel insurance comes with a personal concierge who can take care of the little, yet sometimes annoyingly difficult, logistics. As a similar but separate service, my plan also includes a 24-hour hotline with multilingual professionals who can help you with any logistical hiccups. If you find yourself needing to send a message home or find local legal or medical services, or deal with lost or stolen items, this service can really come in handy.
Many people like to gamble with fate and say, "Well, what are the chances that I'll need to cancel my trip at the last minute, or that I'll need emergency medical attention?" This is when I like to draw attention to the smaller benefits of insurance, such as the concierge and 24-hour hotline, that anyone can and will use for every trip they plan!
Peace of Mind is Essential to Stress-Free Travel
Everyone can benefit from travel insurance, but as a wheelchair user, I find it particularly helpful. I don't have to worry about my preexisting medical conditions, and I know that if I lose some of my precious equipment that is specific to me as a wheelchair user, I'll be covered. On previous trips when I didn't have insurance coverage, I found myself constantly worrying.
As a wheelchair user with preexisting medical conditions, I feel like I worried even more than most, so the distinction was even more evident when I finally took the plunge and bought insurance. My first trip after buying Allianz Travel Insurance was fundamentally different than other trips I'd gone on in the past – it was relaxing, I was happier, and we were all able to quickly achieve that coveted in-the-moment feeling that makes travel so magnificent. That's what happens when you know you have a company behind you that can help with any possible trouble, large or small!
In summation, buying travel insurance isn't just for the big, just-in-case things. It is indispensable if your risk taking does get the best of you, or if fate decides to throw something your way that will interfere with your trip. Some of the best parts of Allianz Travel Insurance are the little services that every traveler will find useful. Travel insurance can save your life, but when it doesn't need to, it can still pamper you.
As usual, I'd love to hear what you think: how has having travel insurance enhanced your vacations?
*Thanks to Allianz Travel Insurance for sponsoring this post and providing travel coverage for the unexpected. Curb Free with Cory Lee received financial compensation from Allianz Global Assistance (AGA Service Company), but all opinions are our own.