During my recent cruise through Alaska with
Holland America Line
, I had several amazing ports of call. I visited Juneau first, then Skagway, and my last stop was Ketchikan. I absolutely loved
Juneau
and
Skagway
, but in my opinion Holland America saved the best port of call for last. I fell in love with Ketchikan and could totally see myself living there (if I enjoyed freezing to near death in the winter, that is).
 .
I was only in Ketchikan for about 8 hours, but that was plenty of time for me to discover some of the most accessible and best things to do in Ketchikan Alaska. From watching actual lumberjacks compete to shopping and even viewing majestic fjords, I had a fantastic day in Ketchikan. Here's how I spent my day in Alaska's first city –
 .
 .
Best Things to Do in Ketchikan Alaska
 .
I visited Ketchikan on
Holland America's Nieuw Amsterdam ship
and luckily, the ship docked in a perfect area within walking/rolling distance of everything in downtown Ketchikan. An hour after docking, my mom and I had tickets to The Great Alaskan Lumberjack Show, but for the hour before the show, we enjoyed strolling through the downtown area and seeing the sights.
 .
 .
Ketchikan was quaint, but full of friendly people wandering around. I visited mid-August, which is one of the busier months for the city. After getting off the ship, one of the first things that I saw was The Rock. No, this isn't just a boring old rock. It's actually a really cool sculpture dedicated to Ketchikan's heritage and it tells the story of how Ketchikan came to be. According to
http://ketchikanstories.com/
, "Six of the seven figures on the sculpture represent a prominent archetype in the city's history—a fisherman, a minor, a logger, a bush pilot, a frontierswoman, a Native drummer. The seventh represents an actual historical figure—Chief Johnson, a Tlingit who stands on top of 
The Rock
, symbolizing the fact that his people were the first to make their home in SE Alaska." It was a beautiful sculpture to admire and afterwards, we made our way into a few souvenir shops.
 .
 .
I'll be honest… when I'm on a trip, I tend to buy way too many souvenirs. I swore a long time ago that I would stop doing this (I mean, how many magnets do I really need after all?!), but once I get to a destination, it is on! There were all kinds of really nice souvenir stores on the way from the cruise port to the lumberjack show and most of them were wheelchair friendly. If you prefer not to shop, you could also find a good restaurant in Ketchikan and try some freshly caught Alaskan salmon. After all, Ketchikan is the salmon capital of the world.
 .
 .
After getting some souvenirs, we made our way over to the Great Alaskan Lumberjack Show. The show was only about an 8-10 minute walk/roll from the cruise dock and I was super excited to see this show!
 .
A few years ago, I visited
Pigeon Forge
, Tennessee and saw a show called Lumberjack Feud. That was my first time seeing lumberjacks in action and it was awesome, but to see them in Alaska would be even better I thought. And I was correct! Some people on our cruise said that the show was too corny for their taste, but I absolutely loved it and would easily consider it one of the most family friendly and best things to do in Ketchikan Alaska.
 .
..
 .
The show was one hour long and there was nonstop excitement the entire time. Accessible seating was in the front row too, so seeing everything up close made it even more exciting. From axe throwing to climbing trees and even running on logs floating in water, the lumberjacks were insanely talented. This show was a competition too, with the audience split into two teams with designated lumberjacks competing for each team. If you're looking for a fun activity in Ketchikan and want to see Alaska's logging history come alive, don't miss the
Great Alaskan Lumberjack Show
!
 .
 .
As soon as the lumberjack show ended, my mom and I sprinted back toward the cruise dock for our next excursion. Unlike some other cruise lines, Holland America offered a variety of wheelchair accessible shore excursions in each port of call. The shore excursion that we chose in Ketchikan was the "Misty Fjords and Wilderness Explorer" one and it was a highlight of our time in Alaska.
 .
This excursion is 4.5 hours long and takes place in a small, but luxurious ship, with the lower level enclosed and accessible for wheelchair users. To actually board the ship, there was a pretty steep ramp, but I had no problem using it in my powered wheelchair. However, on the
Allen Marine Tours website
, this tour is recommended only for manual wheelchair users, so you may want to check in with the company and notify them if you'll be using a powered wheelchair. This way, you'll be able to figure out if the ship will work for your chair before you get there and suddenly realize that it won't. In my opinion, I think any powered chair could easily handle it so you shouldn't have any problems, but better safe than sorry.
 .
 .
Once on the ship, I made my way to the very front and claimed the perfect spot for sightseeing. The ship had extremely large windows, so I could see absolutely everything with ease throughout the 4.5 hour cruise excursion.
 .
Only the first/main level of the ship is accessible, but I didn't feel like I missed out on anything and I was really glad that this excursion was possible. There was a snack counter and an accessible restroom on the lower level too, so I had everything I could possibly need. Free binoculars, route maps, snacks, coffee, tea, and hot cocoa were provided as well.
 .
.
 .
Just a short while after our cruise began, we spotted some bald eagles flying around, and then about an hour later we saw New Eddystone Rock. Unlike "The Rock" in downtown Ketchikan, New Eddystone Rock isn't a statue. Instead, it's a pillar of basalt in Behm Canal that is more than 230 feet high. It was formed by a volcanic vent millions of years ago and made for some beautiful photos. It's truly a sight to see and was my favorite part of the cruise. Just beautiful!
 .
.
 .
After admiring New Eddystone Rock for a while, our cruise headed to Rudyerd Bay, where there was stunning mountainous terrain towering above the ship. We saw waterfalls, some pictographs on the side of the cliffs, and the ship cruised slowly to really allow everyone the opportunity to fully immerse themselves in Alaska's natural beauty.
 .
.
 .
On the way back to mainland Ketchikan, we ate lunch, which was provided by the cruise. There were a couple options, but I chose the vegetarian chili. It was delicious and you could even get seconds if you wanted it.
 .
 .
Four and a half hours after we started the Misty Fjords excursion, we arrived back in Ketchikan. It was nearly time for our Holland America ship to depart the city, so we said our goodbyes to the last port of call of our Alaskan cruise and boarded the Nieuw Amsterdam.
 .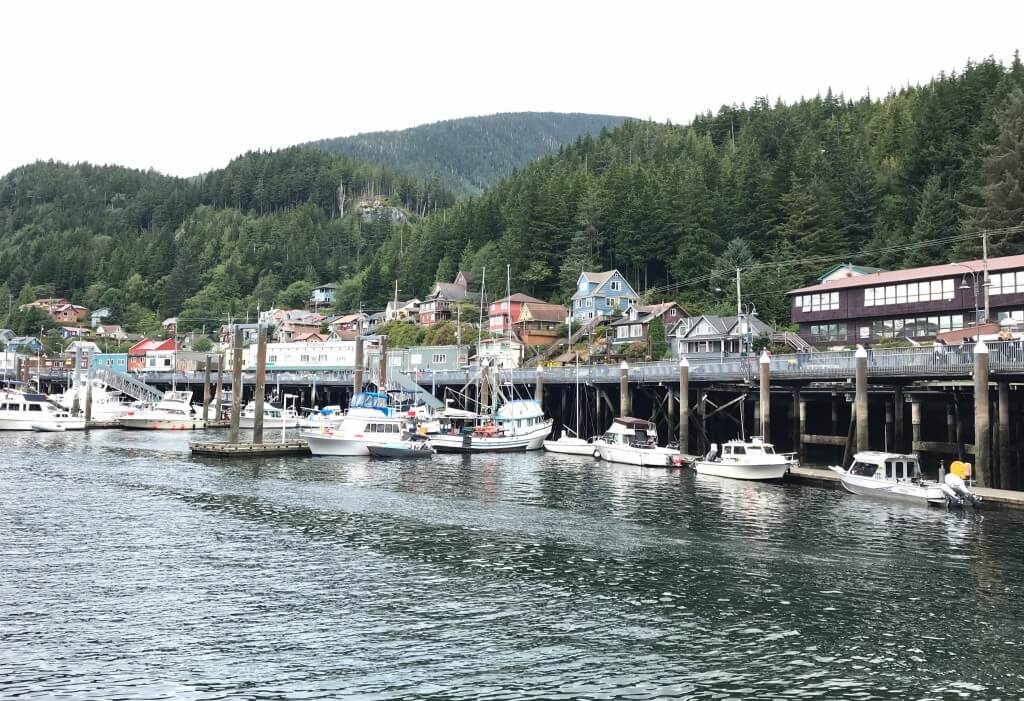 .
My day in Ketchikan surpassed my expectations in every possible way. Within about 8 hours, it became my favorite Alaskan city and one of my favorite cities in the U.S. Whether you're cruising Alaska, road tripping around the state, or looking to fly in to an Alaskan city, be sure to put Ketchikan at the top of your list. Alaska's first city has everything from entertaining lumberjacks to delicious food and tremendous beauty, and it happens to be a city for everyone, including wheelchair users.
.
.
*Thank you to Holland America Line for working with me on this trip! While most of my experiences were complimentary, all opinions are authentic and my own.  
.
.