Through his blog, Curb Free with Cory Lee, Cory Lee Woodard has emerged as the face of accessible travel. In support of this status, he has racked up a number of prestigious recognitions that include the 2017 Lowell Thomas Award for Best Travel Blog and the 2018 Ed Roberts Award from The Center for Independent Living in Berkeley, California. He's penned an article for National Geographic, has appeared in segments for Lonely Planet and CBS, and is considered a go-to guy for the editor of the Los Angeles Times travel section. He is also a NEW MOBILITY community partner and freelancer. It's an honor to be part of his journey, and we are pleased to add to his list of accomplishments by acknowledging him as NM's 2018 Person of the Year.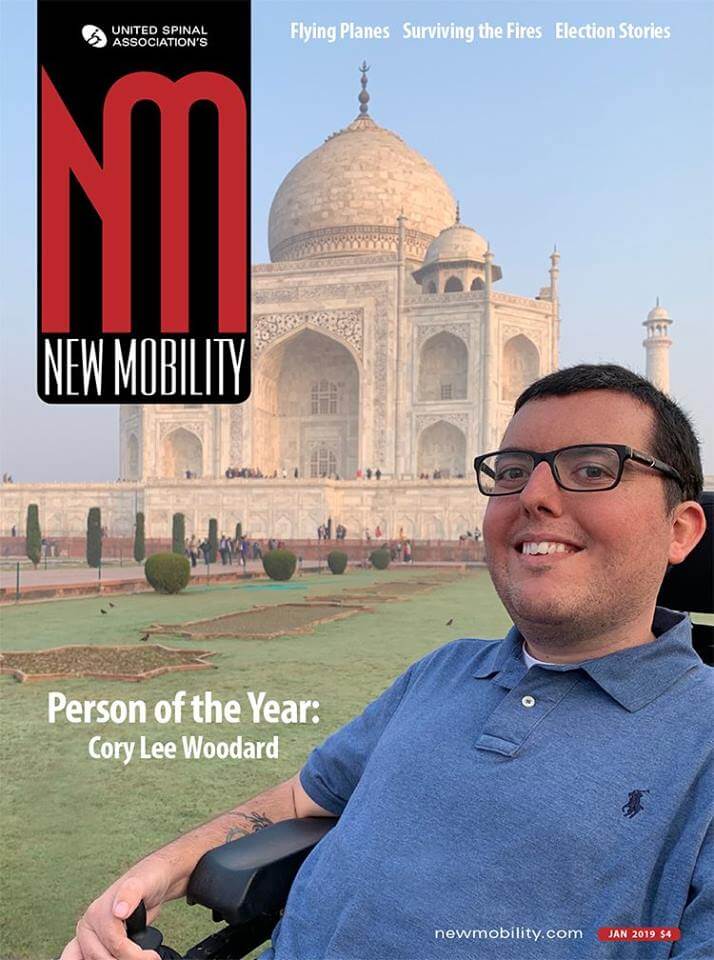 World traveler and award-winning blogger Cory Lee Woodard, 28, works from a 55-item bucket list and just crossed off a big one. Right below "Go to a Luau in Hawaii" and above "Get a Cocoa Facial in Hershey" is number 37 — "See the Taj Mahal."
"You guys! I visited the Taj Mahal," he gushed on Facebook. "Seeing this spectacular monument has been a lifelong dream for me, but I realistically wondered if it could ever happen, due to there being a lack of any accessibility in India until pretty recently. But I made it! Thank you Enable Travel for seeing a lack of accessibility and doing something to improve the situation, I'll be forever grateful."
His followers wanted to know all about it. What was most surprising? Was the accessibility OK? How was his mom handling the food?
"I'm probably most surprised by how fascinated everyone is with my wheelchair. I've been asked for selfies, gawked at and sort of feel like an animal in a zoo, but it's totally fine. I know they're just curious," said Woodard, who has spinal muscular atrophy. "I'm also surprised at how accessible some of the attractions are … much better than I expected, but still need some improvements of course." And his mom found pizza one night, so she was able to survive until they made it back home to rural Lafayette, Georgia.
To read the rest of the article, just click here.