When I say "New York", what do you immediately think of? If you're anything like me, you think of Times Square and that delicious New York style pizza. But what if I told you that New York doesn't need any of that to be a spectacular destination? Don't believe me? I wouldn't have believed me either… until just a few months ago. It turns out that the state of New York actually has a lot to offer outside of the metropolis
NYC
that we see so often on television, and I got to explore some of the wonderfully fun things to do in Rochester NY this past fall.
.
Rochester is located in the Finger Lakes region of New York, which is home to some of the best wineries in the country, but aside from drinking all of the wine that you can get your hands on, there are a variety of fun attractions within the city. From seeing the world's first ever Monopoly game board to trying out adaptive kayaking on the Erie Canal and much more, you are sure to have a great time in Rochester no matter what your abilities are. Here are 10 of the best things to do in Rochester NY as a wheelchair user –
.
.
10 Fun Things to Do in Rochester NY
.
Radio Social
.
Hailed as one of the coolest spots in the city, Radio Social was my first stop in Rochester after I arrived and checked in to my hotel (more on the hotel in just a bit). I was starving and couldn't wait to devour some good food, and while the food was fantastic, Radio Social is wayyyy more than just a restaurant. In fact, you could easily spend hours here without ever eating. Should you do that? Definitely not because the food is to-die-for, but you technically could.
.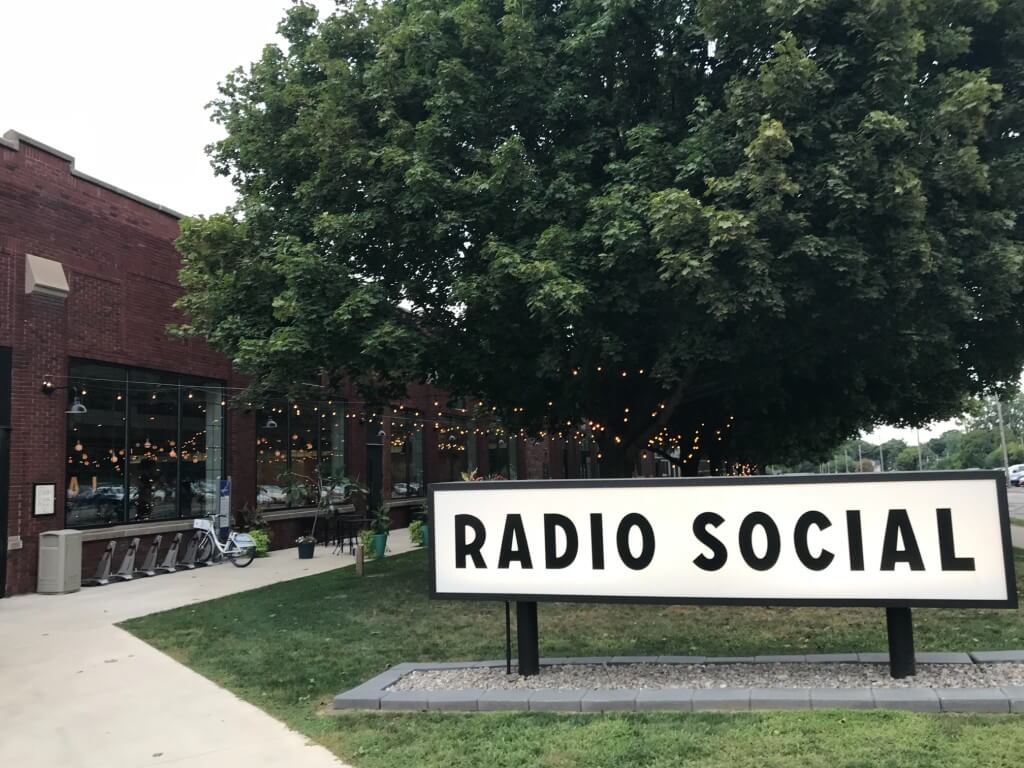 .
Let's talk about the food first and then we'll get to the fun activities. Radio Social's on-site restaurant was everything that I could have imagined and then more. Israeli food is some of my favorite food in the world, so I was ecstatic to see a large Israeli influence on the dinner menu. I wanted to order everything, but ultimately tried the pull-apart bread, hummus, carrot falafel, and fried potatoes. Everything was delicious, but the one item that you must get if you visit is the pull-apart bread. It was so soft and came with some yummy dipping sauces, including olive oil and eggplant. If you want to dine here during your trip to
Israel
Rochester, I'd highly recommend reserving a table in advance of your visit, as it can get quite crowded, especially on weekends.
.
.
Aside from the phenomenal food, as I said earlier, Radio Social offers much more. It is located in one of Rochester's historical warehouses, and with 42,000 square feet of space, you won't get bored. There are 34 bowling lanes, indoor and outdoor games, a bar, and it's even a music venue sometimes. Radio Social is the perfect place to let loose any night of the week!
.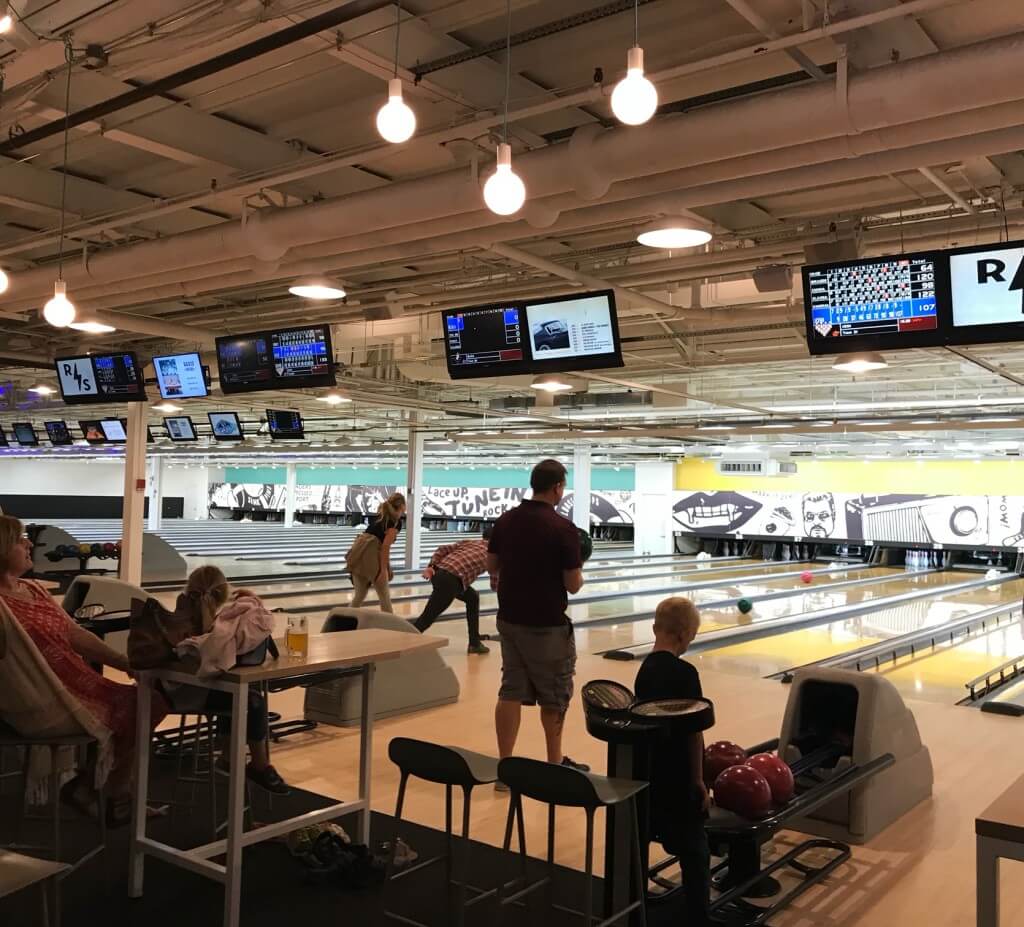 .
.
Rochester Public Market
.
In every destination that I visit, local markets are some of the first places that I go to. I think that they are wonderful places to get a sense of the local culture, people, and foods, and the market in Rochester was no different.
.
.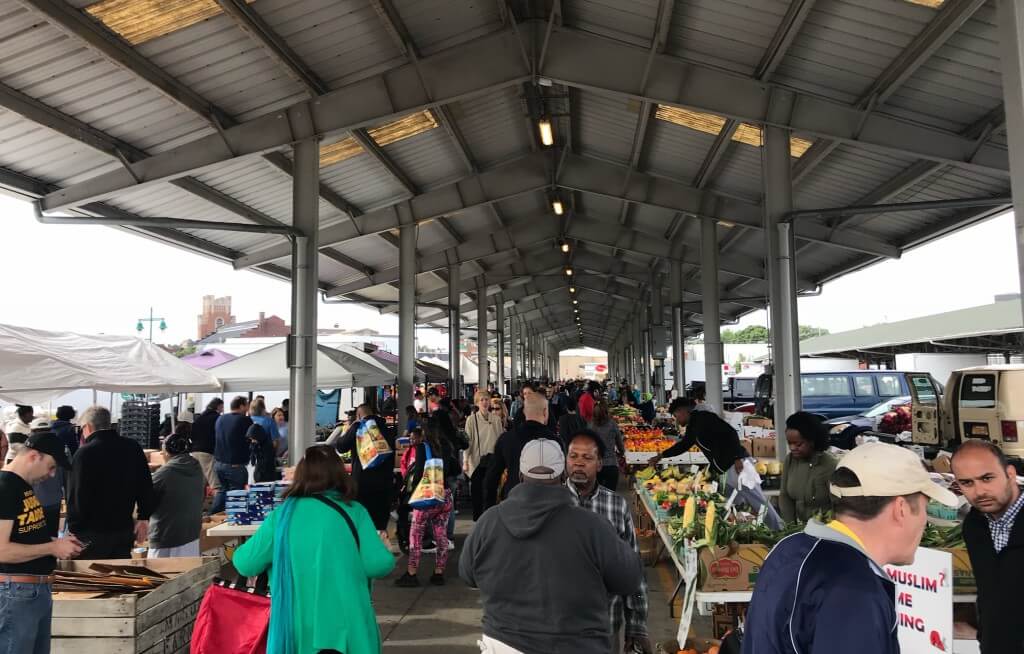 .
Rochester Public Market is open on Tuesdays, Thursdays, and Saturdays. On its busiest days, there can be over 300 vendors and booths. On the day that I visited, it was very busy, but still pretty easy to get around as a wheelchair user. The majority of the vendors are outside, but it is mostly covered. There are some vendors and booths indoors as well, and I enjoyed a tasty donut and apple cider from Duke's Donuts to start my Saturday in Rochester.
.
.
.
.
The Strong Museum of Play
.
Over the past few years, since I started traveling a lot, I've visited countless museums. Some are really interesting and honestly, some have nearly bored me to death. The least boring museum ever, and easily my new favorite, is The Strong Museum of Play in Rochester. As the name suggests, this is a museum devoted to play, with more toys and games than you can even fathom, and one of the most fun things to do in Rochester NY.
.
.
You could spend an entire day at this museum pretty easily, as there are all kinds of exhibits and most of them are interactive. There was a Sesame Street exhibit, a butterfly garden, aquariums, a pinball machine exhibit (yes, you can play some of them), the Toy Hall of Fame, and even an exhibit devoted to games (you can play many of the games too!).
.
.
.
While all of the interactive games and exhibits were fun, what I really enjoyed was learning about the history of some of the most popular toys and games. Monopoly is my favorite game ever and I even got to see the world's very first Monopoly board game. Did you know that it was originally a circle board instead of a square?
.
.
Throughout my entire visit to the Strong Museum, I felt like I had gone back in time to the 90s, when I was a kid. I saw toys on display that I haven't seen in 25 years and it was such a special experience. Whether you're five years old or 105, you will have a fantastic time at this wheelchair accessible Rochester attraction. Learn more about the museum's accessibility
here
.
.
.
.
Cobb's Hill Park
.
I'm always a sucker for a great view and for the best view of Rochester, head to Cobb's Hill Park. The park is located in the southeast area of Rochester and spans across 109 acres. On a nice day, you could have a picnic here or explore the great outdoors on one of the walking trails. However, I had limited time to visit Cobb's Hill Park, so I actually did a drive-by of the gorgeous view and didn't get out of our van. Whether you have time to explore Cobb's Hill in-depth or not though, it's certainly worth visiting. Just check out this view that I had –
.
.
.
Erie Canal
.
Thanks to a wonderful company called Rochester Accessible Adventures, it's now possible for people with disabilities to have a fun-filled day on the Erie Canal. If you want to go kayaking, you can. If you want to go biking, you can do that too. Almost any recreational activity is doable no matter what your abilities are!
.
.
Rochester Accessible Adventures offers a variety of adaptive bikes, so you can bike on the trails along the canal. If you're looking for a good time on the water though, try out adaptive kayaking. There's even a hoist at the Erie Canal Boat Company to help you get from your wheelchair to the kayak. They've thought of everything and are truly making Rochester an adventurous destination for all. To learn more about the incredible work that RAA is doing,
just click here
.
.
.
.
Genesee Brew House
.
Over the past few years, Rochester has become one of the top beer cities in America. New breweries are popping up all the time, but one of the most popular spots for a beer, and delicious food, is Genesee Brew House. I had dinner here with the kind folks behind Rochester Accessible Adventures and would highly recommend it!
.
.
Brewery tours are offered seven days per week and they are completely free. You can tour the brewery Monday–Thursday at 1:00, 3:00, and 5:00; Friday and Saturday on the hour from 12:00 to 7:00, and Sunday on the hour from 12:00–5:00. There's also a tasting bar, where you can try four different beers for only $4. What a deal!
.
.
If you're not a huge fan of beer, you should still enjoy a meal at the on-site restaurant. I had the Bavarian pretzels for an appetizer and the black bean burger for my entree. Both were fantastic and if I'm ever back in the Rochester area, I'll be ordering the exact same things again. Yum!
.
.
George Eastman Museum
.
Have you heard of Kodak cameras? Of course you have! One cool fact that I learned while in Rochester was that the founder of Kodak, George Eastman, lived in the city. His house is now available to tour and part of it is the world's oldest photography museum, which opened to the public in 1949.
.
I started my visit with a tour of the photography museum before rolling around the Eastman mansion. The photography exhibits were great, and I really enjoyed learning more about Kodak cameras and how pictures were taken 100+ years ago as well. It was fascinating to see how much photography has changed since George Eastman was alive in the late 1800s.
.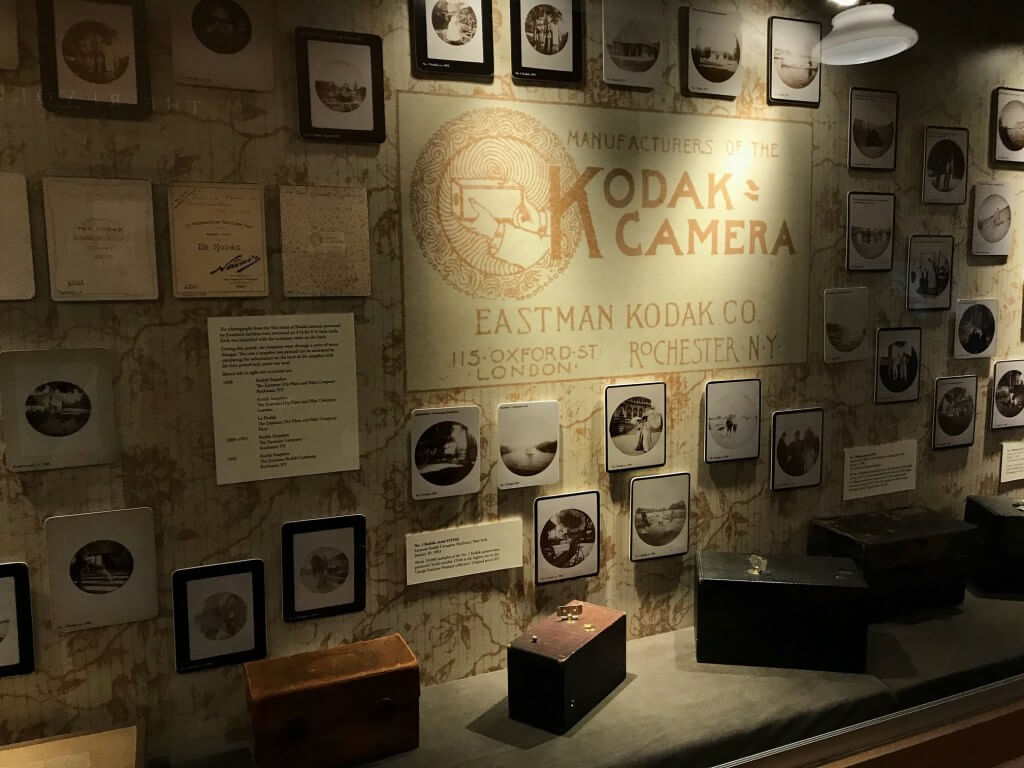 .
After seeing the photography exhibits, I headed to George Eastman's mansion, which is connected to the photography museum, so you don't have to even go outside. George Eastman lived here until his death in 1932 and surprisingly, it was quite accessible for an older building. When I inquired about the accessibility, our guide said that Eastman's mother used a wheelchair, so he wanted to make the mansion as wheelchair friendly as possible. There was an elevator (the same one that his mom used over 100 years ago) and ramps throughout.
.
.
.
We toured the George Eastman Museum and Mansion for about two hours and I would recommend at least 2-3 hours for any visit. If you get hungry during your visit, a cafe is on-site. For any wheelchair user, this museum is one of the best things to do in Rochester NY.
.
.
.
Wegmans
.
When I posted on Facebook that I was going to Rochester, someone commented within mere seconds and said "GO TO WEGMANS!!!" I had no idea what Wegmans was, so I did a quick Google search. It turned out that it's a grocery store. "Why would I go to a grocery store?", I thought. However, once I did visit Wegmans, I quickly realized how awesome it is.
.
.
Yes, Wegmans is a grocery store, but it's also so much more than that. There is a HUGE prepared foods selection, with everything from a Mexican restaurant to a pizza shop and a sushi counter. There's also a cookie station, cake shop, and a coffee shop in case you need to satisfy your sweet tooth. That's right, you can literally get anything that you're craving all in one spot!
.
.
.
In addition to all of the prepared foods, the grocery section had a large variety of choices as well. It really made my local grocery store at home in Georgia look pretty terrible. I debated stocking up on all kinds of groceries because there were tons of new choices that I hadn't seen previously, but it would be difficult to pack everything for the flight back home, so I didn't. However, if you are in Rochester, definitely put Wegmans on your to-visit list!
.
.
Miracle Field of Greater Rochester
.
If you are visiting Rochester during the summer, you could enjoy watching a game of baseball at the Miracle Field (check the schedule
here
). The Miracle Field is located just a very short distance from Rochester in Webster, New York. Unfortunately, since I visited in autumn, I didn't get to watch a game, but I did see the field and even rolled on it.
.
.
The Miracle Field's accessibility is unparalleled and truly impressed me. There were companion care restrooms by the field, the dugout was large enough for numerous wheelchairs, and the baseball field was not dirt covered, to allow wheelchair users to easily roll around. They have thought of everything when it comes to accessibility and are working on building an accessible playground beside the field as well.
.
.
.
Memorial Art Gallery
.
I'll be honest, I used to not really care for art museums. However, the more that I have traveled, the more I appreciate and love art museums. They're always a wonderful place to see local works and get an idea of what the local culture and people care about. Rochester's Memorial Art Gallery was great and I really liked viewing the 12,000+ objects throughout the museum.
.
.
.
More than 5,000 years of art history are on display at Memorial Art Gallery. There's everything from Asian Art to Native American art and more modern pieces. One thing that I really loved about the museum was the fact that you could be going through the Asian art section, for example, and all of a sudden there would be a random piece of art that didn't match the Asian collection. It could be a modern painting or a statue of something totally different, but it kept me on my toes, so to speak, and helped differentiate Memorial Art Gallery from other art museums.
.
.
.
The Memorial Art Gallery is fully wheelchair accessible with an elevator. There are also wheelchairs available free of charge if you need to use one during your visit. If you're looking for accessible things to do in Rochester NY, definitely plan on touring Memorial Art Gallery for at least a couple hours.
.
.
Where to Stay: The Strathallan
.
During my time in Rochester, I stayed at
The Strathallan
, which is a DoubleTree by Hilton hotel. While it is technically a chain hotel, it felt more like a boutique hotel and I absolutely loved it! All of the staff members, from check-in to check-out, were kind and since The Strathallan was located in the heart of Rochester, it had a perfect location and was only minutes from most of the top attractions.
.
My room at The Strathallan was wheelchair accessible with a king bed and a separate fold-out couch bed, which a hoist/hoyer lift could roll under. The room was spacious enough so that I could easily maneuver around.
.
.
.
In the restroom, there was a pull-under sink, grab bars around the toilet, and a roll-in shower. The shower had a fold-down bench seat as well and a handheld shower sprayer. It worked perfectly for me and couldn't have been better.
.
.
.
.
.
Over the course of just a few days, Rochester became one of my new favorite cities in the U.S. and I hate that I didn't visit sooner. Whether you're a photography enthusiast and want to learn more about the founder of Kodak or you just want to check out the grocery Mecca known as Wegmans, this New York city has something to make you fall in love with it. So, what are you waiting for?! You've seen some of the most fun things to do in Rochester NY, so start planning your own trip!
.
I recently had a chance to interview Rachel Pulvino, the Director of Public Relations for Visit Rochester, for my #CurbFreeFromHome Facebook Live series. We talked all about accessibility in Rochester and what makes it a fantastic place to visit. Check out our chat by watching the video below –
.
*Thank you to Visit Rochester for hosting my trip! While much of my trip was complimentary, all opinions are authentic and my own. This post contains affiliate links. If you click through on a link, you won't pay a penny more, but we'll receive a slight commission which helps us keep this information available to you. Thanks!
.
.