For as long as I can remember, I have dreamed of visiting the Taj Mahal. I'm not sure where exactly I first heard of it or saw photos (probably in National Geographic if I had to guess), but I remember being entranced by the beauty of it and wondering if it could really look that amazing in person. I told myself that one day, I would find out for myself.
.
When I was 18, the travel bug took a huge bite out of me after a trip to Germany. I started researching potential destinations to visit and would spend hours looking up accessible options. Some destinations, such as London, Sydney, and
Barcelona
, seemed completely doable, but the more research that I did, the more impossible India seemed to be. There were no tour companies that specialized in accessibility or even any wheelchair accessible vehicles in India. My dream of visiting the Taj Mahal had to be put on the back burner for nearly a decade, not because I
wanted
it to be, but because I literally could not visit as a wheelchair user.
.
Over the next ten years, I visited 28 countries and had the time of my life along the way, but my heart still yearned to visit India. When I truly felt like I would never be able to see the Taj Mahal, I suddenly received an email from a company called
Enable Travel
. In the email, they explained that they specialized in wheelchair accessible tours of India and even had accessible transportation. I was elated at this news! Would I finally be able to travel across the world and see India?! It took several emails back and forth to come up with a plan, but my trip was eventually confirmed, the flights were booked, and I couldn't wait to experience the sights and sounds of India.
. 
In December 2018, my mom, my friend Kayla, and I embarked on the long journey to
India
from Atlanta. We toured Delhi and Jaipur, and articles about these cities will be coming soon here on the blog, but the city that I was most excited to visit was Agra. Why? Because the Taj Mahal is located in Agra! I mean, just imagine taking a selfie in front of the Taj Mahal… so epic! While we did visit the Taj Mahal, we also saw some other really cool attractions in Agra. It turns out that while Agra is most famous for the Taj, it offers quite a lot. Read below to see my wheelchair friendly experiences at the Taj Mahal and Agra's other notable sights!
.
 .
Taj Mahal
 .
My journey to the Taj Mahal started super early (5am!!) and while I'm usually against being awake at that time, I didn't care at all because I was finally going to lay my eyes upon one of the New Seven Wonders of the World. It is highly recommended to arrive at the Taj Mahal at sunrise, when it opens, because the crowds are massive later in the day.
.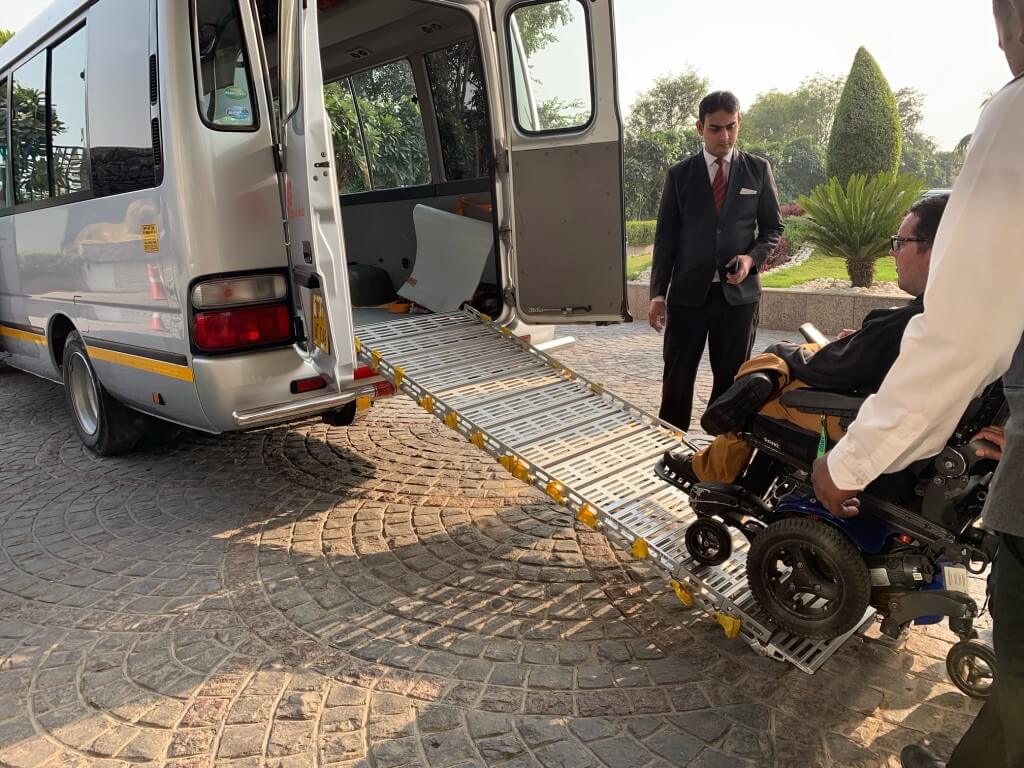 .
To actually get to the entrance of the Taj, we drove about five minutes in Enable Travel's accessible van from our hotel, the
Radisson Blu Agra Taj East
. Once we got as close as a vehicle could go, we walked/rolled the rest of the way. It was a pretty long distance, maybe 3/4 of a mile or so, so if you can walk, but have trouble walking long distances, you'll probably want to use a wheelchair for this. We eventually made it to the security check entrance, where men and women are separated into different lines. The security guy checked my backpack and let me through within a few minutes and I then met back up with my mom, Kayla, and our guide.
 .
We approached the main gate entrance to the Taj, which was beautiful on its own, and as we went through the gate, the Taj Mahal started coming into view. As soon as I saw it, I immediately became overwhelmed. It was surreal to be there staring at it, especially after years of thinking that I'd never be able to visit. It looked even more stunning than it did in National Geographic or on TV all those years ago, and I stopped for a few minutes to simply stare at it and take in the moment. During those few minutes, I thought about how great it is that accessibility is improving. Ten, or even five, years ago, it wouldn't have been possible for me to visit, but more and more destinations around the world are now opening up to wheelchair users. For that, I am tremendously grateful.
.
 .
Unfortunately, it was not possible to actually go inside the Taj Mahal with my powered wheelchair, but there were ramps around the grounds of the Taj. I easily maneuvered throughout the grounds and saw the Taj Mahal from every angle possible… and took the pictures to prove it. We took photos of the reflection pool in front of the Taj, selfies from a distance, and photos up close. With every snap, it became even prettier.
.
 .
As we wandered around the grounds, our guide from Enable Travel explained some of the history of the Taj Mahal. She told us that the mausoleum was built in the 17th century by Shah Jahan for his late wife, Mumtaz Mahal, who died while giving birth to their 14th child. To build the spectacular monument, it's estimated that it took 20,000 workers and cost approximately 32 million rupees, which would be nearly 1 billion US dollars in today's world. If that isn't a testament to Shah Jahan's immense love for his wife, I don't know what is.
 .
What makes the Taj Mahal really remarkable, aside from being made from white marble, is the fact that it is symmetrical. If you cut the Taj down the middle, it would look the exact same on both sides. It's a sight to behold and one that cannot be outshined, even with today's modern technology. Everyone needs to admire the Taj Mahal in person at least once in their life to truly understand how remarkable it is. Trust me, no matter what I write and how I describe it, I can't do enough justice to it.
.
 .
We stayed at the Taj Mahal for a couple hours, and then it was time to depart. My seemingly lifelong dream of seeing the Taj Mahal finally came true and it was even better than I could have ever anticipated. I took one last admirable look at the mausoleum before exiting and then made my way back to the van. While my visit to India's most famous attraction was over, there were a few other awesome places in Agra that I visited as well. They might not be quite as stunning as the Taj, but they were incredibly impressive and I would highly recommend visiting them all. Keep reading to find out what else you can do in Agra, India in a wheelchair!
 .
Itimad ud Daulah Tomb (AKA Baby Taj)
 .
I actually visited the Tomb of Itimad ud Daulah the evening before I visited the Taj Mahal. It was my first introduction to the city of Agra and while it was much smaller than the famous Taj Mahal, it was beautiful and definitely worth exploring. I also loved that unlike the Taj Mahal, it was pretty desolate, so we could meander around without bumping into other visitors or accidentally capturing them in our photos. I only saw about three other people at the Baby Taj throughout our hourlong visit.
.
 .
Construction on the
Tomb of Itimad ud Daulah
finished about five years before the building of the Taj Mahal began. It was built by Nur Jahan for her dad, Mirza Ghiyas Beg (also called Itimad ud Daulah). Remember Mumtaz Mahal, who the Taj Mahal was built for? She was Mirza's granddaughter. Talk about a wealthy family, huh?! They ruled Agra in the 1600s and now have quite a legacy, as you can see.
.
 .
Getting around the grounds of the Baby Taj was a breeze, as it was paved and had ramps. I could get up to the Baby Taj, but to actually get inside of it, there were a few steps. I was able to peek inside though and could see enough to keep me satisfied. It was the perfect introduction to Agra and whet my appetite for visiting the more grandeur Taj Mahal the next morning. If you can, try to start your stay in Agra at the Tomb of Itimad ud Daulah and for an epic view, come for the sunset.
.
.
 .
Agra Fort
 .
Before I visited Agra, I read some articles online about the city and every single one of them said to visit Agra Fort. Some even suggested that it was better to explore Agra Fort than the Taj Mahal. I wouldn't say that the fort is better than the Taj Mahal, but if you'll be in Agra, you should certainly make time to visit both. They are Agra's two most popular attractions and for good reason!
.
 .
Now a UNESCO World Heritage Site, Agra Fort was the main residence of the Mughal emperors until 1638, when the capital city was changed from Agra to Delhi. The walls of the fort are about 70 feet high (good luck sneaking in!) and have a circumference of about 1.5 miles. This place is huge and takes at least 2-3 hours to explore. There were multiple palaces inside the walls of the fort and it really felt like a separate entire city within the walls.
.
 .
Aside from being the main residence of the Mughal emperors, Agra Fort also served as Shah Jahan's prison from 1658 until his death in 1666. In case you've forgotten, Shah Jahan is the guy that built the Taj Mahal. His son and successor, Aurangzeb, was the one that had him imprisoned, but Shah did have a room where he could see the Taj Mahal, a daily reminder of his late wife Mumtaz Mahal, in the distance.
.
 .
Accessibility at Agra Fort was doable, but challenging in some sections. Starting at the entrance of the fort, there was some rough cobblestone for about a quarter of a mile or maybe a bit less. I tried to drive my wheelchair as slowly as possible, but it was still bumping me around a good bit. After that rough section, everywhere else was paved and very smooth to roll on. The beginning of your visit won't be the most comfortable experience, but if you can deal with it for just five to ten minutes, it will be completely worth it. We saw courtyards, palaces, and even monkeys while at Agra Fort, and despite the cobblestone, it managed to become one of my favorite sights during my time in India.
.
 .
Fatehpur Sikri
 .
Located just 25 miles west of Agra, Fatehpur Sikri was our last stop before heading to the bustling city of Jaipur. With much less cobblestone than Agra Fort and ramps to nearly every part of it, I thought that Fatehpur Sikri was one of the most wheelchair accessible attractions that I visited on my
tour with Enable Travel
. It was amazing to see so many ramps in a place that was built nearly 500 years ago.
.
.
 .
Fatehpur Sikri was a fortified ancient city and from 1572 to 1585, it was the Mughal empire's capital. Akbar was the emperor during that time, and inside Fatehpur Sikri he made three palaces, one for each of his favorite wives, and a beautiful mosque that is still in use today. Like Agra Fort, it felt like an entire city within the walls.
.
 .
I rolled around Fatehpur Sikri for a couple hours and spent a good bit of that time taking photos. It was a gorgeous sunny day and there were too many photo-ops to pass up. If you visit, I think that you'll agree with me. While Fatehpur Sikri is about 25 miles away from central Agra, it is a must-visit during your trip whether you use a wheelchair to get around or not.
.
 .
Where to Stay in Agra: Radisson Blu Agra Taj East
 .
During my two nights in Agra, I stayed at the luxurious
Radisson Blu Agra Taj East
. This five star hotel was just a short distance from the Taj Mahal and from the rooftop pool (no hoist to get in the pool though, unfortunately), we could see the iconic Taj. There was a bar area with food and drinks by the rooftop pool, so it would be a nice place to grab a drink and relax, whether you get in the pool or not.
 .
The staff at the Radisson Blu was incredibly kind and helpful, and accessibility was perfect for me. In my wheelchair accessible room, there was a bed that a hoist/hoyer lift could roll under. The room was also spacious enough for me to get around with ease.
.
 .
In my bathroom, there was a pull-under sink, a raised toilet with grab bars, and a roll-in shower. The shower had a fold-down seat and a shower wand as well. All of the typical accessible features that you'd find in a hotel in the United States were available, which was wonderful!
.
.
 .
 .
 .
The city of Agra completely blew me away and offered so much more than I ever expected. From my dream of seeing the Taj Mahal coming true to rolling around forts and much more, Agra captured me and I'll never forget it. Whether you use a wheelchair to get around the world or two legs, add Agra to your list of places to visit in India. I promise that you'll be glad you did!
.
 .
*Thank you to Enable Travel for working with me on this trip! While my tour was complimentary, all opinions are authentic and my own. This post contains affiliate links. If you click through on a link, you won't pay a penny more, but we'll receive a slight commission which helps us keep this information available to you. Thanks!  
.
.
.