Until I visited Michigan last summer, I had never even heard of Muskegon. Sure, I've heard of Detroit and Grand Rapids, but that was pretty much as far as my knowledge about Michigan went. While I was based in
Grand Rapids
for my stay, I wanted to get outside of the city and see a bit more of the state. Muskegon is only a 45 minute drive from Grand Rapids, so I was able to visit for an easy day trip and I am so glad that I did. From wandering through a local market to rolling on the beach with the most awesome beach wheelchair ever, I had a wonderful day in Muskegon. Here are some of the best things to do in Muskegon MI for visitors of all abilities –
 .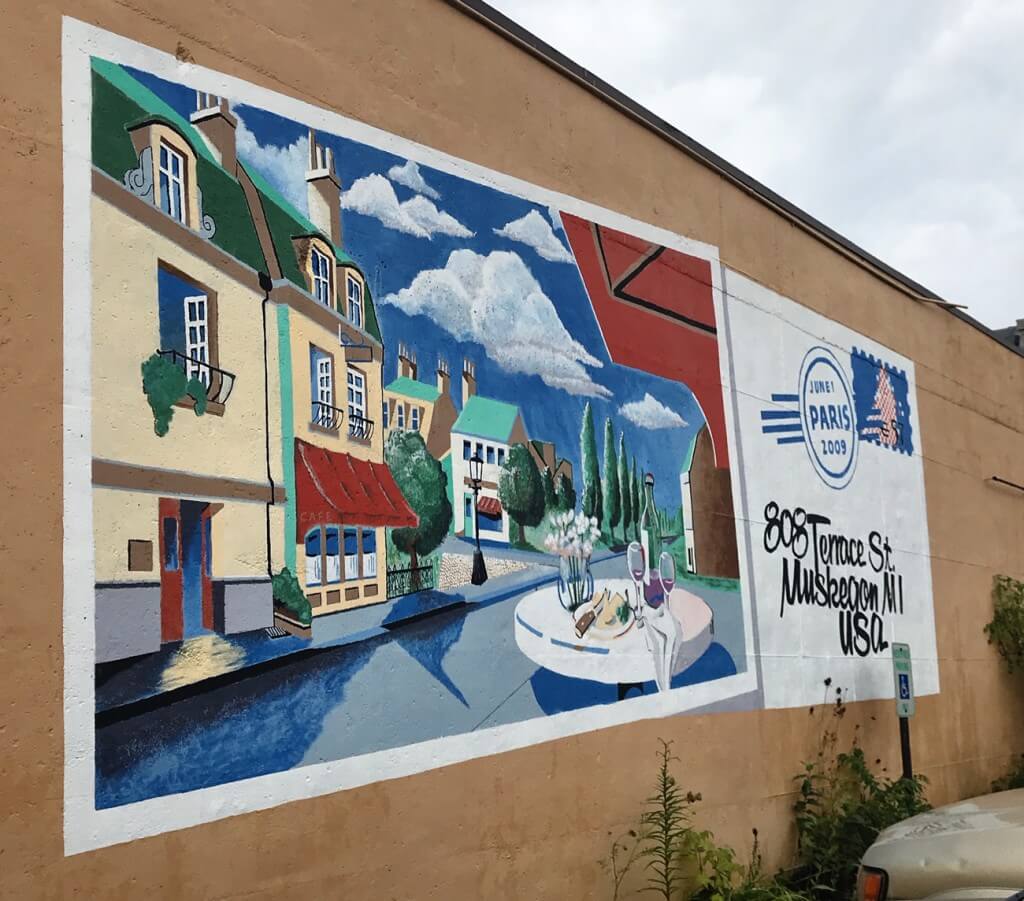 .
Things to Do in Muskegon MI
 .
Muskegon Farmers Market
 .
Whenever I visit a new city, I love to check out the local markets. In my opinion, it's one of the best ways to see the local culture, meet people, and try new foods. The Muskegon Farmers Market, while smaller than some other markets that I've visited in cities like
Philadelphia
and
Copenhagen
, offered a variety of booths selling everything from fresh vegetables to sweet treats.
 .
.
 .
I wanted to buy one of nearly everything, but ended up just getting a homemade whoopie pie. A man and his wife were selling all kinds of sweets, including the chocolate whoopie pie, and it was absolutely delicious. Whether you're looking for a whoopie pie or something a bit healthier, the Muskegon Farmers Market truly does have something for everyone. And if you want to relax for a bit either before or after you shop, there were singers performing on the Saturday that I visited as well. They put on a nice show and had everyone at the market clapping and stomping along.
 .
 .
The Muskegon Farmers Market is open from May to November on Tuesdays, Thursdays, and Saturdays from 8am-2pm. In the winter, the market is only open on Saturdays from 9am-2pm.
 .
Muskegon Museum of Art
 .
After starting the day at the market, I headed over to the Muskegon Museum of Art. The museum had a wide range of contemporary and traditional permanent exhibitions, but it also has temporary exhibitions throughout the year, so even if you've been to this museum in the past, it's certainly worth revisiting because you're sure to see something new. When I visited, the annual Michigan Contemporary Art Exhibition had just started. This special exhibition allows artists from all over Michigan to show off their best works. I really enjoyed this exhibit because it gave me the opportunity to learn more about the people of Michigan through art. The 2019 Michigan Contemporary Art Exhibition will run from September 5th through November 13th.
 .
.
 .
Accessibility at the
Muskegon Museum of Art
was perfect. There was an elevator and plenty of space for me to maneuver around in my power wheelchair without bumping into any pieces of art. If you want to visit, the museum is open on Tuesday, Wednesday, Friday, and Saturday from 10am-5pm, Thursday from 10am-8pm, and Sunday from 12pm-5pm. It is closed every Monday.
 .
 .
The Cheese Lady
 .
Back in 2017, I went vegan and was super strict about it for over a year. The one food that I craved pretty much nonstop that entire year and eventually ended up eating was cheese. I have loved cheese my entire life and while some vegan cheeses are good, let's be honest… they can't compare to the real thing. I now consider myself vegetarian, so while in Muskegon I had to pay a visit to
The Cheese Lady
.
 .
.
 .
The Cheese Lady is a cheese shop that has six locations across Michigan, but the original shop is in downtown Muskegon. There were about 150 different kinds of cheese to choose from and the staff were extremely knowledgeable about all of them. I told them that I liked spicier cheeses, and they brought me a few to sample. I eventually decided on my favorite and bought some for lunch. The Cheese Lady also sells crackers, bread, and a large variety of wine. Does it get any better than that?! Yum!! If you love cheese as much as I do, this is hands-down one of the greatest things to do in Muskegon MI.
 .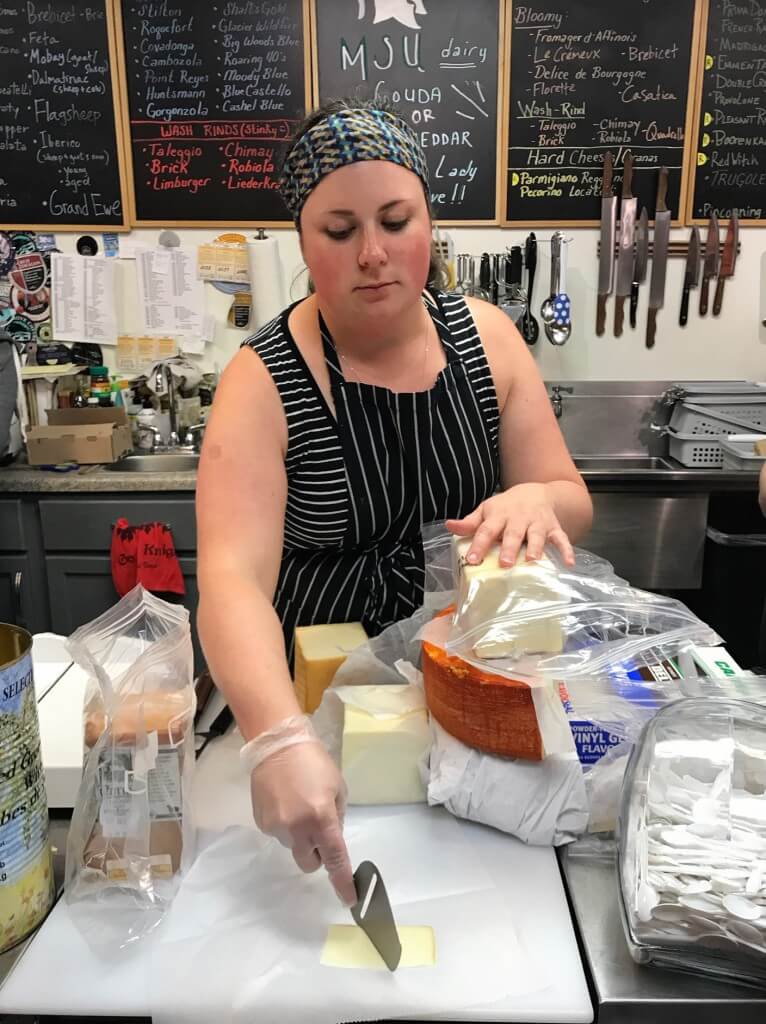 .
 .
The Cheese Lady is open Tuesday through Friday from 10am-6pm and Saturday from 9am-4pm.
 .
Muskegon State Park Beach
 .
And now, the ultimate activity on your list of things to do in Muskegon MI as a wheelchair user should be *drumroll please* exploring the beach! There are quite a few terrific beach wheelchair rental options in Michigan, but one of the best is at Muskegon State Park. Wondering what makes it better than any other standard beach wheelchair? Well, let me show you:
 .
 .
That's right! Muskegon has an Action TrackChair and I got to be one of the first people to try it out. After riding around the beach in it for a couple hours, I can confidently say that it's the best beach wheelchair I've used to date. It was such a smooth ride rolling on the sand and the chair can also tilt back, the armrests can be removed for easier transferring, and if you would like to use it in other parts of Muskegon State Park, you are free to. It can roll in the sand, mud, dirt, and over rocks, so no matter which area of the park you'd like to see, the TrackChair can most likely get you there. To reserve the Action TrackChair for a particular day, just call Muskegon State Park at 231-744-3580.
 .
.
 .
A manual beach wheelchair rental was also available, so if the TrackChair is not available for the day that you would like it, there is an alternative option at least. I do hope that you get the chance to try out the Action TrackChair in Muskegon though, as driving it around was one of the most fun experiences I've ever had on a beach.
 .
 .
In a way, I'm glad that I knew virtually nothing about Muskegon before actually visiting. It gave me a chance to really be surprised, but I'm sure that Muskegon would have went above and beyond any expectations that I had, if I had any. Whether you want to eat alllllllllllll of the cheese or roll on the beaches, Muskegon is truly one of Michigan's lesser-known gems. So, what are you waiting for? Start planning your own accessible trip to the wonderful city of Muskegon!
 .
 .
*Thank you to Pure Michigan and Visit Muskegon for working with me on this trip and showing me the many things to do in Muskegon MI! While most of my experiences in Muskegon were complimentary, all opinions expressed are authentic and my own. 
.
.
.