Chattanooga, Tennessee is a destination for foodies and anyone who enjoys a good meal. The restaurant scene in Chattanooga is growing and thriving, offering almost anything one could want, from downtown to along the river and more.
These are 14 of the best places to eat in my opinion, all of which I've dined at firsthand and had a great time. Restaurants range in their menu, price point, location, and dining experience. Highlights include upscale dining to neighborhood hotspots, diners and cafes. There's something for everyone in Chattanooga and next time you're in town, you should try one of these places. All of the restaurants on this list are completely wheelchair accessible, with the exception of Uncle Larry's, which requires a ramp on request.
Best Places to Eat in Chattanooga Tennessee
1: Bridgeman's Chophouse : 107 West M.L.K. Blvd. Chattanooga, TN 37402
Located inside The Read House and named after Peter Bridgeman, nicknamed "Peter Rabbit", one of the most well-known employees of The Read House, is Bridgeman's Chophouse. Peter worked at The Read House for 47 years greeting guests of the hotel and when people talk about The Read House, everyone knows his name.
This is one of the best places to eat in Chattanooga because of its extensive steak and seafood offerings. The seafood is some of the freshest in town, and I recommend the pan-seared salmon, smoked cheddar mashed potatoes, and Caesar salad. The menu is comprised of a selection of choice cuts, seafood, and speciality entrees that cover everything from chicken and lamb to pasta and a burger. This is an upscale restaurant so the offerings are on the pricier side (but worth it!) and you will require a reservation to get a table. Reservations can be made online at Bridgeman's Chophouse.
2: Puckett's Grocery and Restaurant : 2 West Aquarium Way, Suite 110, Chatt, TN, 37402
Puckett's Grocery and Restaurant is a staple location in Chattanooga, as its roots go back to the 1950's when Puckett's was just a little general store in Tennessee. Each location strives to provide a place for friends to get together and enjoy Southern comfort food along with live music. The atmosphere is laid-back and comfortable, with a menu that includes daily specials and their famous slow-smoked barbecue along with classic Southern sides. 
This is one of the best places in Chattanooga for barbecue because Puckett's is located in the Riverfront District beside the Tennessee Aquarium. The location makes this the perfect visitor's destination as well as a local hotspot due to the live music. The menu at Puckett's includes breakfast, lunch, and dinner, with highlights including the chalkboard plate specials, slow-smoked meats, and several vegetarian options. The fried green tomatoes are fantastic, as the veggie plate is a great menu special.
In addition to the barbecue menu, Puckett's is also a destination for live music. The event schedule is available on their website and changes depending on the season. Acts are booked usually by the month, so be sure to check the schedule before you're in town so you don't miss out on their excellent atmosphere and enjoy their happy hour deals.
3: Boathouse Rotisserie and Raw Bar :  1459 Riverside Drive Chattanooga, TN 37406
Another great destination for amazing views of the Tennessee River is Boathouse Rotisserie and Raw Bar. This is one of the best restaurants for a local experience with great food and an amazing atmosphere. Boathouse is a hotspot for visitors, as it's located right along Chattanooga's Riverwalk and only a couple miles away from the hotel district, as well as locals due to the amazing menu and overall experience. Boathouse delivers award winning menu items with great service.
Anyone's first stop on the Boathouse menu is the raw bar. Overlooking the river is the perfect setting for enjoying Cajun U-Peel shrimp, oysters, clams, and steamed mussels. The cocktail hour is hosted every day from 2PM to 6PM, which is the perfect opportunity to enjoy drinks and appetizers at a special price. For a full meal there's an extensive appetizer menu which is great for sampling and sharing with a group. Main entrees include salads, sandwiches, and plates, with sides, desserts, and a large bar menu. Boathouse has won several awards for its delicious seafood, appetizers, and plates.
4: Good Dog : 34 Frazier Avenue Chattanooga, TN 37405
Good Dog is the perfect place for an all-American hot dog. With the motto of "hot dogs for ALL" Good Dog delivers quality hot dogs in a range of meats, a vegetarian option, and a breakfast dog. The restaurant is one of the best places to eat because it was built on the childhood memories of stopping at a small vendor for an American hot dog. This location delivers friendly service and quality food, all with a funky and unique dining experience.
The menu at Good Dog is a bit larger than the classic American grill list, with a range from the GD Classics like the Ballpark Dog, a classic dog with mustard, to the GD Signature menu which features options such as the Reuben Dog, the Philly Dog, and the Brunch Dog, and GD Sausage menu with a classic bratwurst and Italian sausage. The menu takes everything a step further offering gluten-free options, vegetarian options, and vegan options. Any GD hot dog can be prepared with a beef dog or a veggie dog, with or without a bun.
Of course, you can't enjoy a hot dog without fries or a side, and Good Dog delivers here too. There are three kinds of sauces to customize your fries, as well as topped fries and extras including beans and slaw. To round everything out, there's plenty of toppers to add to your dog and your fries, for a great mix of classic hot dog and gourmet dining.
5: STIR : 1444 Market St. Chatt, TN
STIR is one of the best places to eat in Chattanooga for innovative, artisanal, and local dining with a unique craft cocktail menu. They specialize in using artisanal ice that is hand cut and customized to each signature cocktail on the menu. Using the freshest ingredients available, they have a rotating menu based on what's in season to keep things fresh, new, and creative. Everything is made from scratch in-house with fresh in season ingredients. There's a farm to table vibe with an elevated modern urban delivery, merging historic and current Chattanooga. The restaurant is located in the Chattanooga Choo Choo and draws inspiration from their unique location to provide a destination to reconnect with friends, bond with the family, and experience a historic, modern, and urban dining experience.
.
At STIR, bartending becomes art and the foundation of every drink is the ice. STIR has an ice chef who creates hand carved ice for many of the drinks on the menu. This artisanal ice elevates each drink, as the water is pure and clear, and melts slower giving you a stronger drink that stays cold from the first sip to the last. The drink menu changes to keep things interesting and the bar has over 300 spirits, high quality juice, fruit, and bitters, as well as a beer and wine menu.
6: Cashew : 149 River Street Chattanooga, TN 37405
Located near Coolidge Park, Cashew is a destination for plant based vegan dining. Cashew serves high quality natural ingredients, creating menu items that are fresh, delicious, and full of nutrients. The restaurant is only open Tuesday through Saturday of each week, so be sure to check out their hours and menu online before planning a visit. Cashew also hosts special 3-course and 5-course dinner events, which are reservation only. These events showcase unique ways to pair and serve vegan dinners and are a great way to branch out from their usual menu.
The in-house menu at Cashew has a little bit of everything. Some favorites include the nachos and the buffalo bowl, as both are packed with flavor and deliver classic eats with a vegan twist. The menu is labeled with gluten free and soy free icons, which makes it easy for everyone to tailor their meal to their preferences. There's a good amount of sides on the menu as well as a kid's menu, offering something for everyone. Every Friday night is pizza night from 4PM to 8PM and the dessert menu is new daily, as everything is baked fresh in-house.
7: Mojo Burrito : 3950 Tennessee Ave Chattanooga, TN 37409
For quick eats and great Mexican food, check out Mojo Burrito. A great location in Chattanooga is in historic St. Elmo, as there's an outdoor patio, local art, beer to-go, and free parking. Mojo Burrito strives to deliver healthy, fresh, and delicious food to the community and remain a community staple. Each restaurant location has a hip atmosphere, features local art, and is open 7 days a week.  Mojo Burrito was established in 2002 and is vegan friendly and farm fresh. With several locations, this is one of the best places to eat and has won several awards from CityScope Magazine.
The menu at Mojo Burrito is your classic Tex-Mex, with dips, burritos, tacos, nachos, quesadillas, and bowls. Most of the entrees are customizable with meat and vegetarian options. This is a great place for the whole family with a large children's menu and a fun dining environment. The wide range of classic Mexican items and the ability to customize them to your liking, paired with a great location and fast service, makes Mojo Burrito one of the best places to eat in Chattanooga.
8: Rembrandt's Coffee House : 204 High Street Chattanooga, TN 37403
For a lighter and quieter atmosphere for breakfast, lunch, or dinner, try Rembrandt's Coffee House. Styled after European cafes, this is a great place for coffee, pastries, or a full meal. They are open seven days a week, and later into the evening, so this is a great place to eat to get an early start on the day, or dine in after a busy afternoon of exploring.
The first stop on the menu is the drinks. As this is a coffee house, there are a large selection of hot and cold beverages from house-roasted coffee to tea and even frappes and other frozen drinks. The dessert and pastry assortment changes daily and gives you a little something sweet to go with your beverage.
Rembrandt's also offers a full breakfast, lunch, and dinner menu. The breakfast ranges from a hot menu to a continental breakfast, making this cafe a great place to stop for a quick bite or a relaxing stop. The lunch and dinner menu has a range of sandwiches, salads, and soups with a few sides and extras to customize your meal.
9: City Cafe Diner : 901 Carter St, Chattanooga, TN 37402
A Chattanooga icon is City Cafe Diner. This is the destination for when you are hungry and want a huge menu to choose from. City Cafe Diner is open 24 hours, which is perfect for those on vacation who might have a more relaxed schedule and for locals who need a hotspot after hours. This is the place for a classic diner experience, from the classic design to the wait staff uniforms and the ambiance, City Cafe Diner is an all-American diner. If you weren't sold on this place, it's also received several awards including the TripAdvisor certificate of excellence and was entered into the TripAdvisor Hall of Fame.
The menu at City Cafe Diner is large, with over 450 menu items to choose from. There's a little bit of everything from breakfast to dessert. Each section has a general menu as well as several specialty options to give you exactly what you've been craving. There's eggs, a griddle selection, sandwiches, soup, salad, appetizers, a full lunch menu and a dinner menu complete with specials. If that isn't enough, there's also a large cake menu, cheesecake menu, pies and pastries. There's enough food here for the whole family, making City Cafe Diner a great place to eat no matter what time you're hungry.
10: Hennen's : 193 Chestnut Street, Riverfront/Ross' Landing District, Chattanooga, TN
Sometimes you want an upscale downtown dining experience and this is exactly what Hennen's delivers. At the corner of Chestnut and 2nd Street is Hennen's, a high class steakhouse that uses local quality ingredients to create an innovative and unique menu. This is the place for high end dining, from steak and seafood to over 100 wines offered by the glass. Hennen's is one of the most successful restaurants in Chattanooga and requires reservations for dining during both lunch and dinner.
The menus are specific to each mealtime, with a lunch menu and a dinner menu, as well as a drinks menu. Meal courses are set up much like a chophouse, with lunch featuring starters, soup and salad, sandwiches, and entrees, and dinner with starters, soup and salad, steak, seafood, other entrees, and sides. Each menu section has around 8 different options, which makes it easy to tailor your meal to your personal preferences while everyone gets to experience the unique flavor Hennen's provides.
11: Clumpie's Ice Cream Co. : 26 Frazier Avenue Chattanooga, TN 37405
On a warm summer day, the best way to cool off is with some ice cream by the water. Clumpie's Ice Cream Co. on the Northshore is right by Coolidge Park and is one of the best places to enjoy some of the best ice cream in Chattanooga. This location is the flagship store and is in a great place for shopping and sightseeing.
Clumpie's provides a unique, one-of-a-kind product that is just as amazing as the city of Chattanooga. Each batch of ice cream is made by hand with quality ingredients. Ice cream is created in batches, around 10 gallons or less, which allows them to create a creamy, rich, handcrafted ice cream that consistently delivers that iconic flavor.
The menu at Clumpie's ranges from classic ice cream flavors like chocolate and vanilla to featured flavors that may change throughout the season. Menu items are purchased by the scoop and there's a range of drinks including shakes, malts, and floats. You can't enjoy Clumpie's without a homemade waffle cone, as it just creates that perfect summer treat you shouldn't pass up if you're in the neighborhood.
12: Uncle Larry's Restaurant : 736 MLK Blvd Chattanooga, TN 37402
If you're in Chattanooga and looking for great Southern food, specifically fried fish, this is the only place you'll need to go. The cajun catfish is amazing and a visit to Uncle Larry's Restaurant isn't complete without your order including it. This restaurant is the destination for all sorts of fried fish, including catfish, whiting and tilapia. Larry Torrence opened this restaurant after his family encouraged him to share his love of cooking and amazing fried fish recipes.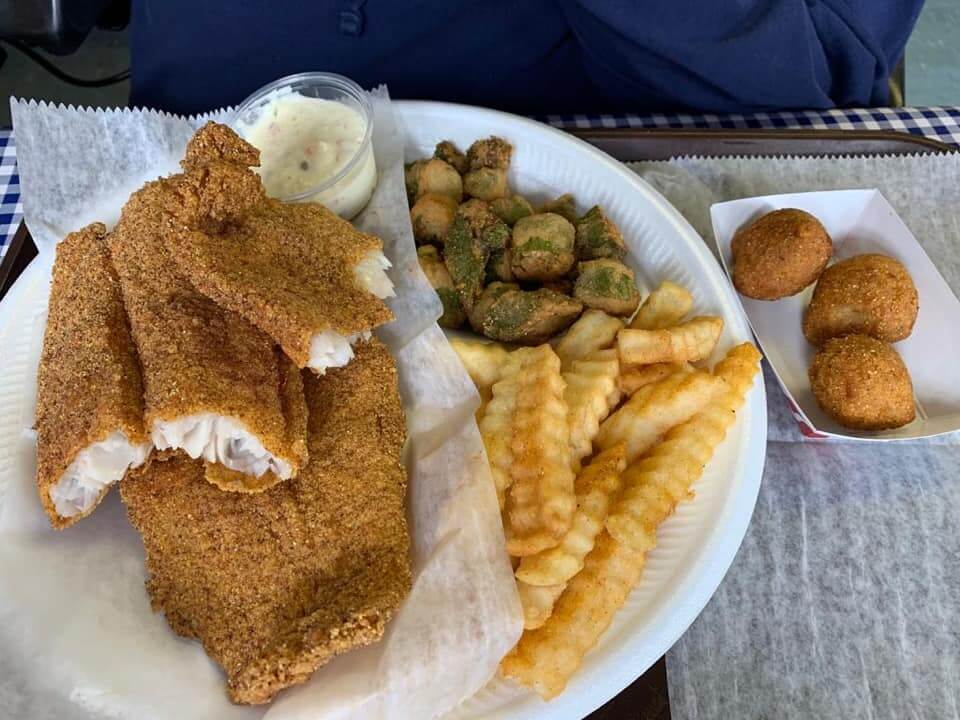 As you might have guessed already, the main feature of the menu is fried fish. Each piece of fish is big enough that you have to break it in half just to hold it! The fish is cooked as it's ordered, so there's around a 10 to 15 minute wait after you place your order, but it's well worth it. Menu items are offered by the plate, where you choose your fish and your sides. Other offerings include sandwiches, chicken, appetizers, and a variety of homemade desserts.
13: Taco Mamacita : 109 North Market Street Chattanooga, TN 37405
Offering a unique take on Mexican, Taco Mamacita provides a range of "fresh-mex" with unique tacos and a vegan menu, along with tequila flights and a variety of drinks. To get the feel for this restaurant's vibe, check out their website. The colors, logo, and art used throughout the site gives a very modern feel, a fun fresh take on Mexican food.
The menu is a good size with variety from beginning to end. The starters offer a range of nachos, chips and salsa, and dips, just as one would expect from a Mexican menu. There is one soup, chicken tortilla, and three salads if you want a little something to go with your starters. The tacos are a must with a variety of flavors, from baja to gyro and even a vegetarian jerk. An entree is two tacos and a side, like the amazing mexican street corn, the perfect amount of food for lunch or with some nachos to make a full meal. Margaritas and other mixed drinks are a staple at this restaurant with several signature drinks to round out your fresh-mex experience.
14: Syrup and Eggs : located inside the old St. Elmo fire station
Lastly, if you're looking for a unique breakfast experience, check out Syrup and Eggs, a small place for elevated breakfast. This place serves only breakfast, taking the classic eggs, bacon, and pancakes, and elevating each item to create a unique dining experience. Whatever you order, you're guaranteed to see your favorite breakfast item spiced up and brought to a gourmet level. This place is only open on Friday through Sunday, so make sure you plan ahead and work a visit to their location into your trip.
The menu offers a simple range of breakfast items from four different egg dishes to pancakes and unique morning bites. The sides also offer classic breakfast items like a poached egg, vanilla pancake, and a side of bacon. The best way to experience the menu at Syrup and Eggs is to check out their Instagram, which is where they share seasonal hour updates, special events, and snapshots of menu items.
As you can see, there are plenty of great places to eat in Chattanooga. From breakfast and brunch to huge menus or ice cream only, there's something for everyone and plenty of family friendly spots. Every time I'm in town, I like to try a new place, and these 14 delivered the best dining experience with menus I'll happily return to and try again next time I visit. If you're new to the restaurant scene in Chattanooga, pick a place I mentioned and dine with confidence, knowing that your visit will be memorable, the food will be delicious, and the restaurant will be wheelchair accessible with no problem.
.
*Thank you to the Chattanooga Convention and Visitor's Bureau for working with me! While some of these meals were complimentary, all opinions are authentic and my own.
.
.
.