Last summer, I had the chance to visit the state of Michigan for the first time. I checked out the
sights in Grand Rapids
and even
rolled on the beach in Muskegon
in an awesome Action TrackChair (seriously, it was SO cool!), but I also discovered the city of Ludington and it blew me away. After visiting, I actually started looking up houses in the area because I thought it would be such a nice place to live. Ludington has it all; the beach, a quaint downtown area, friendly people, and the #1 must-have – great food and even greater ice cream. I haven't made the move from Georgia to Michigan yet, but it's still on my radar.
 .
Ludington was a 90 minute drive or so north of Grand Rapids, so it's perfect for a day trip if you're based in GR, which is exactly what I did, but some consider Ludington a great
weekend getaway destination in Michigan
as well. In total, I spent about six hours in Ludington before making the drive back to Grand Rapids. While it wasn't a ton of time, it was enough for me to get acquainted with the city and have a fun time. From enjoying some beach time to eating ice cream out of a pig trough (yes, I'm completely serious), here are 5 things to do in Ludington MI as a wheelchair user –
 .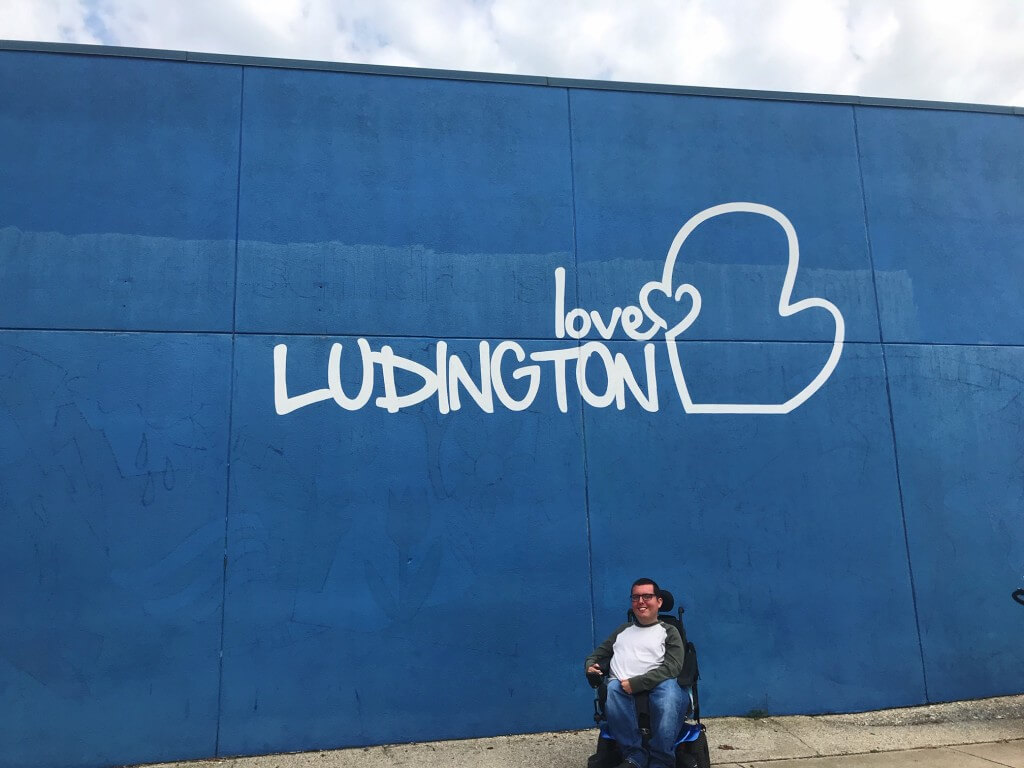 .
Things to Do in Ludington MI
 .
Roll on the Beaches
 .
As a beach fanatic, naturally my first stop in Ludington was Stearns Park Beach. I met up with Jamie Spore, who was crowned Ms. Wheelchair Michigan in 2016, at the beach and she was kind enough to show me around and tell me all about how accessibility at
Stearns Park Beach
has improved over the past decade. She has had a pivotal role in making Ludington more wheelchair friendly and thanks to her efforts, Stearns Park Beach has been voted the fifth most accessible walkway in America.
 .
 .
As the city's largest beach, Stearns Park Beach has three wheelchair accessible walkways, one at both the north and south concession stands and one in the middle of the beach. I was easily able to roll on the walkways in my powered wheelchair. They stretched out on the sand pretty far, so I got quite close to the water as well, which was nice. There's truly nothing better than feeling the breeze off Lake Michigan on a hot day.
 .
 .
Each of the three walkways at Stearns Park Beach have a picnic table with an accessible spot and if you'd like to use a beach wheelchair during your visit, just head to the concession stand to request it. The beach wheelchair is a manual one, so you will need someone to push you in it, but it's completely free to use. The accessible walkways are seasonal, but trust me… you don't want to be on the beach in Michigan in the middle of winter anyway. I'm freezing just thinking about it.
 .
 .
I was on a mission, as I always am, to visit as many beaches as possible, so after I finished soaking up the sun rays on Stearns Park Beach, I went to Ludington State Park. The state park offers barrier-free campsites, accessible picnic areas, and even an accessible fishing platform between Hamlin Dam and the Hamlin Lake boat launch, but I visited for the wheelchair friendly beaches.
 .
 .
The Lake Michigan Beach at Ludington State Park had an access mat on the sand, much like Stearns Park Beach, and there were also manual beach wheelchairs available on a first-come, first-served basis at the Beach House. You can find beach wheelchairs at Ludington State Park's Hamlin Lake concession stand as well. I was thoroughly impressed with Ludington's beach accessibility and highly recommend visiting if you're a beachaholic like me!
 .
 .
See Michigan's #1 Ranked Lighthouse
 .
Perhaps Ludington's most famous landmark, and certainly its most photogenic, is the North Breakwater Light. It was voted Michigan's top lighthouse to visit and it was named one of the top 10 lighthouses to see in all of the U.S. by the Weather Channel. The famous lighthouse sits half a mile out in Lake Michigan from Stearns Park Beach, but the only way to get to it is by walking/rolling. No cars allowed!
 .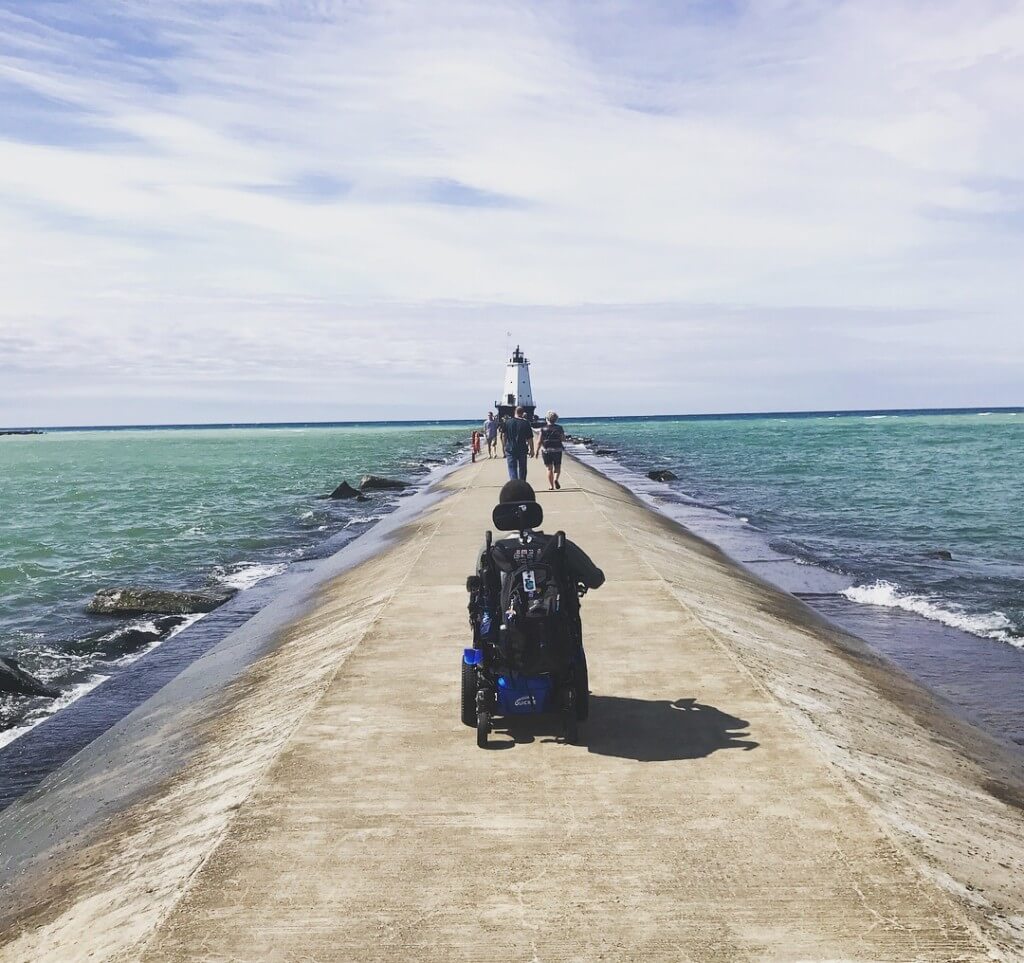 .
To get to the North Breakwater Light, there's a breakwall that is wheelchair accessible to roll on. The breakwall is sort of like a pier, but with no walls or barriers on either side, so be super careful as you're making the one mile long round trip journey to and from the lighthouse. It was absolutely gorgeous and made for some nice photos, but it was a bit nerve-wracking at certain points when people would need to pass or when the water would splash over on me a little. I tried to just stay in the very middle of the breakwall path.
 .
.
 .
After rolling for half a mile, I made it to the North Breakwater Light, which was beautiful. Unfortunately, it's not wheelchair accessible to go inside, but I enjoyed viewing the outside, taking a million photos, and I was happy that I made the trek to one of the best things to do in Ludington MI.
 .
Play a Round of Mini Golf
 .
I have always loved playing mini golf, but more often than not, I find that mini golf courses are not wheelchair friendly. The courses are usually not very smooth and there are barriers or steps to get to the holes. I think I've seen maybe two fully accessible courses in my life, but I'm thrilled to say that Ludington now has a wheelchair accessible mini golf course.
 .
 .
The Ludington Area Jaycees Mini Golf course is just across the road from Stearns Park Beach, so you can really pack a lot into your time at the beach. The course is open from Memorial Day to Labor Day from noon to dusk. Prices are very reasonable, at just $7 per adult and $5 per kid.
 .
 .
Eat Like a Pig at House of Flavors
 .
Aside from the spectacular beaches, one place that you absolutely must visit while in Ludington is House of Flavors. The House of Flavors brand is Michigan's largest ice cream manufacturer and in downtown Ludington, there is a full restaurant and ice cream parlor. Whether you just want a scoop of ice cream or you want a proper meal with ice cream afterwards, you'll be set.
 .
 .
House of Flavors
is wheelchair accessible with ramps throughout the restaurant and while it's large and spacious, it does get packed. People flock to try its delicious food and ice cream, so try to get there a bit early and expect a short wait for a table. Trust me though, it's worth the wait!
 .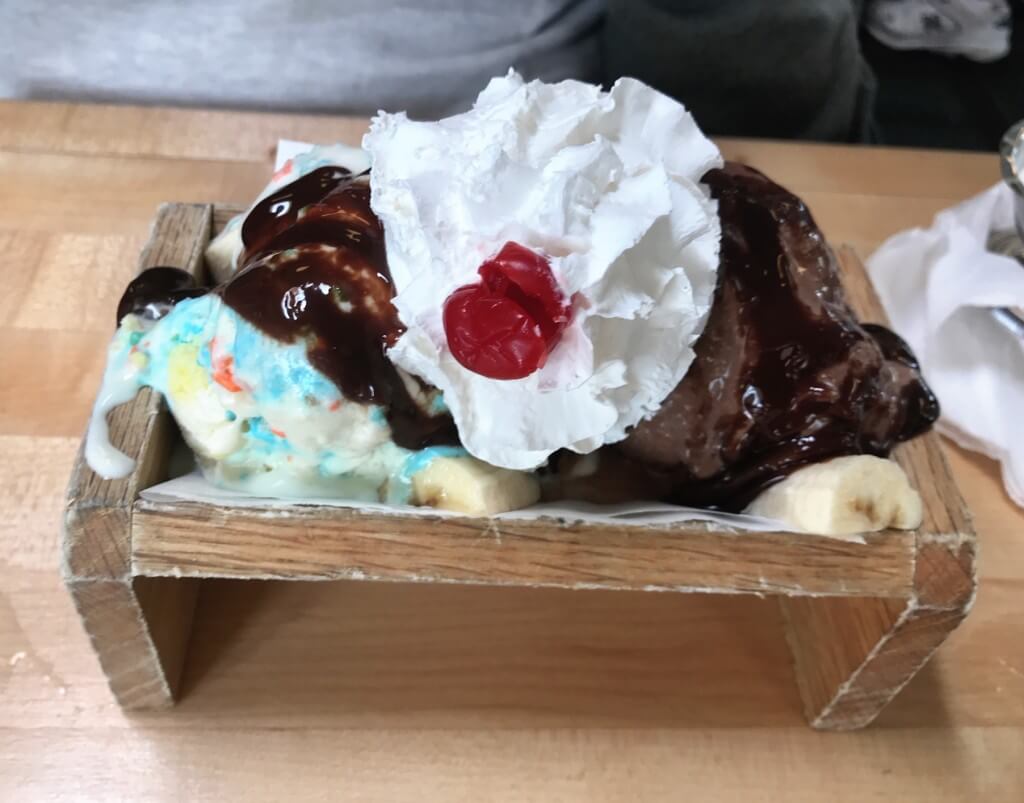 .
The food menu is huge and has everything that you could possibly imagine, from hot dogs and burgers to breakfast all day. I opted for a mashed potato topper, which had mashed potatoes on the bottom and they were topped with sautéed vegetables, cheddar and jack cheeses, sour cream, and green onion. It was delicious, but the real gem was dessert. House of Flavors has every kind of ice cream possible and you can get your favorite flavor(s) in a sundae, ice cream sandwich, or even a pig trough for the real ice cream lovers. The Super Dooper Pig's Dinner is the largest dessert option and comes with 12 scoops of ice cream on three bananas and 12 toppings. I wasn't feeling quite that hungry, so I had the This Little Piggy. This Little Piggy came with two scoops, a banana, two toppings, and it was served in a miniature trough. While much smaller than the Super Dooper Pig's Dinner, it was still pretty big and could be split between a couple people. House of Flavors was hands-down my most fun dining experience in Michigan and if you're in Ludington, you simply must visit.
 .
Enjoy a Relaxing Stroll Around Waterfront Sculpture Park
 .
The last stop during my exciting day in Ludington was at Waterfront Sculpture Park. The five-acre park is within walking/rolling distance of Stearns Park Beach, but accessible parking spaces are available if you'd rather drive over. It was a beautiful day when I visited, so I enjoyed rolling around the park and admiring the many bronze sculptures.
 .
.
 .
Waterfront Sculpture Park has paved paths all around the park and even accessible picnic tables are available, but the real highlights are the sculptures. Nine bronze sculptures are spread out around the park and each one tells a story that relates to the history of Ludington. Not only were the sculptures fun to look at, but I learned a lot as well.
 .
.
 .
After discovering these 5 accessible things to do in Ludington MI, I headed back toward Grand Rapids. My time in the city of Ludington was fairly short, but no matter how much time you have, whether it's a few hours or a few days, I would highly recommend visiting. You're sure to fall in love with the city just as I did.
 .
 .
 .
*Thank you to Pure Michigan for working with me on this trip and showing me the best things to do in Ludington MI! While most of my experiences in Ludington were complimentary, all opinions expressed are authentic and my own. 
.
.
.