During my recent trip to Costa Rica, I really wanted to break away from the capital city of San Jose and see what else the country offered. Don't get me wrong… San Jose is an amazing destination in itself and certainly worth visiting for a few days, but you simply can't visit Costa Rica without experiencing the rainforest and one of the world's most impressive volcanoes. To get the proper Costa Rican adventure, I headed to La Fortuna while on tour with
Il Viaggio Travel
.
 .
La Fortuna was only a few hours drive from San Jose and thanks to Il Viaggio's wheelchair accessible van, getting there was a breeze. Whether you want to roll over hanging bridges in the rainforest, swim in hot springs, or admire sloths in their natural habit, the city offers a plethora of possibilities for wheelchair users. Here are some of the most wheelchair accessible things to do in La Fortuna Costa Rica (+ where to stay) –
 .
Things to Do in La Fortuna Costa Rica
 .
Mistico Hanging Bridges
 .
As someone that loves nature and animals, touring the Mistico Hanging Bridges Park was hands-down the highlight of my entire trip in Costa Rica. I've been in the
Amazon Rainforest in Ecuador
before, but I saw way more animals in the rainforest at Mistico, which I loved. I also liked the fact that I could stay in my powered wheelchair throughout the tour instead of transferring to an all-terrain chair.
 .
 .
While not all of Mistico Hanging Bridges Park is accessible with a wheelchair, there is a special route that can accommodate wheelchairs. Parts of the route were a little bumpy, but 90% of the trail was paved and perfectly smooth. I had a tour guide that knew the best route to take and he told us all about the many animals, trees, and the area that we were in. I learned so much while on tour and the whole experience was pretty much the best field trip of my life.
 .
.
 .
The tour lasted a few hours and during that time, we saw different plants, poisonous dart frogs, bats, birds, and even two pit viper snakes. Yes, you read that correctly. Snakes are my biggest fear and pit viper snakes are extremely venomous, so I definitely kept my distance. Despite being terrifying, it was pretty cool to see them from a distance. Keep in mind that there is no sort of barrier between you and anything in the rainforest, like there is at a zoo for example, so watch where you're walking/rolling and try to be as observant as possible. Our guide did do a phenomenal job of making us feel safe and at ease.
 .
Seeing all of the beauty in the rainforest was amazing, but one of the most fun parts of the tour was going across the hanging bridges. A couple bridges are accessible, so I was able to simply roll across them in my wheelchair. The bridges that I went on were nearly 80 feet high and up to about 350 feet long. Luckily, I don't have a fear of heights, but when I began rolling across them, they started swaying a bit. It was a bit nerve-wracking, but so cool! It felt sort of like a ride in an amusement park at times, and the views of the rainforest were unbelievable.
 .
.
 .
There are many accessible things to do in La Fortuna Costa Rica, but
Mistico Hanging Bridges Park
should be at the top of your list if you want a truly unique and special adventure.
 .
Downtown La Fortuna
 .
After rolling over hanging bridges and seeing snakes (from a distance hopefully!), head to downtown La Fortuna. La Fortuna is a quaint, but beautiful town and I enjoyed rolling around its downtown area in my free time. From downtown, I could easily see the massive Arenal Volcano in the distance. Arenal Volcano stands at about 5,300 feet high, so you'll have no trouble seeing it from nearly everywhere that you go in La Fortuna. The volcano is incredibly impressive and from downtown, you'll have a photo-worthy view.
 .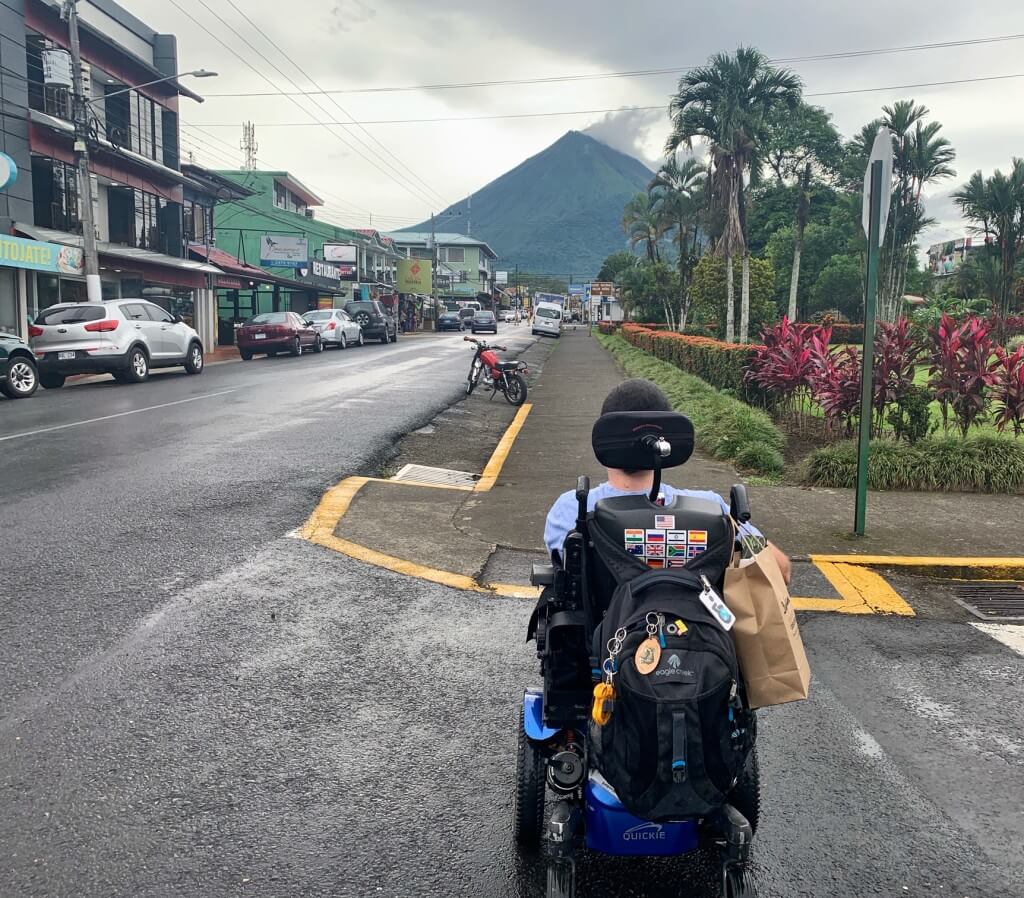 .
Downtown has some restaurants and souvenir shops, but a fair amount of them do have a step to get inside. However, I was able to find a couple souvenir shops that were wheelchair accessible and an outdoor ice cream shop. I also rolled around Parque de La Fortuna, which sits in the heart of downtown. On a nice day, the park would be a wonderful place to have a picnic or just relax. Beside the park is a church that's worth seeing, Parroquia San Juan Bosco. The exterior is beautiful, but the interior is even more intriguing.
 .
.
 .
Sure, there are more adventurous and exciting things to do in La Fortuna Costa Rica than the downtown area, but I think that everyone should take at least a couple hours to wander around. Visiting the shops, restaurants, and interacting with locals is an important part of traveling to any destination.
 .
Paradise Hot Springs
 .
You can view Arenal Volcano from downtown, but how about feeling the heat from it? Don't worry, this doesn't require getting too close for comfort to the volcano. Instead, you can swim in hot springs that are heated from the nearby Arenal Volcano. There are quite a few hot springs in La Fortuna, but the most accessible ones are at
Paradise Hot Springs
. I had a chance to float around in the hot springs during my trip and would highly recommend that you do the same for the ultimate relaxation opportunity.
 .
 .
The hot springs at Paradise look just like pools, but they are naturally heated from the volcano. Paradise has taken great strides to make the pools as accessible as possible, so several of them have ramped access into the water. I swam in the Pangea pool, which stays between 95-97° Fahrenheit. It had a waterfall, a swim-up bar, and it was the perfect temperature to be hot, but not too hot. There are hotter pools at Paradise Hot Springs as well if that's what you'd like, and they have ramped access.
 .
 .
Getting in and out of the pool was easy thanks to an amphibious wheelchair that Il Viaggio Travel, the tour company that I traveled with, has invented. I transferred from my personal wheelchair into the amphibious chair and was then rolled down the ramp and into the water. Our tour guide, Diego, and our driver helped me get in the water and stay afloat. They even had a pool noodle for me to use to stay balanced in the water.
 .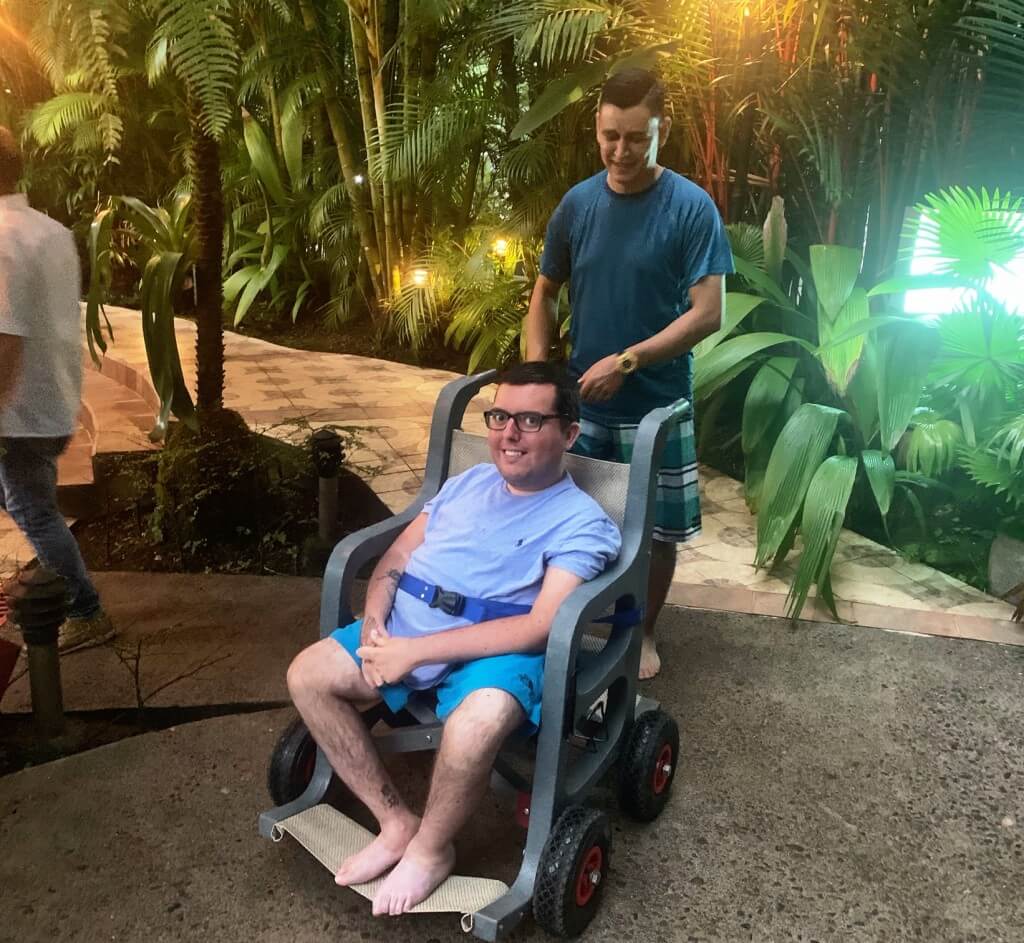 .
After swimming around for an hour or so, I got out of the pool and it was nearly time for dinner at the on-site Azalia Restaurant (the food was delicious by the way!). I needed to change out of my wet clothes first though, and the regular changing room didn't have an adult-sized changing table. I told our guide, Diego, that I'd need to lay down in order to change clothes, and within minutes he had a solution for me. In addition to the hot springs,
Paradise
is also a hotel. They let me use one of their rooms to change in and it worked perfectly. For any problem, Il Viaggio had a solution and for that, I am tremendously grateful.
 .
Bogarin Trail
 .
While in Costa Rica, I was bound and determined to see a sloth. Sloths are my favorite animals and Costa Rica is famous for having sloths, so I wasn't leaving the country until I saw one. I looked in Mistico Hanging Bridges Park for a sloth, but never saw one. On my last day in La Fortuna, I visited Bogarin Trail for one more chance.
 .
 .
Bogarin Trail is a little over a mile long and while it's not paved, it is pretty smooth. The dirt is hard-packed and I only needed a bit of assistance in two spots on the trail. It had been raining a few hours before I visited, so it was muddier in some places and that's where I had a tougher time rolling. It was really a great trail though to not be paved and be in the rainforest. I was impressed!
 .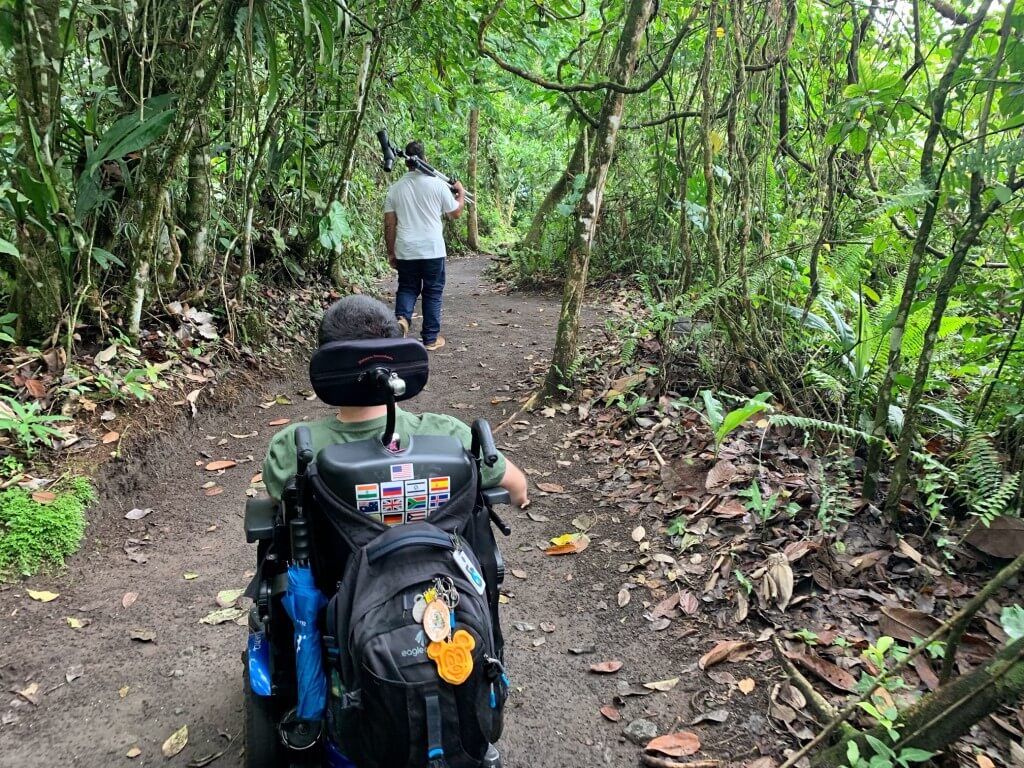 .
During the guided walk/roll, I saw more poisonous dart frogs, all kinds of birds (including a toucan, which was pretty awesome!), and finally I saw a *drumroll please* SLOTH!!! I was ecstatic as soon as I saw it. It was up in a tree very high, but with some binoculars I was able to see it clearly. I sat there watching its every move for longer than most visitors probably would, but I loved every minute of it and my Costa Rican bucket list was now complete.
 .
.
 .
Adaptive Ziplining
 .
Have you always dreamed of going ziplining? If so, there's not a more scenic place to do it than La Fortuna. Seeing a volcano and the rainforest while you zipline does sound epic, right? While I personally didn't go ziplining in La Fortuna on this trip, my friend Alvaro of
Wheel the World
did and had a blast. I asked him to write some details about it for this blog post. Here's what he said:
 .
"The highlight of my trip in Costa Rica was the zipline adventure in La Fortuna with
Il Viaggio Travel
. It was my first time doing a zipline, so I was pretty nervous. That feeling started to disappear when I noticed how professional the zipline guides were. They briefed the group and interviewed me to understand my level of mobility, and took care of every safety issue. It was evident that I wasn't the first quadriplegic customer they have had.
Once the brief ended, we went up by the "gondola", which was totally accessible. I went up in my own wheelchair, as it is a manual chair. For power wheelchair users, they have manual wheelchairs that you can transfer into for the experience. The way up was beautiful. We saw different types of monkeys and beautiful views of the Arenal volcano and lake.
Once up, the adventure began! It was 7 amazing ziplining sessions of approximately 500 meters each! Luckily, the guide team encouraged me to do the ziplines without my wheelchair. The sensation of feeling the air in my face, looking at the stunning views of Arenal Volcano, plus the adrenaline of the speed, made that day one of the best of my life.
.
.
I totally recommend this adventure. The facilities are 100% accessible, bathroom and restaurant included. Check this short video to see my adventure!"
 .
Where to Stay: Arenal Kioro Suites & Spa
 .
During my travels, I've been fortunate enough to stay in some spectacular hotels, but the most beautiful place I've ever stayed was
Arenal Kioro Suites and Spa in La Fortuna
. From the moment I entered the hotel's lobby and was given a welcome cocktail, I knew that I was in for a special stay.
 .
 .
Arenal Kioro is a luxury hotel with 53 suites, a few different restaurants and bars, and a spa. What makes this hotel really stand out though is the fact that it's only a stone's throw away from Arenal Volcano. Whether you're lounging in your room, eating in the Heliconias restaurant (delicious food here by the way!), or relaxing by the pool (there is no pool lift, unfortunately), you'll have a jaw-dropping view of the volcano.
 .
I stayed in a wheelchair accessible suite with two beds and a day bed. A Hoyer lift/hoist could roll under the beds easily. The room was spacious and had a TV, a prime view of the volcano, and even a hot tub. Unfortunately, the hot tub didn't have a lift.
 .
.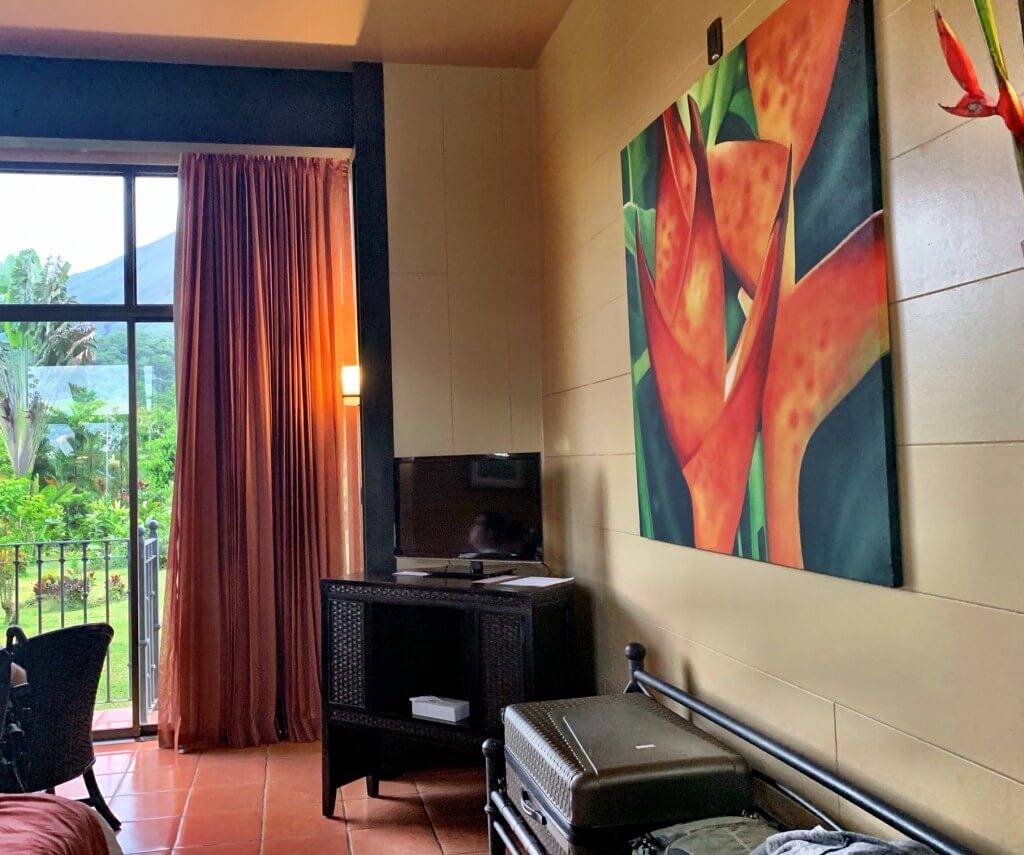 .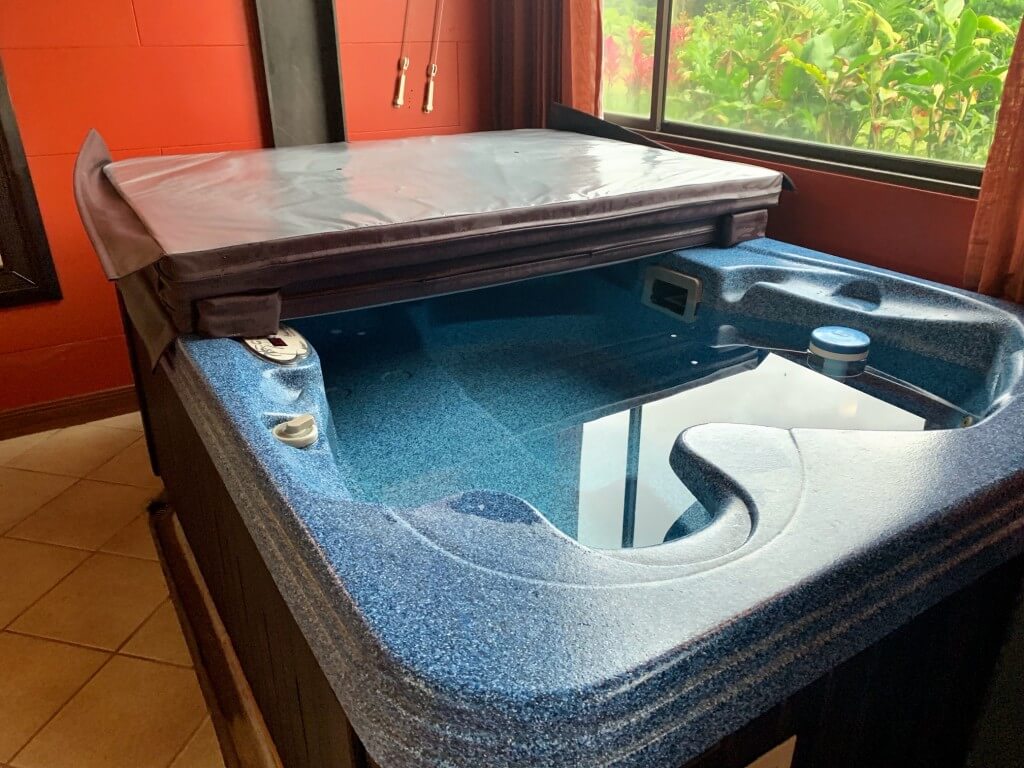 .
In the bathroom, there was a large roll-in shower, a shower chair, and a grab bar beside the toilet.
 .
.
 .
 .
I expected my experience in La Fortuna to be amazing, but it still managed to blow past all of my expectations. From completing my mission of seeing a sloth to seeing two too many pit viper snakes in the rainforest, La Fortuna was an accessible adventure in the best possible way. Start planning your own Costa Rican vacation and experience these incredible things to do in La Fortuna for yourself!
 .
.
.
*
Thank you to Il Viaggio Travel for showing me the best things to do in La Fortuna Costa Rica! While my experiences were complimentary or discounted, all opinions expressed are authentic and my own. This post contains affiliate links. If you click through on a link, you won't pay a penny more, but we'll receive a slight commission which helps us keep this information available to you. Thanks!
.
.
.