cruising with kidsTaking a cruise is a very popular vacation option for wheelchair accessibility and for those with disabilities because everything is available within the confines of the ship. Wheelchair accessible cruises and disabled cruises are floating vacations with everything from pools and fine dining to relaxation and spacious living quarters. There's no need to worry about transportation or mobility once you're on the ship, as it's all included and ready for you to explore.
The following 10 wheelchair accessible and disabled cruises cover 5 different destinations: Alaska, the Caribbean, Hawaii, the Bahamas, and Scandiavia or Northern Europe, with 5 different cruise lines. This gives you a wide range of destinations and experiences to choose from. For each of the handicap cruises mentioned in this article , there are disabled cabins on cruise ships and they would be perfect for any wheelchair user or senior with disabilities. Almost all cruises are handicap accessible cruises due to the staterooms and accommodations.
When planning a cruise, whether it's one that's been recommended below or to any destination you choose, it's important to remember to contact the cruise line with any questions. Many cruise ships will dock at each destination, but not every port of call is wheelchair accessible. Speaking with the cruise line about excursions and wheelchair accessibility is the best way to ensure your wheelchair cruise suits your needs.
The Best Wheelchair Accessible Cruises and Disabled Cruises to Consider
1: Alaskan Cruise with Holland America
Alaska is a great destination for disabled cruises because you can see so much from the ship itself and enjoy the destination without having to disembark sometimes. Many of the ports are also docked, which makes it easy to go explore each city, see a show, and do some shopping, along with take in the sights and experiences. Ports of call on these cruises include Ketchikan, Juneau, Skagway, and Glacier Bay.
One of the best ways to take a cruise to Alaska in terms of wheelchair accessibility is with Holland America. There are a variety of Alaskan wheelchair accessible cruises available through this cruise line. The best time to see Alaska is from April to September, due to the weather and these cruises can be scheduled quickly if you're booking in that window.
Half of the Holland America cruise ships travel to and from Alaska, but one of the most wheelchair and handicap accessible ships is Nieuw Amsterdam. This ship provides 7 day cruises in Alaska, including the Glacier Discovery Northbound, Glacier Discovery Southbound, and Alaskan Inside Passage. Cruises depart from Vancouver, BC, Canada and Whittier, Alaska.
Holland America is excellent in terms of accessibility from check in to check out. There's a specific wheelchair and special assistance check in, the staterooms are very accessible and spacious, and there are accessible restrooms on the most popular levels so you don't have to waste vacation time traveling back to your room.
2: Alaskan Cruise with Carnival
Another great Alaska option is taking a cruise with Carnival. There are three different Carnival cruise ships that offer an Alaska trip: the Carnival Miracle with 10 day or 11 day cruises leaving from San Francisco, California, the Carnival Spirit with a 7 day or 8 day cruise leaving from Seattle, Washington, and the Carnival Legend with a 9 day cruise leaving from Vancouver, BC, Canada. The Alaska cruises typically run from April to September, as this is the best weather window for visiting Alaska.
The ports of call depend on how long your cruise is, but typically most Alaska cruises with Carnival visit several of the same destinations. The most popular destinations with wheelchair accessible excursions include: Skagway, Ketchikan, and Icy Strait Point. There's also plenty to do in Juneau and Victoria. Most wheelchair and handicap accessible excursions include a tour, from a train ride at White Pass Summit to a village tour in Ketchikan and a whale cruise at Icy Strait Point.
A unique feature of the Carnival Alaska cruises is the day of Cruising the Tracy Arm Fjord. This is an on ship experience because everyone stays aboard the ship and the ship passes through a narrow waterway surrounded by glaciers on both sides.
Carnival offers a variety of accessibility accommodations, including wheelchair accessible staterooms. There are four different types of accessible staterooms available and Carnival uses a Mobility Questionaire to help assign the appropriate room to guests requiring accommodations.
3: Caribbean Cruise with Carnival
Carnival is also a great cruise line for traveling to the Caribbean. This cruise line offers trips to the West, East, and Southern Caribbean departing from multiple locations along the east coast including Florida, Alabama, Texas, Virginia, New York, South Carolina, and Maryland. Cruises can last anywhere from 4 days to 14 days, which makes it easy to enjoy the trip no matter the length of your vacation. The shorter trips, 4 to 7 days, typically cover the West and East, while the longer trips, 14 days, visit the south.
The 4 to 5 day cruises occur on the Carnival Sensation and the Carnival Fantasy. These trips have two ports of call, Key West and Cozumel where you can take tours to explore the port and maybe even spend some time at the beach. A 6 day cruise typically has 3 stops, but these ports are all different from the shorter cruises, with ports at Nassau, Amber Cove, Grand Turk, and Half Moon Cay, depending on the cruise. Each port has plenty to explore from shopping and dining to beaches, tours, and other excursions. The Carnival Magic, Breeze, and Fascination all run 6 day cruises.
Carnival cruises are great options for anyone looking to take their first cruise. It's a common cruise line and can be a solid opportunity for a wheelchair cruise, a cruise for seniors with disabilities, or even cruising with kids, as Carnival has a kid's club and many activities are geared toward children. Carnival offers 4 different accessible staterooms on most of their cruise ships and works with guests to ensure their stateroom suits their needs.
4: Caribbean Cruise with Disney
Disney is a popular cruise line and their cruises to the Caribbean are more popular due to the Disney island stop, Castaway Cay. Disney cruises are great for families and because of this target audience, they're also great in terms of wheelchair and handicap accessibility. When looking for a cruise for wheelchair users, consider a Disney cruise. While they are typically more expensive, they may also offer more accessible excursions with a family focused atmosphere.
Disney cruises visit Western, Eastern, and Southern Caribbean, depending on which trip you book. 4 night cruises are aboard the Disney Wonder and depart from Galveston, Texas or New Orleans, Louisiana. These short cruises have one port of call, Cozumel, Mexico, which is great for exploring the beach. There's also 2 days at sea with plenty to do, as Disney hosts magnificent days at sea parties with unique themes. The ideal time of year to take a Disney cruise to the Caribbean is December to May, outside of hurricane season.
7 night cruises are aboard the Disney Fantasy and depart from Florida, Texas, or Lousisana. Some of these cruises even stop at Castaway Cay twice, which is perfect for getting in beach time and to explore each destination. Castaway Cay, Disney's private island, is very handicap accessible with wide, paved walking paths, sand wheelchairs, an accessible tram, and accessible bathrooms.
Disney cruises are very accessible, from spacious staterooms to accessible bathrooms. Disney provides a list of amenities in each accessible stateroom, as well as a Special Services department to ensure your cruise fulfills all your accessibility needs. A Disney cruise is a great option for all ages, as each cruise provides plenty of on board entertainment and activity along with beautiful ports of call.
5: Hawaiian Cruise with Disney
Another great destination with Disney Cruises is Hawaii. You get all the luxury and accessibility of the staterooms, the wonderful on board entertainment and events, along with a beautiful destination and beachy ports of call. Hawaii cruises with Disney tend to be longer trips, 9 and 10 nights, and have a limited range of ports to depart from.
There is limited availability on these cruises as well, with the Disney Wonder leaving from Vancouver, BC, Canada. Each cruise has a port of call at three or four Hawaiian islands, making sure your whole trip is spent in paradise. The best time to take a Hawaii cruise is during good weather, to avoid storms, ideally April to September.
A 10 day cruise to Hawaii with Disney includes 5 days at sea and 5 destinations, all of which are different Hawaiian islands. A cruise of this length gives you plenty of time onboard to enjoy the shows, dining experiences, character meet and greets, and onboard entertainment, while also getting to visit several Hawaiian destinations to visit the beach, tour the towns, take pictures, and enjoy the atmosphere.
6: Hawaiian Cruise with Norwegian
A unique cruising experience is visiting Hawaii with Norwegian Cruise Line. This line offers long, 14 day cruises starting or ending in Hawaii, along with 7 day Hawaii round trip cruises. This is a unique cruise experience in that you start your cruise in Hawaii and can end in Tahiti or take the ship all the way to Vancouver, depending on your preference. Many cruises are round trip from one specific port, but Norwegian offers a chance to explore even more on one cruise.
The 7 day round trip cruise starts and ends on the island of Hawaii with the ship Pride of America. Ports include popular Hawaiian islands such as Kahului, Hilo, and Kona, and is one of the most well-known and popular cruise options to this destination. Norwegian runs this cruse year-round, which makes it easy to book for whenever you're ready to take a vacation.
The 11 day cruise starts in Hawaii and ends in Vancouver, which is an amazing way to end a vacation. You can start in Hawaii for a few days, enjoy the island, then island hop your way home to Vancouver and fly from there. Port activities include visiting the beaches, shopping, and spending time at museums, educational centers, and national parks. There's something for everyone on these trips for all ages and mobility restrictions.
Norwegian Cruise Line believes that cruising should be enjoyed by everyone, which is why they strive to provide the best service for guests with disabilities, handicaps, mobility restrictions, and wheelchair users. Norwegian has Special Assistance Coordinators to help ensure your cruise fulfills your needs, from a specific stateroom to any other accommodations.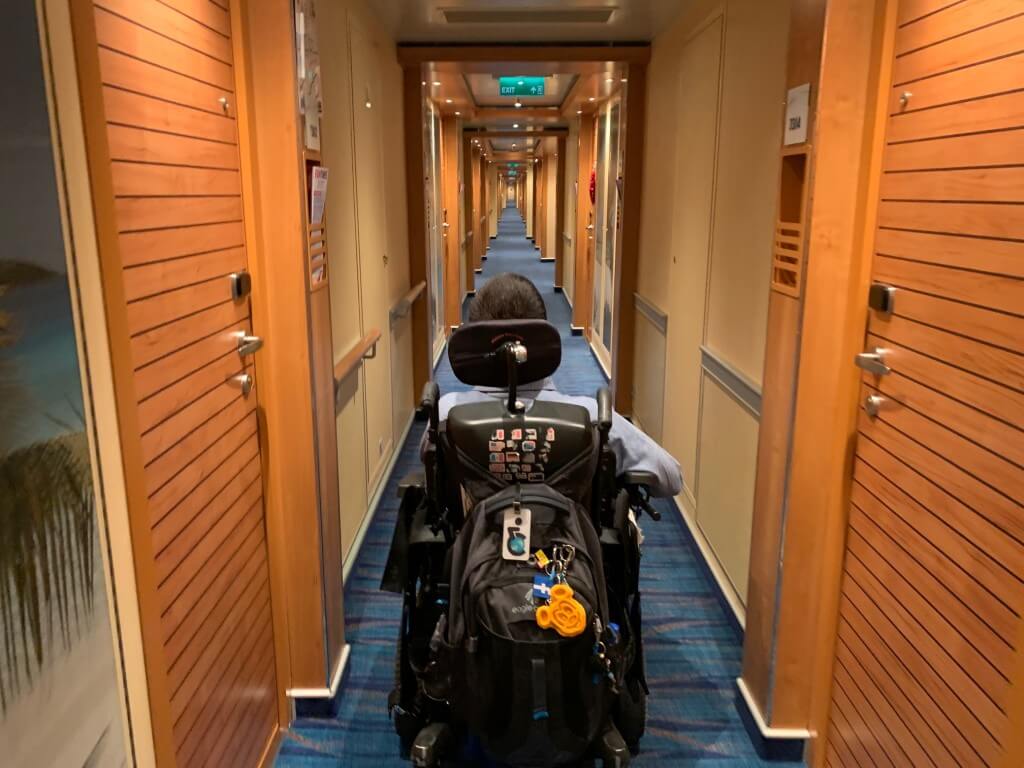 7: Bahamas Cruise with Norwegian
Norwegian Cruise Line also offers wonderful cruises for wheelchair users to a variety of destinations, including the Bahamas. Just like with Hawaii, Norwegian offers some unique experiences on their cruises to the Bahamas, including one cruise that leaves New York City, stops in Florida for some theme park fun, and then cruises to the Bahamas for fun, sun, and beachy afternoons. They offer 3 day, 4 day, or 5 day cruises from Florida, or a 10 day or 11 day cruise from NYC. The ships that travel this route include the Norweigan Sky, Norweigan Sun, and Norweigan Escape.
Most of these cruises are round-trip, which makes it easy to arrive at your port, board the ship, and enjoy the trip. Ports of call include Grand Bahama Island, Grand Stirrup Cay, and Nassau on the shorter trips, and additional stops in Orlando and Bermuda for the 11 day cruise. This is a great cruise to visit the beaches, enjoy the warm weather, and to escape daily life for a few days. The best time to travel to the Bahamas is after November and before May, to have the best weather.
Norwegian wants everyone to enjoy their stay and works to provide the best staterooms and service to accommodate the needs of every guest. They have wheelchair accessible staterooms and events for everyone both onboard and at each port as an excursion. Contact Norwegian Cruise Line for specifics.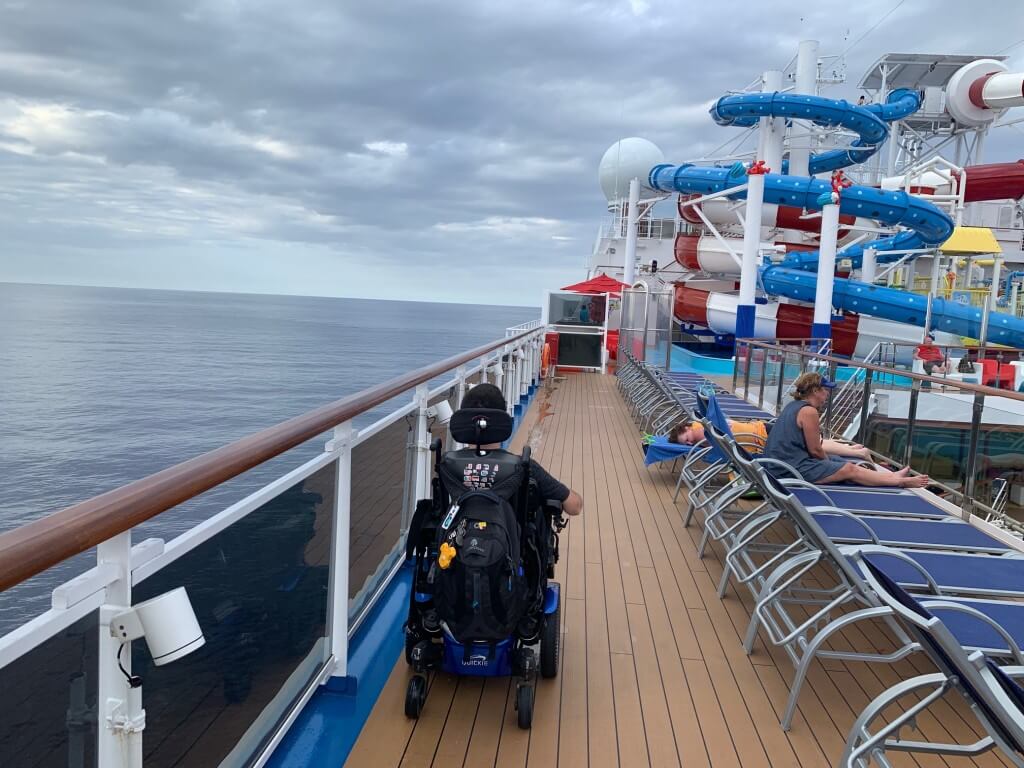 8: Bahamas Cruise with Royal Caribbean
Similar to traveling to the Bahamas with Norwegian, Royal Caribbean cruises leave from Florida, Texas, and other eastern coastal states of the United States to explore Nassau, Key West, and Cozumel. This is the perfect cruise for wheelchair users, people with disabilities, and seniors with disabilities as it gives everyone a chance to enjoy the warm weather and get a chance to enjoy beyond their everyday.
Royal Caribbean offers cruises in a range of lengths, from 3 nights to 4 and 5 nights, along with a week long 7 day to 14 days and beyond. Ships that travel to the Bahamas include the Mariner of the Seas, Empress of the Seas, and Independence of the Seas. All ships offer accessible staterooms and excursions. Reservations require a Guest with Special Needs Form to ensure you are assigned the proper stateroom. 
Nassau is a docked port, which means it will be the most wheelchair accessible and allows everyone a chance to get off the ship and explore. There's beautiful beaches, boat rides, tours, and plenty of shopping. This is a great place for a short cruise over a weekend or a longer cruise to enjoy more of the Bahamas. 
9: Scandinavia with Royal Caribbean
On Royal Caribbean, their ship Jewel of the Seas takes guests to Scandinavia and Russia over 7, 8, or 10 days. This ship departs from Copenhagen, Denmark or Stockholm, Sweden depending on the trip. These trips are part of the Baltic Cruises this cruise line offers. The best time to visit Scandinavia and Northern Europe is from April to August for the best weather window.
One of the benefits of traveling with Royal Caribbean is that the itinerary tells you if your port will be docked or tendered. Docked is the best option for those with disabilities, mobility limitations, and wheelchair accessibility. Most of the ports of call on the Baltic Cruises are docked, with the rare exception depending on your cruise.
Popular ports of call include Tallinn, Estonia, St. Petersburg, Russia, and Helsinki, Finland. Longer cruises have a few more ports of call including Visby, Sweden. Each location on any of the three cruises include amazing local dining, comprehensive tours and museums to take in the local history, and plenty of shopping for gifts, souvenirs and pictures to document your trip.
Royal Caribbean fully supports that travel should be accessible for all and works to provide accessible staterooms and excursions to all their guests. Their website includes a request form for accessible excursions and a list of tendered ports, which are not typically wheelchair accessible. Accessible staterooms can be requested with a Guest Special Needs Form.
10: Scandinavian Cruise with Holland America
A Scandinavian cruise is commonly referred to as a Northern Europe cruise and visits locations such as Denmark, Norway, and Sweden. In addition to cruising with Royal Caribbean, you can also cruise with Holland America, which is known as one of the most accessible cruise lines, as we saw with cruising to Alaska. The same standard is upheld with cruising to Scandinavia. Holland America offers 7 day, 10 day, 14 day, and 21 day cruises that explore the waterways of Sweden, Norway, and the Baltic sea. Ships available for these trips include Ship Nieuw Statendam and Ship Rotterdam.
Many of these excursions are taking water and motor tours of the surrounding areas, like driving through one of Norway's longest tunnels, visiting farm villages, sampling local coffee and treats, and exploring the steep roads with hairpin turns. While these are exciting ways to explore the area, it can also make wheelchair accessibility difficult. The best way to approach these excursions is to speak with Holland America directly, as accessible vehicles, ramps, and other accommodations can be made in advance.
Holland America Line strives to provide any accommodations you may need during your stay and uses a Special Requirements Information Form to help provide the proper stateroom and any other adjustments a guest with disabilities or mobility limitations may need. It is suggested to plan ahead and to contact the cruise line well before your stay in order to answer questions about cruises for wheelchair users and to confirm your reservation.
As you can see, there are a variety of handicap cruises and disabled cruises available to consider for your next vacation. Most cruise lines are accommodating in terms of disabled cabins on cruise ships and exciting excursions.
Cruises are a great opportunity to travel for wheelchair users, those with mobility restrictions and disabled individuals. The all inclusiveness of a cruise makes it the perfect way to relax and enjoy without all the planning of a traditional vacation.
Are you interested in booking one of these cruises?? Contact my accessibility-focused travel agency, Curb Free Travel, by emailing me at [email protected]