Having a portable wheelchair ramp with you while traveling can be very useful, from navigating steps and doorways to visiting restaurants, shops, and those destinations you can't wait to see. There are many destinations, from boarding a cruise ship to international air travel, where portable ramps for a travel wheelchair may be useful. There are many places where there's a step or two needed to get into a shop or restaurant and having a portable handicap ramp will help you quickly navigate the space and continue on with your day.
These are 8 of the best portable ramps for wheelchairs when traveling, mainly because they're designed to be portable ramps for wheelchair users that fold easily and can be managed quickly while on vacation. Owning a portable wheelchair ramp is a great idea for both travel and home use, as it's easy to place in the car or have on hand for any type of vacation or travel, both domestic and international.
Why You Should Travel with a Portable Wheelchair Ramp
There are so many opportunities to travel as a wheelchair user due to ADA regulations, but there are many situations in which having a portable wheelchair ramp on hand can be very helpful. A portable handicap ramp is a great idea for wheelchairs when traveling, especially when traveling internationally, as there are often public locations with one or two steps that are difficult to navigate with a wheelchair.
You should travel with a portable ramp because not every location will be accessible. Understanding that there will be places, from restaurants and storefronts to tourist sights and destinations, that won't be completely wheelchair accessible before you arrive is necessary. Knowing this, and bringing a portable wheelchair ramp that you're familiar and comfortable with, will make it much easier to visit all the places you want to see and do all the things you'd like to do while traveling.
You should travel with a portable ramp because it will be easier to get around with your own ramp. The alternative is having to talk to someone at your hotel or residence about accessibility, place phone calls to make arrangements, and having to set up accommodations instead of spending that time enjoying your trip. Traveling with your own portable wheelchair ramp will make it easy to see the issue and resolve it without having to find someone to help.
Lastly, you should travel with a portable ramp because you never know when you'll need one. Portable ramps for wheelchair users can be useful in a variety of places, from navigating transportation to visiting restaurants, tourist attractions, or parks. By traveling with a portable wheelchair ramp, you're more likely to be able to resolve issues while on your trip and get more enjoyment out of your visit.
Choosing a Portable Handicap Ramp
Portable ramps for wheelchairs come in a variety of sizes and lengths, which affect how easy they are to use, to carry, and how much weight they can handle. Choosing a portable ramp, especially for travel purposes, can be tricky because you won't know when you'll need the ramp until you arrive at your destination. Many of the portable ramps for wheelchairs on the market are very multi-purpose and all have a similar design, which can make it difficult to find the right portable wheelchair ramp for your specific needs and destinations.
Consider the following to help you choose the right ramp for your needs:
Ramp weight: since this is a portable wheelchair ramp for travel, including international travel, consider how much the ramp weighs, both for airline travel as well as carrying during your trip
Ramp's specifications: this includes how long the ramp is, how much weight it can carry, and how it is transported
Ramp design: you'll want a ramp that's easy to assemble, use, and then fold back to continue on your trip
The purpose of this ramp: do you want something that's specifically for travel, or are you looking for something you can use both at home and while traveling?
Folding style: most portable ramps for wheelchair users fold in half and lock with a top latch and handle, but there are several folding options including tri-fold, multi-fold, and telescoping
Top 8 Best Portable Ramps for Wheelchairs When Traveling
1: EZ-ACCESS Suitcase Tri-fold AS Portable Ramp
EZ-ACCESS offers a range of suitcase style, tri-fold portable ramps for wheelchair users from 5 feet in length to 10 feet in length. This brand provides a uniquely designed tri-fold ramp that easily unfolds to cover 1 to 3 steps and quickly folds back into a suitcase sized ramp. This is a great option for travel because it's small enough to be portable while also being useful with almost any small steps you will encounter while traveling. The ramp itself is covered with a slip-resistant texture and can operate as a wide single ramp or as a split double ramp.
This is a great, multi-purpose portable ramp, perfect for travel and home use. The grip top provides traction in all weather and the sturdy design can support upwards of 800 pounds. The range of ramp lengths all with the briefcase design makes it a perfect option for taking on a trip, storing as a spare, or using around the house.
2: Silver Spring Aluminum Folding Wheelchair Ramp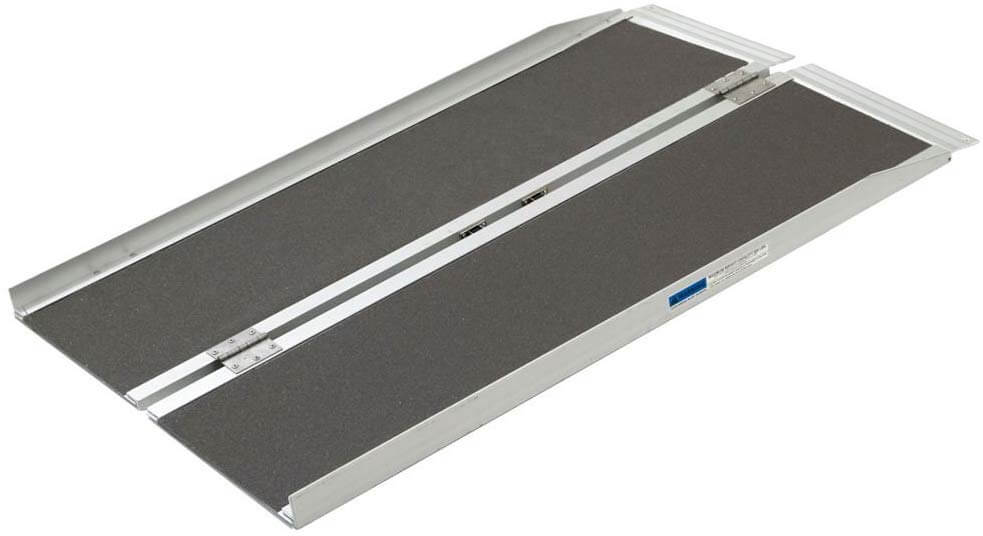 Silver Spring offers a line of aluminum folding ramps with a variety of lengths and rises to suit your needs. Each ramp is covered in a high-traction grit coating and comes with safety pins for proper usage as well as a built-in carrying handle. This line of portable ramps for wheelchairs was designed for navigating curbs, porches, and landings of a range of heights. Most of the ramps offered by Silver Spring fold to about 15 inches wide and 3 inches high, which makes them easy to carry during travel.
This is a great, simple, portable handicap ramp with an easy to use layout and quality materials. The construction can support upwards of 600 pounds, which is useful for many wheelchair users. As a simple, one-fold ramp this could be a reliable option for travel, but the larger sizes may be a bit heavy so that take into consideration when choosing a portable ramp for travel purposes.
3: Clevr Extra Wide Non-Skid Aluminum Wheelchair Loading Ramp
Many portable wheelchair ramps are designed to have a lower profile in order to make them the easiest to move, but this can lead to ramps being a bit too narrow or small for some wheelchair users. This ramp by Clevr is extra wide, with 31 inches in width to accommodate wheelchairs as well as walkers and scooters. This portable ramp is 36 inches long, which makes it easy to use with manual and power wheelchairs.
This is a great portable handicap ramp with all the necessary features to navigate most sets of steps or curbs you may find while traveling. Clevr strives to provide a portable handicap ramp that is light, safe, and portable. This ramp includes safety pins and a carrying handle with a collapsed weight of 16 pounds. The folded dimensions are 16 inches by 3 inches, perfect for storing in the back of a car and can carry upwards of 600 pounds.
4: Prairie View Industries Portable Singlefold Ramp
For a smaller portable ramp with a simple and slim profile, check out the range by Prairie View Industries. These portable wheelchair or handicap ramps are welded, not riveted, which can make them more durable compared to other options on the market. The surface is covered with anti-slip traction tape to keep things safe and slip-free. This ramp folds in half, and when opened and placed across the step has a total width of 30 inches.
This is a great portable ramp with a low profile, slim design and great durability. There's a carrying handle included which makes it easy to travel with and take around the world and around the house. The total weight capacity of this ramp is 800 pounds, which makes this portable ramp a powerful piece of equipment. It's a great option for travel with the convenient design and size.
5: Drive Medical Single Fold Portable Wheelchair Ramp
Many portable ramps for wheelchairs have anti-slip traction pads built into them, but this portable wheelchair ramp by Drive Medical has a slotted design. This unique design makes it easy to clean these ramps outdoors and allows water to drain away from the ramp, instead of collecting on the top which can be the case with these traditional portable wheelchair ramps.
This is a good portable handicap ramp option if you're looking for something to use mainly at home, but also is compact enough to take with you when you travel. This portable handicap ramp comes with a carrying bag as well as a handle for easy carrying. With the lightweight yet durable construction, wide ramp sides, and the ability to fold in half, this is a solid travel ramp for use at home as well.
6: Ruedamann Non-skid Aluminum Folding Ramp
Ruedamann offers a range of non-skid aluminum folding portable ramps for wheelchairs in lengths from 2 feet to 5 feet. These are a great size for navigating short, one or two steps, inclines and can be very useful as portable ramps for travel. The non-skid platform ensures safe usage in a range of weather and the unique design of these ramps creates a seamless layout. The flat center makes this portable ramp ideal for use with a range of scooters, manual wheelchairs, and power wheelchairs as well as walkers and other mobility devices.
This is a good portable handicap ramp option that comes with its own carrying case. The solid construction and smooth layout makes it easy to use, and the added case allows you to take your reliable ramp from home with you on the go.
Another all metal portable wheelchair ramp option is the wheelchair ramp by ORFORD. This ramp is very short, available in 2 feet or 3 feet, which is just what you'll need for navigating a step or two while on vacation. This portable wrap folds into a compact briefcase style unit. The ramp design makes it easy to ensure all-weather and the design also provides high traction without the added anti-skid material.
This is an easy to use, small profile portable handicap ramp which is perfect for taking on vacation or while traveling. It's a small unit but that makes it easy to use while going over door thresholds or managing a step or two outside of a restaurant. The aluminum design makes it durable while being lightweight, perfect for a travel ramp.
8: HomCom Folding Portable Mobility Wheelchair Ramp
Lastly, the brand HomCom also offers a range of portable ramp lengths all with an all metal design. The aluminum alloy design keeps this ramp lightweight while being durable, and the slots makes it easy to keep clean while using in all sorts of weather situations. The handle and storage case makes this portable ramp easy to carry while traveling.
This is a good portable handicap ramp for those looking for something simple, basic, and easy to use. The grip on the ramp and the side rails help keep this ramp safe and sturdy over uneven ground, one or two steps, or through doorways. This is another good option for those looking for a ramp to use mainly at home but with the portability and functionality to bring while traveling.
Having a portable wheelchair ramp while traveling is a good idea, just to help with unexpected situations. You won't want to miss out on that great restaurant, shopping experience, or amazing tourist attraction because of a few steps or uneven ground, and having your own portable ramp for wheelchair users will make it easy for wheelchair users or those with a handicap to quickly navigate those obstacles.
There are many portable ramps for wheelchairs that are easy to use at home and while traveling, which helps you get the most out of your investment and allows you to travel with a ramp you're familiar with. These 8 portable ramps for wheelchairs are some of the best for traveling, so get out there and enjoy.
* This post contains affiliate links. If you click through on a link, you won't pay a penny more, but we'll receive a slight commission which helps us keep this information available to you. Thanks!