Recently, my mom, stepdad, nephew and I went for a weekend getaway to
Walt Disney World
. Before the trip, we briefly thought about staying at one of the spectacular Disney resorts, but when I heard about a brand new wheelchair accessible vacation rental at Margaritaville Orlando Resort, I was all in.
Margaritaville Orlando Resort
opened in early 2019 and is located in Kissimmee, Florida. The resort is just a short drive from Walt Disney World (5-10 minutes away), Universal Studios (20 minutes away), SeaWorld (15 minutes away), and many other
attractions in Kissimmee
.
In addition to a luxurious hotel with over 180 rooms, Margaritaville Orlando Resort also offers cottages, which are full houses that you can rent for your stay. It's often extremely difficult to find wheelchair accessible vacation rentals, but I'm thrilled to say that Margaritaville does have one.
Remember when I stayed at a wheelchair accessible cabin in the Great Smoky Mountains of Tennessee (
read about it here
)? Well, the same people that own it now have an accessible cottage at Margaritaville Orlando Resort. The owners, Connie and Paul Hartke, are devoted to making vacation rentals as wheelchair friendly as possible and for that, I am eternally grateful.
Wheelchair Accessible Vacation Rental
The cottage is called
Coconut Cabana
and has 3 floors, 5 bedrooms (each with their own bathroom), and a plethora of amenities to make your stay perfect.
While there isn't an elevator to reach the top two floors, the entire first floor is wheelchair accessible. So, what's on the first floor? A LOT!
The entire house is island themed, so I loved the design. The living room had a huge TV, couches, and was spacious enough for me to easily move around with my powered wheelchair. There was also surround sound and complimentary WiFi.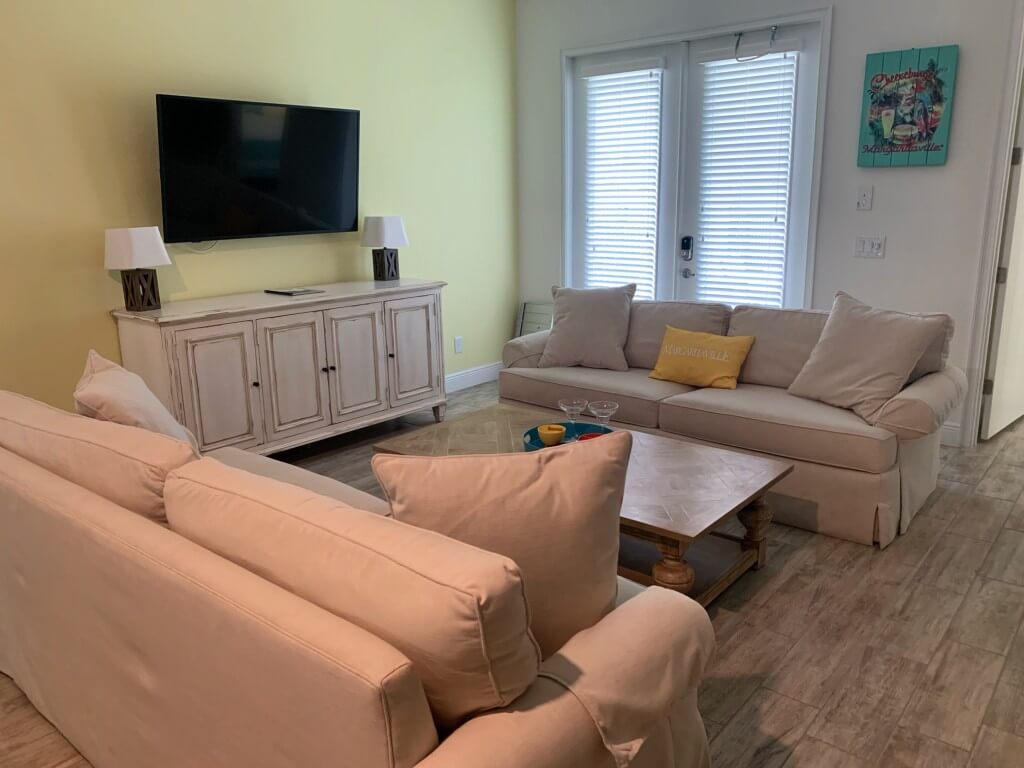 Connected to the living room is the dining area and a full kitchen. That's right, you could bring your own groceries and really make this cottage your home away from home.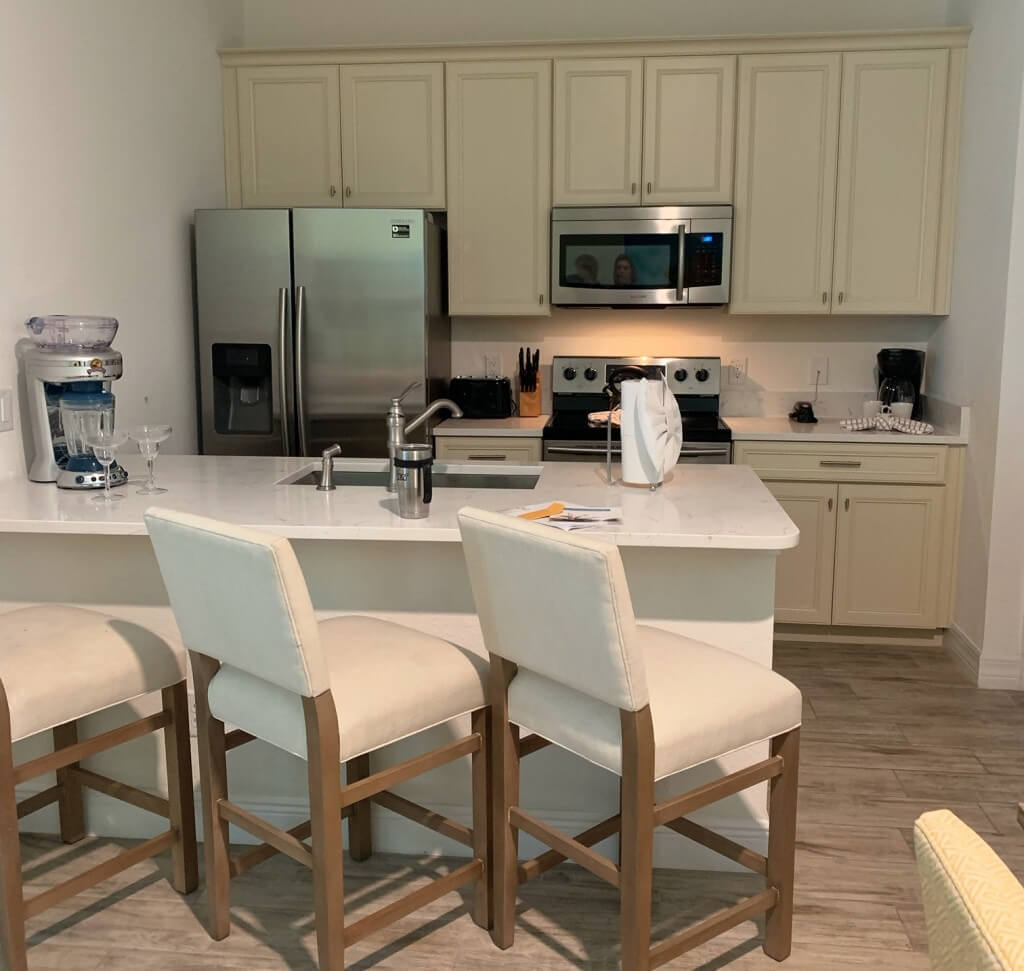 .
The kitchen came with a Margaritaville margarita maker, a coffee pot, an eight-person table, and a bar with an additional three seats.
Also on the first floor is a wheelchair accessible bedroom and private bathroom. The bedroom was spacious and worked perfectly for me, but the bed could be too high if you need to self-transfer. From the floor to the top of the bed, it is 28 inches tall. However, if you're using a hoyer lift, there is plenty of space underneath the bed.
.
The accessible bathroom has a roll-in shower with a shower wand, a shower seat upon request, and there are grab bars on all sides of the shower. The toilet has grab bars as well.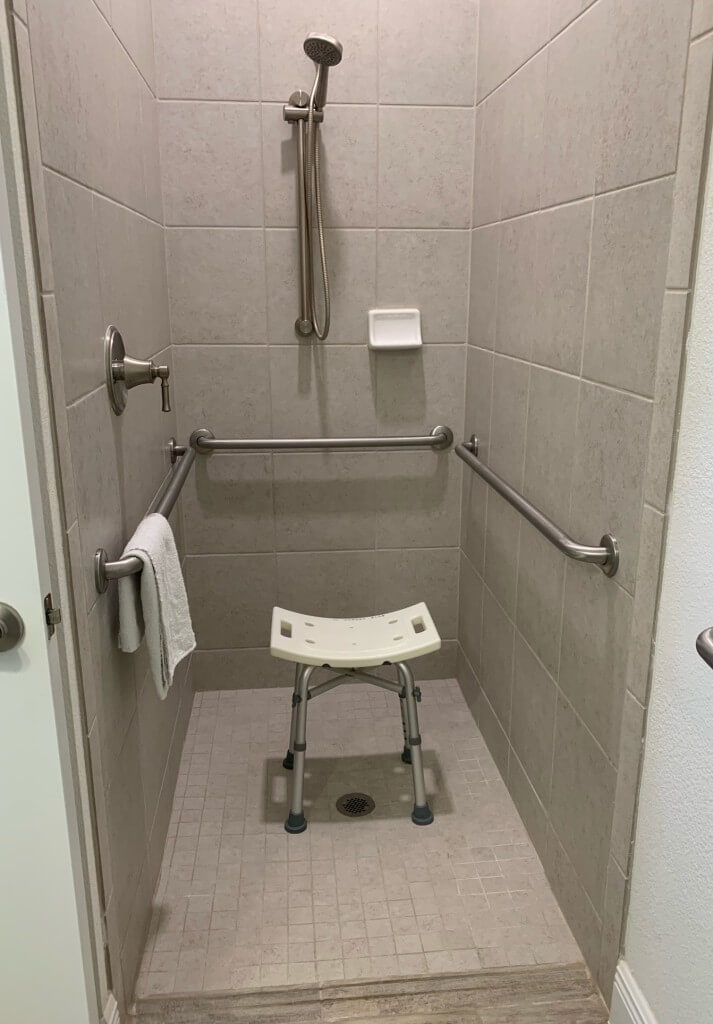 .
The second and third floors are not accessible, but have 4 bedrooms. If you're traveling with a large family, this could certainly be a great option for a place to stay that has accessibility, but also space for the whole family. Here are some photos of what the second and third floors have to offer –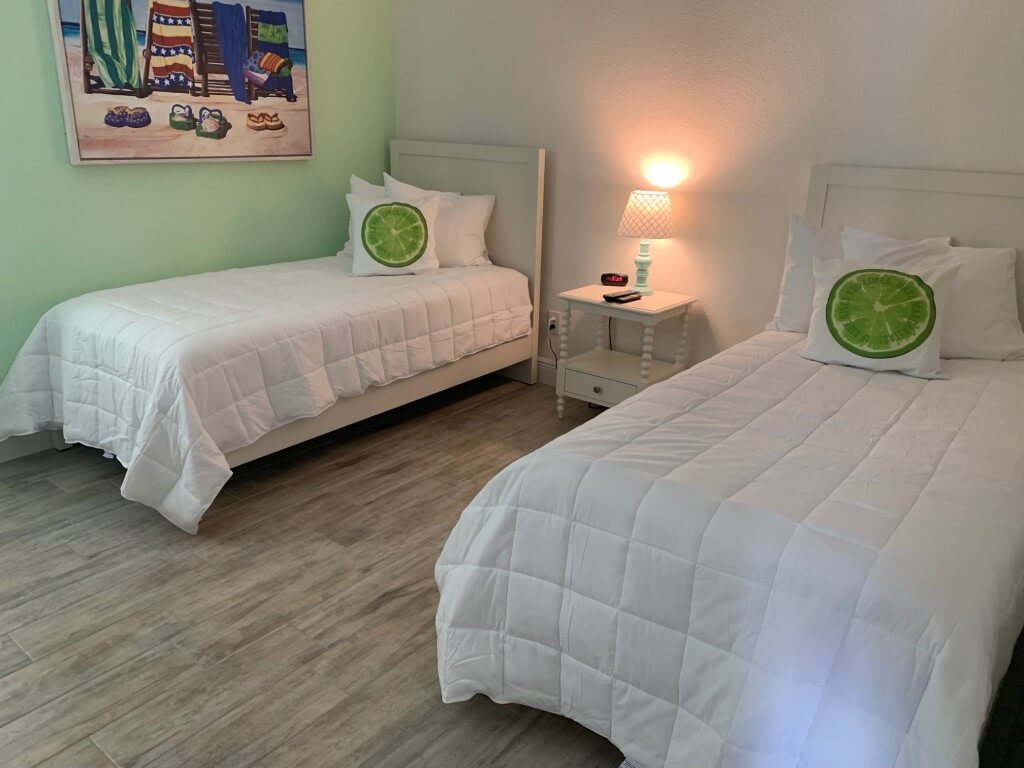 .
.
.
There is a lanai connected to the living room and a portable ramp is provided for the small step (just a few inches) onto the lanai. Since the cottage is lakefront, there's a fantastic view and even a private pool and jacuzzi. The pool doesn't have an access lift, but by staying in the cottage, you have access to all of Margaritaville Orlando Resort's amenities.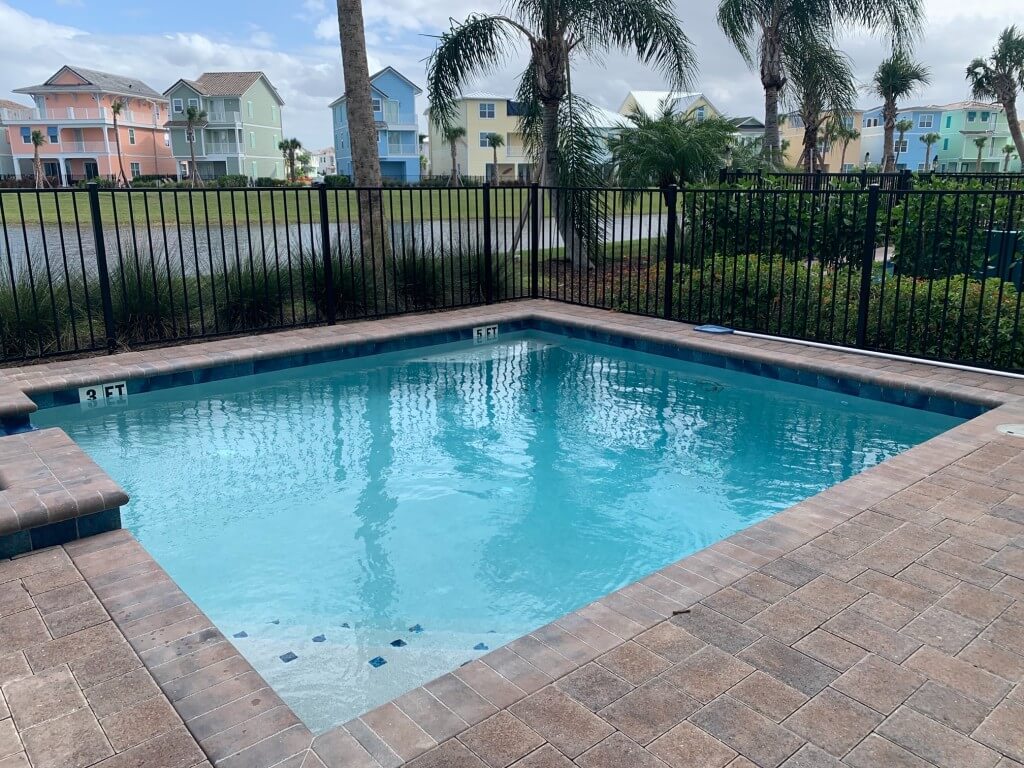 Just a short walk from the Coconut Cabana cottage are the resort's large pools. They have pool lifts and even better, the pools are zero-entry. Accessibility couldn't be better!
.
Near the resort pools are multiple games, including corn hole and a giant chess board, and there's a fire pit as well.
If that's not enough entertainment for you, you can visit the resort's
Sunset Walk
area, where there are multiple restaurants, a movie theater, and shops, or relax at the resort's
St. Somewhere Spa
. During my stay, I relaxed in the spa's Himalayan salt room and sauna. It was the perfect place to unwind after arriving at the Margaritaville Orlando Resort.
In addition to the multiple restaurants at Sunset Walk, the resort also has several dining options in the main building near the lobby. I had dinner at the resort's signature restaurant,
Euphoria
, and would highly recommend it. I had bruschetta, ricotta gnocchi, and key lime pie for dessert. Everything was delicious and I would definitely eat here again.
Wheelchair accessible vacation rentals may be a bit tough to find, but they are so worth it once you do find a great one. My stay in the Coconut Cabana cottage at Margaritaville Orlando Resort was superb! From relaxing on the lanai and spending time with my family to enjoying the plethora of amenities that the resort had to offer, my stay was one that I'll always remember.
Would you like to learn more about this accessible cottage? Click here!
*While my stay was complimentary, all opinions expressed are authentic and my own.