Hotels.com asked me to share my experience in Clearwater and accessibility suggestions, so I'm thrilled to bring you this article!
Visiting Clearwater, Florida is an amazing opportunity to enjoy a small-town community with direct access to the beach. Clearwater has great beaches with wheelchair accessibility and is also a bustling city with plenty to do. From meeting dolphins, exploring the pier, shopping downtown, and dining along the water, Clearwater, Florida has something for everyone.
I recently visited Clearwater and the surrounding cities and found the below 8 fun and accessible things to do, but let's first look at where to stay –
.
Where to Stay in Clearwater, Florida
.
Opal Sands Resort in Clearwater Beach
When I visited Clearwater, I stayed at Opal Sands Resort, which is one of the best places to stay in Clearwater. I had a very nice stay and would highly recommend it, providing the hotel and rooms suit your needs.
My specific wheelchair accessible room was spacious with a roll in shower and accessible balcony. A hoyer lift could not roll under the bed though, as it had a block frame underneath.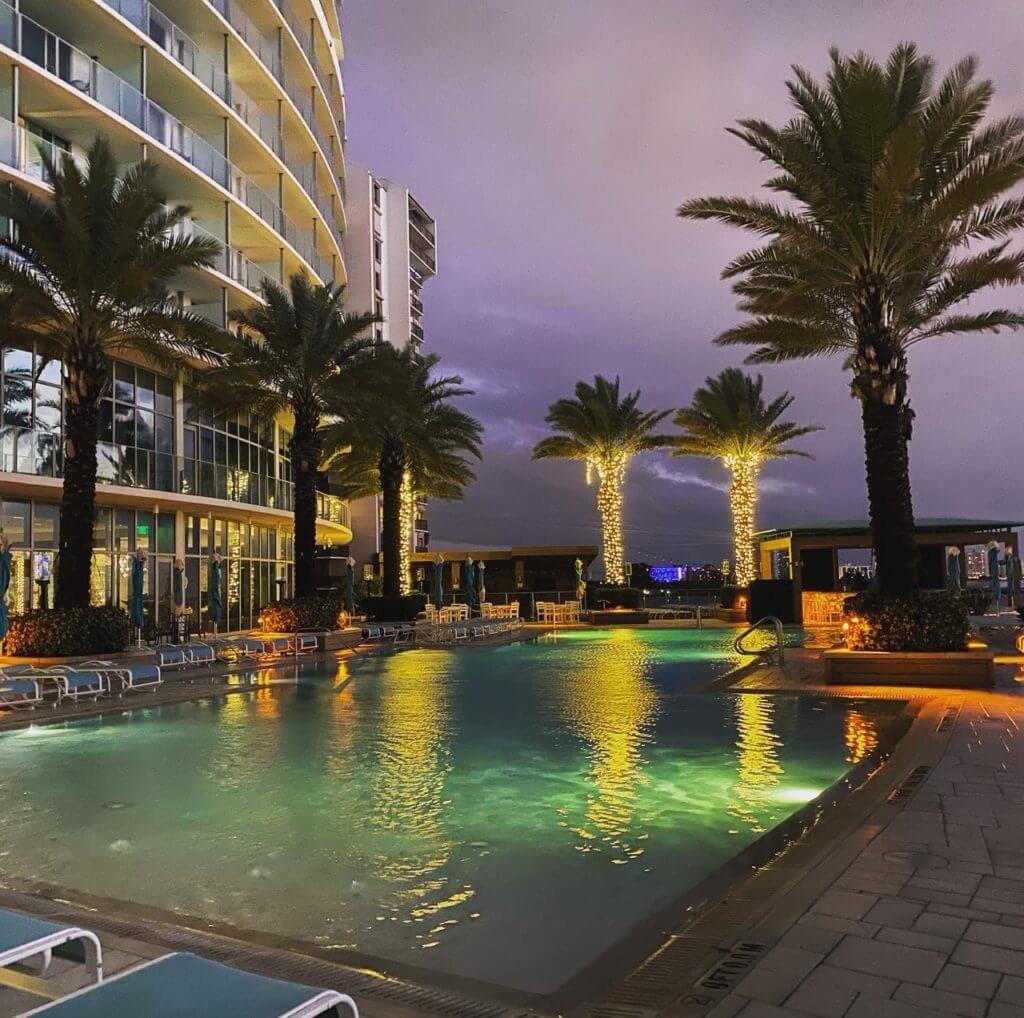 Overall, it was a pleasant stay and I would stay here again. There are also a variety of hotels along Clearwater Beach and St. Petersburg, which gives several options for accessible rooms to suit your needs.
.
Wheelchair Accessible Things to Do in Clearwater FL
.
1: Meet a Famous Dolphin at Clearwater Marine Aquarium
The star of the Clearwater Marine Aquarium is Winter the Dolphin, made famous by the Dolphin Tale movies, which were also filmed in Clearwater. This is the perfect place to get to meet Winter, as well as learn about the Aquarium and how they work to rescue, rehab, and release ocean wildlife, which is different than other traditional aquariums. There are 4 resident Bottlenose Dolphins at the Aquarium; Winter, Hope, Nick, and PJ. On the website, you can read each of their stories and learn about how to meet them.
Winter, the most famous for the Dolphin Tale films, was rescued from being caught in a crab trap line when she was two months old. The trap cut off circulation to her tail, which could not be saved. Most dolphins in this situation do not survive, but Winterlearned how to adapt by learning a new swimming pattern and with the help of the aquarium is thriving today. Today, Winter has a prosthetic tail that allows her to swim with other dolphins and swim more naturally like she did before the accident. To meet Winter, check out the presentation times for the Winter Zone.
CMA is wheelchair accessible, but not all activities on the property are fully accessible. There is a small elevator for exploring the second floor and general space to navigate a wheelchair through the exhibit spaces. Wheelchair accessible areas are clearly marked with proper signage and you can request an ADA map at admission to highlight the elevators, restrooms, and ADA space at each exhibit. The Sea Life Safari and the Dolphin Adventure Tour are not wheelchair accessible, as you need to board a boat or walk a short distance to sit, and the wheelchair will be left at the boarding site.
2: Roll on the Beach and Pier 60
Every visit to Clearwater isn't complete without a stop at the beach. Clearwater Beach and Pier 60 are a great place to visit because of the entertainment and fun available, as well as the accessibility. Every night around sunset, Pier 60 comes alive with plenty of family fun. The Sunset at Pier 60 Festival is a time when arts and craft vendors, as well as live music, food, and street performers help the night come alive with entertainment and activity. This is a great place to shop, watch the sunset, explore, and enjoy the community atmosphere.
Clearwater Beach is also a great place to stay and a central spot within the city. There are plenty of hotels, dining, and activities to keep you busy. The beaches themselves are amazing and have a small-town community vibe that's open to tourists. The mix of tourist destination and small-town feel helps the beach feel more low-key and easier to enjoy compared to busier beaches.
Visiting the beach near Pier 60 gives you access to manual beach wheelchairs, which are available for free. These wheelchairs are on a first come, first serve basis and can be found at the lifeguard station closest to Pier 60.
3: Check Out the Downtown Area
Exploring downtown Clearwater is a great way to take a break from the beach and experience the culture of Clearwater. Visiting downtown Clearwatergives you a chance to shop, dine, and explore. It may even be fun to add a downtown trip to your Clearwater Marine Aquarium visit and take the ferry taxi into town. There are plenty of parking options, from parking at the ferry to parking garages downtown.
Your trip to the downtown area is completely customizable and is better to plan ahead of time, as some places you want to see may be further away than others. A highlight of downtown Clearwater are the murals, a series of 4 murals painted by local artists. This event is called Paint the Town and can be a fun way to structure your visit.
Downtown Clearwater is wheelchair accessible with handicap parking available in the garages and a wheelchair accessible water ferry for shuttling between locations. There's also the Jolly Trolley, which is wheelchair accessible. This trolley makes several stops around downtown, making it easy for you to explore without having to move the car.
4: Eat Some Delicious Food
Clearwater is an excellent place for enjoying the variety of dining options. There's something for everyone, from your standard order to a new menu item you take a chance on.
When I was in Clearwater, I ate at Frenchy's South Beach Cafe where I ordered the Grouper sandwich and it was delicious. Frenchy's has an excellent beachy vibe from the bright exterior to the colorful umbrellas and open-air dining. There's an amazing view of the ocean, and they're known for their Grouper. The menu is definitely seafood heavy, but there are a few chicken dishes and vegetarian dishes to choose from as well.
Post Corner Pizza is another great place to stop in for a pizza or some Greek inspired dishes. This place has amazing murals and a unique vibe. If you're looking for some standard fare, from pizza and salads to sandwiches and other staples, this is a good place for the whole family. The Greek options offer a unique approach to what some would consider a typical pizza and sandwich place, so definitely keep Post Corner Pizza in mind during your stay.
Columbia Restaurant was my favorite of all the dining I did in Clearwater. This is an amazing place for scenic views and is a great sit-down restaurant for an enjoyable dinner during sunset. There's an expansive lunch and dinner menu, with Columbian and Spanish inspired dishes. The tapas menu offers a range of options to explore this unique dining style. I would highly recommend this restaurant to anyone traveling to Clearwater, as the location is memorable and the menu is fantastic.
Sea Guini is another great place for enjoying the view of the water while relaxing or socializing over a meal. The main fare of this restaurant is seafood influenced by the Mediterranean and Italy. There are breakfast, lunch, dinner, drinks, and dessert menus, making it easy to stop by at almost any time to enjoy the property and the food. The lounge menu has pizzas, appetizers, and cocktails, giving you some adult time to enjoy while on vacation. I would recommend Sea Guini for an adult evening or if you're looking for upscale dining along the water.
All of the restaurants mentioned are wheelchair accessible. If you have any questions feel free to call ahead, as there is outdoor seating at most places along the water. Many menus are available to view online, which can make it easy to plan your meals ahead of time or answer questions about ingredients and menu style.
5: See a Show at the Bilheimer Capitol Theatre
The Bilheimer Capitol Theatreis located on Cleveland Street and offers plenty of opportunity to see a show while you're in town. I was in Clearwater right before Christmas and saw Rockapella. It was a great show and if you'd like to see something while you're in town, keep an eye on the seasonal schedule. There are so many great shows that visit this theatre that you shouldn't have a problem finding something interesting. The seasonal schedule is available directly on the website, giving you notice for upcoming shows so you can plan your trip accordingly.
I found the theater to be very wheelchair accessible. It is a small theater and I had accessible seats on the upper level, which were great. Since the theater is small, there's no bad seat in the house, meaning that wherever you sit you'll have a good view. There are wheelchair locations with companion seats available for each performance, but they are limited so they recommend you order your tickets early. If you need an aisle seat, ramp access, or other accommodations it is advised to request these as soon as you purchase your tickets.
.
Things to Do Near Clearwater, Florida
.
If you're looking for something to do beyond the beach or Clearwater proper, there are several great options a short distance away. I found that it was fun to explore with some day trips to these locations and still be able to make it back for a relaxing sunset dinner in Clearwater.
6: Visit The Dali Museum in St. Petersburg
When I was planning my trip to Clearwater, I knew I had to make the trip to St. Petersburg to visit the Dali Museum. Salvador Dali is my favorite artist and being so close to the museum meant I had to find a way to visit. I visited the Dali Museum in Spain a couple of years ago and that's where I fell in love with Dali's work. If you're a fan of Dali or just art in general, I would definitely recommend making the side trip to visit this museum.
Less than an hour away by car from Clearwater, the Dali Museumis located on Dali Boulevard in St. Petersburg. A visit to this museum is amazing, from the unique design of the building to the exhibits and even the app to help enhance your experience.
Both the museum's galleries and the theater are wheelchair accessible. There are two wheelchair accessible entrances; one is the main entrance and there is another entrance to the Avant Garden. There are fully accessible bathrooms on the main floor, as well as on the top floor. All the accessibility in this museum allows you plenty of opportunity to enjoy the exhibits and the theater.
7: Gamble at the Seminole Hard Rock Casino in Tampa
Another great location about an hour by car from Clearwater, Florida is the Seminole Hard Rock Casino and Hotel in Tampa, Florida. This is an adult destination and is a great way to extend your trip to Clearwater either as a day trip or as an overnight stay before you have to head home. The casino was great in terms of accessibility and I even managed to win a couple hundred dollars when I played there.
The Seminole Hard Rock Casino covers 245,000 square feet of gaming space with 5,000 slots and over 100 gaming tables. This is a great casino for beginners as well as experienced gamers, as there's something for everyone. There are 46 poker tables for live action poker playing and other table games including blackjack and baccarat. Check out their website for any special promotions that may run while you're in town. This is a great way to make even more money while playing and maybe even join a tournament.
The casino floor is wheelchair accessible, though you may need a companion to move stools for slot machine access. I don't usually have too much difficulty navigating the floor and finding the games I enjoy playing the most. The hotel is also wheelchair accessiblewith accessible rooms. If you'd like to stay at the hotel, make sure to book your room in advance and request accessibility accommodations.
8: Explore Busch Gardens of Tampa Bay
When many people plan a trip to Florida, it isn't complete with a trip to a theme park, and Busch Gardens of Tampa Bay is the perfect destination to add to any Clearwater trip. Tampa Bay is only an hour away from Clearwater, making it the perfect addition to any vacation.
I visited right before Christmas and thoroughly enjoyed Christmas Town at Busch Gardens. Christmastime at theme parks in Florida is a lot of fun because the wintery theme can be enjoyed in warmer weather, giving you the best of both worlds.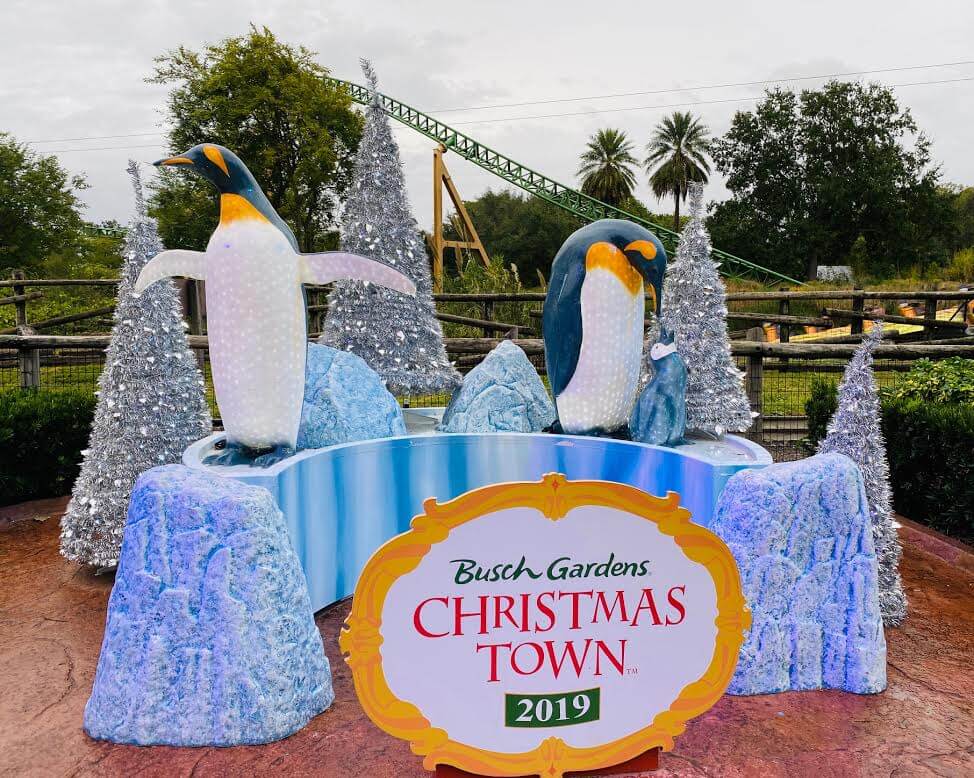 There were Christmas shows (Christmas on Ice was my favorite), and a Christmas Village, where I enjoyed some hot cocoa and festive donuts. I also got to meet Santa!
If you're visiting outside of the winter holidays, Busch Gardens is a great way to enjoy the natural landscape of Florida in that they have so many animals to visit and learn about. There are animal experiences where you can meet or feed specific animals, and amazing stage shows for a break from the excitement.
The train is the only "ride" that's fully wheelchair accessible, but it gives you a unique animal viewing experience. Visiting the park for a day of fun is still enjoyable from a wheelchair, as there is so much more to do that is accessible and inclusive.
Busch Gardens Tampa is wheelchair accessible with wide walkways and easy access to most shows and buildings. You can reserve a wheelchair online before your trip for a small fee. You are welcome to use your own wheelchair during your visit.
To board rides you can use your wheelchair in any line, although most rides are not fully wheelchair accessible and require a transfer from your wheelchair to the ride. There is a full accessibility guide available on the website that discusses the ride specifics to help you judge if your mobility and limitations would allow you to ride any of the options in the park.
As you can see, there are plenty of wheelchair accessible things to do in Clearwater, Florida and the surrounding cities. From a traditional beach vacation to exploring the downtown area for shopping and dining, or even branching out and seeing more of Florida, you can enjoy your trip knowing there are accessible activities available for every day of your stay.
.
.