I was six years old, sitting in my first grade class, and listening to my teacher, Mrs. Russell, talk about different countries around the world. In the midst of my daydreaming, she mentioned that there are seven continents: North America, South America, Europe, Africa, Asia, Australia, and Antarctica. "But nobody goes to Antarctica. It's just ice," she said. It may be just ice, but as soon as those words came out of her mouth, it opened up a world of possibilities for me.
"Why would nobody go to Antarctica? Even if it is just ice," I thought.
I went home and immediately began questioning my mom about the seven continents. She dug out the encyclopedias and that was the day that my life changed forever. That afternoon, I learned that there were animals known as kangaroos in Australia, a huge landmark known as the Eiffel Tower in France, and Antarctica actually had more than just ice. It had a massive amount of whales and penguins also!
Before that day, I had no idea that there was even a world beyond my small hometown of LaFayette, Georgia. However, now that I knew, I needed to see it for myself. In that moment, I set a goal to visit all seven continents. As a six year old, I had no idea how it would realistically happen and as I got older, I really had no idea how it would happen as a wheelchair user.
I have always known that the road to all seven continents wouldn't be an easy one, especially with a 350 pound wheelchair attached to my butt, but I maintained my determination. Has it been easy? Definitely not, but it has certainly been worth it.
Last week, I returned home from a 22 day cruise around South America and Antarctica, where I finally reached my seventh continent. It's incredibly surreal to me that it finally happened and I've been reflecting a lot on how I got to this point and how I accomplished my goal of visiting all seven continents. That goal that I set at six years old was finally completed 23 years later.
As many of you know, if you've been following me for a while, my mom raised me as a single parent. She struggled to make ends meet as a paraprofessional in an elementary school from the time I was six until I graduated high school, making about $800 per month. Needless to say, we didn't have money to jet off to Europe in the summers, but we would always go on one or two trips per year. We'd make the nine-hour drive to Orlando and tour timeshares in order to get free tickets to Walt Disney World, we'd have yard sales all summer and go to the beach with the money we made, and we'd explore locally, venturing to nearby cities and attractions for a cheap weekend getaway. She was determined to show me as much as she could, and these experiences undoubtedly instilled the travel bug inside of me.
I didn't set wheels on another continent until I was 18, but I fully believe that our many trips around the southeastern U.S. fed my wanderlust and kept the drive in me to continue exploring.
At the age of 18, I was preparing to graduate high school. After taking German classes for all four years of high school, I had a strong desire to actually visit Germany. I sent graduation announcements to pretty much everyone that I've ever met and by some miracle, I received over $2,000 from family and friends, along with many congratulatory cards. With the money, I booked a nine day trip to Germany and Austria as my high school graduation trip. While my fellow classmates were headed to Florida, I was flying to Europe for the first time and I couldn't have been more excited.
On that trip, I learned about the hassles of traveling with a powered wheelchair. When my mom and I arrived at our hotel, there was a step to get in the lobby. I called and emailed before booking the hotel to check accessibility, but that apparently wasn't enough. With the help of the hotel staff, we managed to get me up and down the step every time we entered or left the hotel during that trip. And on our first night in that same hotel, my wheelchair charger blew up when we plugged it in (and yes, we had a converter and adapter). The next day, we had to find a wheelchair repair shop in Munich and purchase a new charger. Luckily, it all worked out, but that trip taught both my mom and I that patience and optimism are necessities when traveling as a wheelchair user. It was a valuable lesson and I'm grateful that I learned it early on.
Now that I had two continents under my belt, I was unstoppable. Only five more to go!
Throughout college, I saved every dollar that I could. I worked as a telemarketer for a few months, interned at Disney World for a semester, and I, somewhat embarrassingly, even took out extra student loans so that I could travel. Was it a smart decision? Probably not the wisest, but I did what I had to do and for my college graduation trip, I went to continent number three – Australia!
Australia was everything that I wanted it to be and to this day, it remains one of my favorite places on the planet. It's also one of the most accessible in my opinion with wheelchair friendly taxis, buses, ferries, and more. Seriously, the rest of the world needs to look at Sydney to know how to truly be inclusive.
Not only did that trip to Australia give me the chance to finally see kangaroos in real-life, just like I had learned of 18 years earlier in the encyclopedia, but it also gave me the idea to start my blog. Prior to the trip, I was searching online for accessibility information on Australia and was struggling to find anything. Suddenly, I had an idea: What if I created a blog, where I could share my travels and accessibility that I've encountered along the way? With that thought, Curb Free with Cory Lee was born. I googled "how to start a travel blog" and followed the instructions step-by-step. Within a few days (on December 9th, 2013 to be exact), my blog was live.
When I started my blog, I gave myself one year to grow it. If I was making some money from it and it was doing well, I'd stick with the whole blogging thing. If it wasn't a success at the end of that first year, I'd look for a job in advertising or marketing, which is what my degree is in. It was a tough year. I wrote until my fingers couldn't write any more, I took online classes and studied the art of blogging nonstop, and I worked my butt off. I was determined to make the blog a success, so I put everything that I had into it.
Toward the end of that year when I was about to give up, I received an email inviting me to speak at the Abilities Expo in Los Angeles. The expo didn't pay a speaker's fee or cover flights, but something inside of me said that I needed to go. I booked flights and a hotel that same day and a couple months later, I was in Los Angeles giving a speech about traveling as a wheelchair user to a crowd of no more than thirty people.
When my presentation finished, a lady came up to me and introduced herself as the Travel Editor of the Los Angeles Times. I was shocked. An editor of the Los Angeles Times, one of the biggest newspapers in the country, was in my audience?! Not only did she introduce herself, but she asked if she could interview me for two upcoming articles about flying with a wheelchair in the Times. I said yes, of course, and a few weeks later, the first article came out. My blog was mentioned and I was quoted throughout the entire piece. It was the publicity that I needed to take my blog to the next level.
After both of the L.A. Times articles came out in early 2015, I began receiving emails from different companies that wanted to collaborate. Finally, after a year of hard work and devoting my entire being to my blog, I began making some money. I decided to keep blogging and trying to grow the Curb Free with Cory Lee brand.
What a wildly amazing five years it has been since the Los Angeles Times stories came out!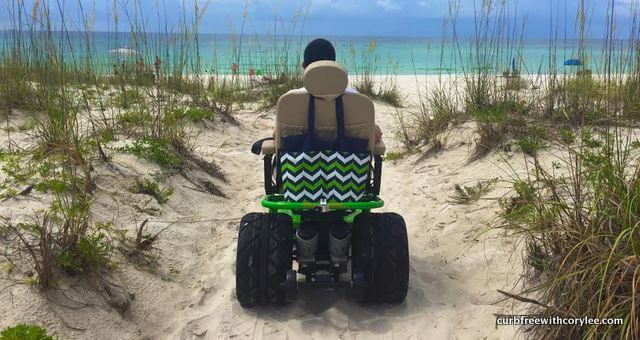 Since starting this blog, I have received invitations to visit remarkable places like South Africa, India, Finland, Morocco, Israel, Costa Rica, Spain, and most recently, I partnered up with Allianz Travel Insurance to visit my seventh continent, Antarctica! In my wildest dreams, I could have never imagined the places that this blog, along with the constant support of all of you reading this, would take me.
When I clicked the publish button on my first blog post in 2013, I had no idea that that decision would allow me to accomplish my life goal of visiting all seven continents. But sometimes, if you have enough determination, even your craziest dreams can come true.
As I sat in Antarctica, staring at giant icebergs and seeing more whales than you can possibly imagine, the power of that moment hit me. No matter what it is that you hope to achieve, whether you want to graduate college or climb Mount Everest or something totally different, you can do it if you stay motivated. Remind yourself daily that it's what you want, surround yourself with people that believe in you just as much as you believe in yourself, and be completely open to the process that the universe has in store for you. Eventually, when the time is right, you will reach your goal. It may even take 23 years, like my goal did, but enjoy every step of the process and it will make you who you are meant to be.
There's a saying that "Nothing worthwhile is easy" and I learned that firsthand. If it was easy, it wouldn't be nearly as special when it happens.
So, what is your goal and what steps are you taking to achieve it?
.
.