Imagine a place where instead of skyscrapers, there are huge glaciers. Instead of crowded sidewalks full of people rushing to their next appointment, there are porpoising penguins and whales breaching in the water. Instead of the general chaos of everyday life, there is complete silence, except for the occasional sound of an ice cap breaking.
This place is Antarctica and it's unlike any other destination on earth.
Since the age of six, I have dreamed of visiting Antarctica. As I got older, I started looking up cruises to the continent. I contacted companies like Quark Expeditions, Hurtigruten, and National Geographic Expeditions to inquire about accessibility, but was immediately met with stern doubts on each phone call. "It wouldn't be very accessible," they said. Or the even more doubtful response that I heard: "It's definitely not possible!" With each phone call, it became more and more clear that visiting Antarctica may not be possible for me as a wheelchair user. I sat my dream on the back burner for a while, hoping that one day it would become possible.
A few years passed by, but then I went on a cruise to Alaska with Holland America. While on that cruise, I learned that Holland America also offered cruises to Antarctica. Immediately, I began researching and quickly discovered that if I was going to visit my seventh continent before turning 30 years old, this was my best and most accessible option.
In 2018, I booked the cruise, which was to board nearly two years later on January 31st, 2020. For almost two years, I anxiously counted down the days. I wanted nothing more than to get on the cruise ship, cross the Drake Passage, and be in Antarctica.
Fast forward to January 2020 and there I was finally boarding Holland America's Zaandam ship in Buenos Aires, Argentina. The ship held over 1,300 guests and the cruise lasted 22 nights, making it my longest travel experience yet. During those three weeks, we docked in remarkable cities such as Montevideo, Puerto Madryn, Ushuaia, and eventually ended in Santiago, Chile (blog posts about these cities are coming soon!). However, despite the various South American ports of call, everyone on the ship, including me, was most looking forward to our four full days in the otherworldly continent of Antarctica.
Accessibility on the Cruise Ship
Before we arrived in Antarctica, we had a little over a week to learn the ins-and-outs of the ship and get ready for the experience of a lifetime. Our Holland America cruise ship, the MS Zaandam, was an older ship, so I wasn't entirely sure what to expect in regards to accessibility. The MS Zaandam was launched in 1999 and then christened in 2000 by none other than my childhood heroes Mary-Kate and Ashley Olsen. While it has capacity for over 1,400 guests, it's considered a smaller cruise ship, which was nice because it never felt too overcrowded.
There were mostly pros, but a few cons as well when it came to wheelchair accessibility on the MS Zaandam. Let's look at both.
Pros:
• The first thing you're probably wanting to know, as I would be, is how accessible the room was. I stayed in stateroom 3429, which was a fully wheelchair accessible ocean view room. It had two twin beds, both of which a hoyer lift could easily roll under, and plenty of space for me to maneuver around. In the bathroom, there was a roll-in shower with a fold-down shower seat, a pull-under sink, and grab bars. Accessibility in the stateroom was perfect for me!
Check out this video for a tour of my stateroom –
• The ship had plenty of elevators and compared to other cruises I've done, the elevators were always quite fast to use. I never waited more than three minutes for an elevator.
• Accessible restrooms were on all of the main decks of the ship, including companion care restrooms. It was nice not having to go all the way back to my stateroom just to use the restroom.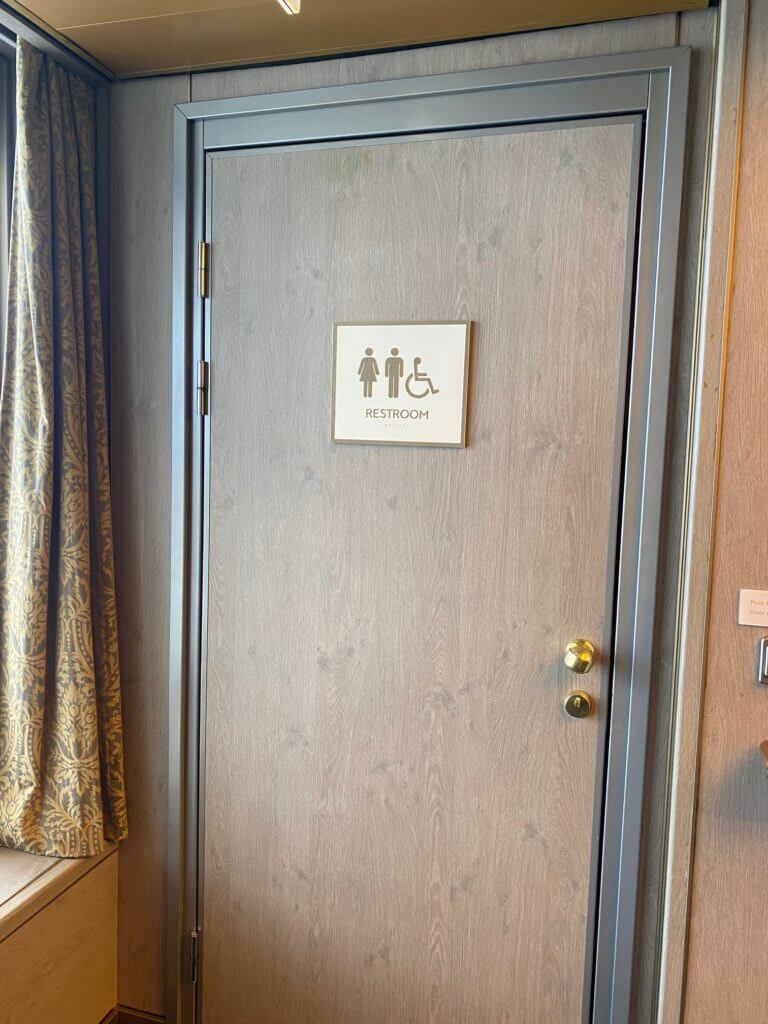 • The Mainstage, which had tremendously entertaining shows every night, had special seating for wheelchair users. My favorite accessible seating area was on deck 4 in the very center of the Mainstage seating. I had a perfect view of the stage from there! The shows are popular though, so be sure to get there a bit early to secure your ideal seat.
• The crew members of the MS Zaandam were the nicest people that I've ever met on a cruise. In the dining areas, they offered to carry my plate if I was at the buffet and cut up my food any time that I needed that. My mom and a friend of mine traveled with me and were prepared to assist me, but it was so nice that they didn't always have to thanks to the fantastic crew.
• There was a Medical Center onboard the MS Zaandam. I, luckily, was healthy throughout the cruise and didn't need to visit the doctor, but as someone with a weaker immune system, it was nice to know that the Medical Center was there if I did need something.
• Many of the games and activities were fully inclusive, which enabled me to have a fun time onboard. Some of the activities that I enjoyed the most during the cruise, aside from seeing the sights of Antarctica, were playing bingo, watching movies in the onboard Wajang Theater (it had seating areas specifically for wheelchair users as well), daily general knowledge trivia and music trivia, game nights (we played Taboo and Scattergories in groups a few times), doing a 5k known as On Deck for a Cause to raise money for cancer charities, attending Spanish language classes, and I even participated in a pub crawl to four of the ship's bars one night. I truly had so much fun on the MS Zaandam!
Now that you know what makes the MS Zaandam great for wheelchair users, let's look at a few of the accessibility cons.
Cons:
• There was not an access lift for the pools and hot tubs. It would've been nice to get in the hot tub while in Antarctica, but since the MS Zaandam is an older ship and didn't have a pool lift, it wasn't possible for me.
• The Guest Services desk didn't have a lowered counter. It was difficult for me to talk to Guest Services without using the C-Me elevation feature on my Quickie wheelchair. Luckily, I could raise up to eye-level and communicate easier, but if your wheelchair can't raise up, you may want to ask the Guest Services worker to come to your side of the desk for easier communication.
• One last issue wasn't exactly on the MS Zaandam, but at the various ports of call. Many of the South American ports are tendered, so instead of the ship docking at the port, guests have to transfer to a small tender boat to go ashore. Unfortunately, the tender boats are not accessible for a heavy power wheelchair, so I did have to stay on the ship at a few ports of call (in the Falkland Islands and all Chileans ports except San Antonio (Santiago), where our cruise ended). I enjoyed having the ship pretty much to myself on those days and since I really only booked the cruise for Antarctica, I wasn't too bummed out, but it is something to be aware of if you're going on this cruise.
In my opinion, the pros far outweighed the cons on the MS Zaandam. If you want to visit Antarctic as a wheelchair user, I'd definitely recommend this ship. Sure, you might not be able to get off the ship at every port of call, but the beauty of Antarctica more than makes up for it.
If a larger cruise ship isn't your style, you might want to check out expedition cruises or cheap Antarctic cruises, even though they may not be the most accessible options. Depending on what you need though, they could possibly work. Just be sure to call and question the cruise line about all of your accessibility needs.
Now, let's delve into the Antarctica portion of my trip…
Preparing for Antarctica
In addition to all of the activities mentioned above, Holland America did a great job of getting us prepared for Antarctica.
There were documentaries and movies about Antarctica shown in the Wajang Theater. I watched the Disney film "Penguins", a documentary about Douglas Mawson (he was one of the early explorers of the continent), and the newer film "Where'd You Go, Bernadette". Each movie got me even more excited to be in Antarctica.
The movies were great, but the best part of cruising with Holland America was having three Antarctica experts onboard throughout the entire journey. Bryan Storey, Lloyd Spencer Davis, and Craig Cormick joined the cruise and taught all of us 1,300+ guests about the nature, climate, wildlife, and their first-hand experiences in Antarctica.
There were various sessions led by Bryan, Lloyd, and Craig, sometimes two to three per day, about Antarctica. The sessions took place at the Mainstage and were the most well attended activities of the cruise. I tried to get there about 30-40 minutes before they started or it was difficult to get a spot not in the very back.
One of my favorite sessions was about the effects of climate change on Antarctica. It was fascinating to see how the continent is changing as the world warms. Other sessions that I enjoyed were about whales, penguins, and the history of Antarctica. I learned so much from attending these sessions and it enhanced my overall experience tremendously.
After attending various sessions led by the three experts and watching multiple movies about the continent, my excitement was at an all-time high. I went to bed on February 7th and knew that when I woke up, I would finally be in my seventh continent.
My Time in Antarctica
I woke up super early on February 8th because I couldn't wait to actually see Antarctica for the first time. I took the quickest shower of my life, threw on my Arc'teryx Fission SV Jacket with Climashield insulation (it's seriously the warmest/best jacket I've ever owned!), and I hopped in the elevator to go to deck 9 for the best view.
When I rolled out of that elevator and went outside, I was in disbelief. I had never seen anything quite so spectacular. There was a huge mountain of ice and it towered above the cruise ship. Tears filled my eyes and I became overwhelmed with emotion at the fact that I actually made it to my seventh continent. My journey to reach all seven continents certainly wasn't an easy one, but in that moment, I immediately knew that it was worth it.
For the first day in Antarctica, we cruised in the South Shetland Islands and Hope Bay, just north of the Antarctic Peninsula. We were extremely lucky to have sunny and clear skies, and it was a LOT warmer than I expected it to be. I expected Antarctica to be freezing and insanely windy, but it was pleasant for our first two full days – sunny and about 38° Fahrenheit.
On the first day, we saw about 10 whales, dozens of penguins, and a few seals. Whales are one of my favorite animals, so I was ecstatic to see so many. I thought 10 was a lot, but on the second day we saw so many more. I saw at least 40 whales on our second day of cruising in Antarctica and for the first time ever, I saw a whale breach. It jumped up out of the water and I could see it's entire body. It was one of the most memorable things that I've ever witnessed.
On the second day of our Antarctica tour, we cruised in Charlotte Bay and Wilhelmina Bay. I thought our first day was beautiful, but nothing could have prepared me for our second day. In addition to seeing a ton of wildlife, the icebergs and glaciers were much more grand as well. It seemed like every 15 minutes, there was something bigger and better to look at. My jaw was on the floor the entire day. 
For the majority of our time in Antarctica, I stayed outside on decks 9 or 8 trying to take it all in, but my go-to indoor area was The Crow's Nest on deck 9. The Crow's Nest had floor to ceiling glass windows, so it was easy to see out.
While in Antarctica, the three experts that I mentioned earlier were on the speaker system describing what our ship was passing. If I was in The Crow's Nest and they suddenly said that a group of whales were on the starboard side of the ship, I could quickly get outside within 30 seconds for a better view. It was the perfect place to relax inside, but still be close to the outdoor area. Another marvelous thing about The Crow's Nest was that they had a full bar. I didn't drink any alcohol, but I did indulge in quite a few hot chocolates.
On our third full day in Antarctica, the weather wasn't as nice as the first two days. It was cloudy and much windier, but we were still able to see some incredible sights and a lot of wildlife.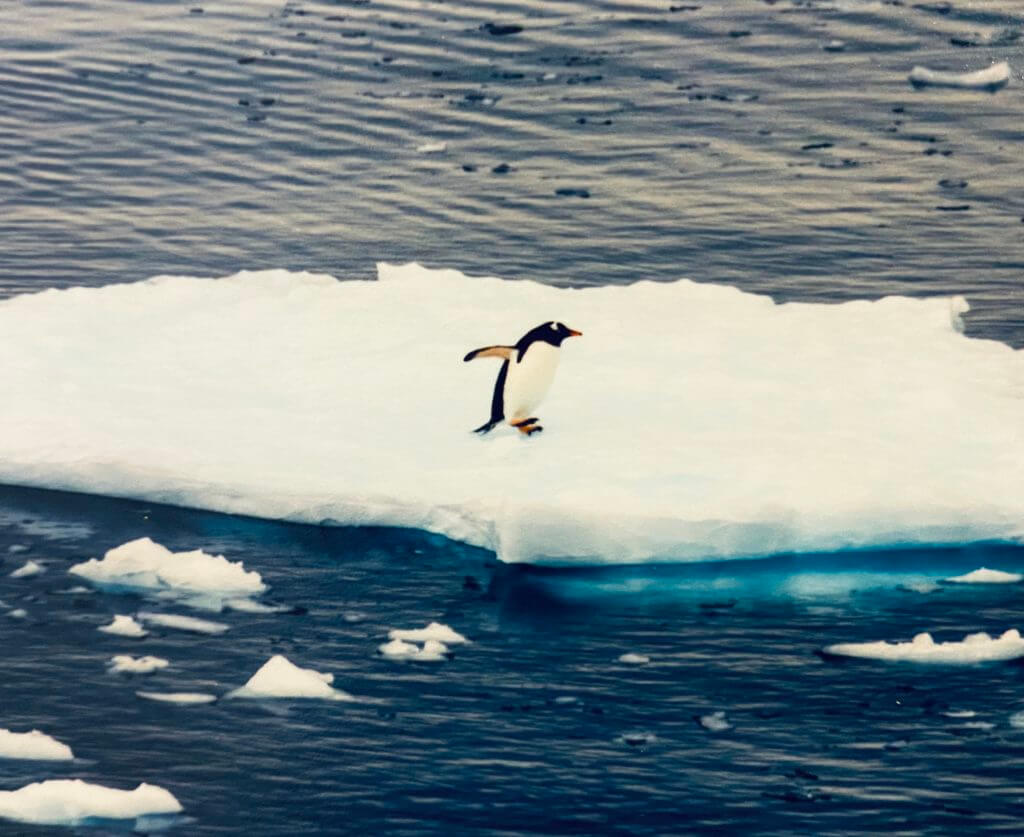 We cruised through the Gerlache Strait, which had more icebergs than I have ever seen, and Paradise Bay. It was surreal to see so many icebergs, but our ship's captain did a perfect job of getting us through some interesting areas. Luckily, despite the many icebergs, we didn't have to fight over who could fit on a floating door in the water (à la Titanic).
On our fourth and final day in Antarctica, our captain said that some rough weather was coming in, so we needed to cut our last day a bit short. If we didn't, we'd be in for an extremely rocky journey across the Drake Passage. So, on the morning of February 11th, we cruised by Deception Island for our last glances of Antarctica.
Deception Island was unlike anywhere else that we saw in Antarctica. Instead of being solid ice, it actually was predominantly brown from rocks. Why? Deception Island is the caldera of an active volcano! It was something totally different to see than we were accustomed to by this point, but I loved seeing how diverse the continent could be. We also saw thousands of penguins on the beach of Deception Island, which was an added bonus.
After cruising around Deception Island for a couple hours, we said our final farewells to Antarctica and headed toward the Drake Passage. I was sad to say goodbye, but humbled to have had such a wonderful experience. Antarctica completely blew me away in less than four days.
Before going to Antarctica with Holland America, I wondered if it would be worth it since we couldn't get off the ship and set foot/wheel on the continent (only small ships with less than 500 people can go ashore in Antarctica). But I can wholeheartedly say that it was worth every single penny and bit of effort to get there. I saw sights that were more spectacular than anything I've ever laid eyes upon. I saw more whales, penguins, and seals than I can even count. And I truly had the experience of a lifetime. I honestly don't feel like I missed out on anything by not going ashore.
When I was researching the continent before my trip, I came across this quote:
"If Antarctica were music it would be Mozart. Art, and it would be Michelangelo. Literature, and it would be Shakespeare. And yet it is something even greater; the only place on earth that is still as it should be. May we never tame it." ― Andrew Denton
After being there and seeing it for myself, I can promise you that every word of that quote is immensely true. Antarctica deserves all of the praise in the world and should be visited by everyone at least once. It showed me just how amazing our world can be and for that, I am eternally grateful to Antarctica.
Want to see part of my experience in Antarctica? Check out this short video –
Crossing the Drake Passage
Many people say that the Drake Passage is the price you pay for getting to experience the beauty of Antarctica. It is the body of water that separates South America and Antarctica, and it's said to have the roughest waters in the entire world. It is often referred to as the "Drake shake" or if you're extremely lucky, it can rarely be the "Drake lake".
We left Antarctica a bit early to try to avoid the very rough waters, but we did experience a pretty good "Drake shake" still. Granted, it could have been MUCH worse, but as a first-timer, it was a bit nerve-wracking going across. We experienced four meter swells (about 13 feet) and our ship was really rocking for a few hours.
During the roughest parts of the Drake Passage, we saw a few people fall down in the hallways, about 20 plates fell off the buffet and broke, and water sloshed out of the pool. Thankfully, I don't get seasick, but I did put on my seatbelt just to be safe. My mom, who usually gets extremely seasick, did pretty well surprisingly. She was wearing a Scopolamine sea sickness patch, which helped during the cruise, but she then had terrible side effects from it after our cruise (read about her Scopolamine patch withdrawals here).
I've heard from friends that when they went across the Drake, it had nine meter swells, so I'd consider ourselves fortunate. However, if you get seasick easily, you might want to stock up on Dramamine, ginger ale, and green apples before crossing the Drake. Is it rough? Yes, but you'll be glad that you braved it. It's a small price to pay for getting to experience Antarctica.
Antarctica as a wheelchair user may sound like a crazy idea to most people. It's a journey that requires endurance, a willingness to go where relatively few have gone, and a tough stomach if you're crossing the Drake. But for those who choose to forge ahead and visit Antarctica anyway, it is truly the experience of a lifetime and it's one that I'll certainly never forget.
.
.