If you have been following my blog for a while, then you probably know that I'm obsessed with Walt Disney World. I visited three times last year, despite living 550 miles away, and it will most likely be the first place that I go to when the Coronavirus situation gets better and it's safe to do so.
While I've been to Disney World many times, I have never visited Disneyland. I was supposed to go to southern California this July and finally visit Disneyland, but that's been postponed now, of course. But luckily, I did discover one of my new favorite blogs before my trip got postponed. It's called All Access Disneyland.
All Access Disneyland is a fantastic blog by Angela Coate. She writes in-depth information about accessibility at Disneyland. I might not be visiting Disneyland this summer after all, but I know that once I can visit, I'll have all of the information that I need thanks to All Access Disneyland.
Angela recently agreed to do an interview with me for my Wheelie Inspiring Interview Series. I'm really excited for you to check it out and learn more about her!
1. Can you please tell us a bit about you and your disability?
I was born with an incredibly rare form of Congenital Muscular Dystrophy that has taught me to adapt to immeasurable circumstances and conditions in my 33 years of being alive. For instance, I haven't always had to rely on this wheelchair that you see me in today.
You wouldn't know it from looking at me now, but I had a very active childhood. My parents did not let the devastation of their daughter having a debilitating illness stop them from raising a happy and healthy-as-possible little girl. Sure, more days than not were filled with doctor visits and physical therapy appointments, but I was also involved in a variety of activities such as: gymnastics, dance classes, swimming, and sometimes even horseback riding. Other than wearing AFO braces on my feet/legs and noticing that participating in physical activities was quite a bit more challenging for me than the other kids, I really did not see myself any differently from everyone else, nor did my family or friends treat me otherwise.
And then I grew up and became an adult. Groan!
I was fortunate to be able to attend college and live on my own for over 5 years. In 2014, I graduated from California State University San Bernardino, with a Masters degree in Social Work. During that time, I worked as a Social Worker for 3 years, loving every minute of it. My college years were the greatest years of my life. I flourished in just about every way imaginable.
After college, I moved back home and tried to find a job with little success.
In the latter part of 2015, my life changed in the blink of an eye when I suddenly fell (for no apparent reason other than being weak), and broke my right leg. I underwent surgery to have a titanium rod and screws put in my tibia bone and endured 3 weeks of being in the hospital doing my best to fight and claw my way back to regaining strength in my leg. Much to my frustration, having been laid up in the hospital for so long, tolerating a myriad of drugs being pumped through my system, my muscles were at their weakest state ever and protested against nearly any exercise I threw at them.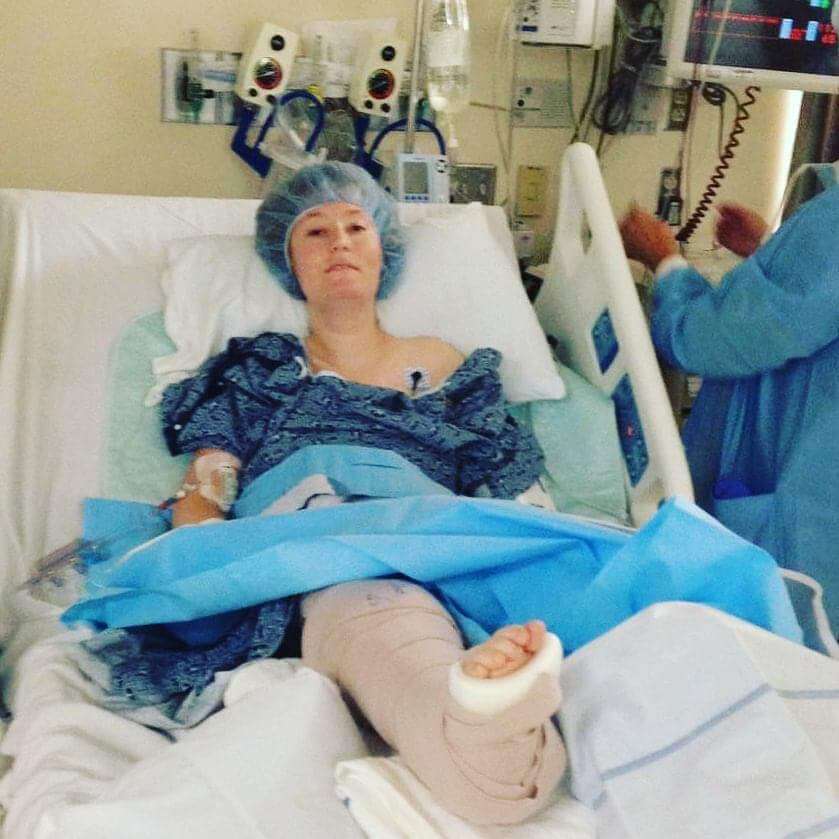 When it came time to be discharged from the hospital, I was completely dependent upon my family for everything including: bathing, toileting, dressing me, getting in/out of bed, driving me to-and-fro, and making my meals. Every last smidgen of independence I once knew and worked so hard to attain went out the window. It didn't take long for humiliation and discouragement to set in. For a while, doctors proceeded to give me hope that my strength would improve. However, my body had other plans. I did the best I could to navigate the house using a walker, but even that became increasingly difficult as the lack of physical activity had caused me to gain a considerable amount of weight that my muscles just could not withstand.
For a few years, as I still found myself not making any significant improvements, I spiraled into a bottomless pit of despair. Not only was I upset with what had become of my pathetic life, I felt like a humungous burden to my family who had to radically change their life to care for me. But, my parents, being the strong, uplifting people that they are, rallied around me with the utmost love and support. With God's help and my family rooting for me, I somehow forced myself to climb out of the deep hole I had dug.
2. What gave you the idea to start a blog about accessibility at Disneyland?
After applying and being rejected by over two-dozen different jobs over the course of 4 years, it became evident that it was time to make a change. I needed to do something that gave me purpose and also fit my unique needs. Since I couldn't find anyone willing to hire me, I decided to create my own business and be my own boss.
So, I spent months reading about how to become a successful Blogger and Entrepreneur. I adopted the quote "People become an entrepreneur because they don't fit into other people's world. So, they create their own."
The idea to start a blog about Disneyland came to me much like the epiphany Walt Disney had while sitting on a park bench. I thought about all the people that might be missing out on experiencing the magic and joy that Disneyland brings simply because they do not realize how handicap accessible it is. I had a light-bulb moment to educate the world by combining three of my biggest passions: writing, disability awareness, and Disney.
3. While I haven't been to Disneyland yet, I have visited Disney World in Florida dozens of times and it holds some of my favorite and most treasured memories. What is your favorite memory from all of your visits to Disneyland?
I have had the privilege of going to Disneyland dozens of times in my lifetime. To say it is my favorite place in the universe would be an understatement. Last year, my dream of becoming an annual pass holder came true, which means I'm able to visit Disneyland every month! So, choosing one single memory that is my favorite is extremely difficult.
One of the memories that I cherish the most is the night my parent's and I splurged on a dinner dining package at the Blue Bayou and had reserved viewing for the Fantasmic! show (my favorite show at Disneyland). Our meal was impeccable, the atmosphere enchanting, and our viewing for the show was front and center. Everything was wheelchair accessible.
I'll never forget after the show, it was about 10:30 at night, and my parent's, not being night owls, said we could stay until the park closed. I had never closed down the park before! That was one of the best evenings of my life!
4. Can you rank your top 5 accessible rides (in order from favorite to least favorite) and briefly describe why you like each ride?
(1.) My all-time favorite is The Little Mermaid ride at California Adventure Park. It's about a 5-minute ride that accommodates my rather large wheelchair very comfortably. I love Ariel and traveling under the sea!
(2.) Winnie the Pooh is an often-overlooked ride that can be found in Critter Country behind Splash Mountain. I love how cheery it is taking a stroll through the 100-acre woods with Pooh and all his friends.
(3.) Buzz Lightyear Astro Blasters is an interactive ride where people aim toy guns and try to shoot at targets as the ride moves. It's fun to play against the person riding with you and see who wins at the end.
(4.) The Disneyland Railroad is definitely on my top favorite list. This is the best way to travel from land-to-land while enjoying a guided tour of the park.
(5.) This is a toss up between the Jungle Cruise and It's a Small World. I love each ride but for different reasons. The Jungle Cruise is the perfect ride if you want a good laugh. It's a Small World is about a 10 minute ride that is calm and relaxing. Perfect place to rest and sing a familiar tune.
5. Disneyland is constantly growing and adding new attractions, hotels, restaurants, etc. Is there anything that you're really looking forward to within the next couple years?
It's always exciting to learn Disneyland is adding a new land or hotel or restaurant. Currently, the next new thing to open at California Adventure Park is the new Marvel Land. This land is taking the place of A Bugs Land and is set to open the summer of 2020, but may be delayed.
6. What's your #1 tip for a first-time visitor to Disneyland?
The best tip for a first time visitor is to plan in advance. Hotels can fill up rather quickly, especially if you require a handicap accessible room. I often book my room a year in advance. Having an outline for how you plan to spend your day at the parks can be helpful too. Make sure you get familiarized with the park map ahead of time so you get a general sense of where things are located inside the park. I recommend reading the Beginner's Guide to Disneyland that can be found here: https://www.allaccessdisneyland.com/beginners-guide-to-disneyland/
7. If someone is interested in booking a trip to Disneyland, can they contact you to help them? Can they book trips through you?
Of course! I am not a travel agent, but I am partnered through the number one travel company, Get Away Today. They are the only company in the country that is partnered directly with Disney to sell you genuine Disney tickets. If someone needs help planning their Disney trip, I am happy to help, but all purchases would go through Get Away Today. I receive a small commission from Get Away Today when someone books through my link. It helps me afford maintaining my website! Here's the link: https://www.getawaytoday.com/destination/disneyland-resort?referrerid=7903
8. Anything else you'd like to share?
It brings me great joy to be able to help people navigate Disneyland and experience a brief reprieve from the real world for a little while. I find escaping into a world of fantasy to be so calming and rejuvenating. Disneyland is a place where impossible is possible. In a society that often treats people with disabilities as incompetent or burdensome, Disneyland reminds us that dreams really can come true if we have the courage to pursue them.
If you're interested in learning more or following my Disney journey, I'd love to get to know you on social media! You can find me on the following:
Facebook: www.facebook.com/allaccessdisneyland
Instagram: www.instagram.com/allaccessdisneyland
Website: AllAccessDisneyland.com
.
.