As the summer months approach and phased reopenings occur in many destinations, it can be tempting to start planning a weekend getaway. Choosing a destination within a few hours of your home can be the perfect way to get out for some fresh air, new scenery, and take some time to recharge.
One option many are choosing is to visit a national park. I live in northwest Georgia, so I recently took a trip to Great Smoky Mountains National Park for a socially distanced weekend away. My trip was completely wheelchair accessible and socially distant, making a weekend getaway like this the perfect opportunity for a mini vacation.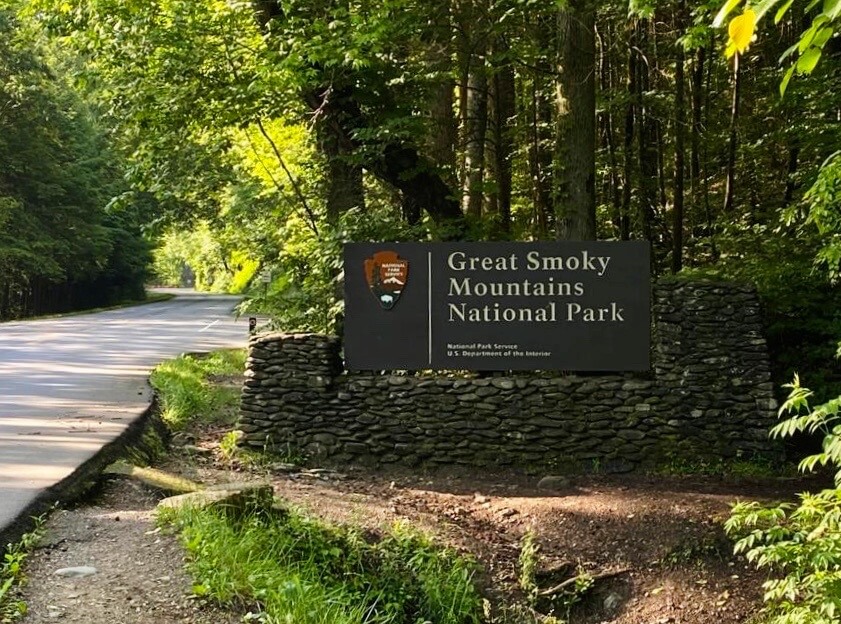 The Great Smoky Mountains National Park is a huge park, covering 500,000 acres and stretching into two states – Tennessee and North Carolina. At this size, it's an ideal spot for exploring nature, observing wildlife, and providing the opportunity to tour the space via car or on foot (or wheel, in my case). Wheelchair accessible options include a drivable loop, a motor nature trail, and a paved hiking trail to name a few. These options offer something for everyone, allowing you to enjoy the scenery and atmosphere no matter your ability.
Great Smoky Mountains National Park is a favorite wheelchair accessible destination because it allows wheelchair users to get out and explore nature with a free national parks pass. This free pass is available to U.S. residents with permanent disabilities. There is an application process, which can be done in person, but due to social distancing it may be recommended to use a mail-in application, which has a $10 processing fee.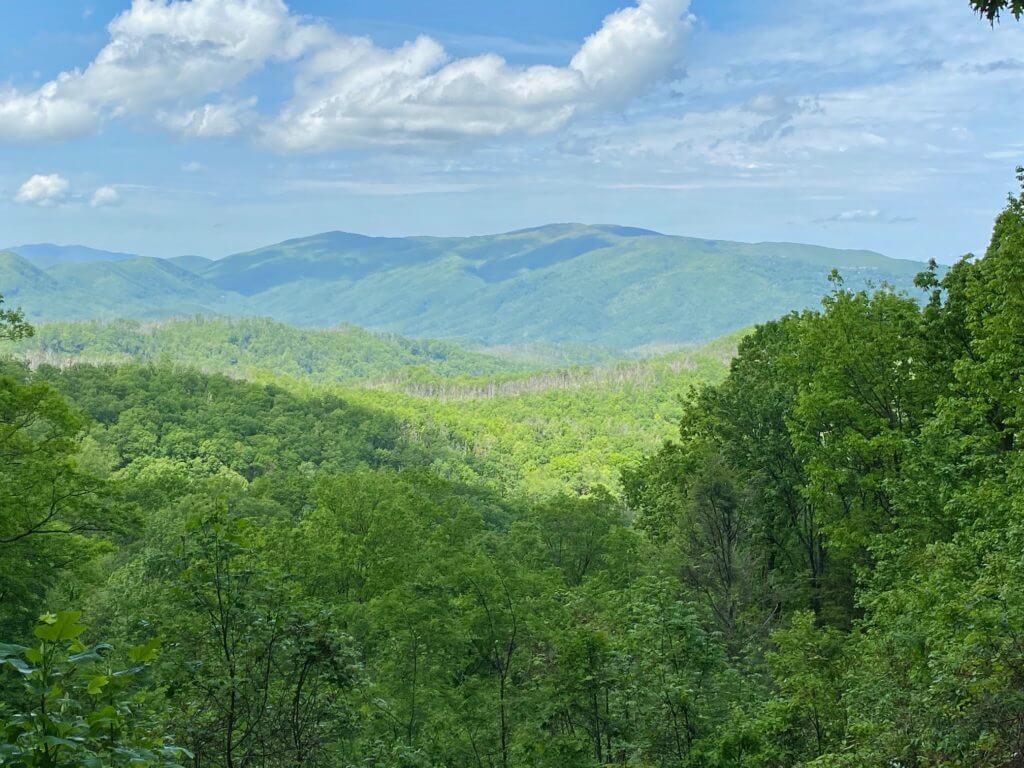 Wheelchair Accessible Trails and Routes in the Great Smoky Mountains
Cades Cove
One of the most popular destinations within the park is Cades Cove, a valley surrounded by mountains, which is home to a range of wildlife. It's the best place to observe white-tailed deer, black bear, turkey, raccoon, and even coyote.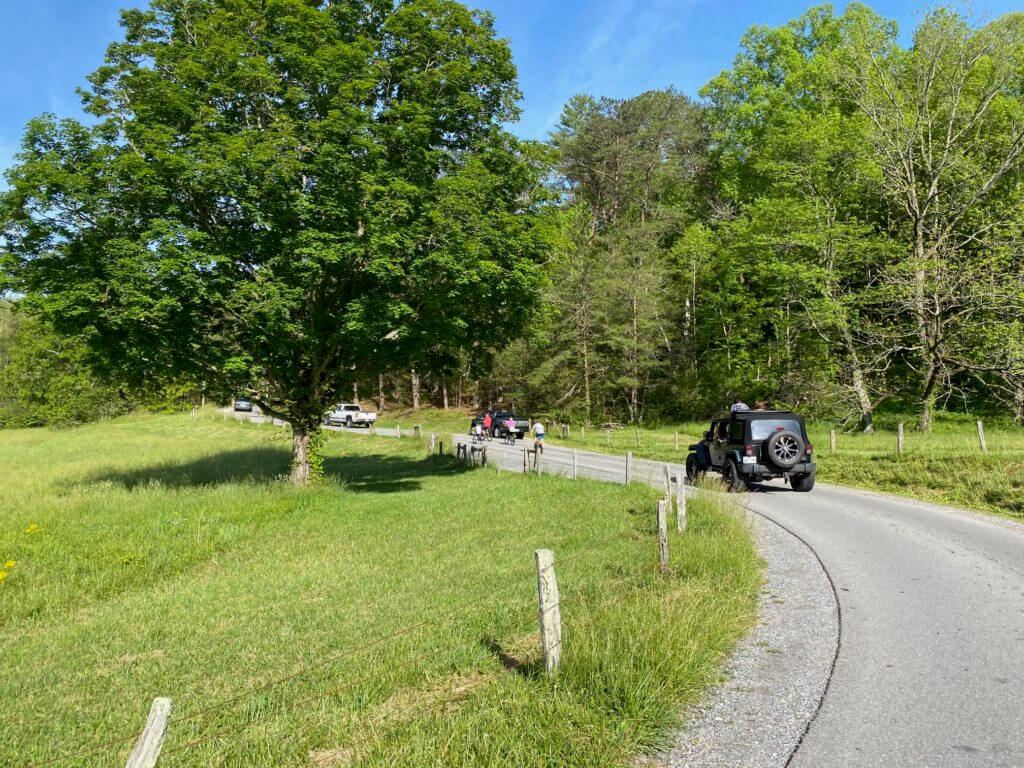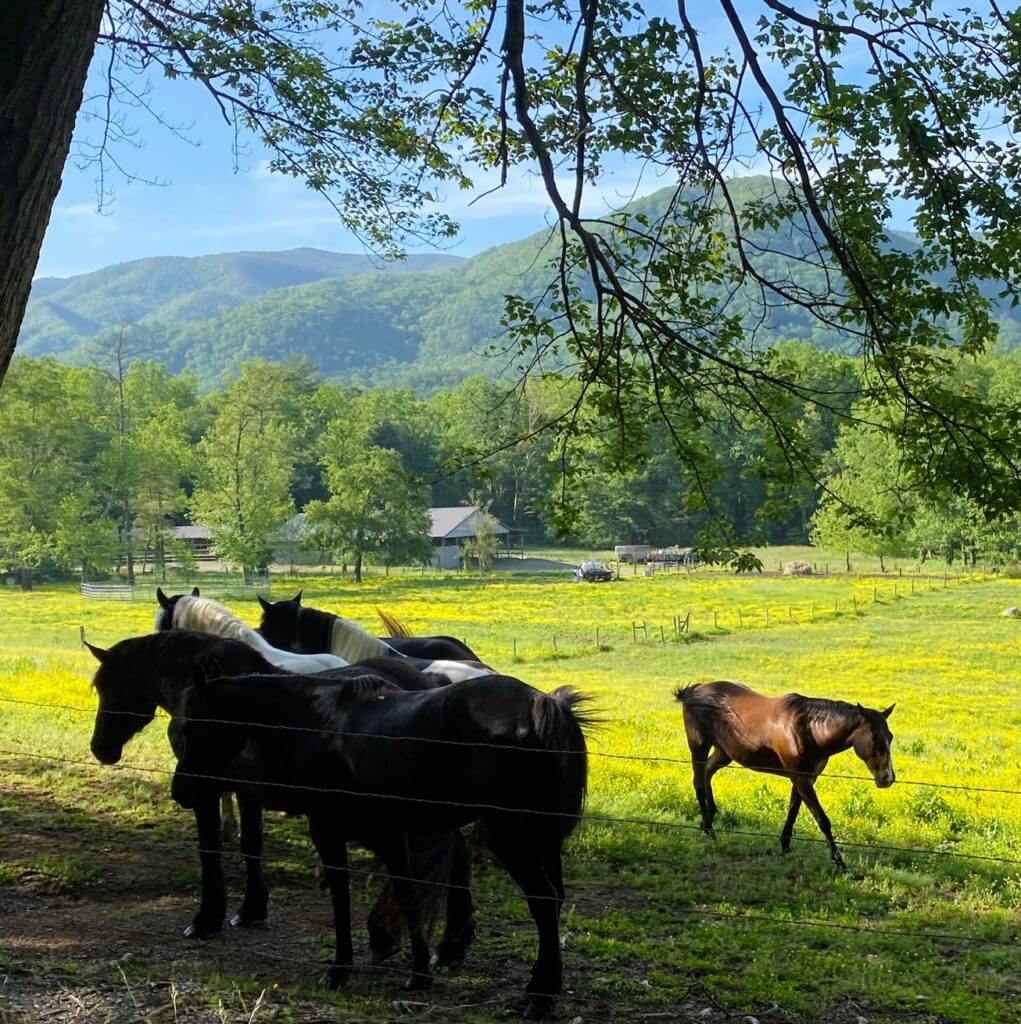 This location is best explored by vehicle, as there is an 11 mile drivable loop that circles the cove. Most visitors take between 2 and 4 hours on the fully paved trail, even by car, making this the perfect place to take your time, explore nature, and devote time to being present while looking for wildlife.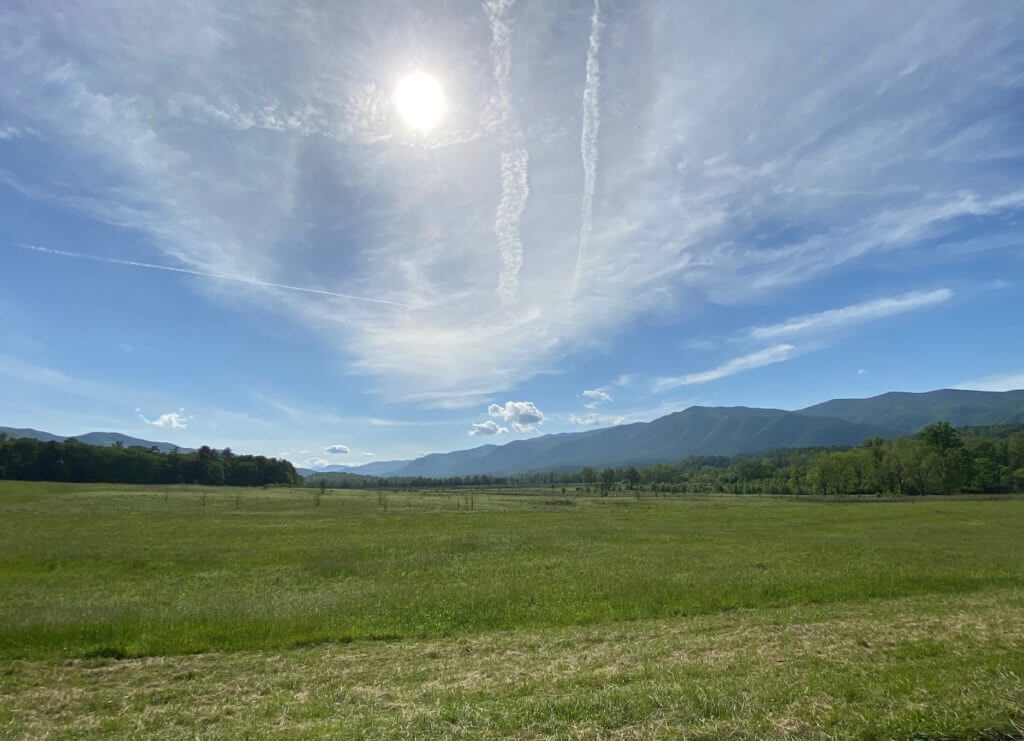 You can take your time to pause and view the area from the safety of your own wheelchair accessible vehicle. There are pullouts throughout the trail, giving you space to park the car off the main road and observe from your seat. The entrance to the trail offers a trail guide for purchase, which gives you a map, information about the trail, and the opportunity to conduct a self-guided tour.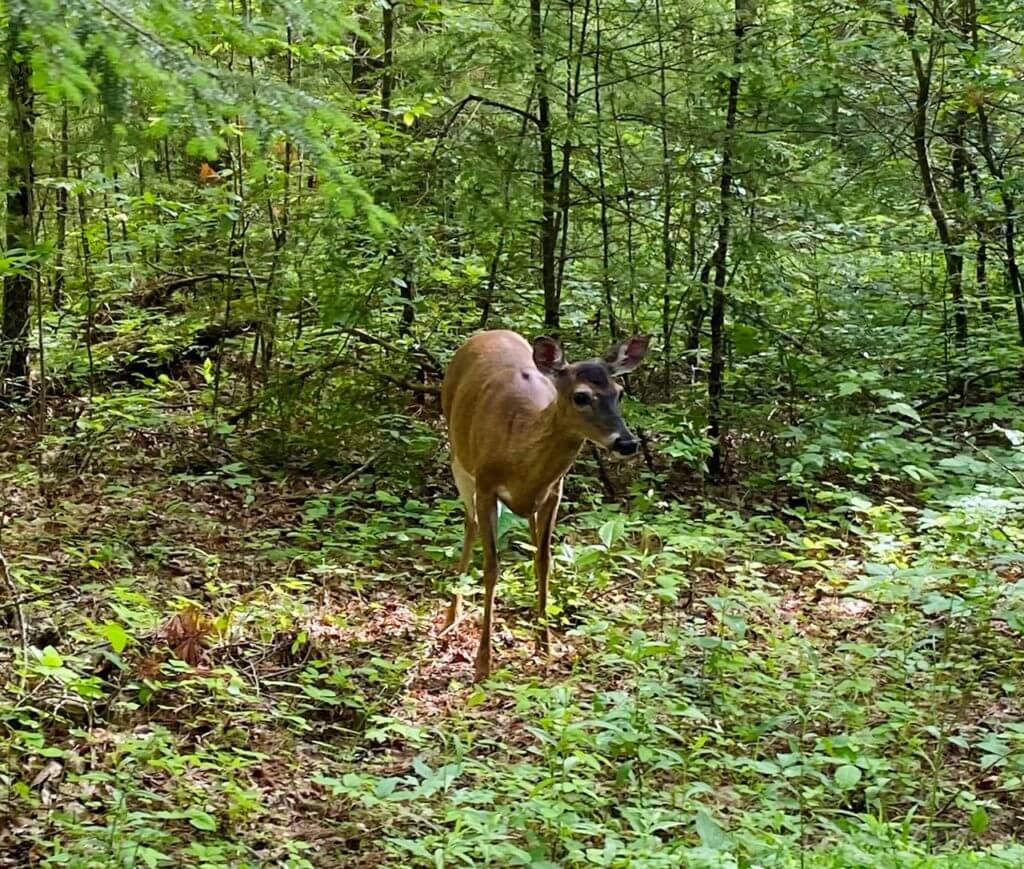 Wheelchair users may find Cades Cove is mostly accessible by vehicle. There are a few buildings available to tour, as well as a campground store, bathrooms, and a visitor's center, but keeping social distancing in mind, it's best to stay in the vehicle for now at least. And the older cabins and buildings along the trail are not accessible to enter with a wheelchair.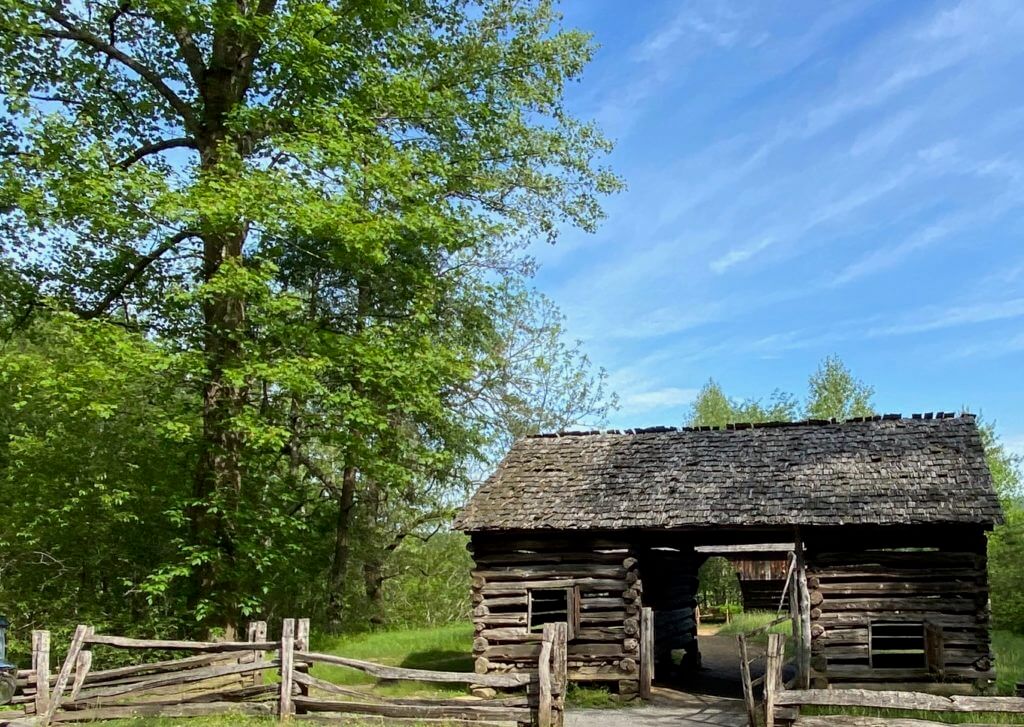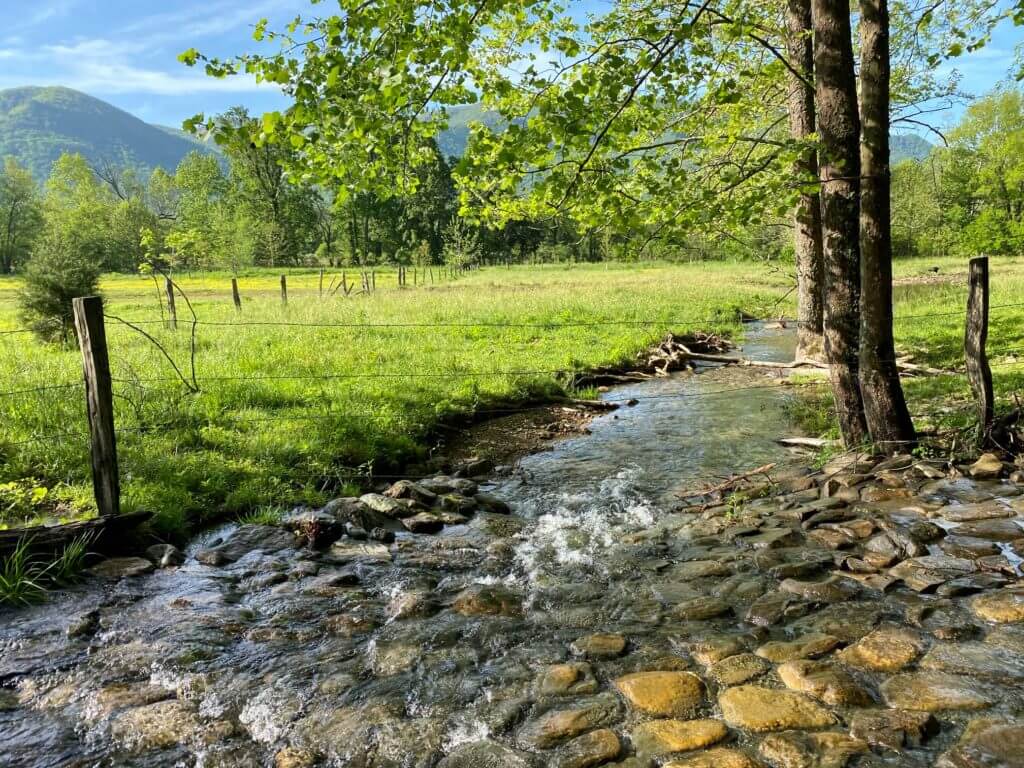 When I visited, I didn't get out of my van, but could see plenty of wildlife including 4 bears, a deer, and had a great observation spot for the beautiful scenic views. This drive was the perfect way to get out into nature while staying socially distant and it was a fantastic introduction to Great Smoky Mountains National Park as well.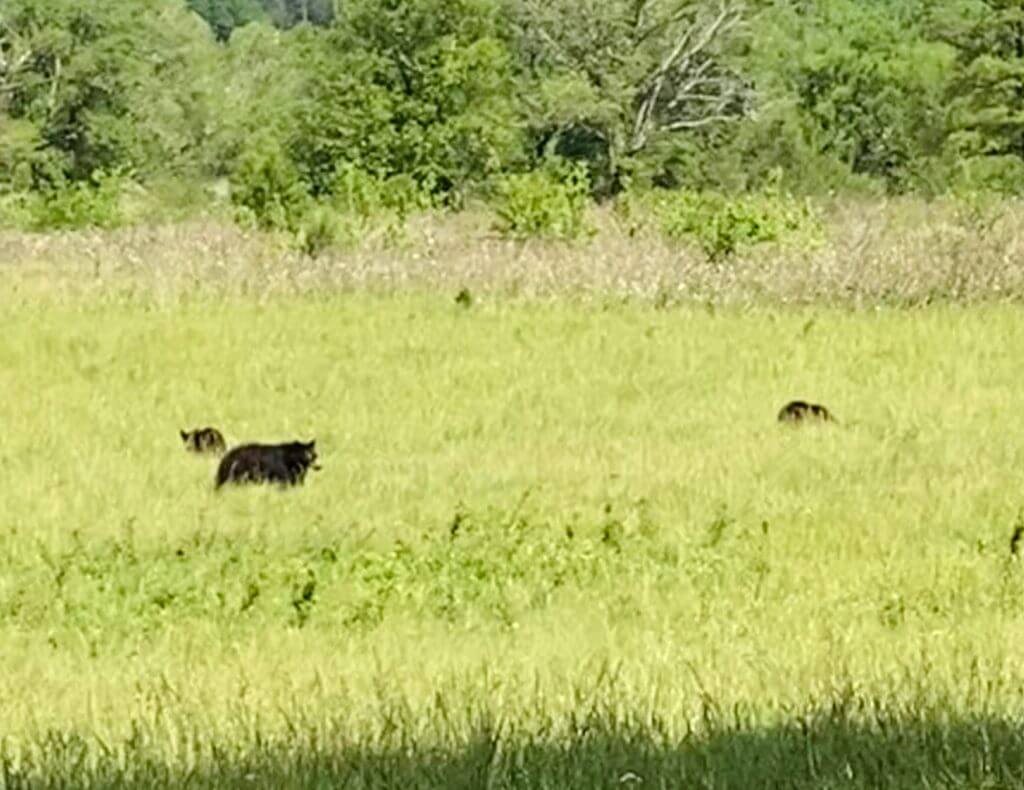 Roaring Fork Motor Nature Trail
For those looking for an idyllic mountain stream with scenic views, I'd suggest visiting Roaring Fork. As one of the larger, more roaring streams in the entire park, this is the best place to visit after a hard rain, as the stream will be high and flowing fast.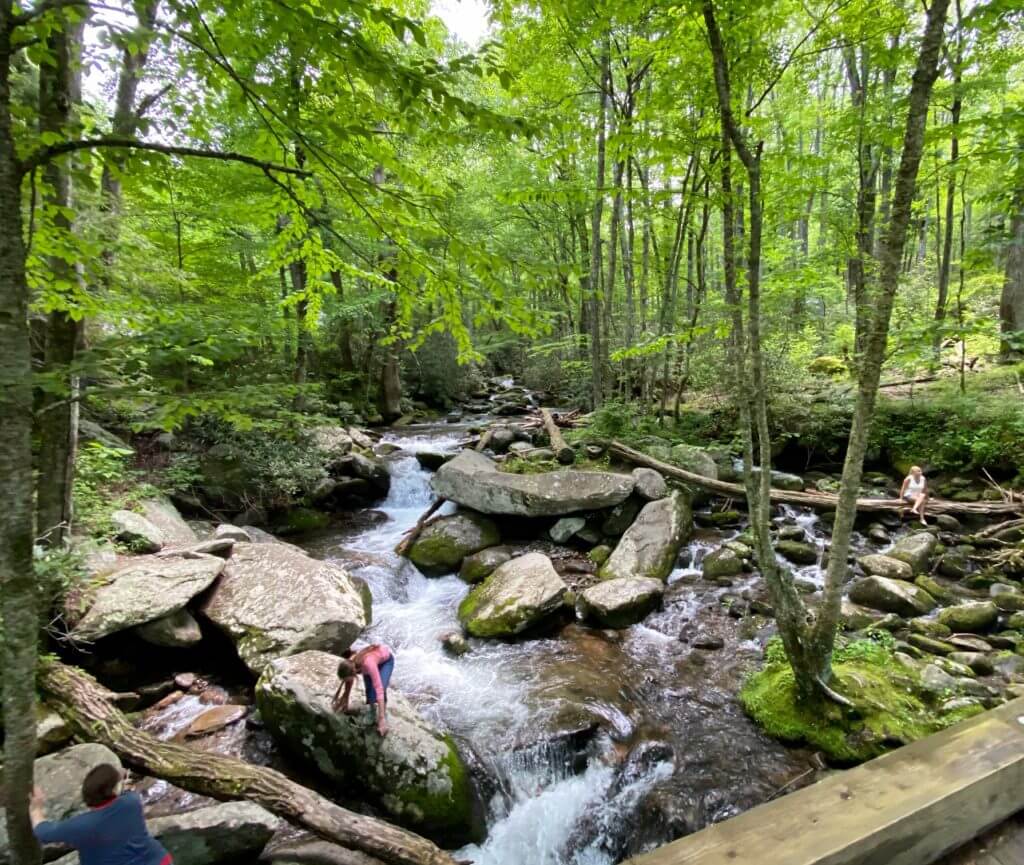 Visiting Roaring Fork is done by a paved one-way, 5.5 mile drivable loop, located near Gatlinburg and one hour away from Cades Cove. It's a popular destination and is a great opportunity to remember to slow down and allow yourself to enjoy the atmosphere.
This destination is another great socially distanced outing, as you can drive the trail and pause to enjoy the location as well as explore the wildlife. As soon as I entered the trail, I saw 3 bear cubs, which made for an exciting start to the drive.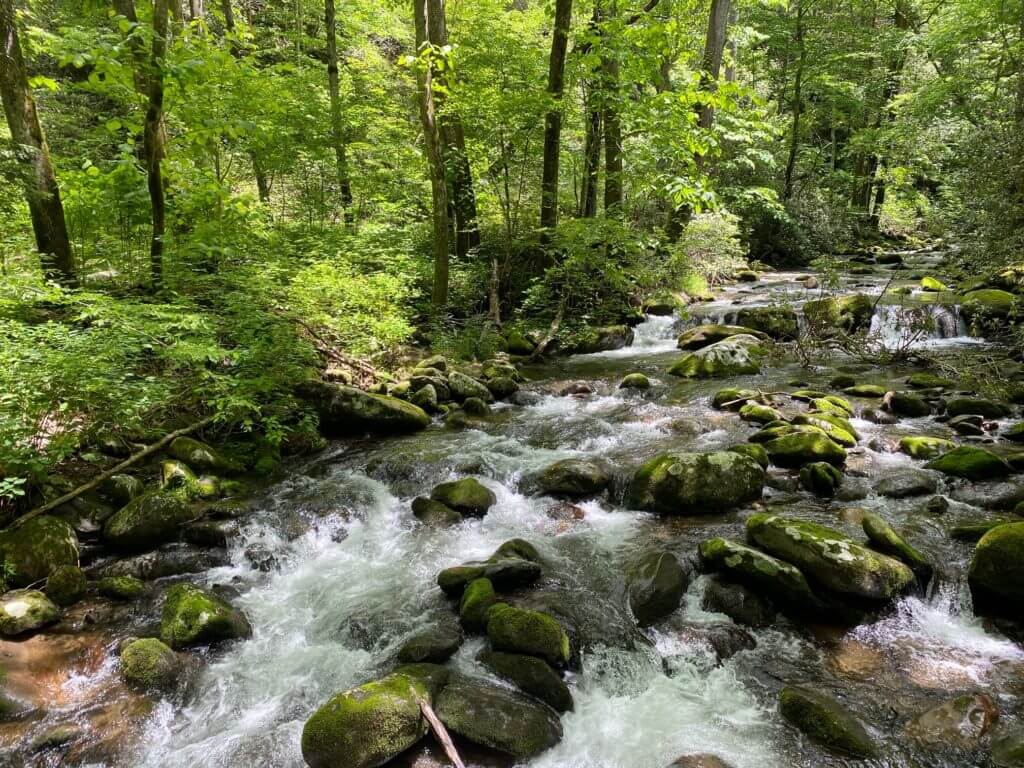 The entire trail is very scenic and beautiful. There are a couple of waterfalls on this trail, Grotto Falls and Rainbow Falls, but both require a hike to see them and the trails are not wheelchair accessible.
There is one waterfall that can be seen from your vehicle on the motor nature trail, Place of a Thousand Drips, which is near the end of the 5.5 miles. Place of a Thousand Drips is considered a "wet weather" waterfall, so you may want to consider the weather forecast if you're hoping to see both the stream and the falls in full force during your trip.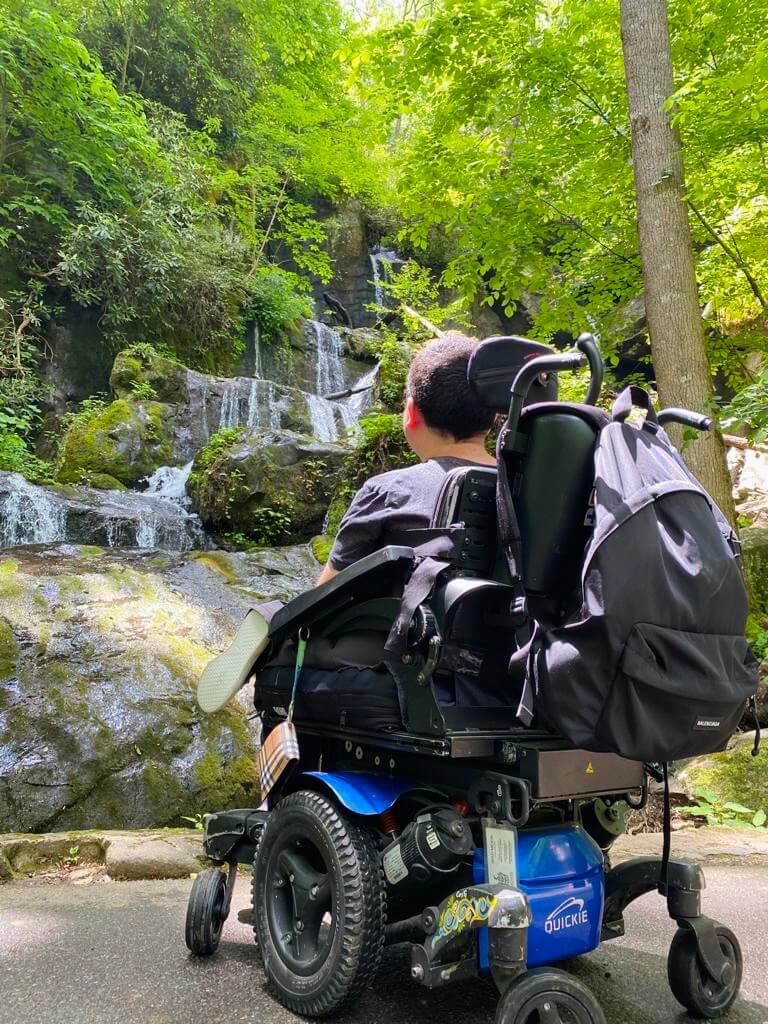 I did get out of my accessible van for a few minutes to see the Place of a Thousand Drips waterfall in all its glory, but I remained in my vehicle for the rest of the trail. In my opinion, I liked Cades Cove a bit more, but both driveable trails are definitely worth seeing.
Sugarlands Valley Nature Trail
Driving loops and motor nature trails are great for socially distanced trips, as you stay within your vehicle, but for those looking to get out into nature and explore a wheelchair accessible trail, the Sugarlands Valley Nature Trail is the best option in Great Smoky Mountains National Park. If you're planning this outdoor excursion, please keep social distancing in mind and check the park hours and guidelines before booking your trip.
Sugarlands Valley Nature Trail is a fully paved, half mile long trail that makes for easy hiking and a smooth option for wheelchair users. The trail is beautiful and follows the river for awhile, which is a nice change from being at home all the time. It's a nice place to be able to get out of the vehicle, roll in nature, and have the option to get close to the water.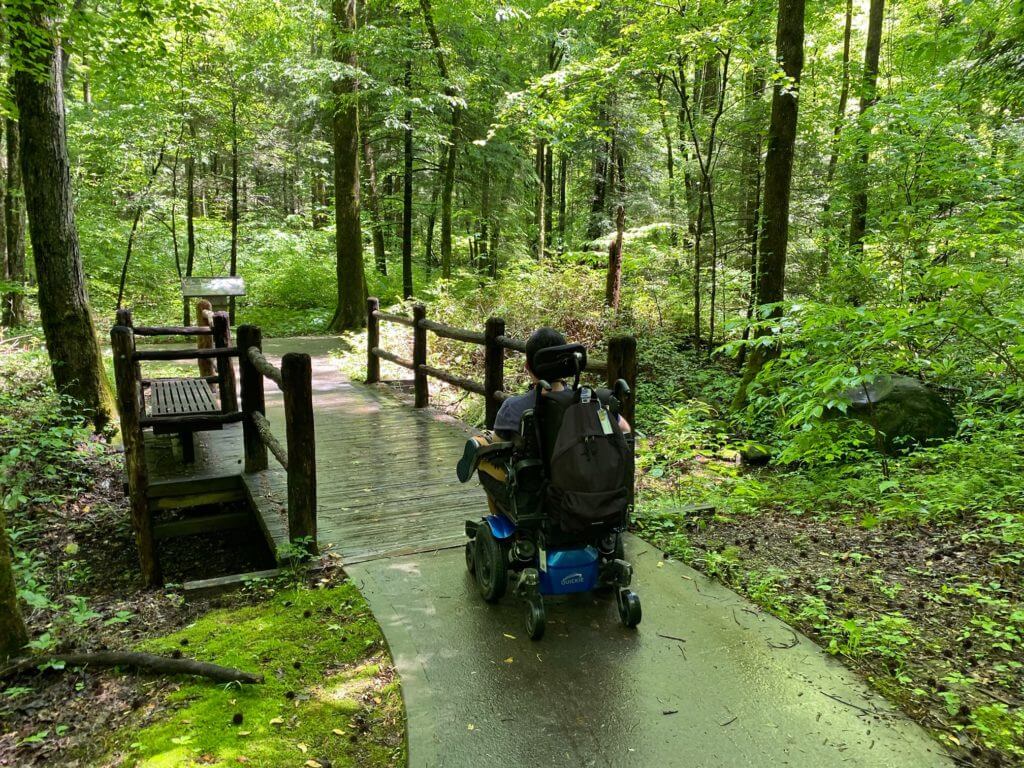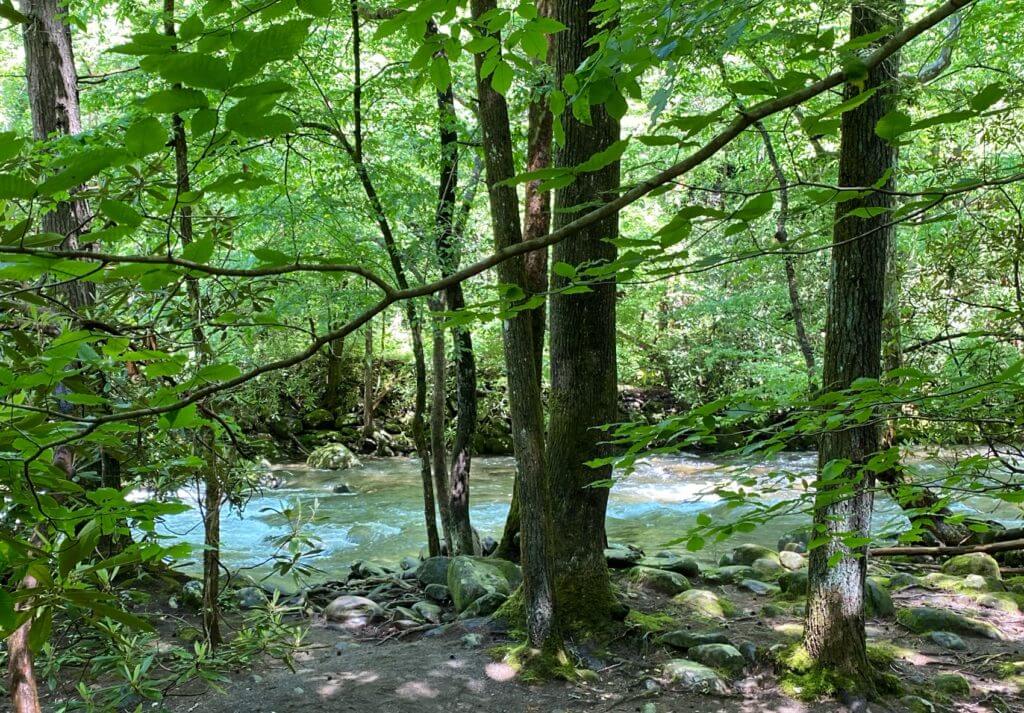 Along the trail there are benches and many of the benches have a paved spot beside them, perfect for a wheelchair user to sit beside the bench. This is an impressive, inclusive trail and will be on my list to visit every time I'm in the area. This was hands-down my favorite wheelchair friendly activity in Great Smoky Mountains National Park.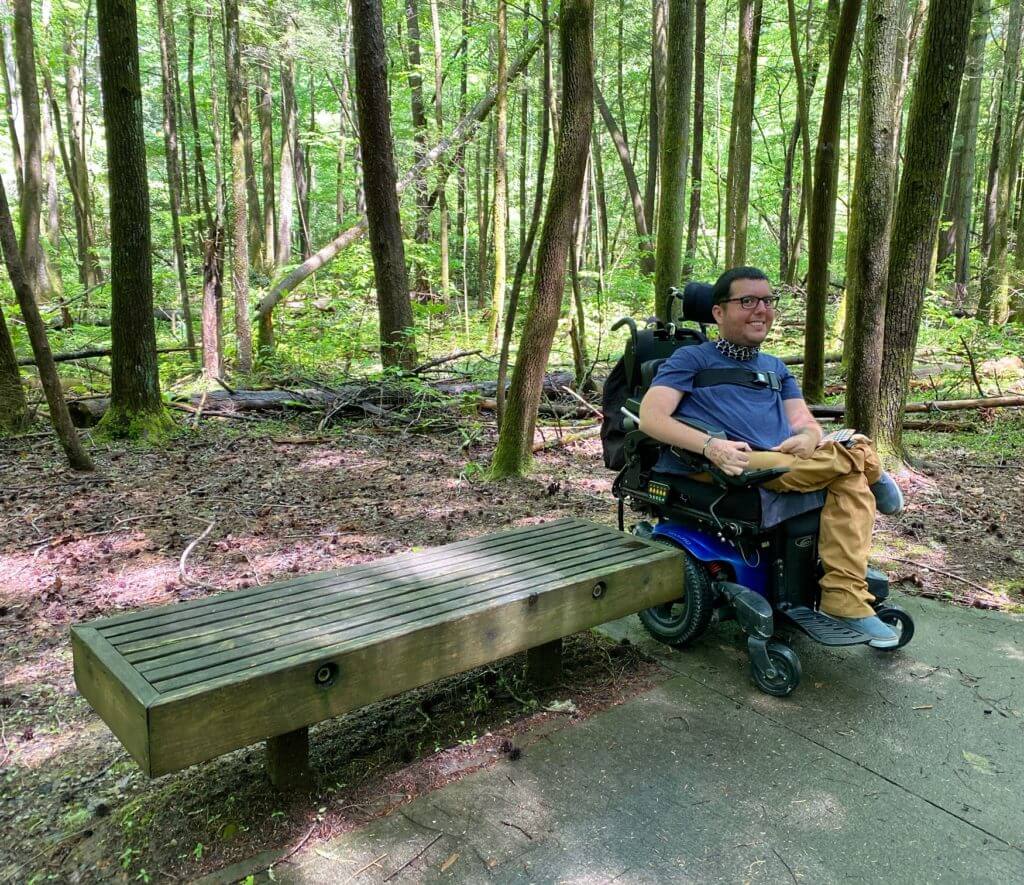 Little River Trail
While not as wheelchair accessible as Sugarlands Valley Nature Trail, Little River Trail is totally possible for wheelchair users that don't mind a bit of off-roading. A park ranger recommended that I visit Little River Trail, so I decided to give it a try. In the end, I was very glad that I did.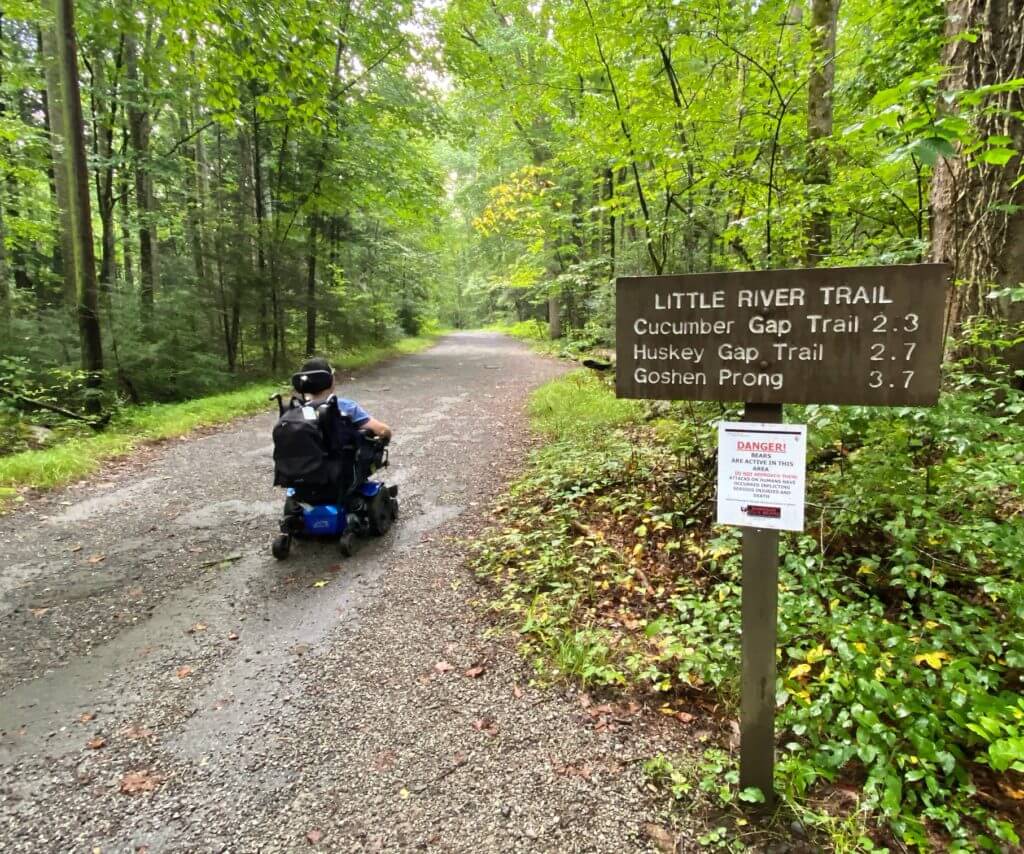 Located in the Elkmont area of Great Smoky Mountains National Park, near the Elkmont Campground, is the entrance to Little River Trail. There were accessible parking spots available at the trail entrance and the trail started out smooth. It is six miles round trip, but it started getting rough/impossible to navigate with my powered wheelchair after about a mile. I did about two miles round trip and it was a beautiful stroll.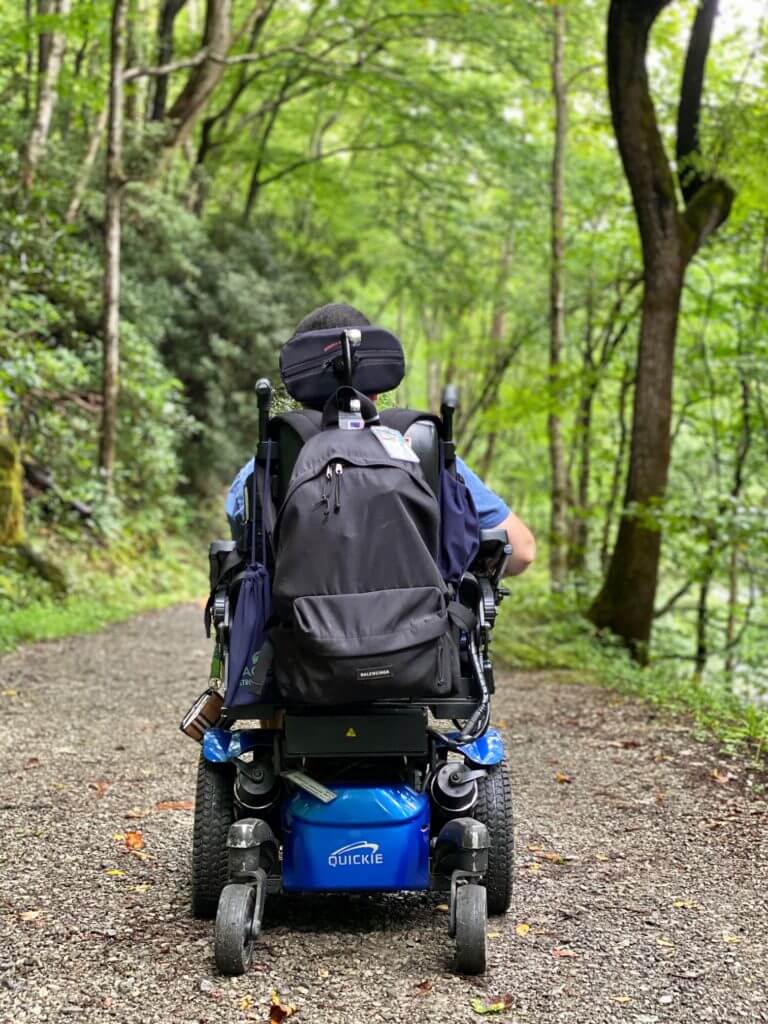 As I rolled on Little River Trail, there was a water stream from Little River to my left for nearly the entire first mile. It was nice to hear the cascading water the whole time and I also enjoyed just sitting by the water and watching it. A couple benches were along the trail as well, but they were spread apart pretty far.
Overall, Little River Trail was fairly easy with a powered wheelchair and I think it would definitely be possible with a manual chair as well. The trail is graveled, but it's hard-packed and smooth to roll over.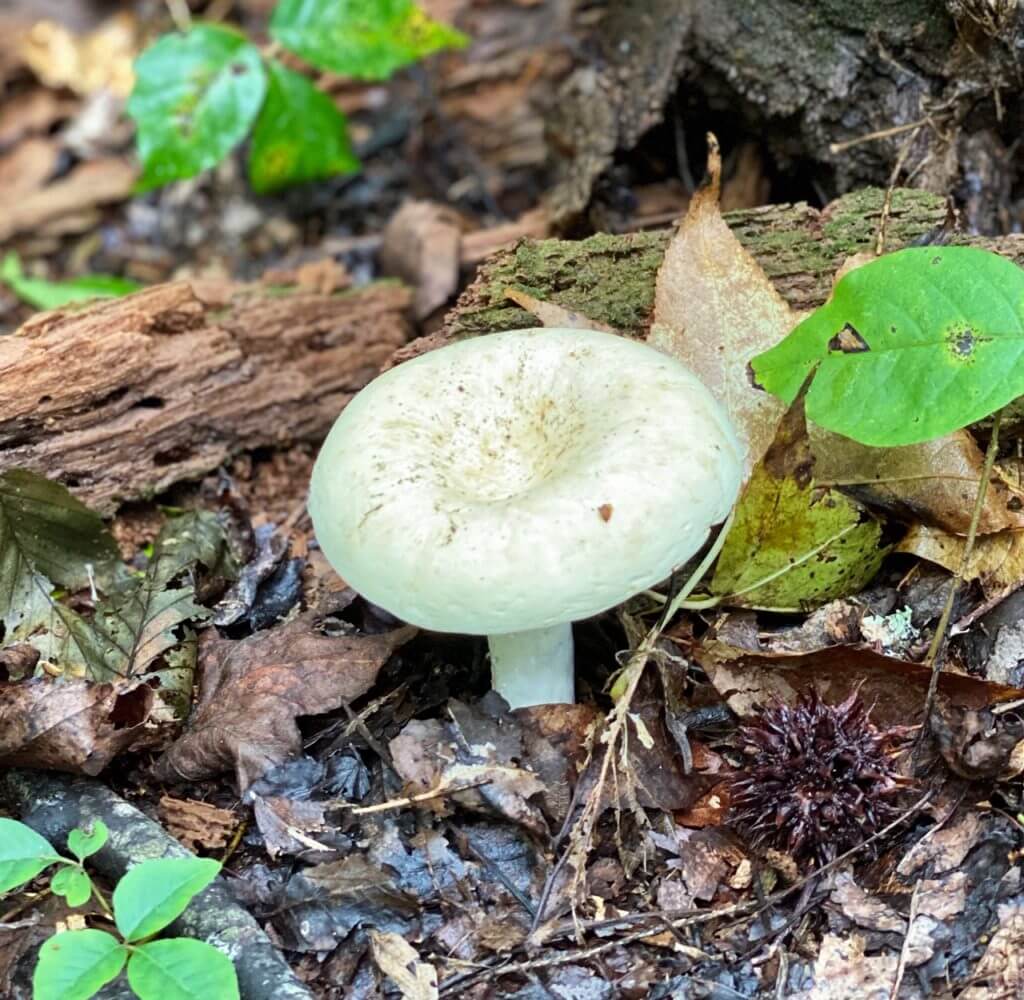 Clingmans Dome
For years, I have heard of the elusive Clingmans Dome and wanted to attempt it. However, every time that I have looked online and tried to find out if it's wheelchair accessible, I'm met with articles saying how steep and inaccessible it is, so I've never been brave enough to try it. On my most recent trip to the Great Smoky Mountains though, I finally decided to attempt the climb to Clingmans Dome! Even if my wheels fell off and I got tossed down the hill, I was bound and determined to at least see if it's doable as a wheelchair user.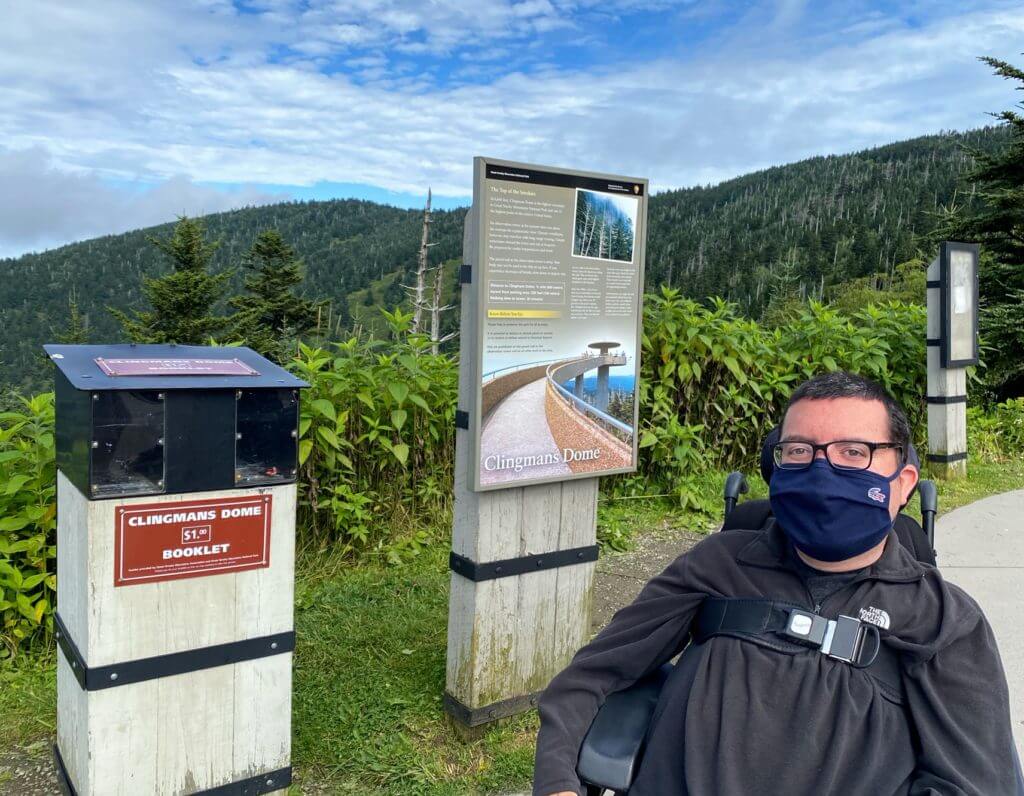 Accessible parking spots were available at the start to Clingmans Dome and as soon as I exited my van, a park ranger walked over to me and immediately started telling me how steep/dangerous the hike up Clingmans Dome was. "It's fully paved, but insanely steep," he said. After talking to him for a while and nearly giving in to the peer pressure to not do it, I decided again to attempt the feat. Within seconds, I began rolling up the steep path.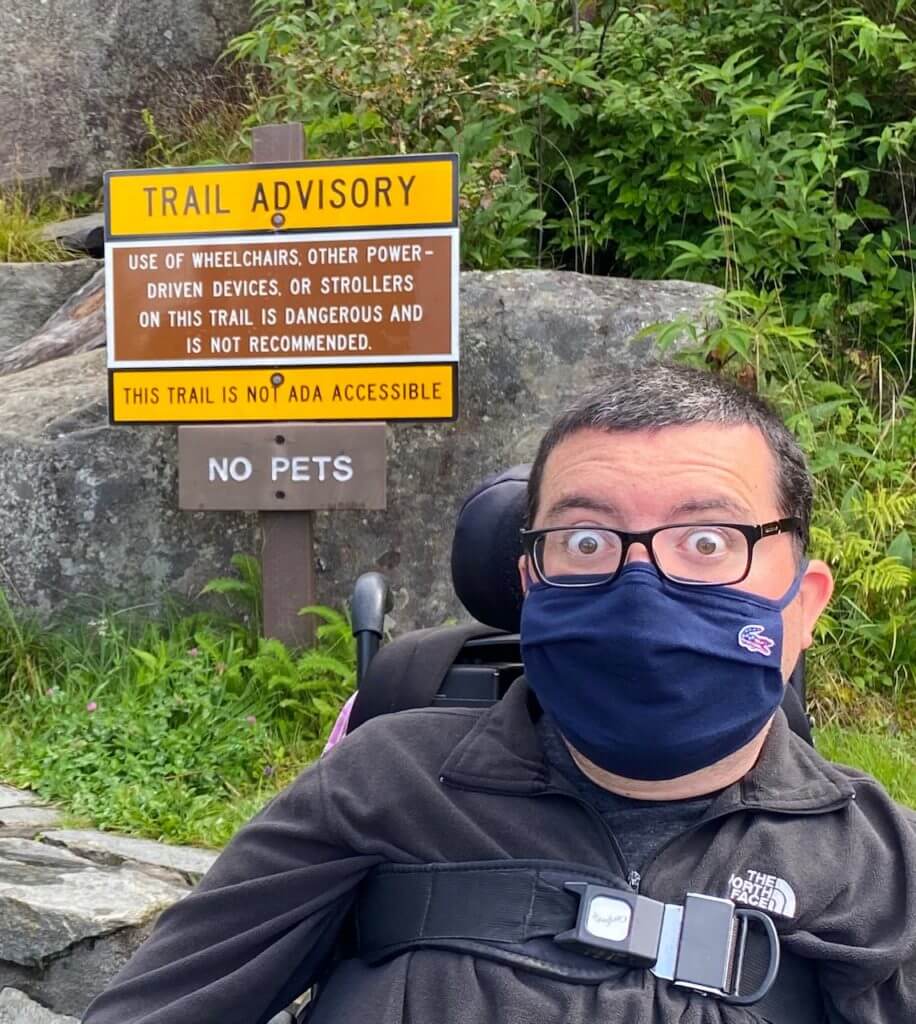 The path to the top of Clingmans Dome is half a mile long, but it is fully paved. Like everyone warned beforehand, it is incredibly steep, but honestly, I thought it was pretty easy with my powered wheelchair. Everyone walking seemed to be having major trouble, but I was just rolling along peacefully.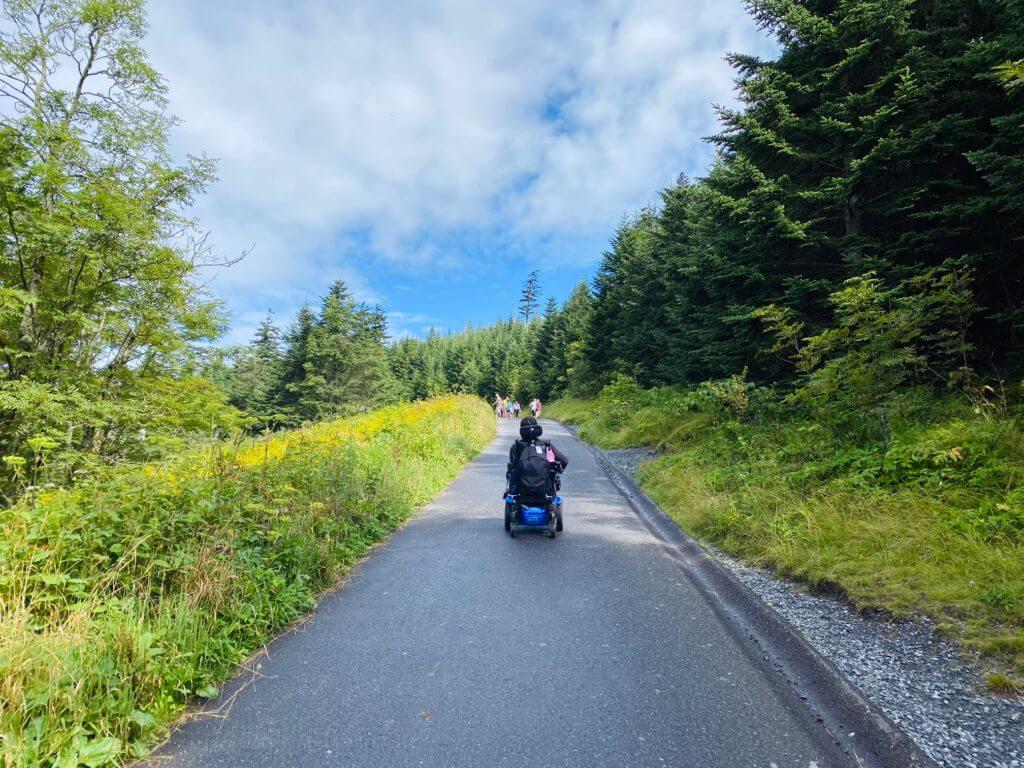 I had never been so happy to be a wheelchair user. In a manual wheelchair, it would be next to impossible probably unless someone pushed you, but in my opinion, it's totally possible in a powered wheelchair if it isn't raining or snowing, which would make it too slick.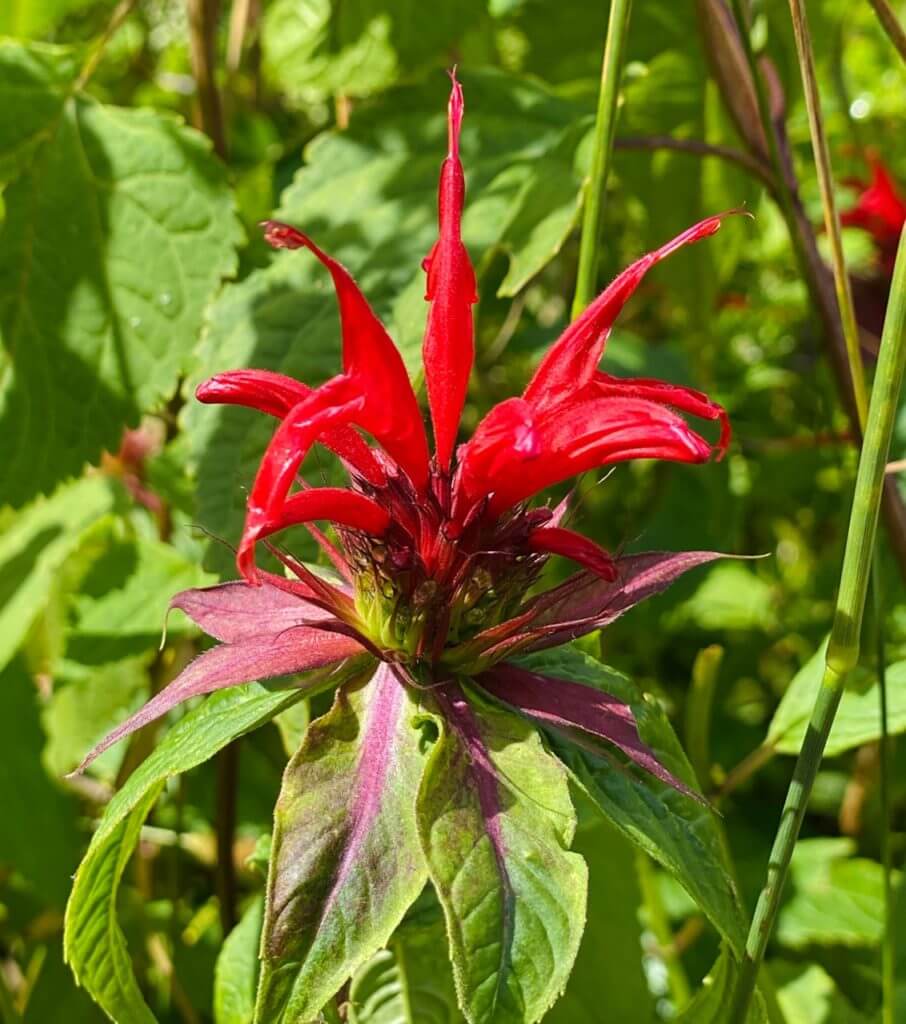 After rolling uphill for half a mile, I arrived at the Observation Tower. There was a winding ramp to the top of the Observation Tower, so I was able to go up and fully take in the views. At 6,643 feet, Clingmans Dome is the highest point in the Great Smoky Mountains, so the views truly are spectacular. You won't find a better view in the southeast, I promise.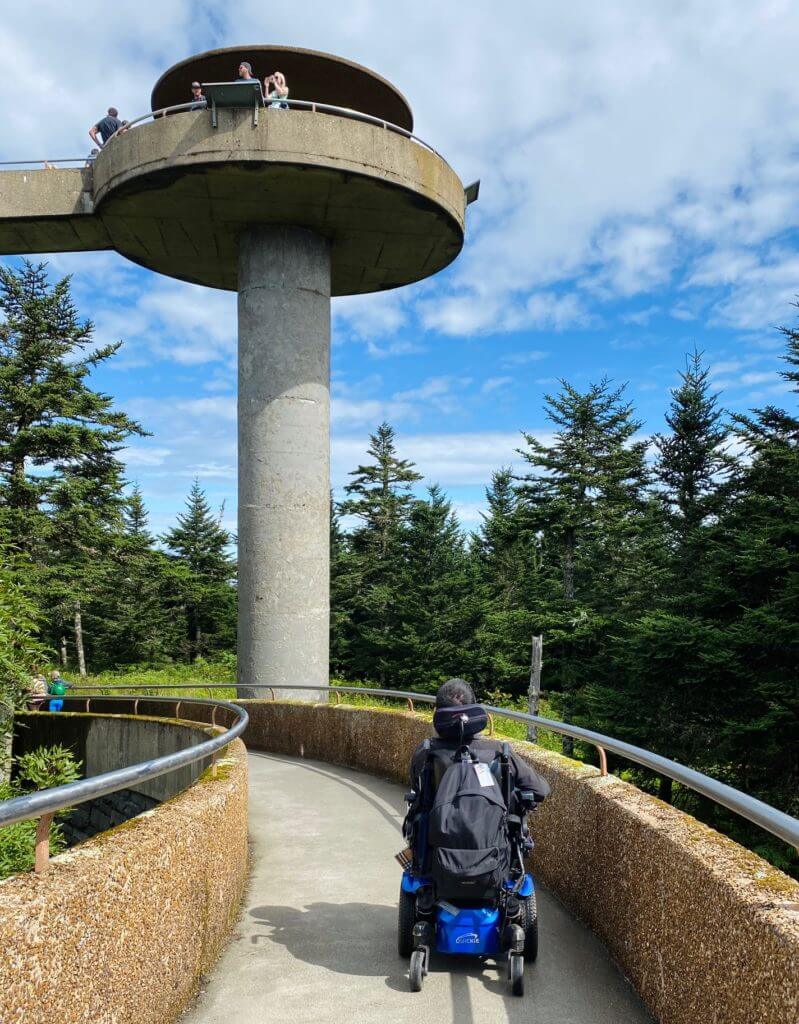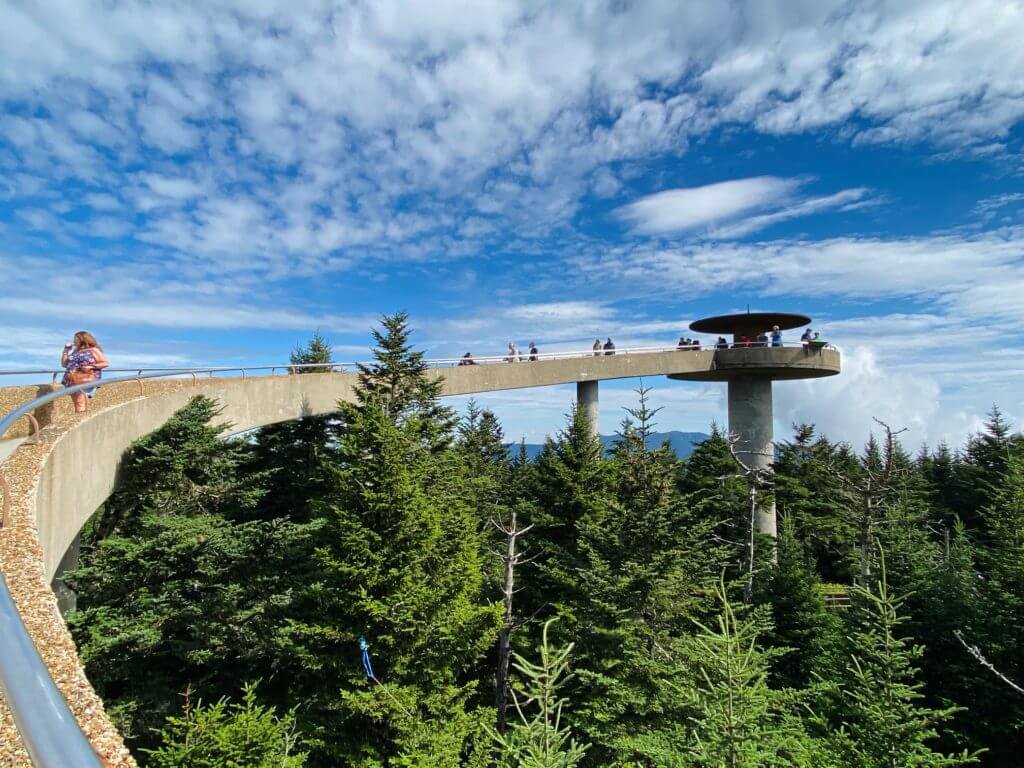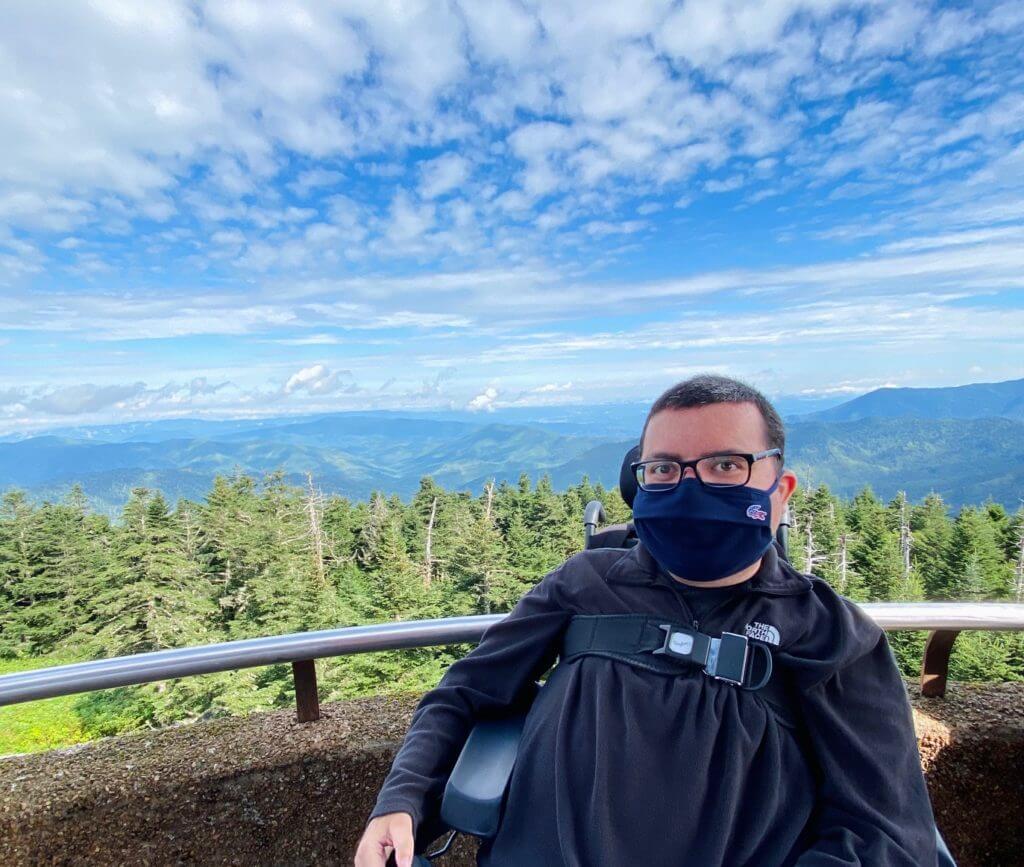 I took in the views at the top of the Observation Tower for a while and then started the descent back down the steep path. Everything went smoothly, but I did see a snake in the grass at one point, which was scary/exciting. Luckily, it didn't chase me, so I was able to safely and slowly roll toward the bottom of Clingmans Dome.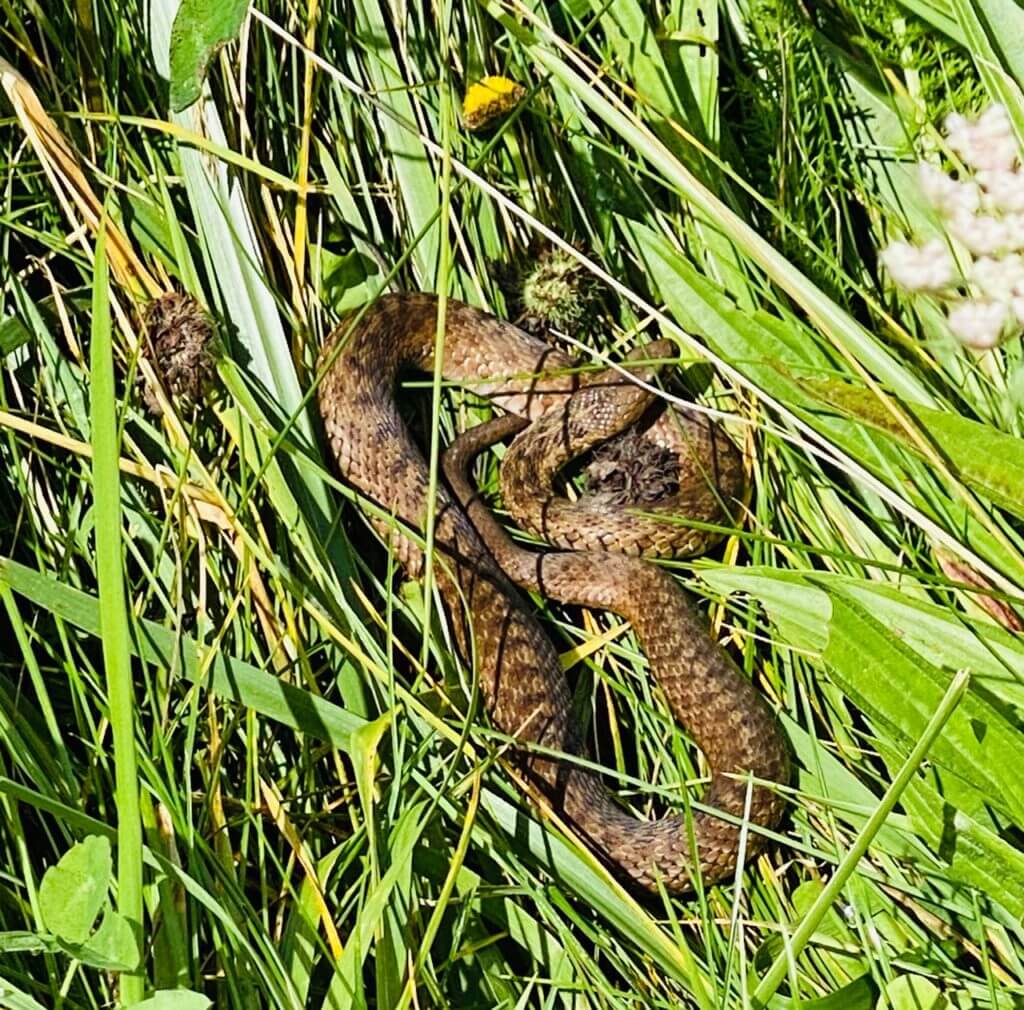 On a sunny day, I would absolutely recommend trying Clingmans Dome if you use a powered wheelchair. You'll have the best views in the Great Smoky Mountains and it'll be somewhat of an adventure during your trip. Just use your best judgment and have fun!
It's amazing that Great Smoky Mountains National Park has both drivable loops and wheelchair accessible trails for visitors to utilize. I would highly recommend a weekend getaway to this area, as there's plenty to see and it is a great way to get out in nature. I definitely felt myself slow down and take my time to observe my surroundings, enjoy the mountain air, and it gave my mind a break from my daily schedule.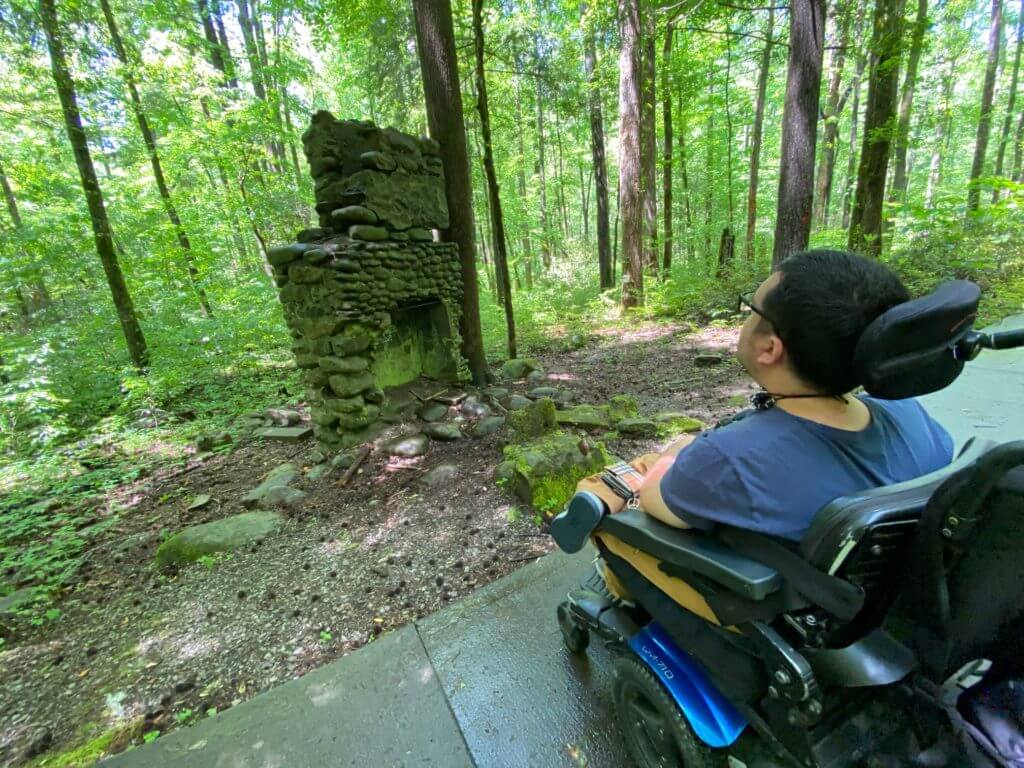 Wheelchair Accessible Cabins in the Great Smoky Mountains
Depending on where you live, visiting Great Smoky Mountains National Park is a great weekend getaway destination. In order to spend an overnight or two near the park, you'll need to find a place to stay. I've stayed in cabins, as they're a good wheelchair accessible option and they give a bit more privacy than staying in a hotel room. There are two cabin options I have stayed in and highly recommend, Above the Clouds and Harvest Moon.
Above the Clouds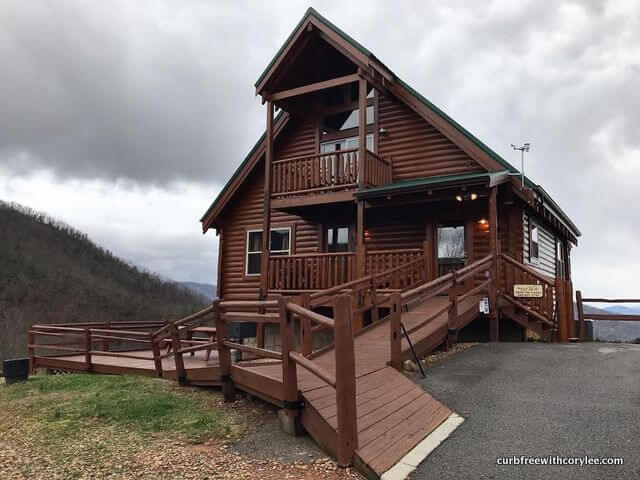 This cabin is located in Wears Valley, Tennessee, and is the first wheelchair accessible cabin I stayed in for a Great Smoky Mountains weekend getaway. The location of the cabin is really convenient, as it's 7 miles outside of Pigeon Forge Parkway, but the off-road nature of the roadway itself is very steep and curvy, so plan to arrive during daylight hours. As the name suggests, this cabin is high in the mountains, offering an isolated place to enjoy the view.
Above the Clouds is a three story cabin with two wheelchair accessible levels. The front entrance has a built-in wheelchair ramp that leads to both the front door and the side deck, perfect for relaxing and taking in the natural landscape. These pathways and deck space are even and smooth for easy rolling. The main level has a completely accessible kitchen, which in addition to the built-in outdoor ramp that matches the home and exterior, this is a cabin that was designed with wheelchair users in mind. There is a lowered microwave for easy access and an open kitchen with all the necessary appliances.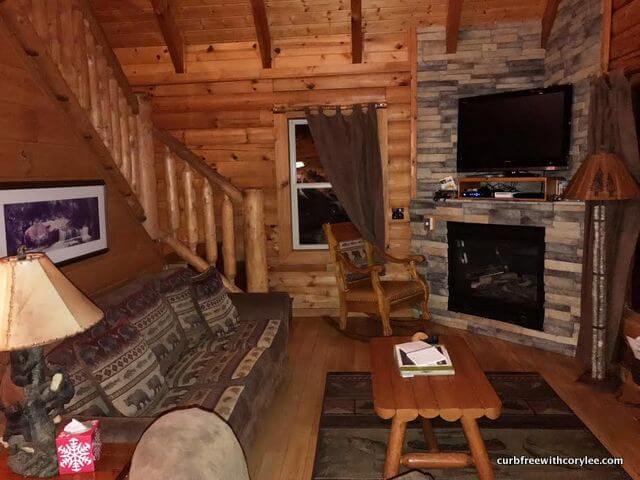 The main living space on the main level is also very accessible from the dining space to the den style living room. There's a collection of accessible travel books and even a collection of board games for some off-grid entertainment. The space is large enough to accommodate up to 10 people, while still having a cozy cabin vibe.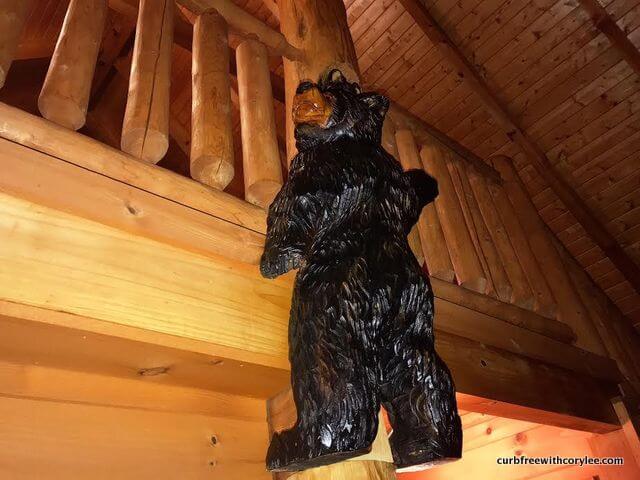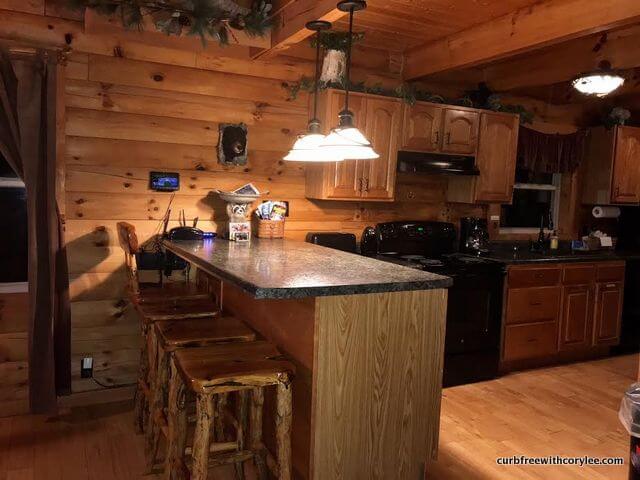 Off of the living room is a wheelchair accessible bedroom. This room includes a king-sized bed with space to roll a hoyer lift under. The bed is low enough for transfers to and from a wheelchair, and the bathroom includes a roll-in shower, pull-under sink, and grab bars.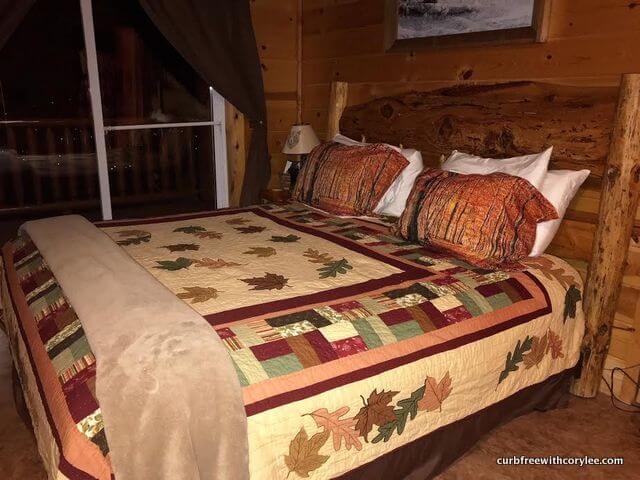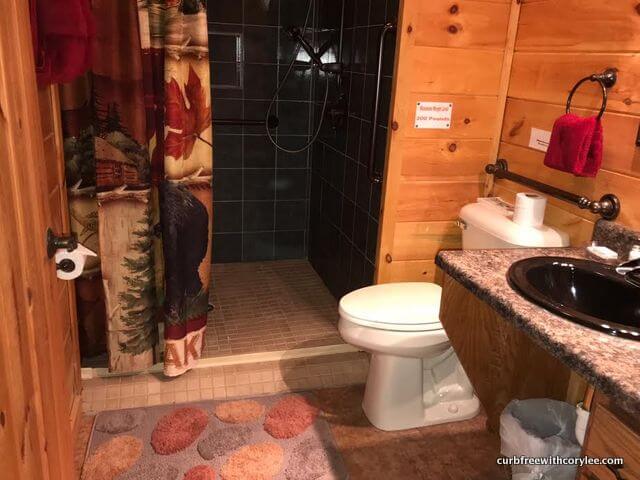 I would highly recommend this cabin for an alternative to staying in a hotel, as you get more of a weekend getaway vibe by staying in a full house. I enjoyed starting my morning on the deck with a hot tea to take in the view and enjoy the fresh air. This is also a great option for families, as the upper level functions as a game room (the upper level is not wheelchair accessible though).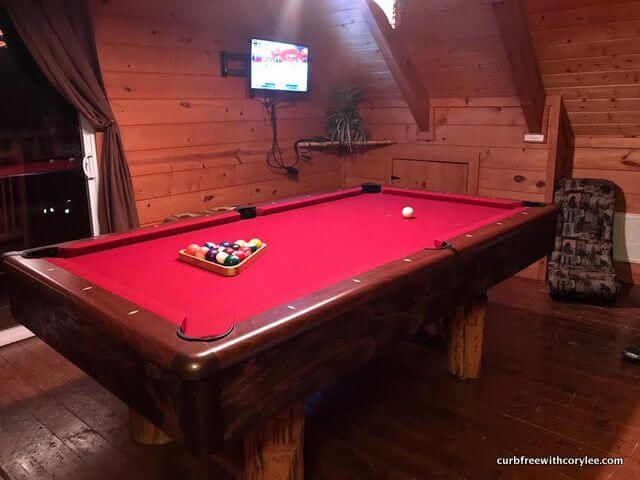 The lower level is also wheelchair accessible and includes two full beds in a bunk bed layout with a laundry alcove and more games. I would choose this option for a couple of nights away from home to unwind, rejuvenate, and spend time on the trails in the national park.
Read my full accessibility review of Above the Clouds right here.

Harvest Moon
Another great cabin option for a weekend getaway or short vacation is Harvest Moon in Sevierville, Tennessee. This is a 2 bedroom, 2 bathroom cabin with both bedrooms on the main level. Both beds are king size, allowing this cabin to sleep up to 4 people.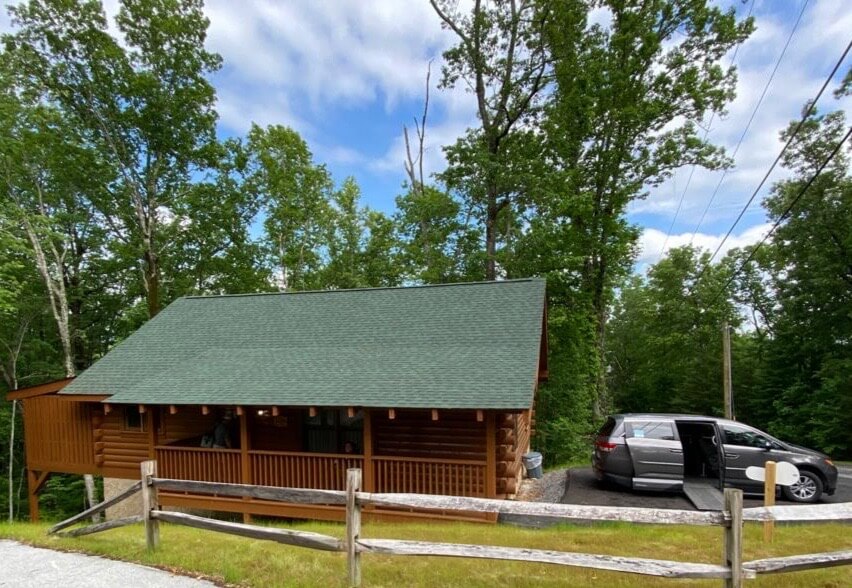 One bedroom has a bathroom with a roll-in shower and grab bars. The main level entrance has a built-in ramp, as well as an accessible back deck with a grill and hot tub. The open concept floor plan provides plenty of open space for relaxing. Cabin amenities include a hot tub, large televisions, a fully equipped kitchen, and boardgames.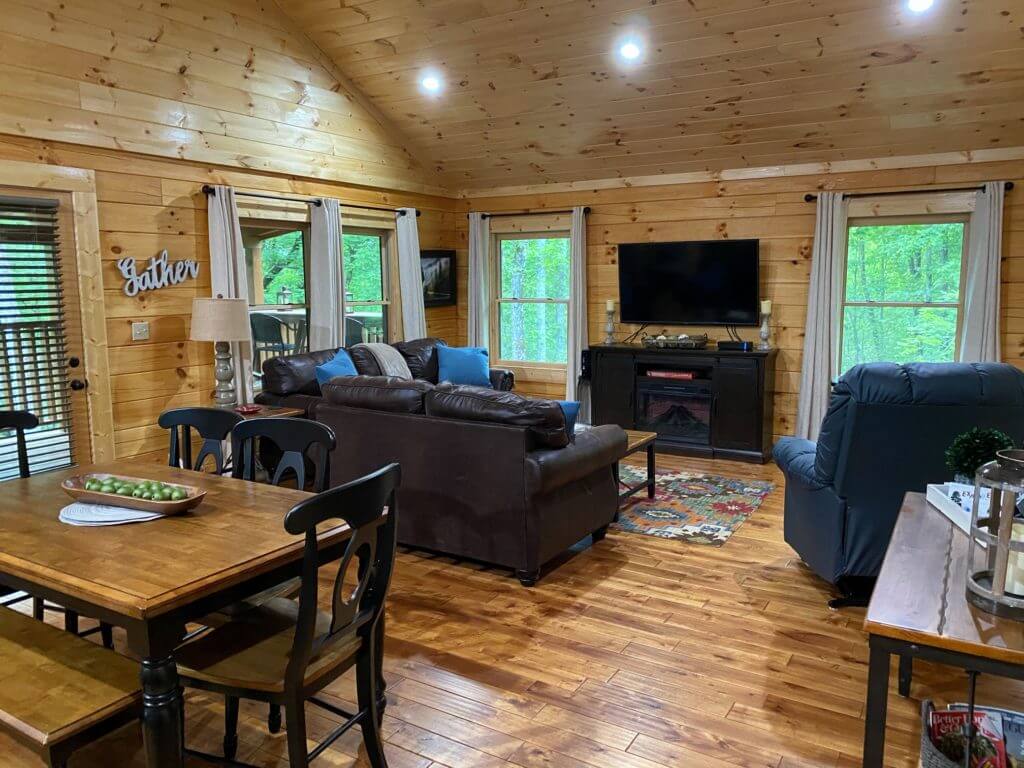 There are resort amenities as well to give visitors more to explore. Little Valley Mountain Resort, which houses Harvest Moon, has a fishing pond with a wheelchair accessible boardwalk, a fire pit, a golf course, and a pool, but no pool access lift unfortunately.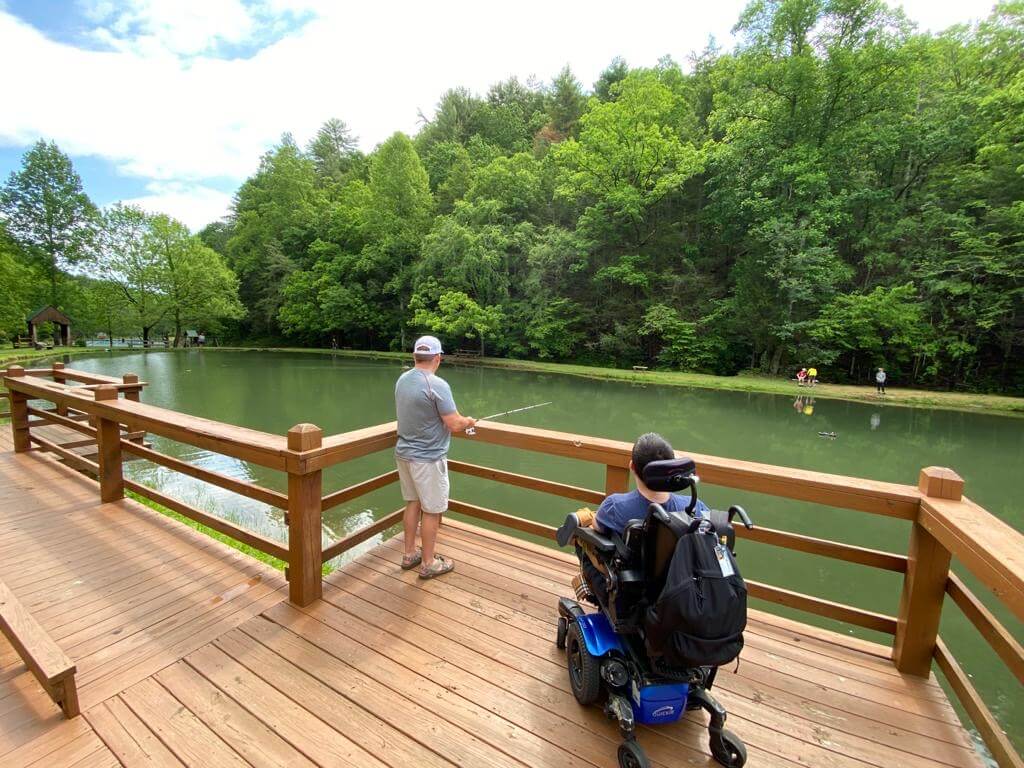 The wheelchair accessibility of this cabin is great. From the large roll-in shower, complete with grab bars and a handheld shower head, to the large master bedroom with a king bed and space underneath the bed for a hoyer lift. The dining table has space to remove chairs for using the table, and the back deck is directly off of the kitchen for easy access.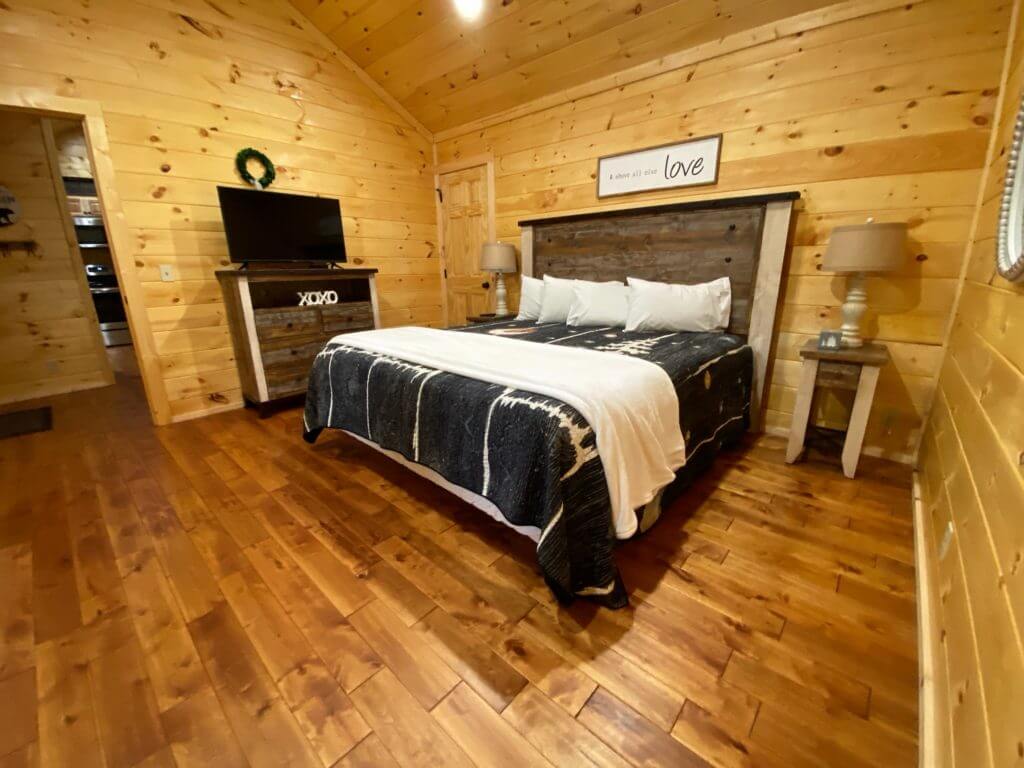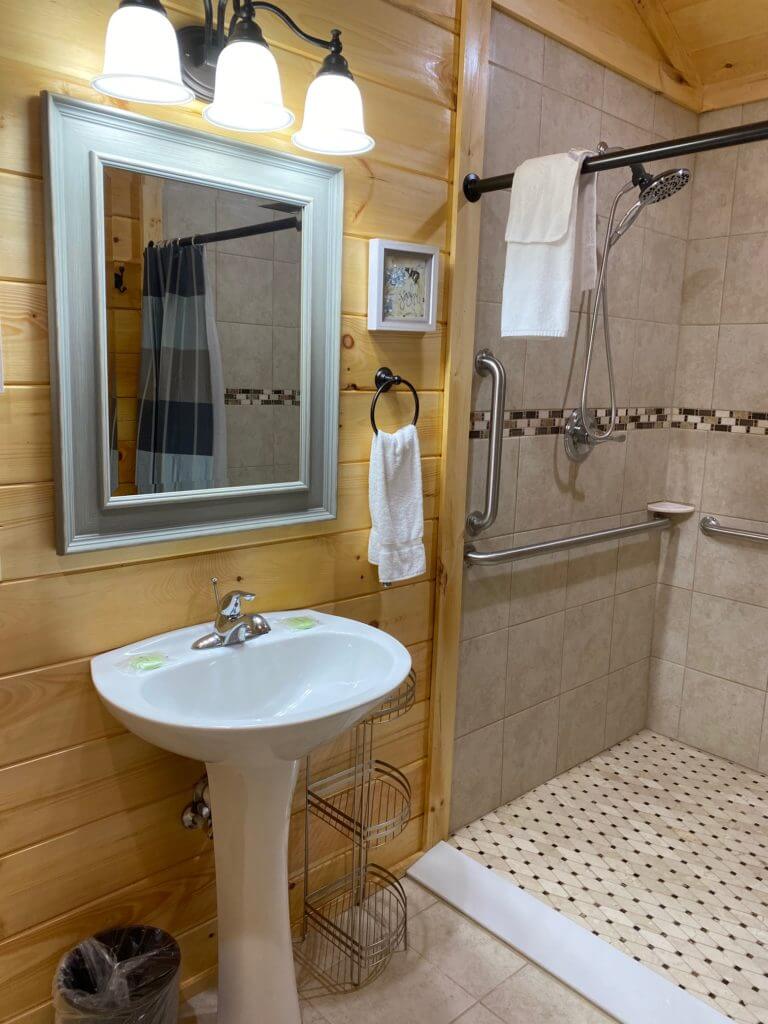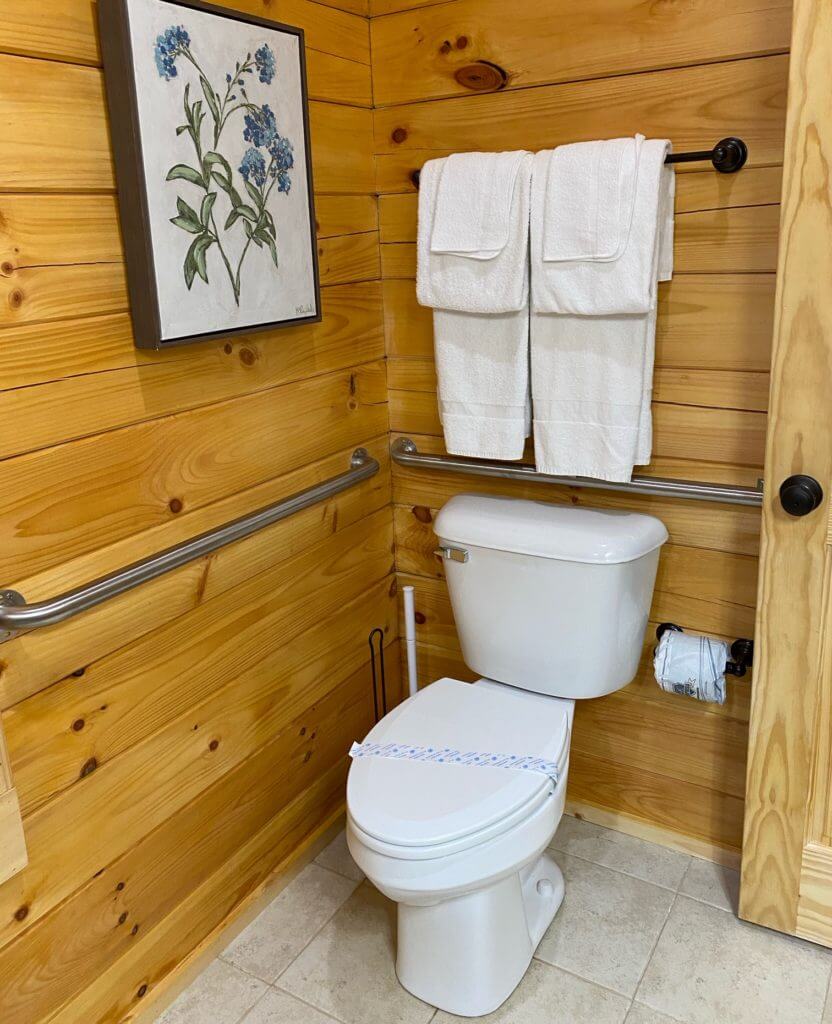 I would recommend this cabin as a great wheelchair accessible option. You can book your stay and check out Little Valley Mountain Resort's other wheelchair accessible cabins on their website.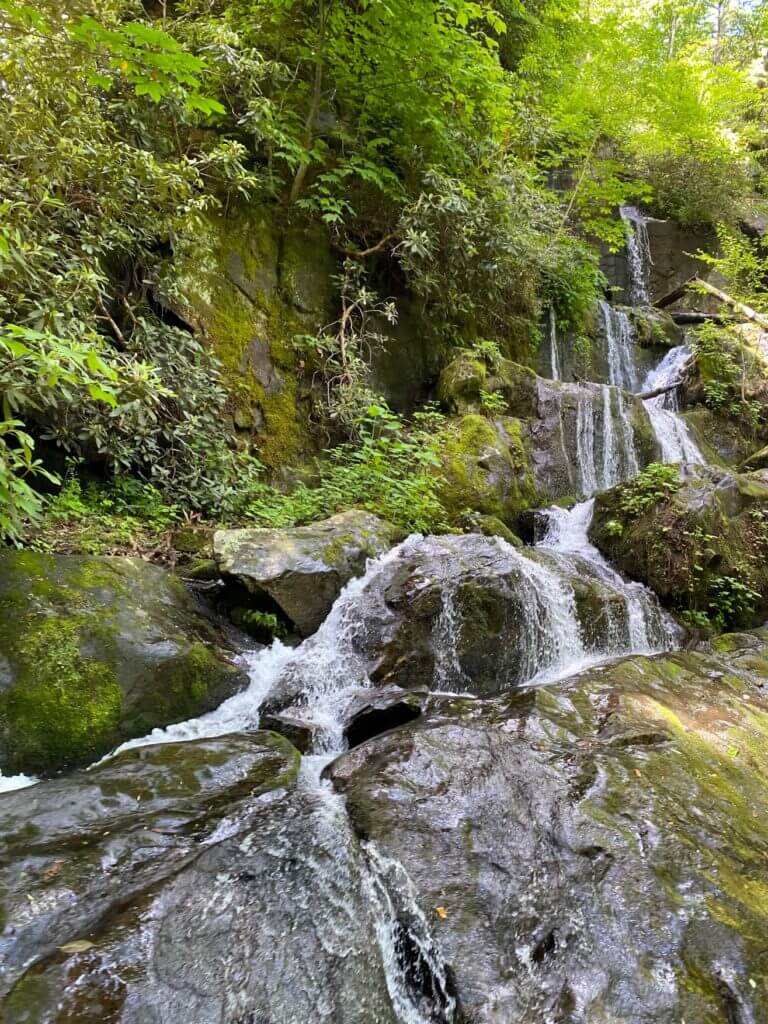 Great Smoky Mountains National Park is the perfect destination for a socially distanced weekend getaway that is completely wheelchair accessible. The park itself offers multiple destinations for exploring and connecting with nature, either from the car or on a trail. And choosing to stay in a cabin during this time gives you new scenery to take in, fresh mountain air to enjoy, and amazing views from the outdoor deck space.
When visiting Great Smoky Mountains National Park, be sure to explore, but also relax. There's truly no better place to unwind, reconnect, and take a break from daily life.
.
.