Renting a large beach home for a family vacation sounds like the perfect way to spend time together while relaxing at the shore. There are wheelchair accessible beach vacation rental homes in a variety of destinations, all of which are fantastic options.
Each of these homes offer a large, luxurious space for the whole family, complete with a wheelchair accessible room with its own accessible bathroom. The main spaces of these homes are all wheelchair accessible with plenty of space to relax, lounge, dine, and enjoy the view. Here are 10 wheelchair accessible beach vacation rental homes that will blow your mind –
1. Endless Summer in Gulf Shores, AL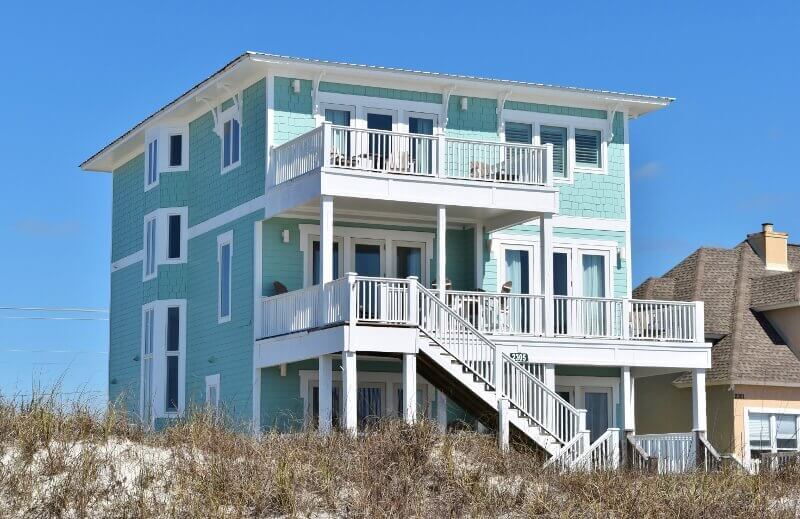 This impressive 7 bedroom, 8 bath beach home has four floors and an elevator for wheelchair accessibility. The layout of the home provides a first floor foyer and a first floor wheelchair accessible room. The second floor has a roll-in shower in one bathroom. The third floor is the main living floor with a kitchen, living room, and dining area, in addition to a full bathroom. The fourth floor is where the master suite is located along with a private balcony deck space. Each level has a deck with a great view of the ocean and beach.
There is one fully wheelchair accessible bedroom with a king size bed and an accessible bathroom. The bathroom has grab bars throughout and a roll-in shower. The large windows provide a great view of the ocean and the beach, along with a deck accessible from the bedroom. This deck also offers access to the boardwalk, but there are stairs down to the sand. Inquire about accessibility to the sand, depending on your needs.
2. Coastal Comfort in Gulf Shores, AL
Another large and luxurious beach vacation rental, this 8 bedroom, 8.5 bath home has two floors and an elevator for accessibility. The main floor has a large living room space, 3 king bedrooms (one of which is the wheelchair accessible room), a laundry room, and a pool bath. The top floor has 5 bedrooms, the master king and 4 with two queen beds each, another laundry, and a wet bar. Each level has a beachfront covered porch with space for dining and lounging.
The main floor offers a fully accessible bedroom with a king size bed, which is accessible from all sides. The private bathroom has an open layout with grab bars throughout and a roll-in shower for easy access. The windows in this room face the ocean for a great view and are directly across from the bed, for a spacious and relaxing layout.
3. Morning View in Gulf Shores, AL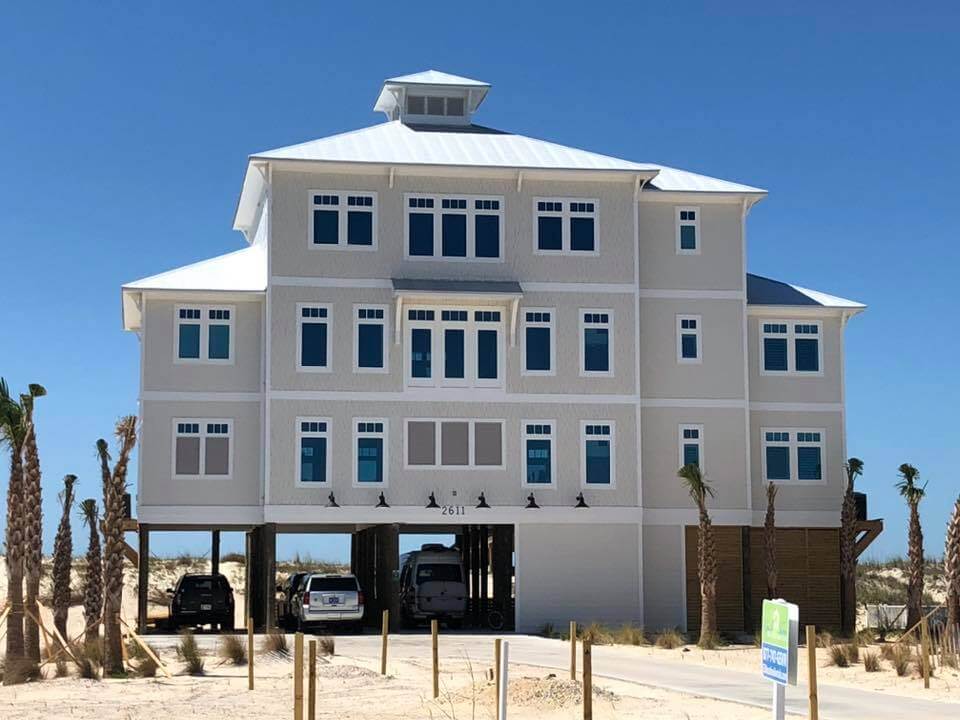 For a luxurious, upscale accessible beach vacation rental, try this 9 bedroom, 10.5 bath home with an elevator that reaches all floors. Each of the three levels has a living room for relaxing space inside and out. The main floor has a large great room and a dining room that can seat 16 to 20 people if needed. The main floor also has outdoor dining, seating, and a private pool.
There is one wheelchair accessible room with a private bath. The bedroom has a king sized bed with access on all sides. There is a private balcony off of this room with an amazing view of the ocean, and as a western room, it has a great view of the sunset as well. This bedroom is located on the middle floor close to the elevator and has a wheelchair friendly bathroom. Each bedroom has a private bathroom.
4. Lorraine's Hakuna Matata in Carolina Beach, NC
Vacation rentals come in all sizes, including this 2 bedroom 2 bath condo that can sleep 6. The condo is the entire second floor and there is an elevator, making it wheelchair accessible. The zero step entrance gives everyone easy access to the condo, located across the street from a lake and two blocks from the beach. There is a balcony, giving you a great view and the ability to hear the waves from the ocean down the street. A few blocks away, the local Carolina Beach fire department offers free beach wheelchair rentals.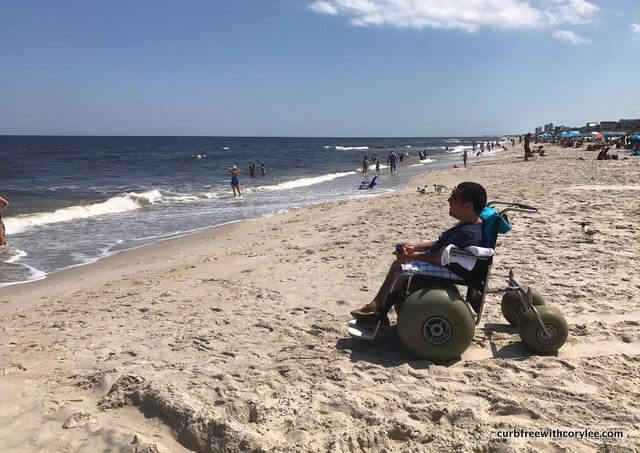 There are two wheelchair accessible beds in this home, a twin size electric adjustable bed that shares a room with other beds, and a queen size bed in its own room. There is a bathroom with a roll-under vanity and a large roll-in shower. The home features wide doors and is hardwood throughout for smooth navigation. There's a kitchenette, which appears to have a lower sink and small fridge for wheelchair access, in addition to a full size fridge. The photos for this home do also show a hoyer lift, which may be included in the rental.
5. Twisted Fish in South Nags Head, NC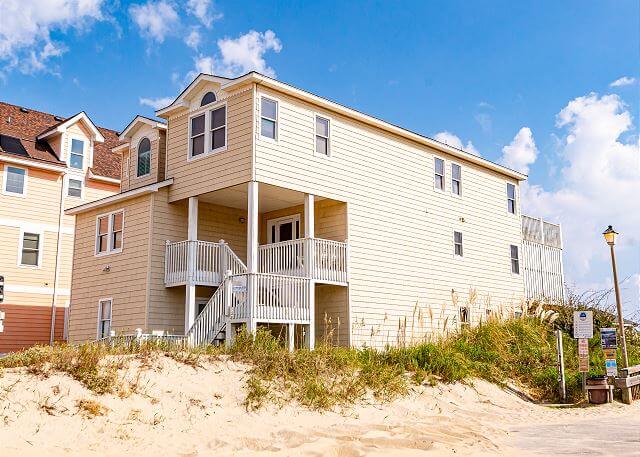 This wheelchair accessible beach vacation rental can sleep up to 24 people in the 10 bedrooms and there's 7 bathrooms, so plenty of space for everyone. The home is right along the oceanfront with perfect views on both levels. Amenities include 6 parking spaces, 2 refrigerators, a private pool, kiddie pool, pool table, and hot tub.
There are several rooms in this home that are wheelchair accessible, as there are multiple rooms with king size and queen size beds. The mid level king master bedroom is one room that has a private bathroom with grab bars installed as well as a roll-in shower. There are large rooms throughout the home for plenty of space to navigate and there is an outdoor ramp to provide wheelchair access to outdoor amenities.
6. Ocean Dream in Corolla, NC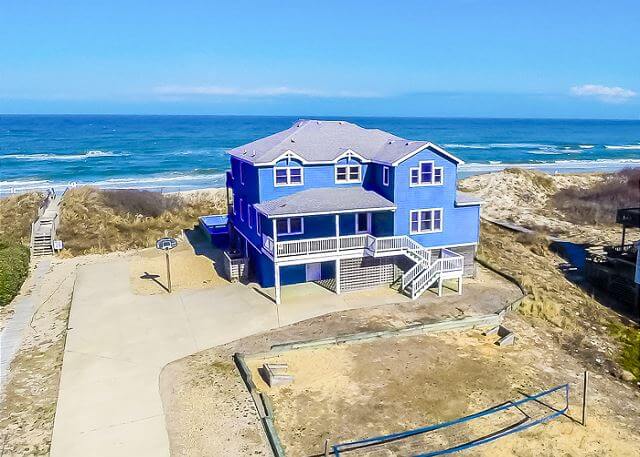 Located right on the beach, this 9 bedroom, 8 bath home can sleep 20. Being 10 yards from the beach means there are amazing views, a great atmosphere, and the sound of waves day and night. This is a great retreat rental, as there's something for everyone with several televisions, wireless internet, a saltwater pool, hot tub, outdoor games, and a rec room with a pool table. The home also has an elevator for access on every level.
This home is unique in that the wheelchair accessible room is the king master bedroom on the top floor. The elevator gives you easy access and the room has an amazing view. The bedroom also provides access to the upper deck for a great view. The bathroom has a roll-in shower, grab bars, and a roll-under sink. This top floor also has a living room, dining room, and kitchen, so everything you'd need is available on one level.
7. Wheelchair Accessible Vacation Rentals in San Diego, CA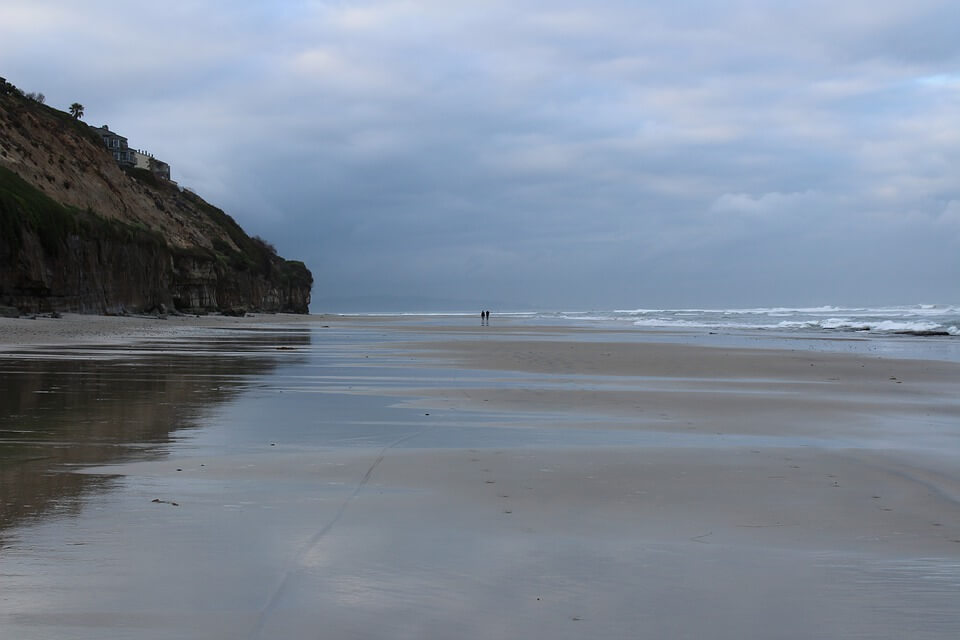 San Diego is a great place to visit if you're looking for wheelchair accessible beach vacation rentals on the West coast. These rentals are a bit smaller than some of the others listed, ranging from 2 bedrooms to 5 bedrooms, but that still offers plenty of space to relax and enjoy the company.
Many homes have panoramic views of the ocean, perfect for enjoying the ocean from inside as well as outdoors. Each listing provides a variety of photos of the home, giving you a good idea of the accessibility, as well as the layout. These vacation homes in San Diego are very close to the ocean, which makes for a unique vacation spot and relaxing experience.
When looking for wheelchair accessible rentals in San Diego, a great resource is Beachfront Only. This site uses a range of criteria to give you information about each home, along with photos to answer all your accessibility questions.
8. Crane North in Fort Myers, FL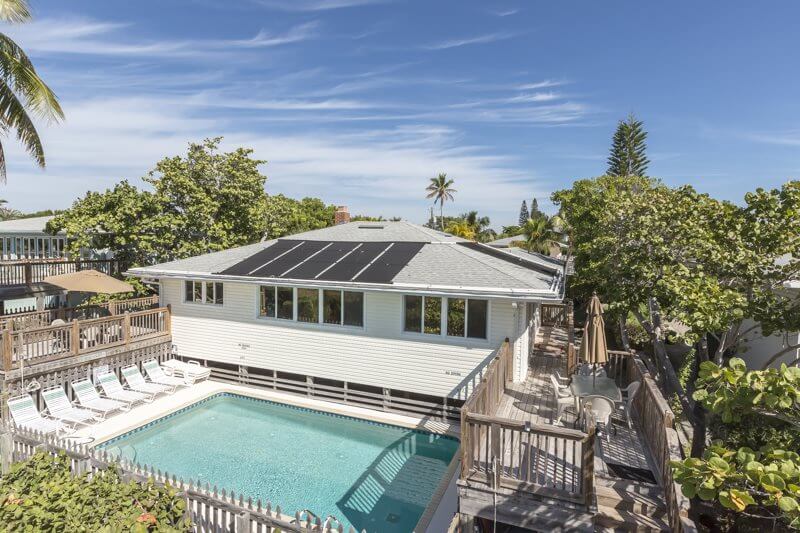 This 3 bedroom, 3 bath home has space for everyone as a half-duplex with a shared pool and grill space. Located right on the beach, there are great views and lots of indoor space. The dining room overlooks the ocean with an open concept kitchen. This home is a good option for having access to the beach, while feeling secluded and like you're at a resort. Everything is very self-contained for a great retreat on the beach.
Several of the rooms in this home are wheelchair accessible, but the guest bathroom is the only fully accessible bathroom. This third bathroom has grab bars and a roll-in shower. Two other bedrooms have ensuite bathrooms, but this fully wheelchair accessible room is separate, giving you access no matter which room you stay in. There is a long wheelchair ramp to give access to the home from the rear, where there's also garage access.
9. Cape San Blas, FL
For a more private and secluded vacation rental not directly on the ocean, try this 4 bedroom, 4.5 bath home that can sleep 12. The home is 3 floors with an elevator for all floor access. There are also ramps at each entrance for wheelchair accessibility. The loft is set up as a game room, there are 2 large screened porches, a large sun deck, and a swim spa.
On the second floor, there is a king size bedroom with a private bathroom that is wheelchair accessible. There are two other king bedrooms on this floor, each with their own bathrooms. This is the main floor of the home so everything is here, from the kitchen and dining to a living space. The bedrooms each have plenty of room to navigate around the bed.
10. North Truro, MA
For a fully wheelchair accessible beach experience, this is a great option. The home is a 2 bedroom, 2 bath that can sleep 6 with space to park 4 cars. There is a sandy private beach and a beach wheelchair available, so everyone can explore the beach and enjoy the water. The beach space has lounge chairs, a fire pit, and beach mats for wheelchair access. This listing does a great job of highlighting the home from front to back, as well as providing photos of the wheelchair access amenities.
The queen size bedroom on the first floor has an adjustable bed and a completely wheelchair accessible bathroom. There's also a large roll-in shower, which gives you plenty of space in the bathroom. The home offers a floating beach wheelchair so wheelchair users can not only explore the beach, but also enjoy the ocean.
As you can see, there are plenty of wheelchair accessible beach vacation rentals available that range in size from a small two bedroom to a large home that can sleep 20 or more. Beach rentals are a great way to plan your own retreat and enjoy life along the ocean. Each wheelchair accessible home caters to a wheelchair user's needs with fully accessible bathrooms and a variety of bedrooms, all with large living spaces and accessible outdoor space with great views.
.
.