As travel today remains uncertain, please keep your safety and the safety of others in mind at all times. If you are comfortable with traveling, please travel responsibly and within regulation as any travel is at your own risk.
If you do decide to travel at this time, here are my recommendations:
Wear a face mask.
Bring hand sanitizer and wash your hands on a regular basis.
Check official websites before your trip for the latest updates on policies, closures and status of local businesses.
Book a hotel with free cancellation in case you need to change your plans at the last minute.
———————————————————

While looking up information for my recent trip to Shenandoah National Park (my accessible guide to Shenandoah is here), I got on TripAdvisor and checked out the restaurants and attractions in the surrounding area. Quickly, I discovered that Luray Caverns was only a short ten minute drive from my wheelchair accessible cabin. At first, I thought "Well, the caverns probably aren't accessible", but then I decided to go to the Luray Caverns website just to see if they mentioned accessibility. Almost immediately, I saw that the caverns are now step-free and after inquiring a bit more, I learned that it actually would be possible for me to explore Luray Caverns as a wheelchair user. 
I love nothing more than a great adventure, so the thought of going underground into a cavern thrilled me. I added Luray Caverns to the top of my list of things to do in the Shenandoah Valley and anxiously waited to see if it would live up to my expectations. Not to give it all away just yet, but it completely knocked my socks off!
From going underground and seeing one of the most beautiful sights I've ever laid eyes upon to getting lost in a maze and even seeing vintage cars and carriages, Luray Caverns offered so much to see and do. And the best part? Everything was wheelchair friendly, so I was completely able to enjoy it all. Here's how my experience at Luray Caverns went and why I can't wait to do it all again –
The Luray Caverns property doesn't just consist of the caverns; there is also an outdoor garden maze, a vintage car and carriage museum, a toy museum, a museum dedicated to the history of the Shenandoah Valley, and more. I'll delve into all of these fun attractions soon, but I'd like to start by telling you all about the main attraction. As you can probably guess, that would be the caverns!
My Luray Caverns Wheelchair Accessible Tour
Located in northwest Virginia, Luray Caverns is over 64 acres in size, making it the largest cavern in the eastern United States. Up until a little over a year ago, there were some steps within the caverns, but now it is completely step-free! The entrance into the caverns was ramped and within seconds of entering, I was already gawking at the beauty around me.
There were soooo many stalactites and stalagmites, and I finally learned the difference between the two thanks to our phenomenal tour guide, Tara. She explained that stalactites hold on tight to the ceiling, so they grow down. And stalagmites grow from the ground up. When the two meet in the middle, they can form what is known as a column. I felt like I was in science class again at times, but this was a science lesson that I actually enjoyed and wanted to pay attention to.
The caverns were formed over 450 million years ago (yes, you read that correctly!) and during that time, Luray Caverns has truly became a visual masterpiece. The formations grow at only about 1 inch every 120+ years, which was wild to think about. The tallest column is 47 feet high, so a LOT of time went into that one.
Aside from the many impressive columns, stalagmites, and stalactites, one of my favorite parts of Luray Caverns was Dream Lake. That's right, there is a lake inside the caverns and it acts as an optical illusion. Stalactites hang over the lake, which is only 18-20 inches deep, and their reflection in the water is so crystal clear that it makes it seem like there is no water. Instead, it just looks like stalagmites and stalactites. It was a really cool optical illusion and probably my favorite part of Luray Caverns.
Another unique feature in Luray Caverns was the Stalacpipe Organ, the world's largest musical instrument. The organ was built in 1957 and it uses the vibrations of the stalactites within the caverns to play music. All it does is gently tap stalactites and they then produce a beautiful sound. It was remarkable to listen to and made for a beautiful experience.
There is much more to see in the caverns and throughout the entire tour, I was in awe at my surroundings. I have visited a couple other caverns over the past few years (Cathedral Caverns in Alabama and Harrison's Cave in Barbados), but none quite as impressive as Luray Caverns.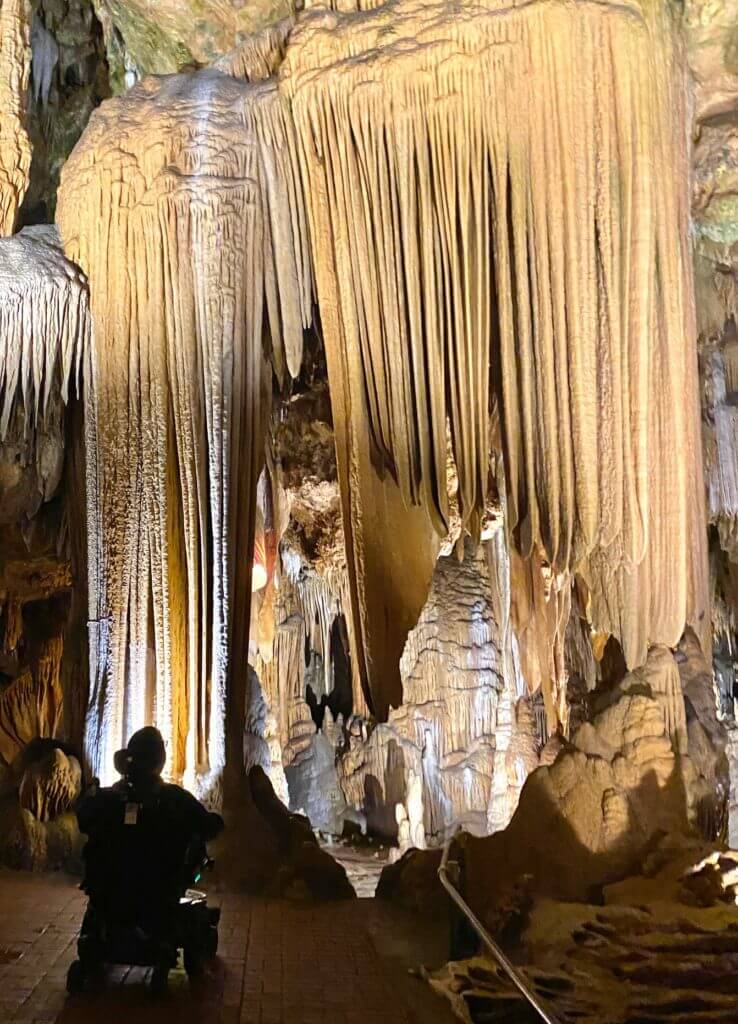 Luray Caverns was incredibly wheelchair friendly as well. The route in the caverns is 1.25 miles long and it took about an hour to an hour and a half to complete. The entire route was paved and pretty wide, but there were some ramped areas that were a bit steep. There was nothing that my powered wheelchair couldn't handle, but if you use a manual chair, you may want to have someone with you to assist in a few places.
It's also worth noting that inside the caverns, it remains a constant year-round temperature of 54 degrees Fahrenheit. I wore a light jacket during my visit, which felt nice and made it rather comfortable.
Luray Caverns is truly one of the most spectacular sights I've visited in the United States. The natural beauty is unparalleled and I'm immensely thankful that it is now possible for everyone, regardless of abilities, to explore the caverns. If you are in the Shenandoah Valley, this is hands-down a must-visit!
Other Things to Do at Luray Caverns
In addition to the beautiful caverns, Luray Caverns also offers a variety of other accessible attractions. All of the below attractions are within a two-minute walk or roll of the caverns, so plan at least half a day to experience everything that Luray Caverns has to offer. Here's what all you can do above ground at Luray Caverns –
The Garden Maze
I am a big fan of mazes, but outdoor mazes are usually not the most wheelchair friendly. They can typically be bumpy and narrow, and I've even gotten stuck in a cornfield maze before due to my wheelchair getting marred up in some mud. But Luray Caverns' Garden Maze was one of the more accessible outdoor mazes that I've been to and I didn't have to be rescued during this experience!
The Garden Maze has over 1,500 Evergreen hedges and is one-acre big. Within the maze, there are four different stations that you need to find. After finding all four stations, you'll discover the secret of the maze and find the exit. From start to finish, it took my mom, stepdad, and I about 30-40 minutes to complete.
The maze is beautiful and perfect for wheelchair users. The ground within the maze wasn't paved, but it was hard packed with dirt and very easy and smooth to roll on. The paths were also rather wide, which made it easy to maneuver with a wheelchair.
The Garden Maze is an extra $10 per adult and $7 per kid, on top of the admission price to the caverns, but I would highly recommend doing the maze. I had a great time getting lost!
Car & Carriage Caravan Museum
To be honest, I've never really enjoyed going to car shows because I just don't know anything about cars. Literally, I don't know a single thing about cars. It's sad, but true. However, even though I have a severe lack of car knowledge, I did enjoy rolling around Luray Caverns' Car & Carriage Caravan Museum.
The Car & Carriage Caravan Museum is an indoor attraction and has dozens of antique cars, but also carriages. I felt like I rolled back in time while meandering through the museum. There were cars from the late 1800s and early 1900s, including a 1932 Rolls Royce, which I wanted to drive back home with.
My favorite part of the museum though was seeing all of the carriages. It was fascinating to see how people got around before cars were popular and it made me even more grateful for my wheelchair accessible minivan.
Admission to The Car & Carriage Caravan Museum is included with every ticket to Luray Caverns, so there is no extra cost. The museum was completely wheelchair accessible and it took about 30 minutes to see all of the cars and carriages.
Toy Town Junction
Whether you're a kid or a kid at heart like me, Toy Town Junction is a fun museum at Luray Caverns. Admission is included with every ticket to the caverns, so don't worry about spending extra money. Just show up and enjoy looking at vintage toys!
The toys within Toy Town Junction are from Dr. Richard Worden, who built up a massive collection of toys and trains from the time he was a young boy. There are train sets on display, as well as toys from the 1950s, 60s, 70s, and more. I thought it was cool to see the evolution of toys over the years and I even saw some that I had as a kid.
Toy Town Junction is rather small, so it only took about 15-20 minutes to see everything, but I'd definitely recommend visiting for a fun flashback to your childhood. The museum is completely wheelchair accessible.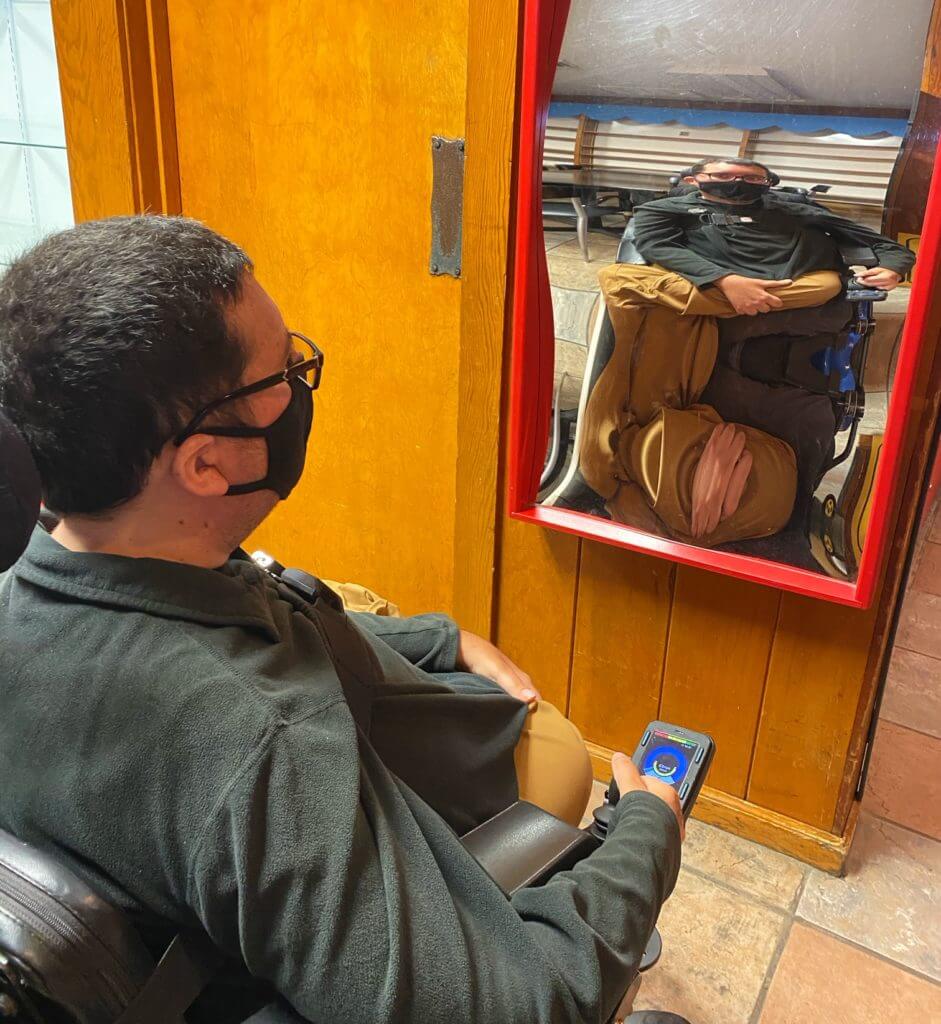 Shenandoah Heritage Village
The last attraction that I visited while at Luray Caverns was Shenandoah Heritage Village. I rolled back in time to the 1800s and discovered what life was like in the Shenandoah Valley then.
To start my visit in Shenandoah Heritage Village, I entered the Luray Valley Museum. The museum houses all kinds of historic items and tells of the history of the region. The museum was wheelchair accessible and it took about 30 minutes to roll through it. Admission to the Luray Valley Museum is included with every ticket to Luray Caverns.
Aside from the Luray Valley Museum, Shenandoah Heritage Village also has a 7-acre recreation of a 19th-century farming community. There were buildings reminiscent of those from the 1800s and even a mining station, where you can get your hands dirty and mine for gems.
As you can see, Luray Caverns has plenty to offer wheelchair users for a day of fun and adventure. Whether you want to go underground in a cavern, enjoy the attractions above ground, or both, you're sure to have a fantastic day in the Shenandoah Valley at Luray Caverns.
.
Learn more about Luray Caverns by clicking here.
.
*Thank you to Luray Caverns for working with me on this trip! While my experiences at Luray Caverns were complimentary, all opinions expressed are authentic and my own.
.
.