Hotels.com asked me to share these accessibility suggestions for Ocean City, so I'm thrilled to bring you this article! As travel today remains uncertain, please keep your safety and the safety of others in mind at all times. If you are comfortable with traveling, please travel responsibly and within regulation as any travel is at your own risk.
If you do decide to travel at this time, here are my recommendations:
Wear a face mask.
Bring hand sanitizer and wash your hands on a regular basis.
Check official websites before your trip for the latest updates on policies, closures and status of local businesses.
Book a hotel with free cancellation in case you need to change your plans at the last minute.
————————————————
Ocean City, Maryland is a popular East Coast beach destination with a long coastline, making it the perfect place to get your saltwater fix. This destination offers a range of wheelchair accessibility, from beach wheelchairs and beach mats at several points along the coast to an ADA playground and hotels with accessible amenities. The boardwalk, casino, theme parks, and restaurants provide plenty to do for a stay of any length, whether you're looking to relax or want to explore every area of Ocean City. Here's a wheelchair accessible guide to the beautiful destination known as Ocean City, Maryland –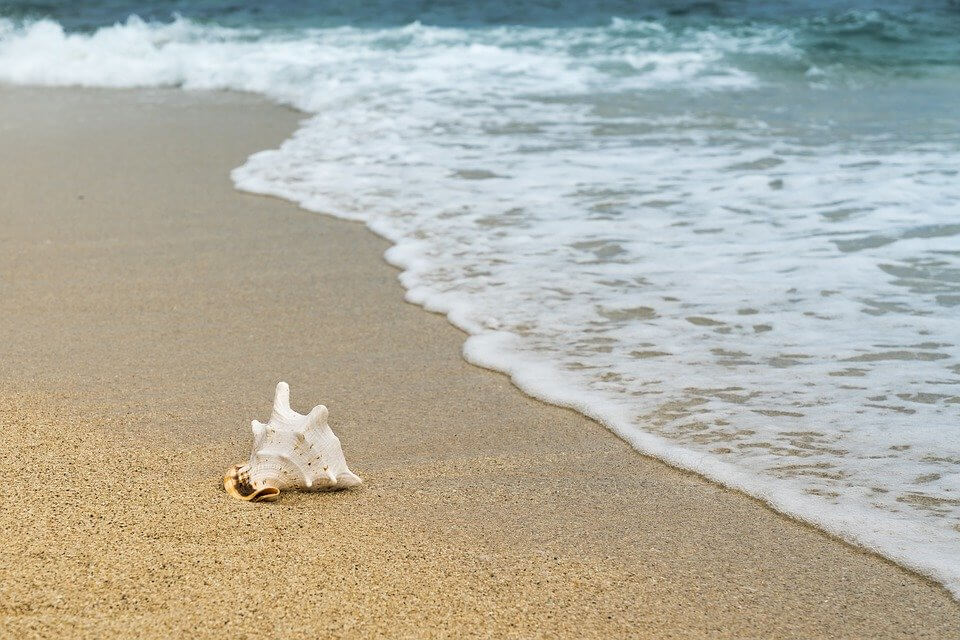 Where to Stay
When planning your Ocean City trip, the first thing you'll probably want to figure out is where to stay. There are a variety of great hotels in Ocean City, Maryland and many of them offer phenomenal wheelchair access. Here are a few accommodation options to consider:
1: Grand Hotel & Spa
The Grand Hotel & Spa has both bay view and partial view rooms with ADA amenities. There are compliant routes to the room, as well as accessible door locks, air controls, spacious bathrooms with complete access, and the furniture in the room is movable to suit your needs. At the hotel itself, there is accessible parking for vans, along with ramps throughout the property to provide access to the lobby, restaurant, and lounge. The parking dropoff point is located near the entrance for easy ride sharing.
2: Carousel Oceanfront
Carousel Oceanfront is wheelchair accessible inside and out with completely ADA compliant guest rooms, including spacious bathrooms. The amenities at this hotel are wheelchair accessible as well, with highlights including the indoor pool with a lift and two beach wheelchairs on the property. There is ramp access to the property, restaurant, and lounge, and accessible parking. This is a good option if you're looking for a resort style stay and want to enjoy everything available on property.
3: Aloft Ocean City
Aloft Ocean City is a property that provides wheelchair accessible rooms complete with roll-in showers, accessible routes from the entrance to the room, and 32 inch wide doorways. All of the public spaces are accessible, including the pool. There is also accessible parking. This is a recommended hotel if you're looking to visit the casino during your stay.
Wheelchair Accessible Things to Do in Ocean City
1: Visit Ocean City Beach
The city is known for its location on the ocean, so the first stop in any trip to Ocean City must be the beach. Many of the hotels are right along the shore, giving visitors easy access to not only a specific beach location, but also amazing views of the water, including the sunrise or the sunset. Other activities, including dining at local restaurants and exploring the boardwalk give you more opportunities to visit the beach during your stay.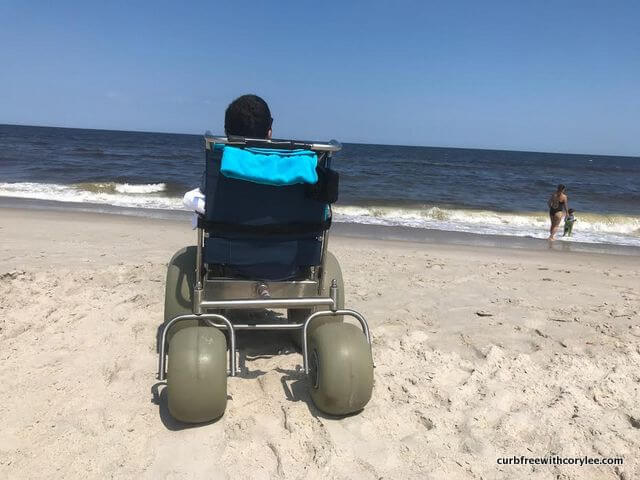 Ocean City works hard to make their city wheelchair accessible, which includes beach mats to help guests reach the beach, as well as beach wheelchairs. Beach mats are currently in use at 13 beach locations, with each ADA beach access location labeled with a blue street sign.
Each ADA beach access location also offers beach wheelchairs. These wheelchairs are available at lifeguard stations and can be requested by speaking to a lifeguard or calling the assistance line. Most of the beach is a sandy stretch with water on one side and dunes along the other, giving visitors and beachgoers plenty of space to explore.
2: Ocean City Boardwalk and ADA Playground
Beyond the beach, there is plenty to explore at the Ocean City Boardwalk. This pedestrian walkway is a series of wooden planks that separate the sandy beach and ocean shore from a wide range of shops and dining options.
Visiting the boardwalk is a great way to get an idea of the layout and the beach options, as well as take in the view and explore the city. The boardwalk is popular throughout the day and well into the night, as many restaurants have outdoor dining, which includes live music and adult beverages. Many hotels are nearby, giving you a nice place to explore without having to travel too far.
The boardwalk is wheelchair accessible, as the pathway is mostly flat and wide enough for the traffic it typically sees on a daily basis. There are beach access points along the boardwalk, but they may not be wheelchair accessible and may have steps to reach the sand. The pathway is a total of 3 miles long, but there are many access points throughout, and it can be accessed by car as well if you want to explore all 3 miles during your stay.
Another interesting wheelchair accessible attraction in Ocean City is the ADA playground. Located in North Side Park at 125th Street, this playground has a rubber safety surface and play elements on both ground level and above ground level. Having a play structure that gives access to both levels is a fun and unique way for the family to take a break from the beach and give the children a place to play. It's a great space for wheelchair users of all ages to interact as a family.
3: Ocean Downs Casino and Horse Racing
For some adult centered fun, consider visiting the Ocean Downs casino. This indoor venue gives you a place to escape the heat and spend some time playing slots, table games, and maybe even catching a horse race. The casino floor is 70,000 square feet, with at least 514 machines to play on depending on when you visit. Horse racing can be seen trackside or from the Clubhouse inside, depending on when you visit. In addition to the traditional casino games, there are also four different dining options.
The casino is wheelchair accessible with a large gaming floor and the ability to sit at slots and table games from a wheelchair. The best way to ensure your visit is completely accessible is to either call ahead or stop at guest services when you first arrive, as they can often get you in the casino's club, which offers some free play credit and will assist you with any accessibility adjustments during your visit.
4: Frontier Town Western Theme Park
Frontier Town Western Theme Park is just as the name suggests, a nod to the old West with a classic western town setup. This is a fun place to visit for a day of Western festivities. The daily schedule gives you a breakdown of the main events, from the flag raising to a bank holdup, street show, dancing, and gunfight.
Located outside of Ocean City, this is a fun place for the whole family to explore what life was like in the 1880s. There are gift shops and dining options as well to provide a full day's worth of activity and entertainment. Admission is around $7 per person for a day of fun, with an extra $2 per person for the panning for gold activity.
The western town is wheelchair accessible, as there are ramps at the ends of the storefronts, giving access to a raised plank walkway. The grounds of the town are hard packed dirt, which raises dust clouds while walking. The grounds may be more sandy depending on the weather. Other areas are accessed with grassy spaces and there is shade in several spots throughout the town.
5: Ripley's Believe It or Not!
If you're into oddities, Ripley's Believe It or Not is the perfect stop during your stay in Ocean City. The Odditorium is full of unusual and unique displays, along with interactive exhibits where you can explore on another level and even take photos of yourself with the display. There are 12 different themed galleries, so if you'd rather not see animals or other topics, you may be able to avoid them. The galleries display over 500 different exhibits. This is a great indoor experience for all ages, and is family friendly. The museum is located right on the boardwalk for a fun break from the beach or a great way to spend the afternoon.
The wheelchair accessibility of Ripley's is on par with many public museums and attractions. The exhibits are both wheelchair and stroller friendly, which is great for families to be able to explore comfortably. There is an elevator to provide access to all floors and exhibits. Ripley's does have on site parking, which is free from October to April and is also included on the Ocean City bus stops map, with the bus stop two blocks from the museum entrance.
6: Enjoy the Restaurants
Most of the dining options in Ocean City are along the boardwalk or have an amazing view of the ocean, which just adds a bit more to the experience when you can overlook the water. These two restaurants are highly recommended in the area and give you a place to enjoy the local cuisine while visiting a stunning location on the water.
Bayside Skillet is located at 77th street and Coastal Highway, right on the bay in the city. This restaurant is originally known for its breakfast menu, but has since evolved to include breakfast through dinner, open all year round. Strawberries are a key ingredient here, and are the main inspiration for the pastel pink outdoors, from the bumpers to the awnings and outdoor umbrellas.
The view here is great inside and out, overlooking the bay. It's busy during sunset, so be sure to plan ahead and reserve a space. The restaurant is wheelchair accessible with two ramps available at the main entrance. Indoor and outdoor seating is available, with both shade and sun outside overlooking the water.
Hemingway's at the Coral Reef is located in the lobby of the Holiday Inn and Suites Ocean City, offering new dishes featuring a range of options including seafood. Hemingway's is right on the water with outdoor bar seating for a more relaxed dining experience. Indoors, the dining is elevated and quiet, a great option for a break from the boardwalk, while still enjoying the water. The menu does offer a lot of seafood, but there's something for everyone, including a generous children's menu.
The restaurant is wheelchair accessible with the main entrance being through the lobby of the hotel. The restaurant is located on the main floor and the outdoor patio is on the same level as the indoor dining room.
How to Get Around Ocean City in a Wheelchair
1: ADA Paratransit Service
Ocean City takes pride in providing accessible ways for everyone to explore the city, and that includes offering an ADA paratransit service to guests as well as residents. This is an origin to destination bus service, compared to their standard bus stop service, available to those that meet the ADA eligibility requirements. Pick ups must be scheduled one business day in advance to ensure the correct bus is scheduled for the route. This is a good place to start if you're looking to use the public transport service and aren't sure about their standard buses.
2: BayRunner Shuttle
Another transportation option beyond renting your own vehicle during your stay is the BayRunner Shuttle. Staying in Ocean City and exploring the boardwalk, beach, and restaurants may mean you don't need a vehicle every day. Aside from using the bus service, you can use the BayRunner Shuttle to venture to places like the Casino and Western Town. This is also a good service for getting to and from the airport to your hotel or vacation rental.
BayRunner Shuttle provides ADA complementary service to any guest that is unable to use their regularly scheduled fixed-route schedule. This service operates on the same days and hours as the fixed schedule, but can also provide an origin to destination service with advanced notice.
There are a wide range of things to do in Ocean City, Maryland. From family friendly activities like playing on the beach, exploring the boardwalk, and visiting theme parks like Western Town and Ripley's, to adult centric fun at the casino, horse races, and upscale dining, Ocean City is clearly a wheelchair accessible destination with special focus on beach access. If you're looking for an accessible beach getaway on the east coast, look no further!
.
.