Panama City, Florida is an excellent outdoor vacation spot with beautiful Florida beaches, amazing ocean views, and fun for the whole family. Whether you're looking to enjoy the outdoors, spend days at the beach, or explore a pirate cruise, mind bending museum, or outdoor maze, there are a plethora of wheelchair accessible options. Panama City is a great destination for wheelchair accessible excursions, giving you the freedom to enjoy your trip no matter your interest. Here's a wheelchair friendly travel guide to Panama City, Florida –
Where to Stay
Staying in Panama City is always fun, as most hotels have a great view of the ocean and often have their own private beach. This, paired with a hotel pool and being a short distance from the water, gives you the opportunity to explore the area and retreat to your hotel for a relaxing and quiet atmosphere beyond the busy beaches. These Panama City hotels have good accessibility accommodations and are solid beach resorts in the area.
Sandpiper Beacon Beach Resort was built before the ADA was a regulation, but has since made modifications to accommodate everyone's needs. Wheelchair accessible rooms are available and service dogs are welcome.
The wheelchair accessible rooms at Sandpiper Beacon Beach Resort are on the ground floor, have wider doors, accessible outlets, and accessible space within the room. Bathrooms have grab bars in the shower and handheld shower heads, as well as raised toilet seats, but the shower and bathtub themselves are not roll-in. The path to the pool and the pool entrance are wheelchair accessible. The pool does have a self-operating pool lift outdoors, and a hoist indoors.
Holiday Inn Express Panama City Beach Beachfront is another wheelchair accessible hotel with a completely accessible front entrance, elevators, and public restrooms. There are wheelchair accessible paths to the registration area, guest rooms, meeting rooms, and the pool. Wheelchair accessible rooms are available upon request with roll-in showers and a private balcony overlooking the gulf.
Wheelchair Accessible Things to Do in Panama City Florida
1: Visit the beach
Panama City is definitely a beach destination. Along the coastline, there are over 100 public access points to the beach, some of which have public parking. The frequency of access allows Panama City to provide free beach access to everyone, both residents and visitors. Some access points are more public and frequently visited while others are more quiet and secluded.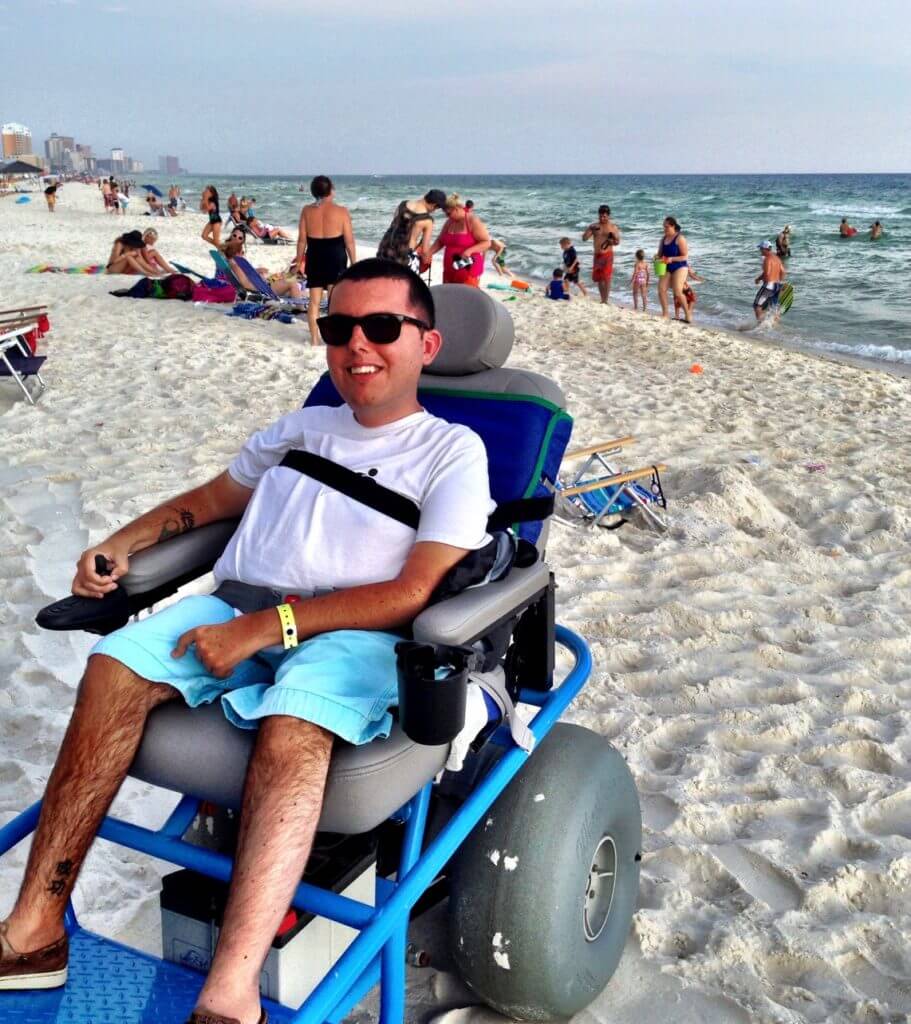 One of the most popular beach locations is the Panama City Beach City Pier, also known as Russell-Fields Pier. This pier was built in 2009 and is made of concrete to resist the hurricane forces that impact Florida. The pier is 1,500 feet long and is a great opportunity for fishing. In addition to fishing, many visitors like to take a walk down the pier. Both fishing and spectating require an entrance fee of $6 for fishing and $3 for visitors. City Pier is also a perfect location for a day to enjoy the beach as the sandy shore is in close proximity.
The pier is wheelchair accessible, as there is a sloped entrance and the concrete provides a smooth surface. The beach itself has been made completely wheelchair accessible due to a partnership with Beach Powered Mobility. This company rents beach powered wheelchairs, motorized wheelchairs that are designed to handle the sand. This gives wheelchair users independence to explore the shore and enjoy the space over traditional beach wheelchairs that require the assistance of another person to move across the sand.
2: St. Andrews State Park
Another great outdoor destination, as well as beach and fishing opportunity, is St. Andrews State Park. There is a mile and a half of beach at this park, perfect for fishing, swimming, and nature hikes along the pines and dunes. It's a popular destination for birding, as the park is often a migratory stopover location for birds in the spring and fall months. There are 60 campsites for reservation for both tent camping and RV. St. Andrews State Park offers a variety of outdoor activities and gives you an opportunity to spend time in nature as well as at the beach.
The park itself is wheelchair accessible with a range of accessibility options including access to the visitors center and the exhibits, elevated boardwalks to provide access to the beach and the jetty overlook, Gun Mount, fishing piers, and scenic overlooks. There are concrete pad campsites located near the restroom and the restroom is wheelchair accessible. Beach wheelchairs are available at the ranger station and service animals are welcome.
3: WonderWorks Panama City
If you're looking for some indoor entertainment, consider visiting WonderWorks Panama City. This is a mental amusement park of sorts, offering a unique opportunity to stretch your mind with "edu-tainment." The 100 hands-on exhibits strive to educate while entertaining, challenging your mind, and engaging the imagination and creative side. The fun begins with the exterior, as the building appears to have been built upside down. The fun continues inside with six different zones, each themed in their own way. There's weather, space, lights and sounds, art, and physical challenges.
WonderWorks is wheelchair accessible with an elevator to provide access to each level. Wheelchairs are not available to rent on the property. WonderWorks welcomes everyone and will work with you to provide necessary accommodations. If you need special assistance, it's advised to call 72 hours before your planned visit so that assistance and accommodations can be made.
4: Sea Dragon Pirate Cruise
For more fun on the water, book a seat on the Sea Dragon Pirate Cruise, a pirate ship that sails the waters of Panama City. This cruise is a 2 hour experience that is pirate themed and includes pirate activities to engage everyone in the fun on the sea. There can be dolphin sightings while aboard and activities are very family friendly. This cruise is fun for all ages, with the programming catering specifically to children. Anyone can have fun and be a pirate during the 2 hours. Tickets can be purchased online and prices range from $13 to $27 depending on the age of the guest.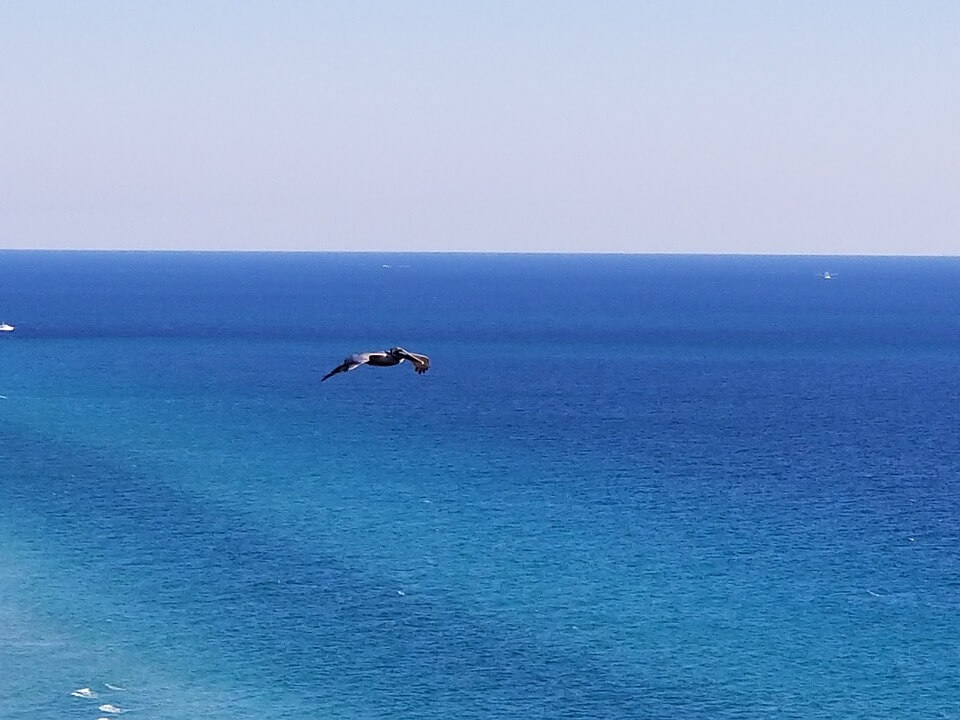 The Sea Dragon Pirate Cruise is wheelchair accessible and staff wants to work with you to ensure you have a great time aboard their charters. The programming aims to include everyone during the ride, including those in wheelchairs. Entrance to the ship is a ramp the width of a standard wheelchair and staff will help you to get your chair aboard. It is also advised that you come early to explore the dock, measure the ramp, and ask any questions before your cruise. The restrooms are not easily accessible to wheelchair users, as there are steps and hatches between the main deck and the facilities. The main deck is wheelchair accessible and you can stay on the deck through the duration of your cruise.
5: Coconut Creek Gran Maze
Similar to a seasonal corn maze, the Coconut Creek Gran Maze offers year round fun navigating a life-size maze. The maze is about the size of a football field and uses dividers on a concrete surface to provide a fun, family-friendly maze to work through. There are four raised checkpoints that give pieces to the map, allowing you to navigate through and collect each piece individually or as a group. Beyond the maze, there's also maze themed activities and mini golf at Coconut Creek for more fun, but the mini golf course is not as accessible as the maze, unfortunately. The maze costs $13.50 per person, but can include mini golf for $24.
The maze is wheelchair accessible, but the raised checkpoints have stair entries. The maze itself is wheelchair friendly, both with the concrete ground and the dividers offering a wide entry between each piece. You may need to visit the maze with a friend to retrieve each puzzle piece, or call ahead to see if alternate arrangements can be made to provide the pieces as you work through the maze without needing the stairs. I always visit with family and have them retrieve the puzzle piece and then come back down, so we can finish the maze. It's such a fun activity!
6: Pier Park
Pier Park is the best shopping destination in Panama City, providing both shopping and entertainment in one place. There are a range of stores, including those you'd find in most American malls, giving you a place to find a souvenir or visit shops you don't frequent at home.
Entertainment includes an IMAX theater for seeing films on a larger than life screen, as well as Dave and Buster's for some arcade time. Tootsie's Orchid Lounge is the spot for nightlife, specifically dancing, at this noteworthy honky-tonk.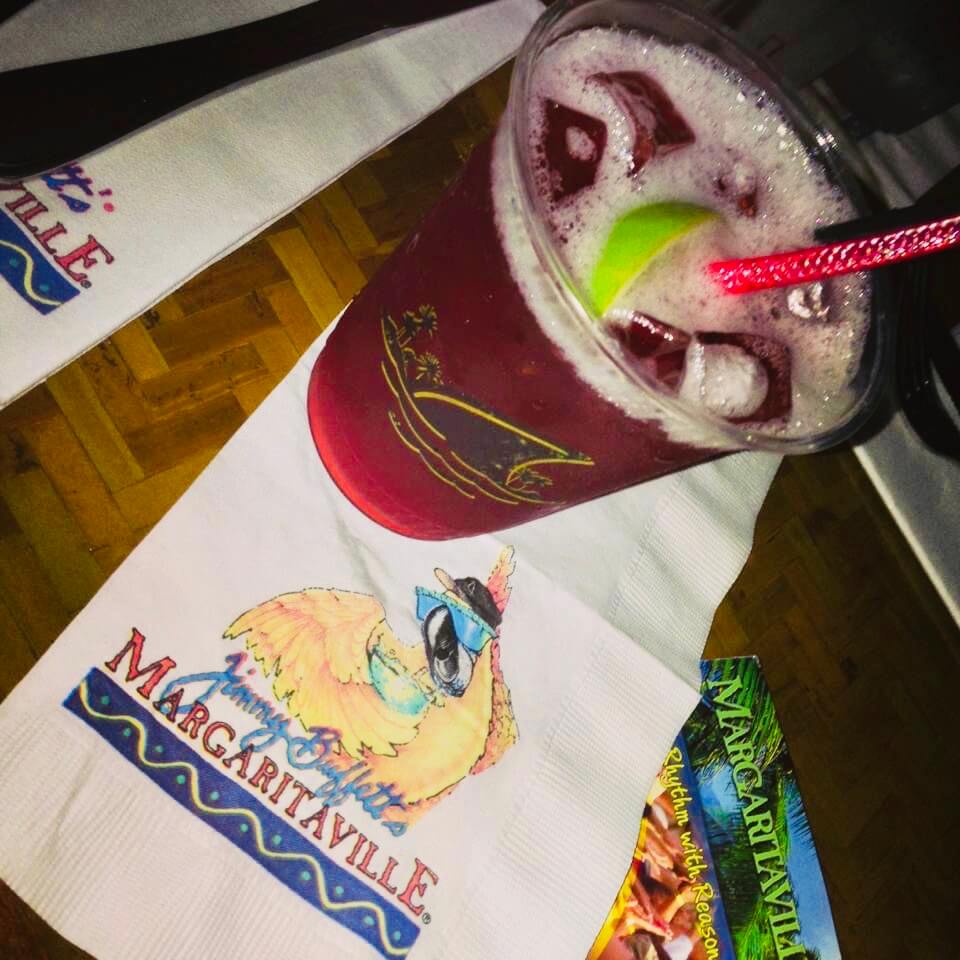 To finish out your day here, you have to dine at one of the amazing restaurants, catering to all sorts of cuisine. From something simple and quick like a sandwich, coffee, or smoothie to a sit down meal of burgers, steak, or sushi, there's something for everyone at Pier Park.
Pier Park is wheelchair accessible, located across the street from the pier and the beach. The sidewalks are wide enough to accommodate the usual traffic and the stores and restaurants adhere to ADA requirements.
7: Dine at Pineapple Willy's
After a day in the sun at the beach, you'll want to just relax in the shade and Pineapple Willy's is the perfect place. Known for their live music, seafood, and drinks, this is a restaurant with a great view of the ocean. Located on the beach, it's often a place people visit for lunch or dinner, and with a fun beachy atmosphere, it's impossible not to relax and enjoy the location when you're here.
The menu includes a range of seafood and local dining options like Mahi Mahi, alligator, ribs, oysters, and beverages both adult and family friendly. There are also salads, sandwiches, and dinner entrees, offering something for both a lighter lunch or a full dinner.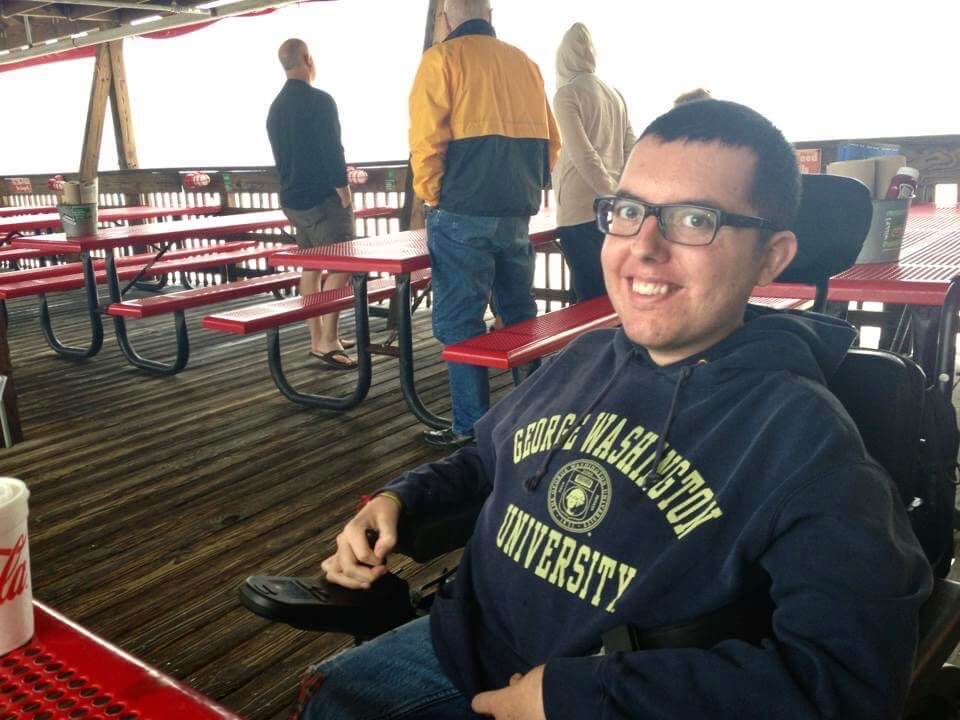 Pineapple Willy's is ADA compliant and wheelchair accessible. There is a long staircase leading to the beach from the sand side, but the street side has an added ramp and a paved parking lot. The outdoor seating is picnic table style with space at the end of the table for a wheelchair. Inside, there are smaller tables that can be placed together to accommodate larger groups and space to move through to the bar with ramps inside.
How to Get Around Panama City
If you are not visiting Panama City with your own wheelchair accessible van, the best way to get around could be with the Bay Town Trolley, which is Panama City's public bus system. There is a set bus stop schedule, complete with a map and this gives you access to pretty much the whole city. The map provides an impressive route guide, complete with color coded routes and designated stops. Each vehicle is designed to look like a trolley, but inside has seating like a public bus. Buses are boarded at their stop and some vehicles can kneel to provide a lower step from the curb.
Each vehicle in this system is wheelchair accessible and the whole network adheres to ADA regulations. A persons with disabilities pass costs $0.75 per ride. A one-way pass is $1.50 and a day pass is $4.00, which allows unlimited rides for that day. For any questions about their boarding process, please call ahead.
Panama City, Florida offers plenty to do, from a day at the beach to fishing off the pier and exploring family friendly entertainment, and everything is wheelchair accessible. The dining options, shopping, and even relaxing at the hotel allows you to fully enjoy your stay. Feel confident planning your trip and know that it's absolutely possible to visit as a wheelchair user. No matter what you do in Panama City, you're sure to have a great time.
.
.