Hotels.com asked me to share these accessibility suggestions for the Florida Keys, so I'm thrilled to bring you this article! As travel today remains uncertain, please keep your safety and the safety of others in mind at all times. If you are comfortable with traveling, please travel responsibly and within regulation. Any travel is at your own risk.
——————————————————
The Florida Keys are a destination unlike anywhere else. For 113-miles, you can drive from the top of the Keys to the bottom and view gorgeous scenery. The drive through the Florida Keys is a unique and accessible attraction in itself, but when you want to venture beyond your own vehicle, there are a plethora of wheelchair accessible things to do.
I recently spent a week in Key West and it quickly became one of my favorite places in the world, but there is so much more of the Florida Keys to see and experience. Whether you want to unwind at wheelchair friendly accommodations in the Florida Keys or have an accessible adventure of some sort, there is something for visitors of all abilities in this Florida paradise.
In this blog post, I'd love to share some of the most unique things to do in the Florida Keys that are wheelchair accessible. From snorkeling to even swimming with dolphins, these five activities are ones that you should absolutely do if you're trying to have the best Florida Keys trip ever –
Unique Things to Do in the Florida Keys
Go snorkeling with an accessible boat
If you want to get in the water for some snorkeling or relax on the water on a boat, Tranquil Adventures specializes in helping wheelchair users do just that. Located in Key Largo, this is a great first activity to enjoy as you're arriving into the Florida Keys.
Captain Mick Nealey has been taking wheelchair users out on the water since he launched Tranquil Adventures over 30 years ago. He has been a polio survivor since the age of two, so he totally understands the ins-and-outs of accessibility. Because of this, the entire operation is accessible for all guests.
The dock is completely wheelchair accessible and up to eight people (four wheelchairs max) can fit on the boat. What makes the boat particularly cool is the fact that it has an access lift on it, which helps wheelchair users get in and out of the water. You can enjoy snorkeling at Pennekamp State Park or do a sightseeing tour of the Everglades. The options are limitless with Tranquil Adventures!
Visit The Turtle Hospital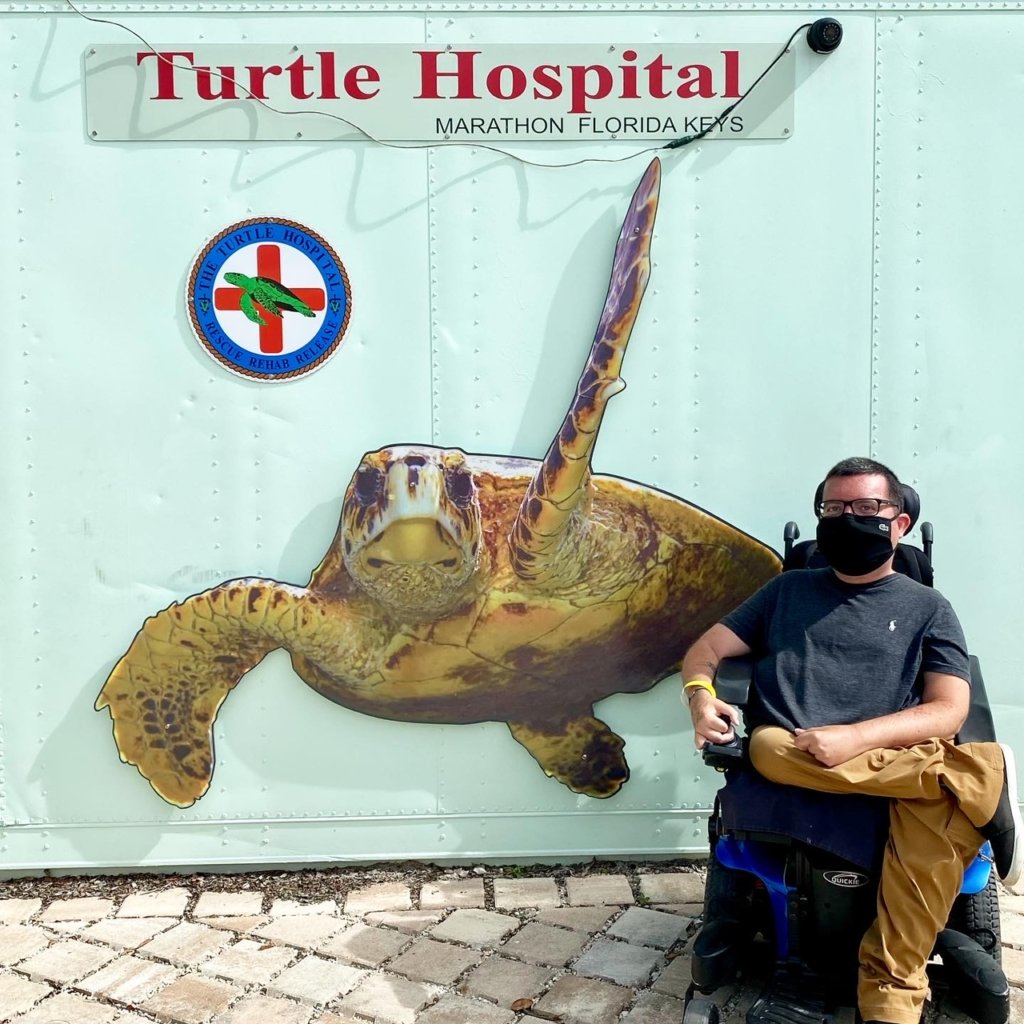 The Turtle Hospital in Marathon, FL is a rescue, rehab, and release facility that helps injured and sick turtles get back to normal. You can see the many turtles on a guided tour. Tours should be booked well in advance of your visit and cost $27 per adult.
On the 90 minute tour, you can see many of the current patients (several turtles are injured by boats, some are sick/hurting from swallowing trash and debris in the ocean, and some even have tumors), feed some of the turtles, and learn all about what The Turtle Hospital does. It is truly a phenomenal tour.
The tour is 99% wheelchair accessible. There is only one small area that wheelchair users can't get to due to a few stairs, but it's literally only 2 minutes of the tour. If you are in the Florida Keys and want to experience a really unique attraction, visiting The Turtle Hospital is a must!
Swim with dolphins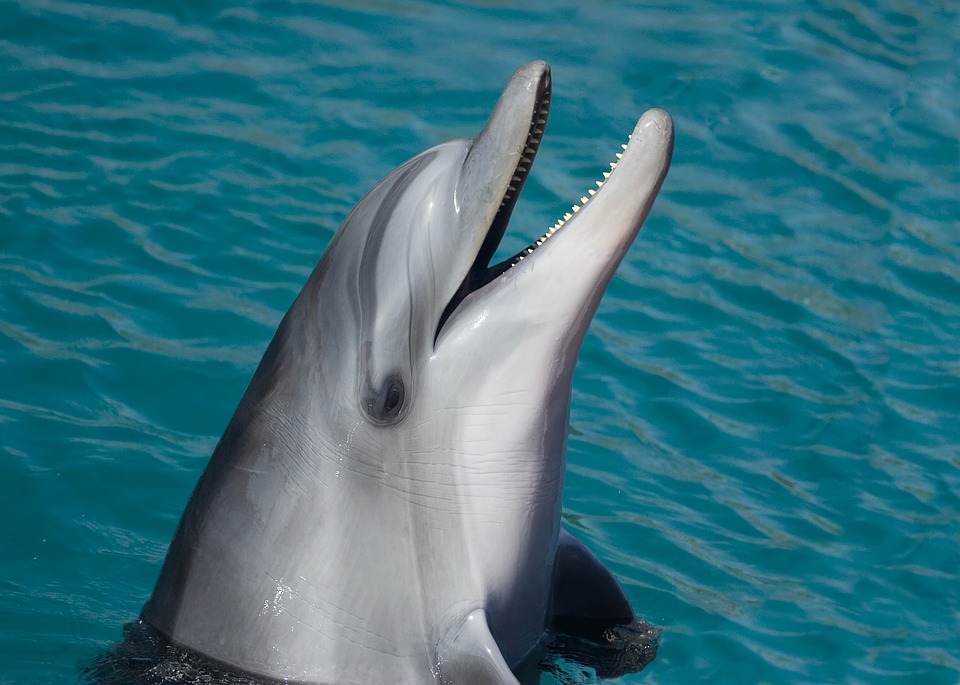 If you have ever wanted to swim with dolphins, the Dolphin Research Center in Grassy Key is the perfect place to do it! Here, visitors can not only swim with dolphins, but also learn about them in-depth and even meet sea lions.
If you don't want to actually swim with the dolphins, there are "narrated behavior sessions", where you can learn about the dolphins and sea lions at Dolphin Research Center, or a variety of other meet and greet options. However, if you have ever wanted to swim with dolphins in an all-natural setting, this is 100% the place to check that item off your bucket list.
Dolphin Research Center has an entire department devoted to assisting those with special needs. No matter what your disability is, they will find a way to get you in the water with the dolphins. They have all sorts of equipment, including hoists/lifts. Just email [email protected] and let them know when you're planning to visit, and they'll find the best way to make it happen.
Ride on the Conch Tour Train
The Conch Tour Train is a great way to get an overview of Key West and begin to understand the layout of the city. The Conch Tour Train is a 75-minute ride that goes by all of the most notable sights, while the train conductor tells about the history (and fun facts as well!) of Key West.
Not all Conch Tour Trains are wheelchair accessible, but they do have accessibility on one operating train at all times. Call ahead to let them know when you're planning to ride, so that they can have the accessible train ready for you. Wheelchair users board at the front of the train via a ramp and tie-downs are available to secure the wheelchair.
The Conch Tour Train departs every 30 minutes from 10:15am until 4:45pm daily. It has been entertaining visitors to Key West since 1958 and continues to make for a wonderful introduction to the city of Key West.
Explore Dry Tortugas National Park
Dry Tortugas National Park is one of the least visited national parks in the U.S. Not because it's unimpressive (because it definitely is!!), but because it can only be reached by boat or seaplane. The national park is only about 70 miles from Key West and if you plan far enough in advance, it's totally possible to visit as a wheelchair user.
The Yankee Freedom Ferry is wheelchair accessible and goes from Key West to Dry Tortugas daily. Visitors board the ferry at 7am and return back to Key West at 5:15pm, so it is a full day trip, but worth it for the once-in-a-lifetime experience. The ferry is almost always sold out, so try to book your trip as far in advance as possible. 
Once the ferry arrives at Dry Tortugas, you can enjoy the stunning views of the water surrounding the small island and tour Fort Jefferson. Fort Jefferson was used as a prison during the Civil War and you can learn all about it during a guided tour. 
As you can see, the Florida Keys offer a variety of cool, accessible, and unique things to do. It's a fantastic destination for wheelchair users that are looking for new thrills… and who isn't?! 
.
.