Hotels.com asked me to share these accessibility suggestions for Gatlinburg, so I'm thrilled to bring you this article! As travel today remains uncertain, please keep your safety and the safety of others in mind at all times. If you are comfortable with traveling, please travel responsibly and within regulation. Any travel is at your own risk.
———————————————————
The mountain town of Gatlinburg, Tennessee is one of the most popular destinations in the southeastern U.S. and it's a place that I've visited numerous times. Growing up only three hours from Gatlinburg, I have visited pretty much every summer (and again every winter) throughout my entire life. It's a destination that I absolutely love and it definitely holds a lot of special memories for me.
As one of the biggest tourist towns in the southeast, there are plenty of wheelchair accessible accommodations in Gatlinburg (literally something for every budget!) and more attractions than you can possibly experience in just one trip. From riding an accessible cable car up to Tennessee's only ski resort to rolling in a haunted house and more, you're sure to never get bored in Gatlinburg! Here are eight of my favorite wheelchair accessible Gatlinburg attractions and things to do –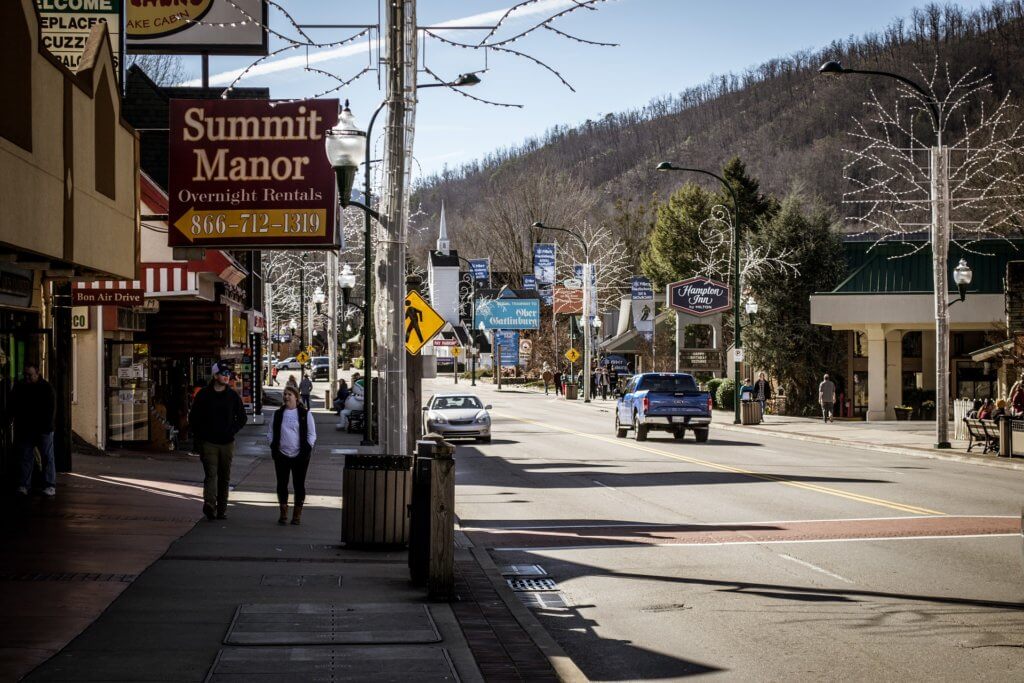 Wheelchair Accessible Gatlinburg Attractions
Gatlinburg Space Needle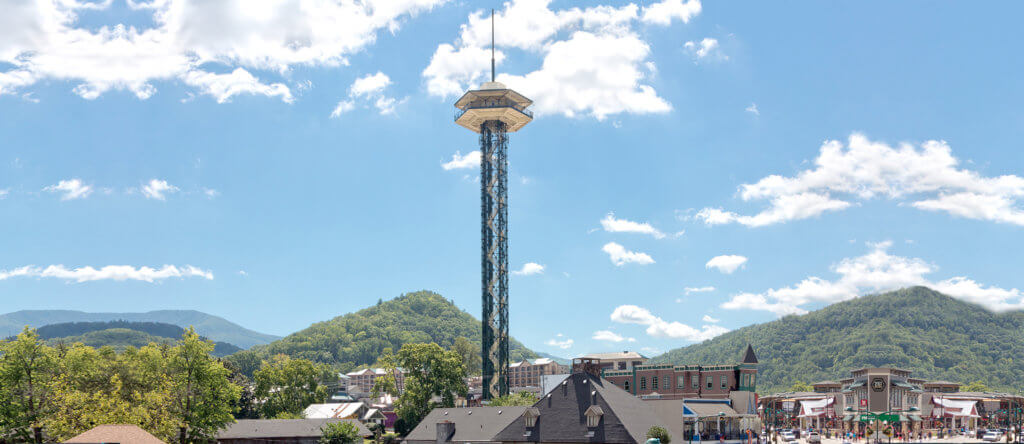 First, start your visit by heading over to the Gatlinburg Space Needle. This observation tower is 407 feet tall and can be spotted from anywhere in the city. As you enter the wheelchair-friendly glass elevator, you will be in amazement as it climbs 400 feet with a 360-degree view of the city.
At the top, you will have the breathtaking opportunity to step or roll out of the elevator and look around to see what amazing things down on the street you may want to do next. The Gatlinburg Space Needle is the perfect place to start any visit, as it gives you a chance to get an aerial view of the town and understand the layout. This is always helpful when visiting a new city!
Ripley's Aquarium of the Smokies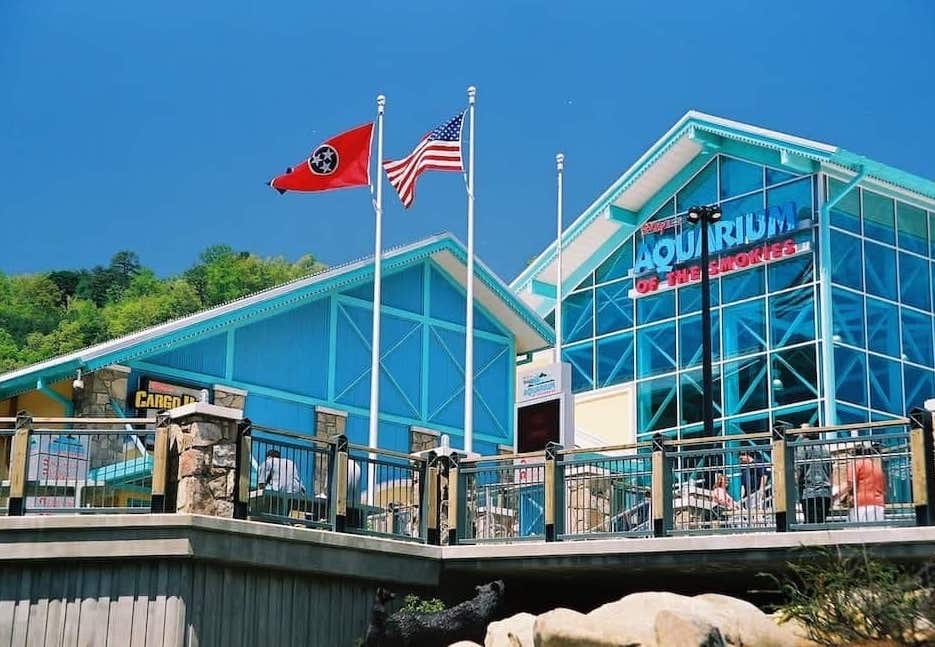 One of the many wonderful attractions in Gatlinburg, and one of the most popular, is Ripley's Aquarium of the Smokies. This beautiful aquarium includes over 10,000 sea creatures and 350 individual species and is located on the Gatlinburg trolley line at traffic light #5. The aquarium actually has more fish than people living in the town of Gatlinburg! Here, your love of the sea will be brought to life with wide, easy access pathways to view sea turtles, eels, penguins, sharks, exotic fish, and so much more.
You can also partake in many hands-on experiences (in non-pandemic times), including touch tanks and behind-the-scenes encounters. For wandering around this 85,000 square foot aquarium, you may find yourself needing a standard wheelchair to make things easier, so just stop by the guest services desk and they will be more than happy to loan you one at no charge. And of course, you can always bring your own!
After a fun-filled day of viewing pleasure, you must stop by their gift shop to take home some memories to your family and friends. If those kids of yours are not worn out quite yet, don't forget to let them release their energy at the indoor playground before moving on to the next adventure.
Ober Gatlinburg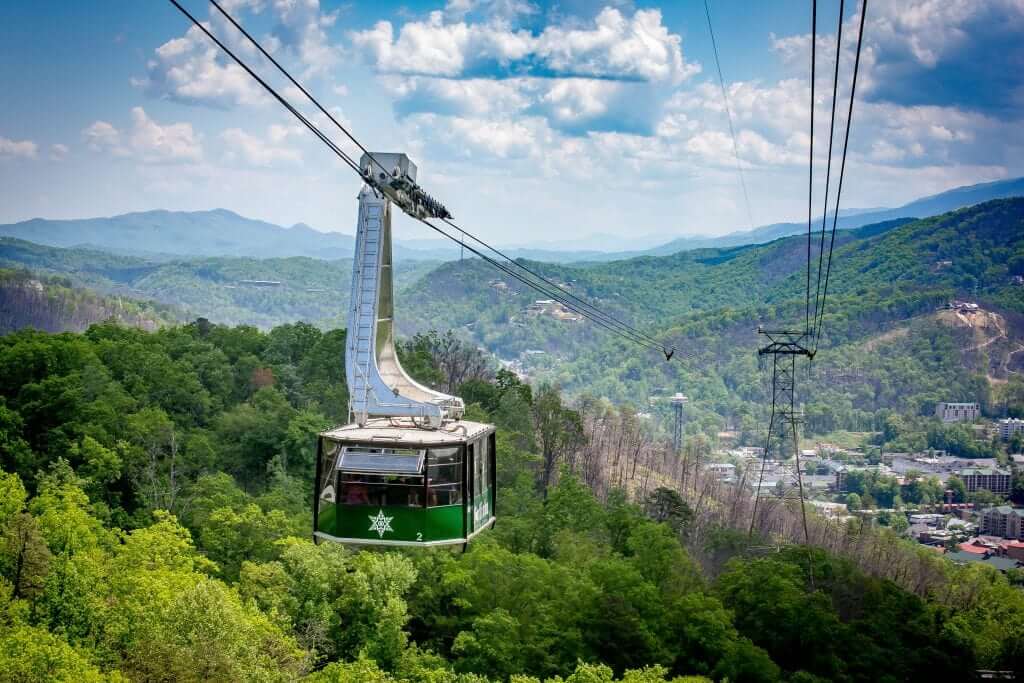 Another must-do is Ober Gatlinburg. Sitting atop the mountain and overlooking the city, this ski area and amusement park has so many family friendly attractions. To reach this area, you may either drive your own vehicle or ride the Aerial Tramway. My pick has always been the tram, as it is easily wheelchair accessible and a fun ride. You can roll right inside the glass-walled, enclosed capsule with your family and friends and see the most incredible views of the city on your way to the top of the mountain.
At Ober Gatlinburg at the top, you will find an indoor ice-skating rink, an Alpine Slide, snow skiing slopes, shops, restaurants, and don't leave without viewing the bears at the Wildlife Encounter. Here, you could easily spend hours and not even realize it because you were having so much fun. I have always immensely enjoyed browsing the shops, eating at the restaurants, and seeing the bears especially. 
Amazing Mirror Maze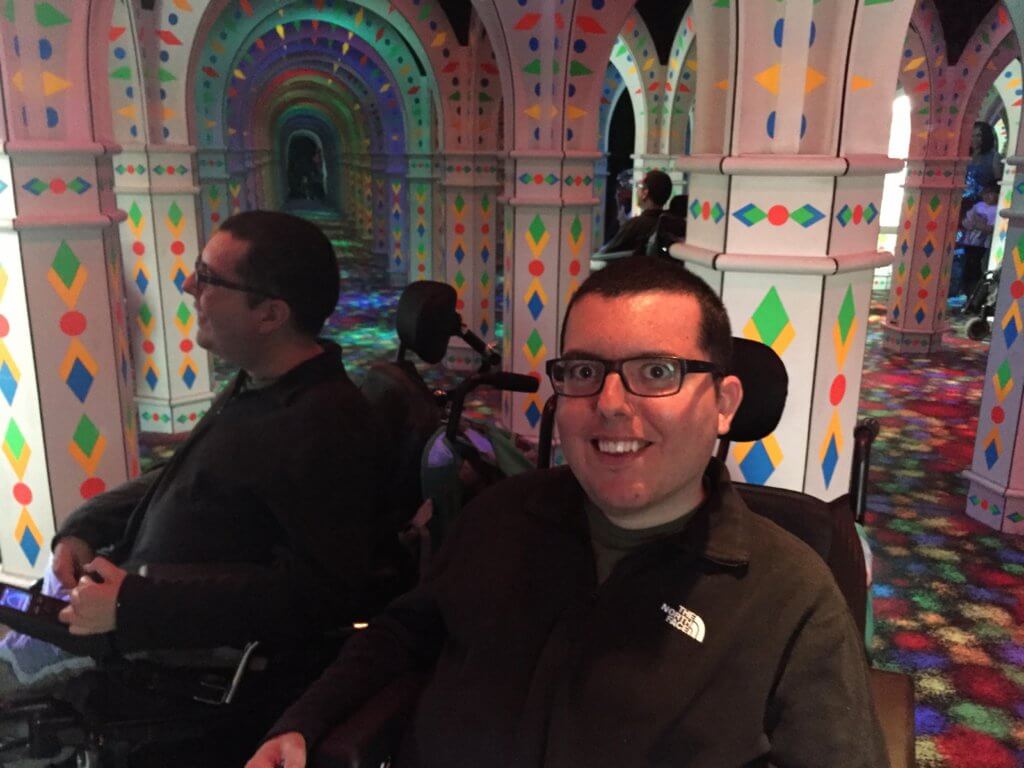 The next stop on this exciting journey is the Amazing Mirror Maze. This is the original mirror maze in Gatlinburg and while there are a few different mirror mazes now, this one is known as the largest. Wheelchair users and their friends and family can easily maneuver through this maze of mirrored walls and try to find their way to the exit.
If you are like me, you will find plenty of corners, dead ends, and infinite reflections of yourself as you make your way through the maze. What makes this attraction even better is not only the thrill of seeking your way out, but the many LED lights and the upbeat dance music that accompanies your journey.
Ripley's Believe It or Not Odditorium
If you are lucky enough to find your way out of the mirror maze, another must-do is Ripley's Believe It or Not Odditorium. This wheelchair-friendly attraction will amaze you and make you wonder if you can actually believe it or not, as most of the items are both bizarre and strange. 
Here, you can see things such as a piece of art, The Last Supper, made from lint and even a dragon made from recycled scrap metal. You will read about amazing stories of strange events and watch unbelievable mind-blowing videos. You'll see so many unique things in here, you will not believe your eyes. You simply just have to see it to believe it…or would you? I have visited Ripley's Believe It or Not Odditorium multiple times and it never gets any less entertaining. 
Roaring Fork Motor Nature Trail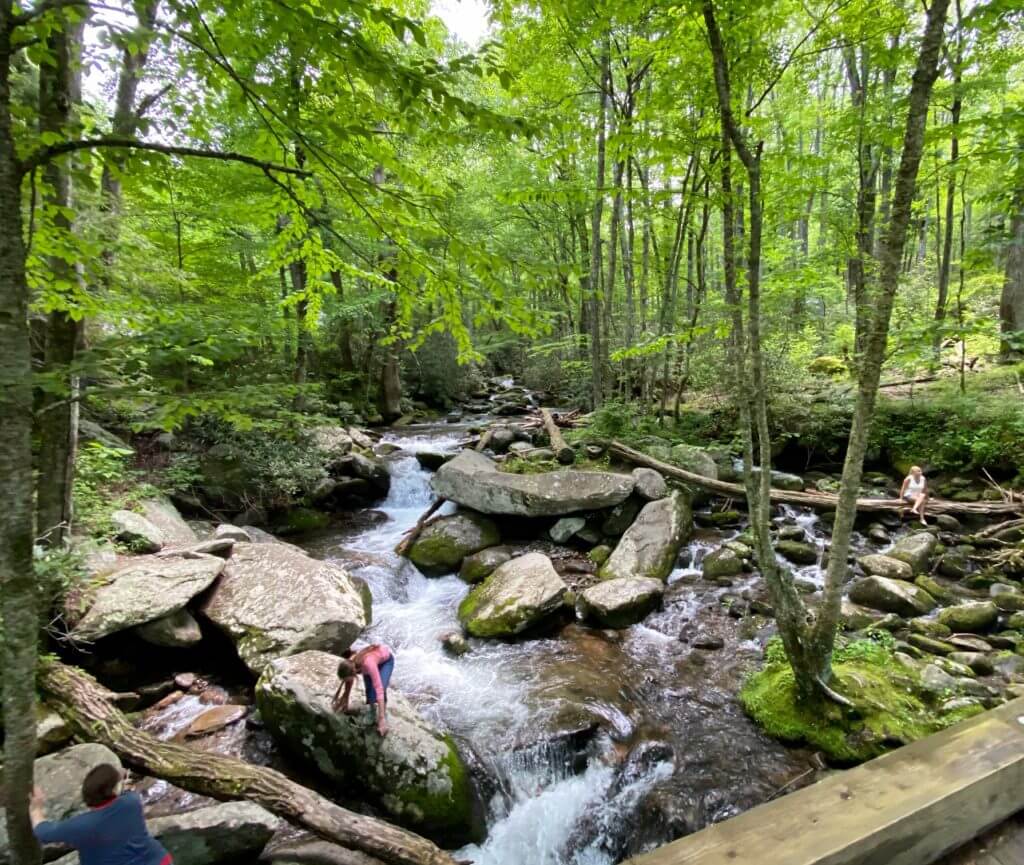 If you are now ready to sit back and relax for some outdoor viewing pleasure, you must drive the Roaring Fork Motor Nature Trail. From the comforts of your own car, you will turn at traffic light #8 in Gatlinburg and follow the signs to this 5.5-mile one-way winding road. Keep in mind that this trail is closed during the winter season.
Roaring Fork Motor Nature Trail is in Great Smoky Mountains National Park and one of the closest trails to Gatlinburg, but there are many others within a short drive as well (Read my in-depth wheelchair accessible Great Smoky Mountains National Park travel guide here!). You will be able to see beautiful waterfalls along the drive and keep your eyes peeled for those Smoky Mountain bears if you're really lucky! You will have the option to stop along the drive to get up-close and personal with nature or you can just enjoy it through the car windows. Be prepared to spend around 2 hours driving along this relaxing expedition.
Ripley's Haunted Adventure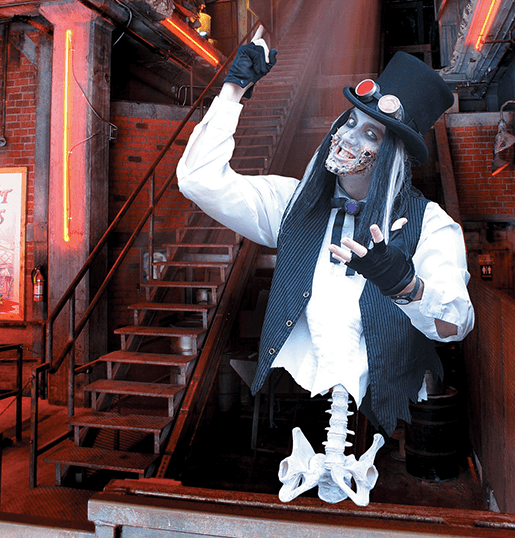 For the thrill seekers, Ripley's Haunted Adventure will knock, or should I say "scare", your socks off. This haunted mansion is wheelchair accessible and is certain to give you a jolt around every corner.
You never know what may be lurking around every turn, as there are live actors in full, spine-chilling costumes waiting for you to pass through from room to room. Even though you may yell out some blood curdling screams, you won't be disappointed if you are looking for a great time. Please keep in mind that this haunted experience is not intended for children under six years old, as it really is quite scary.
Explore the Many Shops of Gatlinburg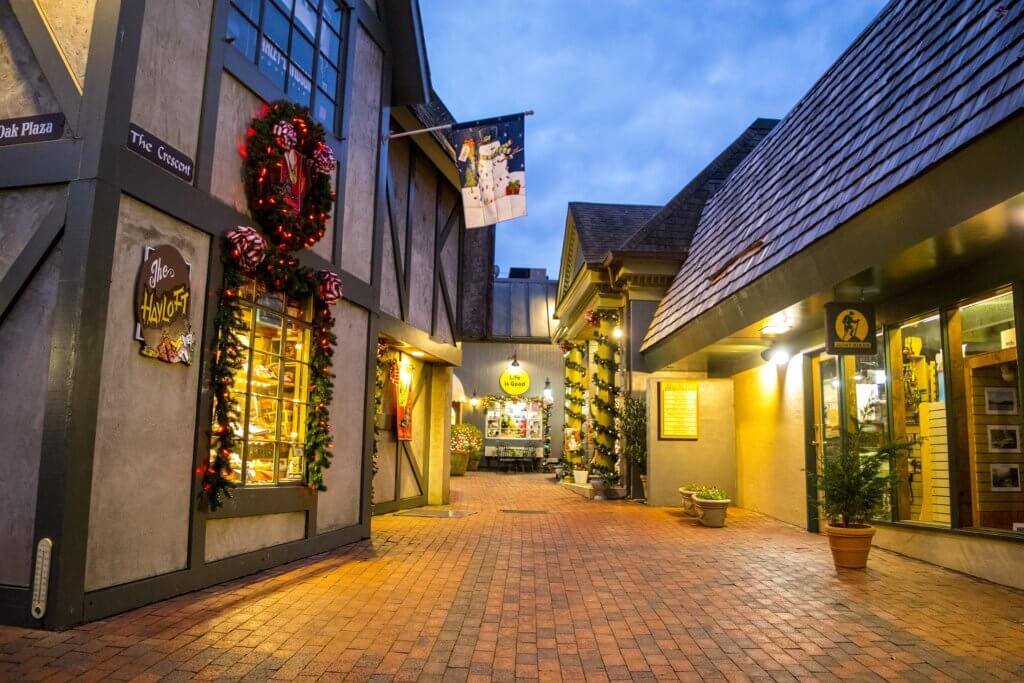 And last, but certainly not least, are the many shops along the streets of Gatlinburg. On the main strip in Gatlinburg, you will be able to walk or roll the sidewalks and enjoy souvenir shopping and dining until your heart is content.
My first stop is always Ole Smoky Candy Kitchen at the Village. Here, you can watch people actually making taffy and sample some before making your final purchase. There's also plenty of fudge, caramel apples, and other sweet treats, so you certainly will not leave without a multitude of tasty delights. 
You'll also need to try one of the famous corn dogs from Fannie Farkle's. You will have plenty of delicious options of breaded wieners on a stick and just smelling them is sure to draw you in. You won't even believe how long these corn dogs are. Mmm, mmm, my mouth is watering and I don't even consider myself a fan of corn dogs, but when in Gatlinburg it's a necessity!
Another favorite stop of mine is the Mountain Mall. This is not your average mall. It's a small, five-story shopping center and it includes 36 shops that each have their own unique theme. The mall is located at traffic light #6. While here, you are sure to find the perfect gift for yourself and everyone back home.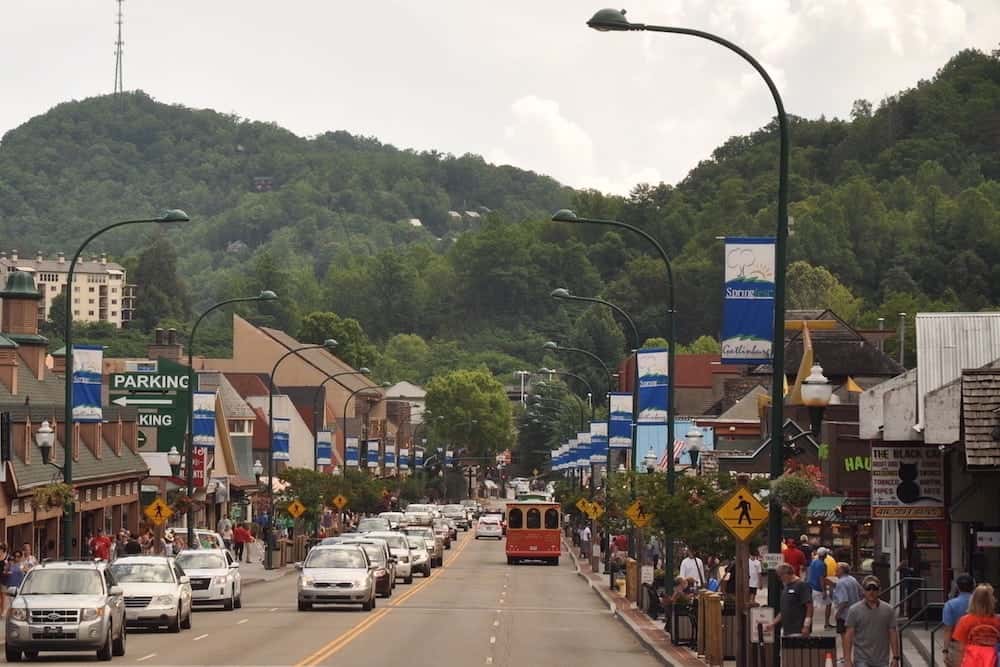 Does Gatlinburg sound like a fun destination or what?! Just from writing this blog post, I'm ready to book another trip. Whether you're looking for a relaxing weekend getaway or want an action-packed itinerary, Gatlinburg truly has something for visitors of all abilities. 
Lastly, of course I can't talk about Gatlinburg without mentioning its neighboring city of Pigeon Forge. If you'd like to learn more about accessibility in Pigeon Forge, just click here.
.
.