This is a guest post, written by Grace Kestler*
I grew up 45 minutes from Indianapolis and was lucky to visit frequently as a kid. With my mom, we went every week for my power wheelchair soccer practice. Although I drove past the big city (compared to where I'm from), I never started to really explore until my early 20s. I also attended college in a small town, so heading over to 'Indy' for a day or weekend was a fun getaway. The city has grown a lot over the years and is a great place for food, drinks and activities, and I can't wait to share a few of my favorites.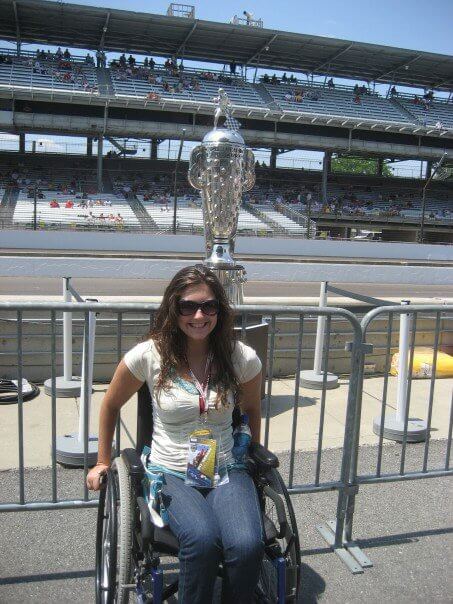 Where to Stay in Indianapolis
Indianapolis has become a convention and large event hub. The Super Bowl was also in Indianapolis in 2012, which really boosted up the downtown. Therefore, you are lucky to have many hotels to choose from. Personally, my favorite hotel is the J.W. Marriott. It's hard to miss, as it is bright blue and very tall. The hotel has large, spacious rooms and very accessible bathrooms. Many of the roll-in showers also have drop down benches, which are sturdier than the average shower chair. Anyone who uses a wheelchair knows that hotels haven't quite figured out the best designs for rooms, but i've noticed this location is pretty close.
Bottleworks Hotel and District 
Located on Mass Ave. (which I'll talk more about later), Bottleworks is a brand new hotel in an old bottle factory that has been refurbished. It is gorgeous! A fun mix of old architecture and modern design. The hotel has multiple ADA rooms and their non-ADA rooms are still very spacious. The good part about this hotel is that it's located in a less busy area with good parking. It's still walkable to the heart of downtown, but a little calmer. 
In addition to the new hotel, the building also has an amazing new food hall called 'Garage Food Hall.' Inside, you'll be able to pick from Lobster Rolls, Asian, Speciality Cocktail Bars, Ice Cream, Tacos and Poke Bowls…to name a few. I love this place because everyone in your group can choose their own food and then come back together to eat. The space is very open and even has a few backyard games like corn hole (or 'Bags' as the non-midwesterners may call it). I consider myself a foodie, so this place is like heaven. I can browse around and check out my options and even try something small from multiple places. 
Wheelchair Accessible Indianapolis Indiana Attractions and Things to Do
Mass Ave.
I already mentioned the Bottleworks Hotel and Food Hall, but along Mass Ave. you'll find even more shops and restaurants. I'd say this street is very trendy and hip. A good portion of the street follows The Cultural Trail – an extra wide sidewalk that has pedestrian and bike paths. I have never had any issue getting my wheelchair into stores or restaurants on Mass Ave. I recommend taking a stroll up and down this street for at least an afternoon. Almost all of the shops are local and super trendy. 
A few places to note:
16 Bit Arcade and Bar – If you love to play old school arcade games, this is the place for you! Nearly all the games are free – you just may have to wait your turn. A great hang-out for an evening with friends.
Bakersfield – This is a classic establishment known for their tacos! I will say, these are smaller tacos that pack in the flavor. My favorite is the Baja Shrimp (crispy shrimp, chipotle lime crema, guacamole, red cabbage, pickled fresno, chive). Don't forget the guacamole and margaritas!
The Rathskeller – Classic German Bar and Music Venue – I love this place for a good pint of beer or Schnitzel. This location has more tricky accessibility. There is an elevator to the main eating area, but unfortunately a step into the bar area. The music area is outside and must be accessed from around the side, off the street. Bathrooms are also back up the elevator. I assure you the extra effort is worth the atmosphere, but we aware there are some barriers.
Chatham Tap – The place to go to catch a game of soccer! At basically all hours of the day! They've got amazing bar food and taps to go along with multiple international soccer games playing at once. If you're trying to catch an early Euro match, go here! I should also note that the accessible entrance is unfortunately in the back.
Homespun: Modern Handmade – Possibly my favorite store ever! Nearly everything in the store is locally made, organic or fair-trade. A perfect spot to pick up a gift or a unique, local souvenir. I love homemade soaps and jewelry! This place always has a unique selection.
Fountain Square
Fountain Square is not only a neighborhood, but a street filled with shops, food and art festivals. As you can see, I really like eating and shopping. This area is technically still accessible from downtown by a nice trail, but you may opt to drive. I recommend starting at one end of the street and working your way down, similar to Mass Ave. 
Fountain Square Theatre Building houses a rooftop bar, a duckpin bowling alley and of course, a theater. I've spent many evenings on that rooftop and enjoyed the trip back in time while hanging out in the duckpin bowling alley. The building even houses a super old school elevator.
Nine Lives Cat Cafe – I will admit that I am more of a dog person than a cat person, but I love this cafe! Other than good food and coffee, you can spend time hanging out with kittens! Their mission is to foster rescue cats, socialize them, and help them find a loving home. It's adorable and makes for a fun visit. 
Music – If you're a music lover, Fountain Sq. offers many small venues with live music. All of them are wheelchair accessible and have always been extremely accommodating when I call ahead to request early entrance. I recommend checking out The HIFI and White Rabbit Cabaret! June, July and August also have Friday's on the Plaza – food, music and drinks!
Indianapolis Zoo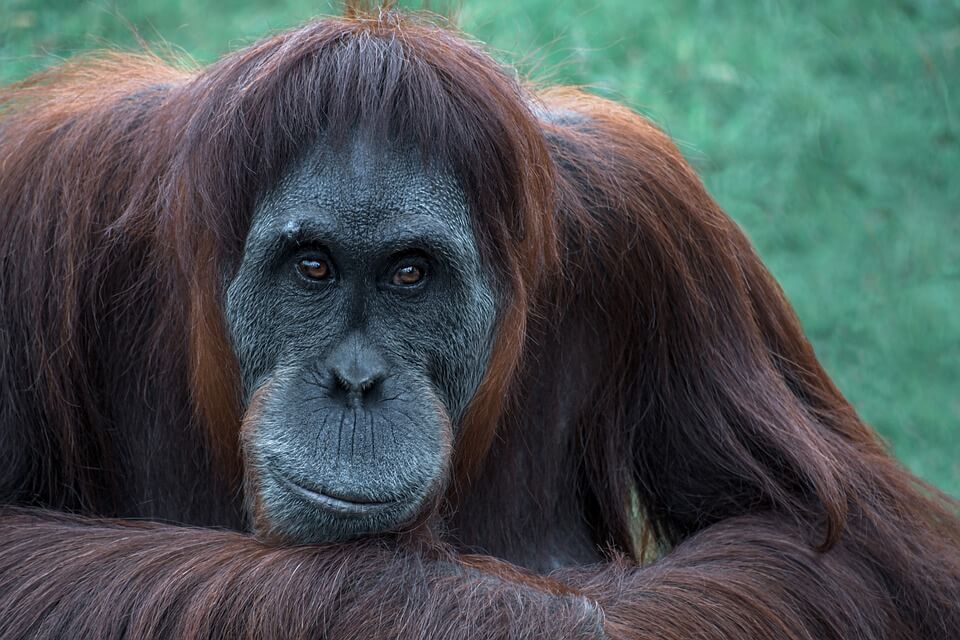 The Zoo is not just for small kids! This Zoo is very substantial and houses a massive Orangutan Center. This award-winning facility has been called one of the most significant zoo exhibits in the world! In addition, you can take a ride on the fully-accessible 'Skyline'; a slow-moving, gondola-style ride offers incredible views of the Zoo, especially the Orangutan Center and downtown Indianapolis. My other favorite part of the Zoo is You can also visit the shark petting zone at this Zoo! This Zoo is definitely one not to miss.
NCAA Hall of Champions 
If you didn't know, Indiana loves basketball! This museum features interactive exhibits and history from all 24 NCAA sports. It also features a fully interactive area to compete virtually and hands-on through sports simulators, a 1930s retro gymnasium, ski simulator and more. While not all interactive areas are ADA compliant, there is still lots to see. I love the history side of the museum and learning about the path to stardom for the big players. 
Newfields Museum of Art and Design 
This is one of my favorite museums of all time! It's just a short drive from downtown. It features extensive modern art displays, ancient art and a pop-up food/drink cafe. Once you've finished browsing the three floors of exhibits, make your way outside to The Gardens. You'll find acres of gardens and outdoor exhibits that are accessible by a wide path. There is even a beer garden. While wandering The Garden, don't forget to tour the Lilly House, a National Historic Landmark and wonderful example of a 20th century country estate. Newfields is a great place to visit in October or December, as they bring in thousands of pumpkins for their Harvest Festival and create a magnificent Christmas light display in the winter. 
Indianapolis Motor Speedway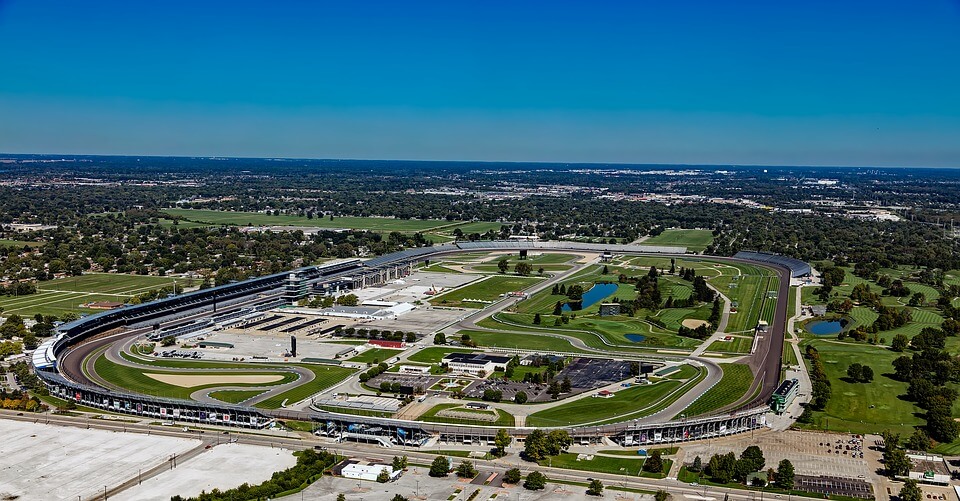 Attending the Indianapolis 500 is basically a right of passage! I grew up going to the 500 with my Dad and being amazed at the spectacle. One of the biggest sporting events in the country is the highlight of the year in Indy! The month of May is filled with numerous track days and practice events that offer much more affordable tickets. The ADA seating at the track is amazing! Half-way up the stands, right on the starting line, are dozens of accessible seats. They offer accessible seating options in numerous other places around the track at varying prices. They even offer golf carts to those needing mobility assistance. I recommend calling the ADA office if you plan to attend a big race. While it's nice to visit on a race day, the track also has a great museum on the history of Auto Racing. I will note, the track is about a 15-min drive from downtown.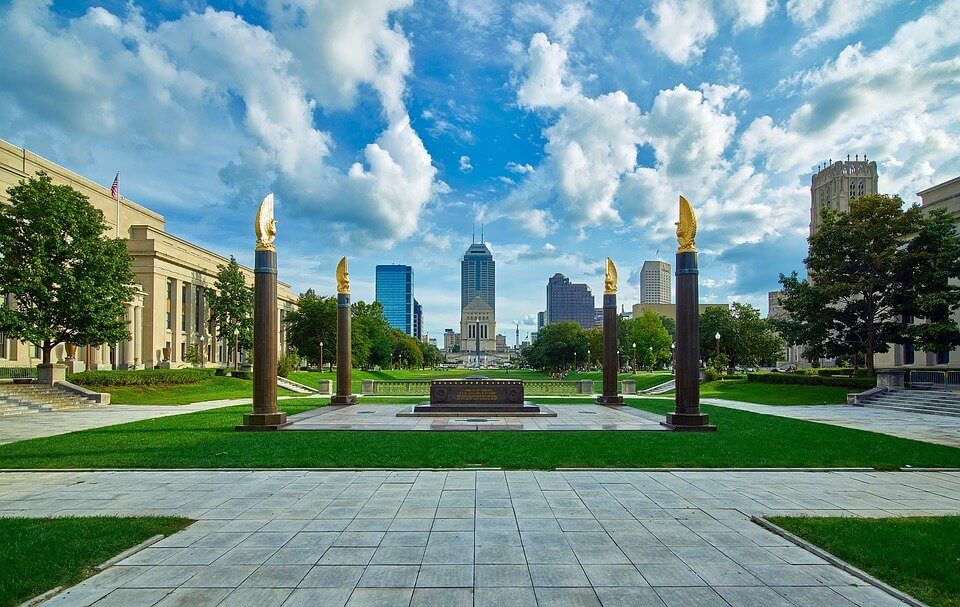 I could go on and on about all of the unique things to do in Indy, but this would be a very long article! I can say, the perk of this city is the large amount of things to do within walking distance. When visiting, we often park the car and don't go back all day. While there are some hot spots that take some driving, you can have an epic day or weekend without getting in your car. You might be surprised by the huge variety of dining options, breweries and museums. I highly encourage a day or weekend trip!
---
About the Author – Grace Kestler is the Executive Director of The Arc of Bartholomew County (Indiana), which serves individuals with intellectual and developmental disabilities. She finished her Masters degree in culture and conflict studies at Alice Salomon University (Germany), where she focused on integrating refugees with disabilities. In her spare time, Grace is a Columbus City Councilor, mentors youth with disabilities and loves to travel.
.
.