Going on a trip in an RV has been something I've wanted to do for years. I remember being a teenager and seeing the Robin Williams movie RV in a theater. While I didn't want an RV trip to be as "interesting" as the one in the movie seemed, I was immediately intrigued and thought that it would be so much fun to travel from the comforts of an RV. Since then, I've Googled "wheelchair accessible RV" countless times with dismal results… until a few years ago, anyway.
I first heard of an accessible RV just a few years ago when Winnebago announced their AE (Accessibility Enhanced) line of RVs. It was groundbreaking when they made that announcement because for the first time, I knew that it was an actual possibility that I could experience RVing as a wheelchair user. Luckily, more and more companies, including Winnebago, are recognizing the power of the accessible travel market and experiences that were once off-limits for wheelchair users are now real possibilities!
Fast forward a couple years and the team at Winnebago actually reached out to me via email. They asked if I'd be interested in going on a wheelchair accessible RV trip and promoting their AE line of RVs. I'll admit, I've received some pretty incredible partnerships and offers in my seven years as a travel blogger, but I have never responded with an enthusiastic "YES!!" as fast as I did to Winnebago. I was ecstatic to be able to use the Winnebago Inspire AE, their newest accessibility enhanced RV, and show it off.
During our weeklong trip in the Winnebago Inspire AE, my mom, my friend Kayla, and I traveled along the East Coast of Florida. Our journey started in Sanford and then went to Saint Augustine, Jensen Beach, and Kissimmee. My mom and I had never even been inside of an RV prior to this trip, so we weren't sure what exactly to expect, but it certainly surpassed all of our expectations. We are now huge fans of not only the Winnebago Inspire AE, but the RVing lifestyle blew us away as well.
In this blog post, I'll start by telling you about the Winnebago Inspire AE and its accessible features. Then, I'll tell you about the four campgrounds that we stayed in and lastly, I'll answer some of the most popular questions that I received on my social media channels during my trip.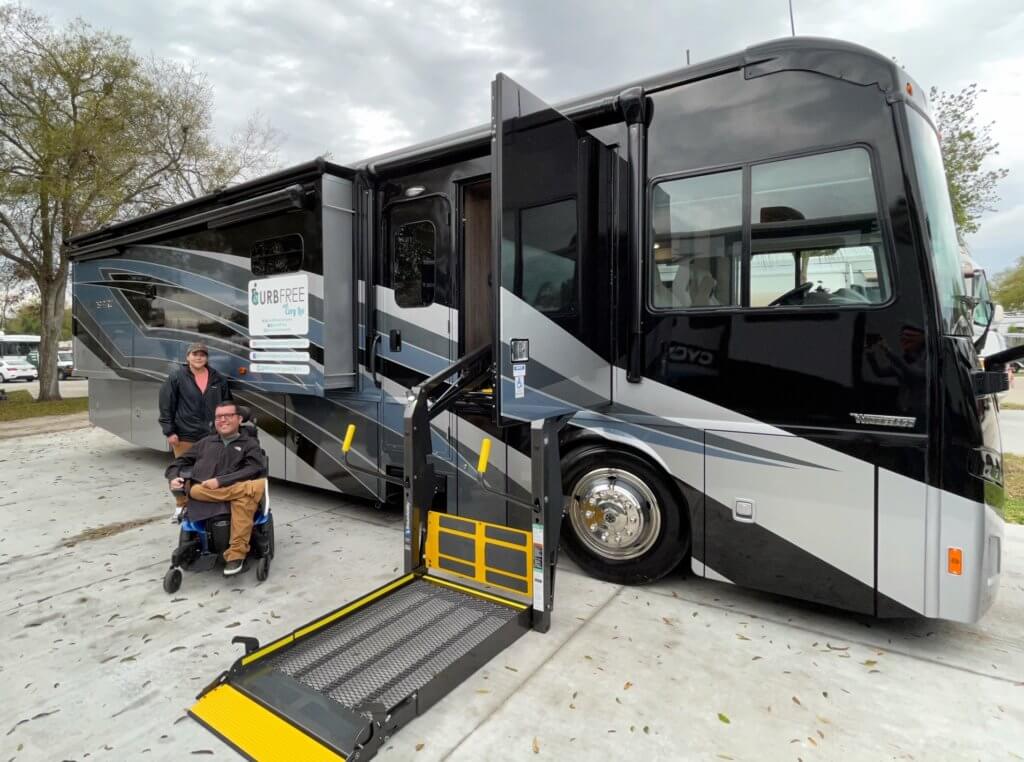 Accessibility of the Winnebago Inspire AE – A Wheelchair Accessible RV
The Winnebago Inspire AE is the newest model in the AE line and it was built with accessibility in mind, making it truly wheelchair-friendly. It is upscale and provides a smooth ride no matter where you're taking it. To be honest, I was shocked at how smooth it was compared to my Honda Odyssey minivan. Whether we were driving down the highway in it or parked at a campground, the Winnebago Inspire AE provided us with a phenomenal experience. Here are some of my favorite things about this accessible RV:
The BraunAbility Lift – A BraunAbility lift is on the RV to make getting in and out as a wheelchair user an easy process. There is also an awning that can come out and cover the lift if it is raining. The awning is powered, so it is extremely easy to extend it over the lift.
The Amount of Space Inside – I was able to fully enjoy the Winnebago Inspire AE because it had sooo much space inside, where I could maneuver around easily. In the living area, I could even go in circles without hitting anything. This RV is certainly luxurious!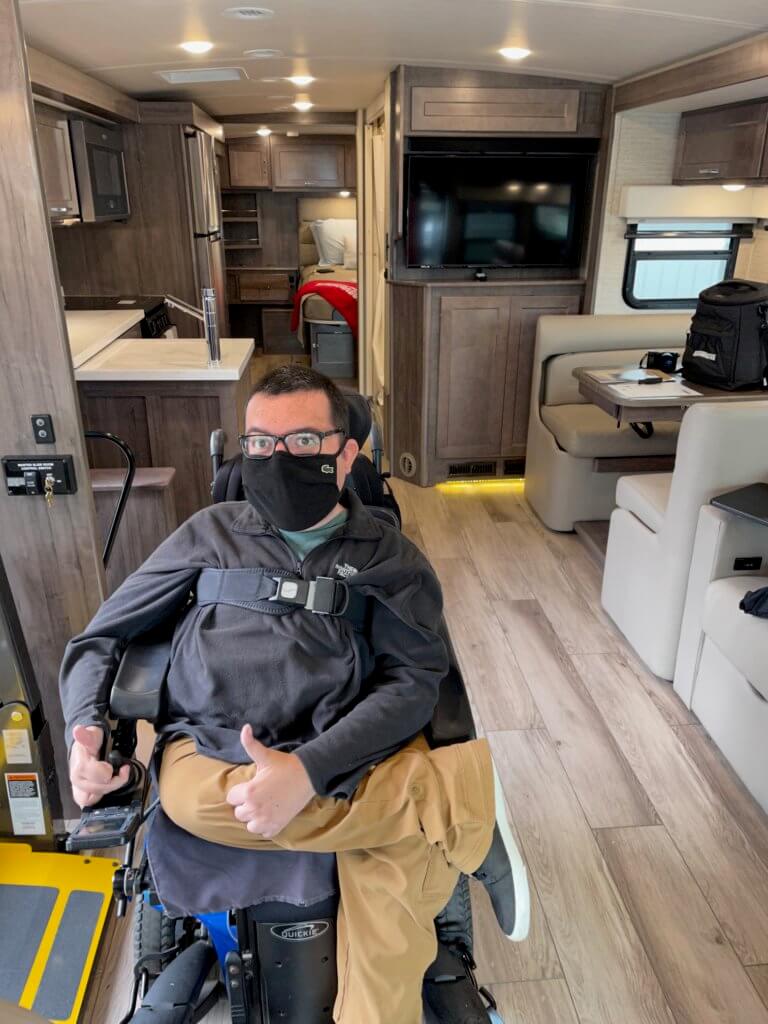 Tie-Downs – To secure a wheelchair while driving, Q-Straint tie-downs are available right behind the passenger seat.
The Living Area – There is a RestEasy loveseat, a dinette table, and a 39" HDTV, complete with a home theater sound bar system, in the living area. The dinette table even has an extendable section, so that wheelchair users can pull up to the table easier. In addition to that, both the dinette table and the loveseat can convert into beds. Yes, you read that correctly… the table turns into a bed! It is awesome! The RV can comfortably sleep up to four people.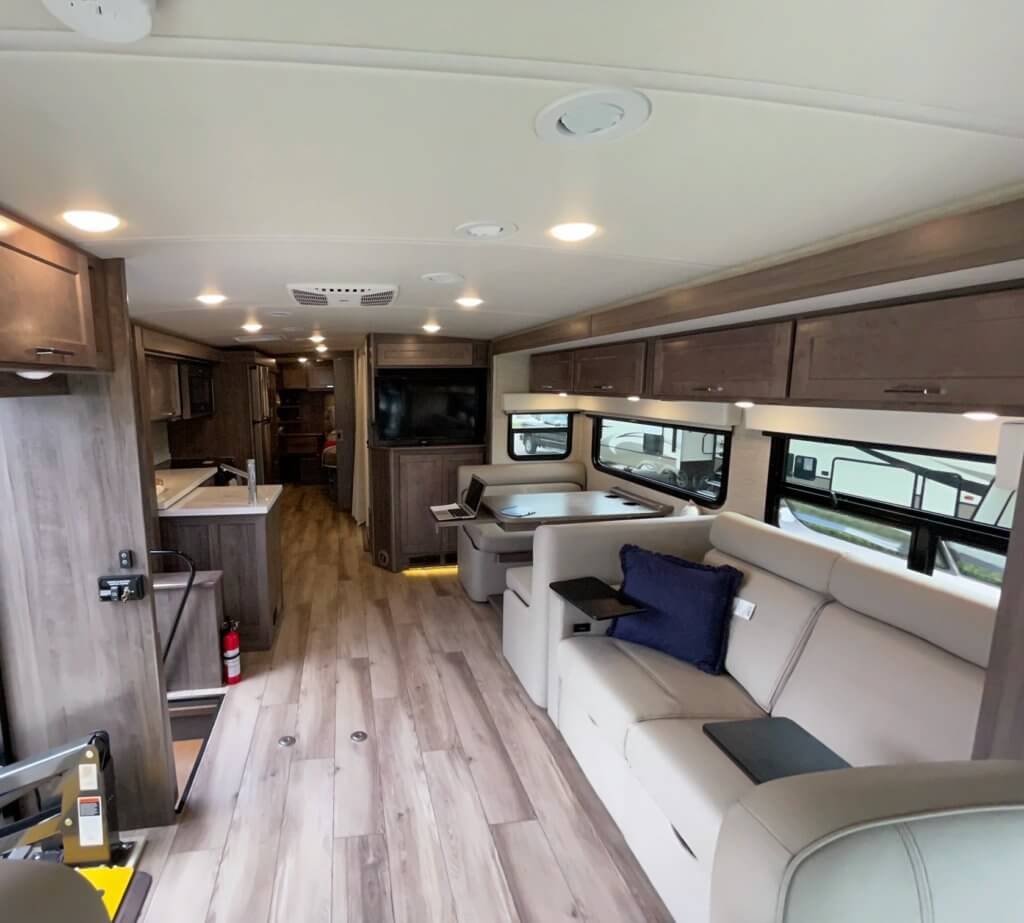 The Kitchen – In the kitchen area, there is a full refrigerator, a sink, a stove top, and a convection oven/microwave. There are also plenty of cabinets to store groceries. I loved that I could roll throughout the kitchen since it was quite spacious.
The Bathroom – The bathroom is spacious, especially for an RV, and my shower chair rolled around in the bathroom with ease. There is a sink, a toilet, and a roll-in shower with a handheld shower wand. There are no grab bars, so if that's something you'll need, definitely let Winnebago know upon purchasing.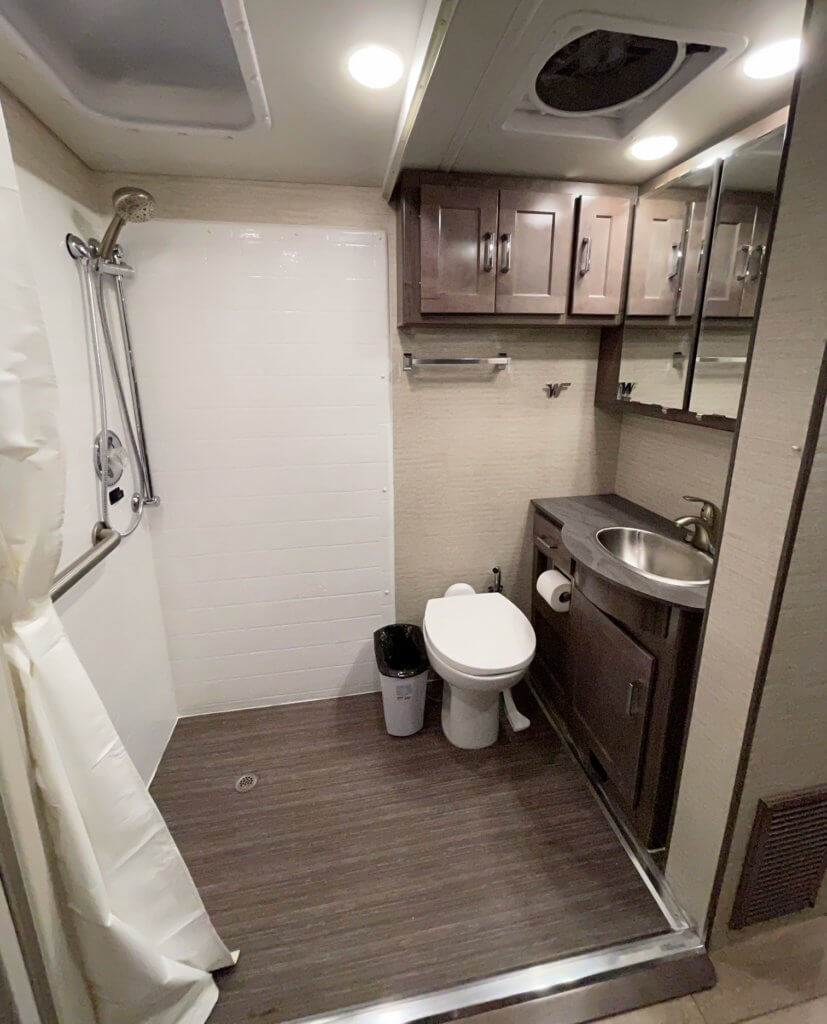 Washer and Dryer – Since the Winnebago Inspire AE is a home on wheels, it does come with a washing machine and dryer. It was great to be able to wash our clothes throughout the trip!
The Bedroom – A queen bed is in the bedroom at the back of the RV and the head of it can raise and lower with the push of a button. There is also a 32" TV, a nightstand, and a pretty big closet in the bedroom. My wheelchair could fit beside the queen bed, but I did not have enough space to maneuver and get into this bed. A hoyer lift also couldn't roll under the bed and it was a bit too tall for self transferring, so I opted to sleep in the dinette bed, which was very comfortable and gave me more space to get to the bed. If I bought the Winnebago Inspire AE, I would probably swap the queen bed for a full size or even a twin bed to allow more access in the bedroom.
The Exterior and Awnings – First, the exterior of the Winnebago Inspire AE is just gorgeous. I loved the exterior colors and how sleek it looked. Secondly, while at the campgrounds, I could usually be found sitting outside the RV under the awning. In addition to the awning over the wheelchair lift, there is also a huge powered patio awning with LED lights that can come out toward the back of the RV. A smaller TV is on the exterior as well. It was awesome to be able to sit under the patio awning and watch TV while at the campgrounds!
The Winnebago Inspire AE has so many incredible features, both ones specific to accessibility and ones that anyone could enjoy. I was in a state of almost shock the entire trip because I couldn't believe that an RV could be this amazing and accessible. It is by far the most wheelchair accessible RV on the market and made for one of my favorite vacations ever. There's just nothing quite like being able to live, sleep, and travel all in one space!
Check out the video below to see the Winnebago Inspire AE in action (Video originally produced for Go RVing)!
Wheelchair Accessible Campgrounds I Stayed At
Over the course of my RV trip, I was able to stay in four different Florida campgrounds. Each one offered something special and I would actually recommend them all. If you have an accessible RV and are in the area, these four campgrounds would be great places to stay for a few nights:
Orange City RV Resort – Orange City, FL
This was the first campground we stayed in. While we only stayed here for one night, it had a perfect location in Orange City and was only a short drive from La Mesa RV, where we picked up the Winnebago Inspire AE. At Orange City RV Resort, we had a pull-thru site, which made driving in and out with the RV easy breezy. We had full hookups as well and the resort had amenities such as a pool, games, a playground, and a lobby area, which was serving breakfast for a small cost while we were there.
Anastasia State Park – St. Augustine, FL
The next stop on our RV adventure was St. Augustine and while in the city, we were able to stay at the beautiful Anastasia State Park for three nights. We had a back-in spot here, so it wasn't as easy as a pull-thru site, but it did give my mom some good practice with driving the RV. The spot where we parked the RV was quite large and we had a picnic table and fire pit, which we made use of a couple times. Anastasia State Park had a beach with a beach access mat and complimentary beach wheelchairs as well, so this is a wonderful location for wheelchair users.
Ocean Breeze Resort – Jensen Beach, FL
Out of the four campgrounds that we stayed in, Ocean Breeze Resort was probably my favorite. It is an RV resort in Jensen Beach and has every amenity that you can imagine, making it a luxurious place to stay. There was a huge zero-entry pool, a fitness center, billiards room, a restaurant and bar, and many of Jensen Beach's shops and restaurants were just a short walk/roll away, including the beach. For the RV, we had a pull-thru site with full hookups and a picnic table and grill were at our spot as well. Ocean Breeze Resort had a community feel to it and everyone that we talked to was super nice. I would love to stay here again!
Orlando/Kissimmee KOA – Kissimmee, FL
For our last night in the Winnebago Inspire AE, we stayed at the Orlando/Kissimmee KOA. We had a pull-thru site with full hookups, a grill, fire pit, and a picnic table at our site. It was really a perfect site! The KOA also had a pool with an access lift, bike rentals, and a lobby area with some groceries as well. If you're looking to visit central Florida's most popular attractions (including Disney World), this is a convenient location, as it's only a 15 minute drive away.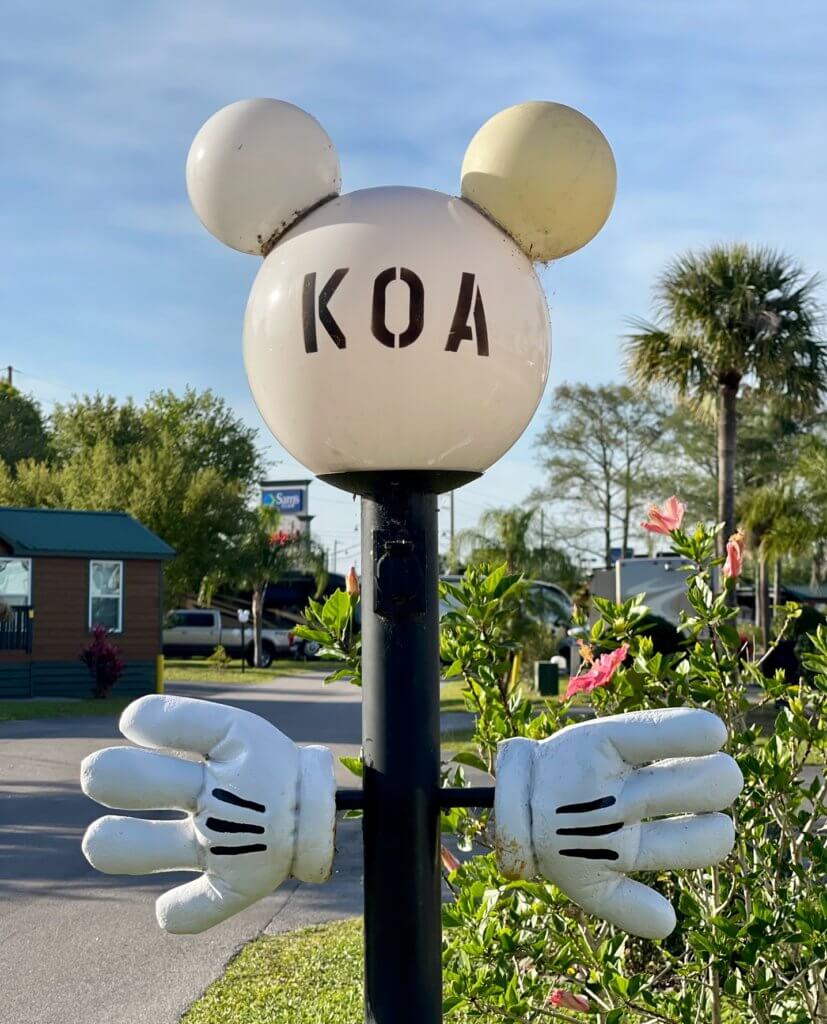 Accessible RVing FAQ
Where can you rent an accessible RV like the Winnebago Inspire AE?
Unfortunately, the Winnebago Inspire AE is not currently available to rent. It is only available for purchase at this time, but the team at Winnebago wants it to be available to rent and they're working on making that a reality. It's up to the RV dealers whether they rent it out or not (not Winnebago's decision), but hopefully soon it will be rentable. Until then, be vocal and let dealers know how much a wheelchair accessible RV rental would mean to the disability community.
Do you need a special license to drive it?
Surprisingly, no! I was actually shocked by this, but for any vehicle under 26,000 pounds (which is most RVs), a regular driver's license is all that is needed in all 50 states.
Can special customizations be made (ceiling hoist, hand controls for driving, etc)?
Absolutely! Almost anything on the Winnebago Inspire AE can be customized upon purchasing. In the past, they have installed ceiling hoists, hand controls, and more. The wheelchair accessible RV is your home on wheels, so it can be customized to give you the most comfort possible.
How much does the Winnebago Inspire AE cost?
The Winnebago Inspire AE starts at $299,000. This price includes all of the accessibility features, such as the BraunAbility lift, roll-in shower, etc. It also comes with a 3-year/100,000 mile warranty.
Where can you see the Winnebago Inspire AE in-person and try it out?
The Winnebago Inspire AE is available exclusively at La Mesa RV locations. La Mesa RV has locations across Florida, Arizona, New Mexico, and California. Learn more about La Mesa RV locations on their website.
RVing has become one of the most popular ways to travel over the past year and thankfully, it's now completely possible if you use a wheelchair. My RV adventure was one that I'll never forget and if you've always dreamed of RVing just like I used to, I would highly recommend checking out the Winnebago Inspire AE.
Learn more about the Winnebago Inspire AE by clicking here.
.
*Thank you so much to Winnebago and Go RVing for working with me for this wheelchair accessible RV trip! While my experiences were complimentary, all opinions and viewpoints expressed in this blog post are authentic and my own.
.
.