If you are anything like me, you immediately envision skyscrapers, the Statue of Liberty, and maybe even start singing Broadway songs at the top of your lungs when you think of New York. Am I right? Sure, New York City is an incredible destination and it's typically the first place to come to mind when thinking of New York, but there is actually so much more to the state of New York than just the concrete jungle. There are stunning mountains, accessible outdoor activities, and destinations you'll never forget (and likely keep returning to) in New York as well. I recently had the chance to learn this on a trip to the Adirondacks in upstate New York.
At over 6 million acres, the Adirondacks are larger than the Great Smoky Mountains, Yosemite, Yellowstone, Grand Canyon, and Glacier National Parks combined. While not a national park, Adirondack Park is the largest publicly protected area in the continental U.S. Needless to say, the Adirondacks cover a huge area and you can't possibly experience all of the sights and attractions within one trip, but I did give it my best attempt on my recent trip.
Over the course of five days, I explored some of the Adirondacks' best towns, including Tupper Lake, Saranac Lake, and Lake Placid. Whether I was rolling above trees on an accessible path, boating around Lake Placid, traversing wheelchair-friendly trails, or enjoying delicious food and drinks, I had a phenomenal time discovering just how amazing (and how wheelchair accessible) the Adirondacks are. To help you plan your own trip to this magical destination, here is my accessible guide to the Adirondacks, including what to know before you go, things to do once you're there, places to eat and drink, and where to stay –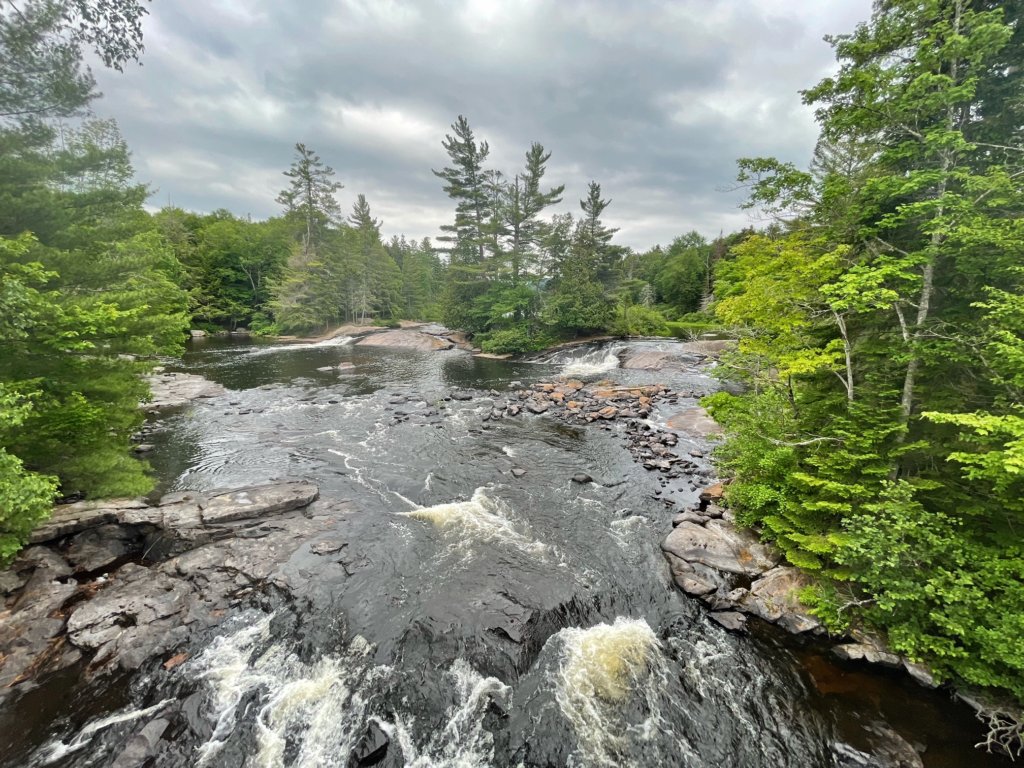 What to Know Before You Go to the Adirondacks
Flying to the Adirondacks
There are some smaller regional airports in the Adirondacks, but since I flew from Atlanta, I chose to fly in to Albany, New York on a nonstop flight. If you're needing to fly in for your visit, either Albany or Burlington, Vermont would be the best airports to start your trip from.
From the Albany airport, it was about a 2.5 hour drive to our hotel, the gorgeous Saranac Waterfront Lodge in Saranac Lake, which I'll discuss later on in this article. From the airport to the hotel, it was a nice and easy drive through the Adirondack Mountains and the views were great along the way. If you opt to fly in to Burlington, Vermont instead, it will be about a 2 hour drive, but you will need to take a ferry to cross into New York.
Accessible Rental Van
To get around the Adirondacks, my mom and I used an accessible rental van from MobilityWorks in Albany, New York. We were given a Dodge Grand Caravan and it was about $150 per day to rent. The van was fully adapted and had a fold-out ramp, tie-downs to secure my wheelchair while on the road, and upon my request, MobilityWorks even removed the passenger seat, so that I could sit up front in the van. The van worked perfectly throughout our entire trip and we were able to enjoy multiple locations in the Adirondacks because of it. It's also worth noting that MobilityWorks offered airport pick-up and drop-off, which was super convenient.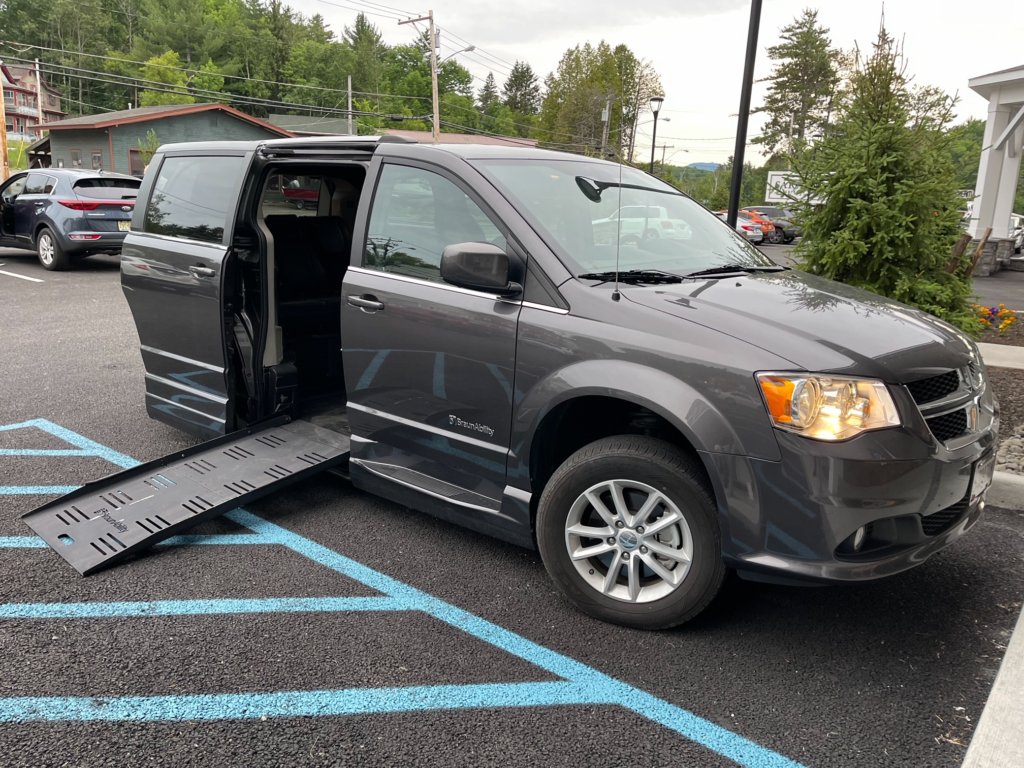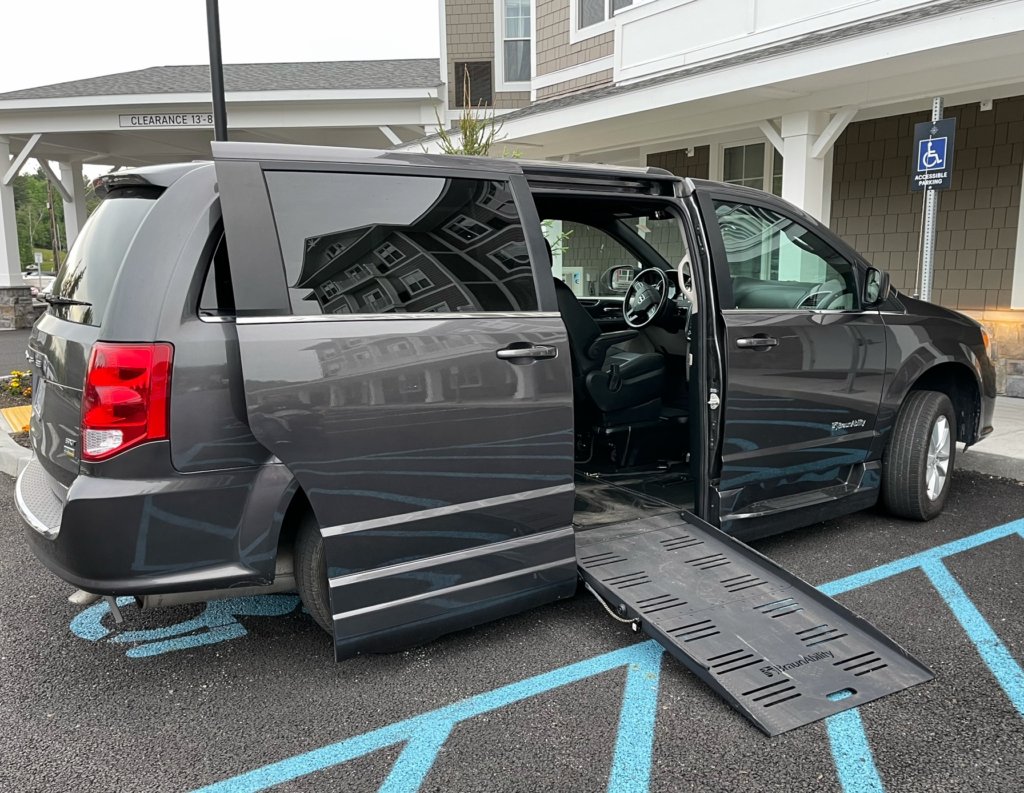 When to Visit the Adirondacks
I visited the Adirondacks in late June 2021, which was a great time to visit in my opinion. It was warm every day and we got lucky with the weather. Thankfully, it was quite sunny throughout our whole trip. I'd recommend visiting the Adirondacks in the summer in order to maximize your time outdoors (but be aware that black flies are prevalent between May-June), but it's also possible to visit in the winter if you don't mind the snow. You could even try adaptive snowskiing in the Adirondacks if you visit in winter. Learn more about adaptive snowskiing options in the area here.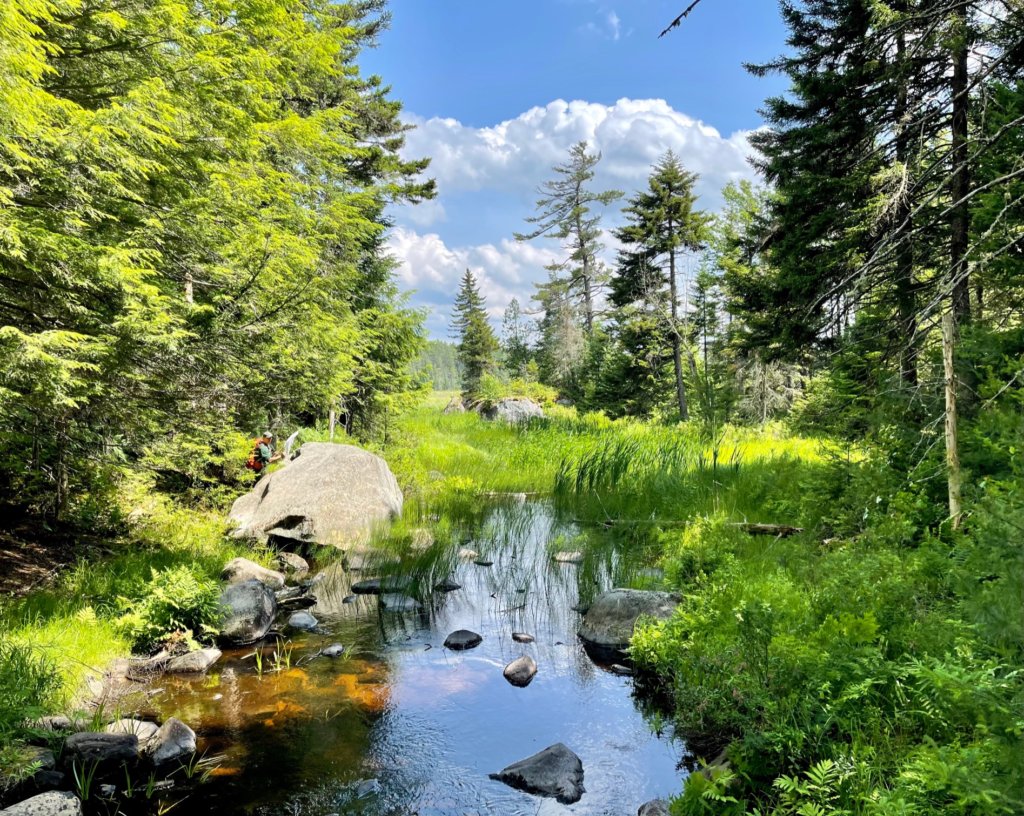 Wheelchair Accessible Adirondacks Attractions and Things to Do
Relax in the parks of Tupper Lake and Saranac Lake
On my first full day in the Adirondacks, I started my morning at Tupper Lake Municipal Park in Tupper Lake, NY. This park is in downtown Tupper Lake and on the shores of Raquette Pond. It's an expansive park with beautiful views and the park's paved Waterfront Walkway is nice to roll on for wheelchair users.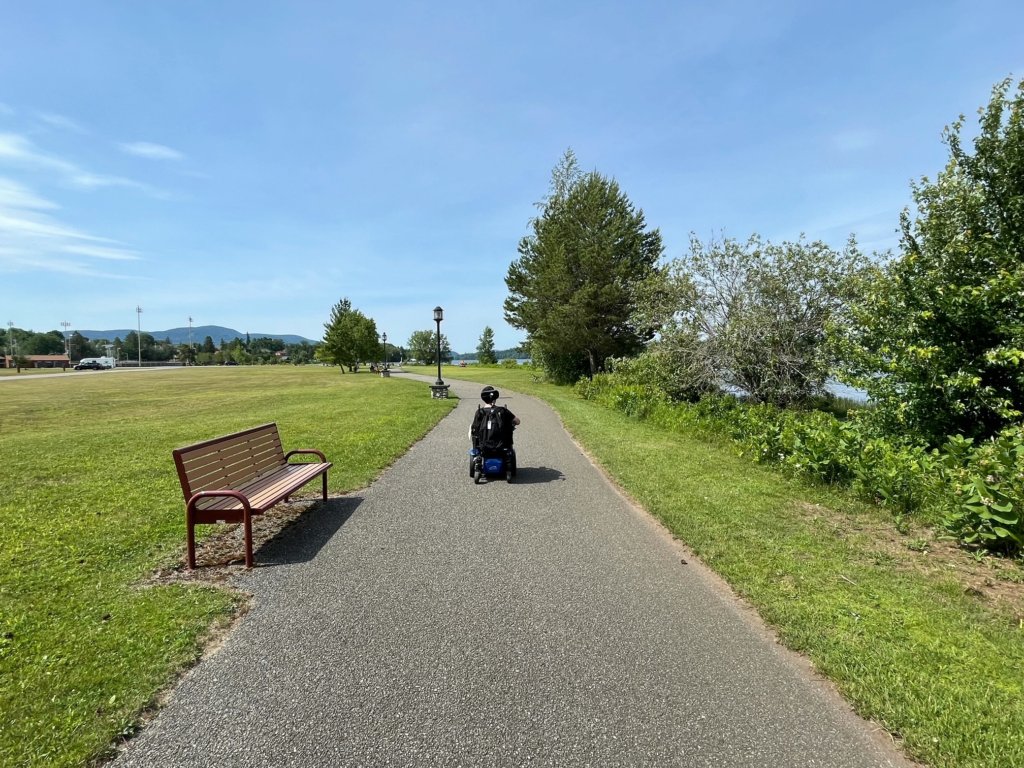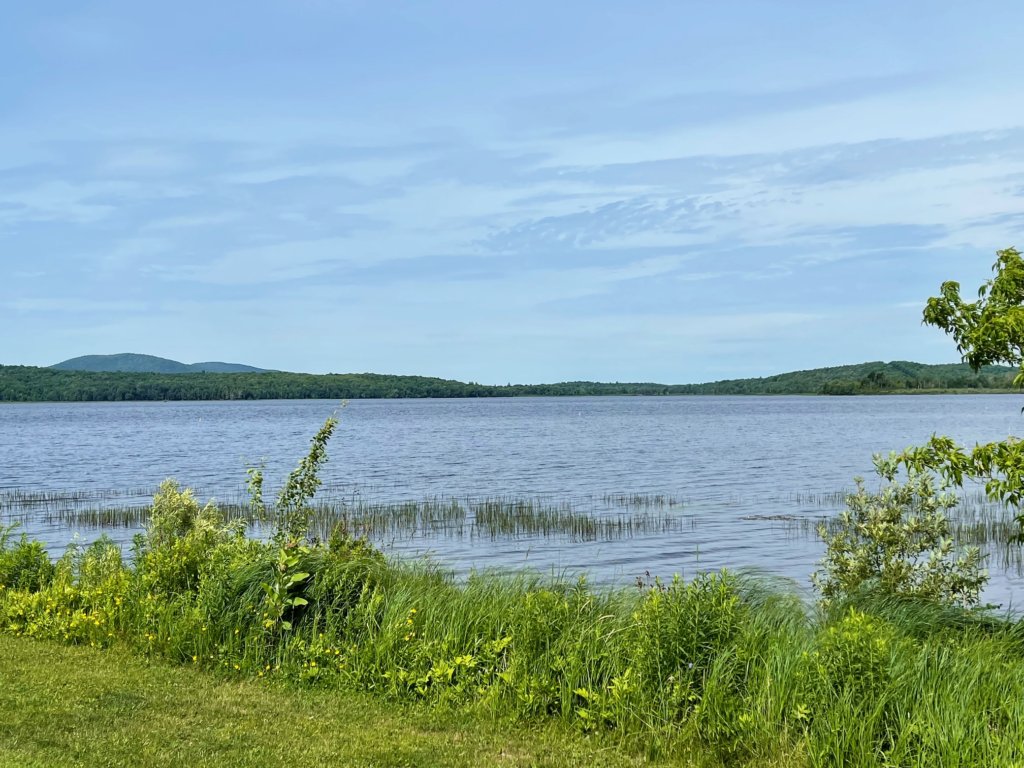 While at Tupper Lake Municipal Park, you could roll along the waterfront, enjoy a picnic (I had a picnic breakfast of delicious donuts from The Washboard Donut Shop!), or learn about the town's logging and railroad history on interpretive signs along the walkway. This is a park to relax in or stay active, no matter what your abilities are.
Another great park that I would recommend is Riverside Park in Saranac Lake, NY. Saranac Lake is about 25 minutes from Tupper Lake, so it's easy to get to. As the name suggests, Riverside Park is on the water and has phenomenal views. I loved rolling on the paved paths throughout the park and in the summer, you may even be able to shop at the Farmer's Market that takes place here.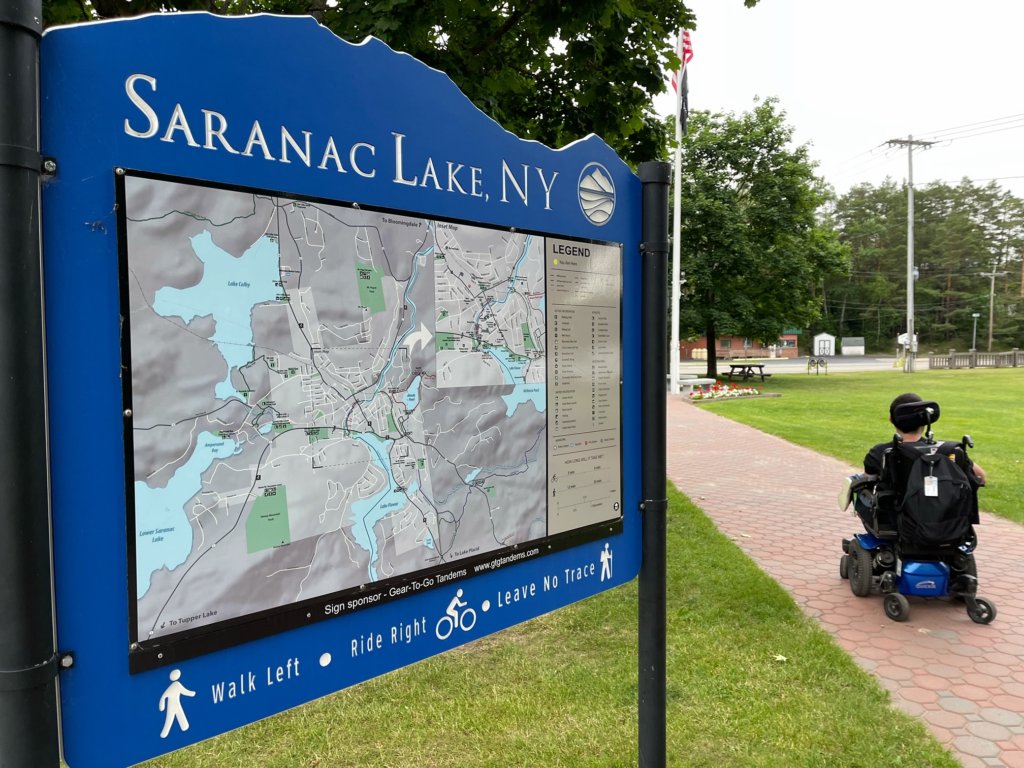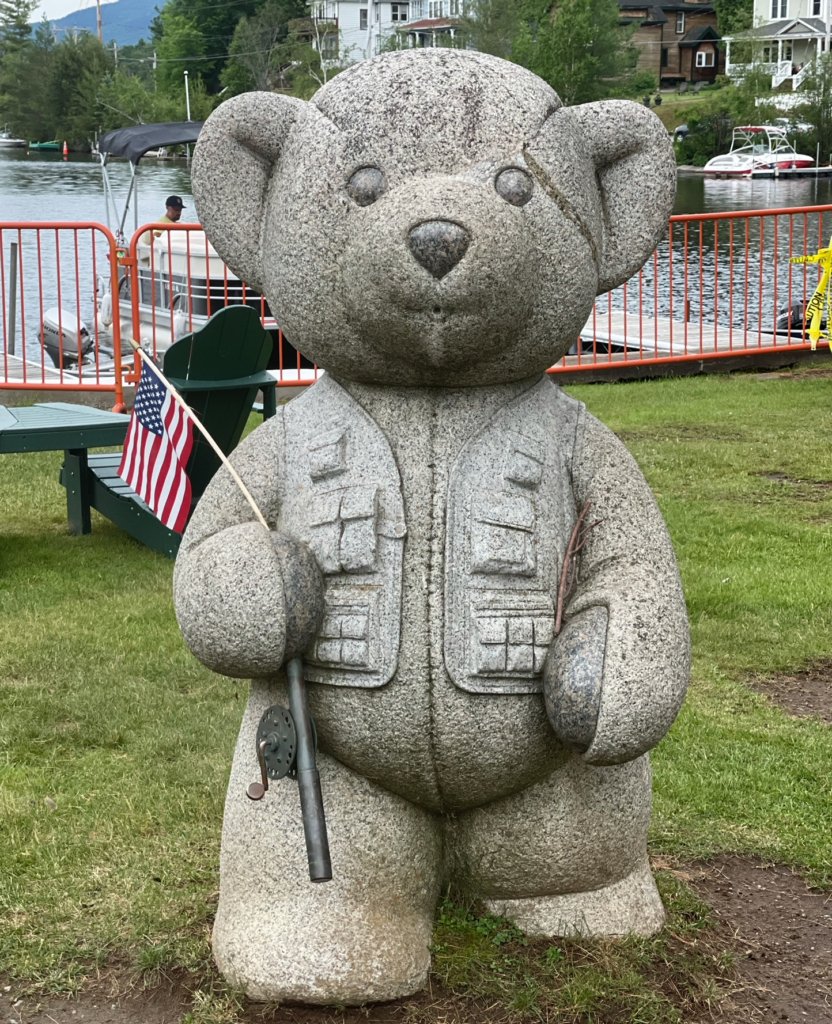 Saranac Lake's downtown area is within walking/rolling distance of Riverside Park, so definitely take time to explore the area. There are restaurants, shops, and the good news is that the large majority of them are wheelchair accessible.
Go wild at The Wild Center
As one of the Adirondacks' most popular attractions, The Wild Center is a must-visit on any trip to the area. It is located in Tupper Lake and since 2006, it's been connecting visitors with the nature of the Adirondacks in innovative ways. This is an indoor and outdoor "museum", and I use that term loosely because it is not your typical museum by any means.
There is an indoor museum area, which has a gift shop, a theater that shows films about the Adirondacks, a cafe, and the Hall of the Adirondacks. The Hall of the Adirondacks is the exhibit, where you can learn all about nature. There are animals that are local to the area, including turtles and otters, and many interactive elements throughout the Hall of the Adirondacks. Visitors of all ages will have fun in this museum.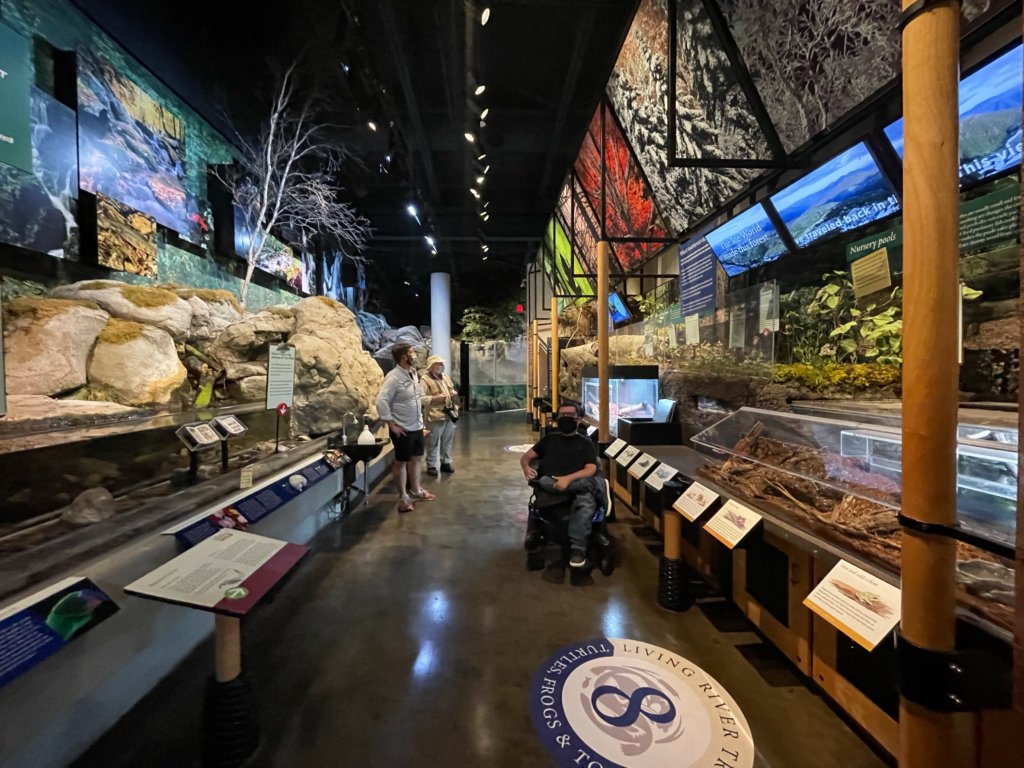 Once you finish the indoor museum, you can head outside and enjoy The Wild Center's variety of outdoor attractions. The most notable one is Wild Walk, which will give you a brand new perspective that you really can't get anywhere else. There are platforms, bridges, and walkways that stretch over 1,000 feet and climb from the ground to above the trees. Once at the top, you will have spectacular views of nearby mountains and you may even spot some animals from up above.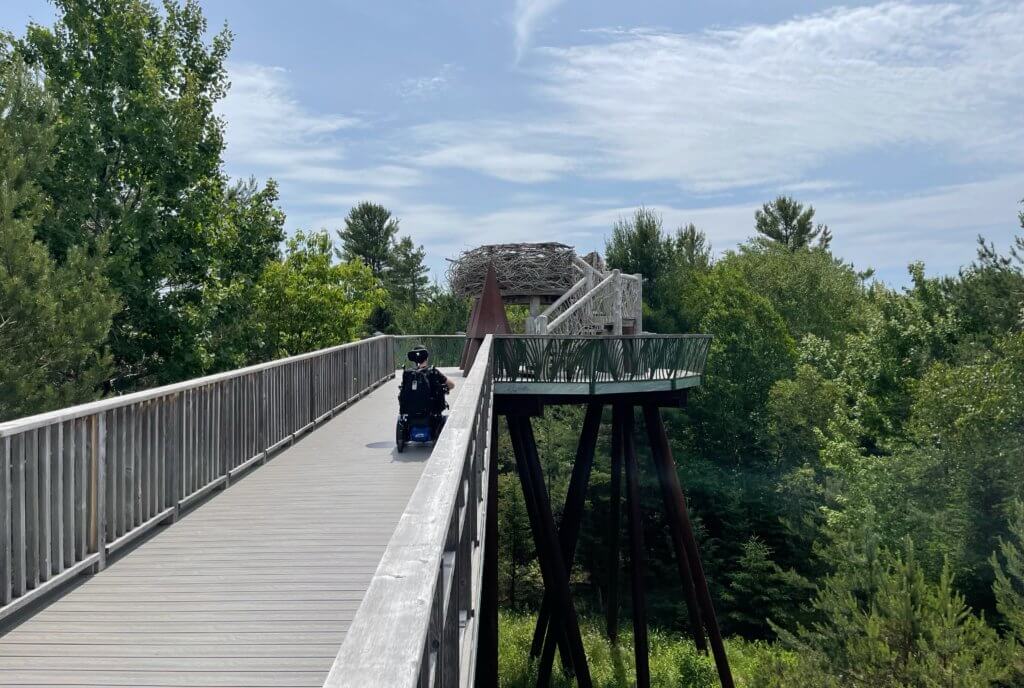 The Wild Walk is wheelchair accessible and despite climbing above the trees, it isn't steep at all. It's a smooth and beautiful roll to the highest point. Along the way, you will see many signs describing different animals that live in the Adirondacks and other interactive exhibits as well. Rolling on the Wild Walk gave me a whole new appreciation for the Adirondacks.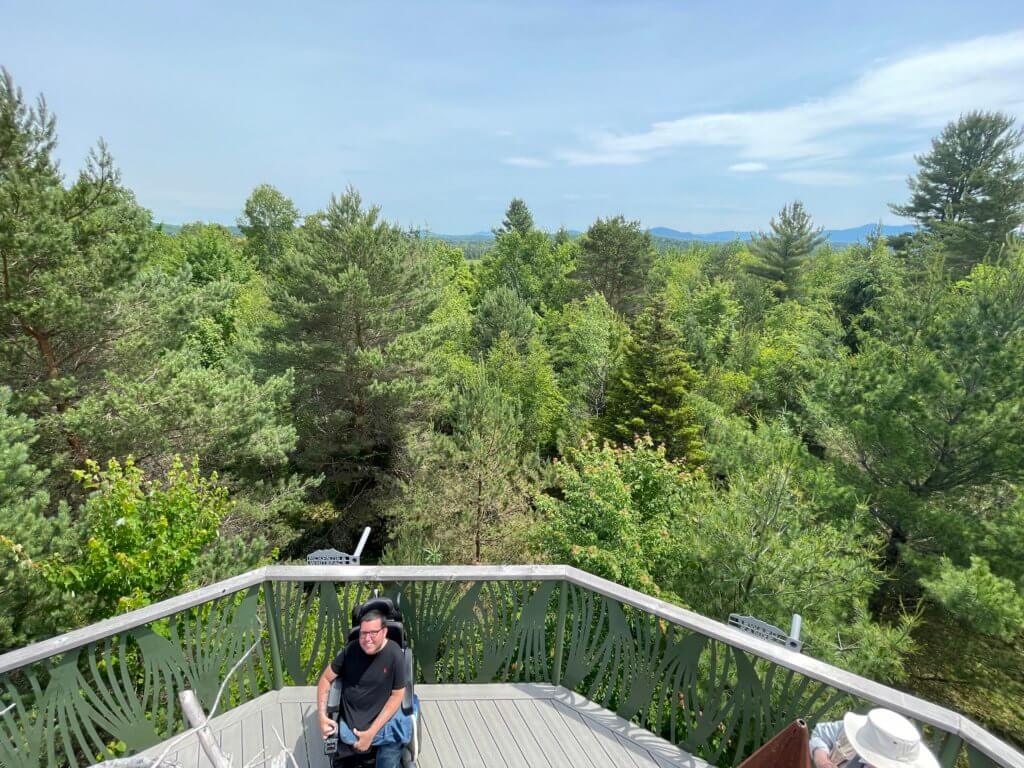 Other outdoor activities that are wheelchair accessible include Forest Music, a trail through the woods with 24 speakers playing peaceful music to heighten your experience, and you can also enjoy animal encounters. More than 900 animals call The Wild Center home and throughout the day, there are animal encounters with snakes, birds, porcupines, and more. You never know what you'll see at The Wild Center, but no matter what it is, you're sure to have fun and you may even learn a thing or ten.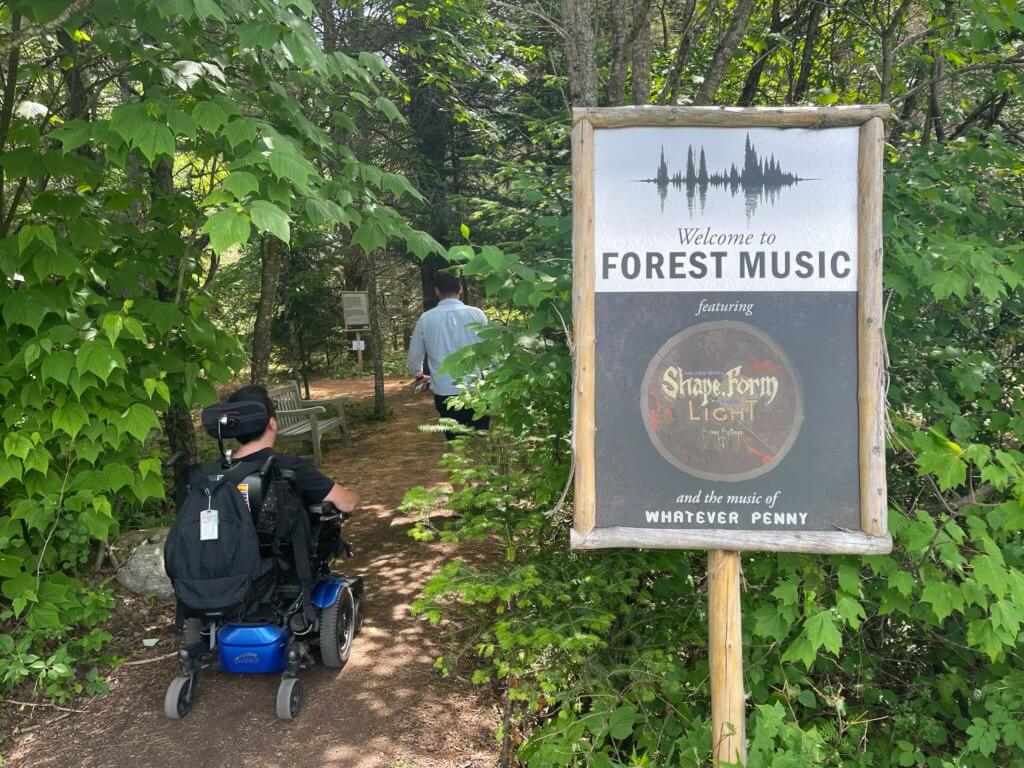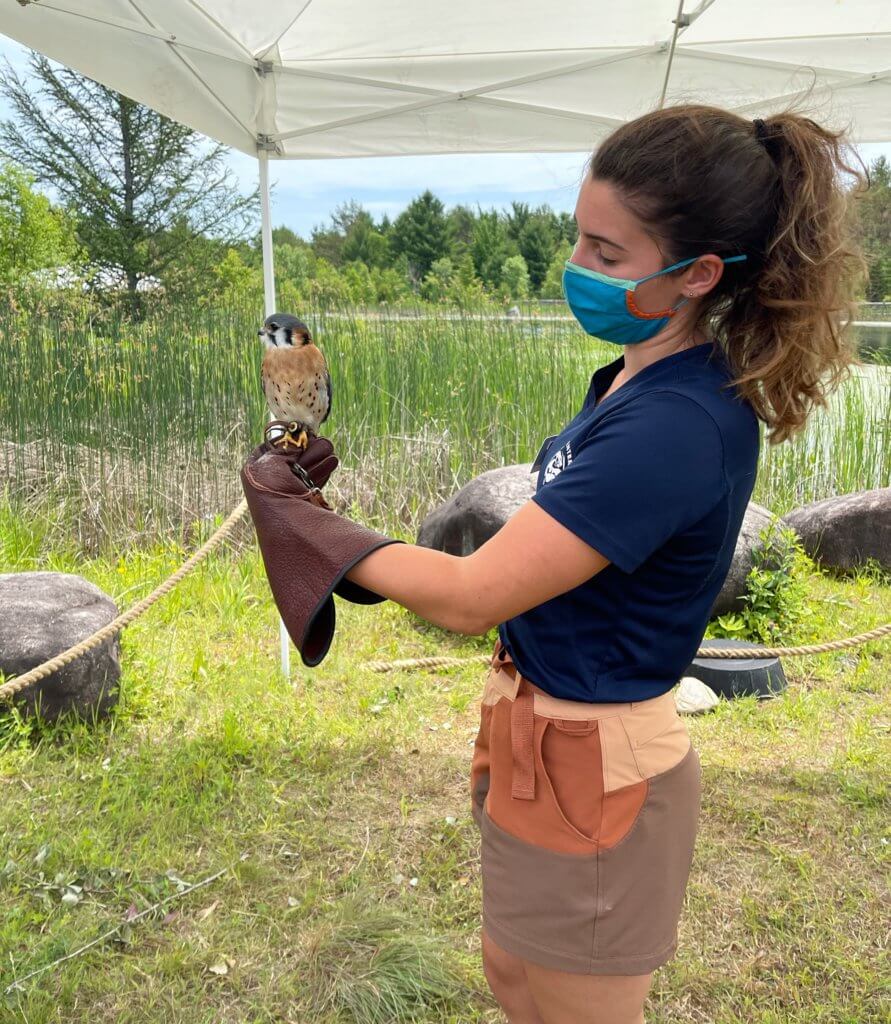 To learn more about accessibility at The Wild Center, check out my in-depth guide to The Wild Center by clicking here.
Explore John Dillon Park's many accessible offerings
Just 17 miles south of Tupper Lake is John Dillon Park. Hands-down, this is the most wheelchair accessible park I've ever visited. I spent five or six hours at John Dillon Park, but could have easily spent more time here. This place was built with accessibility in mind and the Outreach Coordinator for the park, Jason Thurston, is a wheelchair user himself, so you can expect fantastic accessibility.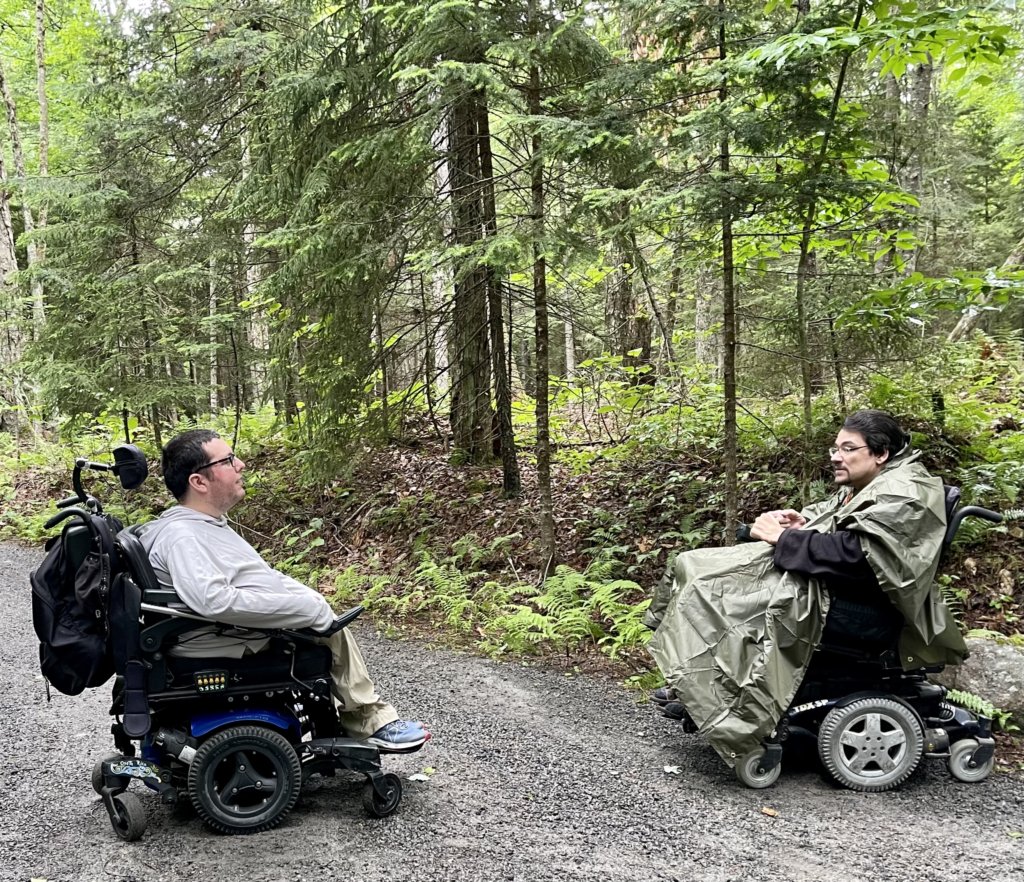 John Dillon Park has wheelchair accessible trails, including the 2.5-mile (5 miles round trip) Handsome Pond Trail. This trail is mostly graveled, but does have some boardwalk sections. The gravel was surprisingly very smooth & my powered wheelchair handled it like a champ. I was able to roll on the trail with ease and absolutely loved being outdoors in the Adirondacks for a while!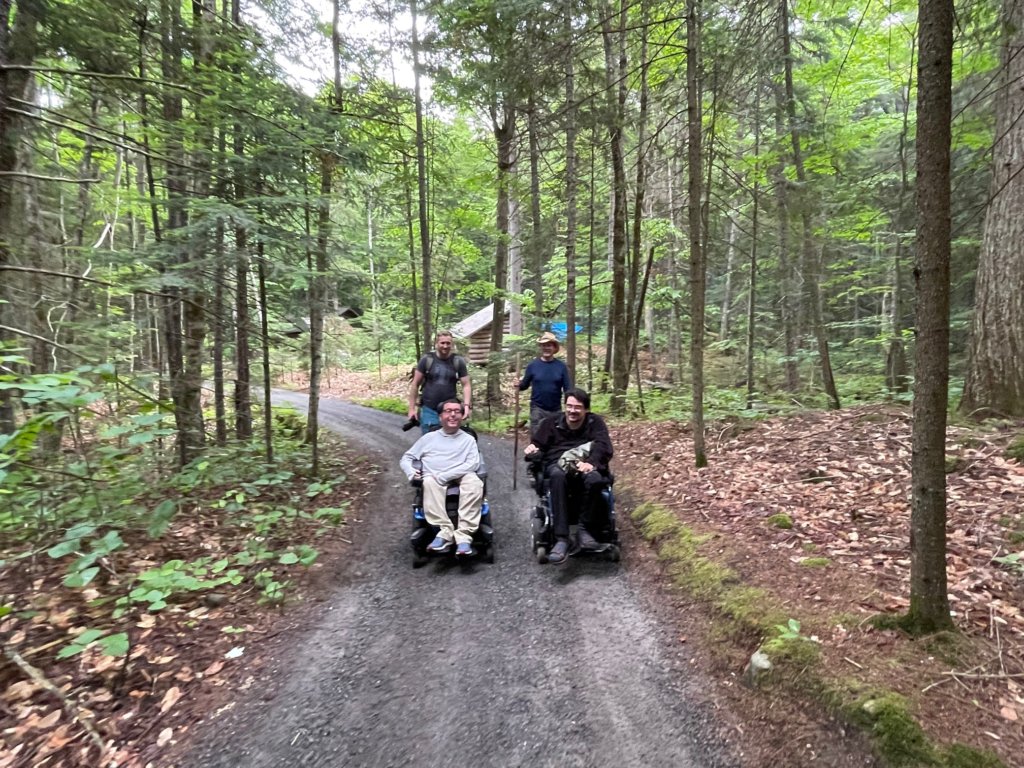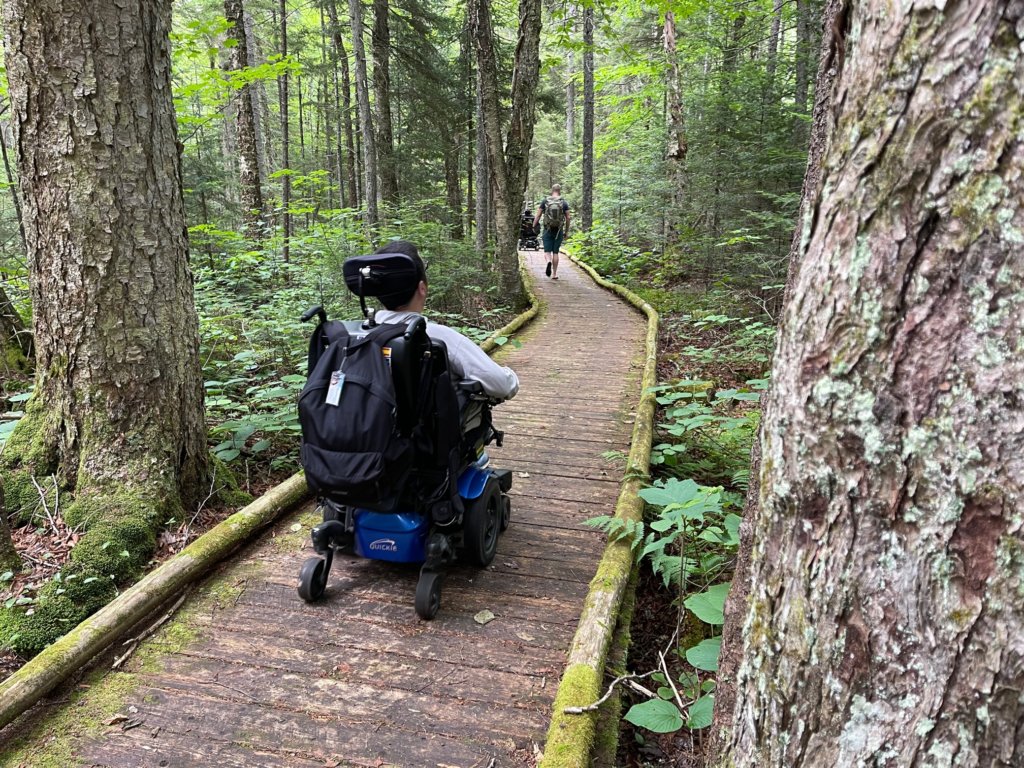 In addition to accessible trails, John Dillon Park also has 9 lean-to's, all of which are wheelchair accessible. I had no idea what a lean-to was until I saw them in person, but it's basically a cabin without a fourth wall and no toilet or shower. It's completely open to the outdoors, but you can camp in it if you want. They have some lean-to's with fold-down beds even, and all of them come with accessible picnic tables, fire pits, and you can have electricity to charge your wheelchair if needed.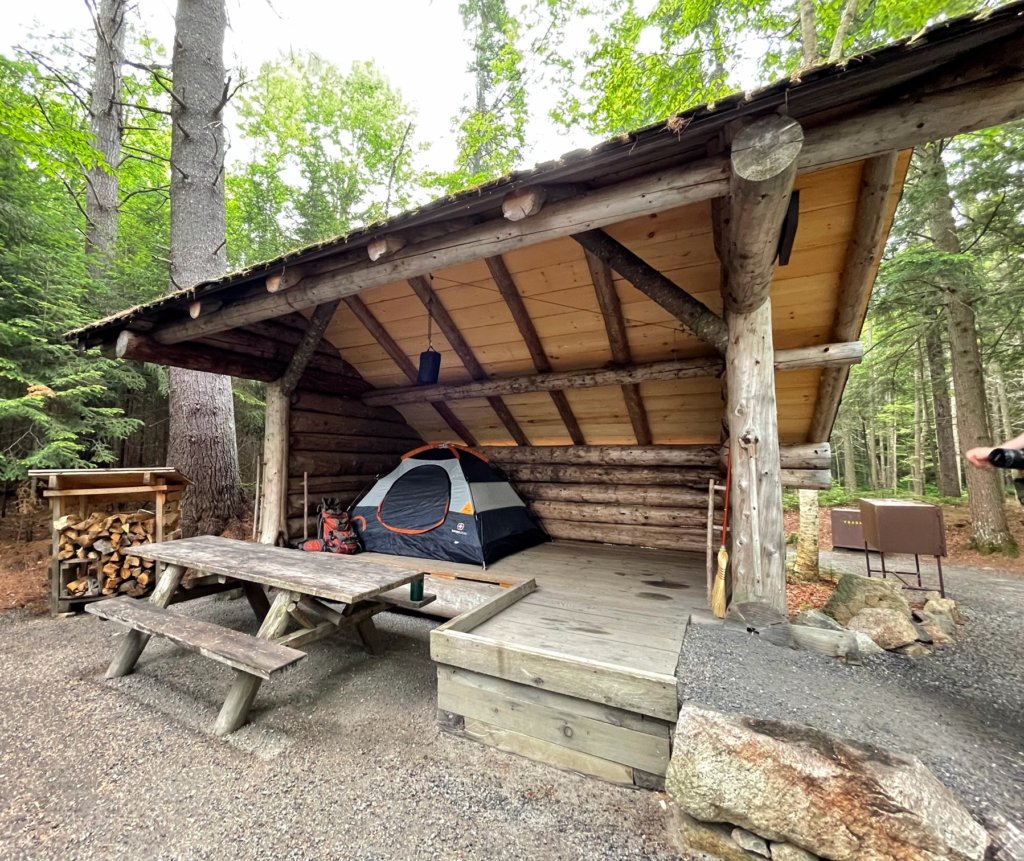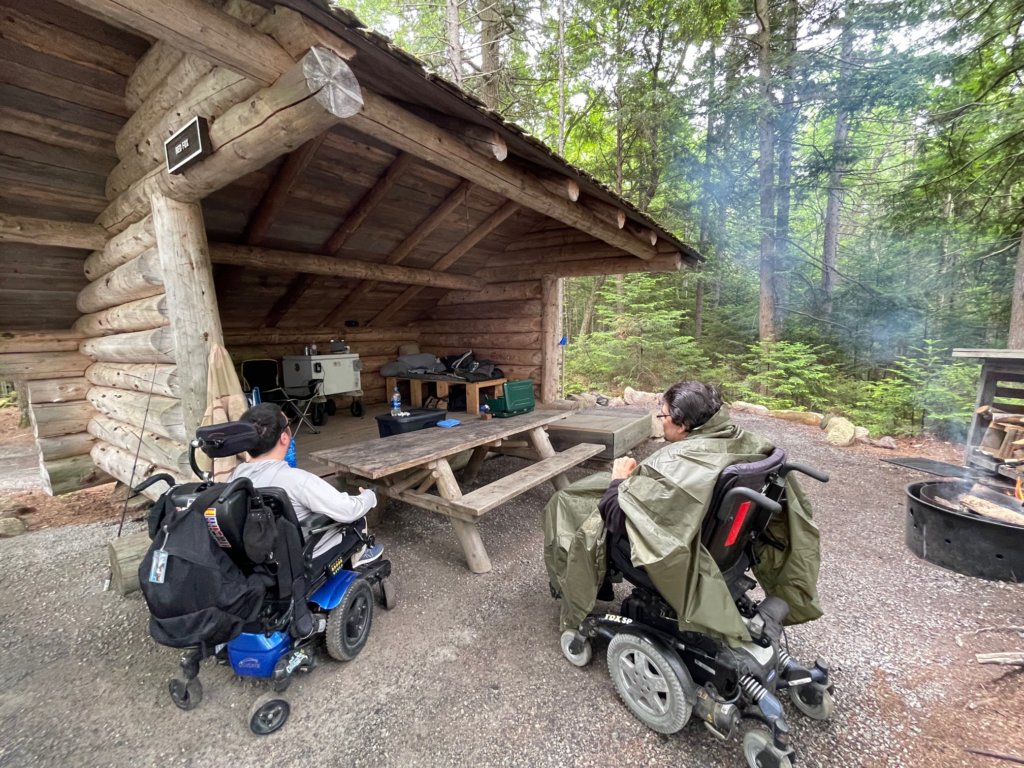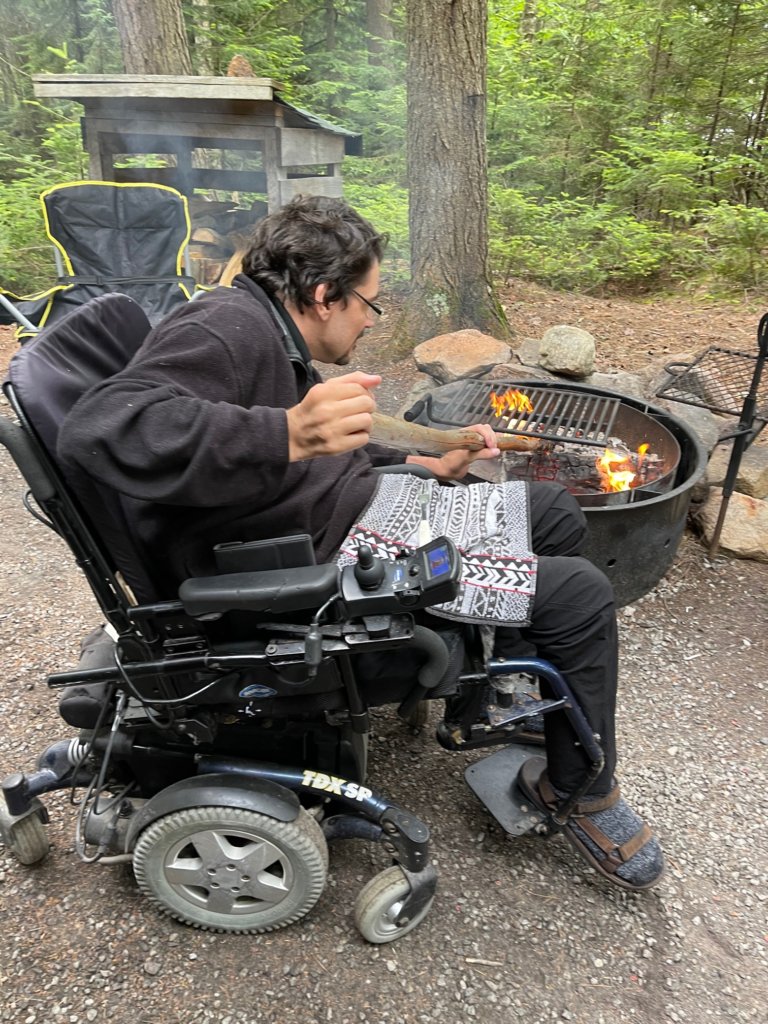 If you would like to spend the night at John Dillon Park in a lean-to, it is completely free, but reservations are required. If you're looking for the ultimate outdoors camping experience, this is it. You can reserve a lean-to by calling 518-524-6226 or emailing [email protected]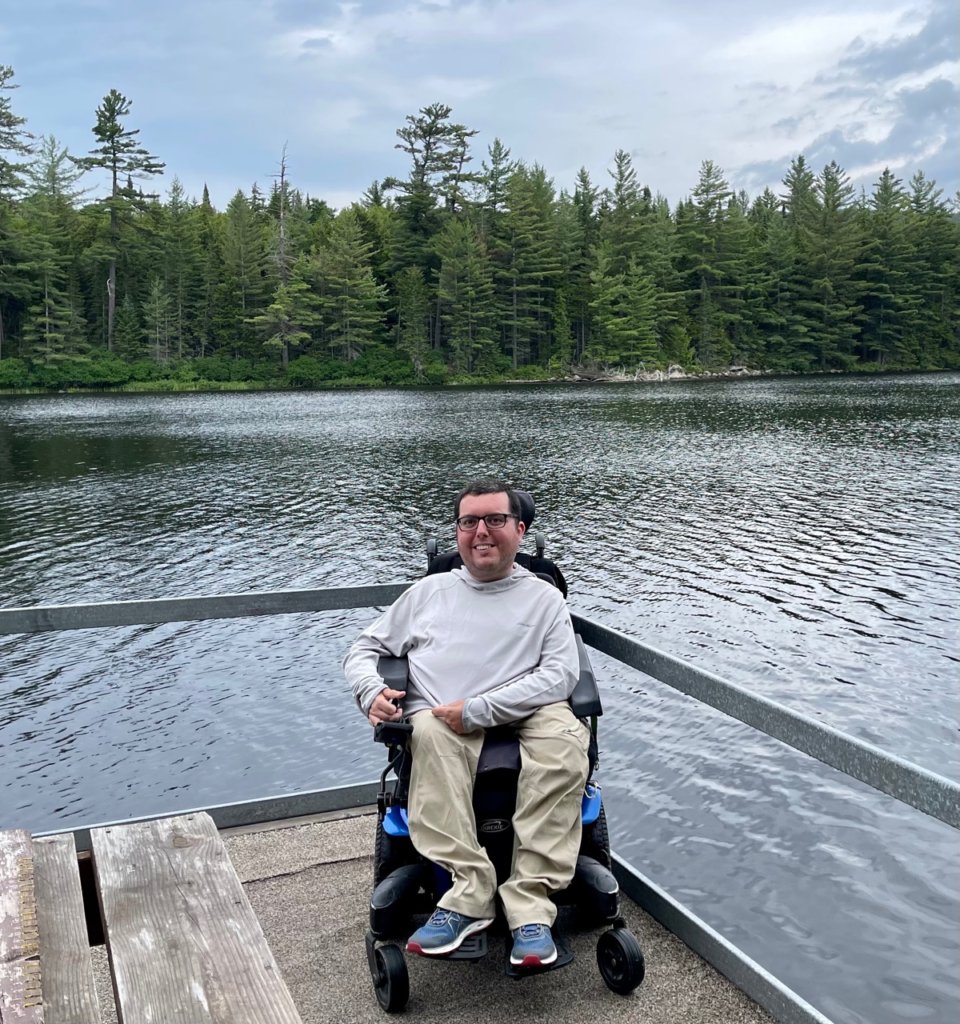 As if the lean-to's and accessible trails aren't enough excitement, the park also offers boating trips on an accessible pontoon boat and has accessible fishing docks available, so you can go fishing in Grampus Lake. To ride around in the pontoon boat, just ask a staff member and they'll take you out. Trust me, they are super friendly and happy to make your visit as enjoyable as possible.
Enjoy a narrated boat tour on Lake Placid
Another Adirondacks town that you need to visit is Lake Placid. Lake Placid is most-known for hosting the 1932 and 1980 Winter Olympic Games and you can actually visit the Lake Placid Olympic Museum while in town, but the best way to see the beauty of this town is from the water.
I was able to go on a wheelchair accessible boat ride around Lake Placid with Lake Placid Marina & Boat Tours. The boat tour lasts about an hour and is accessible with some creativity. The crew from Lake Placid Marina & Boat Tours had a piece of wood that served as a ramp to get me onboard the boat. It was a pretty smooth and easy process to get onboard, and I was able to remain in my powered wheelchair throughout the boat ride.
The pontoon boat is enclosed, so this would be a good activity to do even if there's a bit of rain during your visit. While it was cloudy when I visited, we mostly got lucky with the weather and had great views for the entire tour. One thing to keep in mind is that there is not an accessible restroom onboard, so be sure to go before you get on the boat.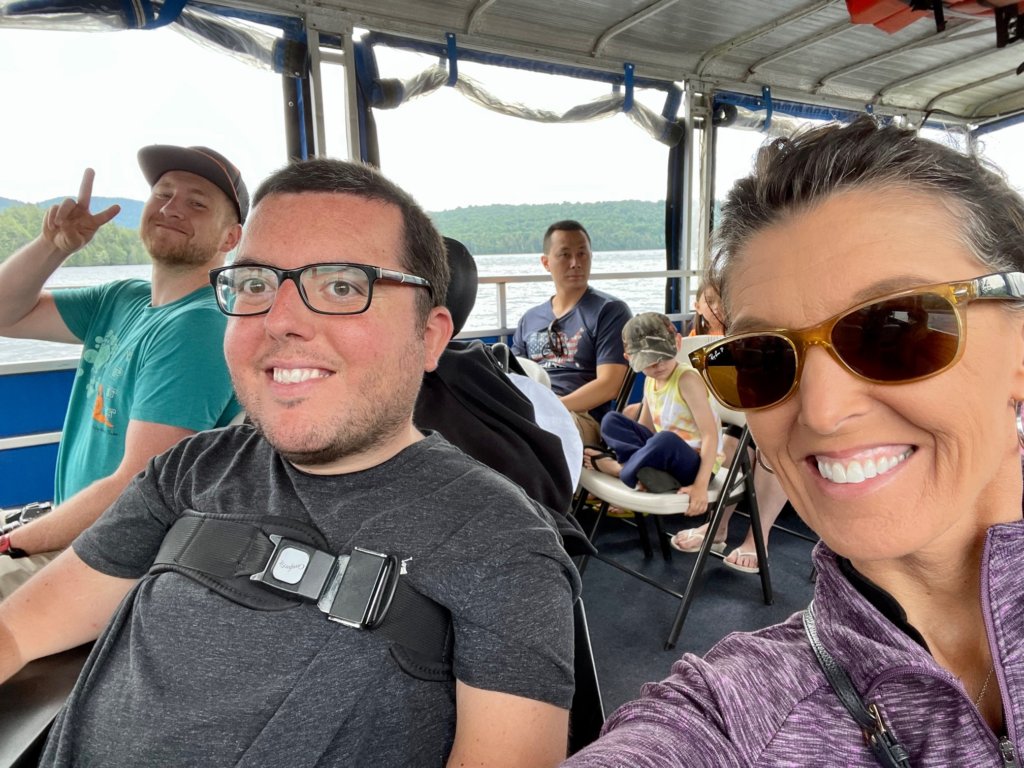 During the boat ride, the captain described the area on overhead speakers. We learned more about the Adirondacks and the history of Lake Placid, but the numerous mansions/lake houses that we went by were the highlights for me. They were truly exquisite to view and it was fun to hear all about who owned them (the CEO of Verizon, the CEO of Alpo dog food, and many others).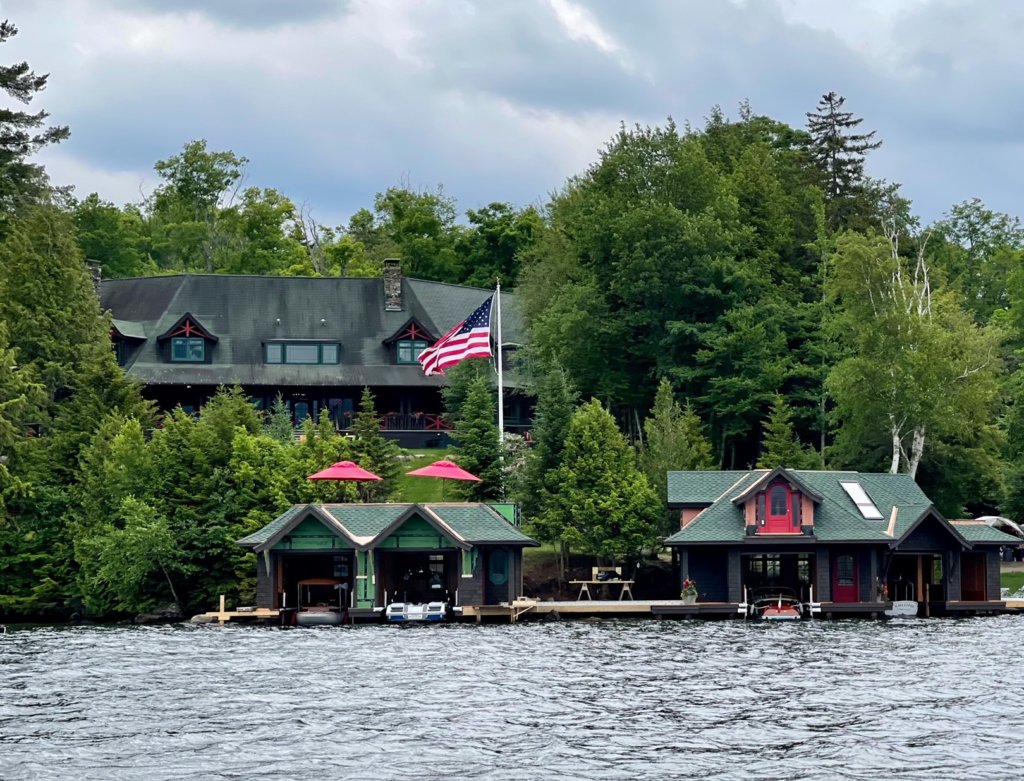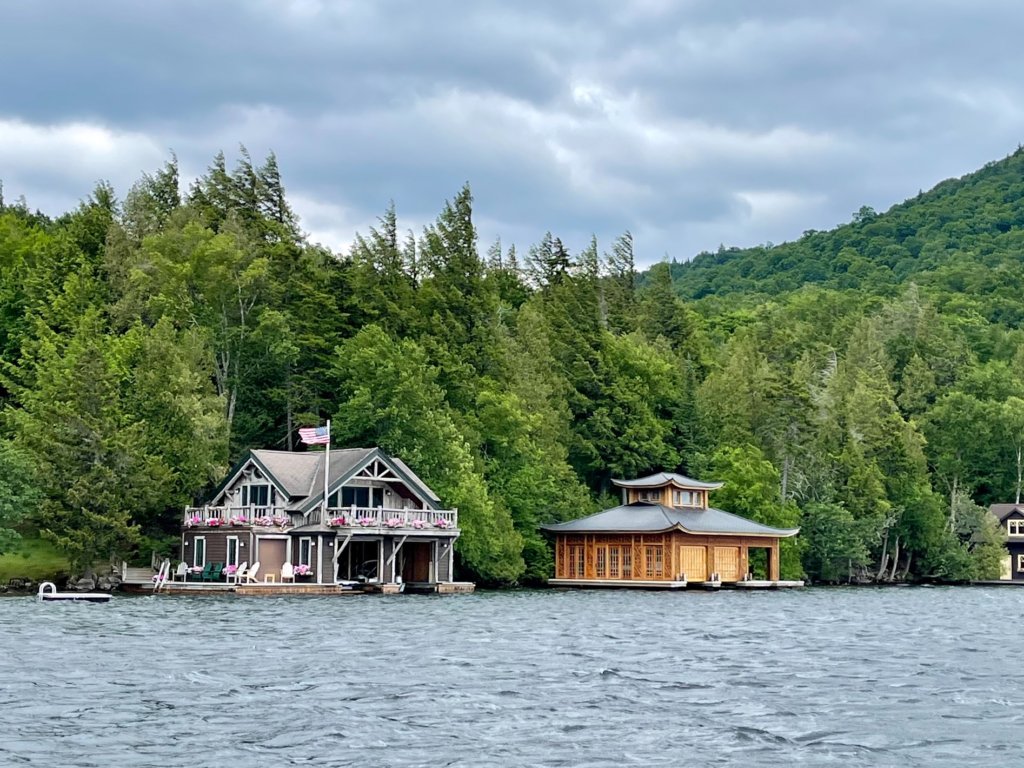 We also kind of saw Whiteface Mountain, site of the 1980 Winter Olympics' alpine events, but it was rather cloudy. Our boat captain did a terrific job of keeping the tour entertaining though and telling cool facts that we wouldn't hear anywhere else. This boat tour of Lake Placid was awesome and one of my favorite activities in the Adirondacks. I'm always a fan of being on the water.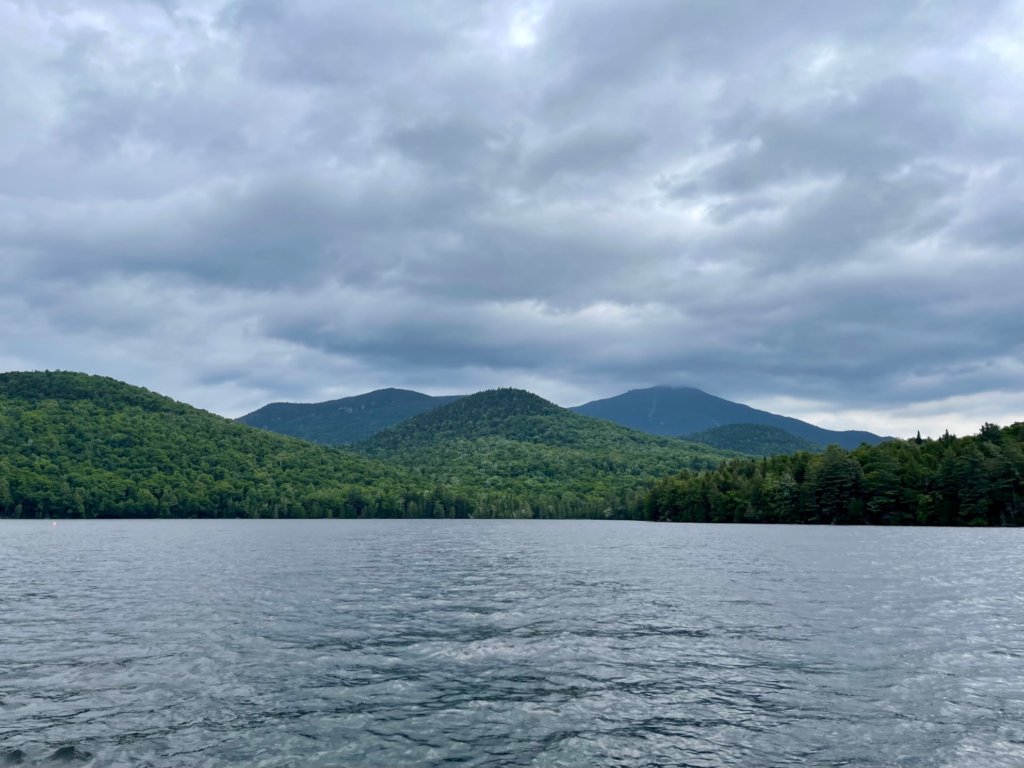 Drink at some of the Adirondacks' best breweries
After a day of rolling on accessible trails or boating, what better way to finish the day than with some locally-made beer?! I was somewhat surprised to learn that there are a ton of breweries in the Adirondacks. While I definitely didn't have enough time to visit all of them, I did visit a few. Here are three breweries that are worth checking out while you're in the Adirondacks:
Raquette River Brewing – This brewery is quite popular and was packed when I visited, and for good reason! It's located in Tupper Lake, just a short drive from The Wild Center. I had the Mango Wheat Ale and loved it! I'm usually not a huge beer fan to be honest, but this one was great and I'd order it again in a heartbeat. Raquette River Brewing was easily the most lively brewery that I visited while in the Adirondacks and one that's a must-visit!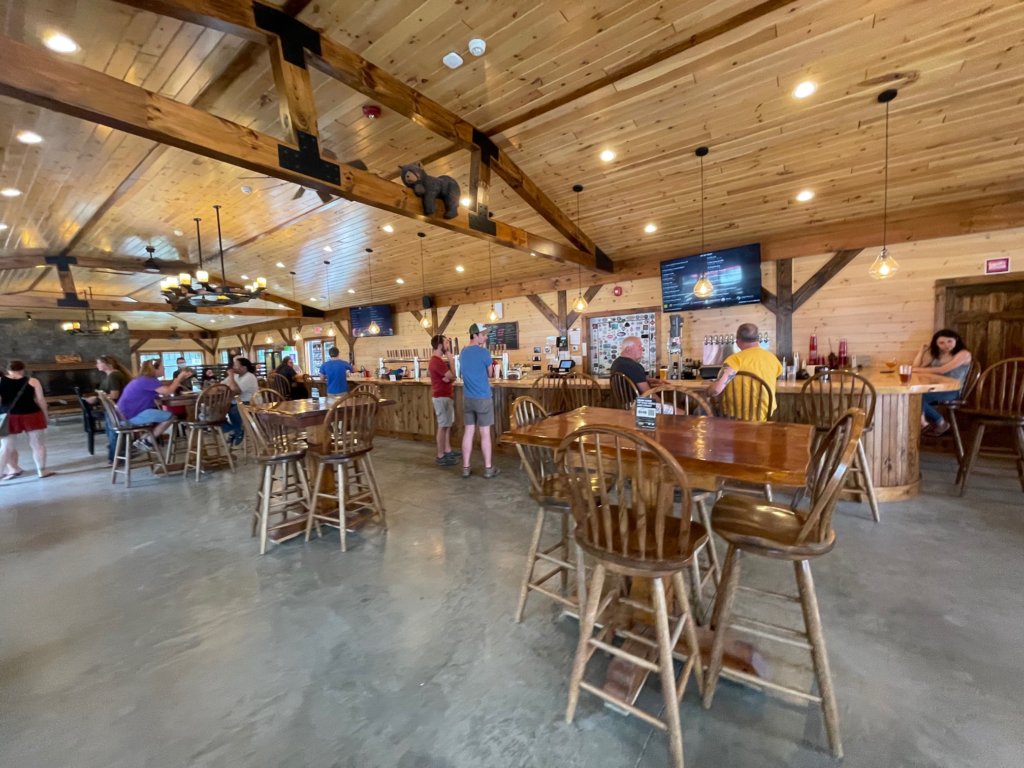 Hex and Hops Brewing – This is one of the most unique breweries in the Adirondacks because it not only focuses on beer, but they make honey as well. Some of their beers even have honey in them, so you can get the best of both worlds! Hex and Hops is located in Bloomingdale, New York, just a short drive from Tupper Lake, Saranac Lake, and Lake Placid. I enjoyed the Happy Little Pale Ale beer and the pork tacos. Everything was delicious and the brewery is completely wheelchair accessible.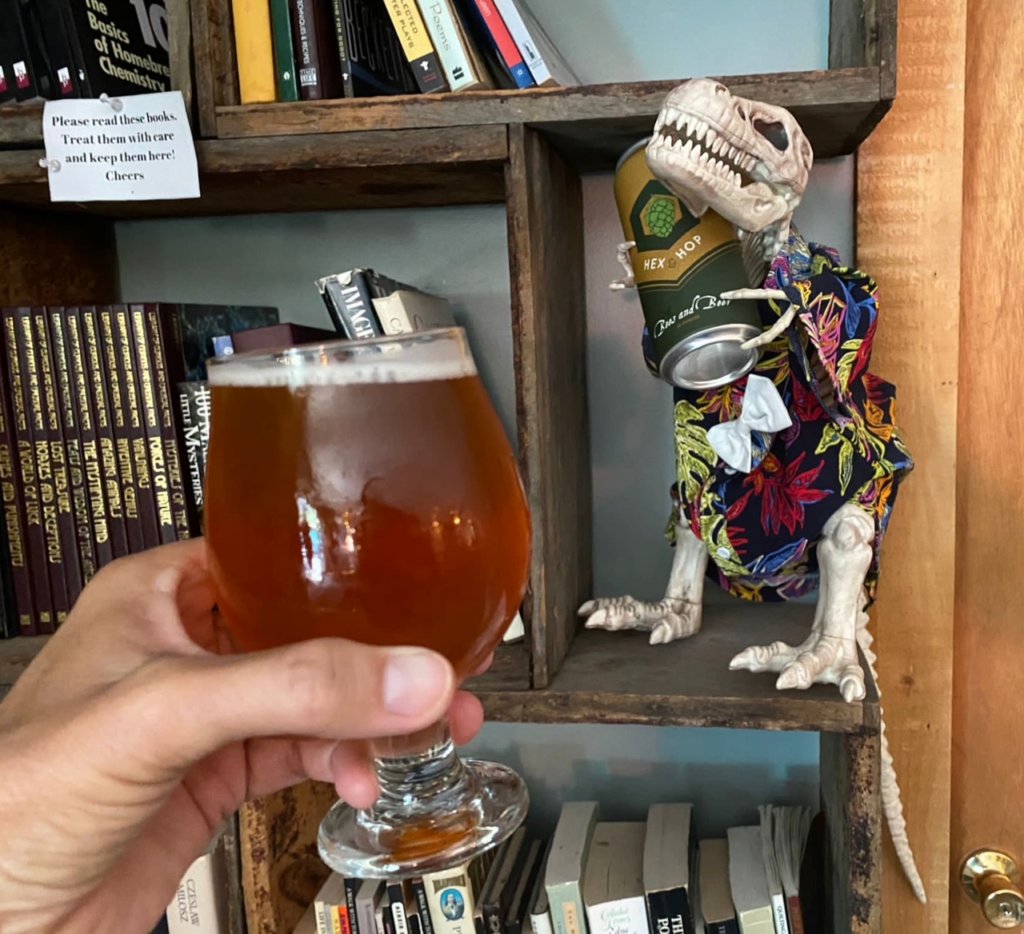 Blue Line Brewery Pizza & Pub – This brewery is located in Saranac Lake and feels like a place for locals, as opposed to being touristy. There is outdoor and indoor seating, but only a couple tables inside are wheelchair accessible. Locally-made beers are available, as well as food. Their pizzas are quite popular, but they are also open for breakfast. I had breakfast here one day and it was really good! They had a lot of options to choose from.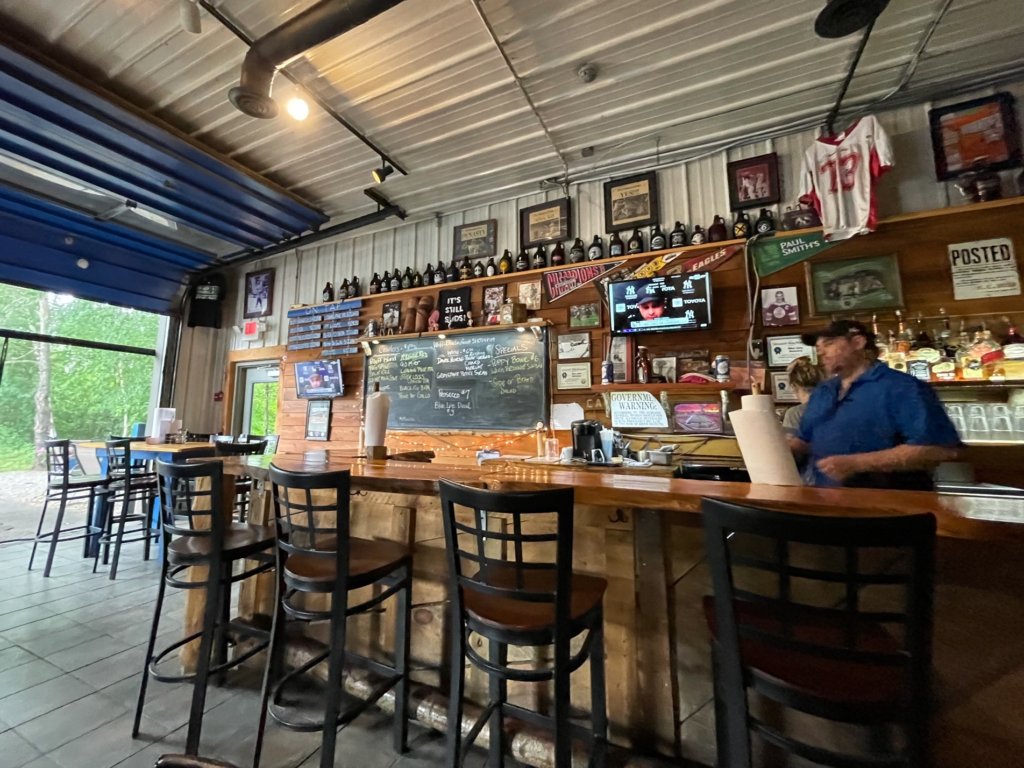 Roll on more accessible trails (and see butterflies!) at the Paul Smith's College VIC
The last, but certainly not least, wheelchair accessible Adirondacks attraction that I was able to visit and would highly recommend is Paul Smith's College VIC. The VIC (Visitor's and Interpretive Center) aims to connect outdoor recreation, experiential education, and the arts, and what a remarkable job it does of that!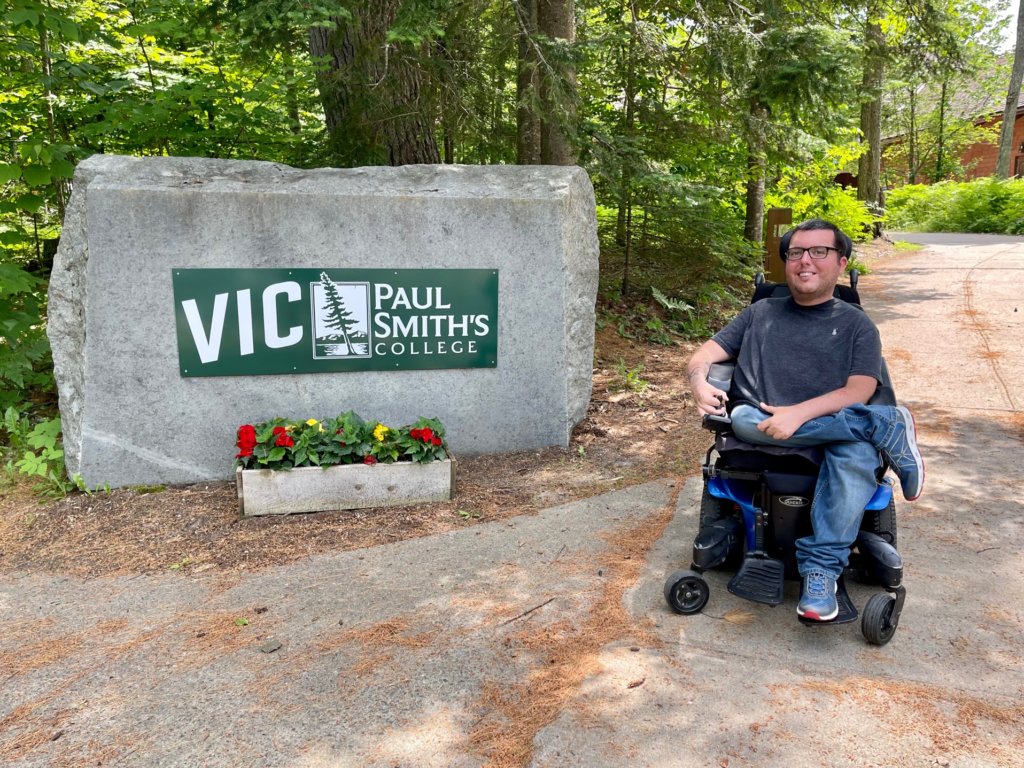 The VIC has multiple trails to explore, including the fully accessible Barnum Brook Trail. The trail is 0.7 miles long and very smooth to roll on. It's mostly flat, but there are a couple spots that are a wee-bit steep. With a powered wheelchair though, I was able to easily do the entire trail and you likely could with a manual wheelchair as well.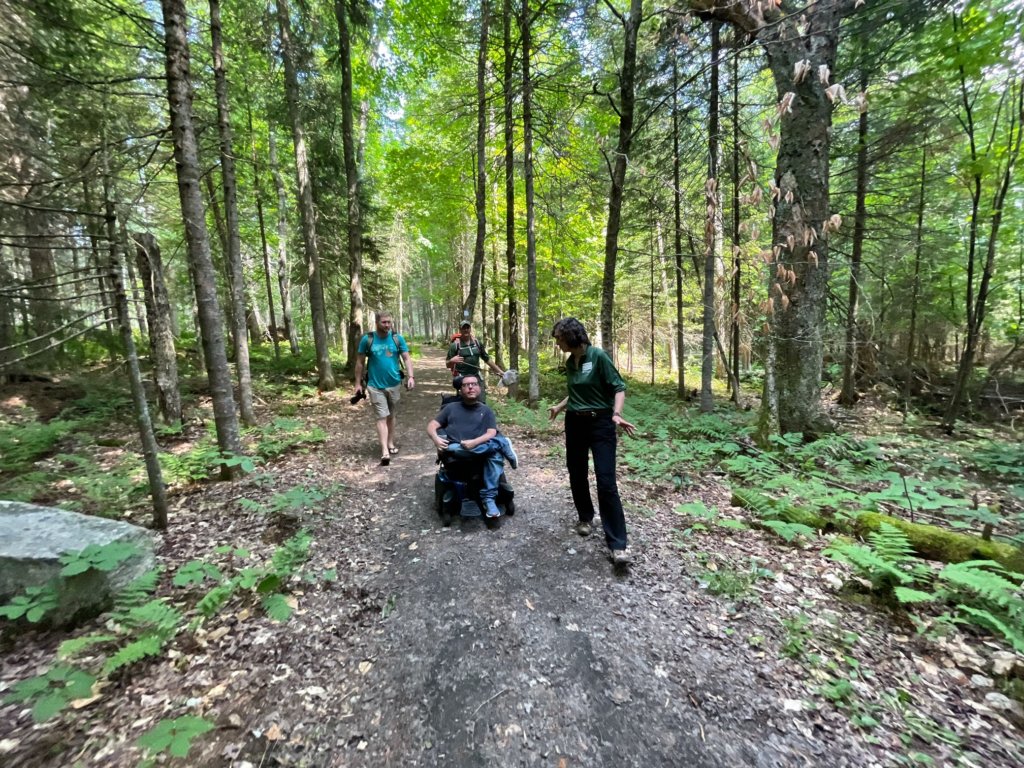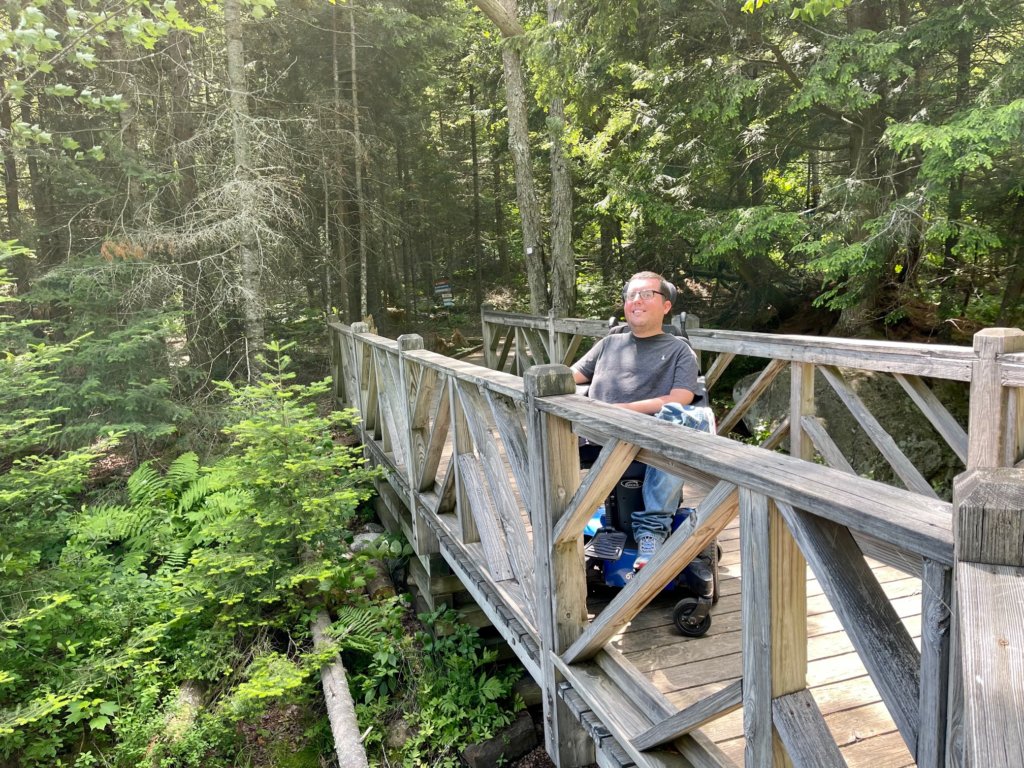 The Barnum Brook Trail was phenomenal and I was in awe of the beauty of the Adirondacks while on it. What I really loved were the platform viewing areas, where I could just sit for a while and take in the surroundings. Simply gazing out at the marsh and nearby mountains was such a special moment for me, and one that I'd absolutely recommend.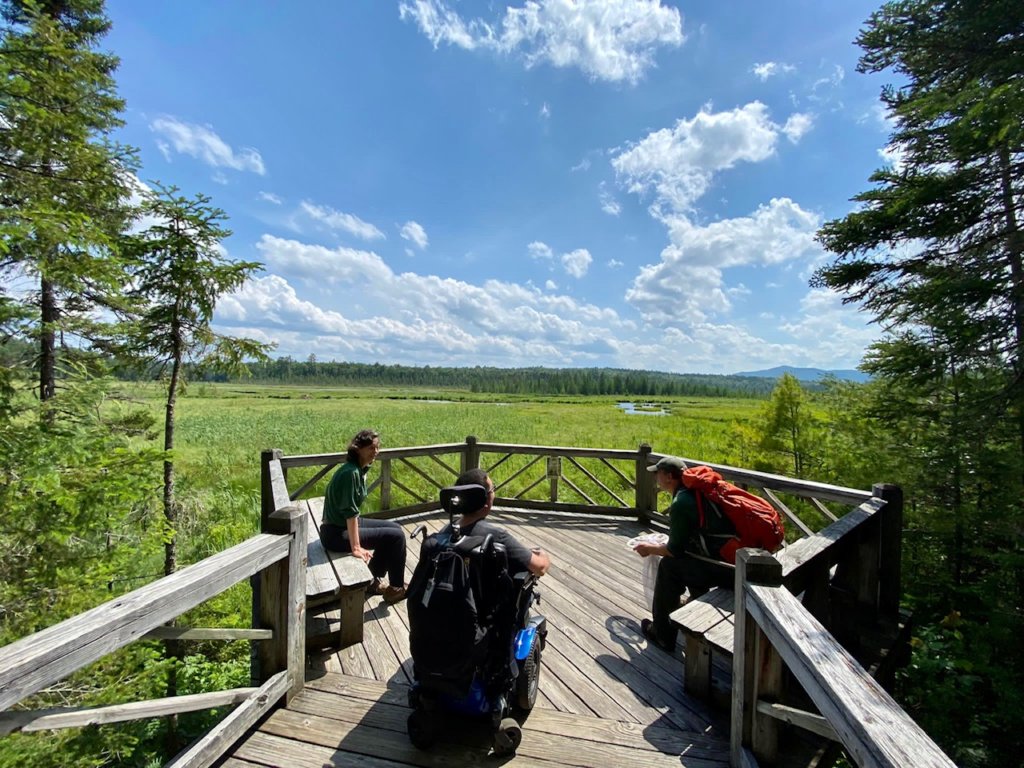 In addition to the Barnum Brook Trail, the VIC also has a butterfly house. It is easily wheelchair accessible and I enjoyed seeing the butterflies and learning more about them. The staff was happy to answer all of my questions and they were incredibly kind as well.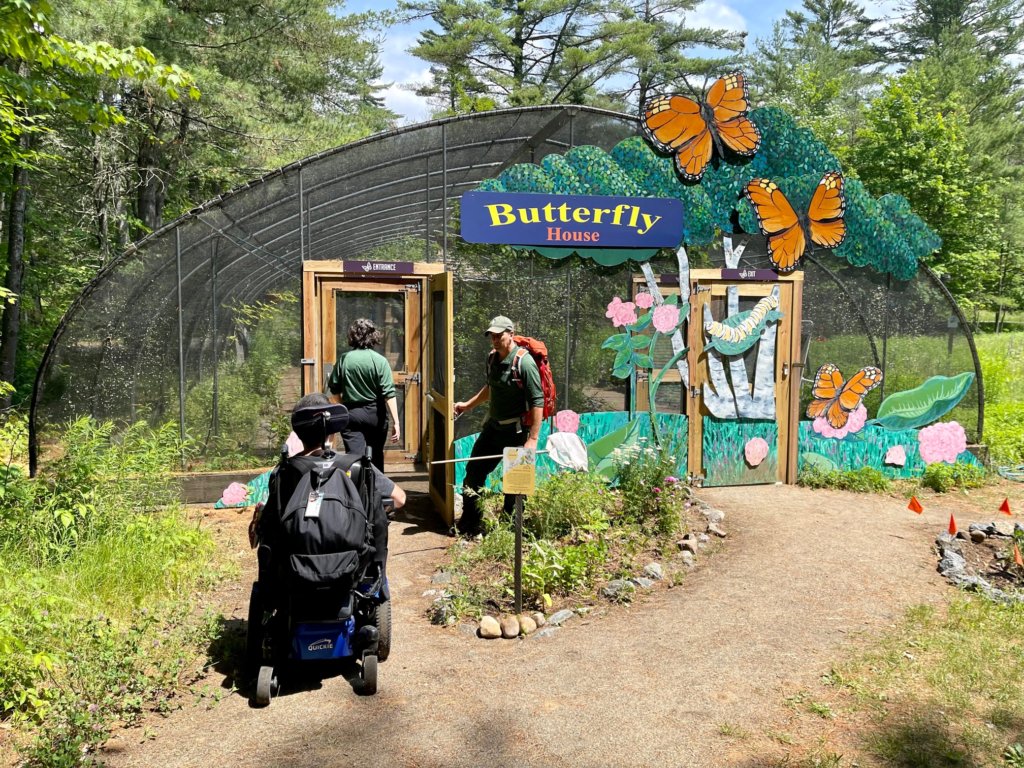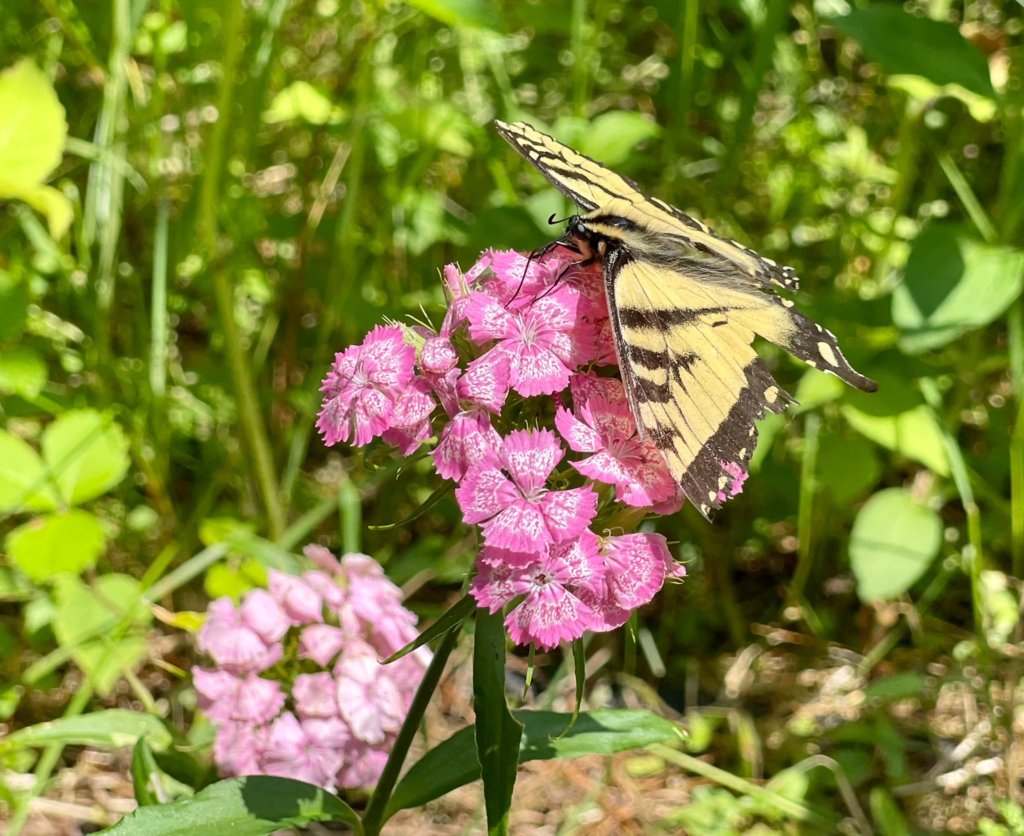 If you find yourself in the Adirondacks, the Paul Smith's College VIC is definitely worth experiencing for a few hours! There's nothing better than enjoying the outdoors, especially when they are this beautiful and accessible.
Where to Eat in the Adirondacks
There are a ton of great restaurants in the Adirondacks, but three that I visited really stood out to me. Here are my three favorite restaurants:
Amado Restaurant
Amado is in Tupper Lake and if you ask any local what is the best restaurant in Tupper Lake, there's a 99% chance that they'll recommend Amado. Several people told me how great it is before I visited, so I had high expectations. It still managed to go above and beyond my expectations.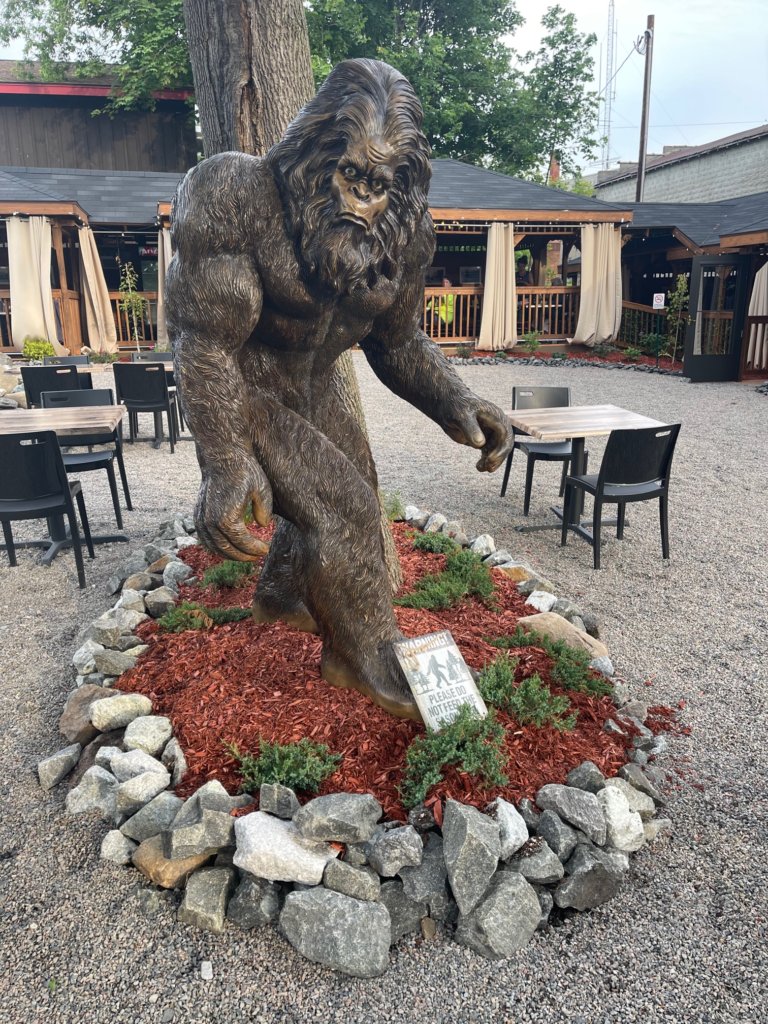 I had truffle & parm tots for an appetizer and the Amado chicken pot pie floater for my entree. The tater tots were tossed in black and white truffle oil and parmesan cheese and were delicious, but the chicken pot pie entree was seriously one of the best things I've ever eaten. The pot pie was topped with garlic mashed potatoes, smashed green peas, and a creamy sauce. I can't properly describe how fantastic this was, so I'll just urge you to try it.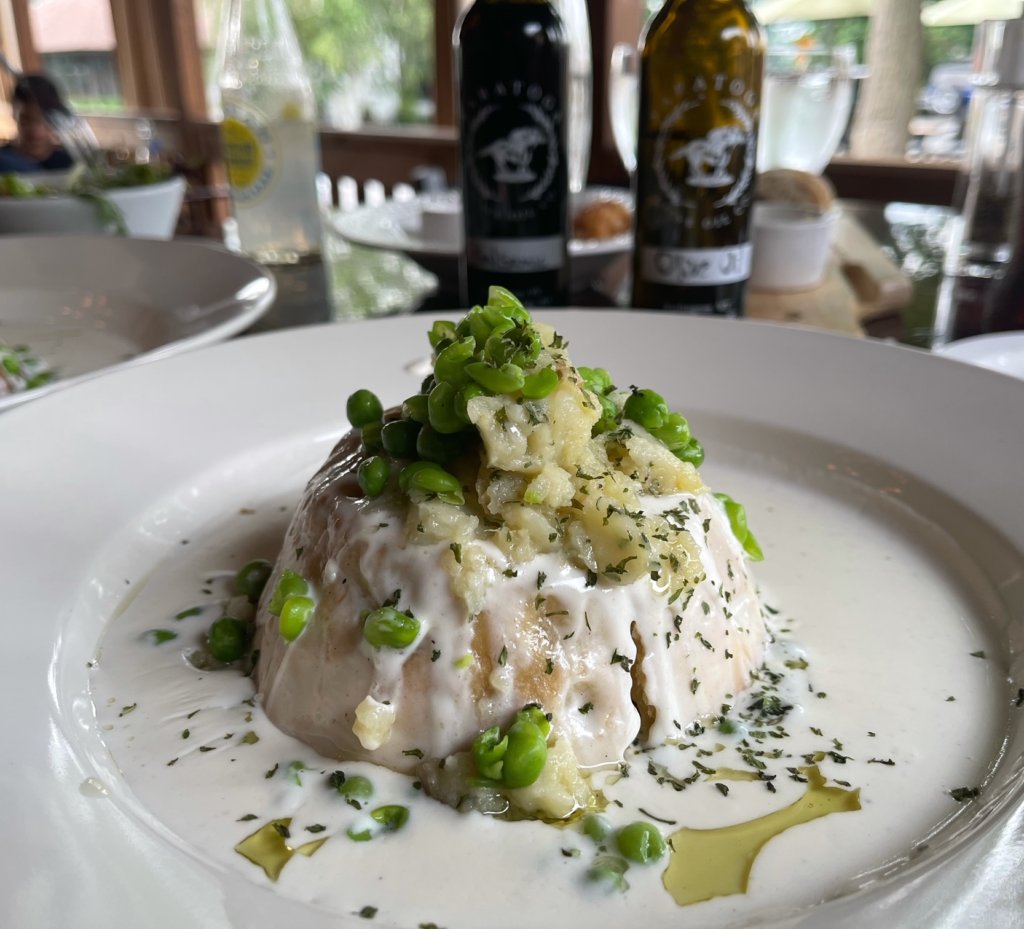 During the pandemic, Amado moved to outdoor dining only, which I enjoyed. On a nice night, it was perfect for dinner. To get to the tables, there was some pretty thick gravel, which was a bit tricky to roll through, but my Quickie powered wheelchair made it. It could be challenging in a manual wheelchair or scooter.
Boathouse Saranac Lake Pub
Usually, hotel restaurants tend to not be that great, but Boathouse Saranac Lake Pub is actually excellent. This is Saranac Waterfront Lodge's on-site restaurant and breakfast, lunch, and dinner are served lakefront. The restaurant is wheelchair accessible with indoor and outdoor seating.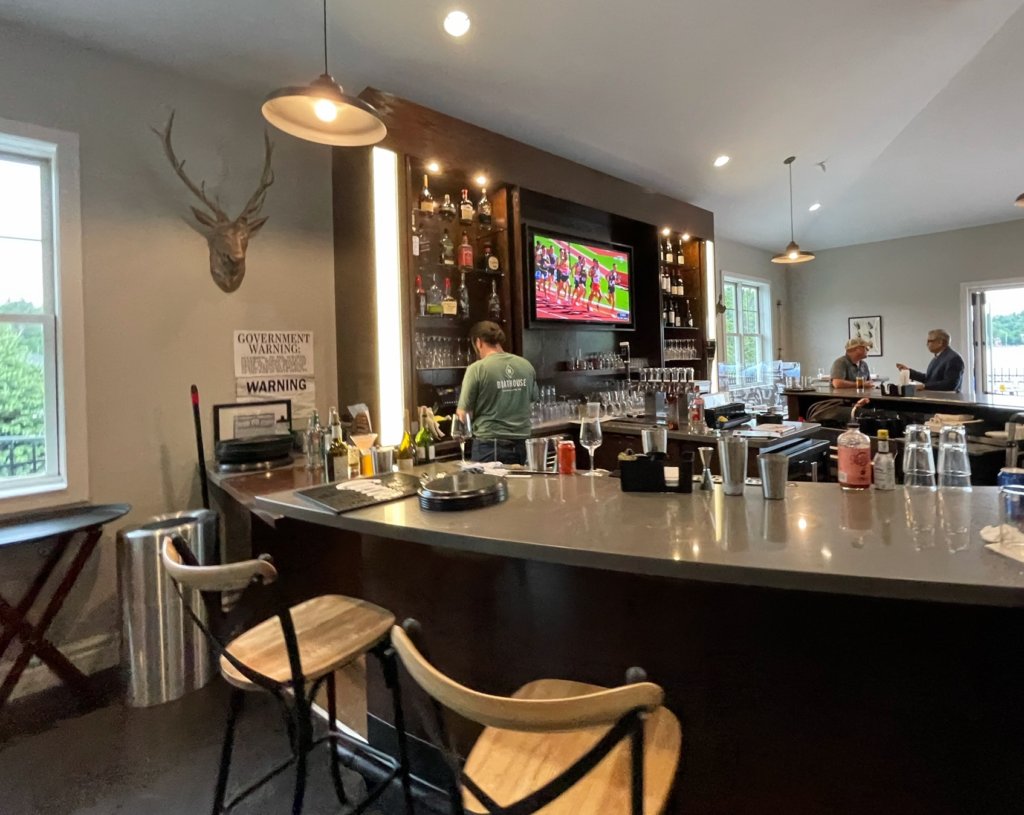 I had dinner at Boathouse and enjoyed spinach-feta-artichoke dip for an appetizer and grilled salmon for my entree. The grilled salmon was served with summer succotash and the fish was cooked perfectly. However, the spinach-feta-artichoke dip was the standout of the meal. It was so creamy and delicious!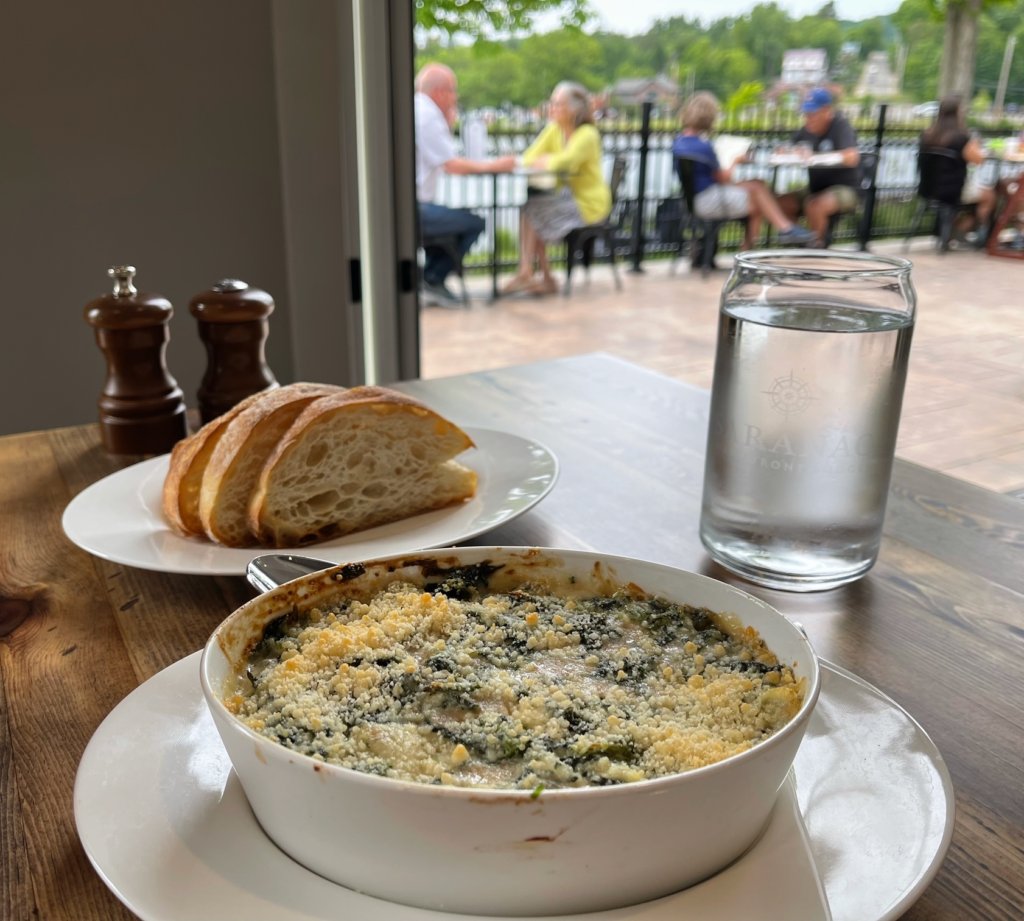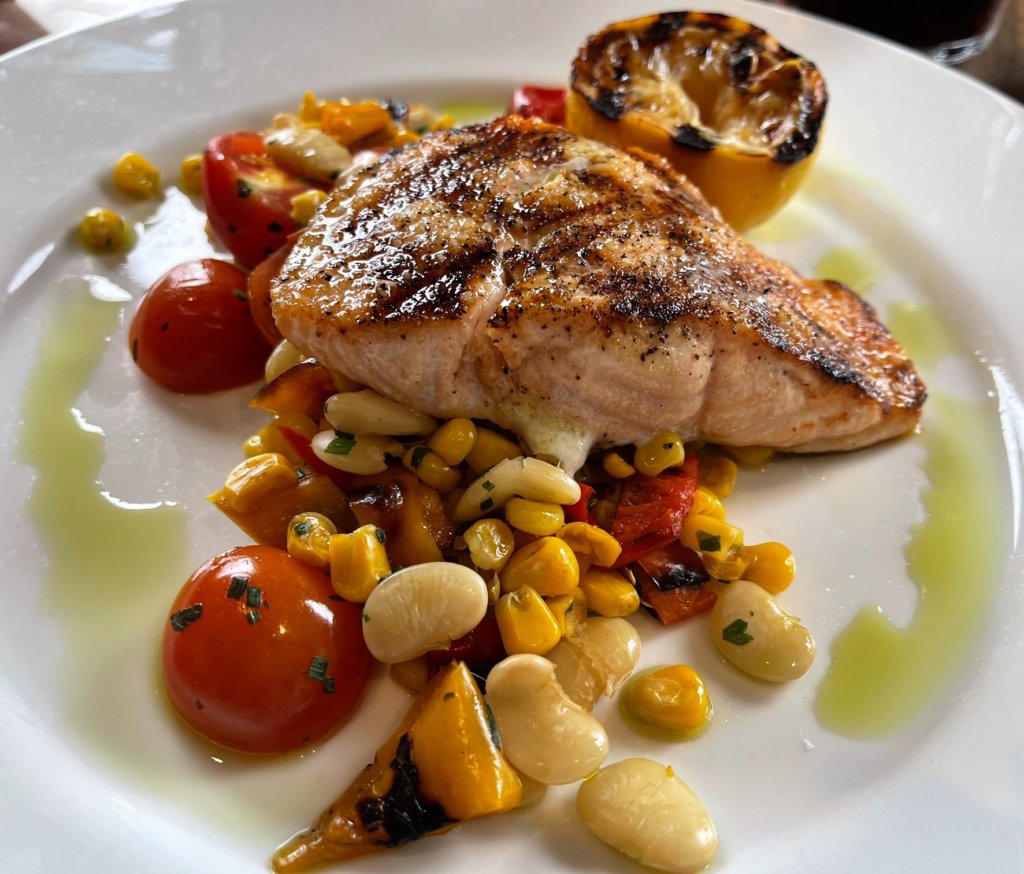 The views from Boathouse Saranac Lake Pub are phenomenal, so if you can, definitely try to eat outside. Reservations are recommended, as this restaurant is quite popular.
Big Slide Brewery
I thought about including Big Slide in my brewery recommendations above, but its food is so good that I wanted to give it its own section here. Big Slide is located in Lake Placid and was easily one of my favorite places that I ate (and drank).
Not only does Big Slide Brewery have fantastic beer, but their food is exceptional as well. I visited for Sunday brunch and it was a cool, fun environment. The margherita pizza that I had was delicious, but so many of the options on the brunch menu sounded good. You really can't go wrong here!
Big Slide Brewery is fully wheelchair accessible. You can join the waitlist for a table on Big Slide's website here.
Where to Stay in the Adirondacks: Saranac Waterfront Lodge
As we pulled up to the Saranac Waterfront Lodge, I felt excited to be staying here. Being one of the area's newest accommodation options, it towers over the other businesses nearby and is perfectly placed at the water's edge in Saranac Lake, New York. Going inside, I was immediately greeted by the front desk staff. They were very friendly and welcomed us to our newfound home away from home.
The lobby area is stunningly beautiful. It has chairs, tables, board games, and even a fireplace for those cold New York nights. The entire back wall is glass, so you can admire the beauty of the lake and watch the ducks as they swim along the water's edge.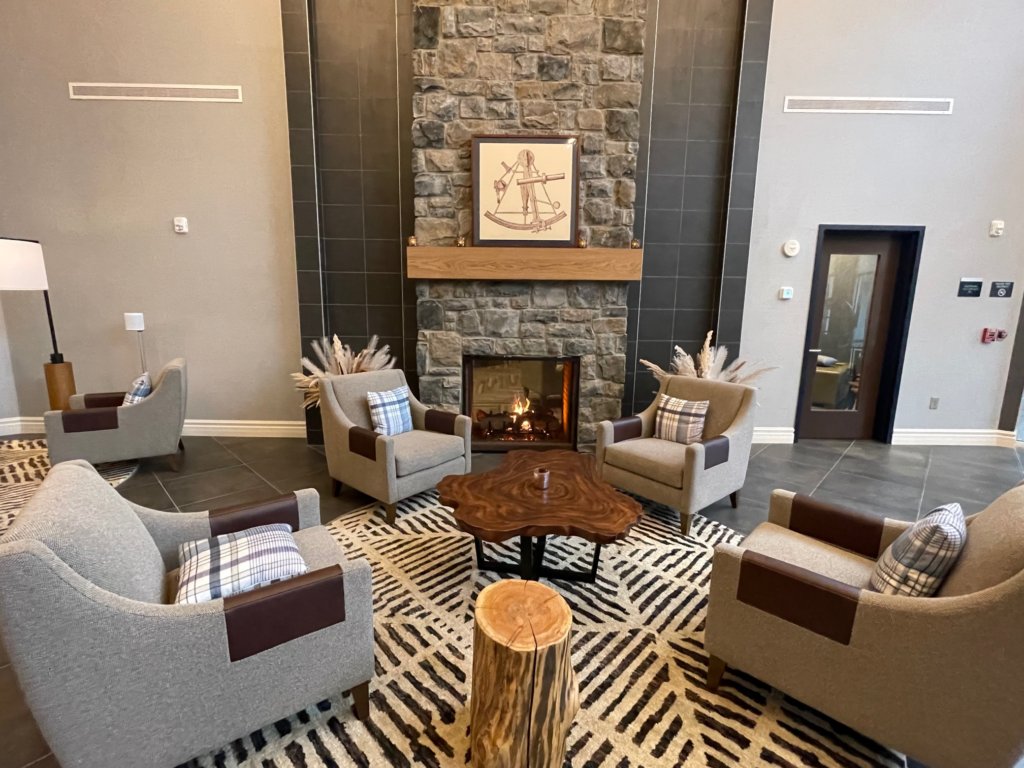 I stayed in a wheelchair accessible suite and it had a living area with a small refrigerator, coffee maker, large couch, and flat screen tv. Down the hallway, there was a bathroom on the left, complete with a sink and toilet with grab bars in one room and an adjoining room with a deep soaking tub and also a roll-in shower with a handheld shower wand. There was a small lip to get in the roll-in shower, but my shower wheelchair was able to go over it pretty easily.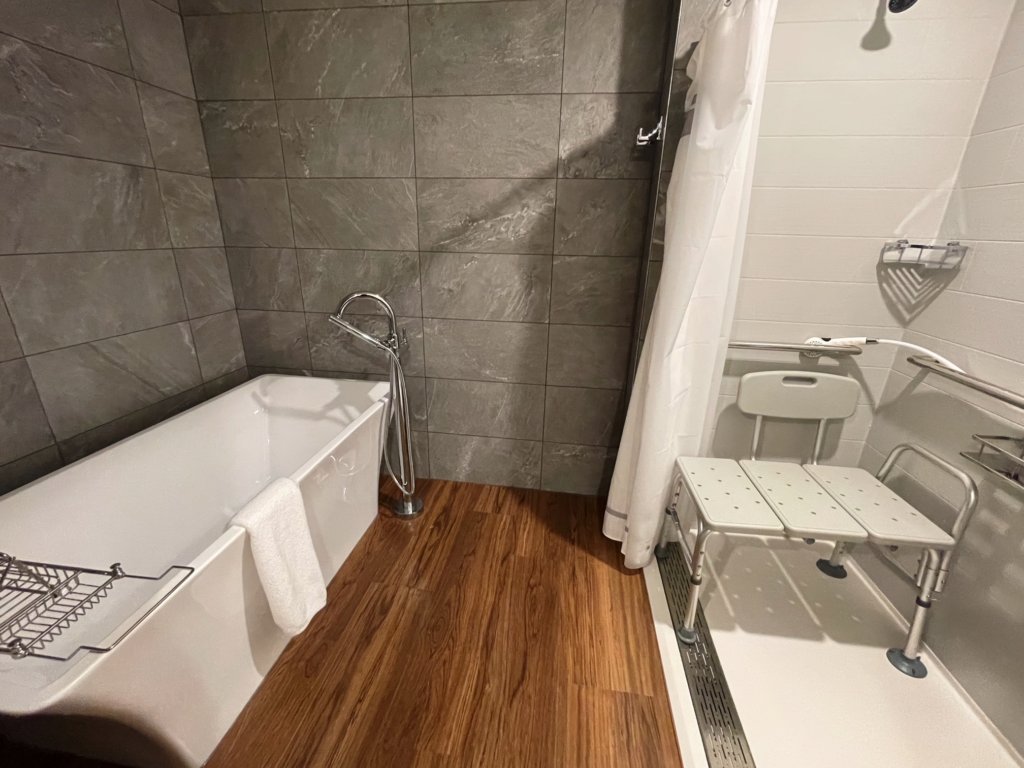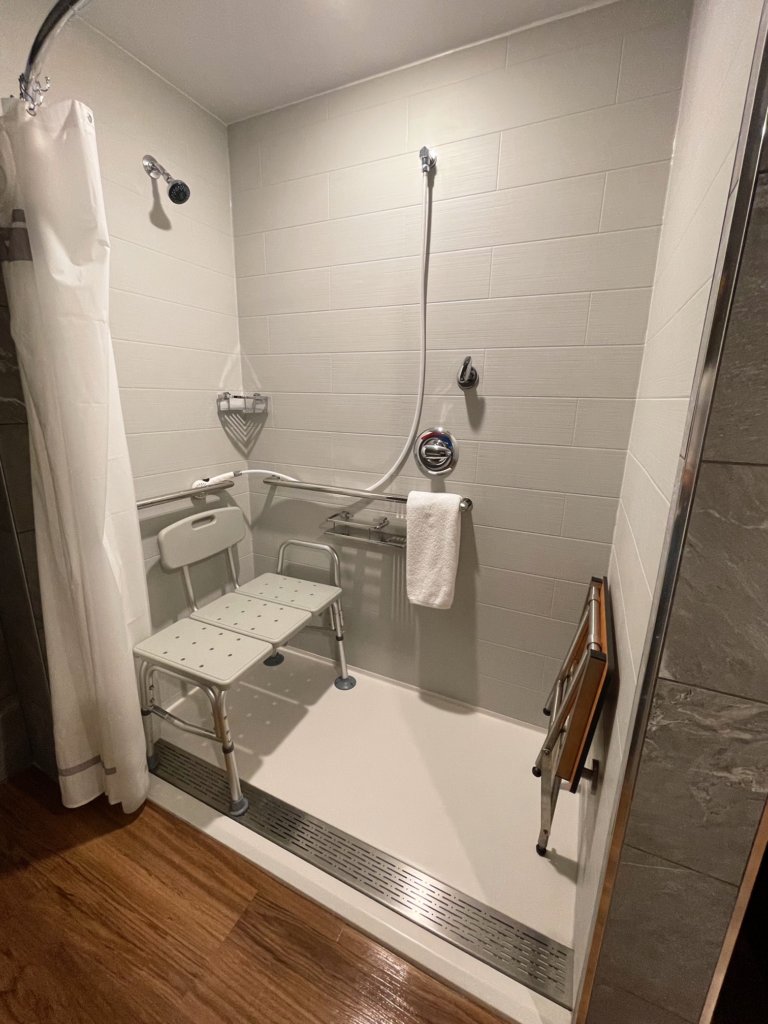 Rounding the corner back into the hallway, it ends in the bedroom. There was a big, comfy king sized bed with a flat screen tv, a large desk and chair, and closet space with shelves and another couch! It's also worth noting that a Hoyer lift could roll under the bed, as there was enough clearance. Just behind the couch was a window view of the beautiful, large lake and the rentable kayaks.
Saranac Waterfront Lodge provided excellent accommodations for my time in the Adirondacks and it was in a convenient location. All of the best things to do in the Adirondacks that are featured in this article were within a short drive of the lodge, which was nice.
My time in the Adirondacks was so much fun and I already can't wait to return. No matter what your abilities are, the Adirondacks are the perfect place to enjoy some peace and quiet, as well as some adventure. At the end of my trip, all I could say was "Why have I never been here before?!" And if you visit, I can guarantee that you'll be saying the same thing when you leave.
.
*Thank you to The Wild Center and the Adirondacks for hosting me. While my experiences were complimentary, all opinions expressed within this article are authentic and my own.
.
.